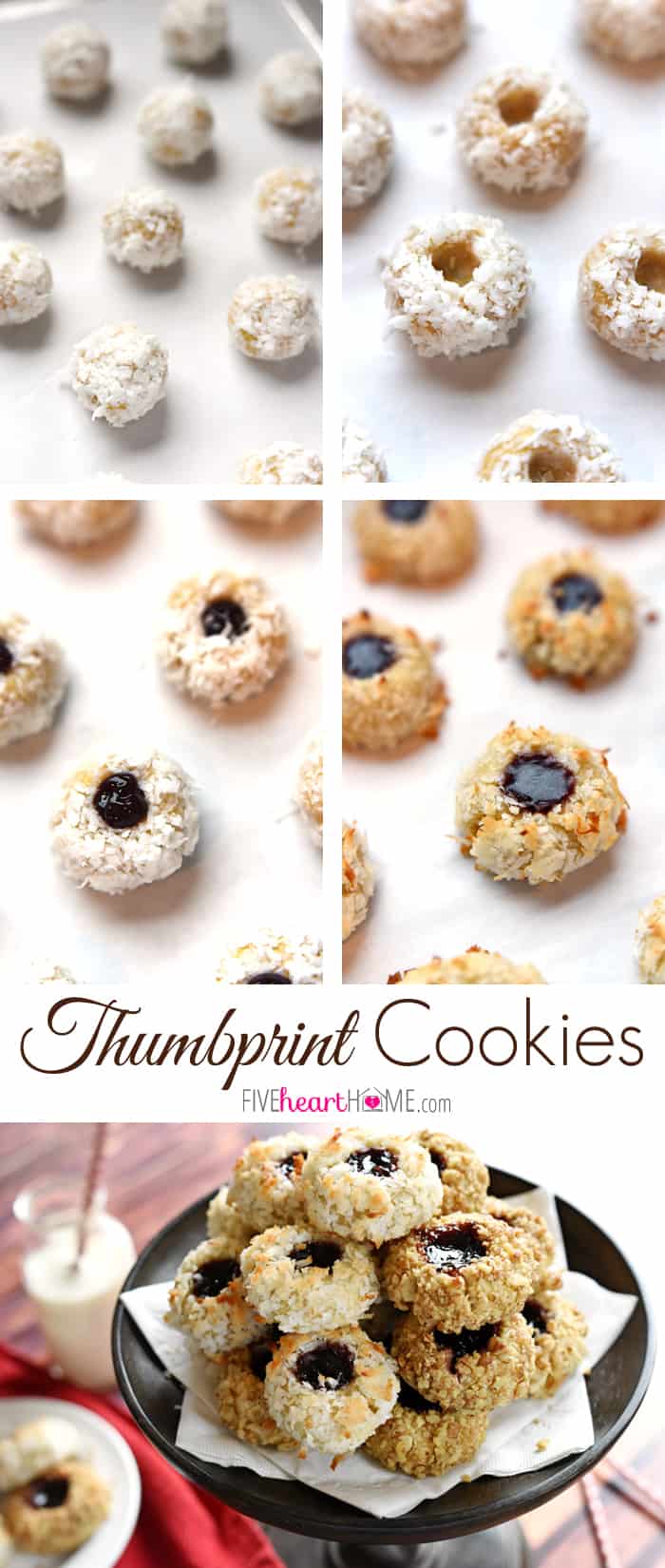 Classic Thumbprint Cookies are lightly sweet with an almost shortbread-like texture, a coating of toasty coconut or chopped pecans, and a center of your favorite jelly or jam.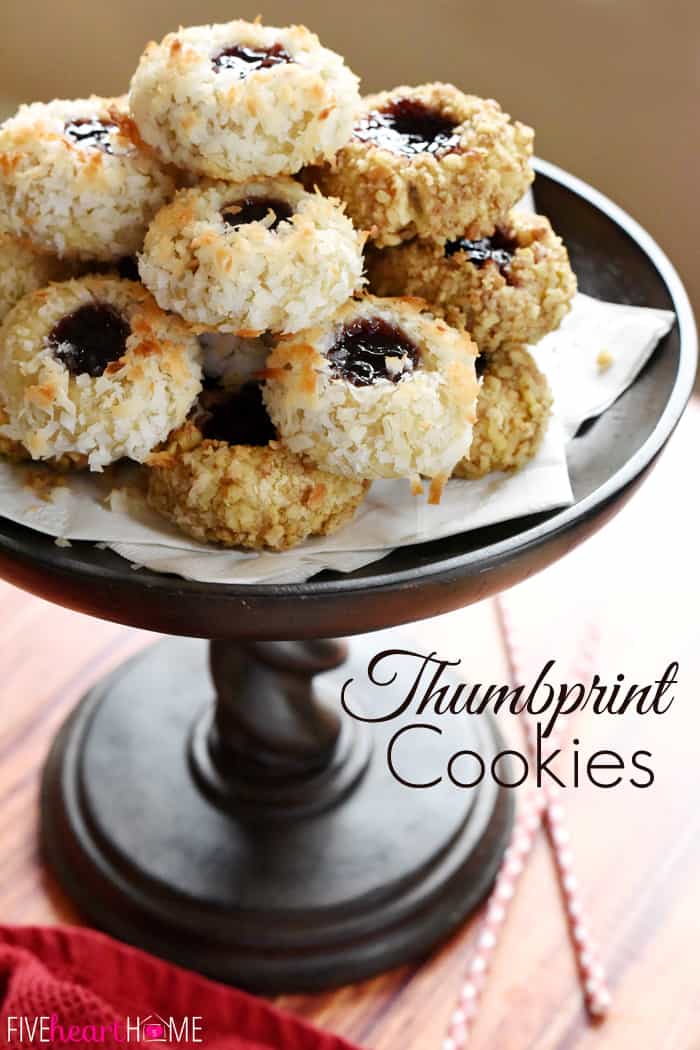 If you enjoy Christmas cookies, you'll also love Easy Christmas Shortbread Cookies, Reindeer Rice Krispie Treats, and Pistachio Shorbread Coookies!
'Tis the season for cookie baking! And while the recipe I'm sharing today is decidedly delicious -- and appropriate -- any time of the year, Thumbprint Cookies have a particularly special place in my heart come Christmastime.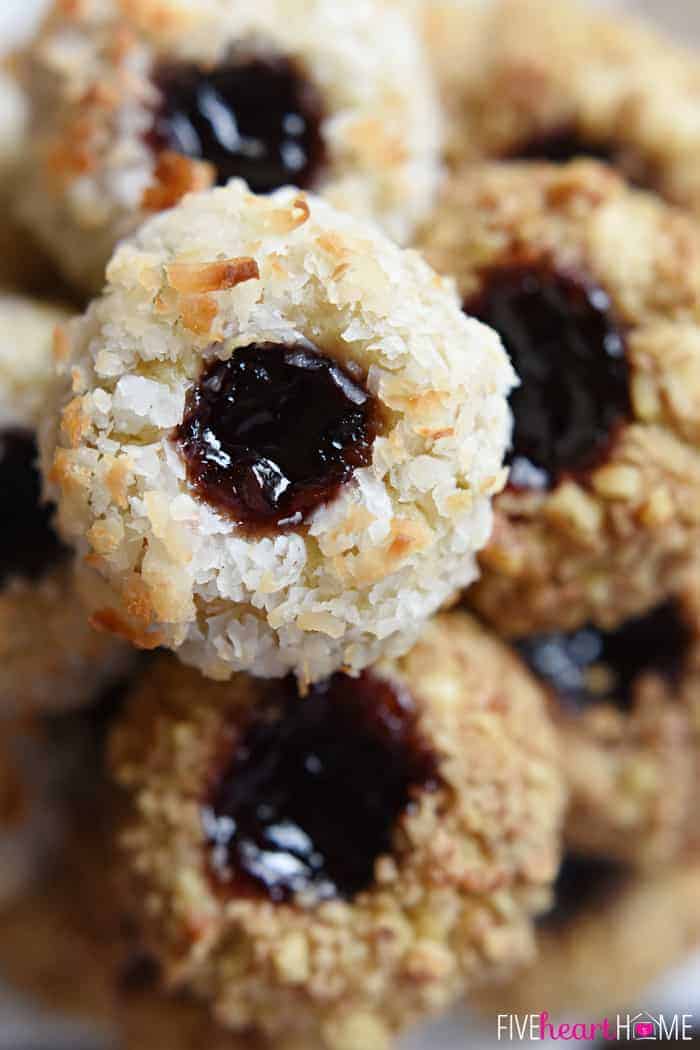 Now I know that there are already about a zillion and one recipes out there for Thumbprint Cookies. And I'm sure that they're all tasty in their own respective ways. But this is the recipe that I grew up with.
The one that I made with my mom each holiday season and, really, all year long...
The one that I now make with my own kids each December and, well, all year long...
The one that ranks right up there as one of my favorite cookies of all time.
So whether or not you've made Thumbprint Cookies before, promise me you'll give this recipe a whirl!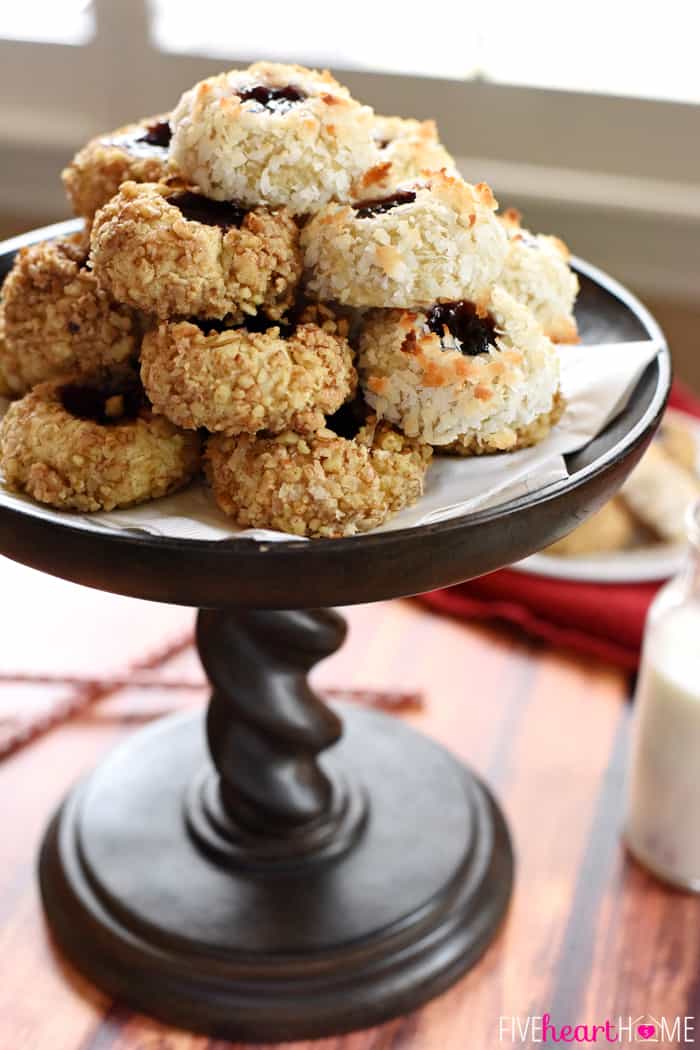 What Are Thumbprint Cookies?
In case you've never had them, Thumbprint Cookies are rolled cookies that get pressed with a "thumb" to make an indentation on top. This indentation is then filled with a yummy filling of some sort.
Compared to an array of cloyingly sugary treats, this particular version is not overly sweet. While there's not a ton of sugar in the cookie dough, the jammy centers do give a nice boost of sweetness.
As for the the texture of these cookies, I would consider it to be somewhat dense and similar to that of a shortbread or "sandy" type cookie.
Ingredients
Just a handful of simple ingredients are all you need to make these delightful cookies.
All-purpose flour. I've also tested this recipe using gluten-free flour, which worked beautifully as well.
Salt. I typically use my favorite fine sea salt. (And do take note that there's no baking powder or baking soda in this recipe!)
Butter. Unsalted and at room temperature.
Brown sugar. I've made this recipe using both light and dark brown sugar...either works.
Eggs. The eggs will need to be separated, with the yolks destined for the cookie dough and the whites reserved for rolling.
Pure vanilla extract. The flavor of a good-quality extract shines through in such a simply flavored cookie.
Finely chopped nuts and/or coconut flakes. See below for more specifics.
Jam, jelly, or preserves. More thoughts on this below as well. 😉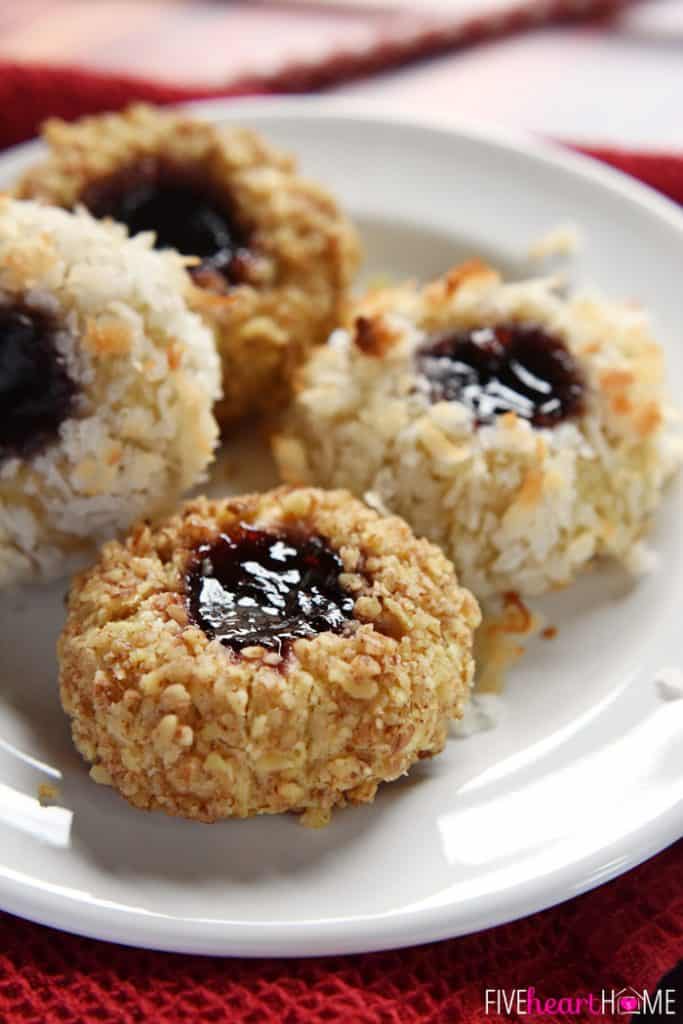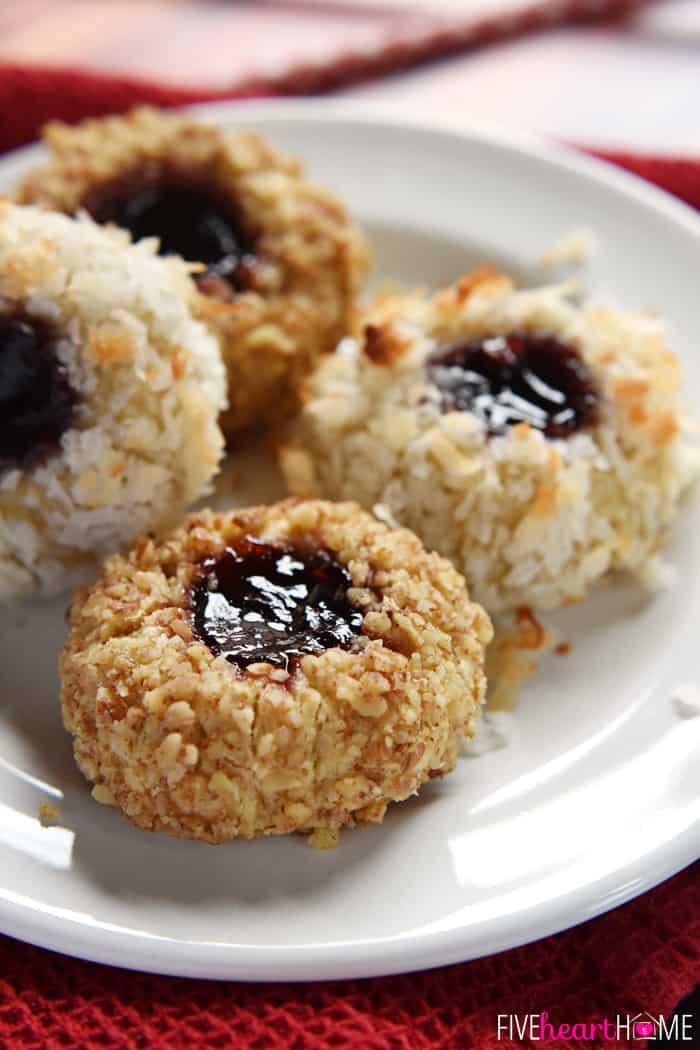 Coating Options
Growing up, we always rolled our Thumbprint Cookies in finely chopped (actually ground, using a food processor or blender) pecans.
Of course, you could substitute your favorite nut instead -- walnuts would also be tasty! But really, any variety should work so long as you ensure that your nuts are in teeny-tiny pieces.
In recent years, I got a little wild and crazy and started coating some of my Thumbprint Cookies in shredded coconut instead of nuts.
Don't ask me to pick a favorite, though, because I honestly can't...they're both equally scrumptious.
But if you're feeling extra adventurous, you can even mix together your nuts and coconut and roll your cookies in a combo coating!
The Filling
As for the jelly/jam/preserves to fill up the thumbprint indentations, again, use your favorite.
I really like using seedless blackberry jam and seedless raspberry jam.
My kids' top choice is probably strawberry jam or preserves.
When I was growing up, we always filled our pecan Thumbprints with peach preserves, because how Texas is that?!
But again, I can't think of a variety of jam that wouldn't be tasty -- so feel free to go crazy!
Just keep in mind that seeds and big chunks of fruit are best avoided in this recipe since you'll be filling a rather small indentation.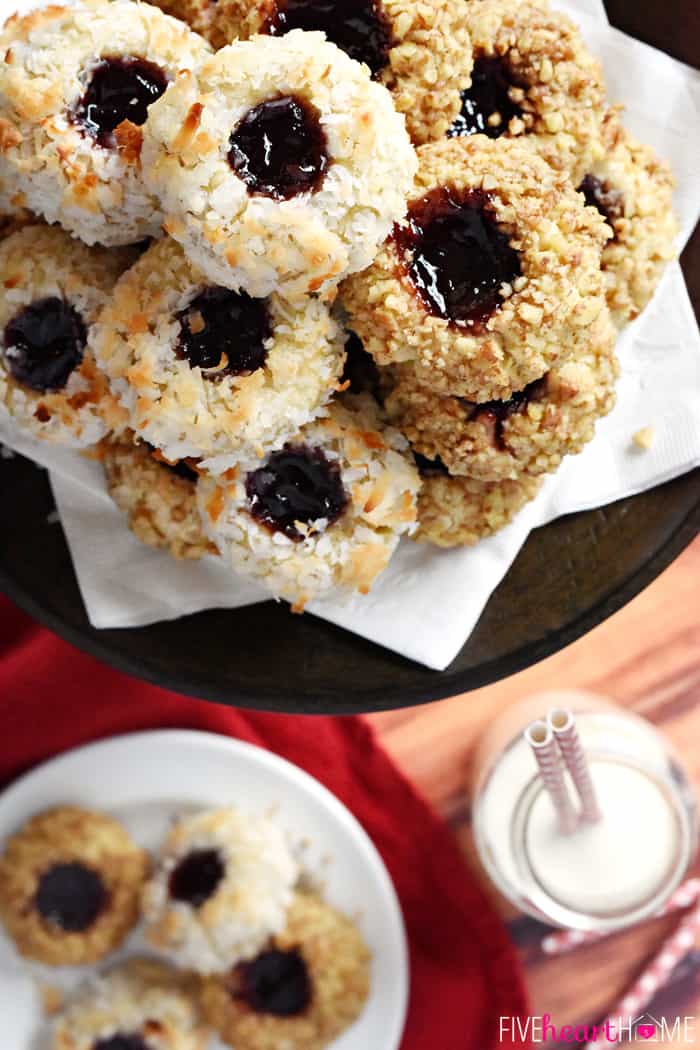 How to Make Thumbprint Cookies
These cookies are in no way difficult to make. But the few easy steps are especially fun for kiddos to help with:
Make the Dough
Whisk together the flour and salt.
Cream together the butter and brown sugar.
Blend in the egg yolks and vanilla.
Gradually mix in the flour mixture until thoroughly combined.
Coat the Cookies
Roll the cookie dough into 1-inch balls.
Dip a ball of dough into the egg whites, turning to coat.
Transfer to the bowl of chopped nuts or coconut, rolling and pressing to coat.
Place on a prepared cookie sheet.
Fill and Bake
Make an indentation in the top of each cookie.
Fill with jam.
Bake until light golden brown.
Transfer to a wire rack and cool completely.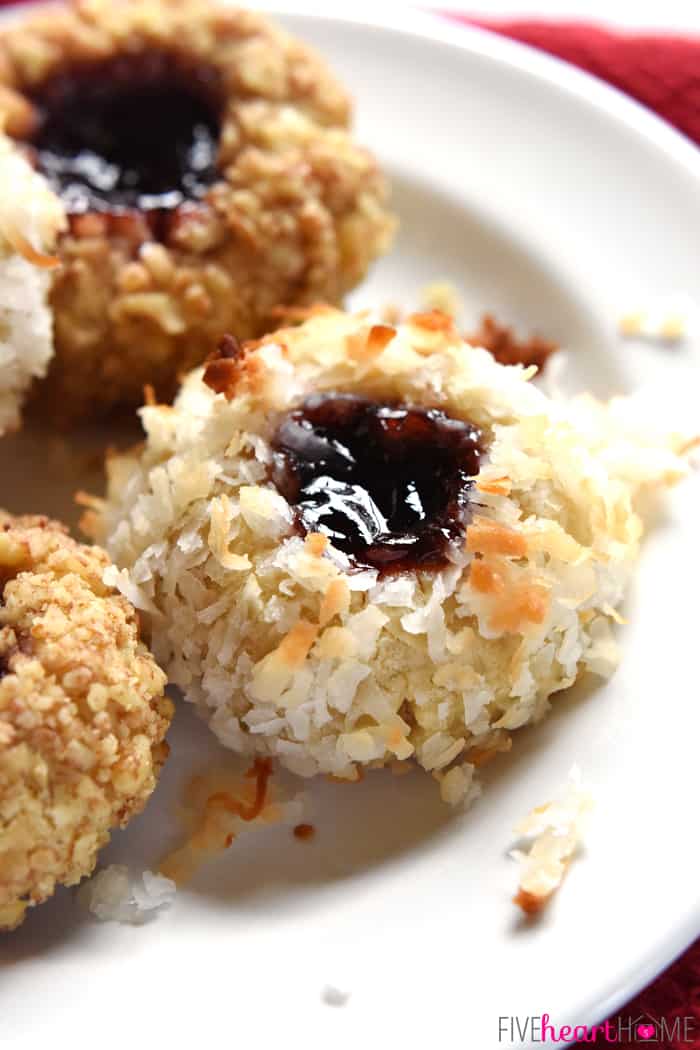 Making the "Thumbprint"
As revealed in the photo above, I don't actually imprint these cookies with my thumb! (*insert gasps of shock and awe*)
Rather, I have a set of angular measuring spoons that includes a ¼-teaspoon size with a perfectly square little bowl.
I press it into each cookie and -- voilà! -- a neat, symmetrical little "thumbprint" without getting cookie dough stuck under my thumbnail.
But "Measuring Spoon Cookies" doesn't have quite the same ring to it, so let's just pretend I use my thumb, shall we? 😉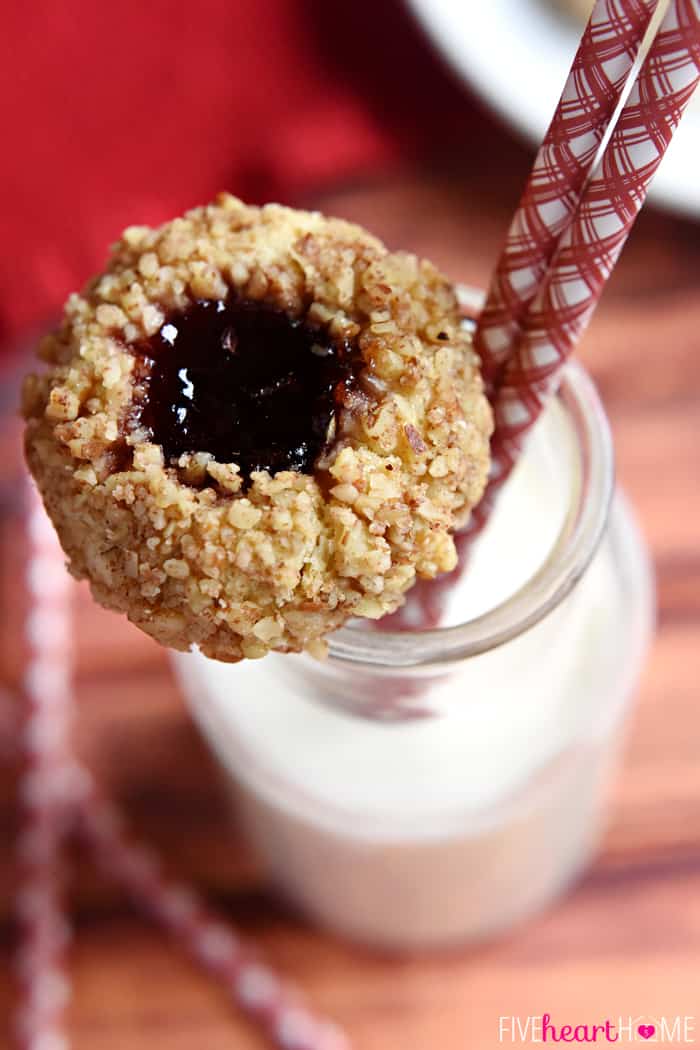 With Santa's impending visit, I just know that you have it in you to bake up one last batch of Christmas cookies.
After all, he needs fortification for his busy night and long journey! And take it from me...the big guy in red loves Thumbprint Cookies, and he wouldn't be the least bit sad to find a plate of them awaiting him at the bottom of each and every chimney.
You wouldn't want to disappoint St. Nick now, would ya?
Make 'em for Christmas...make 'em in June...make 'em all year long...make 'em with the kiddos...make 'em all by your lonesome.
Whenever (or however) you decide to make 'em, this is one cookie recipe that you need in your repertoire! 🙂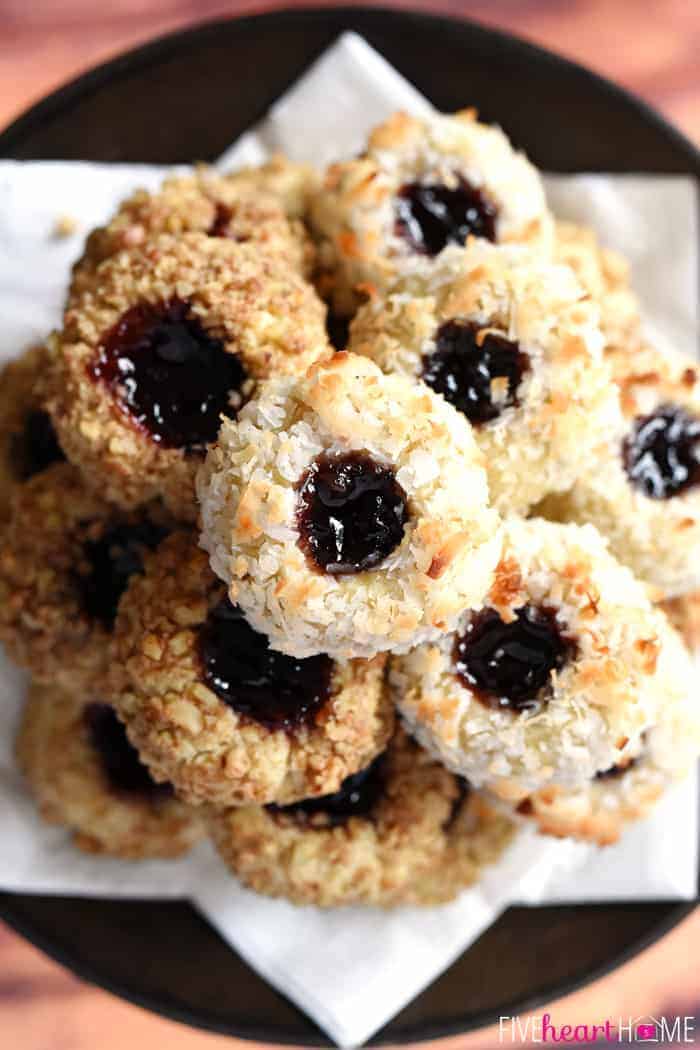 More Yummy Cookies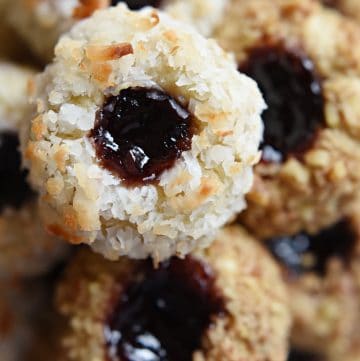 Thumbprint Cookies
These classic Thumbprint Cookies are lightly sweet with an almost shortbread-like texture, a coating of toasty coconut or pecans, and a center of your favorite jelly or jam.
Print
Pin
Rate
Ingredients
2 ½

cups

all-purpose flour

¼

teaspoon

salt

1

cup

(2 sticks) unsalted butter

,

at room temperature

½

cup

firmly packed brown sugar

2

eggs

1

teaspoon

pure vanilla extract

1 ½

cups

finely chopped pecans

,

walnuts, or your favorite nut (*see Tips & Tricks below for coconut variation)

Your favorite seedless jelly or jam

,

about ¼ cup
Instructions
Preheat oven to 375°F. Line two baking sheets with parchment paper or nonstick baking mats.

In a medium bowl, whisk together flour and salt. Set aside. In the large bowl of an electric mixer, beat butter and brown sugar until creamy. Separate eggs, placing whites in a small bowl, lightly beating, and setting aside. Add yolks to butter mixture and blend in. Add vanilla and beat until well incorporated. Gradually mix flour mixture into butter mixture, blending thoroughly but taking care not to overmix.

Pour finely chopped nuts into a bowl. Roll cookie dough into 1-inch balls. Dip each ball in beaten egg whites and then roll in nuts, gently pressing to coat. Space cookies 1 inch apart on prepared baking sheets.

Use your thumb or the tip of a spoon to make an indentation in the top of each cookie. Use a ½-teaspoon measuring spoon to carefully fill each indentation with jam. Bake cookies for 13 to 16 minutes or until lightly browned. Allow to cool on baking sheets for a few minutes before transferring to a wire rack to cool completely. Store in an airtight container.
Notes
I use a food processor (or blender) to grind my pecans into tiny pieces, since it's quicker and easier than chopping nuts finely with a knife.
For a crunchier coating, I recommend toasting your nuts and allowing them to cool before chopping/grinding them. (To toast pecans, spread on a sheet pan and bake in a preheated 350°F oven for 7 to 10 minutes or until fragrant and lightly toasted.)
Instead of nuts, you may roll your cookies in shredded coconut (sweetened or unsweetened). You'll probably need between 1 ½ and 2 cups of coconut to coat a batch of these cookies. You can also roll cookies in a mixture of half nuts, half coconut.
I almost always make a double batch of these cookies since they quickly disappear. It takes only a little more time and effort to make twice as many cookies once you already have all of the ingredients and supplies out!
My favorite flavors of jam to use in this recipe are seedless raspberry, seedless blackberry, strawberry, and peach, but I think just about any flavor of jam/jelly/preserves would be great (as long as it's not too chunky).
Calories:
185
kcal
|
Carbohydrates:
15
g
|
Protein:
3
g
|
Fat:
13
g
|
Saturated Fat:
5
g
|
Cholesterol:
34
mg
|
Sodium:
99
mg
|
Potassium:
55
mg
|
Fiber:
1
g
|
Sugar:
5
g
|
Vitamin A:
260
IU
|
Vitamin C:
0.1
mg
|
Calcium:
15
mg
|
Iron:
0.9
mg
Post originally published on December 21, 2014, and updated on October 25, 2020, and August 20, 2022.