Chocolate Zucchini Bundt Cake with Chocolate Glaze is so moist and decadent that nobody will ever guess that it's made with a pound of zucchini and 100% whole wheat flour! Or bake it in loaf pans instead for Chocolate Zucchini Bread.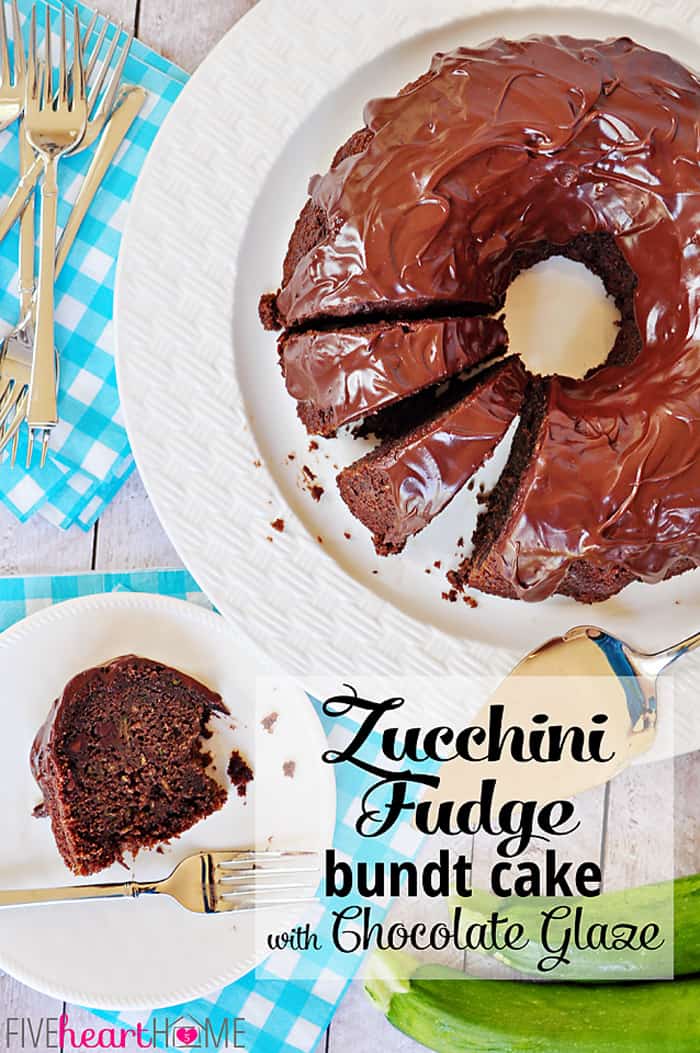 I promised y'all one last zucchini recipe this season, and today I'm going to deliver in a BIG way. Say hello to Chocolate Zucchini Bundt Cake with Chocolate Glaze! Or if that's too indulgent, you can instead decide to bake up this bad boy in two loaf pans, leave off the glaze (but why would you want to?!), and call it (Triple) Chocolate Zucchini Bread. It's up to you!
Either way, this concoction is so moist and fudgy and decadent that when you take a bite, you'll have a hard time remembering that you shredded up a whole pound of zucchini to fold into the batter. And did I mention that this recipe also includes 100% whole wheat flour? By my estimation, those two factors mean that this cake could totally be justified as breakfast. 😉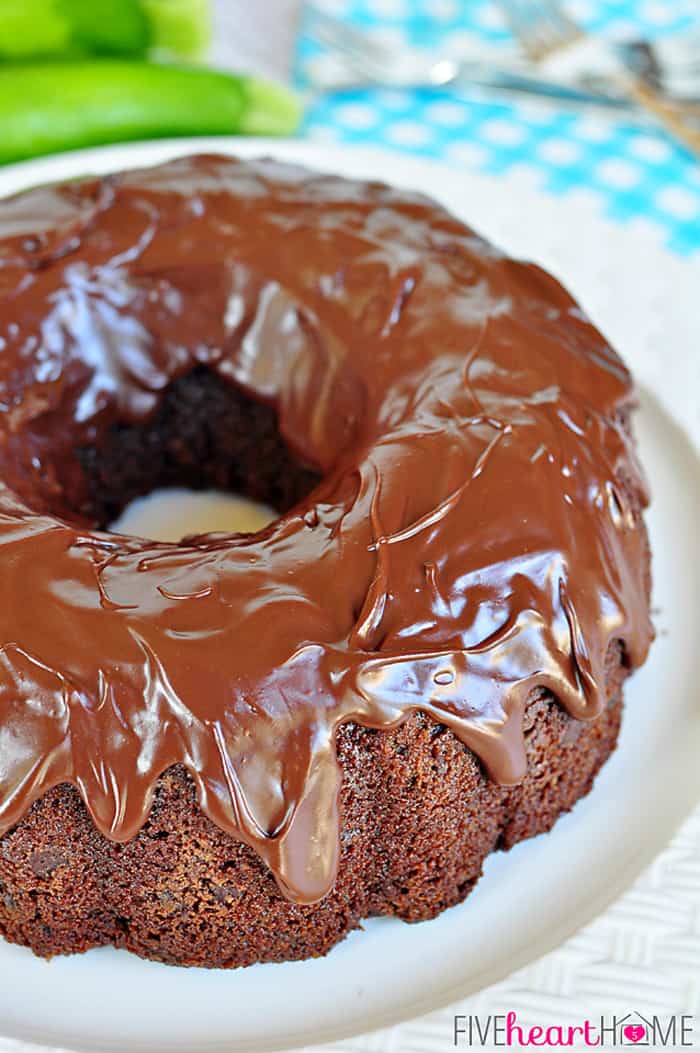 The Inspiration
I've been going in a savory direction with my zucchini recipes so far this summer, so I decided it was high time to use up some of our excess zucchini by appealing to the ol' sweet tooth for a change.
My first thought was to bake a zucchini version of my Triple Chocolate Banana Bread. But I knew I wanted to make a glazed Bundt cake instead. And of course, my Toddler-Approved Veggie Surprise Mini Muffins would be a good source to reference when coming up with any variation of zucchini bread.
So basically, today's Chocolate Zucchini Bundt Cake is a conglomeration of those three ideas. The best part is that it turned out even better than I could have hoped!
Prepping the Zucchini
If you look closely, this deep brown Bundt cake is peppered with tiny green fragments of zucchini peel. The chocolate flavor is intense enough that my kids couldn't care less, but if you think your little ones might be suspicious of miniscule green bits in their cake, feel free to peel your zucchini before shredding it.
Regardless of whether or not you retain the peel, any time I add shredded zucchini to baked goods, I like to mix it with a couple spoonfuls of sugar and let it sit in a colander for a few minutes before adding it to my batter, which allows excess liquid to drain off.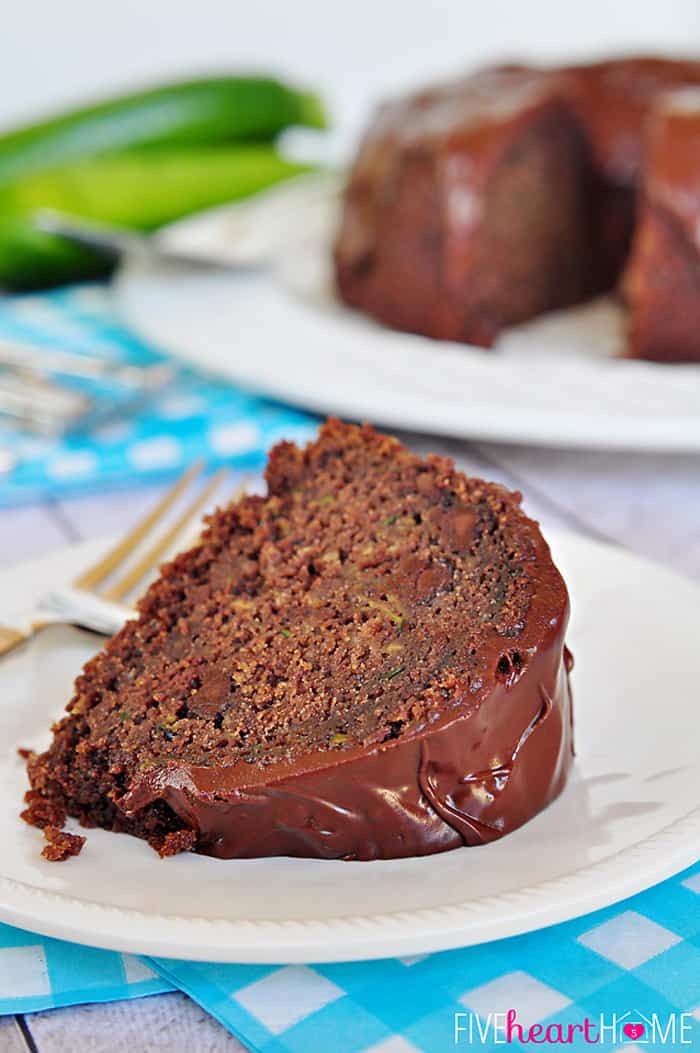 A Few Ingredient Notes
Other than that, this recipe is pretty straightforward.
I like to make it with whole wheat pastry flour for an extra dose of wholesome without the heavy texture that can result from using regular whole wheat flour, but you can certainly use white flour if you prefer.
The batter includes melted unsweetened chocolate as well as cocoa powder as well as chocolate chips.
And then, of course, there's that rich, glossy, chocolate glaze!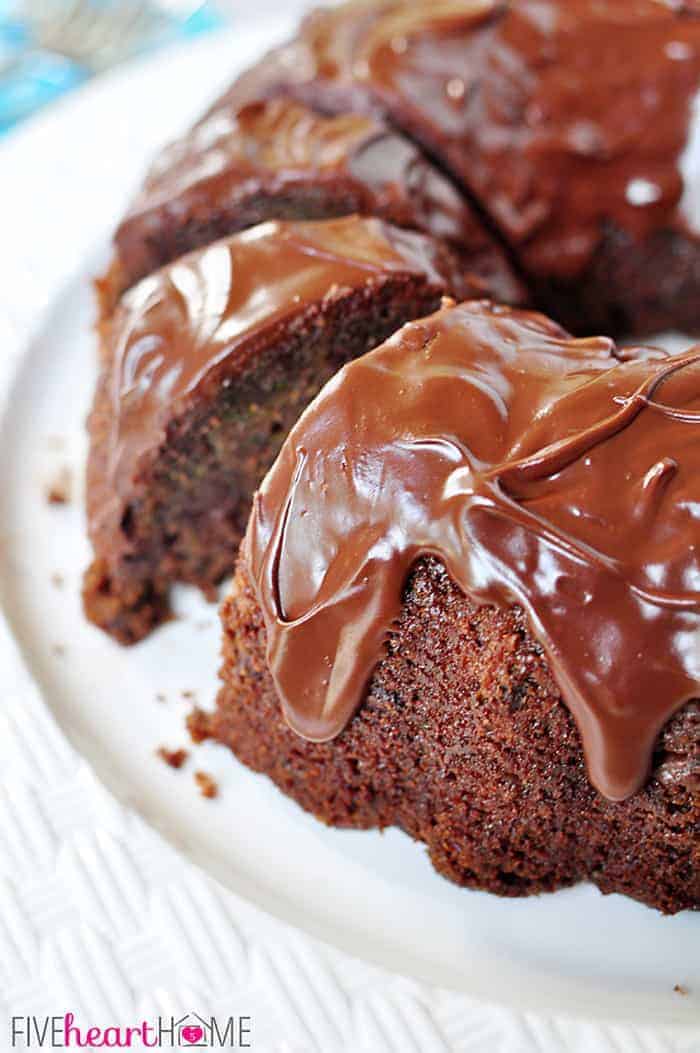 Greasing Your Pan
One word of warning before you get to baking...this Chocolate Zucchini Bundt Cake is so moist and chocolate-studded that if you're not careful, it can stick to your pan.
So precaution #1 is spraying your Bundt pan with a thick layer of non-stick baking spray...and I highly recommend the kind that has flour included (like Baker's Joy). I'm typically a grease-my-pan-with-real-butter-and-coat-with-flour kind of gal, but this sticky cake requires the big guns to ensure that it releases from the pan.
Recommended Chocolate Chips
Another precaution I recommend is using mini chocolate chips (they aren't as heavy as regular chocolate chips and won't sink to the bottom of the pan as readily) and coating them with flour before adding them to the batter (which also helps suspend them throughout the cake).
Cooling Time
Finally, be sure to allow the cake to cool for 10 minutes in the pan before turning it out onto a wire rack...no more, no less.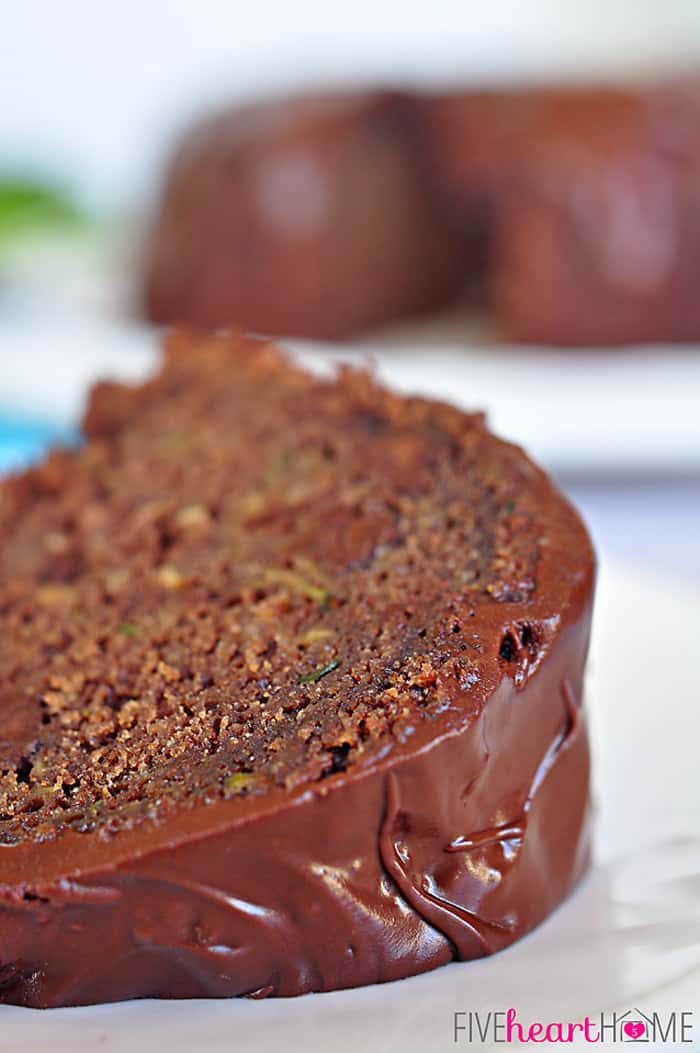 I'm going to confess now that I was out of mini chocolate chips the other day when I made this cake, and as a result, I went ahead and used full-sized chips. Well, when I went to turn my Chocolate Zucchini Bundt Cake out of the pan, it didn't release! 🙁 So I took a thin, flexible spatula and carefully ran it down the sides of the pan all the way around, trying to bend it under the curve of the pan as far as I could reach. Luckily, that did the trick, and only one small spot stuck where a few chocolate chips had conglomerated.
So don't be like me! Follow the directions, right down the mini chocolate chips, and your cake should come out of the pan nicely.
And if you decide to bake this recipe in loaf pans instead of a Bundt pan, use a couple strips of parchment paper to line your pans (similar to how I did for this bread) to double ensure that there's no sticking.
However, the good news is that nobody's ever going to know whether you had a stuck spot or not under that thick, gorgeous glaze. 😉
Enjoy, friends!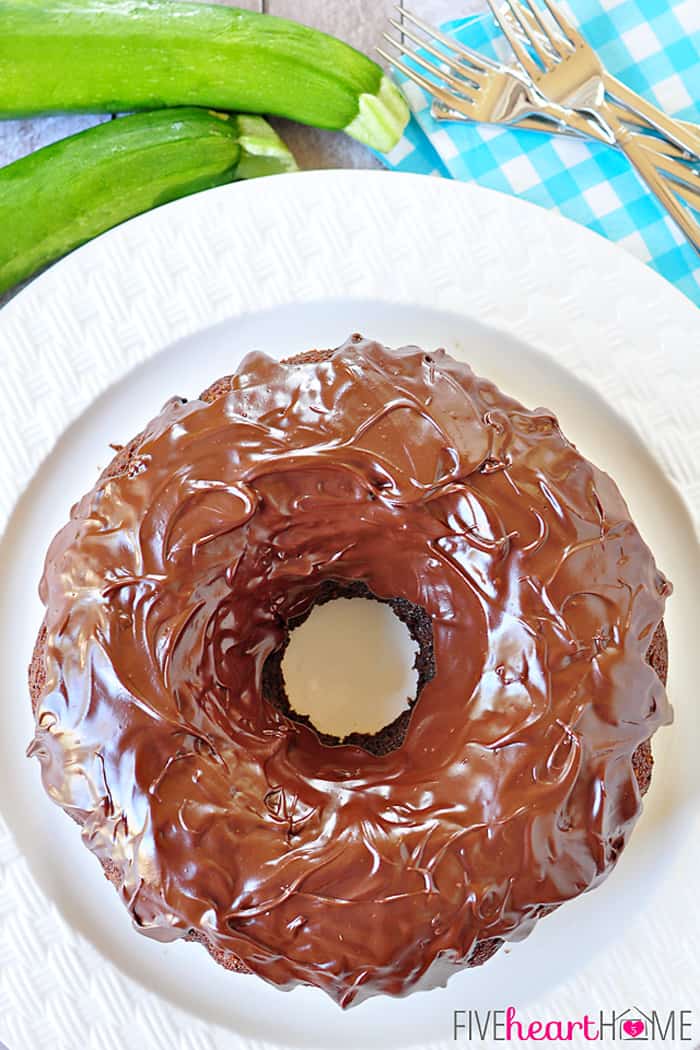 More Zucchini Recipes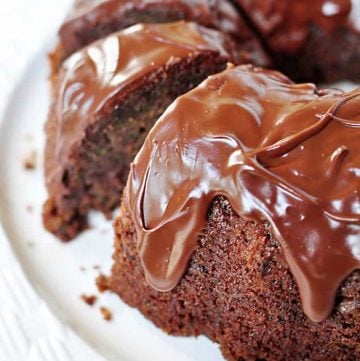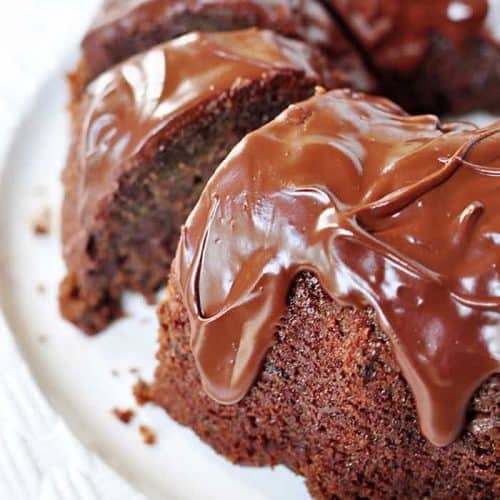 Chocolate Zucchini Bundt Cake
Chocolate Zucchini Bundt Cake with Chocolate Glaze is so moist and decadent that nobody will ever guess that it's concealing a pound of zucchini and 100% whole wheat flour! Or if you prefer, you can bake it in two loaf pans and leave off the glaze to call it Chocolate Zucchini Bread instead.
Print
Pin
Rate
Ingredients
FOR THE CAKE:
1

pound

zucchini

2

tablespoons

sugar

2

(1-ounce) squares unsweetened chocolate

2

cups

whole wheat pastry flour

1

tablespoon

unsweetened cocoa powder

1

teaspoon

baking soda

½

teaspoon

salt

3

eggs

,

at room temperature

2

cups

sugar

½

cup

(1 stick) unsalted butter

,

melted and cooled

½

cup

applesauce

2

teaspoons

pure vanilla extract

½

cup

sour cream

1

cup

mini semisweet chocolate chips

1

tablespoon

flour
FOR THE GLAZE:
¾

cup

semisweet chocolate chips

3

tablespoons

butter

1

tablespoon

light corn syrup

¼

teaspoon

pure vanilla extract
Instructions
FOR THE CAKE:
Adjust rack to center position of oven and preheat to 350°F. Generously coat a 9- to 10-inch (12-cup) Bundt pan with baking spray (the kind that includes flour).

Using a box grater or food processor, grate the zucchini (you should end up with approximately 3 cups). Stir in 2 tablespoons sugar and place in a large colander set over a bowl. As you prepare the rest of the batter ingredients, the sugar will draw the moisture out of the zucchini. Occasionally press down on it to squeeze more water into the bowl.

Finely chop unsweetened chocolate, place in a bowl, and heat in the microwave for 30 seconds; stir. Heat in additional 15-second increments, stirring after each one, until chocolate is completely melted and smooth. Allow to cool.

In a medium bowl, whisk together whole wheat pastry flour, cocoa powder, baking soda, and salt. In a large bowl, use an electric mixer to blend together eggs, sugar, melted chocolate, melted butter, applesauce, and vanilla until smooth. Mix in drained zucchini. Turn mixer down to low and stir in half of the flour mixture, followed by all of the sour cream and then the remaining flour mixture. In a small bowl, toss mini chocolate chips with tablespoon of flour. Add to batter and mix until just incorporated, taking care not to overbeat.

Evenly pour/spread batter into prepared pan, place in preheated oven, and bake for 1 hour, or until a toothpick inserted in center comes out clean. Remove cake from the oven and allow it to rest on a cooling rack for 10 minutes before turning it out onto the rack to finish cooling.
FOR THE GLAZE:
In a small pot, melt butter over low heat. Remove pot from heat and add chocolate chips, stirring until they are melted and combined with butter. Stir in corn syrup and vanilla until smooth. Immediately pour glaze over warm cake, gently spreading it so that it trickles down sides. Allow cake and glaze to cool completely before slicing.
Calories:
533
kcal
|
Carbohydrates:
71
g
|
Protein:
7
g
|
Fat:
26
g
|
Saturated Fat:
15
g
|
Cholesterol:
76
mg
|
Sodium:
246
mg
|
Potassium:
389
mg
|
Fiber:
5
g
|
Sugar:
50
g
|
Vitamin A:
535
IU
|
Vitamin C:
6.9
mg
|
Calcium:
52
mg
|
Iron:
3.2
mg
Glaze adapted from AllRecipes.com.
Post originally published on July 12, 2014.