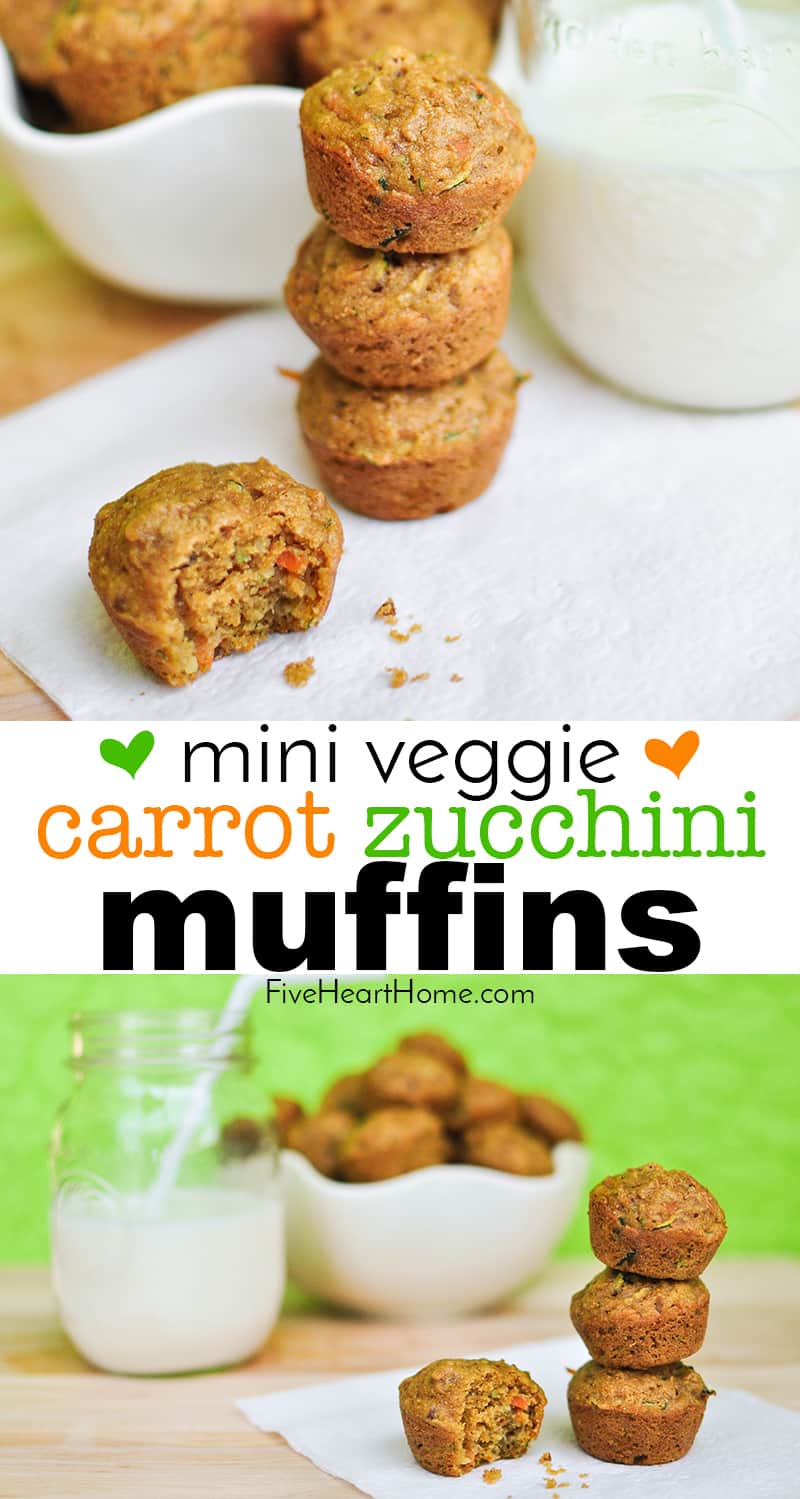 Veggie Muffins -- loaded with carrots, zucchini, & whole wheat flour -- make a yummy, healthy breakfast or snack for toddlers, kids, and adults alike!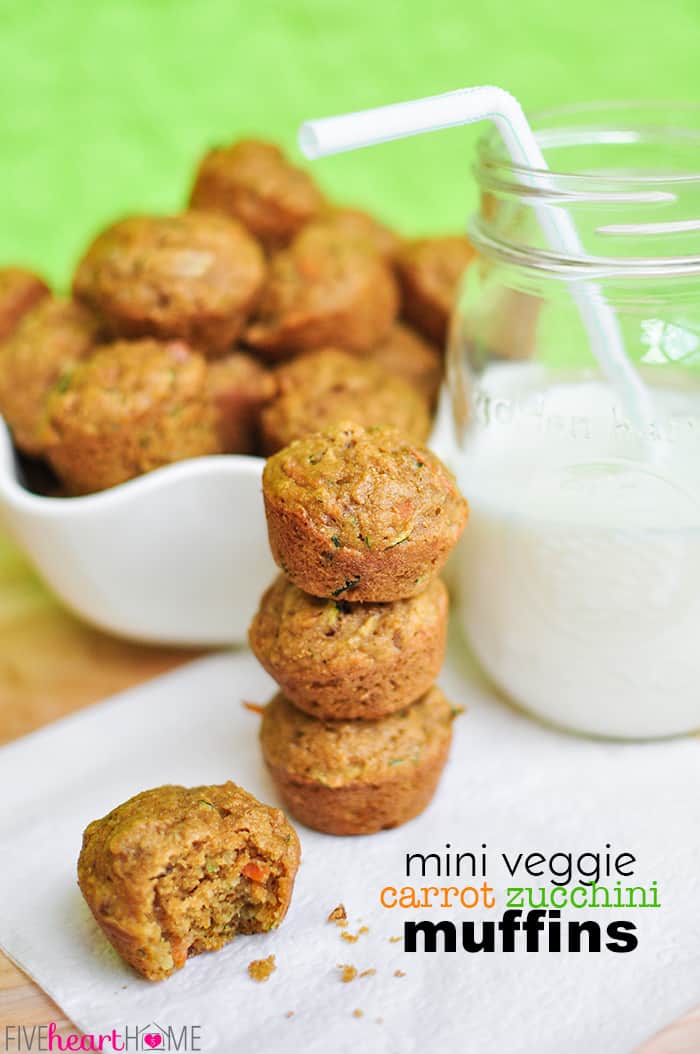 If you've been searching for a way to use up the spoils of an overabundant garden, you've come to the right place. And if, as an added bonus, you'd like to get some of those aforementioned excess veggies into your toddler/preschooler/big kid/teenager with as little drama as possible, then look no further than these Veggie Muffins!
Carrot Cake, I'd like you to meet Zucchini Bread. I mean, even though they're chock full of veggies, who could turn down these little cuties?
And while I made mine mini, you can certainly make them full-sized as well.
Subtle Veggie Muffins
I am not above hiding/disguising vegetables to get my kids to eat them, as in the case of these Veggie Muffins. That's not to say I don't serve them straight-up as a side dish as well. We have a veggie or three with dinner every night. And on a good day I may even throw some baby carrots or cherry tomatoes into the ol' lunchbox.
But the in-your-face vegetables aren't always regarded with excitement and acceptance around here, particularly in reference to my younger son. So what's a mama to do?
Rather than turn every mealtime into a war zone, I do my best to maintain a level-headed philosophy. And that is...while we will certainly offer and model eating veggies, I'm also going to sneak them in any chance I get! That way, when my stubborn little darling balks at the idea of consuming a solitary green bean, I can cackle to myself that he still got those important veggie vitamins, whether he knew it or not. And these Veggie Muffins are a perfect means to that end!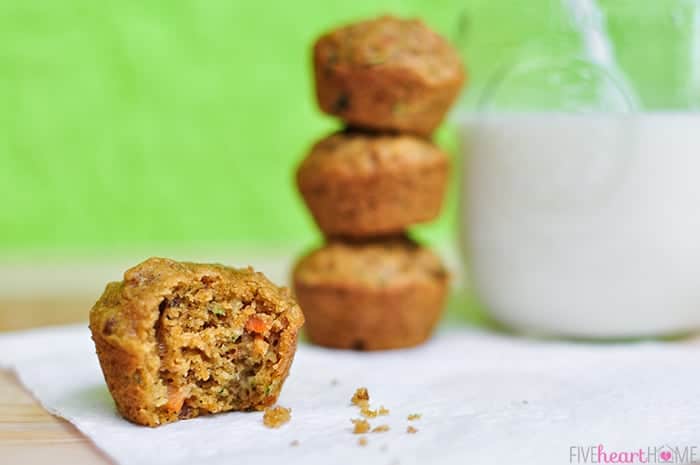 Now the vegetables in these Veggie Muffins are not entirely invisible. You can make out the bits of shredded zucchini and carrots if you happen to have a discerning eye.
But for some reason, even in their most ardent anti-vegetable phases, my kids have always been receptive to veggies in the form of tiny toddler muffins that taste like cake.
Healthy Ingredients
Yes, they're tender and sweet, but don't get me wrong...these Veggie Muffins are way healthier than cake.
In addition to a pound of vegetables, they feature whole wheat pastry flour (in lieu of white flour) and plain yogurt.
Furthermore, if you're so inclined, you can use coconut oil instead of butter, and unrefined sugar as your sweetener.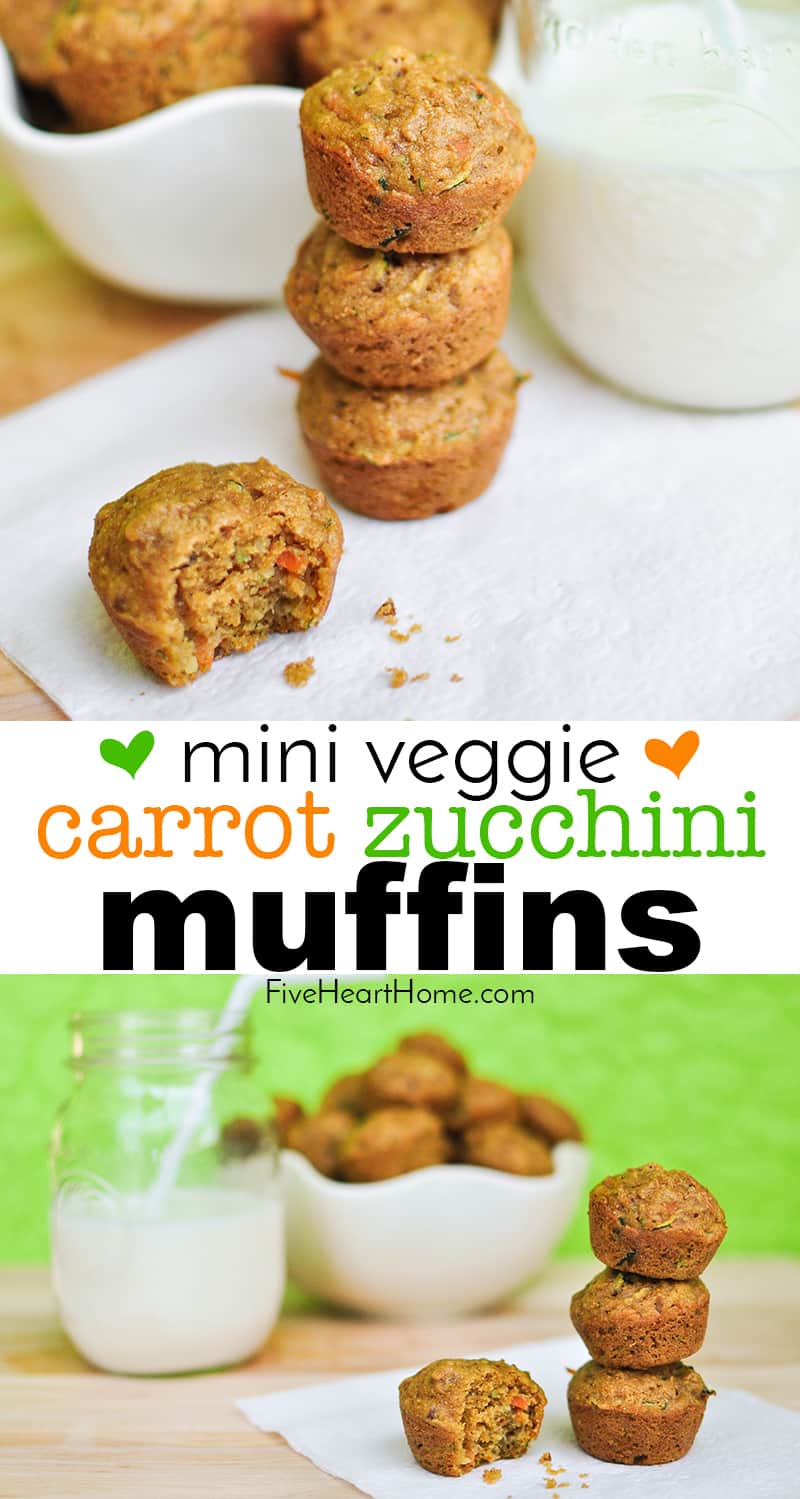 So what are you waiting for? Whip up a batch of these Veggie Muffins. And then prepare to be amazed as your kiddos come back for extra servings of zucchini and carrots!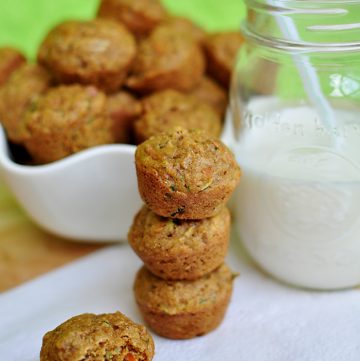 Veggie Muffins
Veggie Muffins — loaded with carrots, zucchini, & whole wheat flour — make a yummy, healthy breakfast or snack for toddlers, kids, and adults alike!
Print
Pin
Rate
Servings:
48
(or more) mini muffins
Ingredients
1

pound

COMBINED zucchini & carrots

2

tablespoons

sugar

½

cup

pecans or walnuts

,

chopped (optional)

2

cups

whole wheat pastry flour

1

teaspoon

baking soda

1

teaspoon

baking powder

½

teaspoon

salt

6

tablespoons

coconut oil OR butter

,

melted & cooled

¼

cup

plain yogurt

,

at room temperature

2

eggs

,

at room temperature, lightly beaten

1

tablespoon

lemon juice

1

teaspoon

vanilla

½

cup

+ 2 tablespoons sugar OR unrefined sugar
Instructions
Using a box grater or food processor, grate the zucchini and carrots. Stir 2 tablespoons sugar into shredded veggies, and place mixture in a large colander set over a bowl. As you prepare the rest of the batter ingredients, the sugar will draw the moisture out of the zucchini and carrots. Occasionally press down on them to squeeze more water into the bowl.

Preheat the oven to 375°F. Lightly coat two mini muffin pans with cooking spray.

Place chopped nuts on a sheet pan and bake for 5 to 7 minutes or until toasted. Allow to cool for a few minutes.

In a large bowl, whisk together nuts, flour, baking soda, baking powder, and salt. In a medium bowl, stir together coconut oil or butter, yogurt, eggs, lemon juice, and vanilla. Blend in sugar.

Add liquid mixture to flour mixture and stir until just combined. Press on shredded zucchini and carrots in colander one last time to extract any remaining water. Mix veggies into batter.

Scoop batter into mini muffin tins and bake for 10 minutes, or until a toothpick inserted in the center of a muffin comes out clean. You will probably have more batter than will fit in two muffin pans. You may bake the remaining batter in an additional mini muffin pan (or reuse a pan after the first batch of muffins comes out of the oven, allowing it a few minutes to cool off). Or you can scoop the remaining batter into small ramekins to make a couple of larger muffins (which will probably take 15 minutes or so to bake).
Notes
I had a 10 ounce zucchini on hand, so I used 6 ounces of carrots in addition to that in order to make up my pound of veggies.
You can use all-purpose white flour if you prefer. You can also use half white flour and half whole wheat flour in lieu of whole wheat pastry flour.
If you wish to use unrefined sugar, Sucanat and Rapadura are popular brands.
If you wish to make regular-sized muffins instead of mini, this recipe will probably yield 16 to 18 regular muffins. Start checking them for doneness at 15 minutes.
Calories:
55
kcal
|
Carbohydrates:
7
g
|
Protein:
1
g
|
Fat:
3
g
|
Saturated Fat:
2
g
|
Cholesterol:
7
mg
|
Sodium:
51
mg
|
Potassium:
58
mg
|
Fiber:
1
g
|
Sugar:
3
g
|
Vitamin A:
30
IU
|
Vitamin C:
1.8
mg
|
Calcium:
10
mg
|
Iron:
0.3
mg
Adapted from Baking Illustrated.