Healthy banana muffins never tasted so good! These sweet, moist muffins are made with wholesome ingredients including whole wheat flour, coconut oil, yogurt, and honey.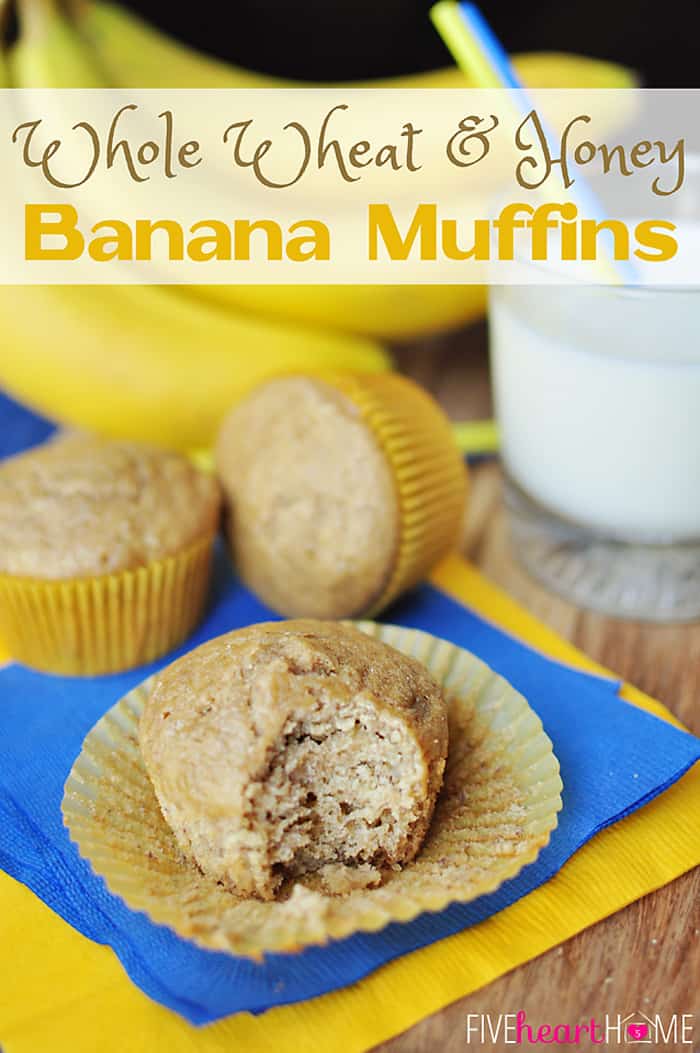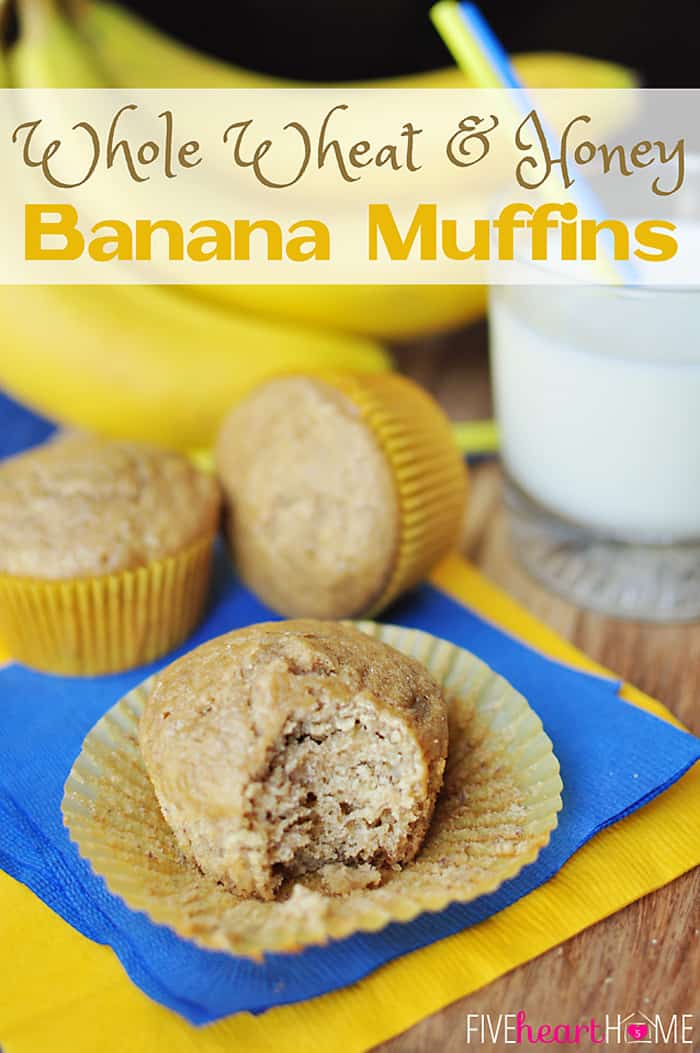 There aren't many things quicker and easier for breakfast-on-the-go than good, old-fashioned muffins. They are also great as an after school snack or post-dinner treat. But let's face it…not all muffins are created equal, and not every muffin is inherently wholesome. In fact, some are actually more akin to cupcakes masquerading under the good name of 'muffin.'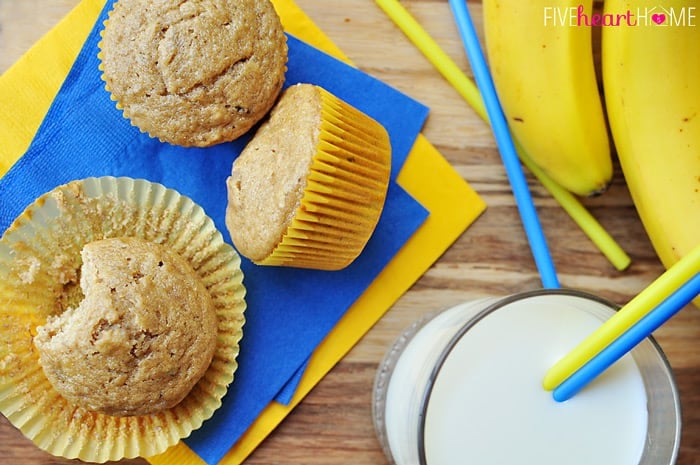 But these? These muffins actually are healthy…and they're totally tasty, to boot! They are soft and moist, thanks to coconut oil and yogurt. They are naturally sweet, compliments of bananas and honey. And they trade nutrient-deficient white flour for wholesome whole wheat pastry flour.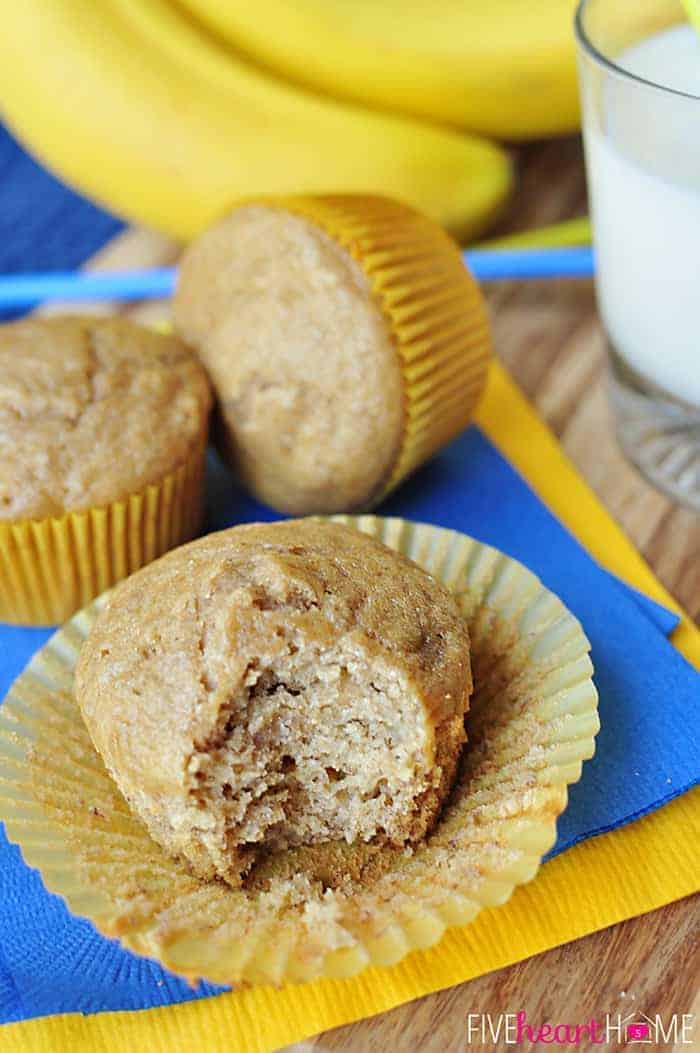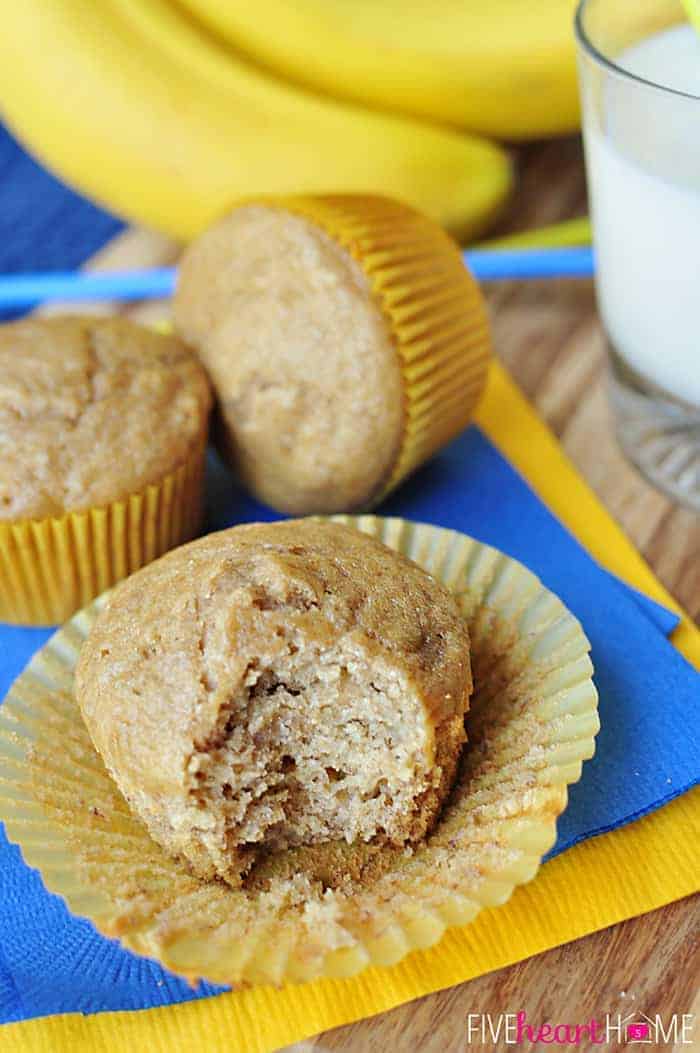 I've talked a little bit about this before, but aside from grinding your own fresh flour, I've found two varieties of store bought whole wheat flour that make baked goods taste less whole wheat-ish. White whole wheat flour is 100% whole wheat flour (that happens to come from white wheat instead of the more commonly used red wheat) that has a lighter taste and texture than regular whole wheat flour. It's my favorite type of flour for bread baking.
However, in non-yeast baked goods such as pancakes, waffles, quick breads, and these muffins, I love to use whole wheat pastry flour. Once again, it is 100% whole wheat flour, but it is softer, finer, and has lower protein, yielding baked goods with a texture that is closer to that of white flour than regular whole wheat flour. Despite tasting lighter, whole wheat pastry flour still retains the nutritional benefits of 100% whole wheat.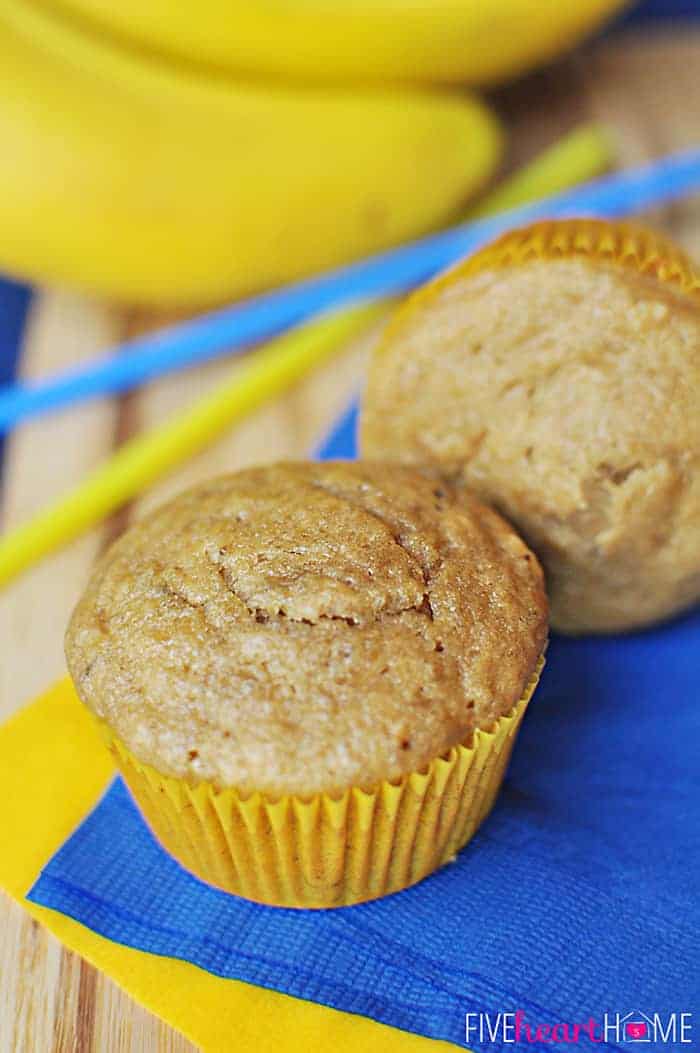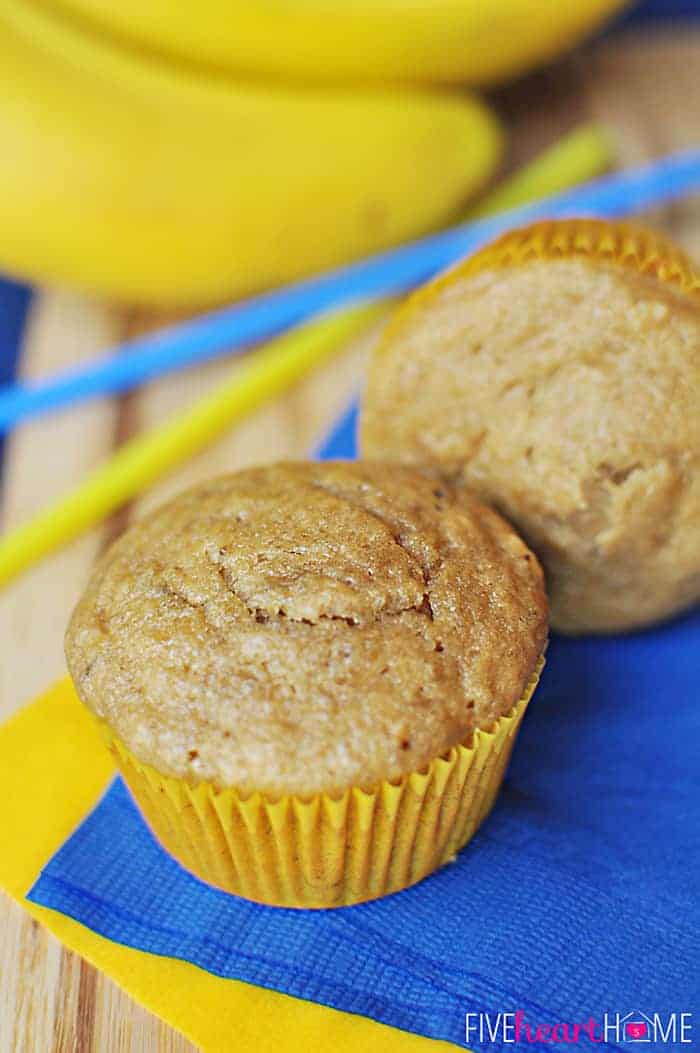 Now when I have a bunch of browning bananas, sometimes I go in a decadent direction with them. But more often than not, I bake up a big batch of these muffins. I know that they will give me a head start on breakfast over the next few busy mornings. I know that they will be requested at snack time. I know that they will taste delicious warm out of the oven or briefly reheated…with or without a pat of butter. 😉 And I know that I will feel good about feeding them to my family.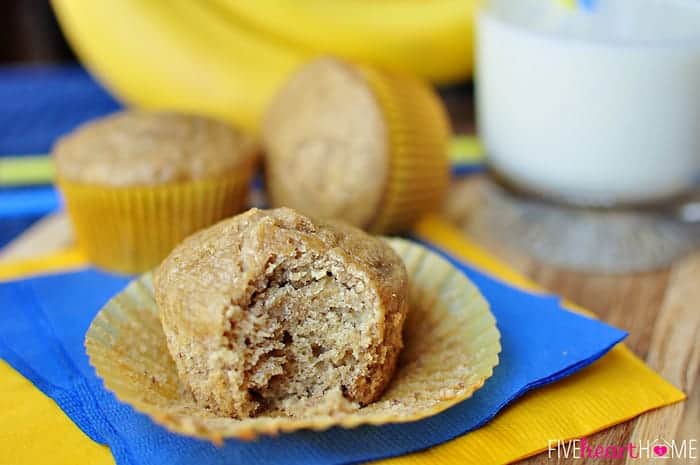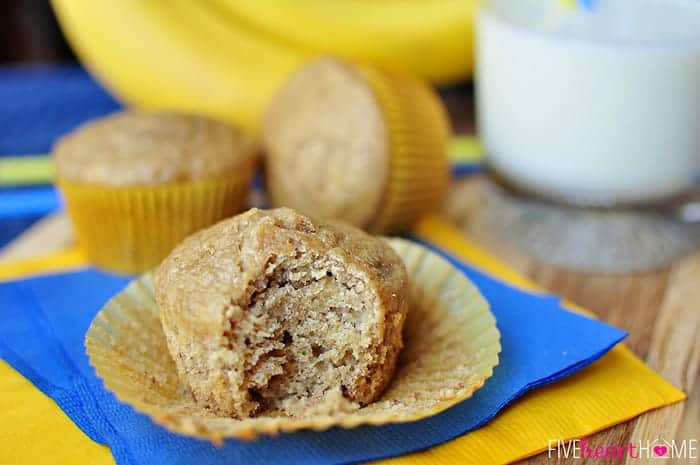 All of that makes these healthy banana muffins winners in my book. I hope you try them and love them, too!
Healthy Whole Wheat & Honey Banana Muffins
Healthy banana muffins never tasted so good! These sweet, moist muffins are made with wholesome ingredients including whole wheat flour, coconut oil, yogurt, and honey.
Ingredients
2 1/2 cups whole wheat pastry flour
1 1/2 teaspoons baking powder
1 teaspoon baking soda
1/2 teaspoon salt
2 cups mashed banana (approximately 4 to 5 bananas, depending on size)
2/3 cup honey
1/2 cup coconut oil, melted and slightly cooled
2 eggs, at room temperature
2 teaspoons vanilla
1/2 cup yogurt, at room temperature
Instructions
Preheat oven to 400°F. Prepare muffin pans by lining 24 muffin cups with paper liners.
In a medium bowl, whisk together flour, baking powder, baking soda, and salt. In a large bowl, mix together mashed banana, honey, coconut oil, eggs, and vanilla. Add half of flour mixture; stir. Add yogurt; stir. Add remaining flour mixture; stir until just blended.
Divide batter between muffin pans by filling each muffin cup approximately 2/3 full with batter. Bake for 15 to 18 minutes, or until toothpick inserted in center of muffin comes out clean. Cool in pans for a few minutes before turning out onto wire rack to cool completely.
Notes
Make sure your ingredients are at room temperature or else your melted coconut oil will resolidify as soon as the cold ingredients touch it. You can quickly warm up cold eggs by putting them in a bowl of warm water for a few minutes.
You may use anywhere from 1/2 to 3/4 cup of honey, depending on how ripe/sweet your bananas are and how sweet you prefer your muffins to turn out.
https://www.fivehearthome.com/healthy-whole-wheat-honey-banana-muffins/
https://fivehearthome.com ~ All recipes and images on Five Heart Home are copyright protected. Please do not use without my permission. If you would like to feature this recipe, please rewrite the directions in your own words and give proper attribution by linking back to this blog.
More yummy muffins…
Banana Bread & Chocolate Muffins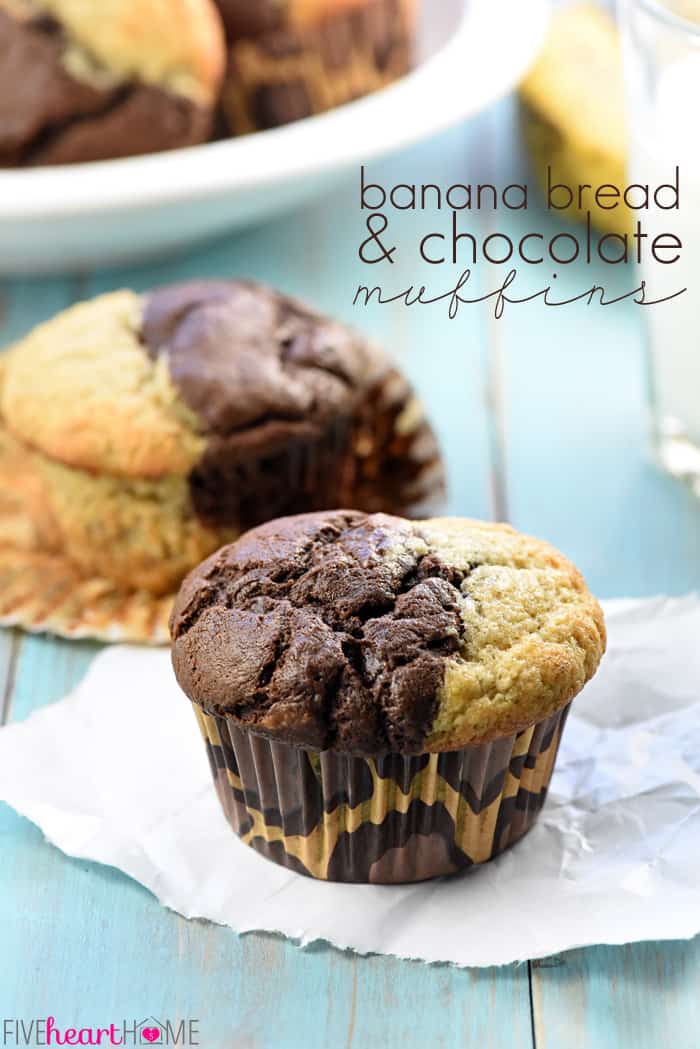 Oatmeal Spice Muffins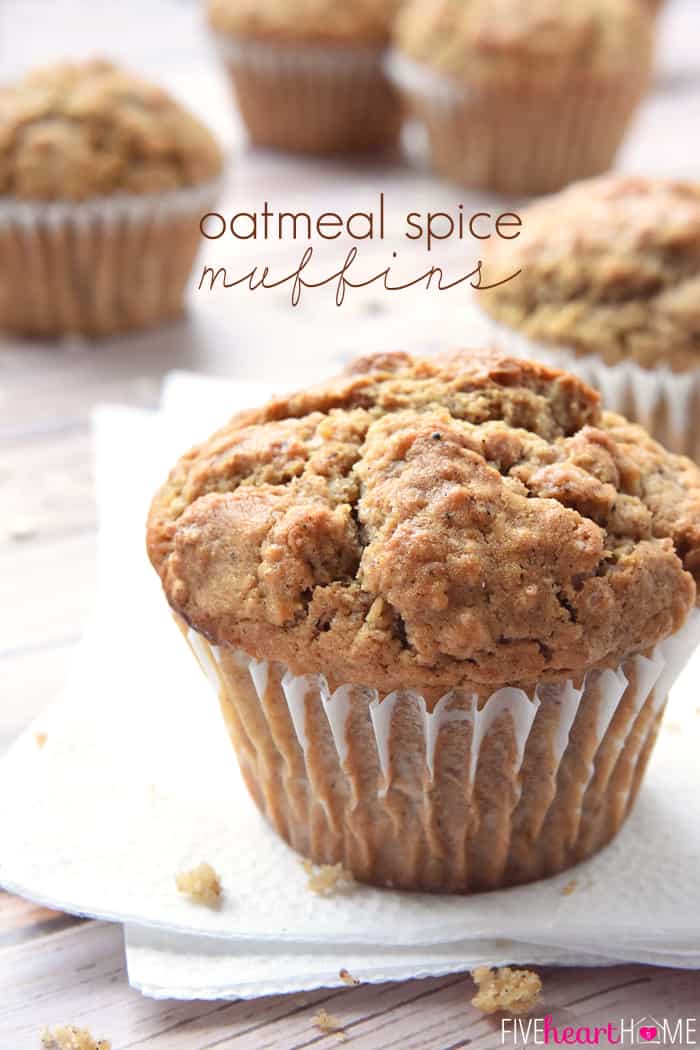 Bacon, Potato, & Cheese Mini Frittatas (Egg Muffins)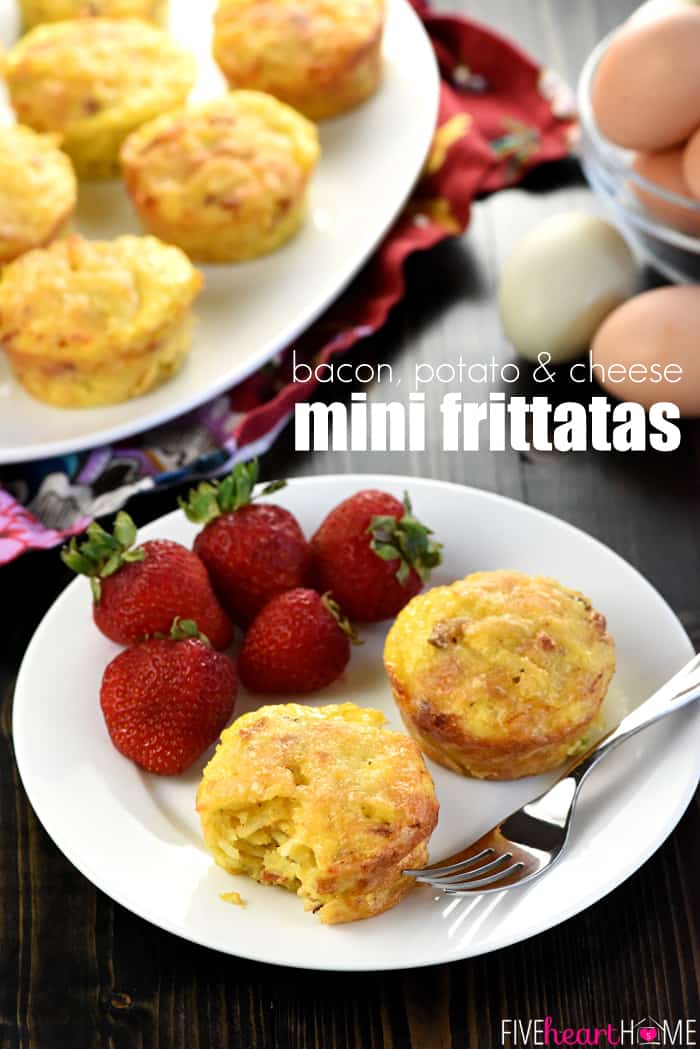 Mixed Berry Cream Cheese Muffins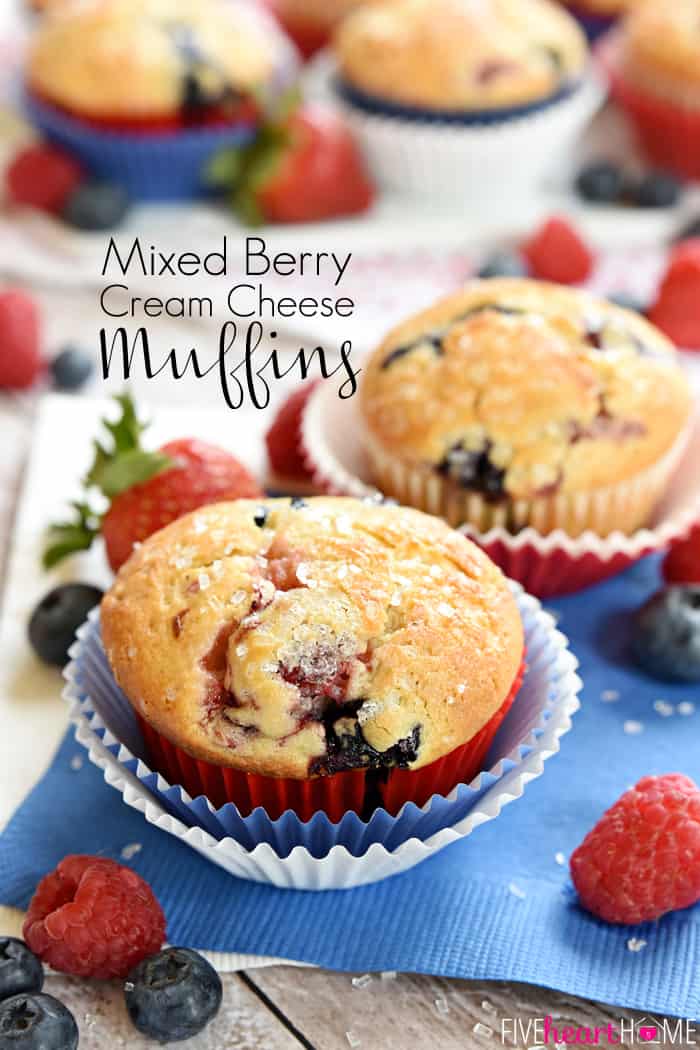 Save
Save
4