Lemon Mug Cake is a quick, tasty, single-serving breakfast or dessert treat, reminiscent of a lemon poppy seed muffin!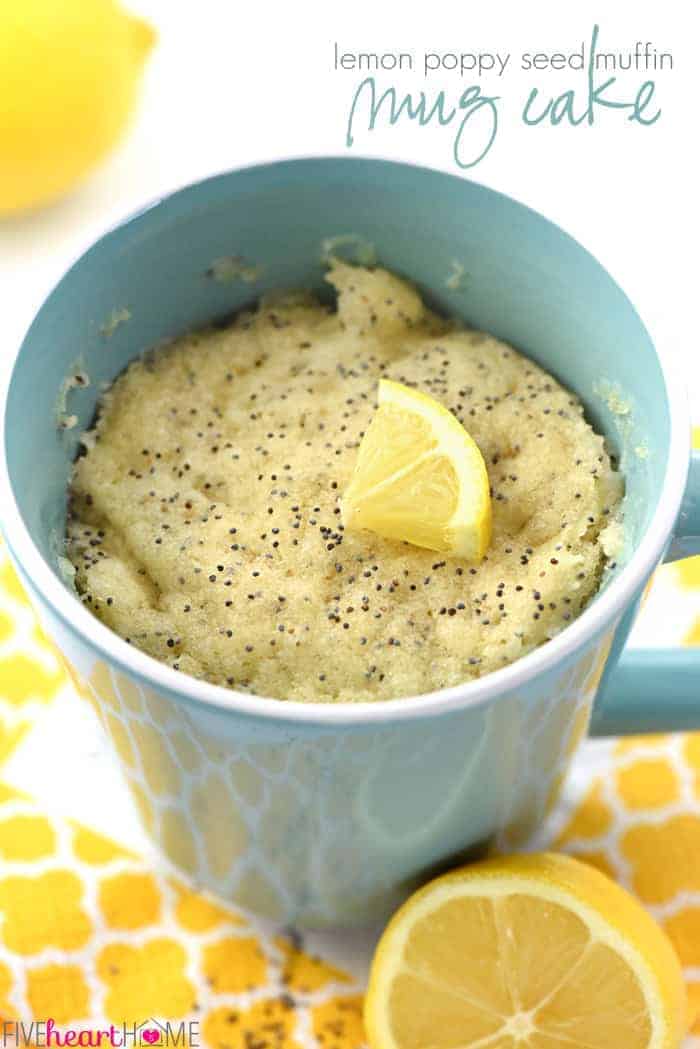 So I've come to a conclusion regarding seasonal recipes...lemon is to springtime what pumpkin is to fall. At least it is at my house, because as soon as September hits, I want to pumpkin-ify everything. As for this time of year? I could happily bake and cook with lemons every day. I've waited three long weeks since posting my Lemon Cupcakes with Lemon Cream Cheese Frosting...so hopefully you're up for a yummy Lemon Mug Cake today!
It may be becoming evident to my regular readers that I adore a good mug cake. I also love that once I established a solid, dependable recipe, it's been easy to adapt its ingredient ratios to other mug cake flavors (see just above the recipe for more mug cake flavors!). However, that didn't prevent me from having to re-make this lemon version FIVE TIMES before I felt that it was just right. But -- joy of joys -- now that perfection has been attained, I can share it with you!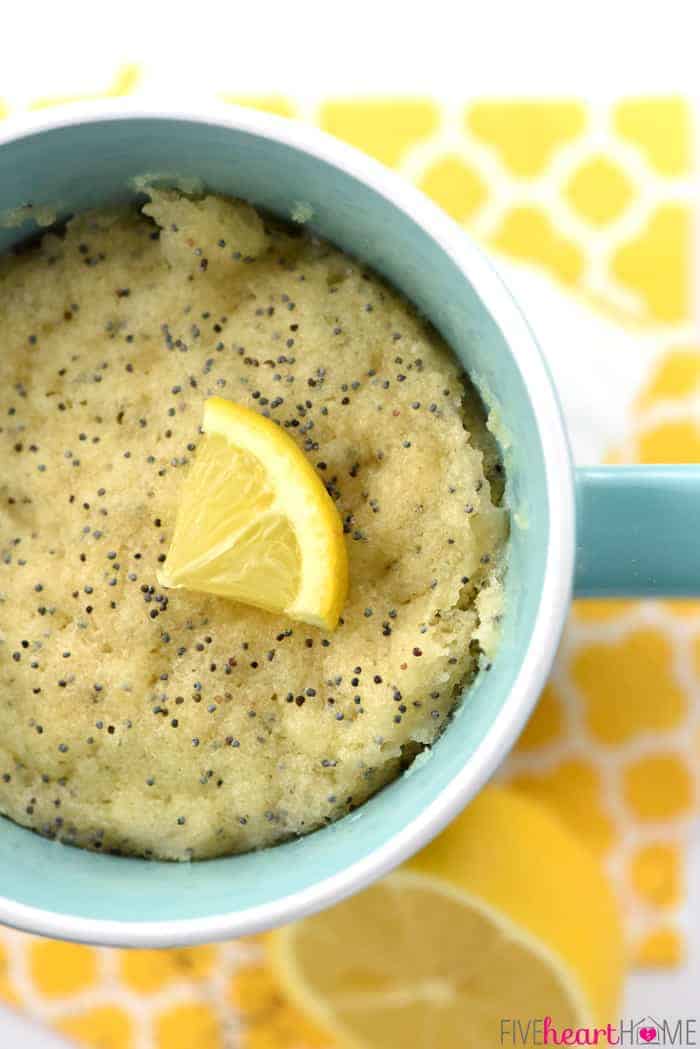 Lemon Poppy Seed Muffins are fabulous, are they not? I love how tangy lemon juice lends such brightness to a sweet, soft muffin, and those little poppy seeds add visual interest as well as a bit of crunch. But if you're not feeling up to baking a whole batch of muffins, a muffin mug cake is a great alternative. Now I wouldn't exactly call this muffin wholesome -- it's made with all-purpose flour and white sugar, after all -- but I can safely say that at least it's lacking the iffy unpronouncable ingredients found in store-bought "bakery-style" muffins. So I'd say you can either enjoy it as a coffee shop-esque special breakfast treat, or as a quick, simple dessert when you need some a little something to appease the ol' sweet tooth.
A smattering of quick notes and then I'll get to the recipe...because at that point you'll only be a few short minutes away from lemony muffin goodness!
Lemon Juice Options
I originally made this Lemon Mug Cake with fresh-squeezed lemon juice, but after multiple attempts, I ran out and had to resort to my refrigerated bottle of lemon juice instead. And you know what? I think the bottled juice gave the mug cake a stronger lemon flavor, which I enjoyed.
I feel it important to interject here that I actually didn't buy bottled lemon juice for years after I realized that it contained preservatives and sulfites -- ick. But then a few months ago during a trip to Whole Foods, I discovered a glass bottle of 365 brand lemon juice...and the only ingredient listed on the bottle was organic lemon juice. So now I always keep a bottle on hand (it's a little pricey but it lasts a good while) for the times that I run out of fresh lemons, and I don't feel one bit guilty about using it.
To balance the addition of puckery lemon juice to this recipe, I had to slightly increase the amount of sugar used (as compared to my other mug cakes). And while I settled on ½ teaspoon poppy seeds, you can certainly add more or less depending on your preference.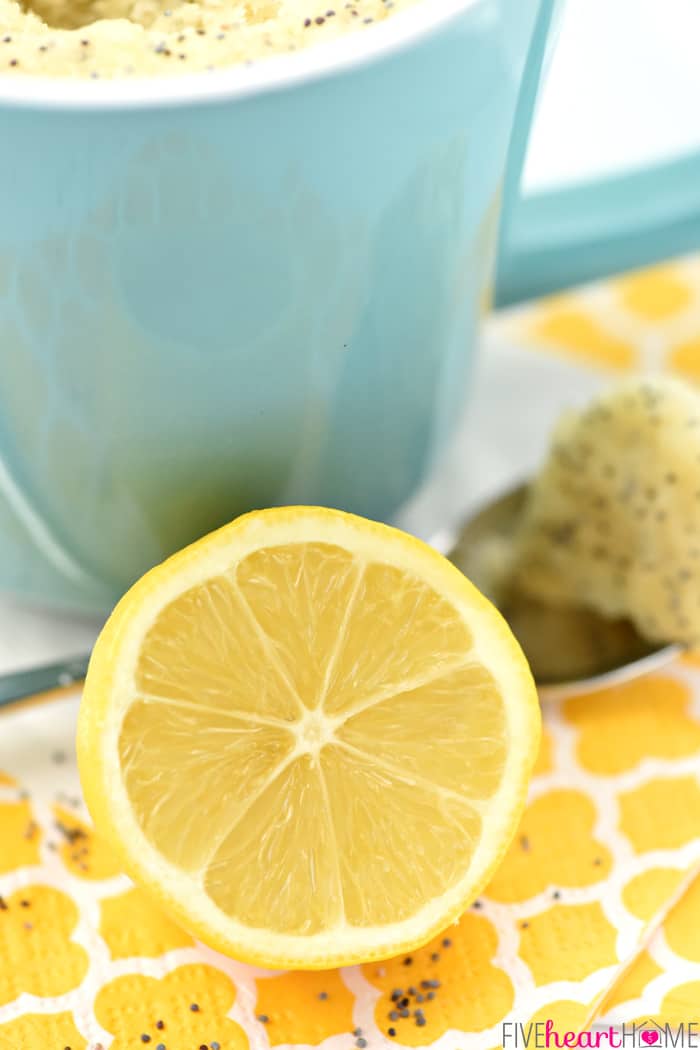 Cooking Time
The cooking time for mug cakes can be variable depending on the strength of your microwave and the dimensions of the mug you use. Definitely be prepared to experiment a bit the first time you make this recipe. We enjoyed this mug cake more when it was fully cooked and fluffy as opposed to slightly underdone and gooey (which actually seemed a bit gummy to me), but that's up to you.
The All-Important Mug
As for the best type of mug to use, I always recommend a straight-sided, microwave-safe mug with a capacity of at least 14 ounces (to allow for rising -- and then falling -- of your mug cake).
That being said, I decided to break my own rules here, because every single mug cake recipe I've shared up to this point has been made and photographed in the same, plain, straight-sided white mugs. But today, I was feeling rather rebellious and I-wanted-to-use-a-more-interesting-mug-for-my-pictures, dang it. So I tried the recipe in this light blue number with angled sides. And you know what? The world didn't end.
So the moral of the story here is that the recommended mug will yield consistent, predictable mug cake results...but a different type of mug may end up working just fine as well. But if you have any doubts as to the size of your mug, stick a plate underneath just to avoid an overflow of goopy batter all over the floor of your microwave.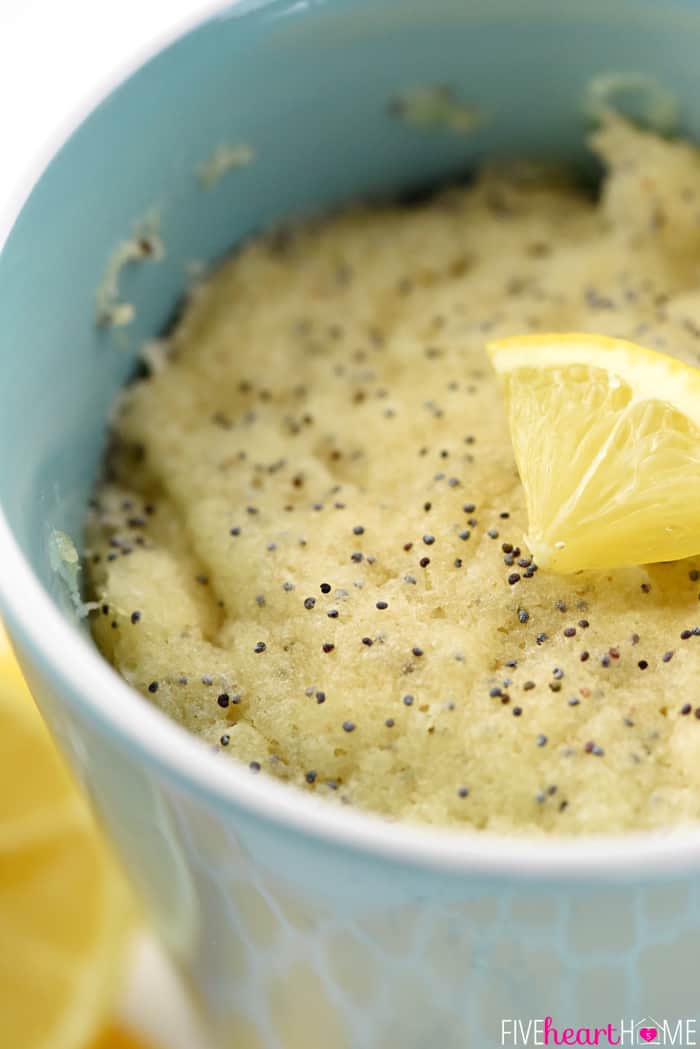 A Molten Variation
One last thought -- and I haven't tried this yet, but I plan to once I recover from having heartily sampled so many lemony mug cake trials today. But how good would this Lemon Mug Cake be if you converted it to a molten mug cake of sorts by spooning a bit of lemon curd on top to sink down and create a gooey lemon center?! Simply take a tablespoon or two of lemon curd and dollop it into the center of the batter. Helloooo, yum.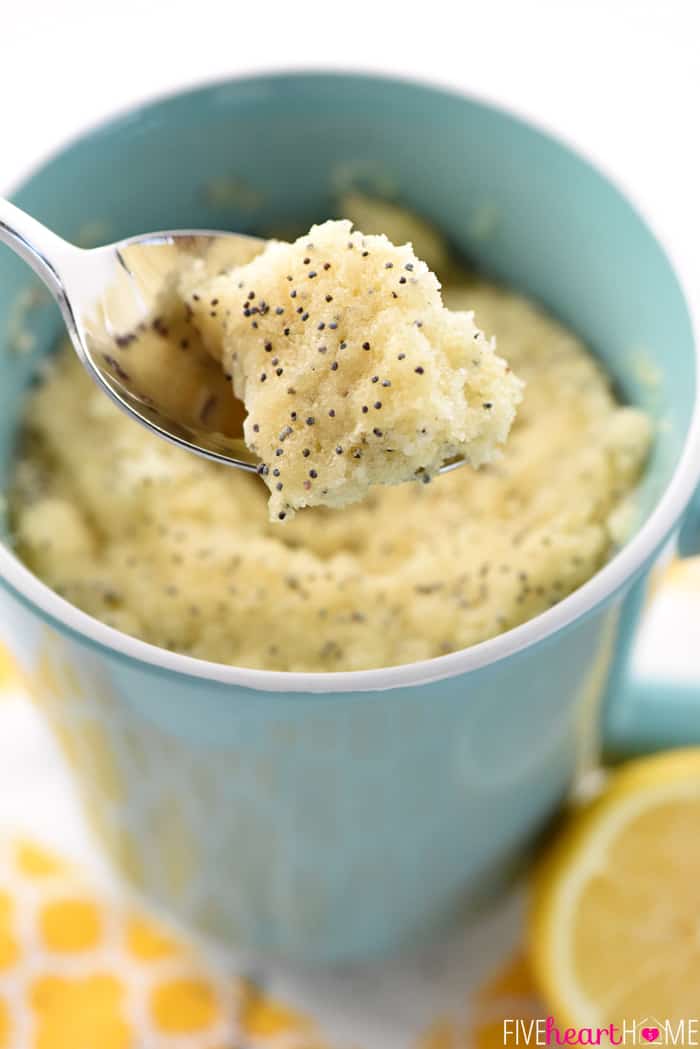 That's it, folks. You're T-minus 5 (or less!) minutes away from a shortcut version of lemon poppy seed muffin perfection. Because really...those cute little poppy seeds wouldn't lie. 😉
More Mug Cake Deliciousness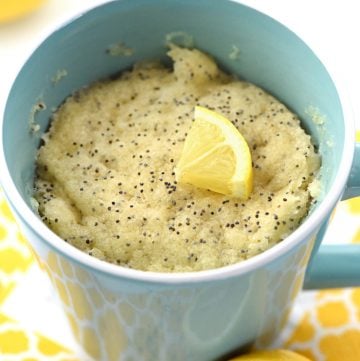 Lemon Mug Cake
Lemon Mug Cake is a quick, tasty, single-serving breakfast or dessert treat, reminiscent of a lemon poppy seed muffin!
Print
Pin
Rate
Servings:
1
mug cake, which is equivalent to 2 regular lemon poppy seed muffins
Ingredients
¼

cup

+ 2 tablespoons all-purpose flour

2 ½

tablespoons

sugar

¼

teaspoon

baking powder

3

tablespoons

milk

,

at room temperature

1

tablespoon

lemon juice

2

tablespoons

salted butter

,

melted and cooled

½

teaspoon

pure vanilla extract

½

teaspoon

(or more) poppy seeds
Instructions
In a small bowl, whisk together flour, sugar, and baking powder until thoroughly, completely combined, with no streaks of any ingredients remaining. Blend in milk, lemon juice, butter, vanilla, and poppy seeds until batter is smooth. Pour batter into a 14-ounce (or larger) microwave-safe mug with straight sides.

Microwave on high for 1 ½ to 2 minutes, or until cake is done to your liking. Allow to cool for a couple of minutes before serving.
Notes
A tall, cylindrical mug with straight (not angled) sides will ensure that the cake bakes evenly. I found a 14-ounce mug to be the perfect size to allow the cake to rise up while baking without overflowing. (I filled my mug to the top with water and then transferred the water to a measuring cup to determine its capacity.) If you use a smaller mug, you may want to bake the cake on top of a plate or paper towel to catch any possible overflow.
I actually discovered that bottled lemon juice tasted stronger than fresh-squeezed and gave the mug cake a final flavor that was more lemony. That being said, try to find all-natural bottled lemon juice without preservatives or sulfites...the only ingredient in the bottle should be lemon juice!
The strength of individual microwaves can vary. The first time you make this recipe, be prepared to experiment a bit to ensure the perfect length of baking time for your particular microwave. The nice thing about this cake is that even if it is undercooked, you don't have to worry about raw eggs!
Unsalted butter will work just fine in this recipe, but I find that using salted butter adds a tiny flavor boost. If you only have unsalted butter on hand, consider adding a tiny pinch of salt to the dry ingredients.
Calories:
476
kcal
|
Carbohydrates:
58
g
|
Protein:
5
g
|
Fat:
25
g
|
Saturated Fat:
15
g
|
Cholesterol:
65
mg
|
Sodium:
222
mg
|
Potassium:
160
mg
|
Fiber:
1
g
|
Sugar:
33
g
|
Vitamin A:
773
IU
|
Vitamin C:
6
mg
|
Calcium:
116
mg
|
Iron:
1
mg