One-Minute Chocolate Peanut Butter Mug Cake is a moist chocolate cake with a molten peanut butter center that quickly bakes up in a mug in the microwave!

Today I'm sharing the perfect treat for those days when you're craving a little something sweet but there's nary a cookie or cupcake or piece of candy in the house.
Did you know that at any given moment, you are just a few short minutes away from straight-up, legitimate CAKE?! It's true. As long as you're stocked with a few pantry basics like flour and sugar, and as long as you can rustle up a bit of milk and butter, you can whip up a fresh, decadent, piping-hot dessert for one (or more!) in about the same amount of time it would take to scoop a bowl of ice cream.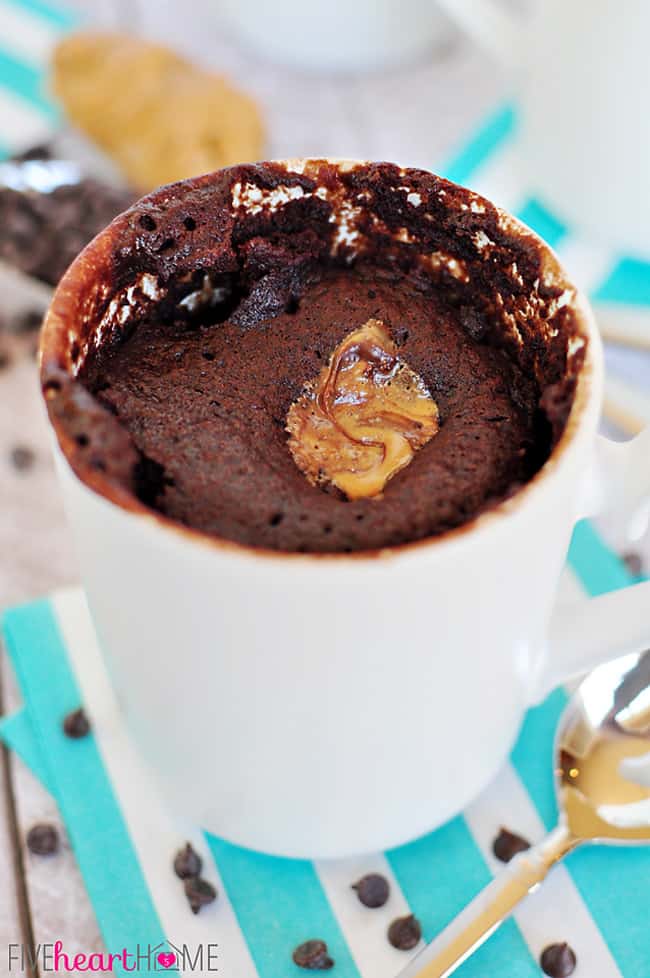 Have you made a microwave mug cake before? They're kind of magical. For this version, you just stir up your simple ingredients (this recipe doesn't even require an egg!), pour your batter into a mug, dollop in a swirl of peanut butter and mini chocolate chips, and set the microwave for a minute. Before your very eyes, the liquid batter rises up and bakes into a rich, gooey, chocolate cake with a molten peanut butter center. And yes, it's every bit as good as it sounds.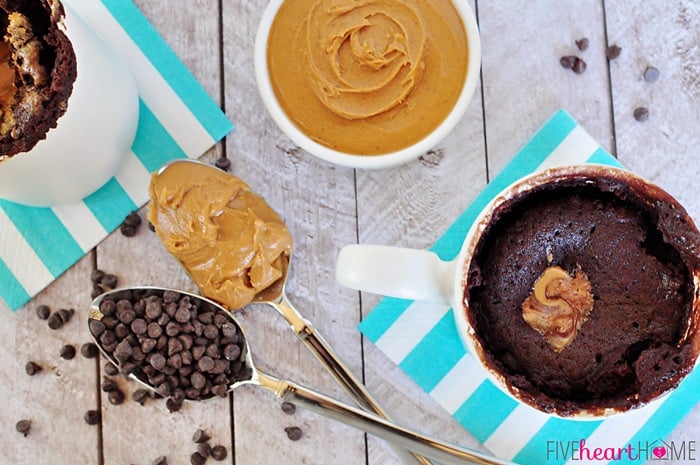 If anyone else in the house shares your sweet tooth, you can easily double, triple, or quadruple this recipe. Simply divide the batter between the corresponding number of mugs and microwave them one at a time. With each cake only taking one minute to bake, you'll still have dessert ready in a matter of minutes.
And it's up to you how you prefer to enjoy these little babies. You can eat your cake straight out of the mug (which is what I typically do). Or if you're feeling fancy and don't mind dirtying one more dish, you can spray your mug with cooking spray before adding the batter and then overturn your cake onto a plate once baked for a quick take on a molten lava cake.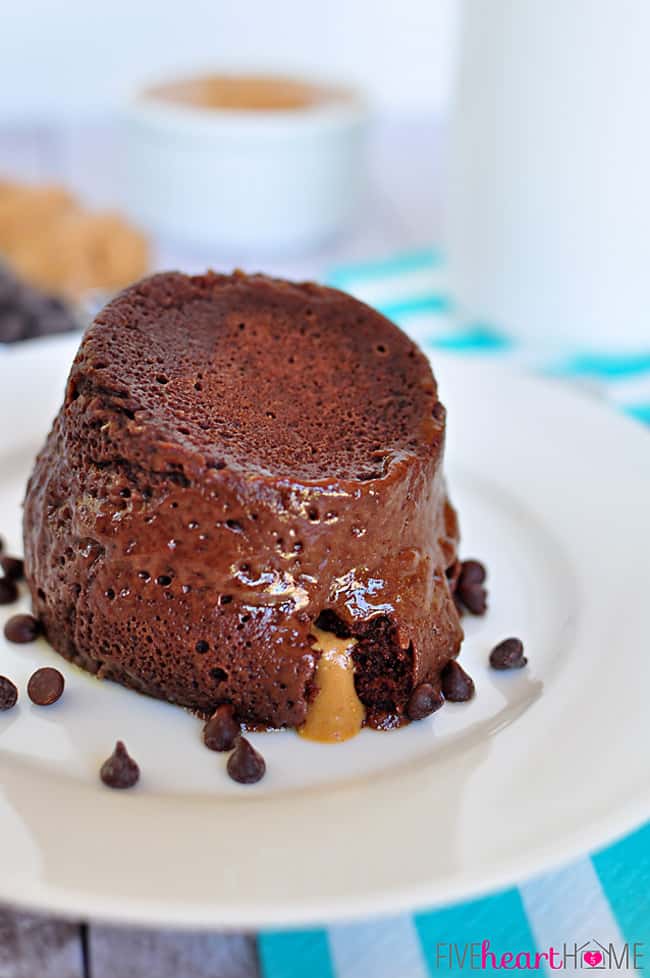 Well, hello there, lovely. Don't mind if I do.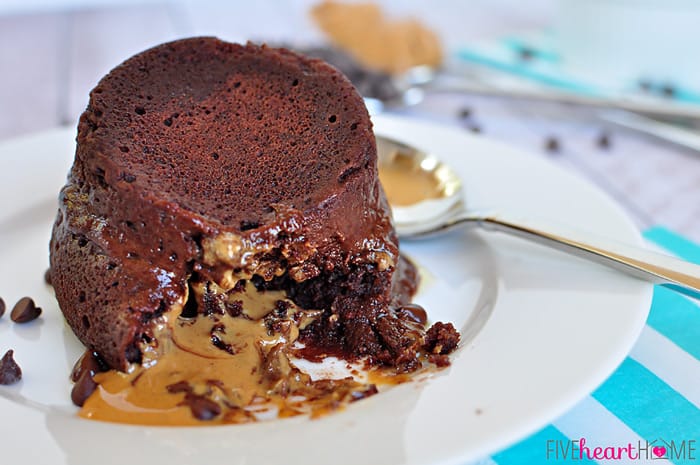 Regardless of how you choose to serve them, any fan of chocolate and peanut butter won't want to miss these to-die-for mug cakes! After all, it's hard to beat fresh, hot, chocolate cake goodness, but if anything can, it would be a peanut buttery center. And the fact that these can be ready -- from start to finish -- in under five minutes? Well, that sounds like a pretty perfect way to satisfy a rogue sugar craving to me. 😉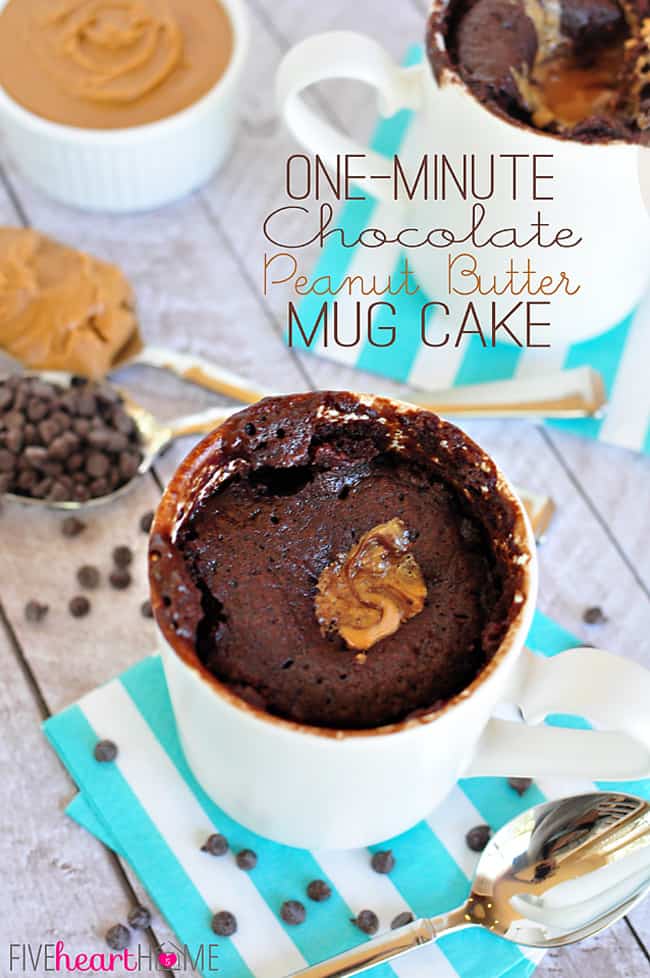 One-Minute Chocolate Peanut Butter Mug Cake Recipe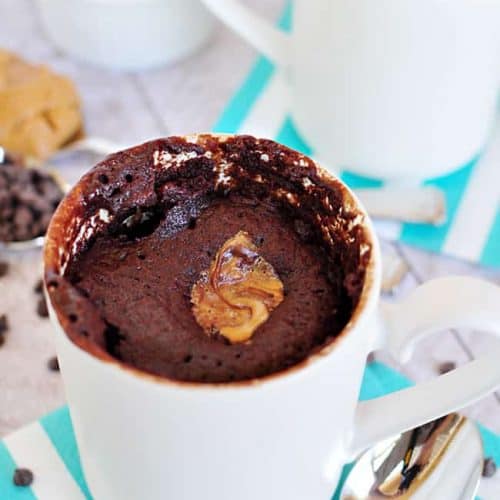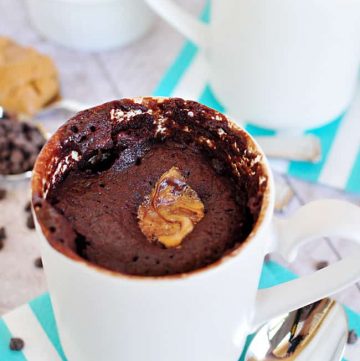 One-Minute Chocolate Peanut Butter Mug Cake
Moist chocolate cake with a molten peanut butter center bakes up in a microwaved mug in just one minute!
Print
Pin
Rate
Ingredients
1/4

cup

all-purpose flour

2

tablespoons

unsweetened cocoa powder

2

tablespoons

sugar

1/4

teaspoon

baking powder

1/4

cup

milk

,

at room temperature

2

tablespoons

butter

,

melted and cooled

1/4

teaspoon

pure vanilla extract

1

tablespoon

creamy peanut butter

1

tablespoon

mini chocolate chips
Instructions
In a small bowl, whisk together flour, cocoa powder, sugar, and baking powder until thoroughly, completely combined with no streaks of flour or cocoa powder remaining. Blend in milk, butter, and vanilla until batter is smooth. Pour batter into a 14-ounce (or larger) microwave-safe mug with straight sides.

Combine peanut butter and chocolate chips and dollop into the center of the mug, gently pressing down until even with the top of the batter. Microwave on high for 1 minute. Allow to cool for a couple of minutes before serving.
Notes
A tall, cylindrical mug with straight (not angled) sides will ensure that the cake bakes evenly. I found a 14-ounce mug to be the perfect size to allow the cake to rise up while baking without overflowing. (I filled my mug to the top with water and then transferred the water to a measuring cup to determine its capacity.) If you use a smaller mug, you may want to bake the cake on top of a plate or paper towel to catch any possible overflow.
The strength of individual microwaves can vary. The first time you make this recipe, be prepared to experiment a bit to make sure that 1 minute is the perfect length of baking time. The nice thing about this cake is that even if it is undercooked, you don't have to worry about raw eggs!
The mini chocolate chips are optional. So is the peanut butter, for that matter. But I don't recommend skipping either. 😉
As an alternative to serving straight out of the mug, you may instead spray the mug with non-stick cooking spray before adding the batter, and then carefully overturn the cake onto a plate once baked.
Calories:
641
kcal
|
Carbohydrates:
71
g
|
Protein:
12
g
|
Fat:
38
g
|
Saturated Fat:
20
g
|
Cholesterol:
69
mg
|
Sodium:
314
mg
|
Potassium:
438
mg
|
Fiber:
6
g
|
Sugar:
38
g
|
Vitamin A:
800
IU
|
Calcium:
142
mg
|
Iron:
3.3
mg
More Mug Cakes
Save