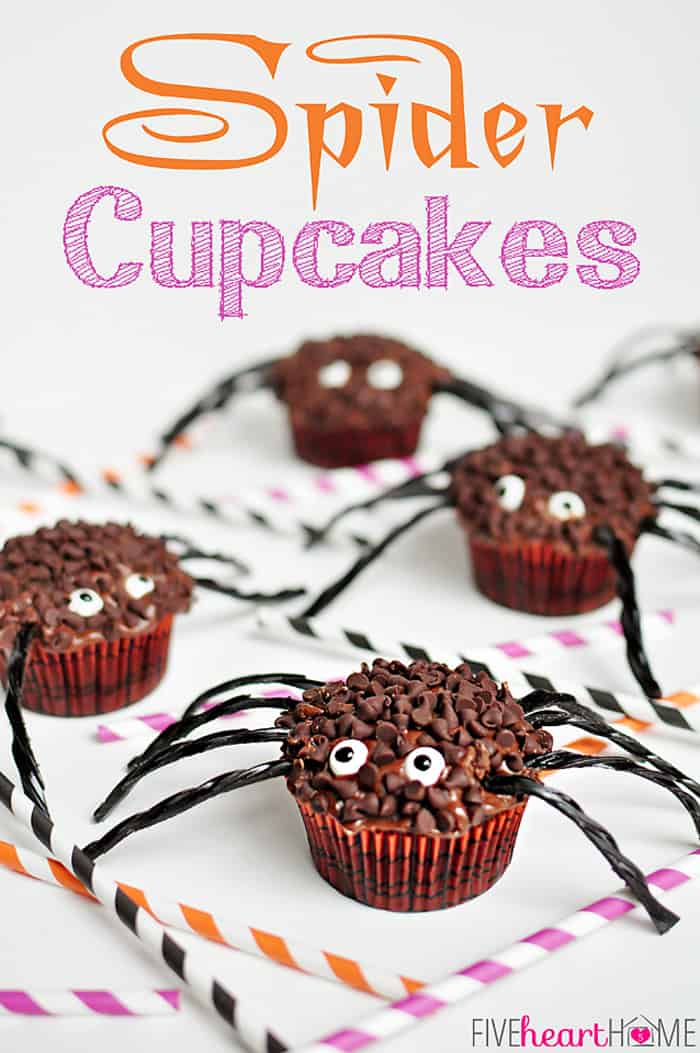 Spider Cupcakes are easy and fun to decorate using black licorice ropes, candy eyeballs, and mini chocolate chips. These cute chocolate cupcakes make the perfect Halloween dessert!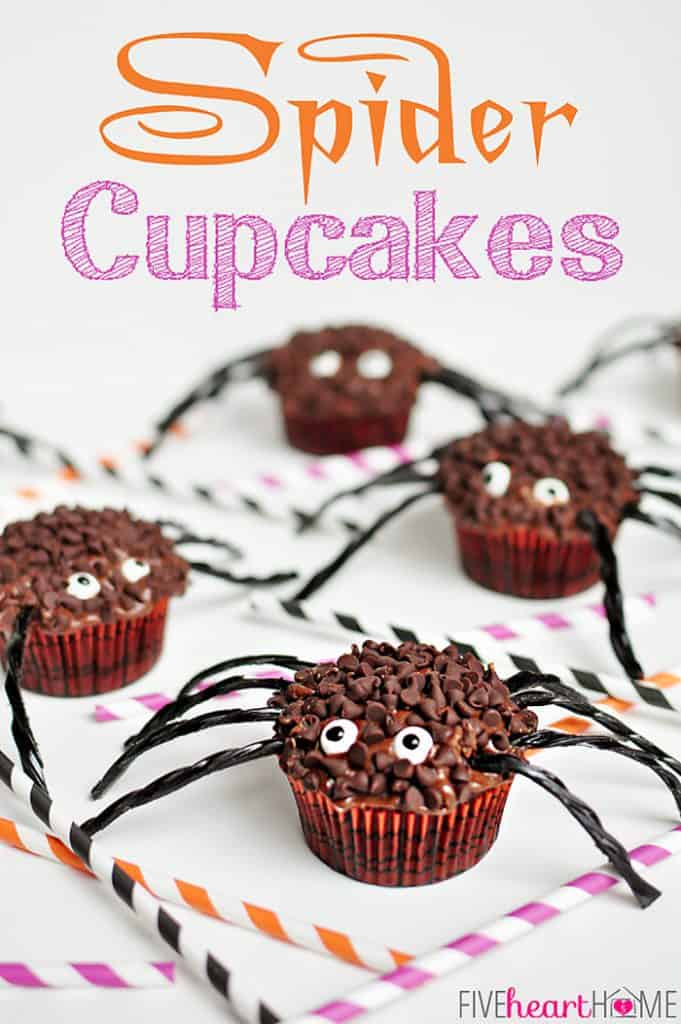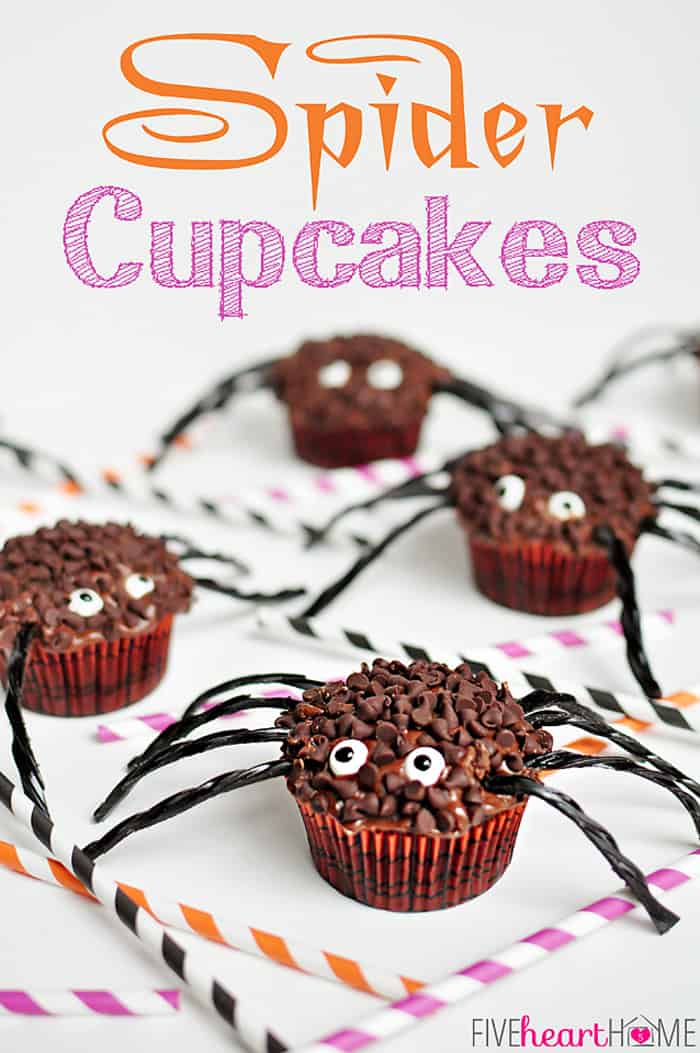 All Hallows' Eve is right around the corner. What say we make some cute and delicious Spider Cupcakes to celebrate?
Aren't these Halloween cupcakes darling??? I do enjoy whipping up seasonal treats with my kids, but nothing too fussy or complicated, thankyouverymuch. These cuties fit the bill just perfectly.
Ingredients
Simple frosted chocolate cupcakes are turned into endearing spiders with the addition of some candy eyeballs, licorice legs, and mini chocolate chips...AKA, Spider Cupcakes!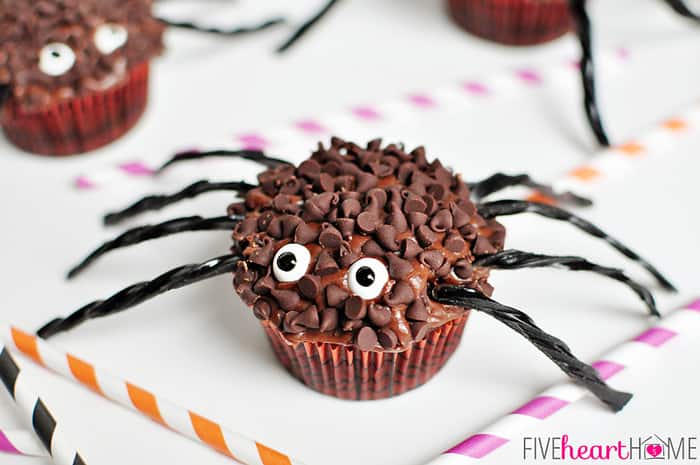 I realize that endearing and spider are pretty much oxymorons, but there is nothing scary or creepy about these arachnids. In fact, I tend to think they're downright adorable, at least as far as spiders go.
I found the inspiration for this idea in an old parenting magazine and adapted it to my available ingredients. Feel free to do the same! Use your favorite chocolate cupcakes and frosting, whether they're the box mix/tub variety or from scratch, like my Homemade Chocolate Cake Mix recipe.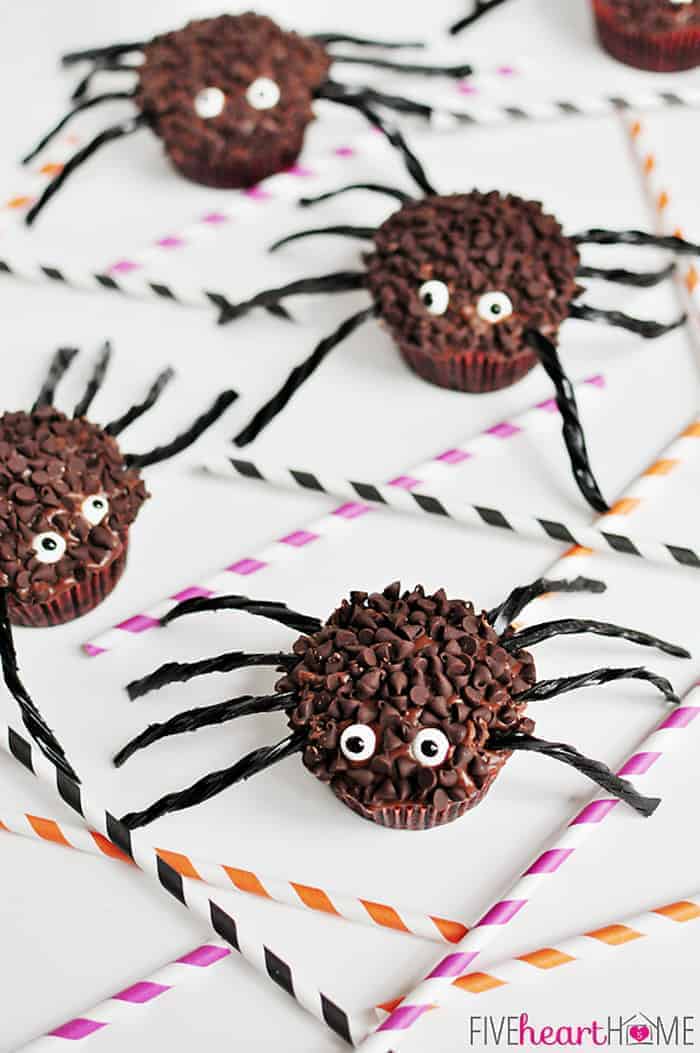 Variations
I opted to dip my frosted cupcakes in mini chocolate chips for some texture, but you could use chocolate sprinkles instead or even just leave your frosting plain.
I had a bag of candy eyeballs just longing to be put to work, but if you don't have any or can't find any, feel free to use a mini marshmallow with the flat side of a chocolate chip stuck in the center for the pupil.

Finally, thin licorice laces would make great legs, but all I could find at Target were regular black licorice ropes. I could have persevered in my search at a few more stores, but the fact that I have to unbuckle and unload three children each time we make an errand-running stop means that I usually make due with what I can find at our original destination. So, in lieu of licorice laces, I just cut some long strips from each rope of licorice and then cut those in half for my spider legs. Easy peasy.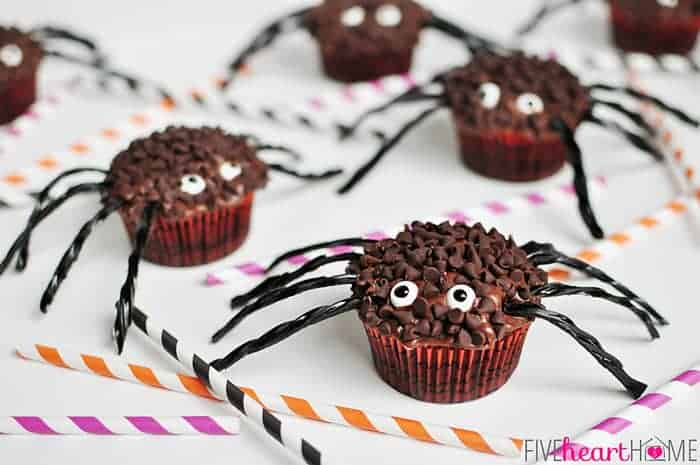 And there you have it! Spider Cupcakes that are so cute and yummy, they just might cure a case of arachnophobia. Make a batch with your kids this weekend, or whip some up for that potluck Halloween party to which you've been invited. They'll be a hit either way...I pinky swear it!
More Halloween Fun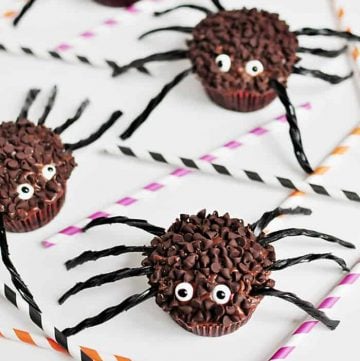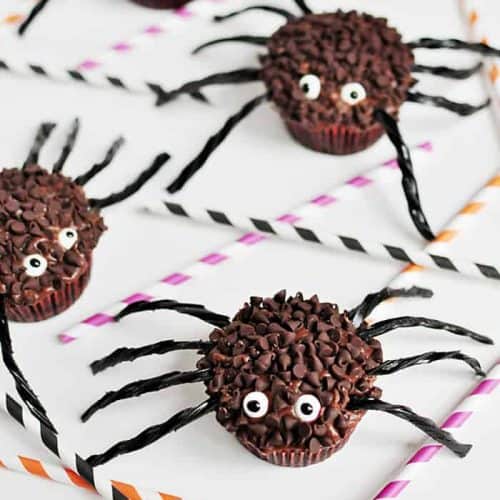 Spider Cupcakes
Frosted chocolate cupcakes are easily turned into cute Spider Cupcakes for Halloween with just a few fun embellishments!
Print
Pin
Rate
Servings:
24
cupcakes (or as many as you'd like to make!)
Ingredients
Chocolate cupcakes

Chocolate frosting

Candy eyeballs

Mini chocolate chips or chocolate sprinkles

Black licorice laces or black licorice rope twists

,

cut into strips
Instructions
For each spider, frost a cupcake and press two candy eyeballs into the frosting.

Pour mini chocolate chips (or sprinkles) in a bowl and press the frosted side of the cupcake into the chocolate chips until evenly covered, adjusting chocolate chips around the eyeballs as necessary.

Cut licorice laces or rope pieces in half. Use a toothpick to poke leg holes in the cupcake and then to guide each of the eight legs into place. Refrigerate before serving to help everything set.
Notes
If you don't have candy eyeballs, you may cut a mini marshmallow in half and use the two resulting pieces for the whites of the eyes, sticking a chocolate chip in the center of each piece (flat side out) for the pupil.
NUTRITION INFORMATION is *estimated* for one average chocolate cupcake that has been frosted and decorated.
Calories:
229
kcal
|
Carbohydrates:
37
g
|
Protein:
3
g
|
Fat:
9
g
|
Saturated Fat:
2
g
|
Cholesterol:
1
mg
|
Sodium:
175
mg
|
Potassium:
78
mg
|
Fiber:
1
g
|
Sugar:
26
g
|
Vitamin A:
22
IU
|
Vitamin C:
1
mg
|
Calcium:
57
mg
|
Iron:
1
mg
Inspired by Parents.com.