Candy Spiderwebs are the perfect Halloween Pretzel Treats...festive, sweet & salty, and fun to make with the kids or serve at a party!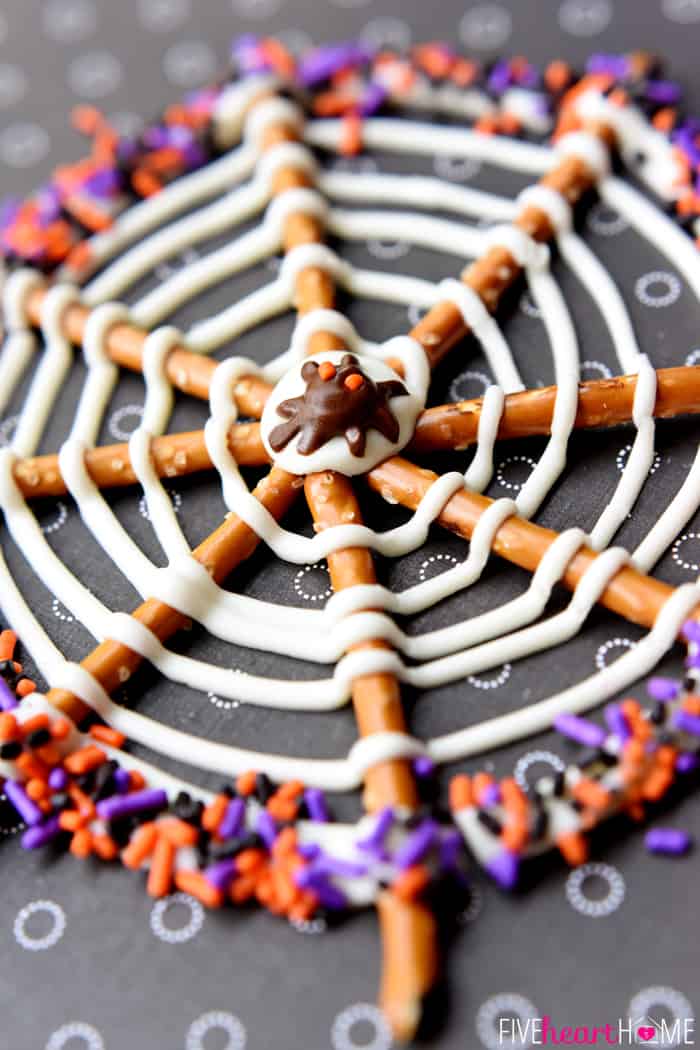 Well, folks...October will be here before we know it and I couldn't hold out any longer. I've got a fun and festive Halloween recipe for you today!
I love making holiday treats for or with my kiddos, and I have to admit to letting my whole "real food" philosophy slide when doing so. Because let's face it...how could you make cute spiderwebs like these without utilizing less-than-natural candy coating and brightly-colored sprinkles?!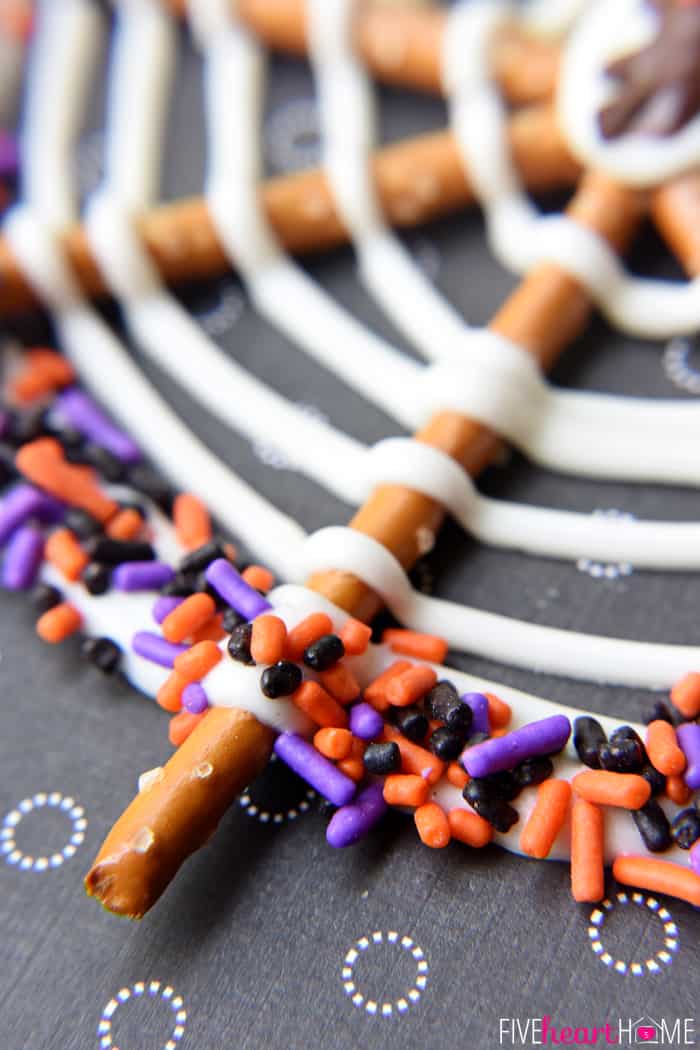 These Halloween Pretzel Treats are the perfect combination of salty and sweet, creamy and crunchy. If you like white chocolate-covered pretzels, these babies will be right up your alley!
How to Make Them
I started with a 16-ounce package of vanilla candy coating, which ended up being enough for about ten large webs. I think there's going to be some variability as to how many webs you can make depending on how long your pretzel sticks are, how close together you spiral your web, and how generous you are with the center dot and outermost ring of the spiderweb.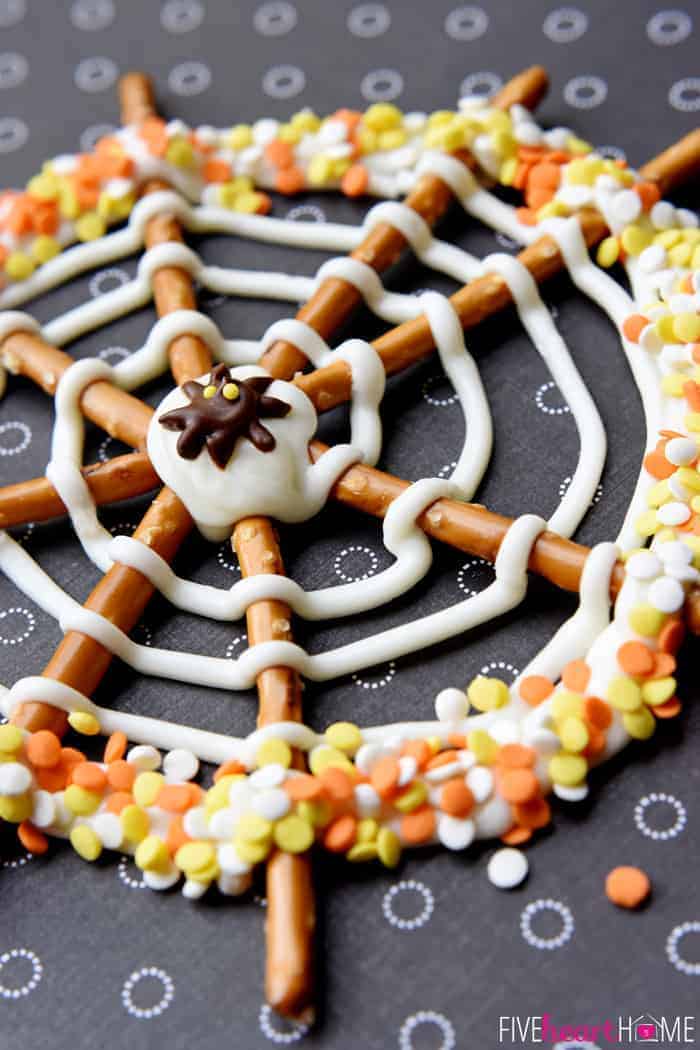 By far, the trickiest part of these Candy Spiderwebs was getting them off of the wax paper without breaking the strands. So here's my solution to save your adorable spiderwebs from potential demise: before getting started, cut out circles of wax paper on which to create each individual web. My pretzel rods were such a length that I needed an 8-inch diameter circle, so I simply found a bowl of that size and traced it. After I had all of my circles cut out, I arranged the pretzels in starburst patterns and started assembling my webs.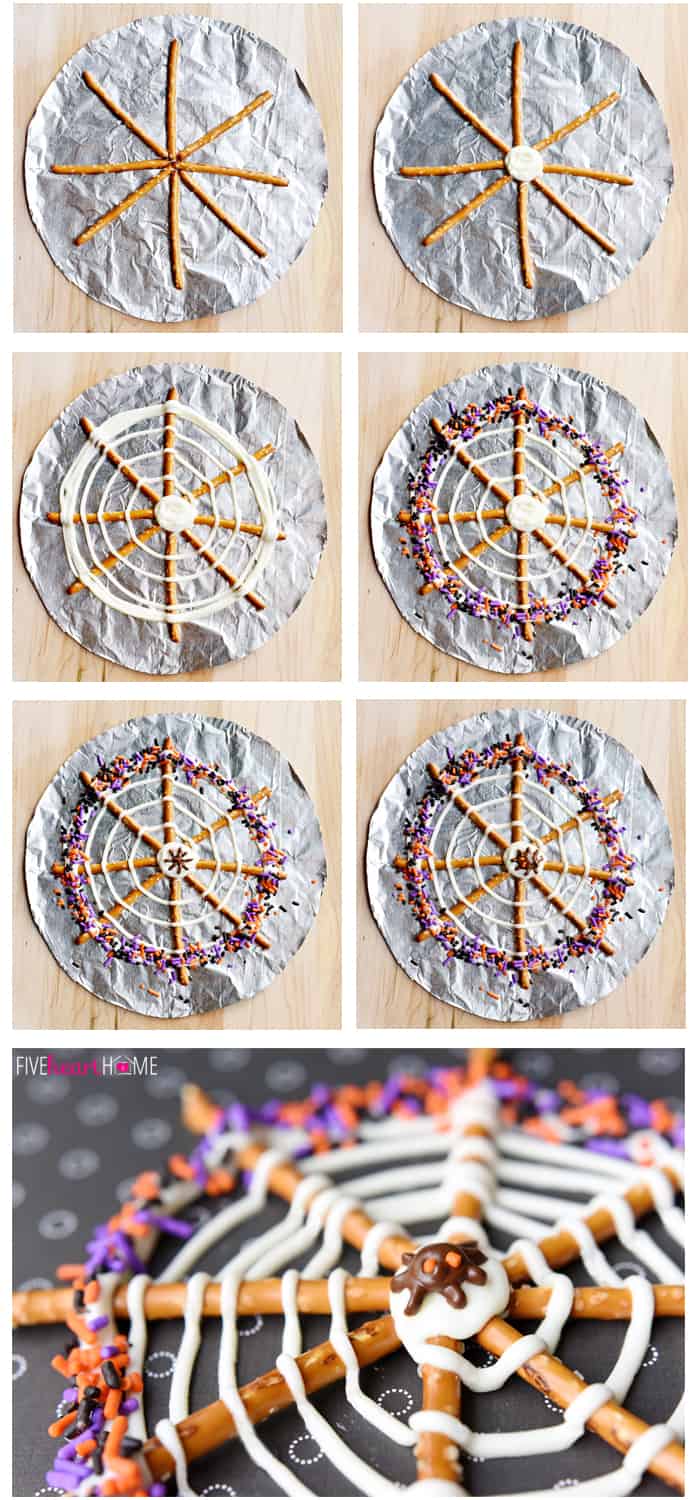 The beauty of making these Halloween Pretzel Treats on wax paper circles is that, once the webs are completely set, you can attempt to carefully peel off the paper. If it works, yay for you! But if the webs seem too delicate and start cracking, simply leave them stuck to the wax paper circles for serving. Believe me...kids and/or party guests will have no problem peeling pieces of their pretzel webs off of the wax paper circles as they eat them!
(Also, in case you're wondering, I have not completely lost my mind in my understanding of wax paper vs. foil. 😉 I illustrated the web-making steps above using foil circles instead of wax paper circles because I was worried that the white web wouldn't show up well against white wax paper for photography purposes. But foil is rather difficult to cut out, so if you have wax paper, I definitely recommend using that instead!)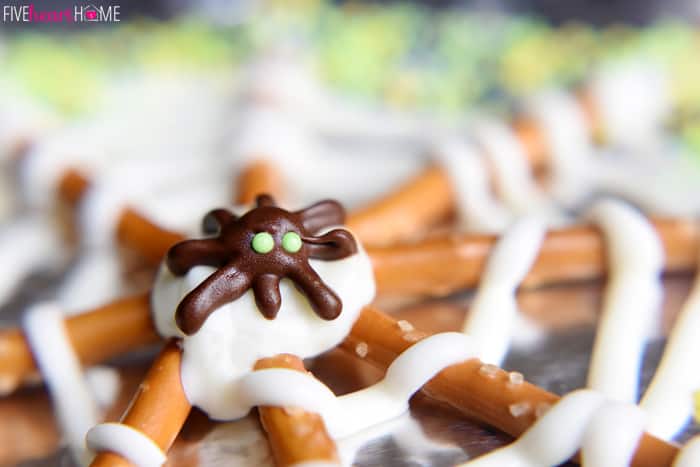 Variations
As far as adornments, go crazy with a variety of sprinkles...or leave them off altogether. Jazz up your spider, if you wish. And you could even make milk or dark chocolate webs with white chocolate spiders if you're in the mood to really change things up!
Candy Spiderwebs are a delightful project to make with the kids or a cute and tasty party treat. I hope they help you get in the Halloween spirit!

More Halloween Fun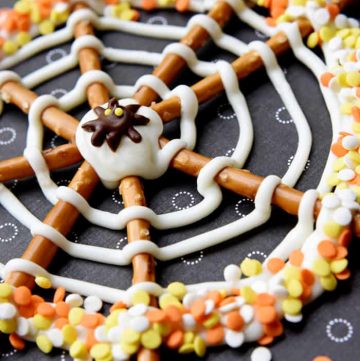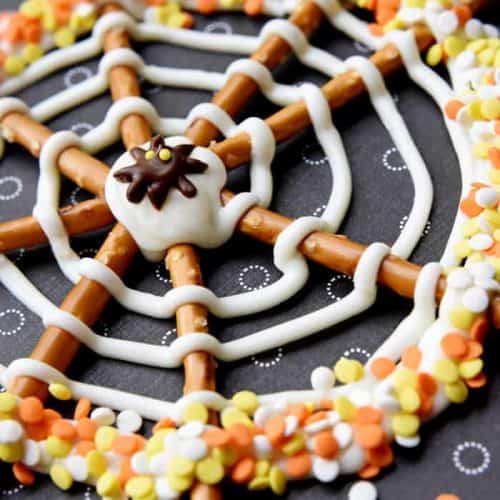 Halloween Pretzel Treats ~ Candy Spiderwebs
Candy Spiderwebs are the perfect Halloween Pretzel Treats...festive, sweet & salty, and fun to make with the kids or serve at a party!
Print
Pin
Rate
Servings:
9
to 12 webs (per 16-ounce package of candy coating)
Ingredients
Wax paper

Pretzel sticks

16

ounces

vanilla/white chocolate candy coating

Halloween sprinkles

½

cup

chocolate chips
Instructions
Use an approximately 8-inch diameter bowl to trace circles onto wax paper. Cut out and place wax paper circles on cookie sheets and arrange 8 pretzel sticks on each circle so that they are touching in the center and radiating outwards.

Melt the candy coating according to package directions (do not overheat). Stir until smooth and transfer to a gallon-sized heavy-duty/freezer plastic bag. Snip a ¼-inch hole in the corner of the bag and pipe a flat circle in the center of the pretzels where they meet. Starting at the center and working outwards, make a spiraling line across the pretzels until a spiderweb look is achieved. Stop before reaching the tips of the pretzels so that they stick out a bit beyond the outermost ring. Pipe over the outermost ring several times in order to make it thicker, so that the sprinkles have a place to adhere.

Pour sprinkles in a bowl and use a small spoon to carefully pour sprinkles over the thick outer ring of the spiderweb.

Place chocolate chips in a microwave safe bowl and heat in 30-second increments, stirring well in between, until chocolate is melted and smooth. Transfer melted chocolate to a small plastic baggie and snip a tiny hole in the corner of the bag. In the center of each spider web, make a spider by starting with the legs. Draw a thin plus sign (+) topped with an X, which should end up looking like 8 small legs. Fill in a small circle of chocolate on top for the spider's body. Place two tiny sprinkles on top for eyes.

Allow webs to dry for several hours until completely set. Carefully peel spiderwebs from wax paper (if you are able to do so without breaking), or serve directly from wax paper circles.
Calories:
289
kcal
|
Carbohydrates:
40
g
|
Protein:
1
g
|
Fat:
13
g
|
Saturated Fat:
12
g
|
Cholesterol:
1
mg
|
Sodium:
134
mg
|
Potassium:
13
mg
|
Fiber:
1
g
|
Sugar:
32
g
|
Vitamin A:
17
IU
|
Calcium:
10
mg
|
Iron:
1
mg
Inspired by tutorial at About.com