These easy, all-natural, Homemade Peanut Butter Cups whip up with just three ingredients...betcha' can't eat just one!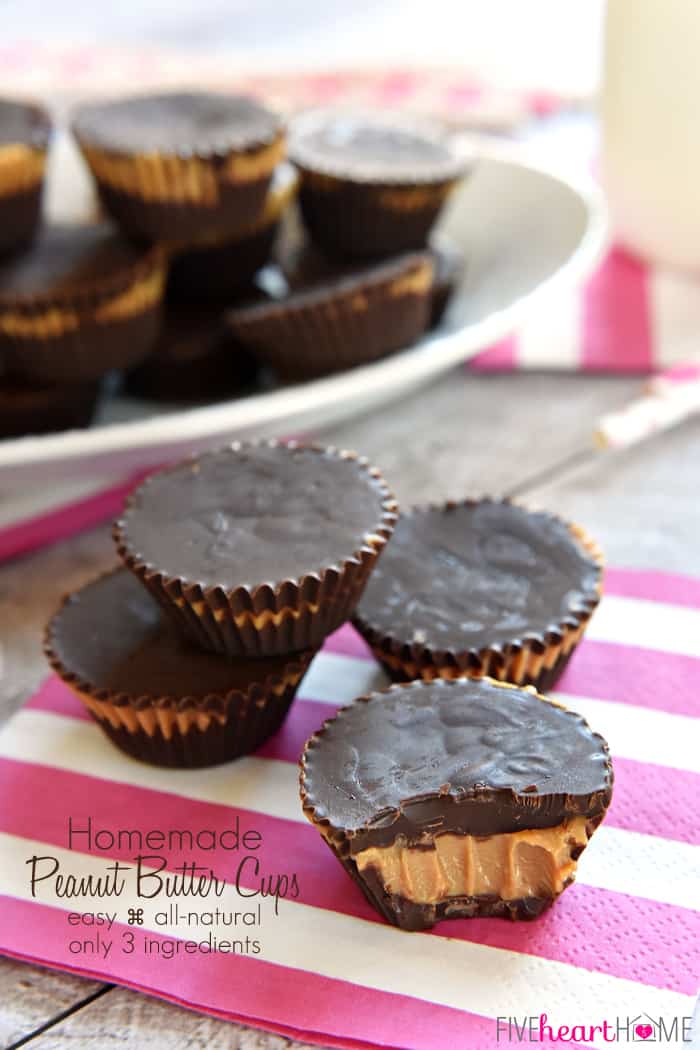 Do you have a favorite Valentine's treat? I'm not going to lie...I love heart-shaped boxes of Valentine chocolates, whether we're talking about the good stuff (Godiva) or the not-so-good stuff (from the dollar bin at Walgreens). In my humble opinion, there's nothing quite like the surprise of biting into a piece of chocolate and finding fruity fluff or creamy coconut or gooey caramel or crunchy nuts. Heaven.
My Valentine, however, is all about peanut butter cups...any time of year...no matter the holiday. So this Valentine's Day, I decided that I'm going to surprise the hubby with a bevy of homemade peanut butter cups...because what says love like creating chocolate treats with my very own little hands?! As an added bonus, these Easy Peanut Butter Cups are made with only three(!!!) all-natural ingredients...because I'm pretty sure that those store-bought PB cups that rhyme with nieces can't claim the same. 😉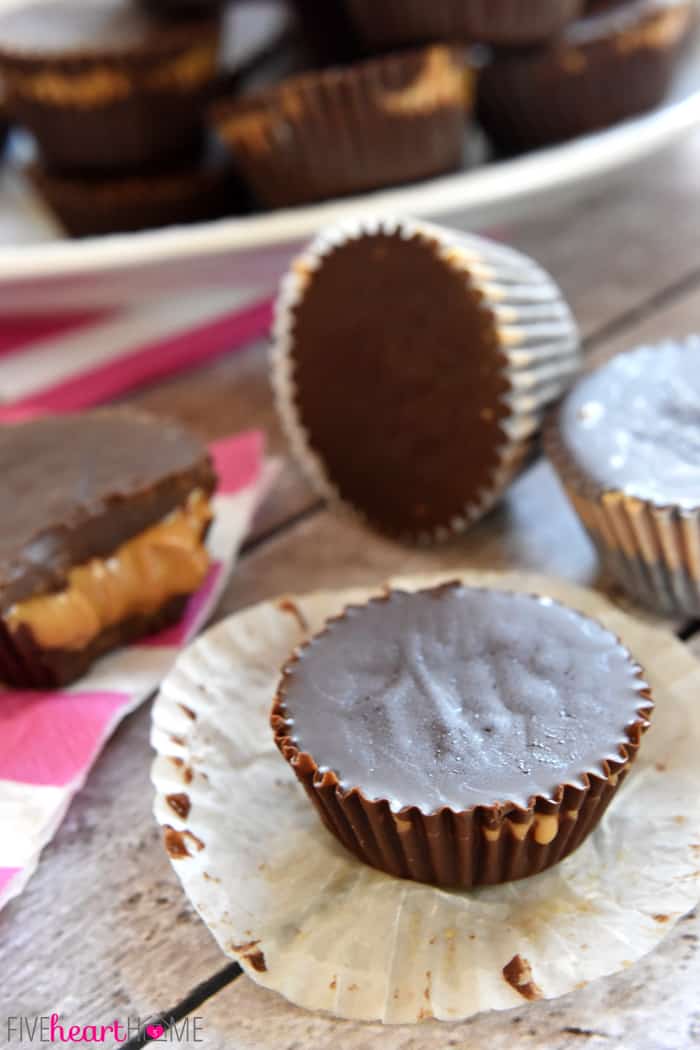 So you won't believe how simple these are.
Start out by melting chocolate chips together with a few tablespoons of coconut oil. Since coconut oil hardens when chilled, that helps firm up these peanut butter cups once refrigerated without the use of shortening. I typically make these treats with semi-sweet chocolate chips, but milk chocolate chips would also be yummy (and probably a bit closer to replicating the real deal). And it's up to you whether you use all-natural chocolate chips or regular chocolate chips...they'll both work just fine.
The other component of these little babies would be the peanut butter filling, which basically involves creamy peanut butter with a bit of melted coconut oil stirred in. And again, while I recommend using natural peanut butter here, I won't tattle on you if you use the regular stuff. 😉 Just be forewarned that the consistency of the peanut butter you use will influence the consistency of the centers of your peanut butter cups. I used the no-stir type of natural peanut butter in these since it's typically less runny than the kind where the oil separates out.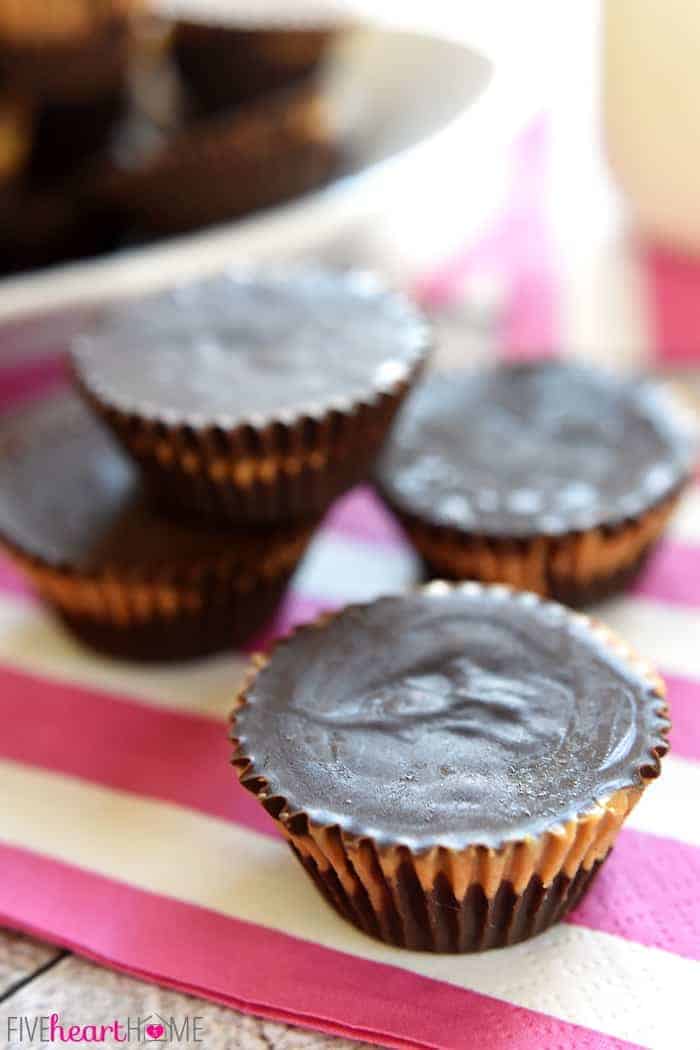 We're making mini peanut butter cups today, so you'll line a 24-cup mini muffin pan with mini muffin liners. Into each liner spoon a teaspoon or so of melted chocolate, and spread it up the sides of the muffin liner as high up as you can. Freeze your pan for about 5 minutes, and then dollop some peanut butter filling into each chocolate shell and top with another layer of melted chocolate. Freeze once more for 30 minutes and...voilà! Peanut butter cup perfection.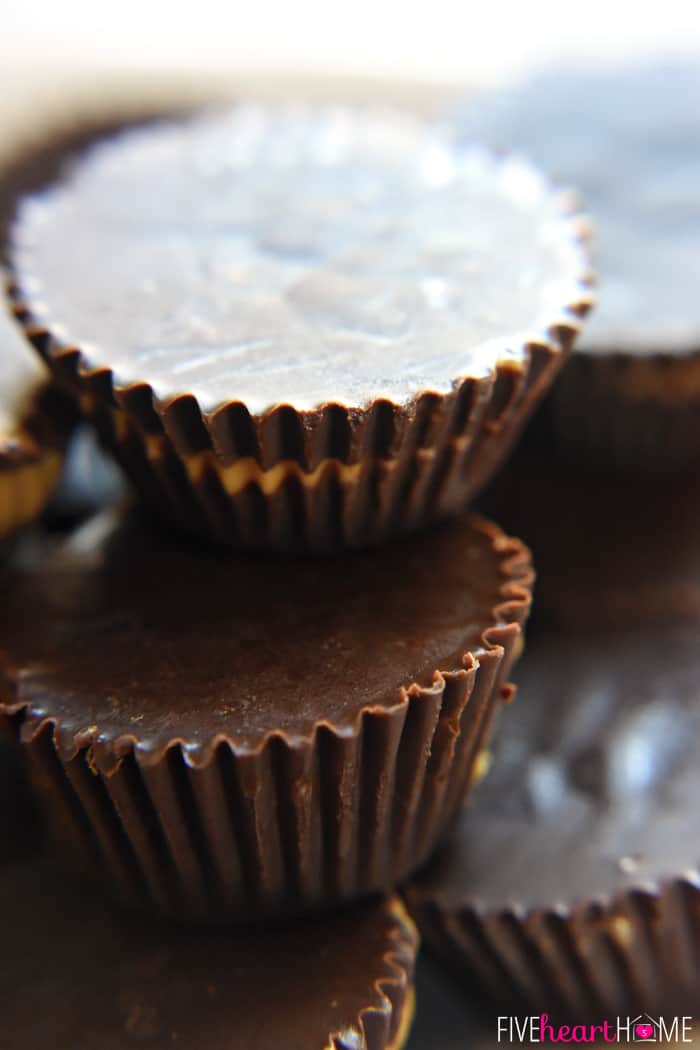 And now I'm going to pause for another disclaimer: I wanted little peeks of peanut butter for my photos today, to help convey what's inside, so I didn't always extend the chocolate all the way up the sides of every paper liner. As a result, some of my PB cups show a thin line of peanut butter filling across the middle.
However, this candy actually turns out better if you do extend the chocolate shell all the way up the sides, or at least as much as possible. You see, these peanut butter cups are not loaded with the preservatives that would allow them to keep in the pantry for years on end (as if any peanut butter cup would ever last that long anyway -- ha). Therefore, the filling can get pretty melty at room temperature (particularly if using a natural peanut butter), so completely enveloping it in a chocolate shell and storing these candies in the refrigerator makes them a bit neater to eat.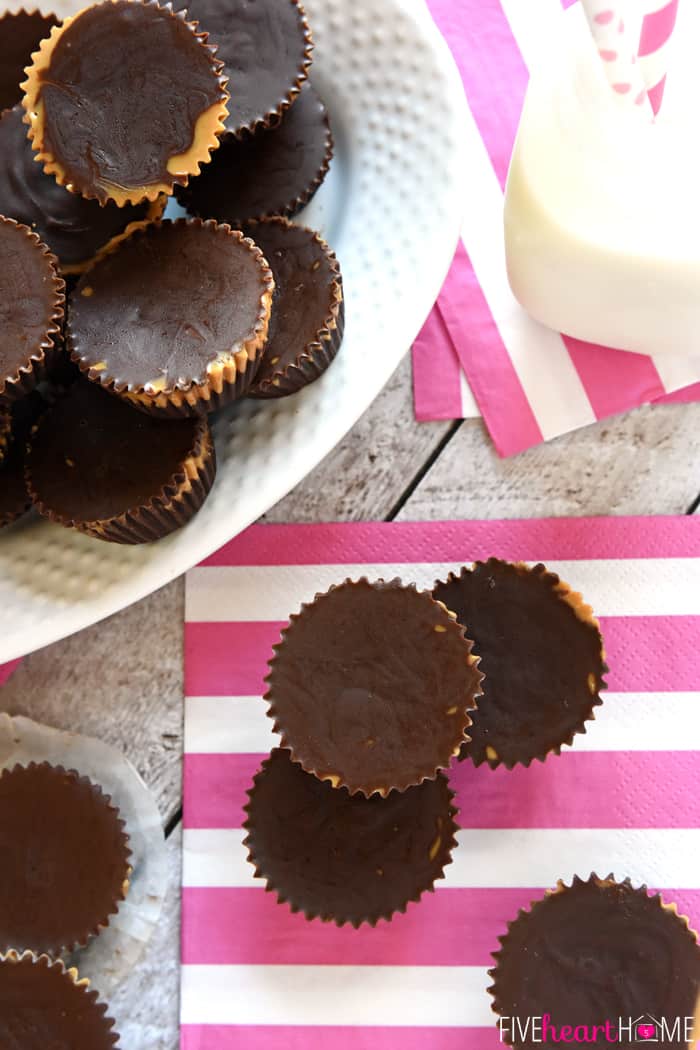 On the bright side, I solemnly swear to you that chilled, homemade peanut butter cups are unspeakably scrumptious with a glass of milk.
And that's all, folks! Handmade chocolate candies for your Valentine...for your kids...for yourself at the end of a crappy day. Or a good day. Or a mediocre day. There is no wrong kind of day for peanut butter cups. 😉
More Chocolatey Sweet Treats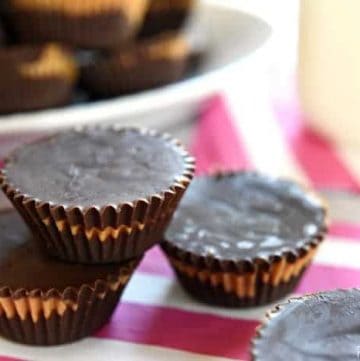 Easy Peanut Butter Cups
These easy, all-natural, Homemade Peanut Butter Cups whip up with just three ingredients...betcha' can't eat just one!
Print
Pin
Rate
Servings:
24
mini peanut butter cups
Ingredients
1 1/2

cups

chocolate chips

6

tablespoons

coconut oil

,

DIVIDED

1

cup

creamy all-natural peanut butter
Instructions
Line a 24-cup mini muffin pan with mini paper liners. Set aside.

Place chocolate chips in a microwave-safe bowl. Microwave for 30 seconds; stir. Microwave for another 30 seconds; stir. Add 3 tablespoons of coconut oil and microwave for 30 more seconds. Stir until completely melted and blended. If chocolate chips are not completely melted, you may microwave in additional 15-second increments, stirring in between. (Alternatively, you may melt together the chocolate chips and coconut oil over a double boiler, stirring until well combined.)

Into each mini paper liner, spoon about 1 teaspoon of melted chocolate. Use the spoon to push chocolate up the sides of the paper liner, as high as possible. Freeze for five minutes or until chocolate is set.

While muffin pan is in freezer, melt remaining 3 tablespoons coconut oil. Stir oil into peanut butter until completely blended.

Remove muffin pan from freezer. Divide peanut butter mixture between chocolate shells (about 2 to 3 teaspoons peanut butter filling per cup).

If melted chocolate has started to thicken, microwave for 15 seconds and stir until smooth. Divide remaining melted chocolate between all of the peanut butter-filled muffin cups (about a teaspoon per cup). Use back of spoon to lightly spread chocolate towards edge of the wrapper, if necessary, until no peanut butter is visible.

Freeze muffin pan for 30 minutes. Remove from freezer and peel paper muffin liner off of each peanut butter cup. Serve peanut butter cups immediately or store in refrigerator until ready to serve.
Notes
You may use semi-sweet or milk chocolate chips, and they may be all-natural or regular.
If you use all-natural peanut butter, I recommend the "no-stir" kind, since it's typically less runny. Regular peanut butter will also work, if you prefer.
If you run out of enough melted chocolate to top the last few peanut butter cups, melt a few more chocolate chips with a small dollop of coconut oil in the mircrowave.
I find that the easiest way to peel paper liners from the frozen chocolate is to peel a strip down the side of each peanut butter cup, from top to bottom, and then peel the wrapper off sideways, all the way around the cup. From there, the bottom of the paper liner should peel off easily.
Calories:
150
kcal
|
Carbohydrates:
10
g
|
Protein:
3
g
|
Fat:
12
g
|
Saturated Fat:
6
g
|
Cholesterol:
2
mg
|
Sodium:
57
mg
|
Potassium:
70
mg
|
Fiber:
1
g
|
Sugar:
8
g
|
Vitamin A:
25
IU
|
Vitamin C:
0.1
mg
|
Calcium:
18
mg
|
Iron:
0.3
mg
Adapted from Pure Ella