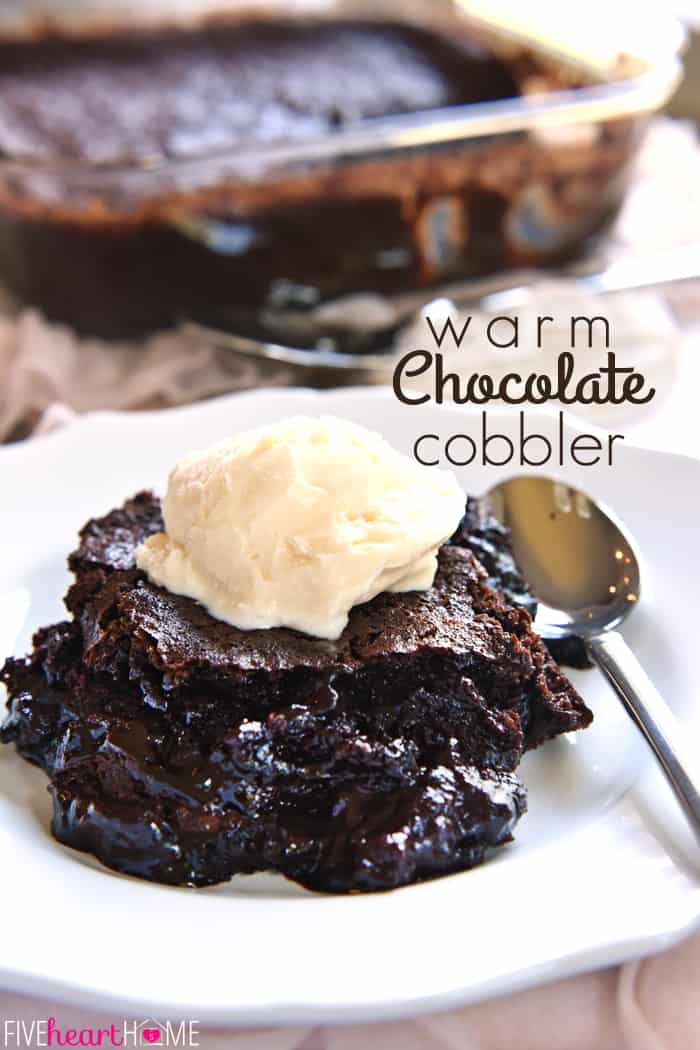 Warm Chocolate Cobbler features moist chocolate cake floating on top of a caramel-streaked, coffee-laced, molten chocolate sauce.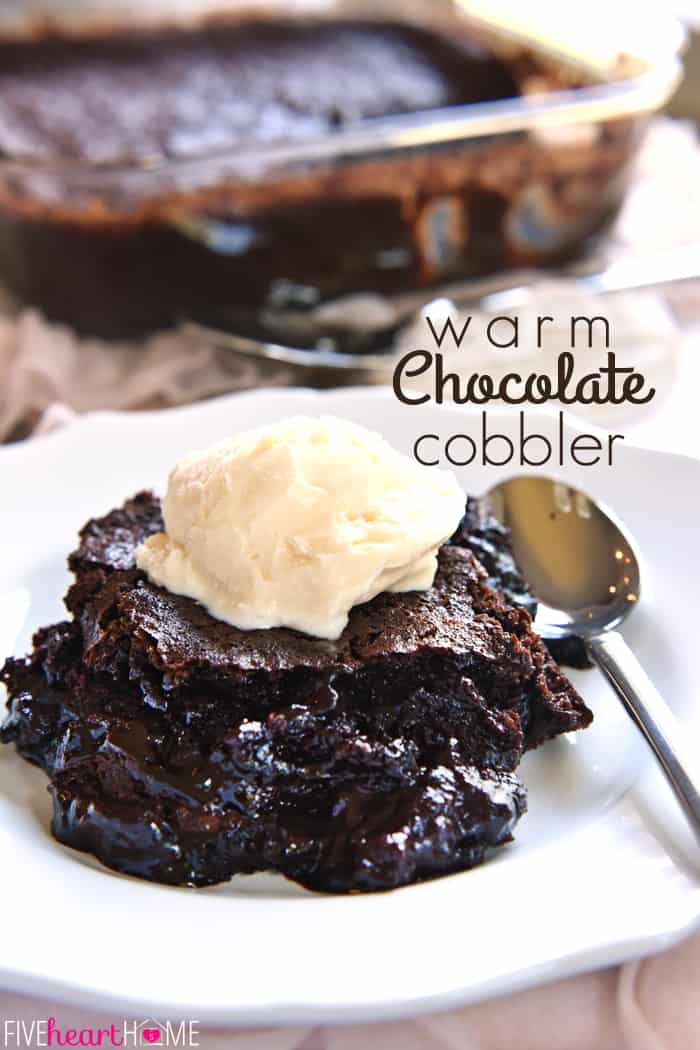 If you enjoy gooey chocolate desserts, you'll also love S'mores Dip, One-Minute Chocolate Peanut Butter Mug Cake, or Slow Cooker Chocolate Peanut Butter Fondue!
We've all enjoyed cobbler before, right? Whether we're talking blackberry, blueberry, peach, or whatever your personal favorite may be, cobbler typically involves a fruity filling crowned with some sort of cakey or biscuit-ish topping.
But Chocolate Cobbler? That's served all warm and gooey? Ohhhhh, YES. Mark my words…you'll never think of cobbler the same way again.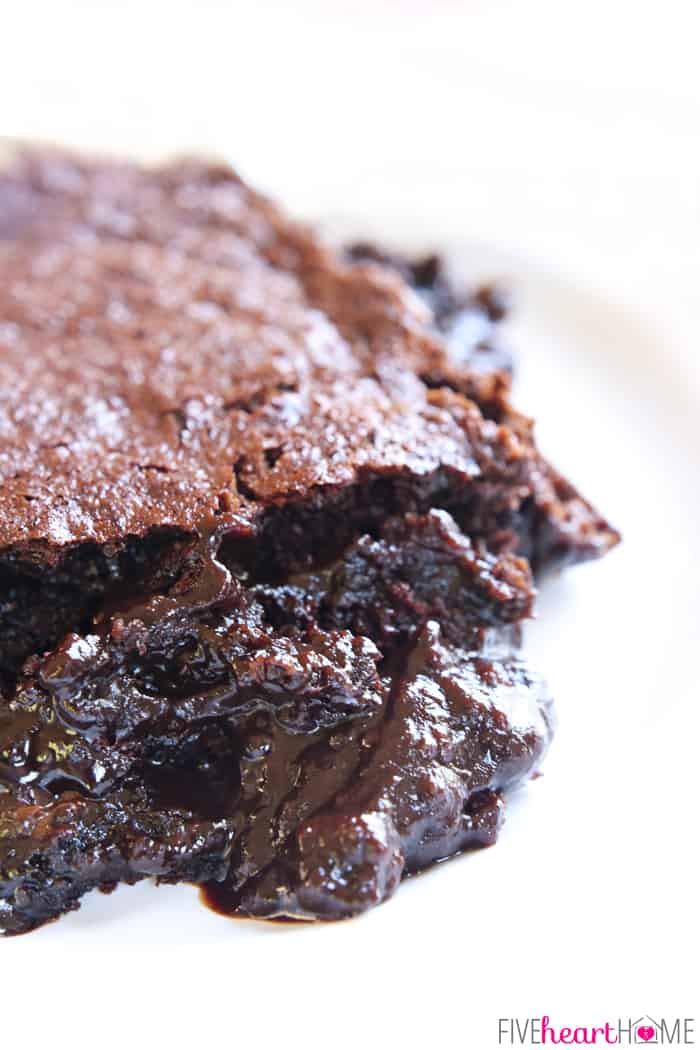 So to create this culinary masterpiece, the first step is to whip up a quick, basic, one-bowl chocolate cake batter. In the meantime, cocoa powder and two kinds of sugar are melted into some strong, black coffee.
Now even if you're not a fan of coffee, it can do magical things to chocolate desserts. Coffee brings out a deeper, richer flavor in chocolate, and most of the time people can't even identify that there's coffee in there. I do think that this dessert has a slight coffee undertone, but nobody in my family seemed to mind. My kids scarfed down this Warm Chocolate Cobbler without hesitation, and I can assure you that they are not known to be fans of coffee. 😉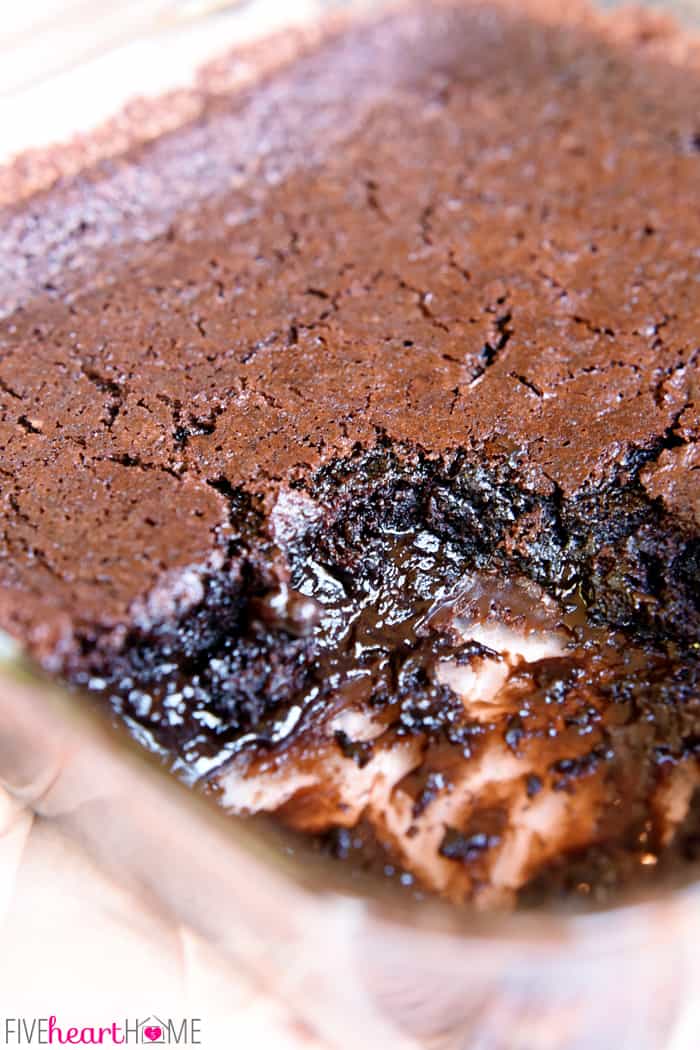 After the cake batter is made and the coffee mixture is warming, it's time to unwrap the magical secret ingredients: Riesen chocolate candies!
Have y'all ever had these little bad boys? Oh my goodness…addictive would be the first word that pops into my head. Riesens are chewy chocolate caramels covered in a thin layer of rich chocolate. Seeing as how I have a hard time stopping at 20, it's a pity they're individually wrapped, since the wad of candy wrappers in the trash gives me away every time.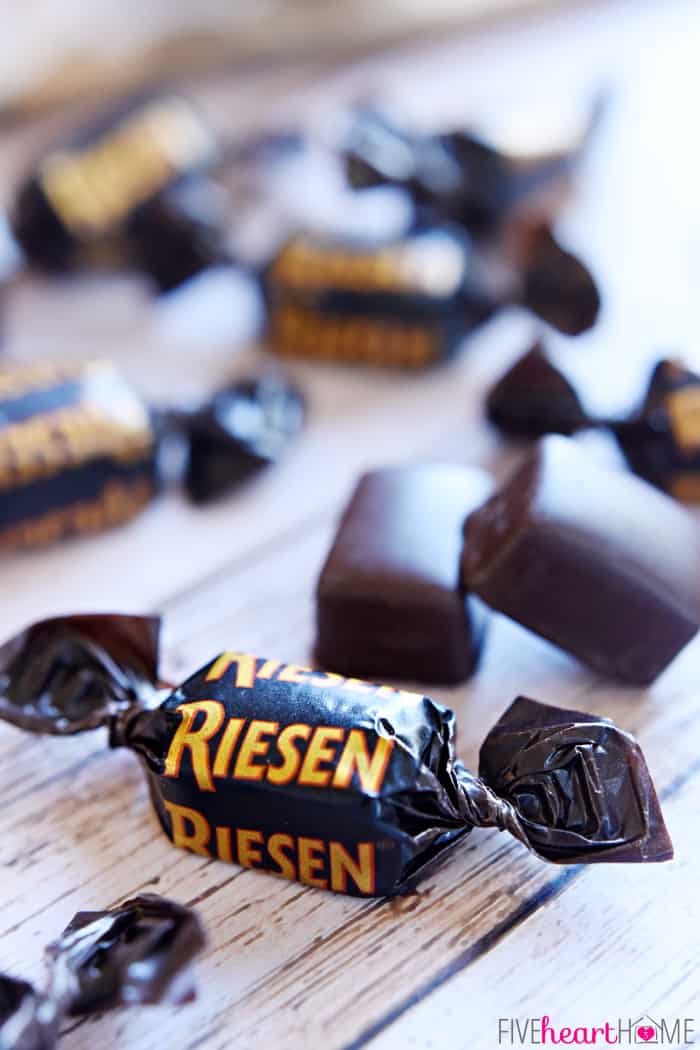 I got the idea to blog about this Warm Chocolate Cobbler while walking past a giant bag of Riesens in the grocery store one day. I didn't have the recipe handy, but I knew that 2 pounds of candy should be more than enough…and if necessary, I suppose I could figure out a way to somehow use up the leftovers.
Fast forward to later that night, when I wasn't quite ready to make this dessert (much less had I tracked down the recipe yet). But surely I could open the bag and sneak just *one* chewy chocolate caramel, right? I mean, there were more than enough.
Well, one turned into five turned into 15…so before I managed to decimate the whole bag, I had to staple it shut and hide it under some other packages at the very back of the pantry. And thanks to that excellent, adult-like display of self-control, I am now able to bring you this stunning masterpiece of chocolate euphoria!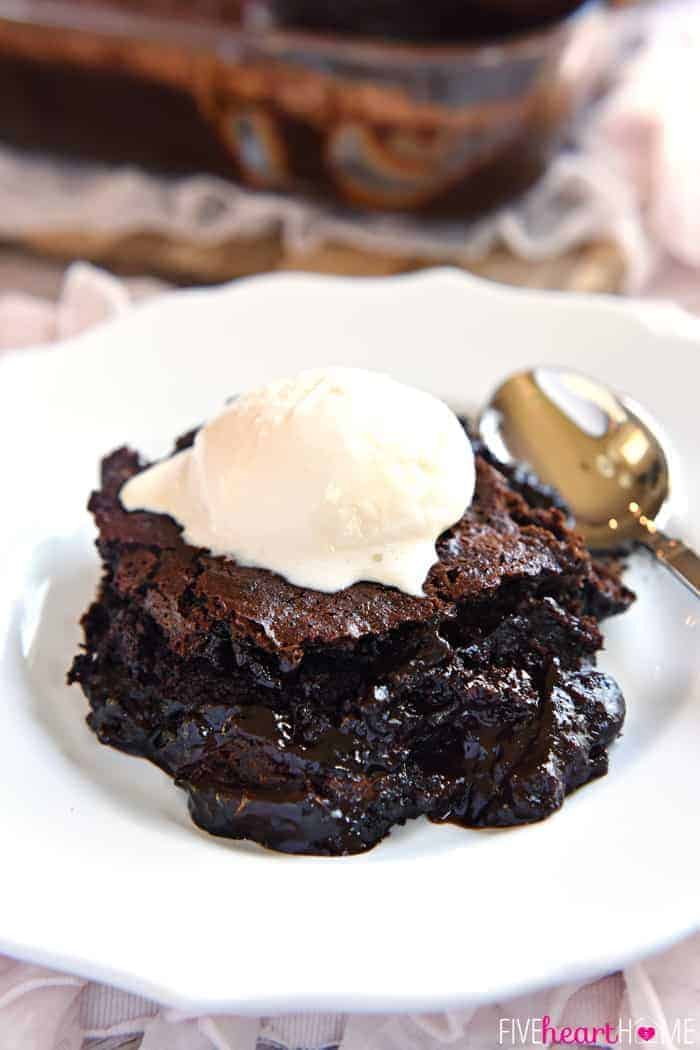 This recipe actually originated from one of those little paperback cookbooks that you find on a rack above the magazines at the grocery store checkout line. When I graduated from college, my mom passed down to me some of her old cookbooks, and the little treasure that yielded this recipe was amongst then. My fellow teacher roommate and I discovered it one day when hunting for a chocolate fix, and it became an immediate favorite of two early 20-somethings who didn't yet boast a lot of cooking experience. But Warm Chocolate Cobbler??? That we could figure out!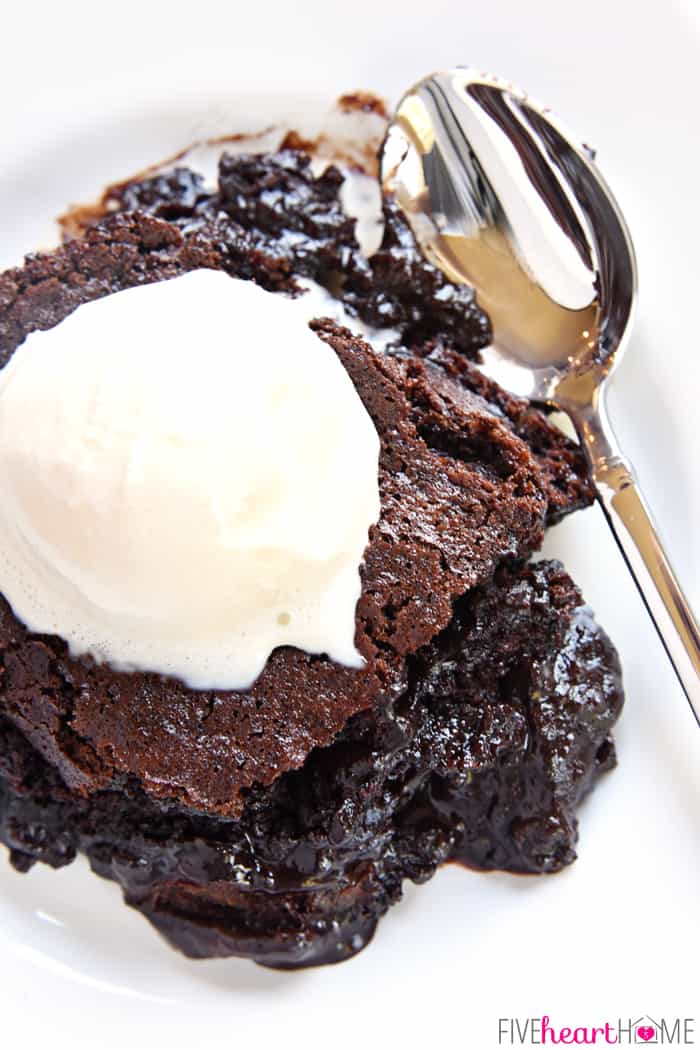 Putting the cobbler together is pretty simple. Scatter your Riesen candies in the bottom of an 8- by 8-inch baking dish, and pour the chocolate cake batter on top. (The original recipe called for using half of a chocolate cake mix for the cake portion, but in recent years, I've swapped that out for a modification of my favorite, one-bowl chocolate cake.) Then carefully pour the warm coffee mixture all over the top. It's going to look like a flooded, soupy mess, but DO NOT STIR! While the cobbler bakes, the cake will rise to the top and the chocolate caramels and coffee mixture will form a thick, gooey, glossy, pudding-like layer of deliciousness on the bottom. Just like fruit cobbler except, you know, CHOCOLATE.
If you are able to restrain yourself, let the baked cobbler rest for 15 minutes before scooping up a big glob and serving with vanilla ice cream. Because everyone knows that any good warm cobbler should have ice cream melting down over the top!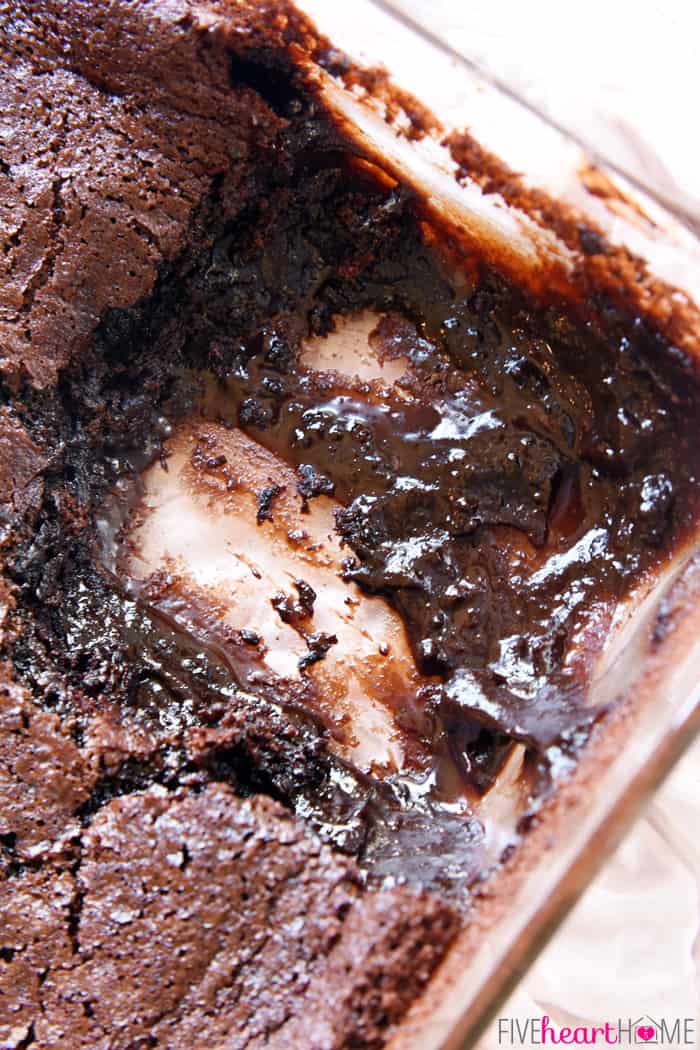 And now for a few quick notes, because y'all know I always err on the side of giving way too much information. 😉 I am regularly asked about making substitutions to the recipes that I share, and oftentimes I have not tried those particular substitutions so I don't feel like I have the authority to promise that they will work out. So I am going to go ahead and get this out there…I can't think of a substitute for the coffee in this recipe. As mentioned earlier, the coffee serves to accentuate the chocolate moreso than stand alone, so I think that most people won't pay much attention to the fact that it's even in there.
Similarly, unless you can find another firm, chewy, chocolate caramel, I don't know that there's a good substitute for the Riesens. I don't think that regular chocolates with caramel centers would work the same. But again, I haven't tried it, so maybe it would? If you successfully swap out the Riesens for another type of candy, leave a comment and share your brilliance with the rest of us! 😉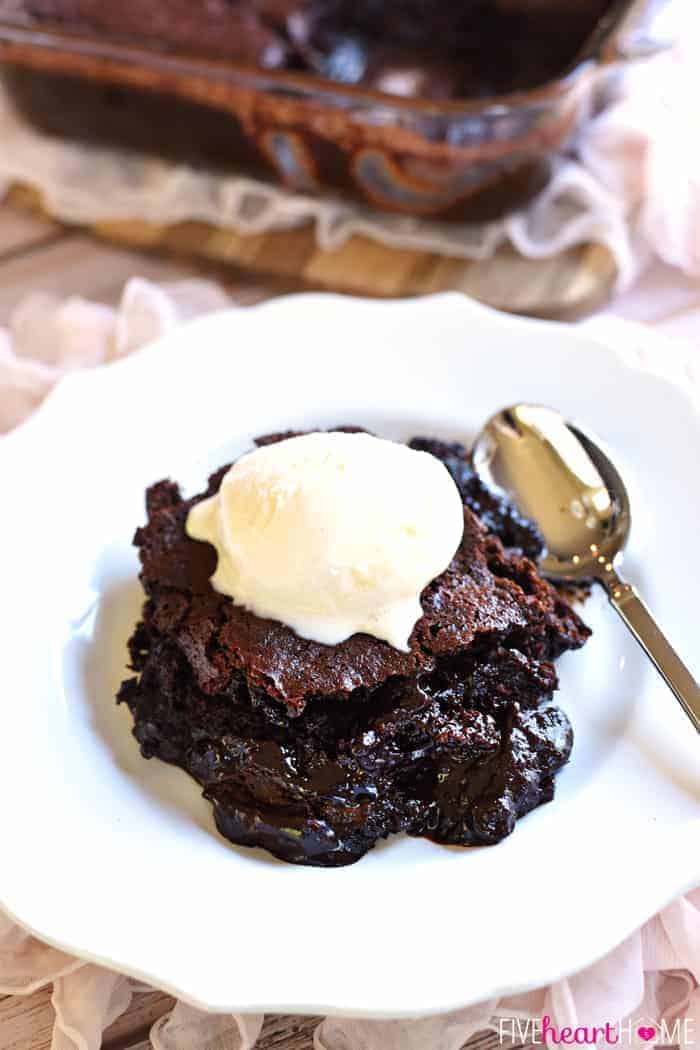 The bottom line is that if you like molten chocolate cake, this Warm Chocolate Cobbler is sure to win you over! However, if your grocery store only has that 2 pound bag of Riesens in stock when you get ready to make it, feel free to send the extras my way…because I'm flat out. After all, a stapled, hidden bag doesn't do much good if you're the one who stapled it and hid it.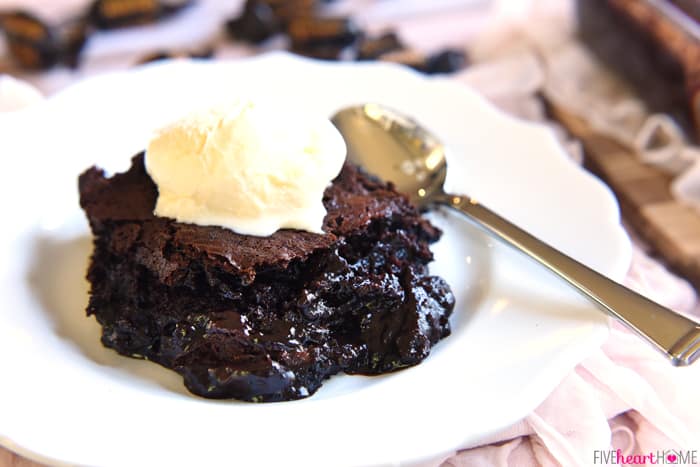 Warm Chocolate Cobbler Recipe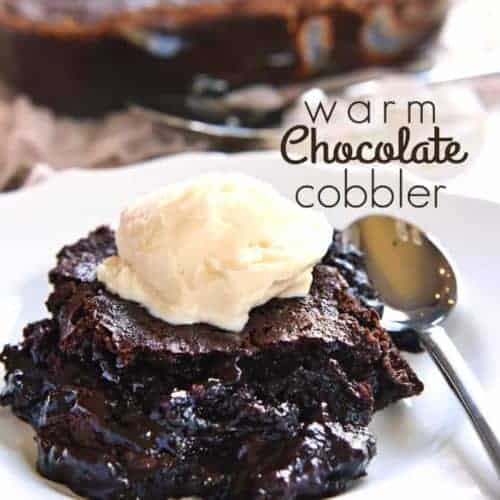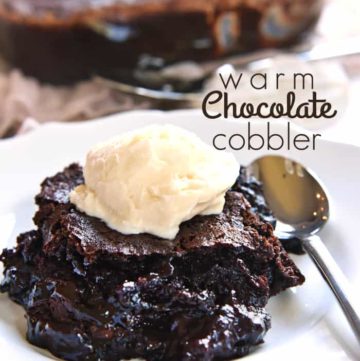 Warm Chocolate Cobbler
Warm Chocolate Cobbler features moist chocolate cake floating on top of a caramel-streaked, coffee-laced, molten chocolate sauce.
Print
Pin
Rate
Ingredients
1/4

cup

unsweetened cocoa powder

1/4

cup

sugar

1/4

cup

packed brown sugar

1 1/2

cups

coffee

7

ounces

Riesen chewy chocolate caramels
FOR CHOCOLATE CAKE BATTER:
1

cup

sugar

3/4

cup

all-purpose flour

1/3

cup

unsweetened cocoa powder

3/4

teaspoon

baking powder

3/4

teaspoon

baking soda

1/2

teaspoon

salt

1

egg

1/2

cup

milk

1/4

cup

coconut oil

,

melted & cooled (or vegetable oil)

1

teaspoon

pure vanilla extract
Instructions
Adjust rack to center position of oven and preheat to 350°F. In a small pot set over medium-low heat, combine cocoa, sugar, brown sugar, and coffee. Cook, stirring occasionally, until sugars are dissolved and mixture is hot. Keep warm.

Unwrap Riesen candies and evenly space on the bottom of an 8- by 8-inch square glass baking dish.

Prepare cake batter by whisking together sugar, flour, cocoa powder, baking powder, baking soda, and salt together in a large bowl. Blend in eggs, milk, coconut oil, and vanilla. Beat at medium speed for 2 minutes.

Slowly pour cake batter over candies. Carefully and evenly pour warm coffee mixture over cake batter. DO NOT STIR! Bake for 45 minutes or until the cake layer is firm (the cake will float to the top of the sauce while baking). Cool for 15 minutes before serving warm topped with vanilla ice cream, if desired.
Notes
A glass baking dish is recommended because the Riesen caramels will stick to the bottom once the chocolate cobbler cools, and it's easier to scrape them off of a glass dish than a metal pan that may scratch.
Calories:
320
kcal
|
Carbohydrates:
55
g
|
Protein:
4
g
|
Fat:
11
g
|
Saturated Fat:
8
g
|
Cholesterol:
20
mg
|
Sodium:
251
mg
|
Potassium:
201
mg
|
Fiber:
2
g
|
Sugar:
44
g
|
Vitamin A:
70
IU
|
Vitamin C:
0.2
mg
|
Calcium:
70
mg
|
Iron:
1.4
mg
Adapted from Best Recipes: Rich & Gooey Dessert Sensations
More Chocolate Favorites