Peanut Butter Cookie S'mores Pizza is a decadent dessert featuring melted chocolate and toasted marshmallows atop a thick, chewy, homemade peanut butter crust. It's the perfect s'mores recipe for summer parties or year-round special occasions!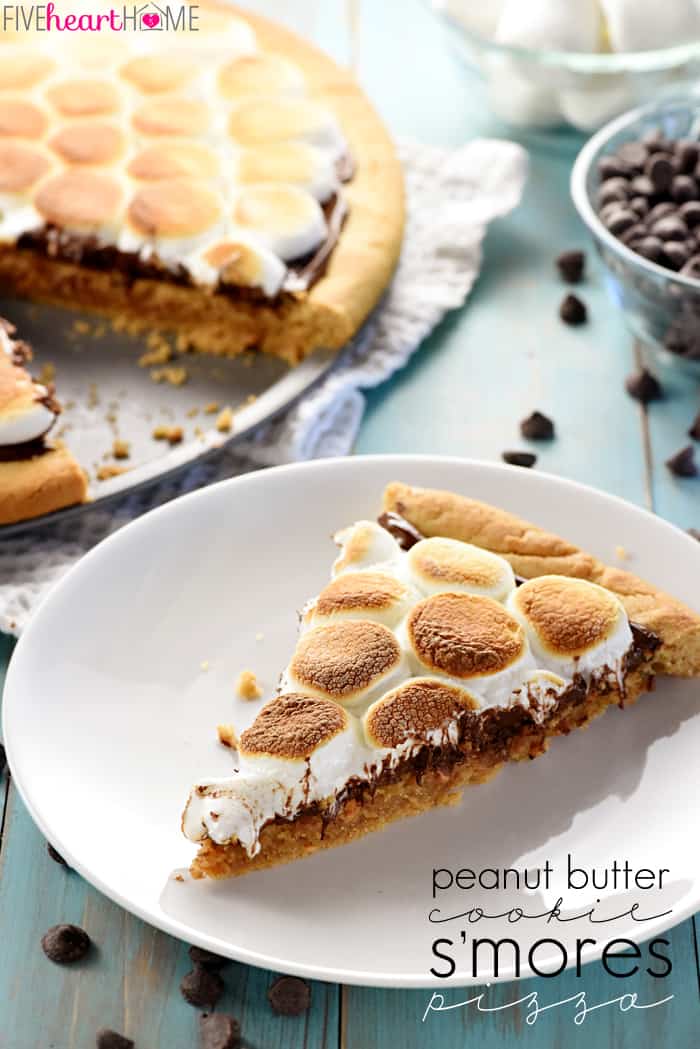 June is zooming by and it's high time I share a s'mores-inspired recipe, because summer was made for melted chocolate and toasted marshmallows, am I right? The last s'mores recipe I posted was actually my crazy-popular Skillet S'mores Dip two years ago, and I'm not sure that any future s'mores recipe will be able to rival its success. But today we're going to give it a go with this Peanut Butter Cookie S'mores Pizza! Because y'all, s'mores are undoubtedly delicious...but s'mores on a homemade peanut butter cookie crust? Insanely good.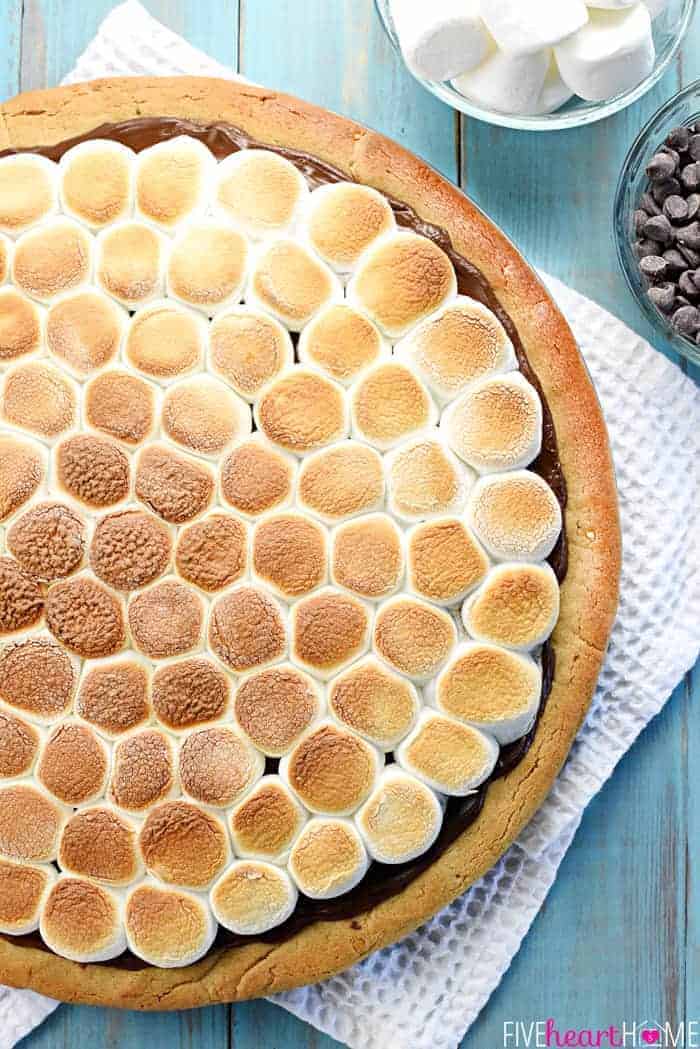 This recipe starts out by whipping up a batch of peanut butter cookie dough, pressing it into a pizza pan, and baking. As soon as the crust comes out of the oven, it's sprinkled with a generous layer of chocolate chips, which are smooth and spreadable after a few minutes. Then it's simply a matter of topping the melted chocolate with marshmallows and quickly toasting 'em under the broiler. The resulting dessert is a summertime showstopper...impressive to behold, fun to eat, and downright decadent.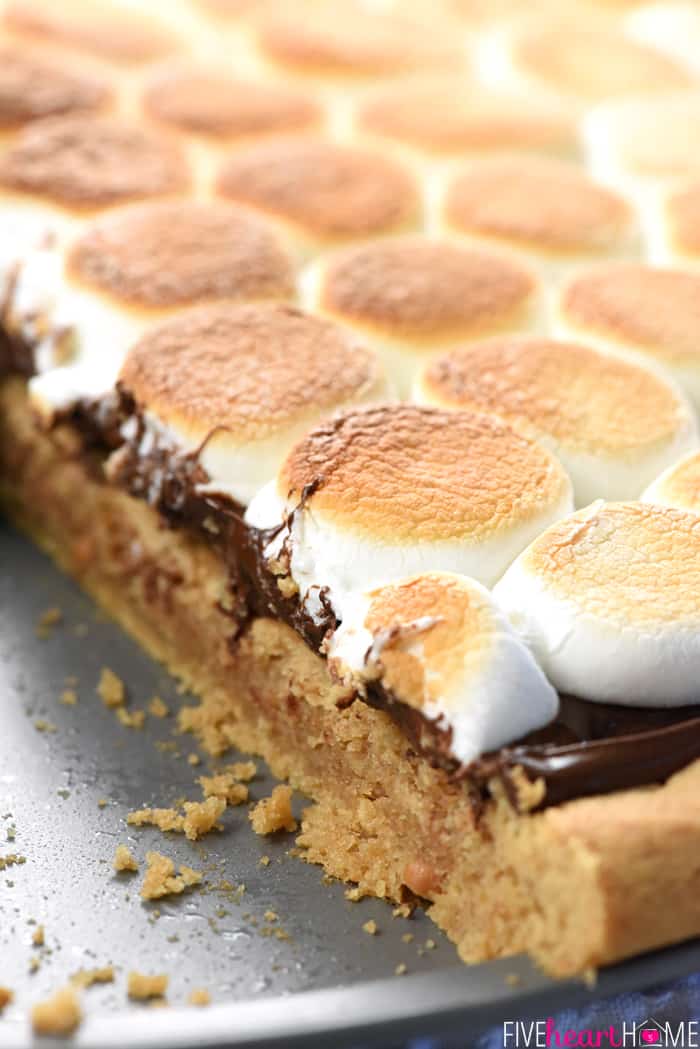 You could pamper your resident peanut butter/chocolate/s'mores lover with a birthday dessert to end all birthday desserts! Or treat Dad to something sweet for Father's Day. Or settle in for pizza and movie night with the family and then surprise them with this beauty to end the evening. Or serve this Peanut Butter Cookie S'mores Pizza at your next barbecue or potluck or swim party. After all, it's sweet and rich so it goes a long way, and, let's be honest...since it can be rather messy with all the melty chocolate and gooey marshmallows, it's perfect for enjoying at an outdoor shindig.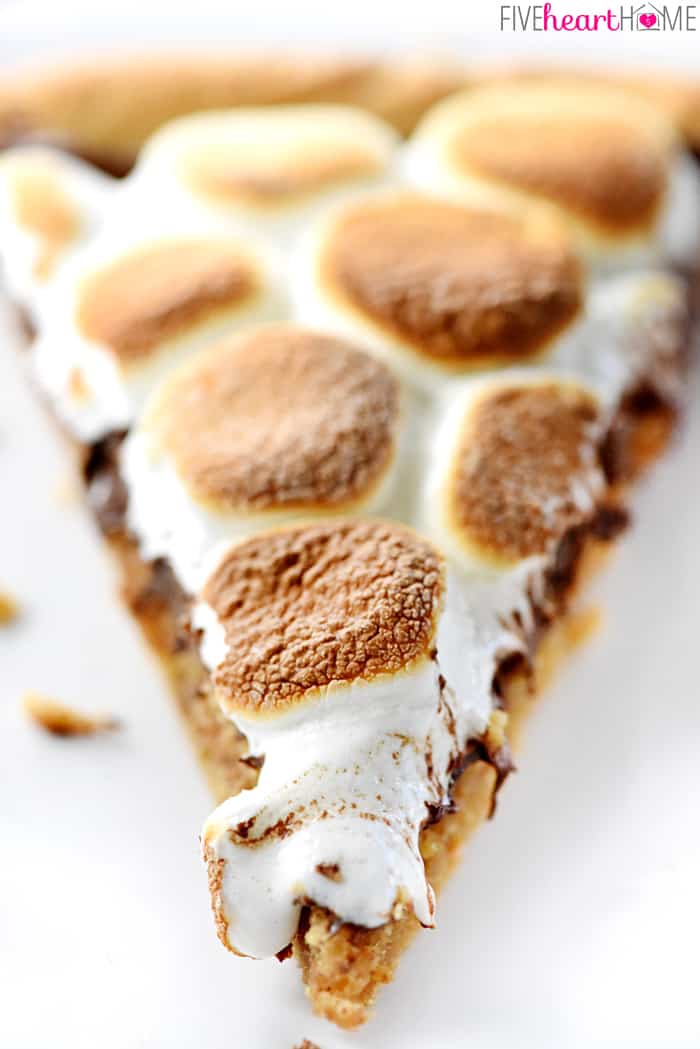 The peanut butter cookie crust is derived from my favorite peanut butter cookie recipe and, quite frankly, it's scrumptious enough to eat on its own without the s'mores adornments. It's thick and soft and slightly chewy, with prominent peanut butter flavor. As you can see in the photos, I used a regular non-stick 14-inch pizza pan, but the cookie crust does rise and expand in the oven, so it was all the way the edge of the pan by the time it finished baking. This made it a bit tricky to grab the pan with pot holders without denting the crust, but I managed. That being said, if you make this recipe on a normal, rimless pizza pan, make sure that you leave a 1-inch border between the edge of the crust and the edge of the pan so that there's room for expansion. However, to avoid the issue altogether, I recommend baking this peanut butter cookie crust in a 14-inch deep dish pizza pan instead...no worries about overflow and easier to grab and maneuver the pan.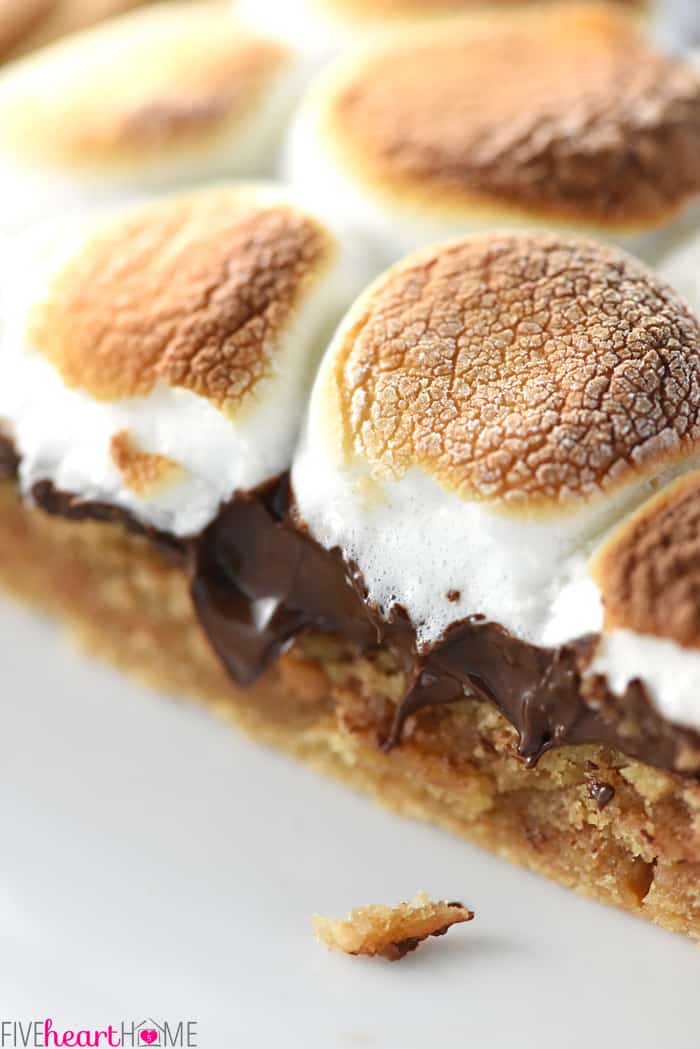 The chocolate layer on this dessert pizza is as easy as spreading the chocolate chips over the hot, fresh-from-the-oven crust and allowing them to sit undisturbed for five or so minutes. Then simply take a knife or off-set spatula and spread the softened chocolate chips into a smooth layer of melted chocolate bliss.
Finally, the crowning glory of this Peanut Butter Cookie S'mores Pizza is the layer of toasted marshmallows. I prefer cutting jumbo marshmallows in half and neatly arranging them, because not only do they toast more evenly, but I happen to think that they look pretty. Alternatively, you could pile a mound of mini marshmallows on top...whatever you have on hand or whatever floats your boat!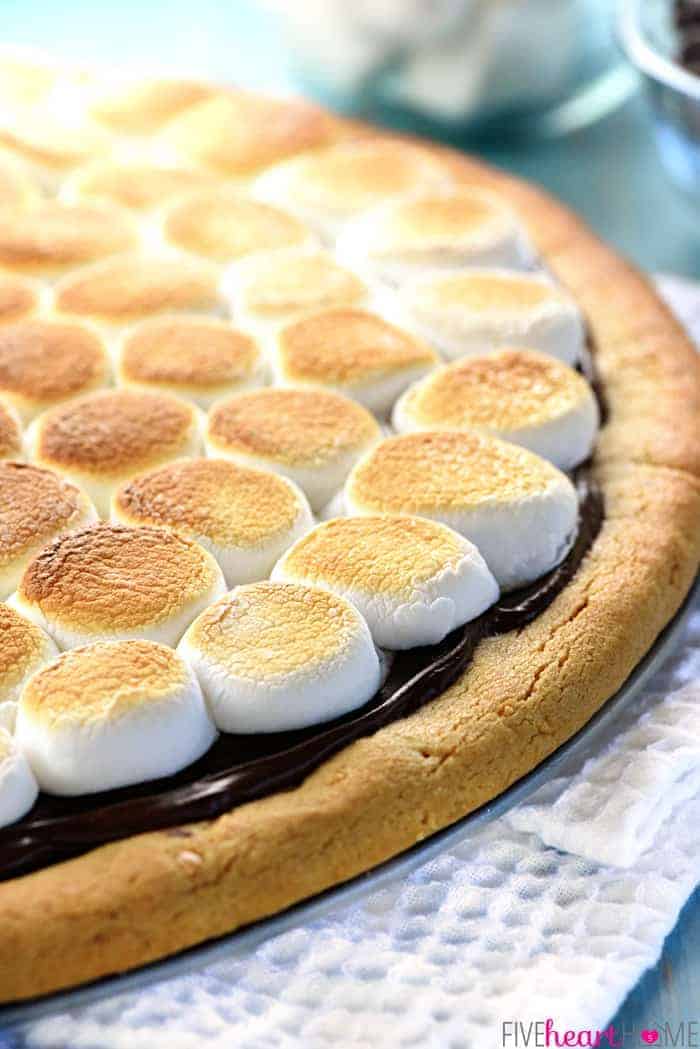 I decided to toast the marshmallows under the broiler since it would be super quick, seeing as how the crust is already baked and doesn't need to be cooked even longer. And quick it was! I'm telling you now, don't walk away from your marshmallows while they're under the broiler. Mine were noticeably toasty after just 30 seconds. But one side of the oven was apparently hotter than the other, so as some of the marshmallows continued getting darker, others were still light. So I carefully pulled out the rack a bit and turned the pan so that the still-pale marshmallows would catch up with their compadres. And then, once everything was to my preferred level of toastiness, I quickly pulled the pan out of the oven. The whole process took slightly over a minute. Had I walked away, I feel certain my 'mallows would have caught fire...and alas, burnt-to-a-crisp is not generally a look I go for in my blog photos.
So have I convinced you to try the most scrumptious, s'mores-worthy dessert of the year??? It may lead to sticky fingers and a messy face, but it's destined to earn a permanent place on your annual summer bucket list. 😉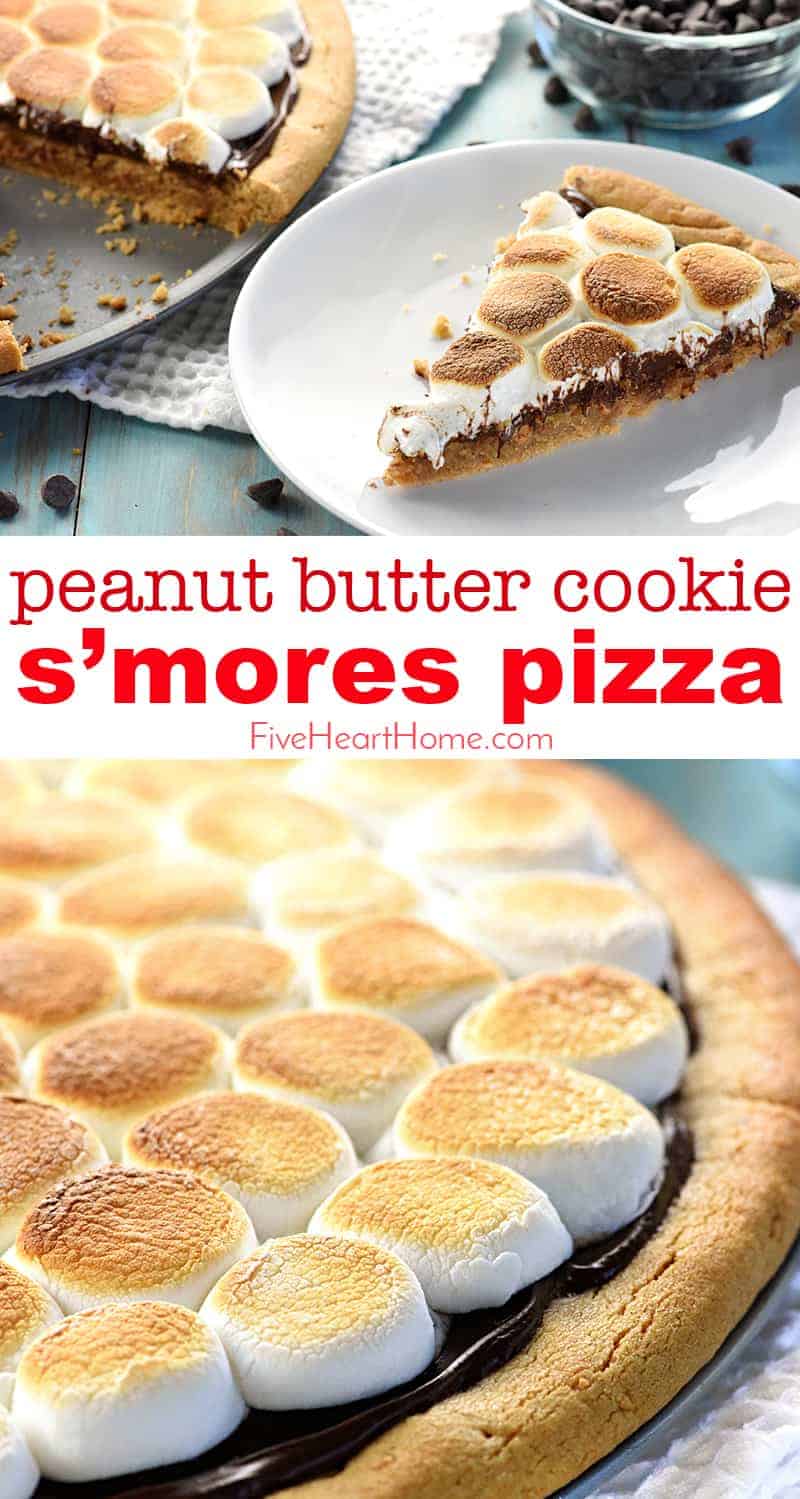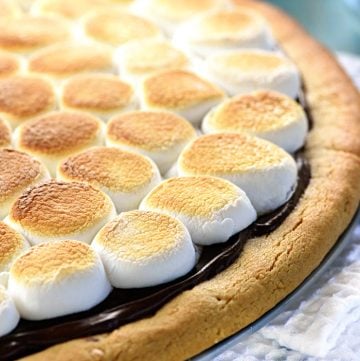 Peanut Butter Cookie S'mores Pizza
Melted chocolate and toasted marshmallows top a thick, chewy, homemade peanut butter crust in this fun and decadent Peanut Butter Cookie S'mores Pizza, the perfect dessert for summer parties or year-round special occasions!
Print
Pin
Rate
Ingredients
2 ½

cups

all-purpose flour

½

teaspoon

baking soda

½

teaspoon

baking powder

1

teaspoon

salt

1

cup

2 sticks unsalted butter

,

at room temperature

1

cup

sugar

1

cup

packed brown sugar

1

cup

peanut butter

,

all-natural preferred, crunchy or creamy

2

eggs

2

teaspoons

pure vanilla extract

18

ounces

(2 ¾ to 3) cups semi-sweet chocolate chips

,

(1 ½ standard-sized bags)

1

(10-ounce) bag jumbo marshmallows
Instructions
Arrange the rack in the center position of the oven and preheat oven to 350°F. Lightly spray a 14-inch rimmed (deep-dish) non-stick pizza pan with cooking spray; set aside.

In a medium bowl, whisk together the flour, baking soda, baking powder, and salt until well-combined. In a large bowl, use an electric mixer to beat the butter until smooth, then blend in both sugars and beat for several minutes until light and fluffy, scraping the bowl as necessary. Blend in the peanut butter until well incorporated, then the eggs and vanilla. Slowly and gradually stir in the flour mixture until just combined.

Turn the cookie dough out onto the prepared pizza pan and press into an even layer. Bake for 15 to 20 minutes or until the crust is puffed and beginning to turn a light golden brown around the edges (my crust was perfect at 18 minutes).

While the crust is baking, use a sharp knife to slice the marshmallows in half (wetting the knife every so often helps minimize sticking). As soon as the crust comes out of the oven and while it is still hot, sprinkle the chocolate chips into an even layer on top. Allow the chocolate chips to sit for 5 to 7 minutes, and then take an off-set spatula or large knife to spread the chocolate chips into a layer of melted chocolate, leaving a border of crust without chocolate around the edge of the pan. Once the chocolate is melted and spread, arrange the marshmallow halves, cut side down, all over the top.

With the oven rack positioned 6 inches below the heating element, preheat the broiler. Place the marshmallow-topped pizza in the oven and, with the door cracked, watch it carefully. If some of the marshmallows are browning faster than others, turn or adjust the pan as necessary to ensure even browning. Watch the marshmallows the whole time and once they are toasted to your liking (which will probably not take more than a minute or two), immediately remove the pan from the oven. Allow to cool for 5 minutes and then slice and serve warm.
Notes
If using a rimless 14-inch pizza pan, leave a 1-inch border between the edge of the crust and the edge of the pan to allow for rising and expansion of the crust as it bakes. Better yet, use an even larger pizza pan (such as a 16-inch pan) and only press the dough into a 14-inch circle, allowing for even more space between the edge of the crust and the edge of the pan.
If using a non-stick pan, don't use a metal knife to cut your pizza...use a plastic or nylon knife or thin spatula to keep from scratching the pan.
Calories:
619
kcal
|
Carbohydrates:
75
g
|
Protein:
9
g
|
Fat:
33
g
|
Saturated Fat:
16
g
|
Cholesterol:
53
mg
|
Sodium:
285
mg
|
Potassium:
348
mg
|
Fiber:
4
g
|
Sugar:
49
g
|
Vitamin A:
400
IU
|
Calcium:
53
mg
|
Iron:
3.5
mg
Peanut Butter Cookie recipe slightly adapted from Baking Illustrated (*affiliate link)
More Sweet Treats