This delicious, creamy, White Chocolate Cheesecake Fruit Dip is quick to make and will be even quicker to disappear at your next party or get-together!

Well, folks, the school year is winding down and summer is sneaking up on us! With that season will come plenty of opportunities for parties and playdates. I don't know about you, but when I'm asked to contribute a dish to a potluck or get-together, I prefer to bring something that's homemade yet quick and easy, since my schedule is already jam-packed. This fruit dip, made with sweet white chocolate blended into tangy cream cheese and lightened up with fresh whipped cream, just so happens to fit both of those requirements!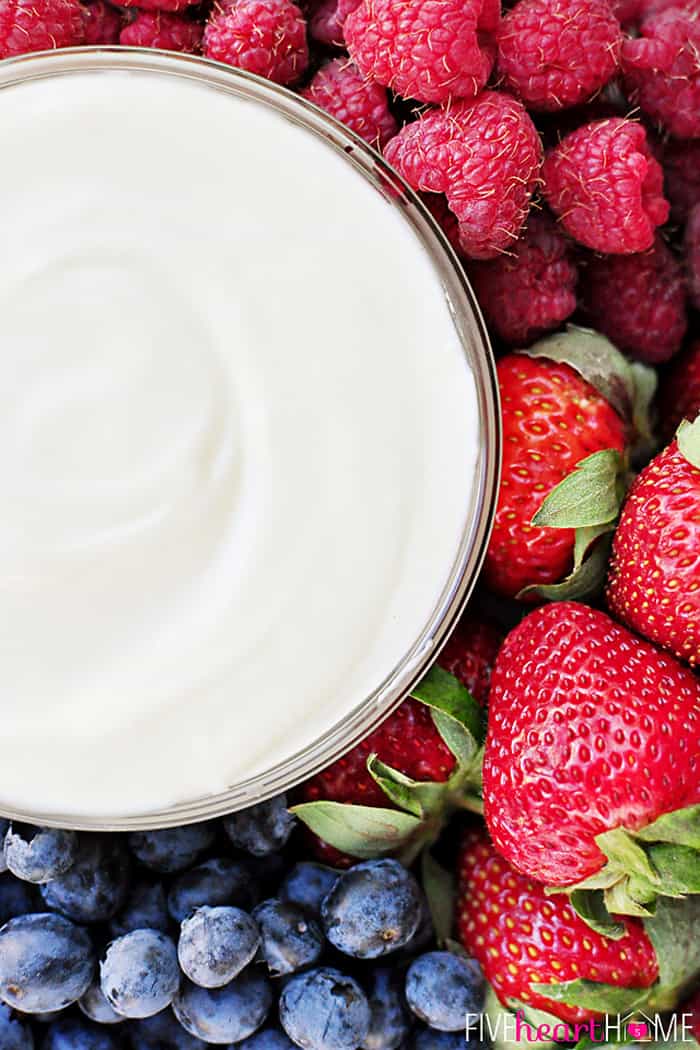 In addition to being a breeze to whip up, fruit dip also tends to be universally enjoyed by kids and adults alike. And shhhh…don't tell anyone, but all of those fruit dippers have actual nutritive value, making this treat a relatively healthy dessert. Whether you accompany this dip with berries, apple slices, pineapple wedges, graham crackers, vanilla wafers, or a spoon, I guarantee that the bowl is going to be licked clean!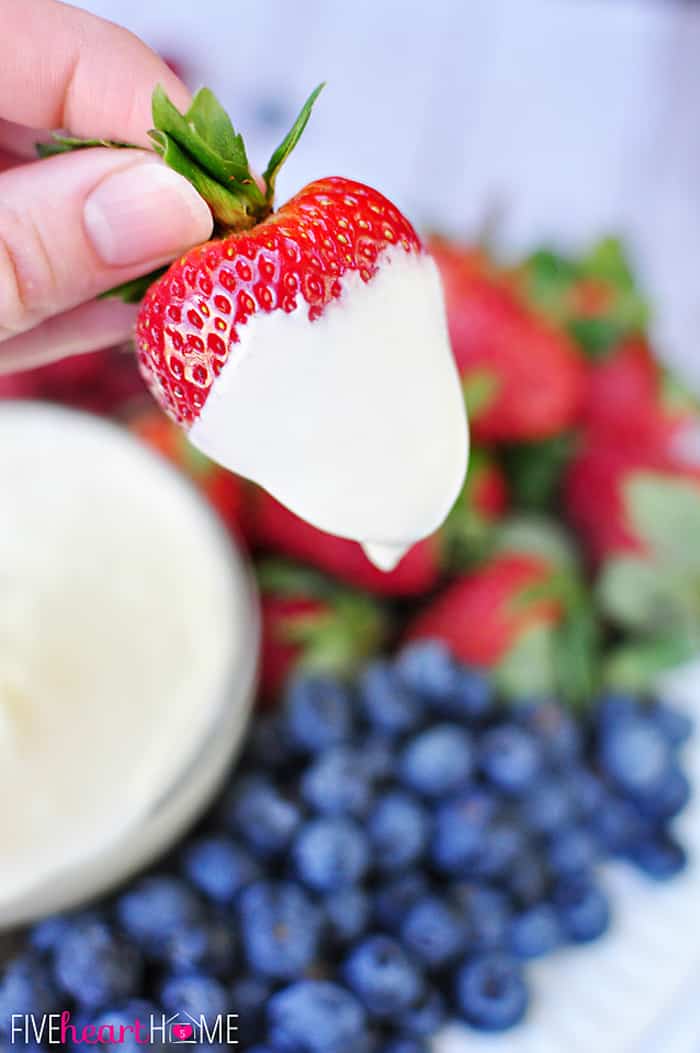 Speaking of berries, do you notice the whole red, white, and blue thing going on here, between the dip and the strawberries, raspberries, and blueberries? I think that this recipe would be perfectly patriotic at an upcoming Memorial Day party, or later this summer to ring in the 4th of July.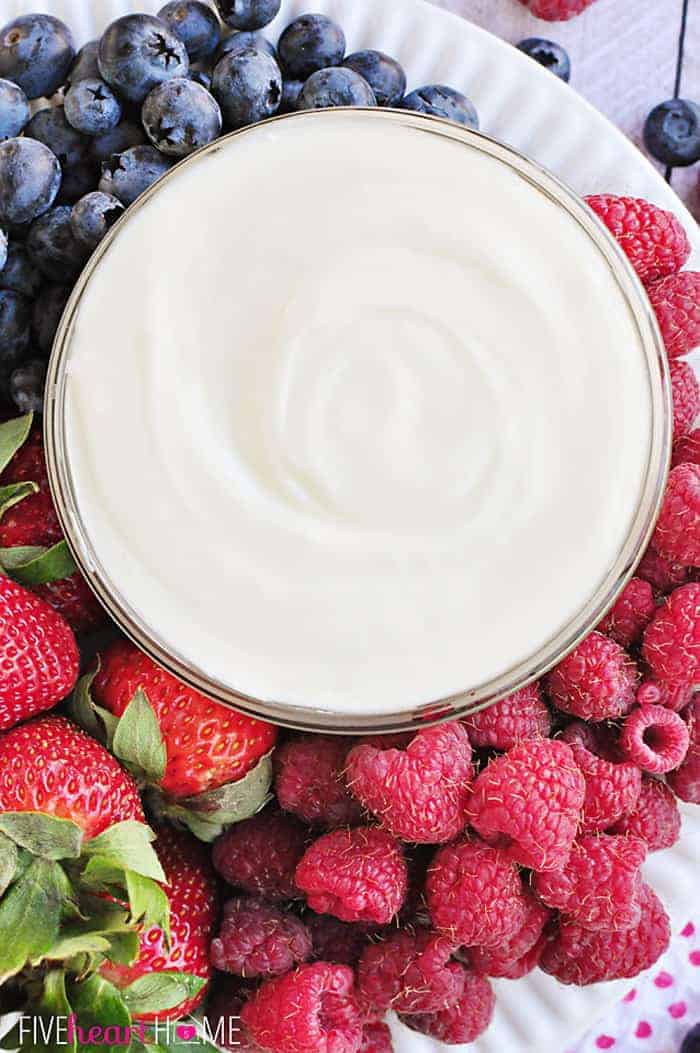 This fruit dip is actually a spin-off of the Lemon & White Chocolate Tiramisu Mason Jar Trifles that I shared earlier this spring. In the process of perfecting that recipe, I tried different variations of the white chocolate cream layer, resulting in several leftover batches. Delicious as the extra cream was, I couldn't figure out what to do with all of it until it occurred to me that it would make a mouthwatering dip for fruit. So this recipe is a happy consequence of those leftovers, slightly adapted to have a thicker, more dip-like consistency.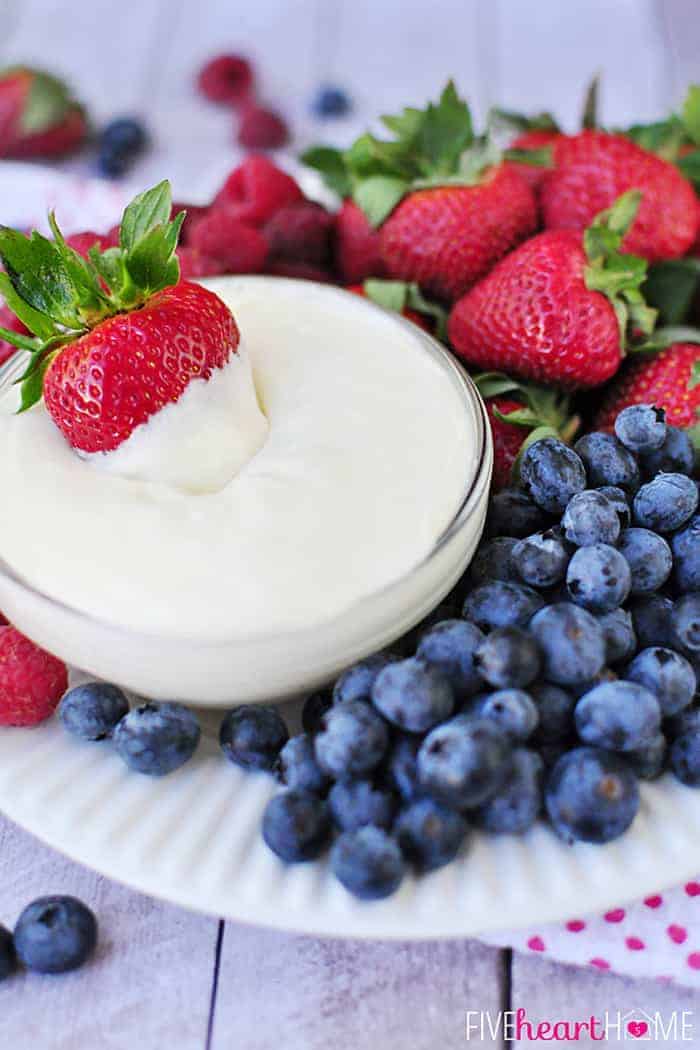 The next time you're in the mood for an effortless sweet treat, give this White Chocolate Cheesecake Fruit Dip a whirl! I think it will become an often-requested family favorite. It's my new go-to fruit dip, and I have big plans to make it all spring and summer long! 😉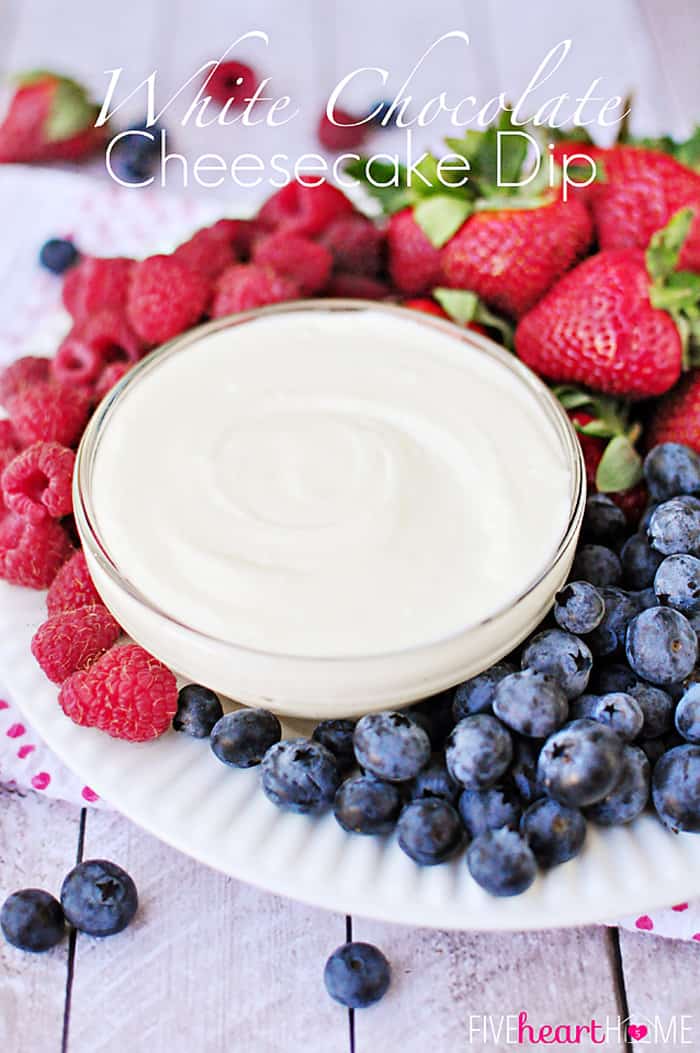 White Chocolate Cheesecake Fruit Dip
This delicious, creamy, White Chocolate Cheesecake Fruit Dip is quick to make and will be even quicker to disappear at your next party or get-together!
Ingredients
1/4 cup milk
4 ounces white chocolate, finely chopped
8 ounces cream cheese, at room temperature (very important!)
1/4 cup sugar
1/2 cup heavy cream
1 teaspoon pure vanilla extract
Fresh fruit (berries, apple slices, pineapple wedges, kiwi fruit, etc.)
Instructions
Heat milk until hot but not boiling. Whisk in white chocolate until melted and totally smooth. Set aside to cool.
In a large bowl, beat sugar into cream cheese. Mix the white chocolate mixture into the cream cheese mixture.
In a separate bowl, using an electric mixer, beat the heavy cream and vanilla until soft (not stiff) peaks form. Gently fold this whipped cream into the cream cheese mixture.
Cover and chill for at least 4 hours (to overnight). Serve with fresh fruit dippers, and/or vanilla wafers, graham crackers, etc.
Notes
If the cream cheese is not completely at room temperature, the melted white chocolate will re-solidify into little chunks once you mix the two together.
https://www.fivehearthome.com/white-chocolate-cheesecake-fruit-dip/
https://www.fivehearthome.com ~ All recipes and images on Five Heart Home are copyright protected. Please do not use without my permission. If you would like to feature this recipe, please rewrite the directions in your own words and give proper attribution by linking back to this blog.
Recipe originally posted at Or So She Says on April 15, 2014.
More berrylicious recipes…
Homemade Blackberry Cobbler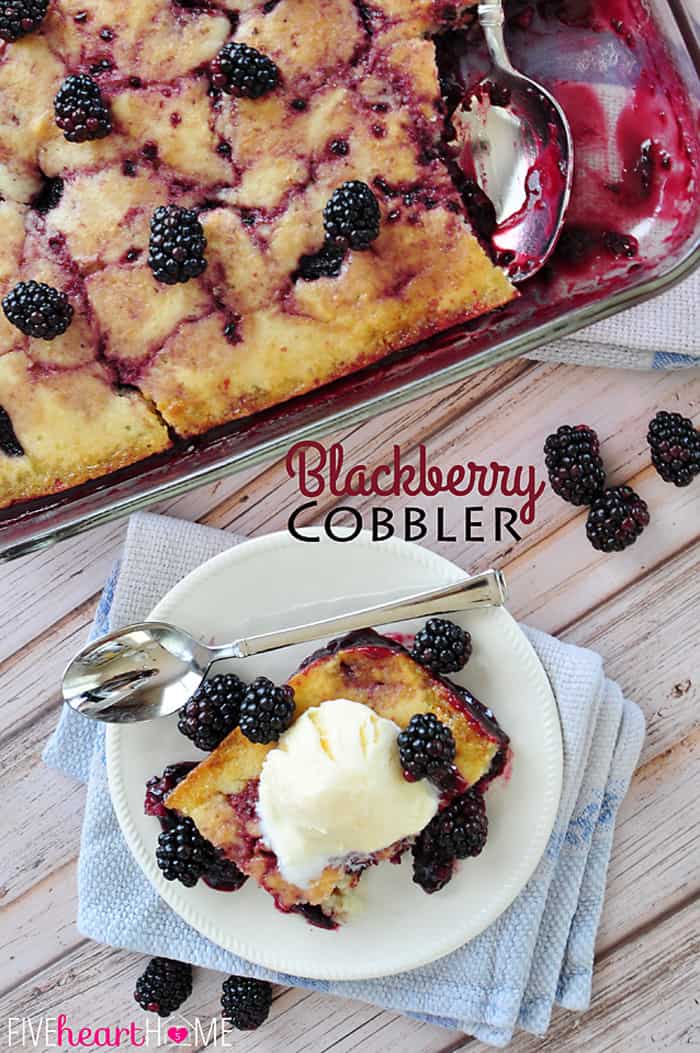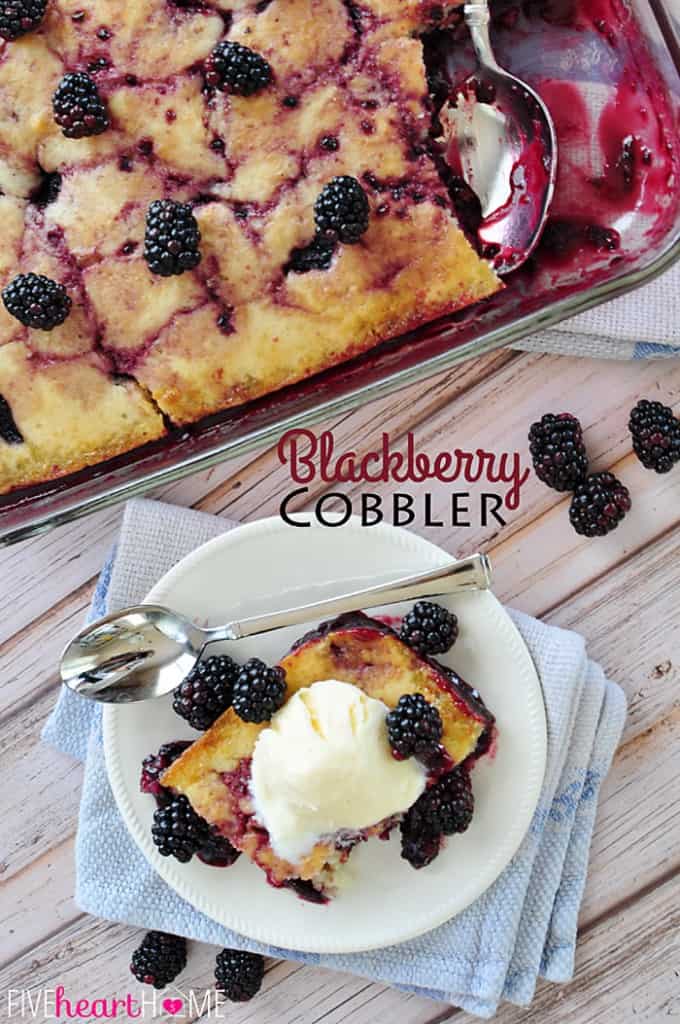 Homemade Strawberry Syrup for Strawberry Soda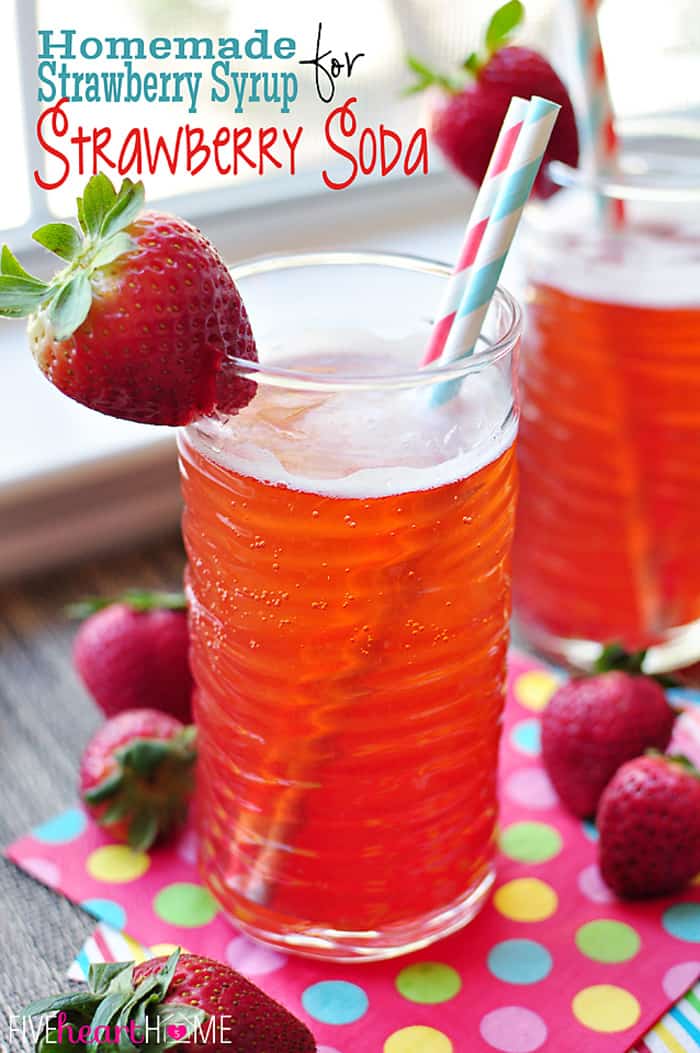 Classic Blueberry Muffins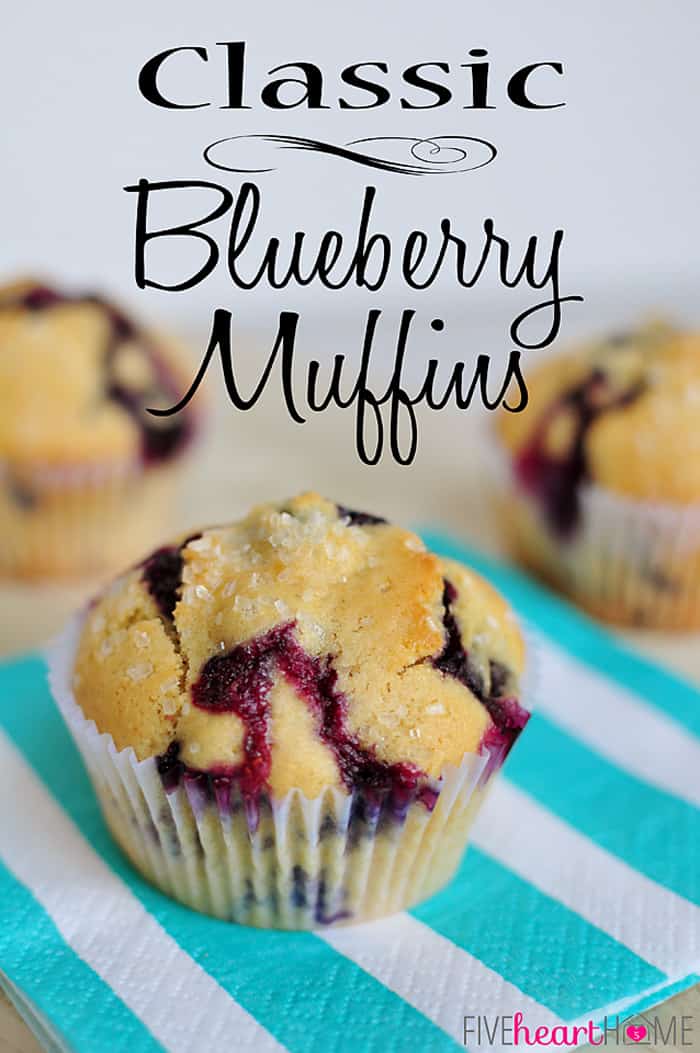 Spring Salad with Mixed Berries, Candied Almonds, & Honey Citrus Vinaigrette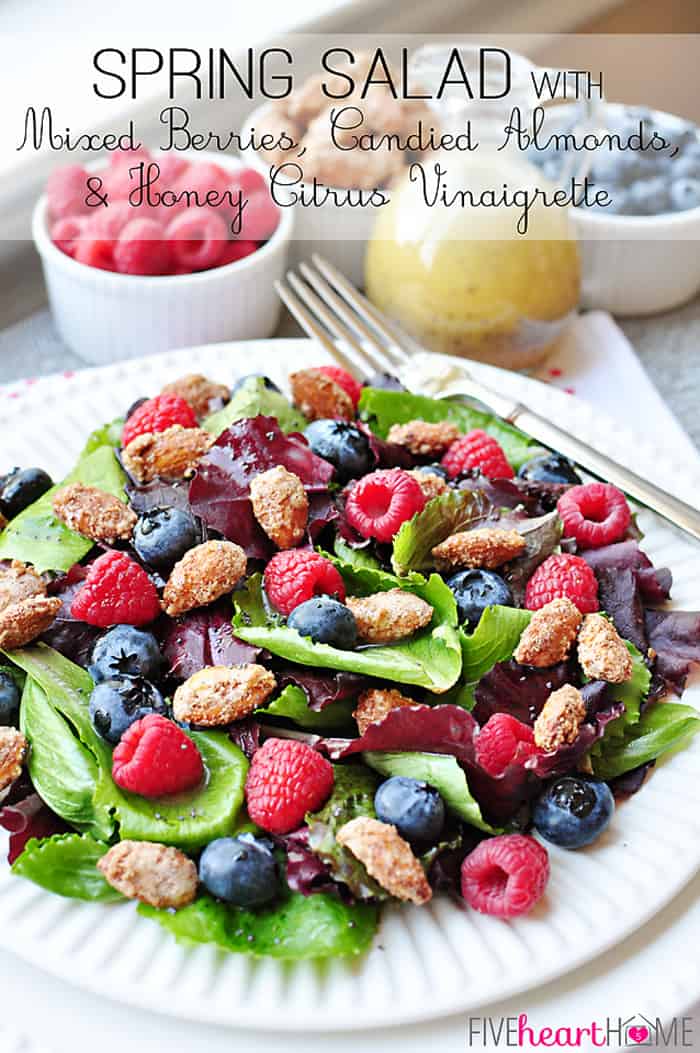 See all of our SUMMER RECIPES <<< here!
18