Lemon Texas Sheet Cake is a super moist, homemade cake recipe topped with a tangy lemon glaze...it's easy to make and it feeds a crowd!

Well hello there, friends. Happy summer! Happy June! And happy FIVE YEARS to Five Heart Home!
That's right, y'all...today marks Five Heart Home's 5th blogiversary, which is basically like a cross between a birthday and an anniversary to commemorate the day I published my very first blog post. June 1st. Five whole years ago! Can you believe it? I don't know about you, but I think this is the perfect occasion to celebrate with cake. And what better cake than this scrumptious, from-scratch, Lemon Texas Sheet Cake?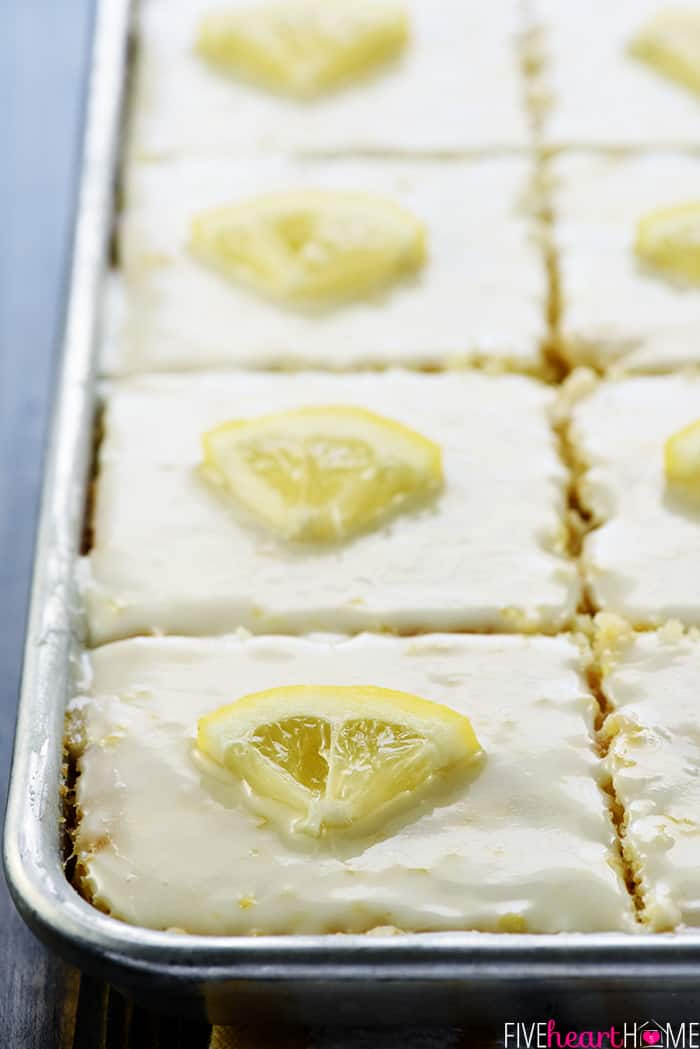 Before I tell you about this recipe, however, I have several exciting pieces of news to fill you in on. I don't know if y'all have noticed, but new recipes and blog posts have been rather scarce 'round here in May. That's because we've had some momentous life changes happening on the home front and things have been slightly crazy, to say the least.
Big news #1 is that WE'RE MOVING! To Fort Worth! So we'll still be in Texas, but we'll be picking up our Hill Country roots this summer and transferring them a few hours north. My husband has been offered a wonderful new position within his same company, but it requires us to move.
And while we feel blessed by the opportunity, we will very much miss Austin. It will always be home...where our family, friends, church, and school are, where our kids were born and raised to this point, and the area where my husband and I both grew up. But even though this has been a very bittersweet decision, we're excited about this great opportunity for our family, and we've really grown to know and love Fort Worth over the past few years. So onto new adventures!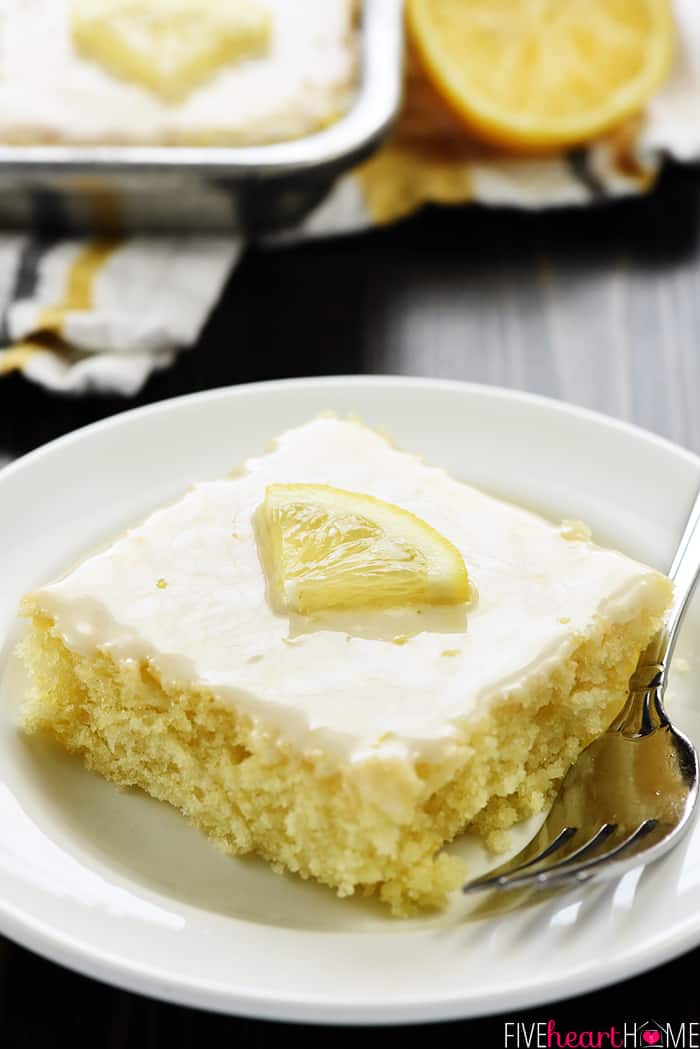 As you can imagine, though, the decision to accept this job and consequently move to a new city has necessitated lots of behind-the-scenes research and work and many trips back and forth between Austin and Fort Worth to figure out logistics. Trips to decide where we want to live...trips related to our kids' new school...trips to go house hunting.
It's been a busy few months and it's really not going to slow down for several more months. Throw in some previously planned summer vacation trips, and I'm not sure when I'm going to have time (or an unpacked kitchen!) to create new recipes and put together new blog posts. So please accept my apologies in advance if my presence here continues to be a bit sporadic between now and, ohhh, September-ish...
Big news #2 is that while all of this new job/new school/moving (and have I mentioned end of school year?) craziness has been going on, I've simultaneously been working behind-the-scenes on a few other blog-related changes. Drumroll, please...
After five years of the same logo and the same website theme, Five Heart Home is getting a fresh new makeover! Join me in a fist pump, will you? All of the final details are still getting tweaked at the moment, but keep your eyes peeled in the next week or two for THE BIG REVEAL. In other words, don't be alarmed if you stop by one day and everything looks completely different! I can't wait to show y'all and I hope you'll love the update as much as I do.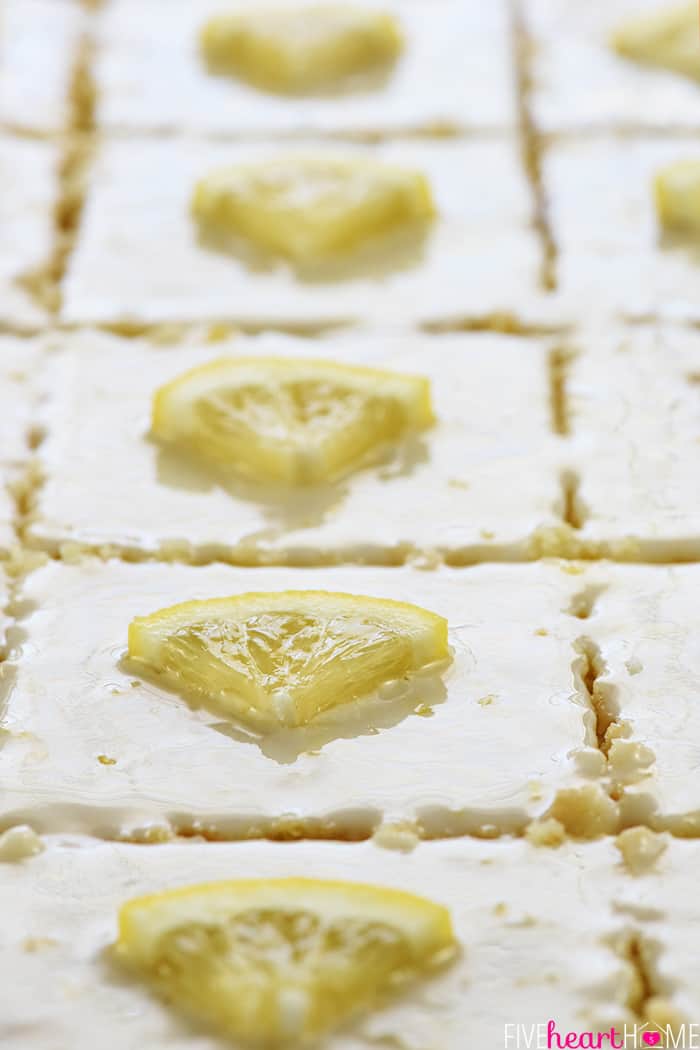 I've also been working on some blog changes that y'all won't necessarily notice, most of which are related to fixing technical things that I did wrong for my first several years of blogging...you know, before I knew any better.? And now that I have FIVE YEARS of content, that job is going to take a good while! Oh well...you live, you learn.
The good news is that while all of this life busyness and blog absenteeism is taking place this summer, I'm going to try to make up for it by being more active over on Instagram. It's one of the only social media channels that's actually fun anymore, and it's where I share some personal tidbits in addition to recipes. So feel free to follow me over there if you don't already!
Whew! I hope y'all aren't as exhausted after reading all of that as I am after typing it! Because we still have to talk about this moist, delectable, homemade Lemon Texas Sheet Cake...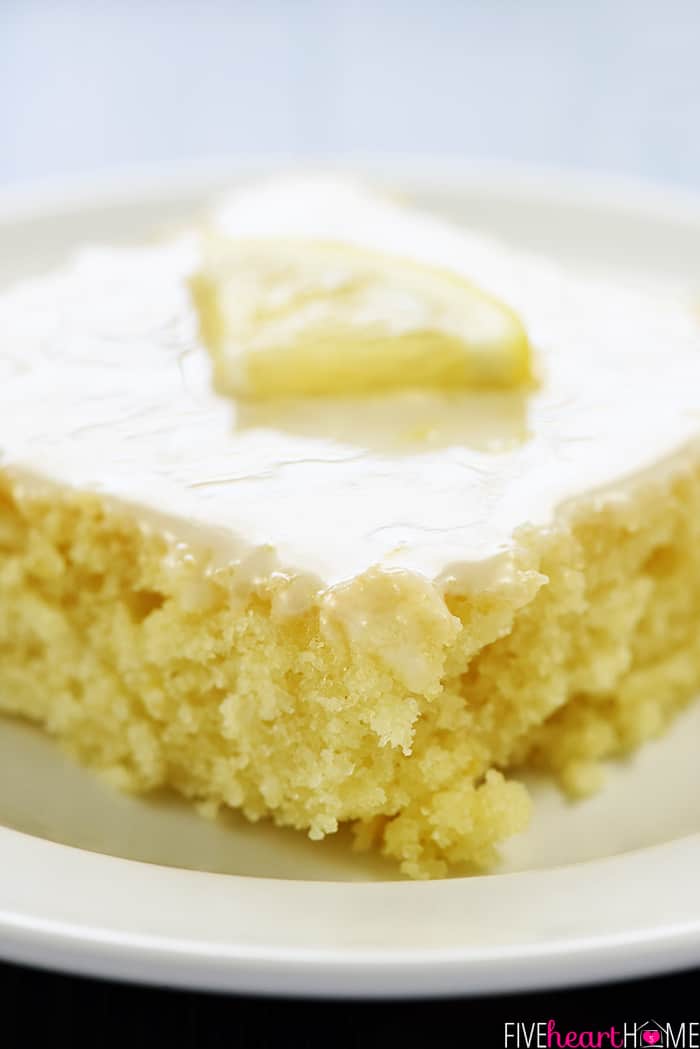 Lemon Texas Sheet Cake
Y'all know what Texas Sheet Cake is, right? Traditionally, it's a giant slab of chocolate cake baked in a nice, big sheet pan. The batter is stirred together in a pot on the stove and, once the cake comes out of the oven, a glorious warm frosting is poured right over the cake. It's extremely sweet, moist, and decadent...and it's always a hit.
Personally, however, I've always been a bigger fan of white cake than chocolate cake. So years ago, I started making Vanilla Texas Sheet Cake Cupcakes. Those eventually morphed into a White Texas Sheet Cake. And just last month, I decided to give my tried-and-true recipe a lemon twist.
WHY DID I NEVER THINK TO MAKE LEMON TEXAS SHEET CAKE BEFORE?!?!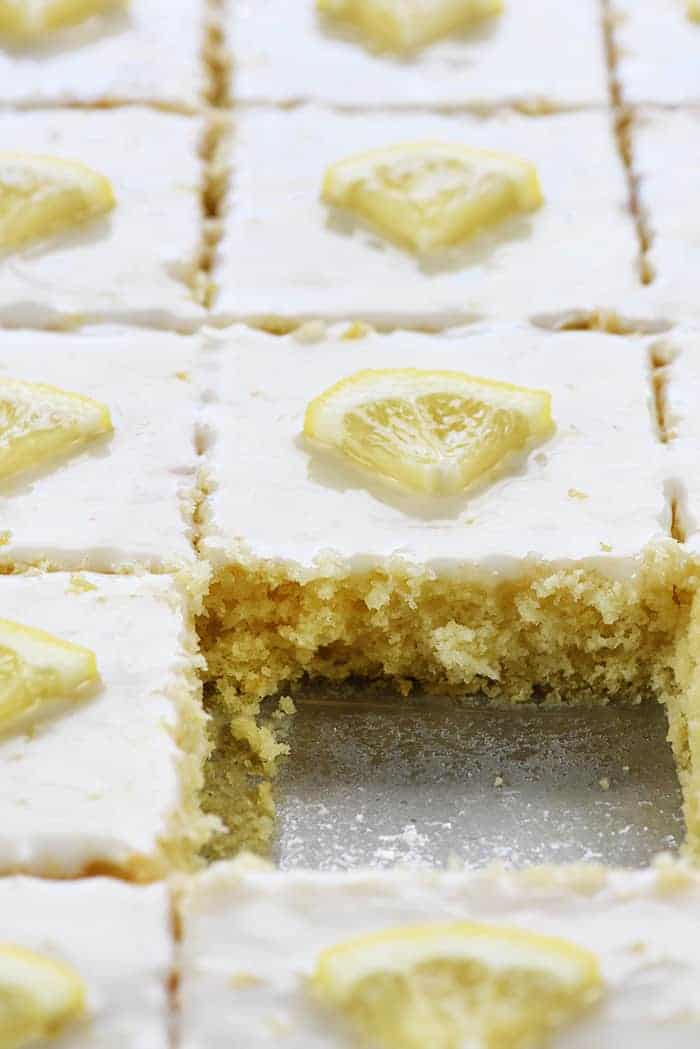 I adore lemon desserts, as evidenced by the fact that not too long ago I shared Lemon Fruit Dip and a Lemon Pound Cake. But wow. It's going to be really hard to top this Lemon Texas Sheet Cake.
In fact, I took the remnants of this delicious lemon sheet cake to a pool party, and it was met with rave reviews. Everyone loved it, and for good reason. The cake itself is incredibly moist. The lemon flavor is prominent but not overpowering. And the tangy sweet glaze takes it over the top!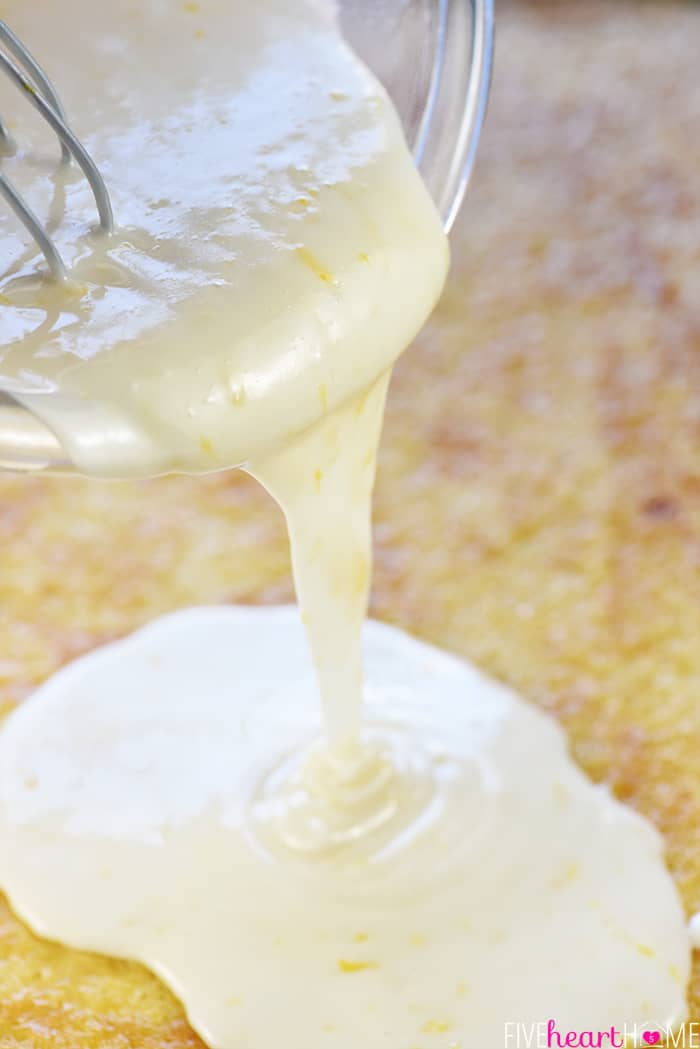 As for making this cake, it really is a quick and easy recipe that basically involves melting butter in a large pot and then stirring in the other ingredients. Once the cake comes out of the oven, simply pour a glaze of powdered sugar, fresh lemon juice, and lemon zest over the top. Chill for a bit until the glaze is set, slice into squares, and enjoy!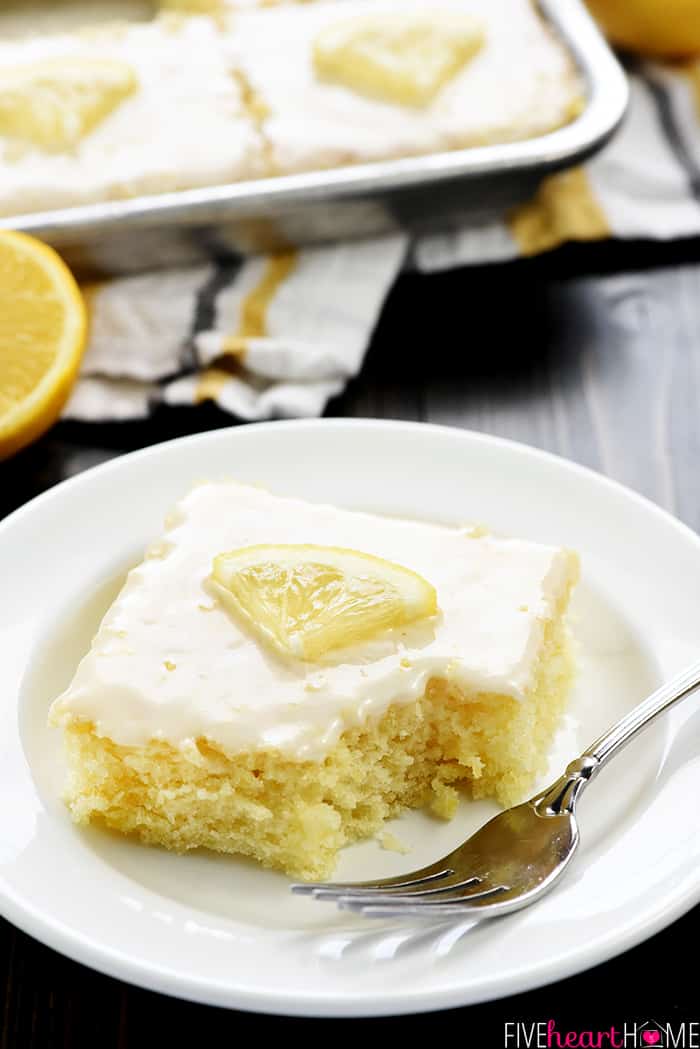 I wish I could personally bake each and every one of you your very own Lemon Texas Sheet Cake to show my appreciation. But since I can't, I hope y'all have a chance to make this recipe sometime yourself. And if you do, consider it my thank you for five wonderful years of Five Heart Home!
This blog...this job...this passion of mine wouldn't be possible without YOU. Thank you for reading and following and commenting and making my recipes, time and time again. I keep creating because y'all keep coming back. I had no idea what this little ol' blog would become in five short years, but I'm so glad it did.❤️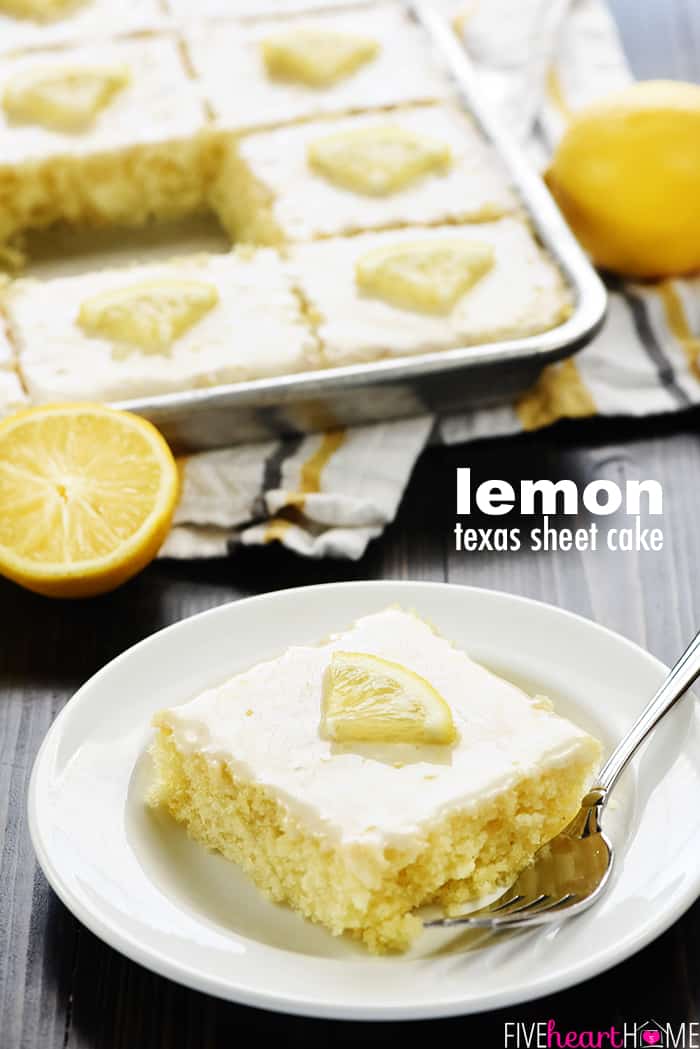 Tips, Tricks, & Equipment for making Lemon Sheet Cake
(some affiliate links below)
The sheet pan used for this recipe measures 18- by 13- inches with a 1-inch rim, commonly referred to a half sheet pan.
Two large, juicy lemons yield approximately 1/2 cup of lemon juice and 2 tablespoons lemon zest. So you'll probably need three large lemons for this recipe...but I'd buy at least four, just in case.
Fresh-squeezed is best, but if you decide to use a bottle of pure, all-natural lemon juice (as opposed to lemon juice with additives...I always keep a bottle of this one in the fridge), your cake will still turn out great.
The key to avoiding an overly-thick batter is to allow the butter mixture to cool down before stirring in the flour. I like to use a wooden spoon.
The sour cream considerably cools down the batter, but just to be safe, I usually crack the eggs into a separate bowl and temper them (whisk them and then gradually stir in some of the warm batter). Then I scrape all of the tempered egg mixture into the pot and quickly stir it into the batter. This helps ensure that the eggs won't scramble when they hit the warm batter.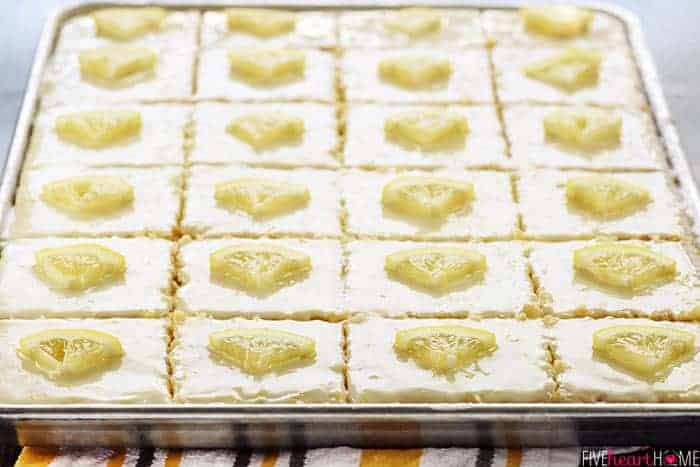 Pour the glaze over the top of the cake and immediately spread it into an even layer (an offset spatula makes this job easier). The layer of glaze will be thin, but it's sweet and tangy enough that that's all the cake needs!
Cover any leftovers with plastic wrap (I prefer Press 'n Seal). Pull the plastic wrap taut and store the cake in the refrigerator. If you want to increase the odds that the plastic wrap doesn't stick to the glaze, use small pieces of lemon to garnish each slice of cake, as shown in the photos in this post. This will provide a higher "layer" that the plastic wrap can rest on without touching the glaze.
If you have leftover lemon juice after zesting and juicing your lemons, you can always freeze it in 1-tablespoon portions in ice cube trays. Once frozen, pop the cubes out of the tray and store in a plastic zip-top bag in the freezer. Thaw as needed for future recipes.
Lemon Sheet Cake Recipe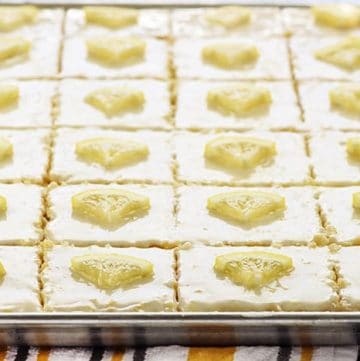 Lemon Texas Sheet Cake
Lemon Texas Sheet Cake is a super moist, homemade cake recipe topped with a tangy lemon glaze...it's easy to make and it feeds a crowd!
Print
Pin
Rate
Ingredients
FOR THE CAKE:
1 1/4

cups

(2 1/2 sticks) salted butter

1

cup

water

1/2

cup

fresh lemon juice

2 1/2

cups

all-purpose flour

2 1/2

cups

sugar

2/3

cup

sour cream

2

tablespoons

lemon zest

2

eggs

1

teaspoon

pure vanilla extract

1/2

teaspoon

pure lemon extract

1 1/4

teaspoons

baking soda

1/2

teaspoon

salt
FOR THE GLAZE:
3 1/2

cups

powdered sugar

6

tablespoons

fresh lemon juice

1

tablespoon

lemon zest
Instructions
Adjust the rack to the center position of the oven and preheat the oven to 375°F. Grease a rimmed 18x13x1-inch half sheet pan with softened butter.

In a large pot set set over medium heat, melt the butter. Add the water and the lemon juice, increase the heat, and bring to a boil. Remove pot from the heat and allow to cool for at least 5 minutes. Then briskly stir in the flour until smooth, followed by the sugar, sour cream, and lemon zest. Stir in the eggs until fully incorporated (temper them first if the batter is still hot). Mix in the vanilla and lemon extract. Then sprinkle the baking soda and salt over the top of the batter (make sure there are no lumps!) and stir them in until all ingredients are well blended.

Pour the batter into the prepared sheet pan and smooth the top. Bake for 15 to 18 minutes or until a toothpick inserted into the center of the cake comes out clean. Cool the cake completely before glazing.

For the glaze, measure the powdered sugar into a bowl and stir in the lemon juice until completely smooth. Add a bit more lemon juice if the glaze is too thick or a little more powdered sugar if it's too thin. Pour the glaze over the cooled cake and immediately spread into a thin, even layer. If desired, garnish the cake with small lemon pieces of lemon. Chill (uncovered) for at least 30 minutes to allow the glaze to set before slicing. Cover tightly and refrigerate any leftovers.
Calories:
301
kcal
|
Carbohydrates:
49
g
|
Protein:
2
g
|
Fat:
11
g
|
Saturated Fat:
7
g
|
Cholesterol:
42
mg
|
Sodium:
202
mg
|
Potassium:
40
mg
|
Fiber:
1
g
|
Sugar:
38
g
|
Vitamin A:
355
IU
|
Vitamin C:
4
mg
|
Calcium:
15
mg
|
Iron:
1
mg
More Lemon Treats