Lemon Sugar Baked Donuts are light, citrusy, and generously coated in a crunchy, lemon-zest infused sugar…the perfect sunny treat for breakfast or dessert!

The food blogger side of me is a little embarrassed to admit that I'm decidedly late to the baked donut craze, having only bought my first donut pans a month or so ago. But now that I've had a bit of time to bake and experiment, I can confidently tell you…baked donuts are where it's at, y'all.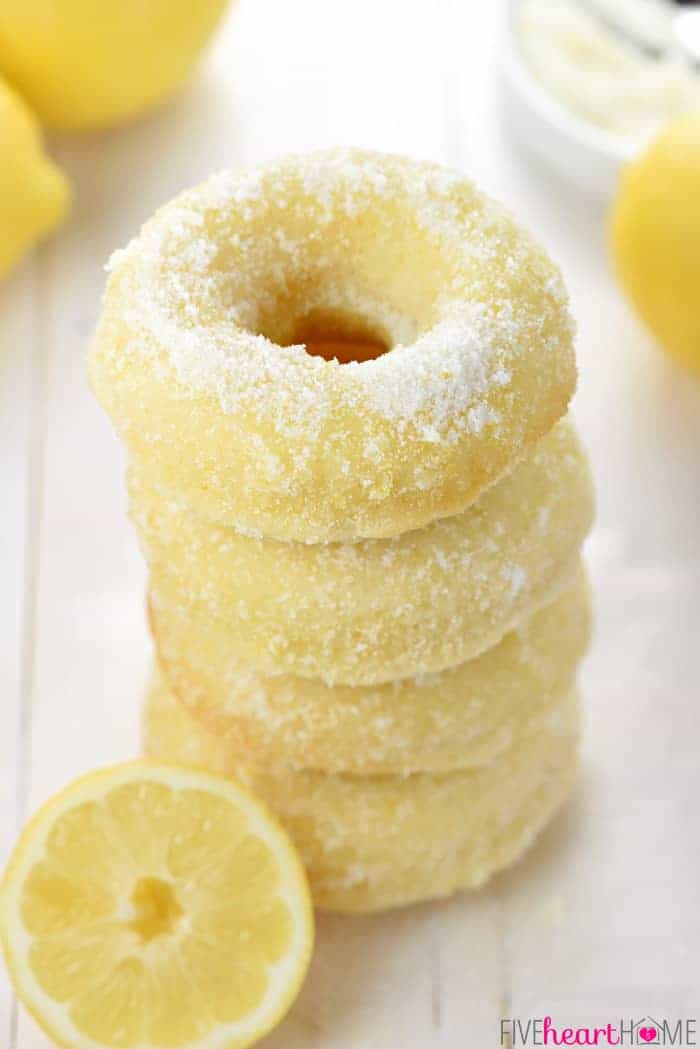 Let's face it…anything shaped like a donut is just going to be fun to eat. On top of that, baked donuts are much less guilt-inducing than their fried counterparts, with a soft, delicate texture that's more akin to a muffin than a true cake donut, but delicious nonetheless. As an added bonus, you can whip out a batch quickly and with minimal mess…no popping, splattering oil to worry about!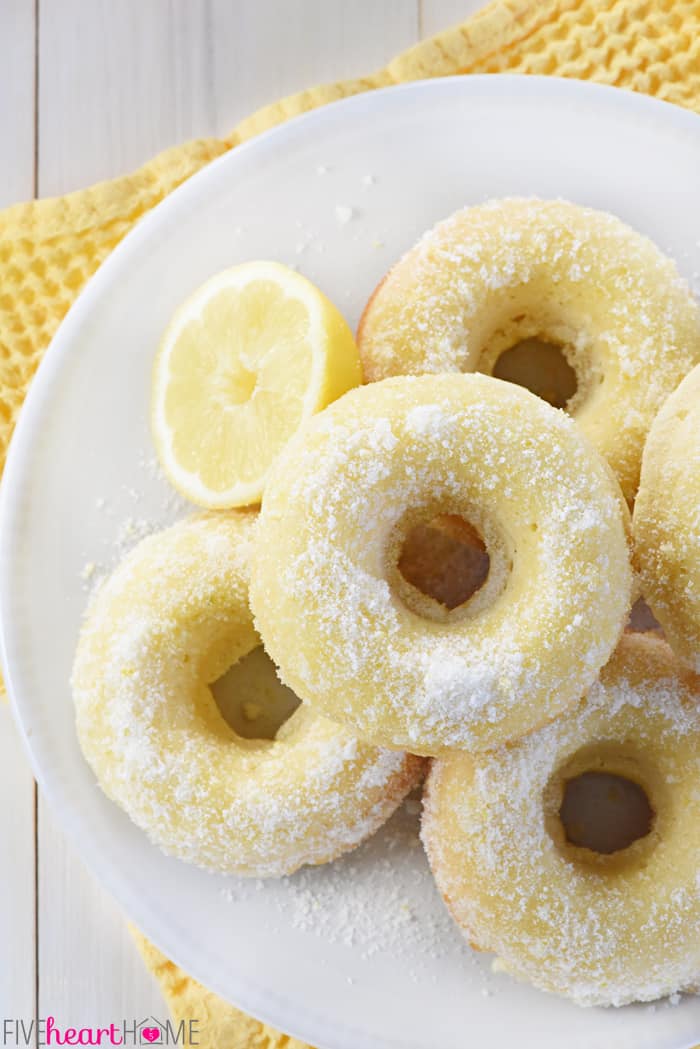 And have I mentioned all of the different flavor possibilities? Of course you can make them plain with a simple glaze or powdered sugar coating. You can infuse the batter with chocolate or flavor the glaze with berries.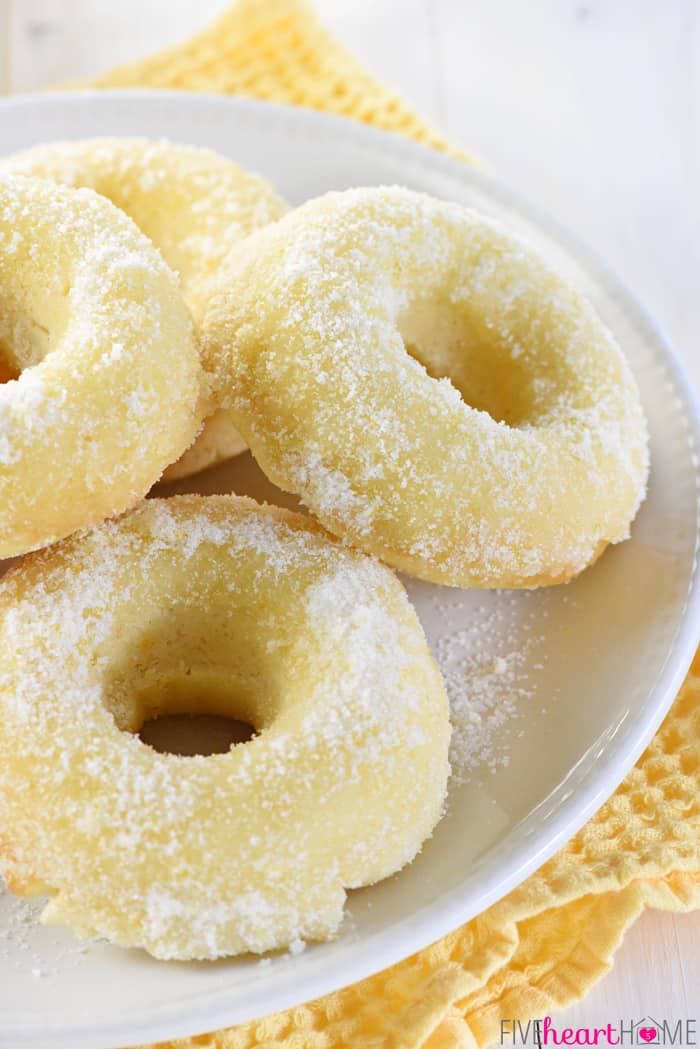 But since I hail from a family of citrus lovers, I decided to go this lemon route for my inaugural run, taking the basic baked donut recipe that came with my pans and adapting it to include lemon juice and lemon zest in the batter. I also combined some regular granulated sugar and fresh lemon zest in the food processor and ground them together to make a sweet and tangy lemon-sugar coating. The resulting treats are bursting with lemon, inside and out!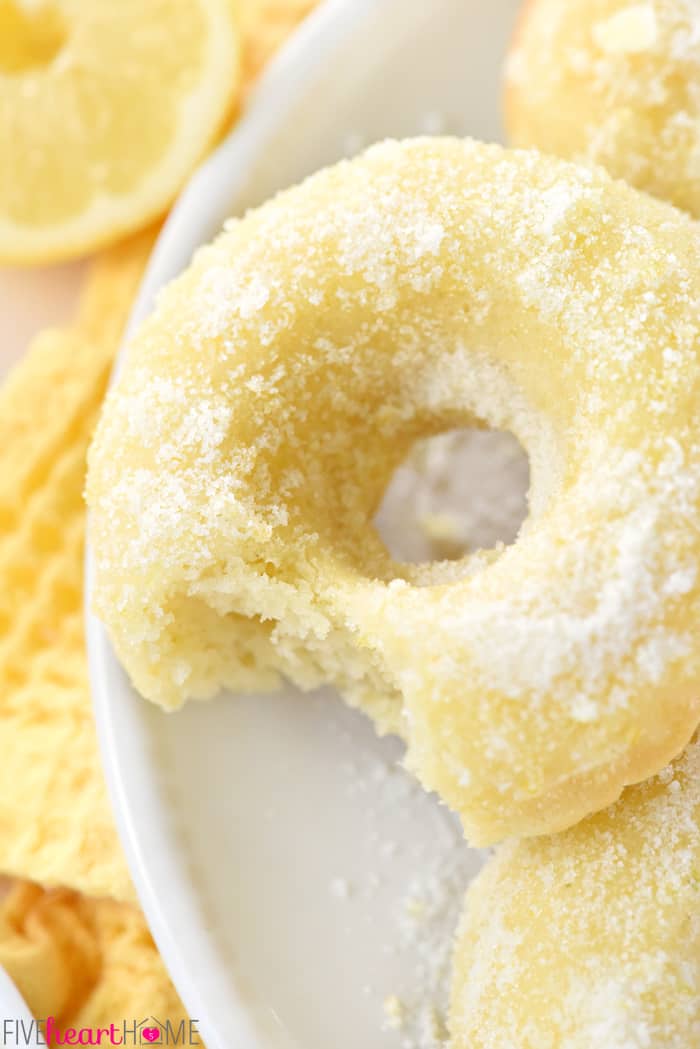 Lemon Sugar Baked Donuts would be a special addition to a weekend breakfast or celebratory brunch…without the guilt of greasy fried donuts. Now don't get me wrong, we occasionally (and happily) indulge in those as well! But these delights provide that sweet donut fix in a slightly lightened up form, so why not have the best of both worlds?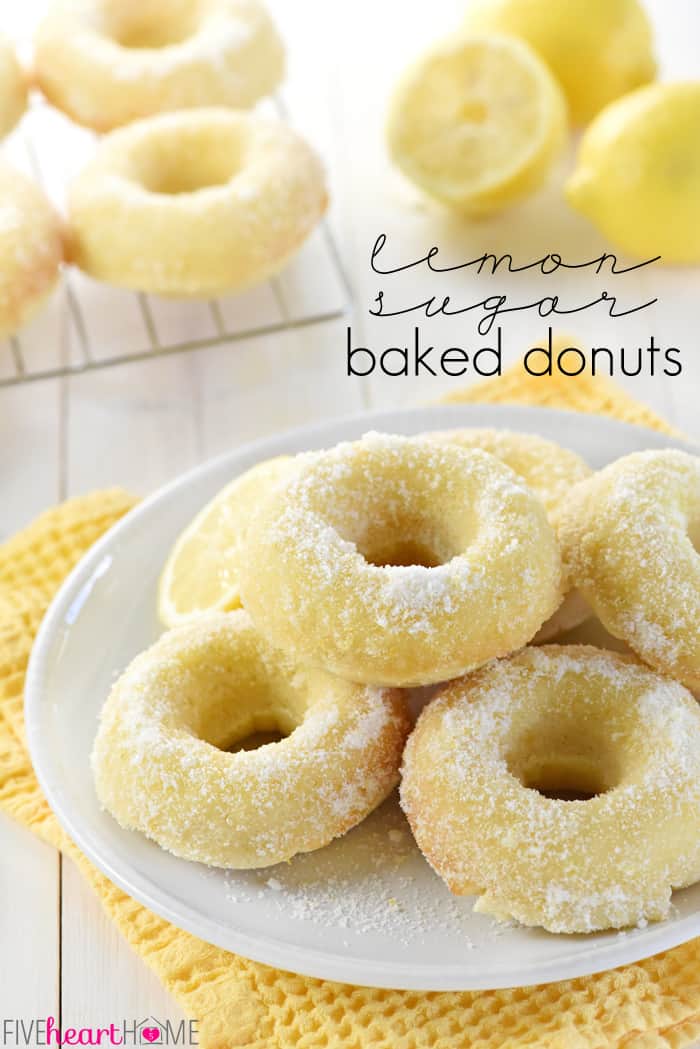 Now go forth and bake some donuts! (And check out the video below to see just how easy they are to make…?)
Lemon Sugar Baked Donuts are light, citrusy, and generously coated in a crunchy, lemon-zest infused sugar...the perfect sunny treat for breakfast or dessert!
Ingredients
1¾ cups all-purpose flour
¼ cup cornstarch
¾ cup sugar
2 teaspoons baking powder
1 teaspoon salt
¾ cup buttermilk
2 eggs
2 tablespoons butter, melted
1 tablespoon freshly-squeezed lemon juice
½ teaspoon pure vanilla extract
2 teaspoons grated lemon zest
FOR THE COATING:
½ cup sugar
4 teaspoons grated lemon zest
6 tablespoons butter, melted
Instructions
Adjust oven racks to center position and preheat oven to 425°F. Spray two 6-cavity donut pans with nonstick cooking spray and set aside.
In a large bowl, whisk together flour and cornstarch. Whisk in sugar, baking powder, and salt until well blended. Stir in buttermilk, eggs, butter, lemon juice, vanilla, and lemon zest until batter is smooth and combined, but do not over-mix. Evenly divide the batter between the prepared donut pans.
Bake for 7 to 9 minutes until the edges of the donuts begin to turn a light golden brown and the tops of the donuts spring back when lightly touched. Allow donuts to cool for 5 minutes in pans before turning them out onto a cooling rack.
In a mini food processor, combine the sugar and lemon zest and pulse until finely ground (you may simply stir together the sugar and zest if you don't have a food processor). Place the melted butter in a shallow bowl. Dip one side of each donut in the butter, and then press into the sugar/zest mixture. Serve warm or at room temperature.
Notes
The cornstarch lightens up the texture of the donuts, akin to using cake flour. If you prefer, you may omit the cornstarch and increase the flour to 2 cups.
https://www.fivehearthome.com/lemon-sugar-baked-donuts-doughnuts-recipe/
https://fivehearthome.com ~ All recipes and images on Five Heart Home are copyright protected. Please do not use without my permission. If you would like to feature this recipe, please rewrite the directions in your own words and give proper attribution by linking back to this blog.
Recipe originally shared at Belle of the Kitchen
♥More lemon treats…
The BEST Lemon Cupcakes with Lemon Cream Cheese Frosting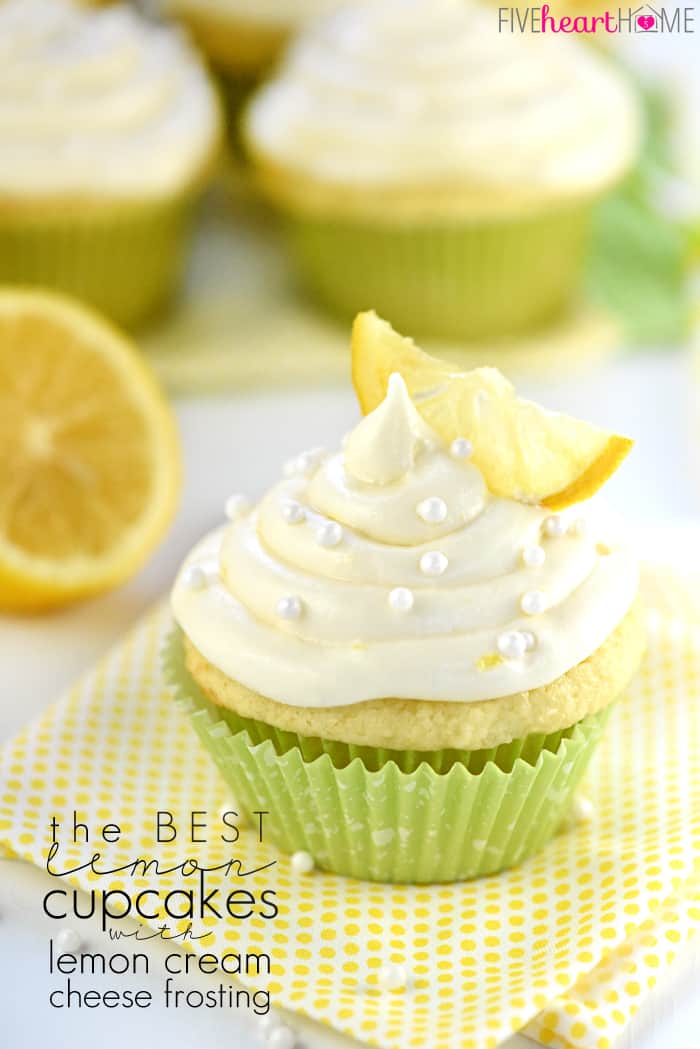 Lemon Poppy Seed Muffin Mug Cake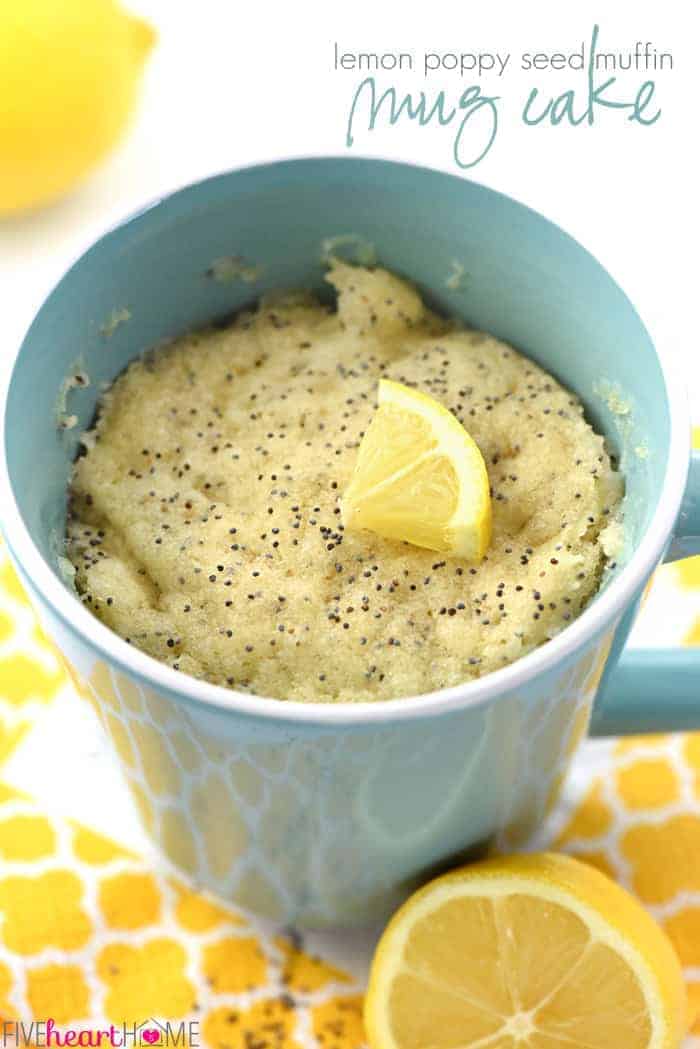 Lemon Whipped Cream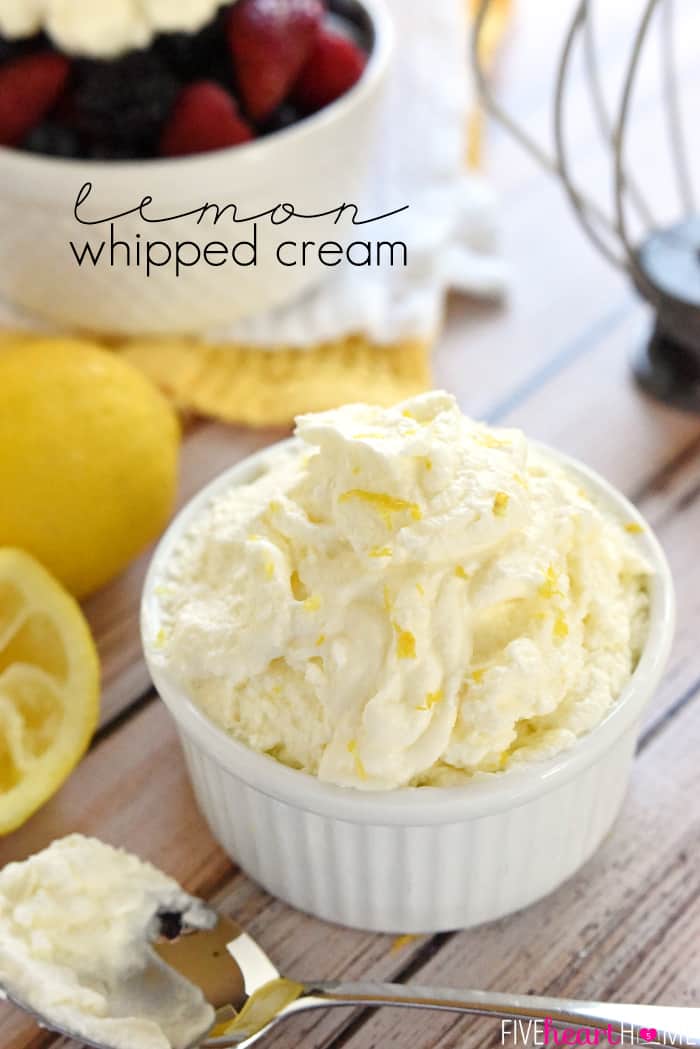 Minty Peach Lemonade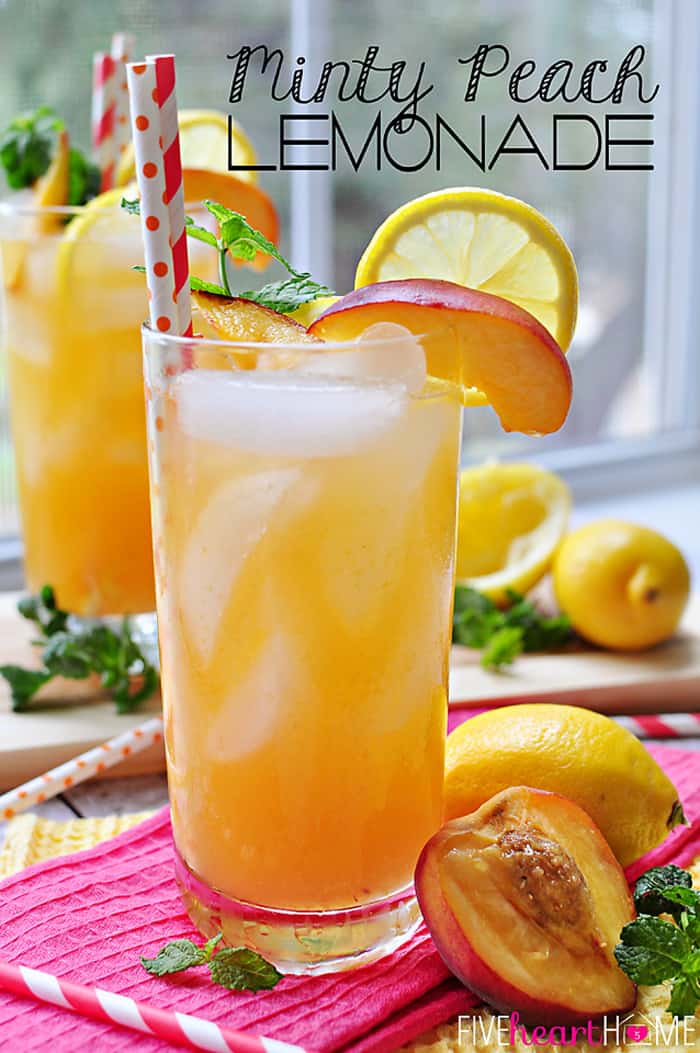 Save
Save
Save
Save
Save
Save
96