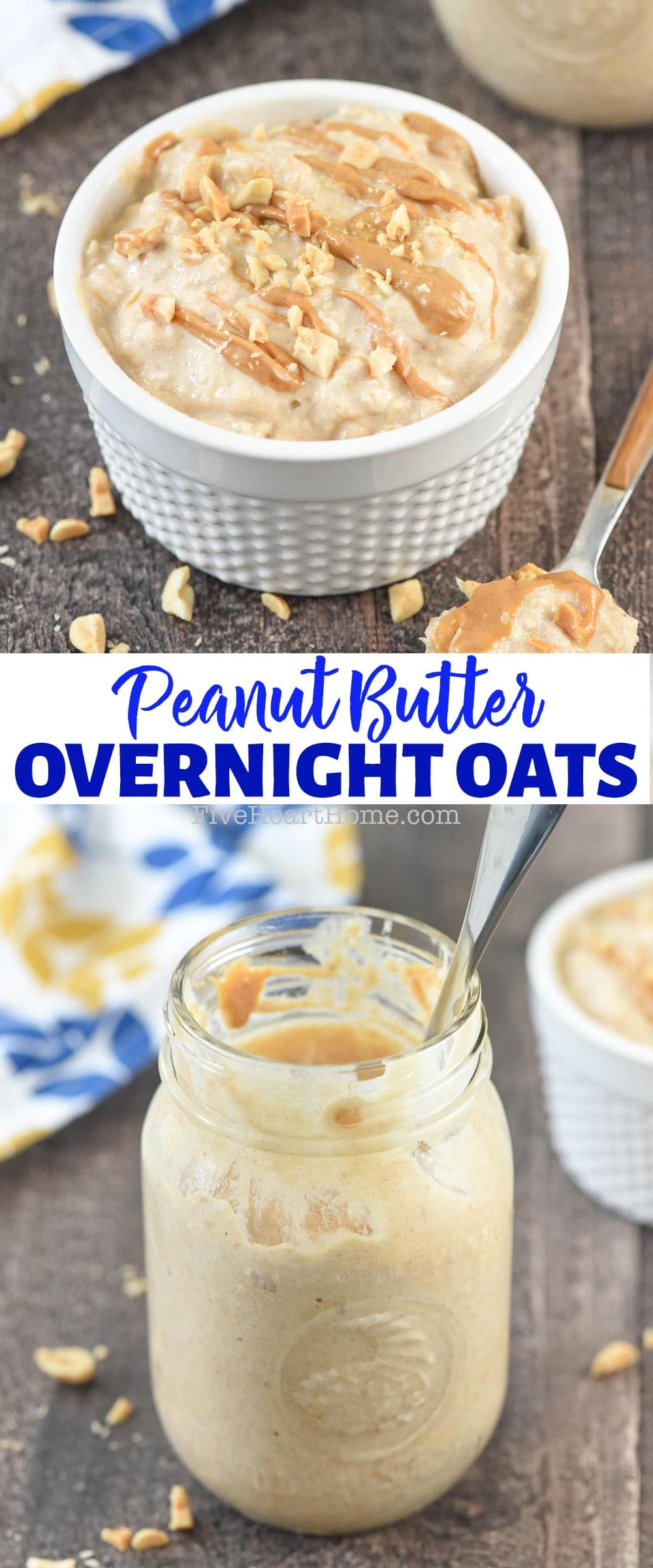 Peanut Butter Overnight Oats are easy to make and pop in the fridge the night before for a wholesome, filling, and nourishing breakfast that's ready to eat in the morning!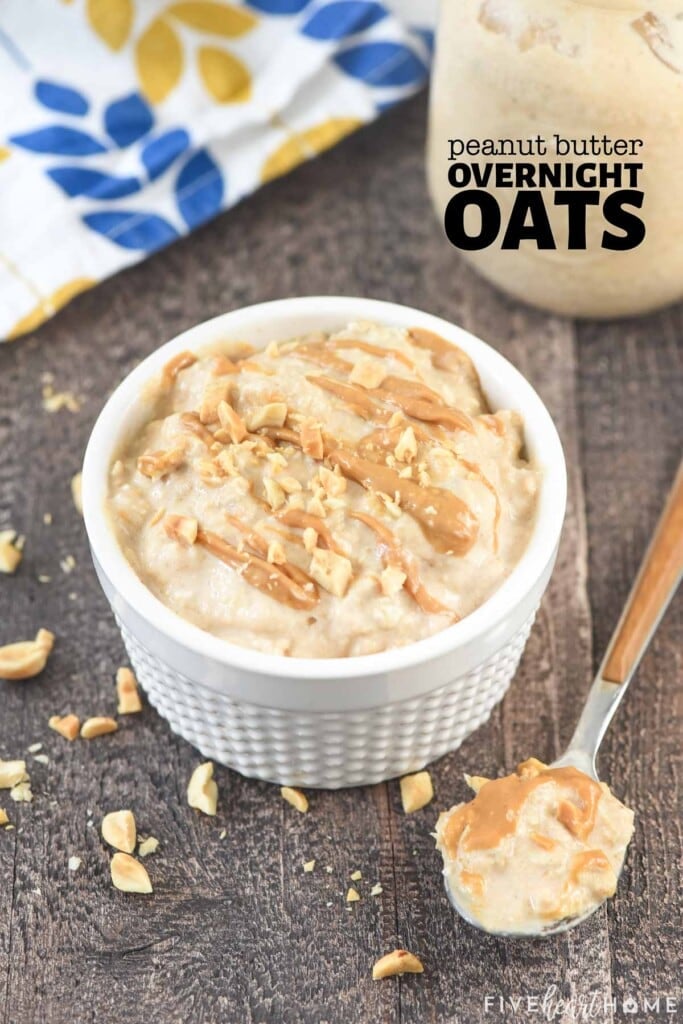 If you have yet to try overnight oats, I'm telling you, you're missing out! I previously shared the base recipe for overnight oats and enumerated all the reasons that make them so great. But these Peanut Butter Overnight Oats have become such a favorite around my house that I decided they warranted their own post!
What are Overnight Oats?
Overnight oats essentially involve combining uncooked oats with liquid and flavoring the night before you'd like to enjoy them. While they hang out in the fridge overnight, the oats soften and meld with the other ingredients, creating a creamy, pudding-like consistency with pleasant texture and delicious flavor that's depending on which ingredients you add beyond the base recipe. (So for Peanut Butter Overnight Oats, I bet you can guess the star additional ingredient!)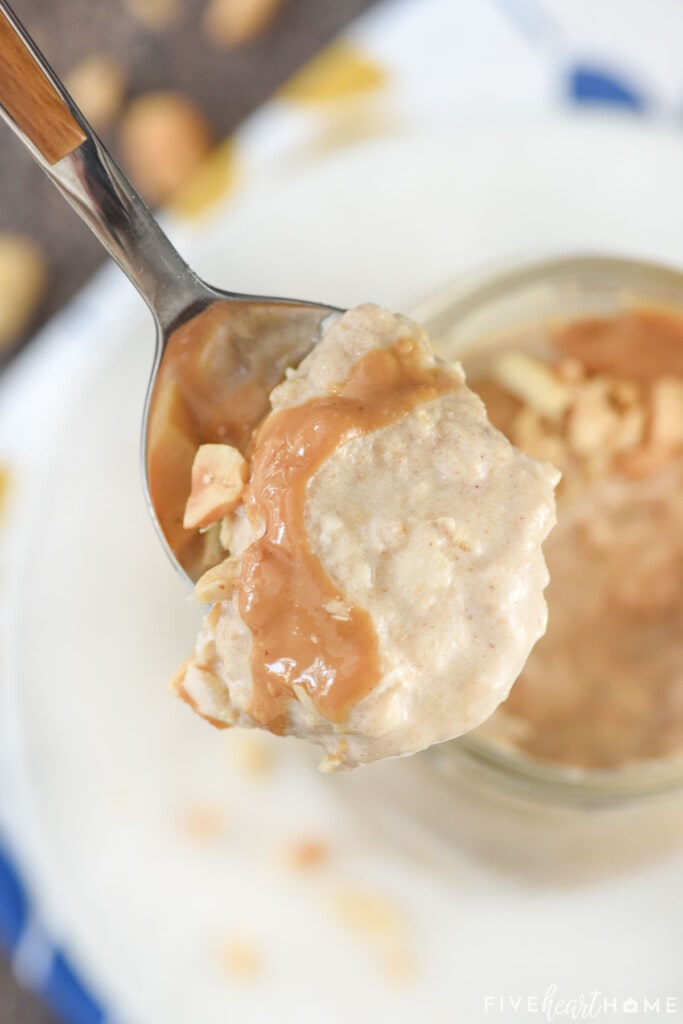 Overnight oats are traditionally enjoyed chilled, straight from the fridge. And if you combine your ingredients in jar, they're as simple as screwing the lid on the jar, popping it in the fridge, and then eating it straight out of the same jar in the morning…no dirtying a bowl required! Assembling them in a jar makes them perfectly portable as well, ideal for breakfasts on-the-go.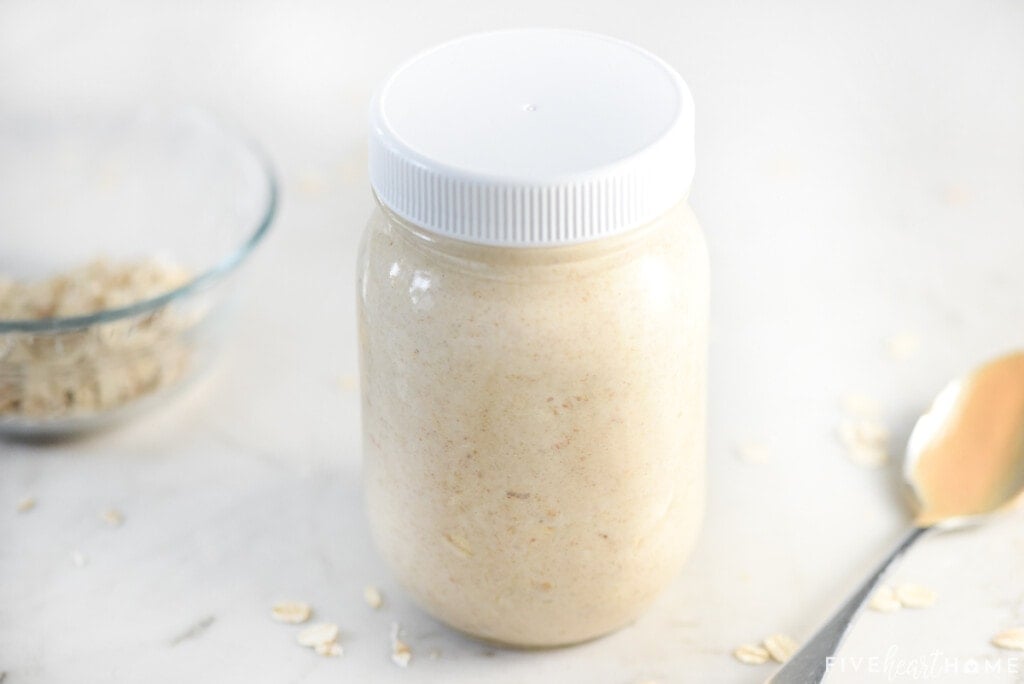 Ingredients
With just a few simple ingredients, you'll be on your way to a healthy breakfast of overnight oats with peanut butter that are ready to enjoy as soon as you wake up!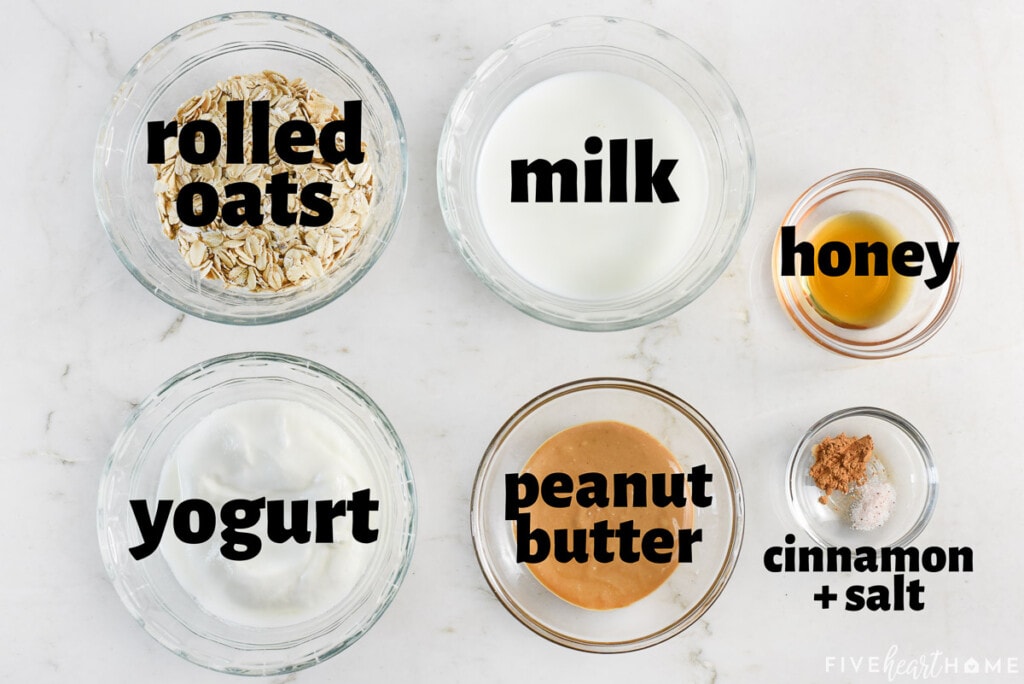 Rolled oats. When you make overnight oats, you must start with old-fashioned rolled oats. Not quick oats, which essentially dissolve into mush after sitting in liquid all night. Not steel cut oats, which require cooking to soften. Rolled oats have the perfect thickness to soften while retaining just the right amount of chewy texture.
Milk. Any type of milk will work in this recipe, whether that's whole milk, reduced-fat milk or skim milk, almond milk or oat milk, or whatever your favorite may be. Keep in mind that if you use a sweetened and/or flavored milk, that will affect the ultimate sweetness and flavor of your Peanut Butter Overnight Oats.
Yogurt. Once again, use your preferred type of yogurt here, whether that's plain regular yogurt or Greek yogurt, or a vanilla yogurt of some sort.
Peanut butter. The magic ingredient in this Peanut Butter Overnight Oats recipe! You can use your favorite, whether that's creamy or crunchy, no-stir or natural. You could also substitute another nut butter, such as almond butter, or sunflower seed butter to keep things nut-free. If your peanut butter is thick or chilled, you just want to make sure you allow it to soften and stir it in well to thoroughly incorporate it into the mixture before refrigerating.
Honey. This all-natural sweetener is a great complement to peanut butter, but you could swap it out for maple syrup or agave if you like. Feel free to tweak the amount to your liking to account for the other ingredients you used or to make the recipe more or less sweet.
Cinnamon + salt. These are my recommended spices/seasonings to give your Peanut Butter Overnight Oats depth of flavor and really make them pop.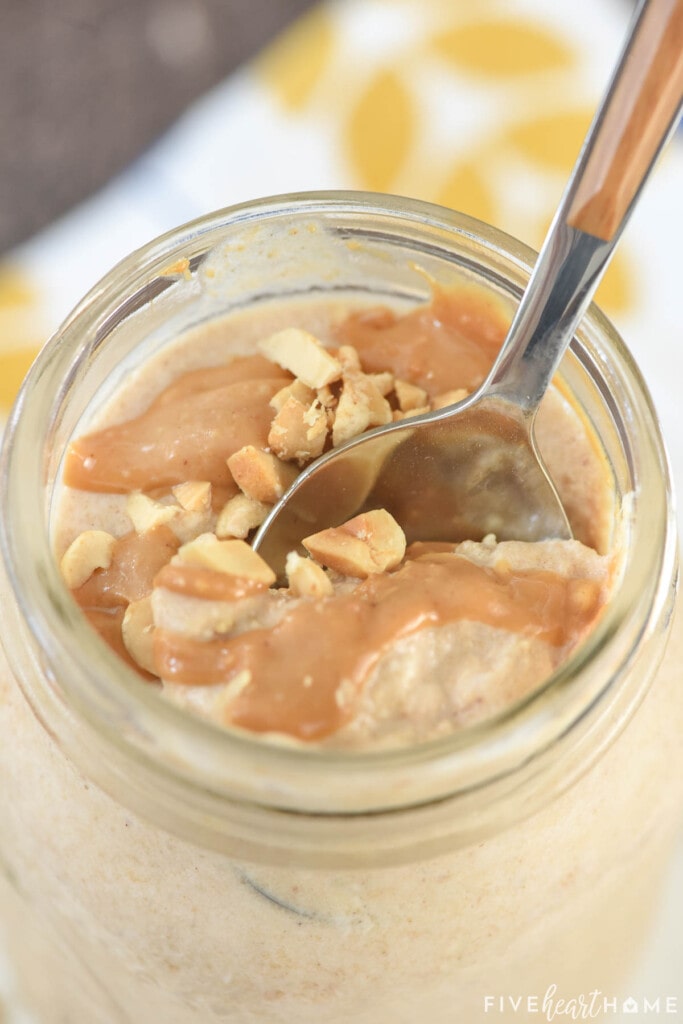 Gluten-Free + Dairy-Free Options
Ensure that your Peanut Butter Overnight Oats are GF by using certified gluten-free rolled oats.
And if you need this recipe to be dairy-free, just be sure to use dairy-free milk and yogurt options, such as unsweetened almond milk with plain or flavored coconut yogurt.
How to Make Peanut Butter Overnight Oats
(The below photos are intended to be helpful, but please refer to the recipe card at the bottom of this post for FULL DIRECTIONS.)
I feel like it's well worth the couple of minutes it takes to combine all of the ingredients before bed in order to have breakfast ready and waiting in the morning!
Measure all of the ingredients into a jar or bowl.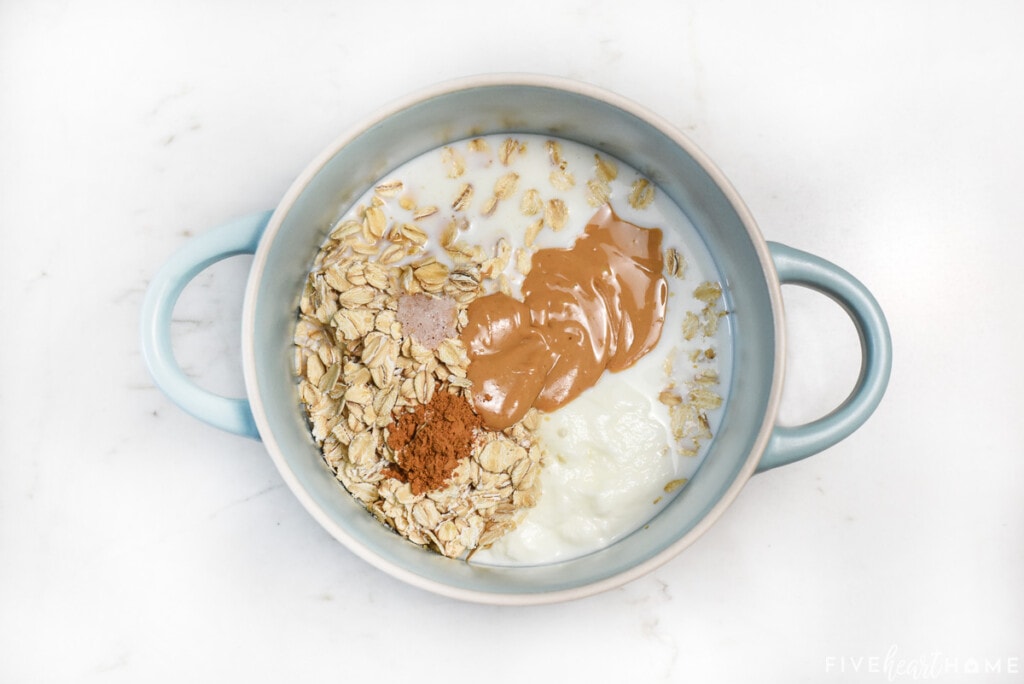 Stir until well-combined.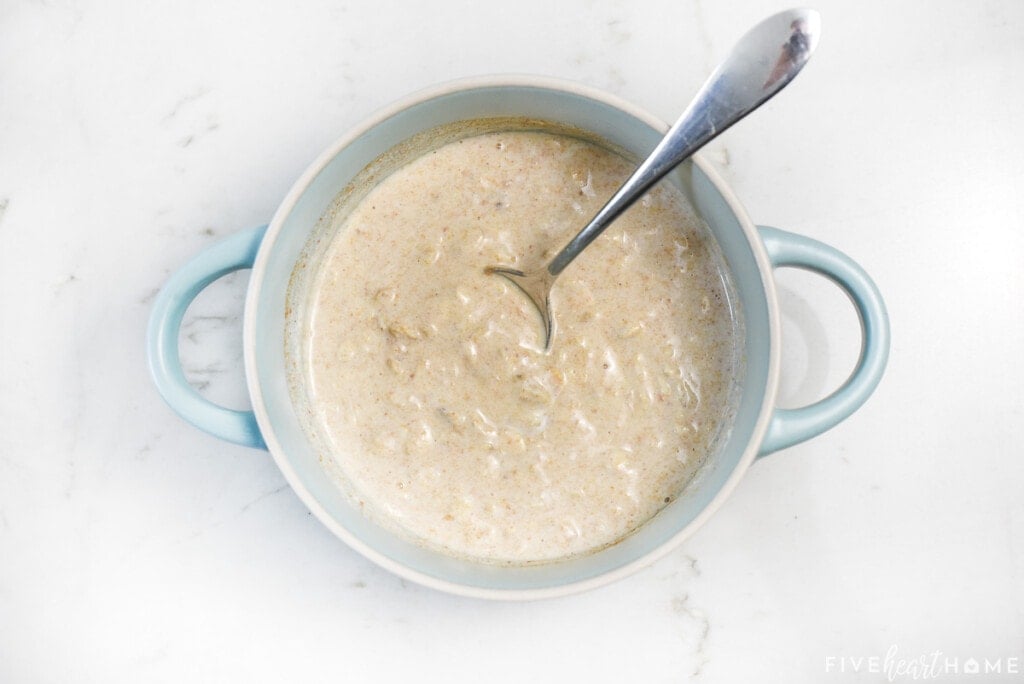 Screw a lid on the jar or tightly cover the bowl with plastic wrap and refrigerate overnight.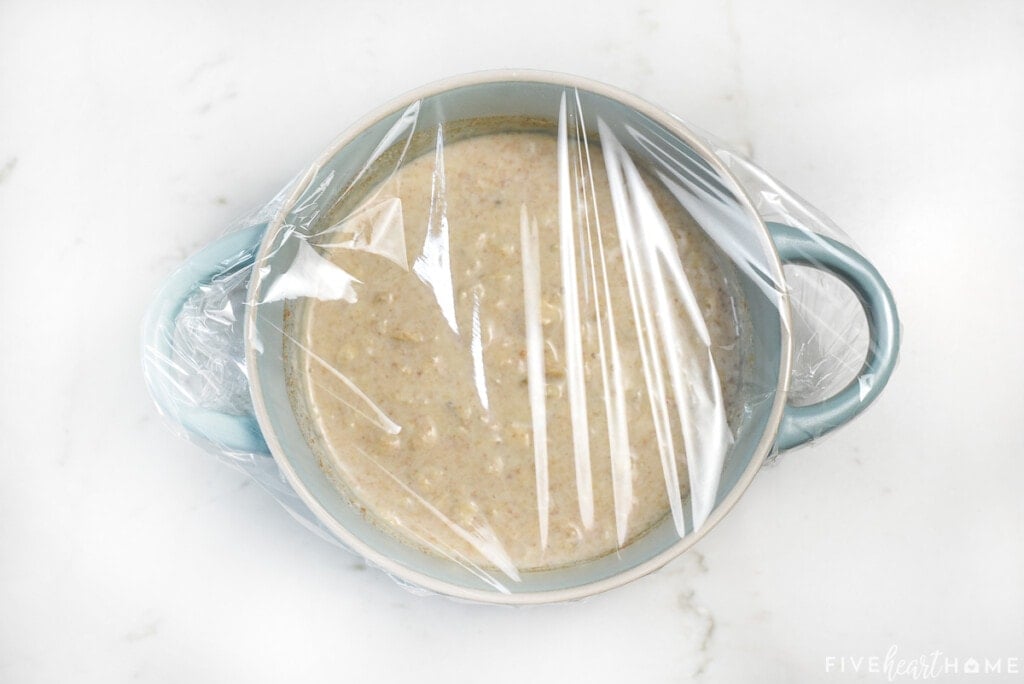 In the morning, garnish this Peanut Butter Overnight Oats recipe with your favorite toppings (if desired) and dig in!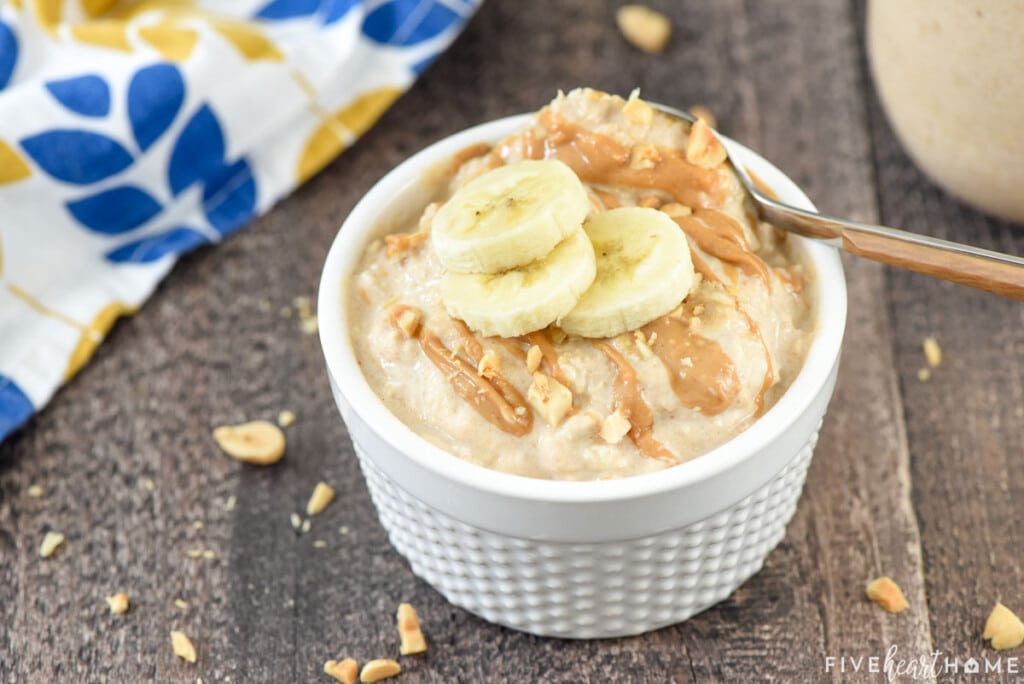 Suggested Add-Ins + Garnishes
Peanut Butter Overnight Oats are perfectly scrumptious straight out of the fridge, as-is. But if you'd like to jazz them up a bit, peanut butter lends itself to all sorts of complementary flavors:
A drizzle of peanut butter. Makes 'em purty.
A sprinkle of chopped peanuts. Adds yummy crunch.
Bananas. Either slice them on top or mash them and stir them in. Because who doesn't love bananas + peanut butter?
Mini chocolate chips. Because who doesn't love chocolate + peanut butter?
Jelly. Whether it's strawberry, grape, raspberry, or something else, dolloping and stirring in a generous spoonful of jelly will turn this recipe into Peanut Butter and Jelly Overnight Oats!
Chia seeds or ground flax seeds. Or really, any seeds that will boost the nutrition of your overnight oats without affecting the flavor.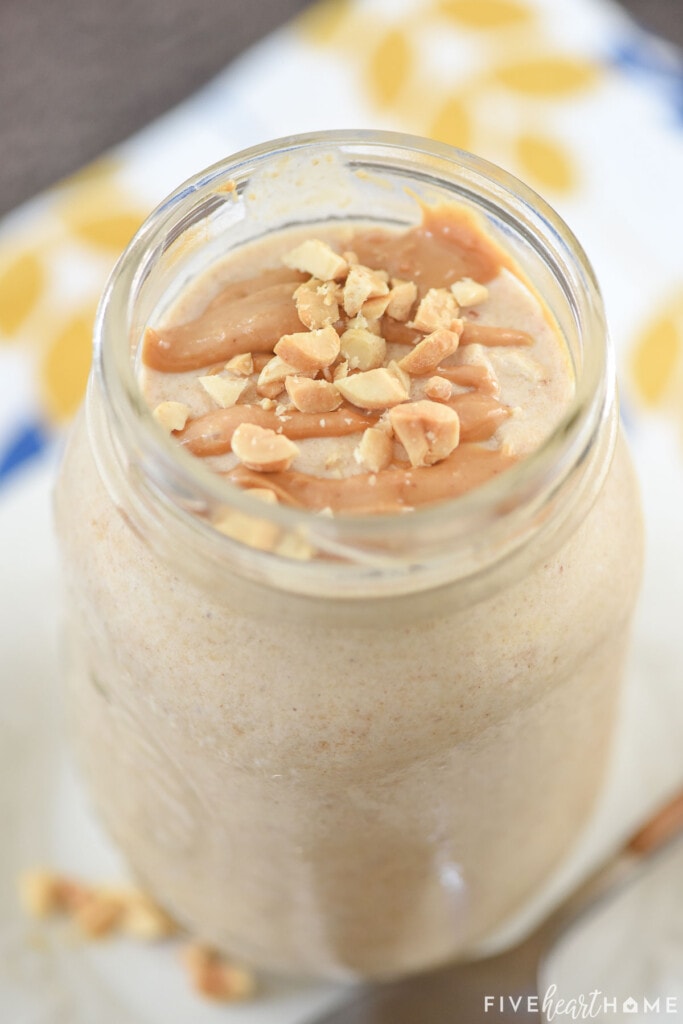 Storage
Peanut Butter Overnight Oats will continue to soften and break down the longer they are chilled. So while they are optimal after eight hours in the fridge, they will still taste great after a day or two…maybe three. But I wouldn't go much longer than that, as they will become a bit too mushy.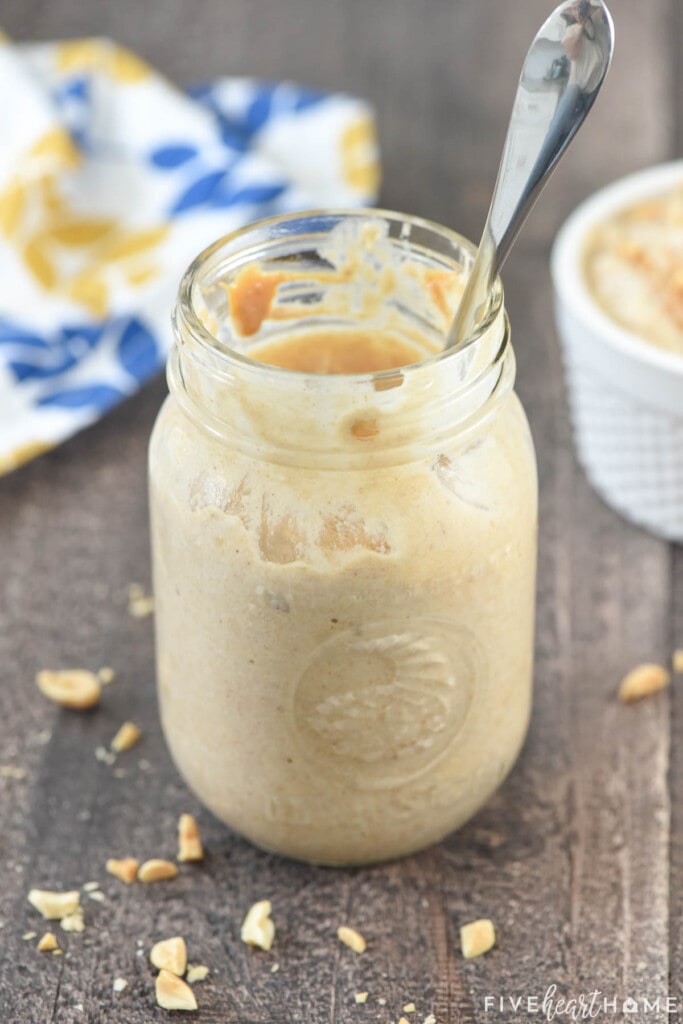 Heating 'em Up!
If you wake up in the morning and decide you're actually in the mood for warm Peanut Butter Overnight Oats rather than chilled ones, no problem! Remove the lid or plastic wrap and heat your oats in the microwave, stirring every 30 seconds, until they're nice and warm. You can stir in a bit of extra milk to loosen them up, if necessary. Just make sure that, if they're all the way up to the tippy-top edge of a jar, you dump them into a larger bowl before reheating to prevent overflow.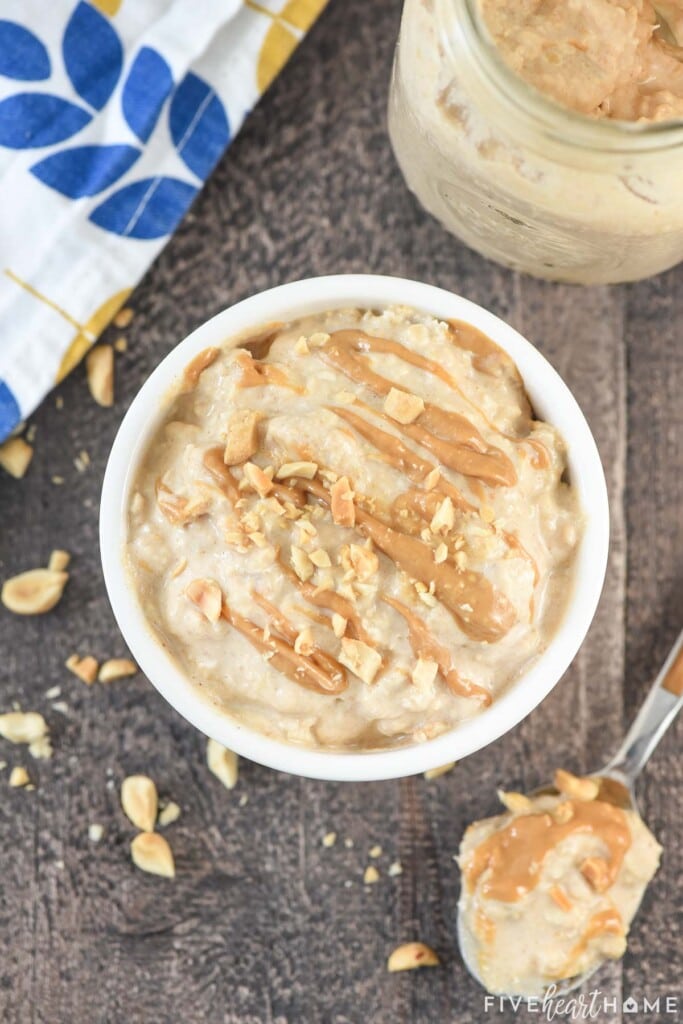 So who's ready for a hearty, wholesome breakfast that's ready to eat the moment you wake up? Peanut Butter Overnight Oats take mere minutes to throw together. They're also versatile, portable, filling, nourishing, and simply delicious! I hope you have a chance to give them a try soon. 🙂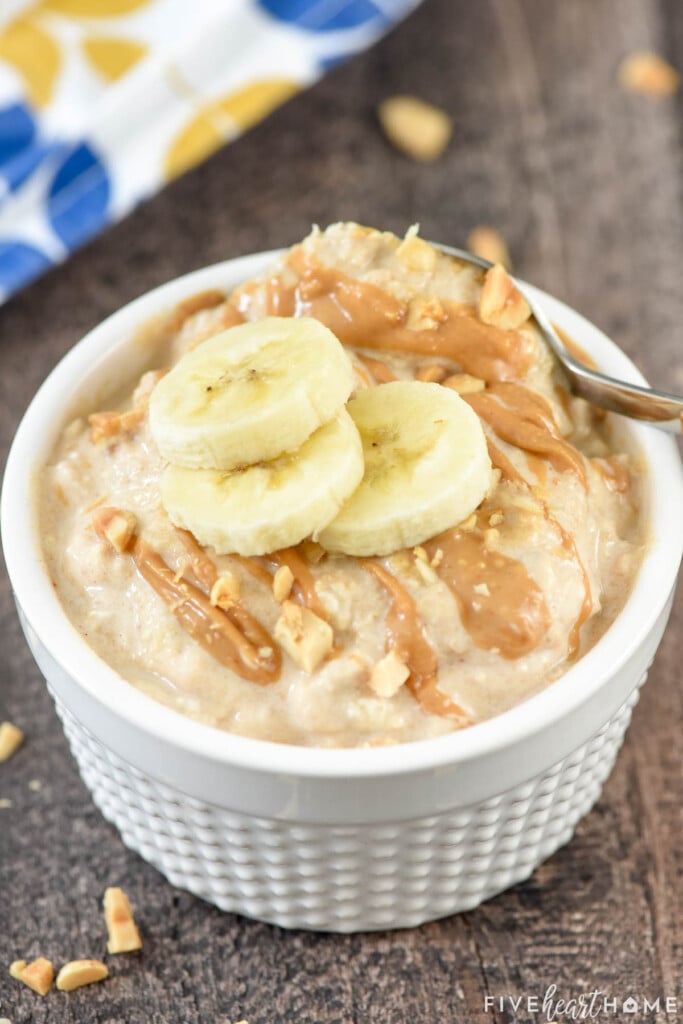 More Healthy Oat Recipes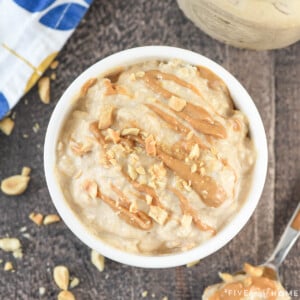 Peanut Butter Overnight Oats
Peanut Butter Overnight Oats are quick and easy to make the night before for a wholesome, filling, nourishing, ready-to-eat breakfast!
Print
Pin
Rate
Servings:
1
serving (yields approximately 1 cup)
Ingredients
⅓

cup

rolled oats

⅓

cup

milk

,

see NOTES below

⅓

cup

plain yogurt

,

or plain Greek yogurt

2

tablespoons

peanut butter

,

smooth or crunchy

2

teaspoons

honey

,

more or less to taste

⅛

teaspoon

ground cinnamon

Pinch of

salt
Optional Mix-Ins &/or Toppings:
1 to 2

teaspoons

chia seeds

1 to 2

teaspoons

ground flaxseed

Chopped peanuts or other nuts, mini chocolate chips, jam or jelly, mashed or sliced bananas
Instructions
In a bowl or jar, mix together oats, milk, and yogurt. Stir in peanut butter, honey, cinnamon, and salt, plus any optional ingredients you wish to add. Cover and refrigerate for at least four hours and up to overnight. Before serving, garnish with desired toppings, if using.
Notes
The Nutrition Facts below have been calculated for the base recipe without additional add-ins/toppings.
I don't recommend using quick oats, as they will get too mushy. Steel cut oats are not recommended either, as they won't soften adequately.
You may use your favorite type of milk in these Peanut Butter Overnight Oats: whole milk, low-fat milk, skim milk, almond milk, oat milk, soy milk...whatever floats your boat! Just keep in mind that if you use a sweetened milk, you may need to reduce/eliminate the honey.
You can use plain regular or plain Greek yogurt, but if using Greek, it might be necessary to add a bit more milk to thin it out. And if you opt for vanilla yogurt instead of plain, again, you might want to reduce/eliminate the honey.
Almond butter, sunflower seed butter, or another nut butter may be swapped for the peanut butter.
The honey should be added to taste, and maple syrup or agave may be substituted for it.
To make this recipe in a pint jar, double the recipe for two servings.
Calories:
422
kcal
|
Carbohydrates:
47
g
|
Protein:
18
g
|
Fat:
20
g
|
Saturated Fat:
5
g
|
Polyunsaturated Fat:
5
g
|
Monounsaturated Fat:
9
g
|
Cholesterol:
9
mg
|
Sodium:
227
mg
|
Potassium:
603
mg
|
Fiber:
4
g
|
Sugar:
25
g
|
Vitamin A:
197
IU
|
Vitamin C:
1
mg
|
Calcium:
282
mg
|
Iron:
2
mg