Chocolate Almond Banana Smoothie is a healthy, filling breakfast or snack, loaded with healthy ingredients for a boost of protein, vitamins, calcium, and fiber!

Well, folks….exciting* news today (*if the current level of excitement in your life is equivalent to watching paint dry). After being without a blender for over six months now, today I can happily report that Santa brought me a new one for Christmas!
Food blogging professional that I am, I made due without a blender for so long by (A.) pulling out the ol' food processor when I otherwise would have used a blender, or (B.) borrowing a spare blender from my in-laws when only a blender would do. But borrowing was inconvenient — and it was pretty messy trying to pour smoothies from a food processor bowl — so eventually I gave up on the dream and my kids have been sadly smoothie-less for the better part of a year now.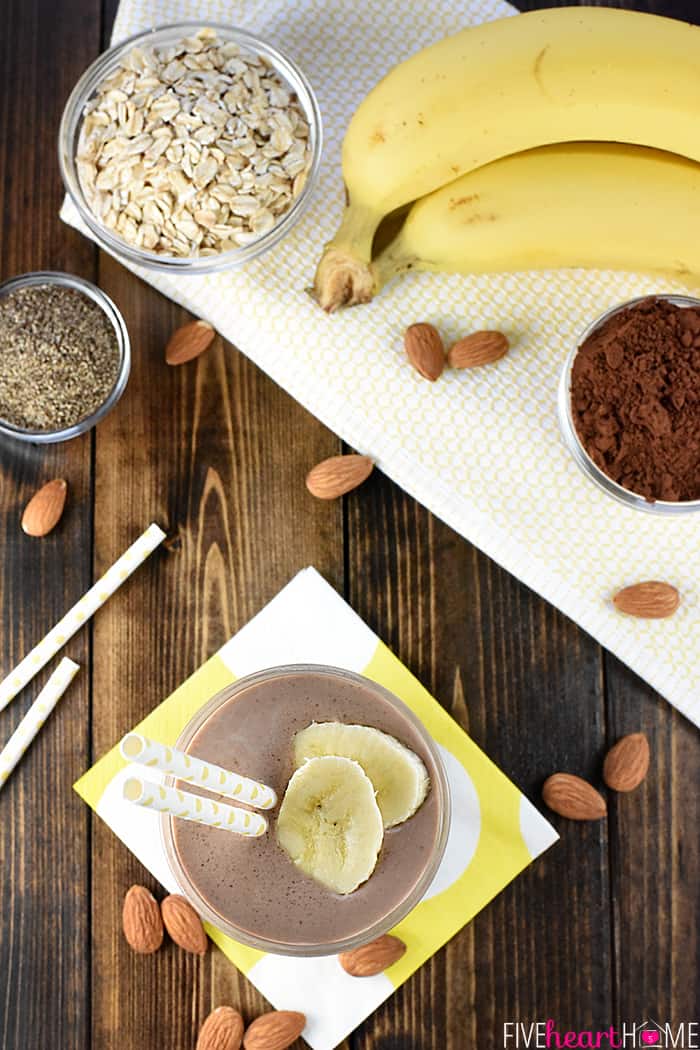 I know, you're right…I could have just bought a new blender months ago. But I couldn't decide which brand to go with…so many options, so many opinions! So Santa ultimately decided for me, God bless him. And today we're celebrating my new toy with some Chocolate Almond Banana Smoothies!
(Riveting stuff here, right?! Is that more than y'all ever cared to know about my kitchen appliance woes or what?)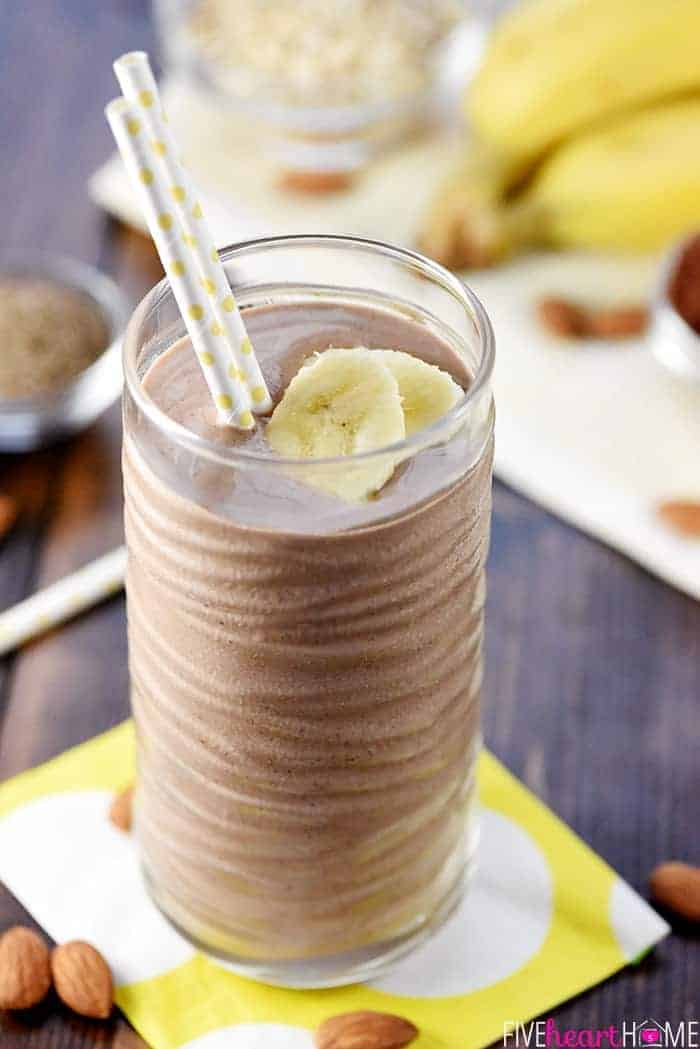 This smoothie has a couple of things in common with some of my other favorite smoothie recipes on the site. It starts with oats, which the blender finely grinds and incorporates into the smoothie to thicken its texture and boost its nutrients. It also includes frozen fruit — bananas, to be exact — which naturally sweeten the smoothie while eliminating the need for ice.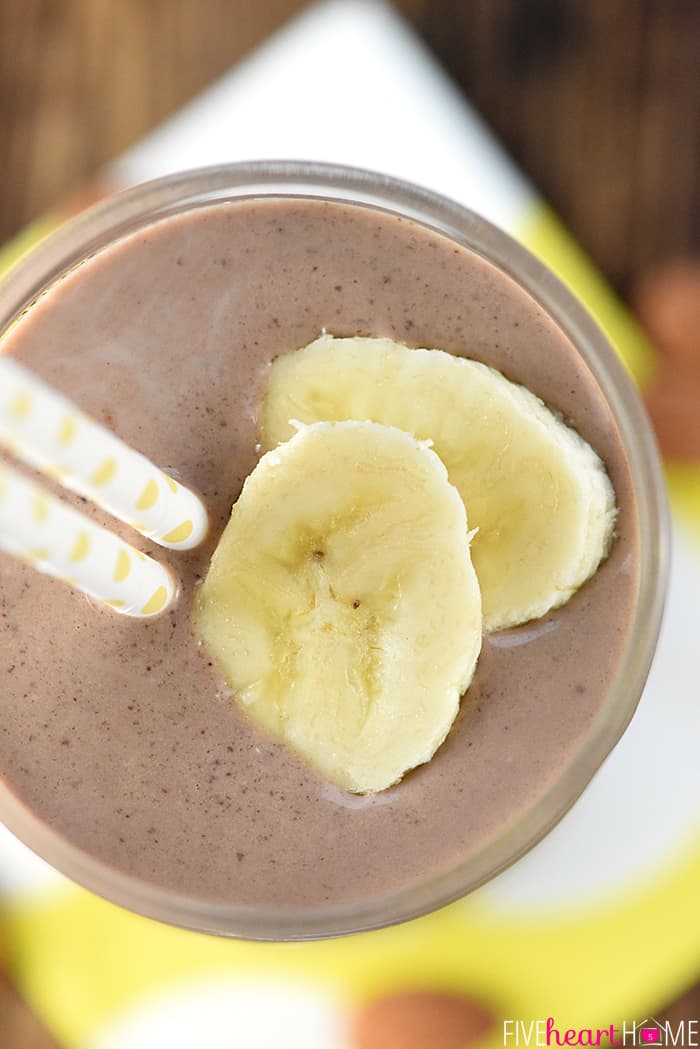 But on top of those goodies, I decided to cram as much good stuff as possible into this smoothie, to power y'all through until lunchtime or to provide the perfect mid-day boost or post-workout fuel. So I added almond butter, Greek yogurt, and chia seeds for a nice dose of protein, fiber, calcium, and vitamins. And then I added cocoa powder, vanilla, and almond extract for FLA-VAH!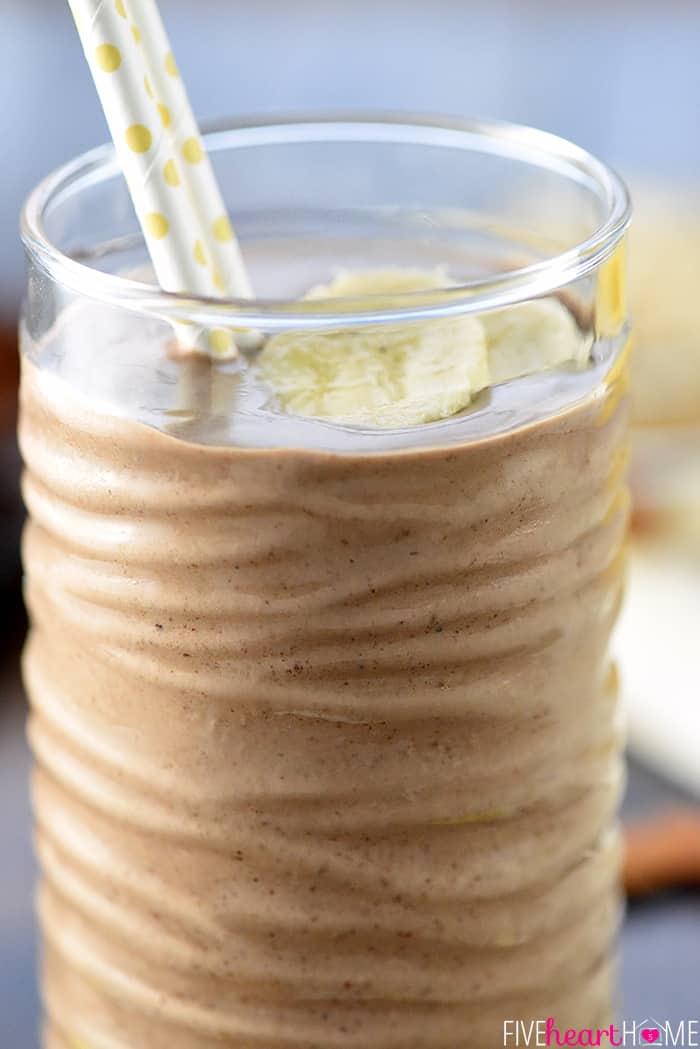 The result is a thick, rich, decadent smoothie that's loaded with nutrients. Yup, this Chocolate Almond Smoothie is as wholesome as it is yummy! My kids have been reunited with their beloved smoothies, they're none the wiser that they're ingesting loads of healthy stuff for breakfast, and all is right in the world again (at least as related to blenders and smoothies). And if all of that's not the perfect way to christen a new, long-overdue blender, I'm not sure what is. 😉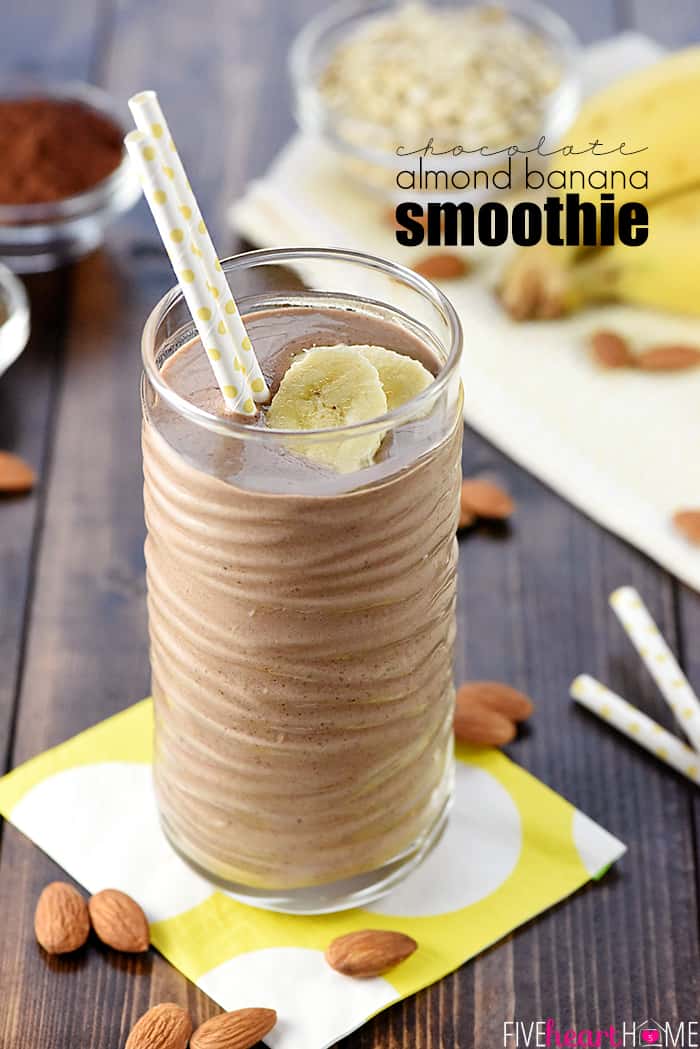 Healthy Chocolate Almond Banana Smoothie Recipe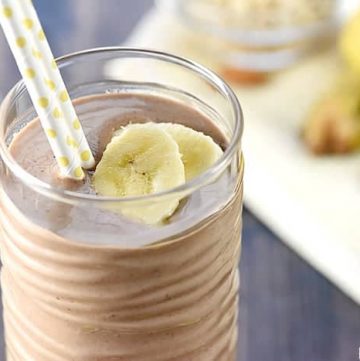 Healthy Chocolate Almond Banana Smoothie
This silky, decadent Chocolate Almond Banana Smoothie is a healthy, filling breakfast or snack, loaded with bananas, almond butter, Greek yogurt, oats, and chia seeds for a boost of protein, vitamins, calcium, and fiber!
Print
Pin
Rate
Cook Time:
23
hours
50
minutes
Servings:
3
8-ounce smoothies
Ingredients
1/2

cup

oats

,

quick or old-fashioned

2

tablespoons

chia seeds

2

bananas

,

broken into chunks and frozen

1

cup

milk OR almond milk

1/2

cup

plain Greek yogurt

3

tablespoons

creamy almond butter

2

tablespoons

unsweetened cocoa powder

1

tablespoon

honey

,

optional

1/4

teaspoon

pure vanilla extract

1/8

teaspoon

pure almond extract
Instructions
Measure oats and chia seeds into blender. Blend until ground into a fine powder. Add the frozen bananas, milk, yogurt, almond butter, cocoa powder, honey (if using), vanilla, and almond extract. Blend on high power until completely smooth, scraping the sides of the pitcher halfway through if any ingredients are sticking. Serve immediately.
Notes
You may substitute peanut butter (or sunflower seed butter, or cashew butter, or your favorite nut butter) for the almond butter if you wish.
You may use whole milk, 2%, skim milk, almond milk, or your favorite type of milk.
The flavor of the vanilla and almond extracts will really come through in an unbaked recipe like this, so it's especially important to use high-quality extracts that won't end up tasting like alcohol. 
On that note, don't use too much almond extract, because its flavor can be very overpowering.
Feel free to tweak the honey based on how sweet you'd like your smoothie.
Calories:
357
kcal
|
Carbohydrates:
46
g
|
Protein:
13
g
|
Fat:
15
g
|
Saturated Fat:
2
g
|
Cholesterol:
9
mg
|
Sodium:
51
mg
|
Potassium:
687
mg
|
Fiber:
8
g
|
Sugar:
21
g
|
Vitamin A:
180
IU
|
Vitamin C:
6.8
mg
|
Calcium:
250
mg
|
Iron:
2.4
mg
More Satisfying Smoothies
Save
Save