In just a few short minutes, you can enjoy a hot, wholesome, homemade breakfast of Peanut Butter Banana Oatmeal, flavored with cinnamon, sweetened with honey, and topped with crunchy peanuts!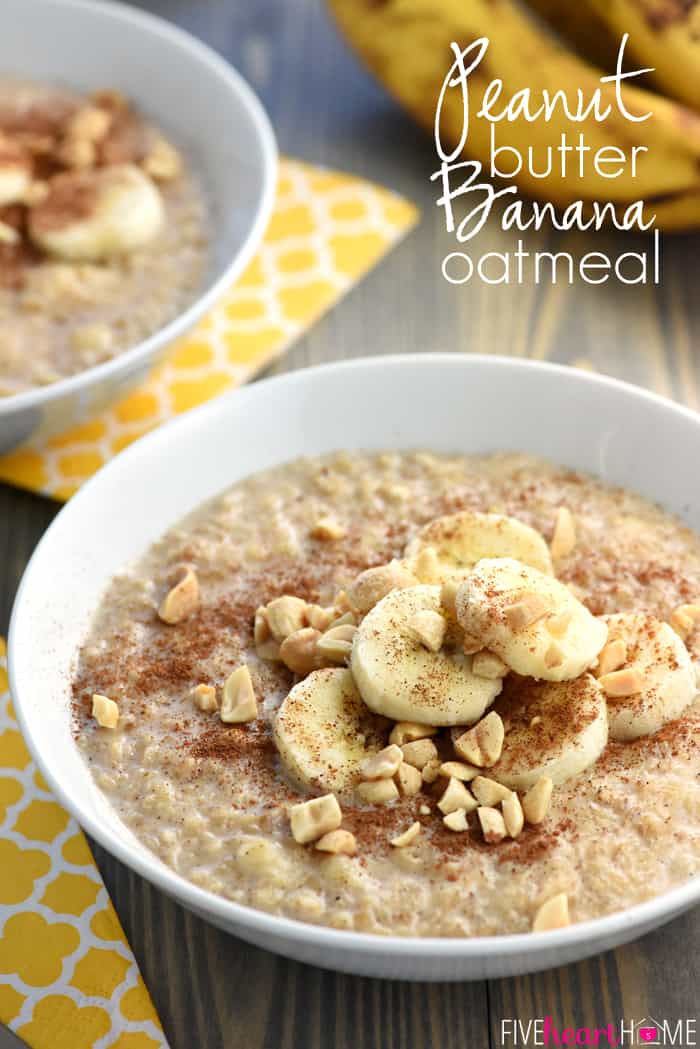 If you enjoy wholesome banana-boasting breakfasts, you'll also love Banana Baked Oatmeal, Banana Breakfast Cookies, or Soft-Baked Banana Oatmeal Bars!
Well folks, last week I brought you peanut butter-flavored oats baked into crunchy granola, and today I'm bringing you the same ingredients in a different incarnation...Quick Peanut Butter Banana Oatmeal! Coincidence? I think not. More like, it's cookbook deadline crunch time and I'll be lucky to eek out any blog posts over the next few weeks, much less ones requiring me to run to the store for ingredients I don't already have in the house. Ha.
I really appreciate y'all hanging in there with me, though. I've been working so hard to bring y'all a cookbook full of yummy, creative, family-pleasing slow cooker dinners made with real ingredients, and I'm really happy with how it's all coming together. And eventually, all of this cookbook-related work will be behind me, the heightened level of crazy under which I've been operating since last fall will subside, and I can once again pour my focused energy into this blog. 🙂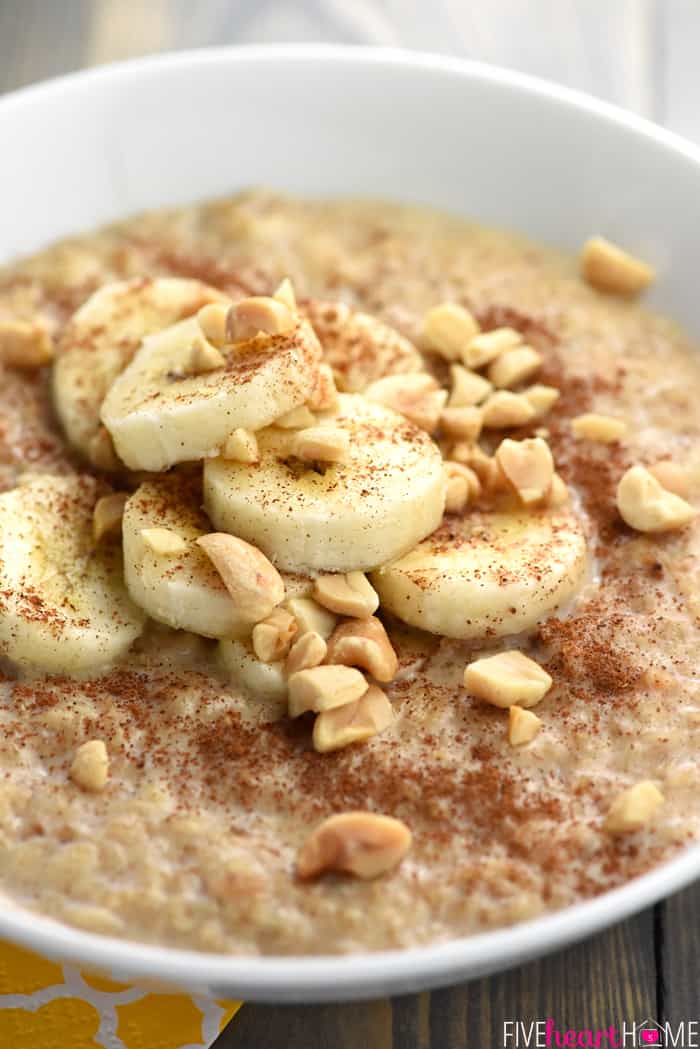 But until then, you're getting two breakfast recipes in a row! And they just might both include oats. And peanut butter. 😉 The good news is that they're also both wholesome, yummy, and easy to make! Whereas the Peanut Butter Granola is a bake-ahead-and-eat-all-week kind of breakfast, this Peanut Butter Banana Oatmeal is a hot, fresh breakfast that whips up in the morning a matter of minutes. And you know what else? It's sooo good.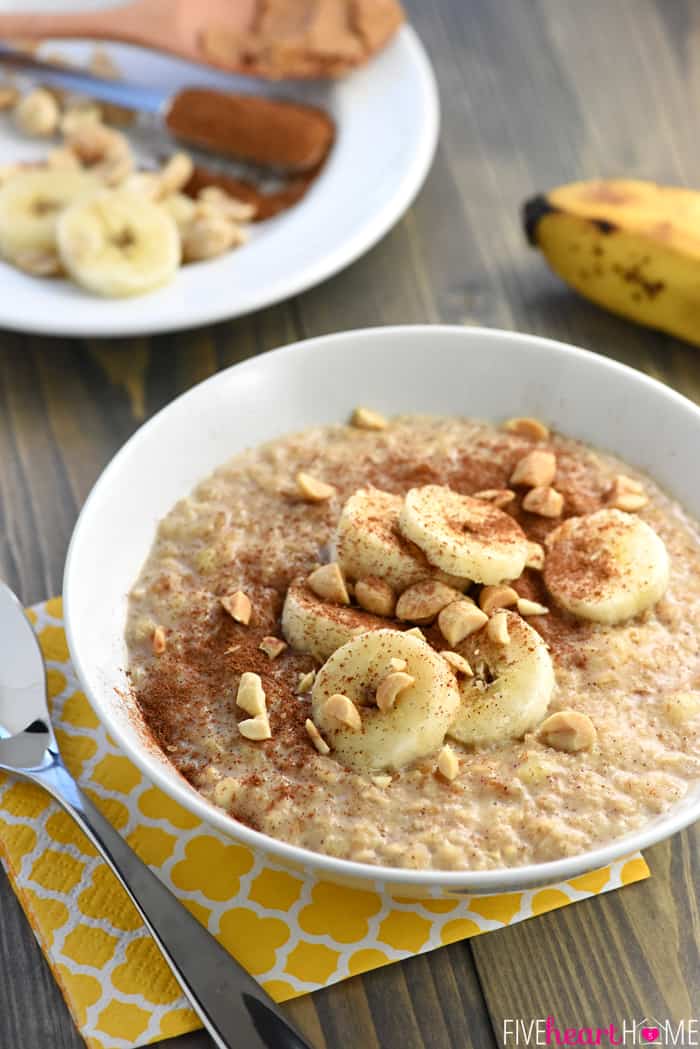 Yummy, Healthy Oatmeal
So good, in fact, that my extremely picky 3-year-old requested to eat the leftovers for dinner tonight, right after I took these pictures. And then she asked for the same thing for breakfast tomorrow. So given that this is a meal loaded with fiber, calcium, protein, and potassium, I guess it would be an improvement over the cheese quesadilla, grilled cheese sandwich, and/or cheese pizza (are we sensing a theme here?) that she traditionally requests on a daily basis.
So what makes this oatmeal good enough that my food-rut daughter is willing to trade her beloved carbs and cheese for it? Well -- in case you're not already privy to the fact -- bananas and PB get along swimmingly (this recipe is actually a spin on my Peanut Butter Banana Overnight Oats).
Ingredients
Stir a mashed banana and a big dollop of peanut butter into creamy oatmeal made with milk and flavored with a pinch of salt, a generous shake of cinnamon, and a splash of vanilla...and an otherwise boring (sorry) breakfast gets elevated into something special.
Then, to add even more flavor and texture, top with sliced bananas, chopped roasted peanuts, and even more cinnamon.
Warm...filling...delicious!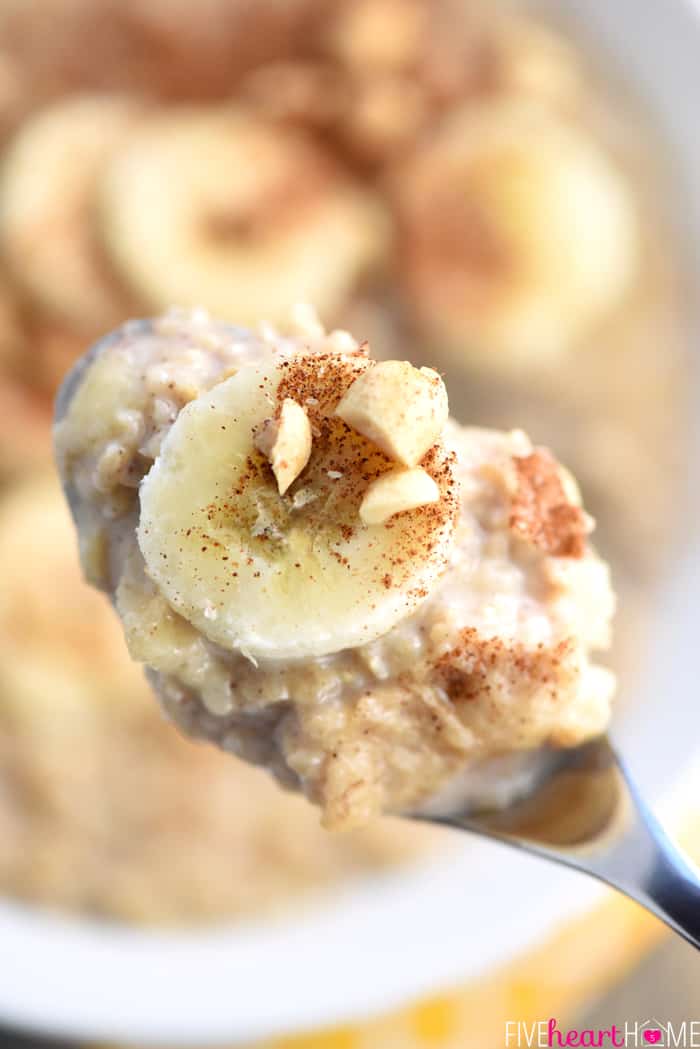 Tweak the Sweetness
If your banana is super sweet, this oatmeal may be perfect for you as-is. But if you'd like it a tad sweeter, feel free to squeeze in a bit of honey. I find that 1 tablespoon stirred into the pot gives this oatmeal a quality not unlike Baby Bear's porridge (AKA, juuuust right)...but how much you prefer to add is up to you.
And that's it! Seriously, friends, making a pot of Peanut Butter Banana Oatmeal for breakfast doesn't take much longer than pouring a bowl of cereal. But it's so much healthier, tastier, and more filling. Plus, a little birdie told me that it even makes for a good brinner if you don't feel up to cooking a full-fledged meal one night...or, you know, if you just don't feel like battling a preschooler over cheese quesadillas again. 😉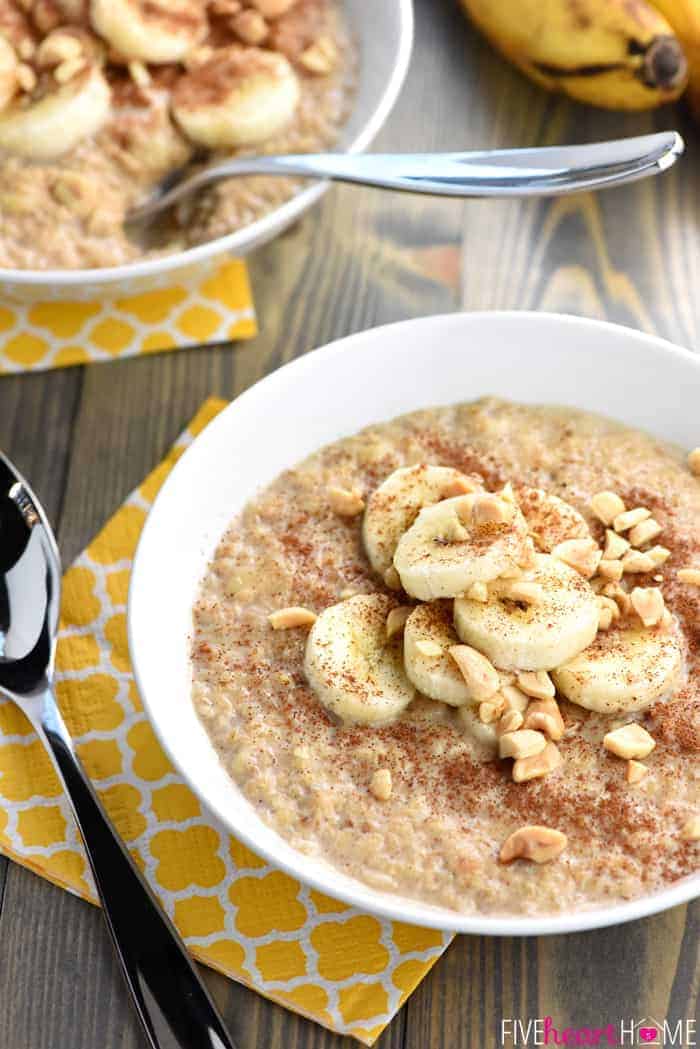 More Peanut Butter Recipes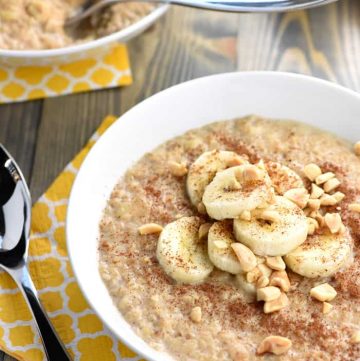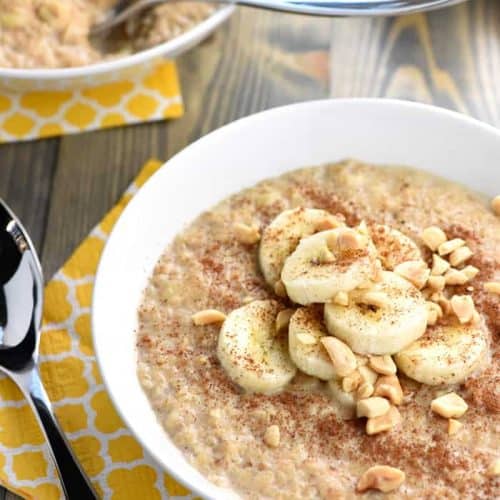 Quick Peanut Butter Banana Oatmeal
In a few short minutes, you can have a hot, wholesome, homemade breakfast of Peanut Butter Banana Oatmeal, flavored with cinnamon, sweetened with honey, and topped with crunchy peanuts!
Print
Pin
Rate
Ingredients
1 ¾

cups

milk

1

cup

quick oats

1

large ripe banana

,

mashed

2

tablespoons

peanut butter

½

teaspoon

ground cinnamon

¼

teaspoon

pure vanilla extract

Pinch

of salt

1 to 3

teaspoons

honey

,

optional

sliced bananas, chopped peanuts and cinnamon

,

for serving
Instructions
In a medium saucepan set over medium heat, bring milk to a boil, watching carefully so that it doesn't boil over. Stir in oats, reduce heat to a simmer, and cook for 1 to 2 minutes, stirring occasionally. Remove from heat and cover for a few minutes. Stir in mashed banana, peanut butter, cinnamon, vanilla, and salt. Stir in honey, to taste, if desired. Top with sliced bananas, chopped peanuts, and additional cinnamon before serving.
Calories:
470
kcal
|
Carbohydrates:
66
g
|
Protein:
17
g
|
Fat:
18
g
|
Saturated Fat:
6
g
|
Cholesterol:
21
mg
|
Sodium:
168
mg
|
Potassium:
740
mg
|
Fiber:
7
g
|
Sugar:
32
g
|
Vitamin A:
385
IU
|
Vitamin C:
5.1
mg
|
Calcium:
267
mg
|
Iron:
2.3
mg