Overnight Oats are as simple as combining oats, milk, yogurt, and your favorite mix-ins and then refrigerating overnight for an instant, no-cook, healthy, delicious breakfast!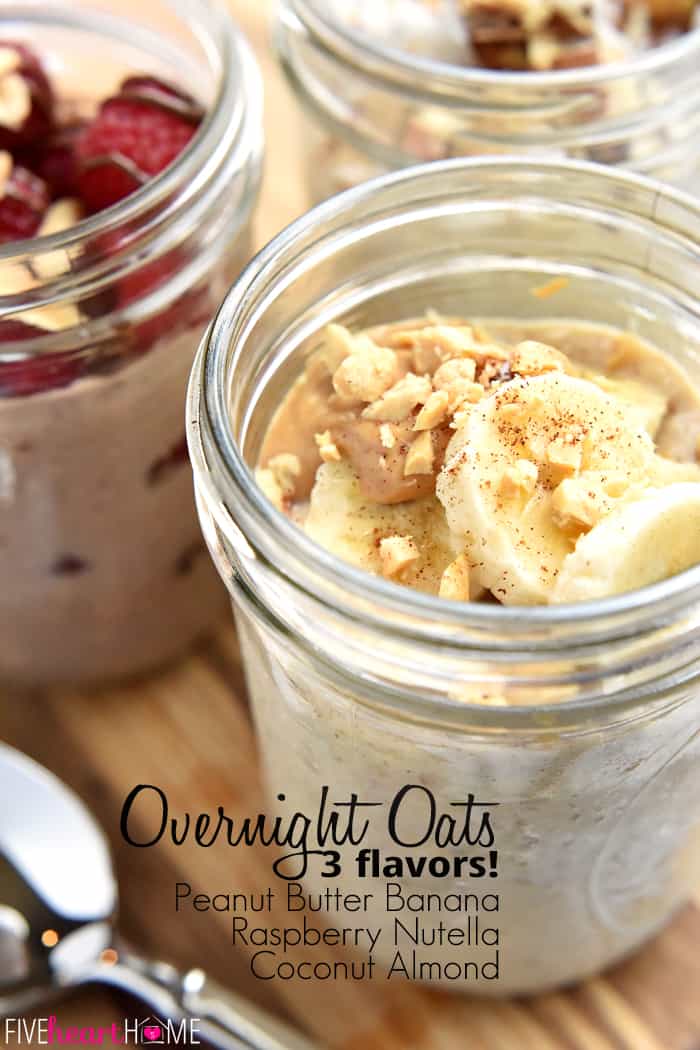 If you like oatmeal, you'll also want to try these Make-Ahead Freezer Steel Cut Oats, snackable, packable Oats & Honey Granola Bars, or easy Overnight Slow Cooker Apple Pie Steel Cut Oatmeal!
Have you tried Overnight Oats before? Over the past few years, we've become obsessed with them at our house!
Why Make Overnight Oats?
One of the best things about Overnight Oats is that they are so quick and effortless. It takes mere minutes to combine a few ingredients in a bowl or jar.
Just as importantly, they are filling and healthy to help power you through the morning.
And they taste good! You get to determine the flavor, of course. As far as texture, the closest thing to which I can compare Overnight Oats would be a thick, luxurious pudding. The oats soften and swell up and the whole mixture becomes thick and creamy. It's almost like eating dessert for breakfast, really.
As if this wasn't enough, you can jazz them up with just about any toppings or mix-ins you desire. Dress 'em up or down, make 'em sweet or savory...the possibilities are endless.
Finally, if you make them in a jar, they're even portable! They're ideal for taking to work and they're great for kids who need to eat breakfast or a hearty snack in the car.
Ingredients
Overnight Oats are basically a spin on healthy, no-cook oatmeal. In their simplest form, they're a combination of just THREE simple ingredients!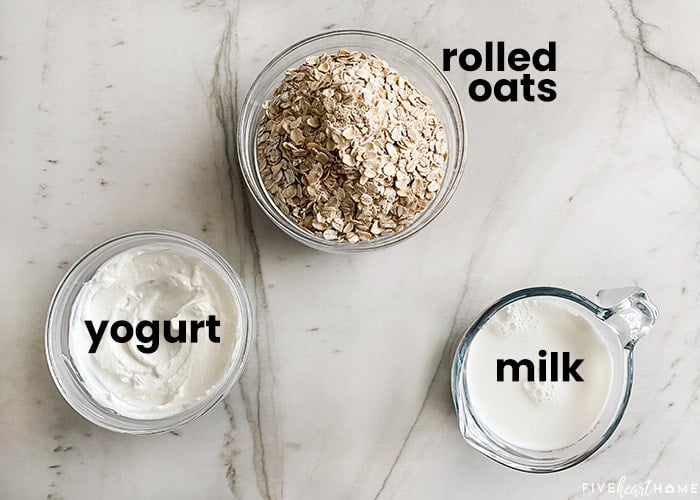 Rolled oats. It's important to use rolled oats as opposed to quick oats. Since the oats soak over night, they soften and break down. Rolled oats maintain a bit of texture while quick oats turn to mush.
Milk. Customize this recipe by using your favorite kind of milk. Whole milk, skim milk, almond milk, oat milk...any type of milk works just dandy!
Yogurt. Again, use whatever type of yogurt you prefer. Regular yogurt or Greek yogurt...plain yogurt or vanilla yogurt or fruity yogurt...yogurt made with cow's milk or coconut yogurt or almond yogurt.
In addition to the basics, there are a variety of mix-ins and toppings you can use to jazz up your Overnight Oats. It goes without saying that the ultimate flavor of your breakfast will depend upon whichever extra ingredients you decide to add.
Gluten-Free & Dairy-Free Options
In case you need a gluten-free breakfast, simply start with gluten-free rolled oats (and obviously, don't add any gluten-containing flavorings or add-ins).
Similarly, you can make Overnight Oats dairy-free by making them with dairy-free milk and yogurt, such as almond milk and coconut yogurt.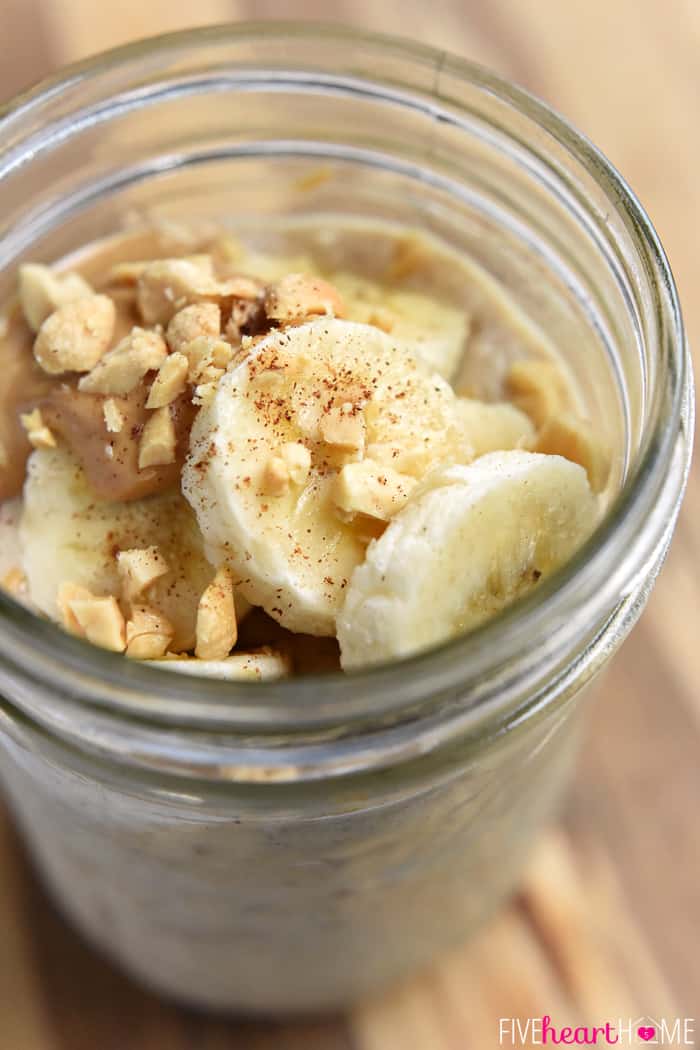 How to Make Overnight Oats
One of my favorite things about Overnight Oats is that you can prep them before heading to bed.
Simply combine regular rolled oats with your choice of yogurt and milk.
If you want to get a little fancy, stir some add-ins into your basic mixture.
Tightly cover your concoction and pop it in the fridge.
In the morning, your creamy, filling, wholesome breakfast will be ready and waiting!
The key is to mix your flavorings (flavored yogurts, sweeteners like maple syrup or jam, certain fruits, spices like cinnamon, etc.) into your oats and milk before refrigerating.
Save your toppings (nuts, fresh fruit, coconut, other garnishes) for the morning, just before you're ready to eat.
In this way, you can enjoy a breakfast with varying textures. And certain toppings that are intended to stay crunchy won't turn soggy!
Tweaking the Recipe
Once you make Overnight Oats a time or two, you'll get a sense for whether you prefer your oats creamier or drier (necessitating more or less milk and/or yogurt).
And of course, it's easy to tweak the sweetness of the recipe by using plain versus vanilla yogurt. Or you can always add a little honey, maple syrup, or agave as a natural sweetener.
With some experimentation, you'll figure out which ingredient combos really hit the spot! Everyone in your family might end up having a different favorite flavor, so let them all in on the fun. Kids will enjoy "cooking" these breakfasts as well!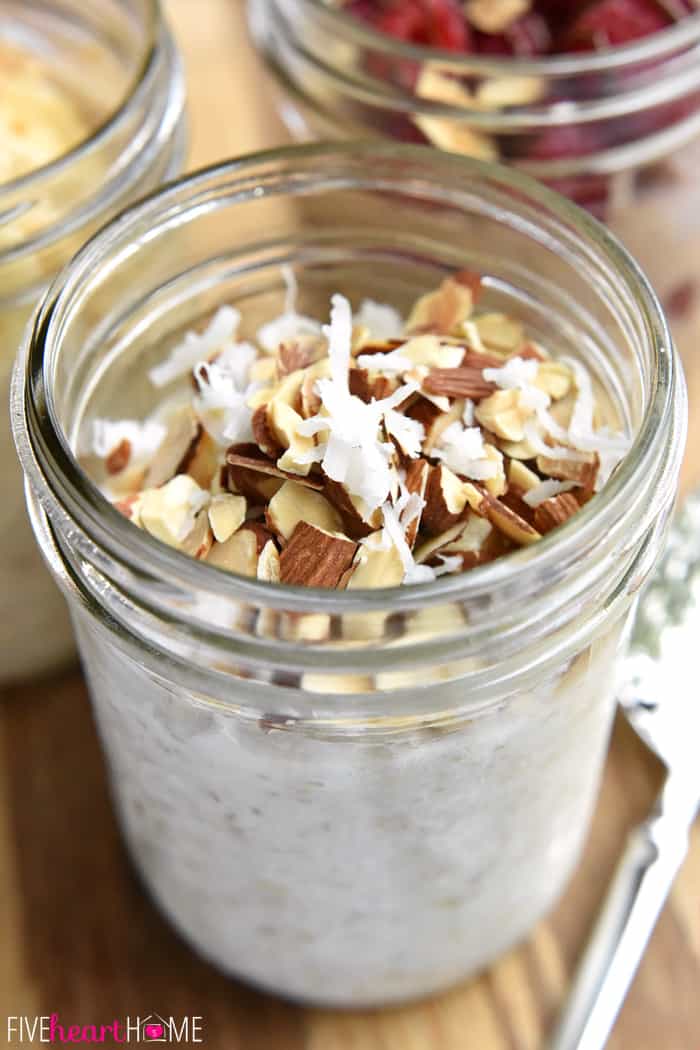 Hot or Cold?
Since you'll be popping your Overnight Oats in the fridge the night before, for the quickest breakfast, you can eat them cold.
And don't worry...it's totally safe to eat them cold. Don't be put off by the use of "raw" oats in this recipe. Soaking your oats overnight actually helps break down the starches and makes them easier to digest. They are also quite filling — you won't find yourself perusing the pantry for a snack an hour after eating Overnight Oats for breakfast!
That being said, you can totally heat them up in the microwave if you prefer warm oatmeal. Just be sure you're heating them up in a microwave-safe bowl or jar.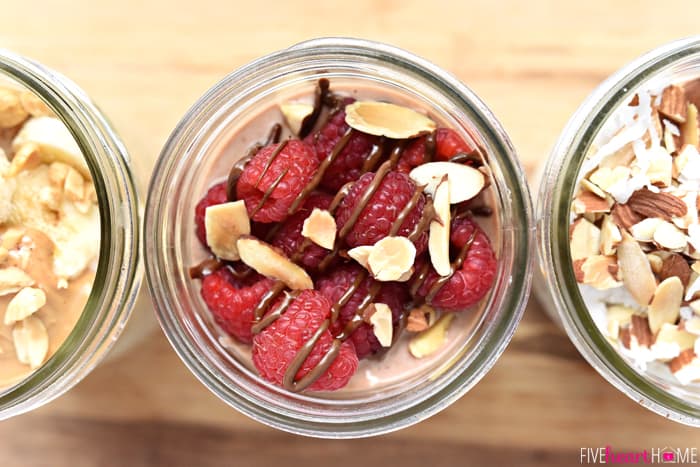 Healthy Overnight Oats
Overnight Oats contain a multitude of nutrients as well as plenty of protein and fiber, both of which will keep you fuller, longer. Oats can also combat bloating.
When combined with other healthy ingredients such as fruit, low-fat milk, nuts, and yogurt, oats make up a balanced breakfast that keeps you satisfied all morning long. To boost the nutrition even more, you may add a teaspoon or two of chia seeds or flaxseeds to your mixture.
That being said, there are always ways to make just about any recipe unhealthy. For example, if you were to load up your oats with refined sugar, spoonfuls of chocolate, caramel, or basically treat the oats like a sundae...then yeah, they lose some of their nutritious properties. 😉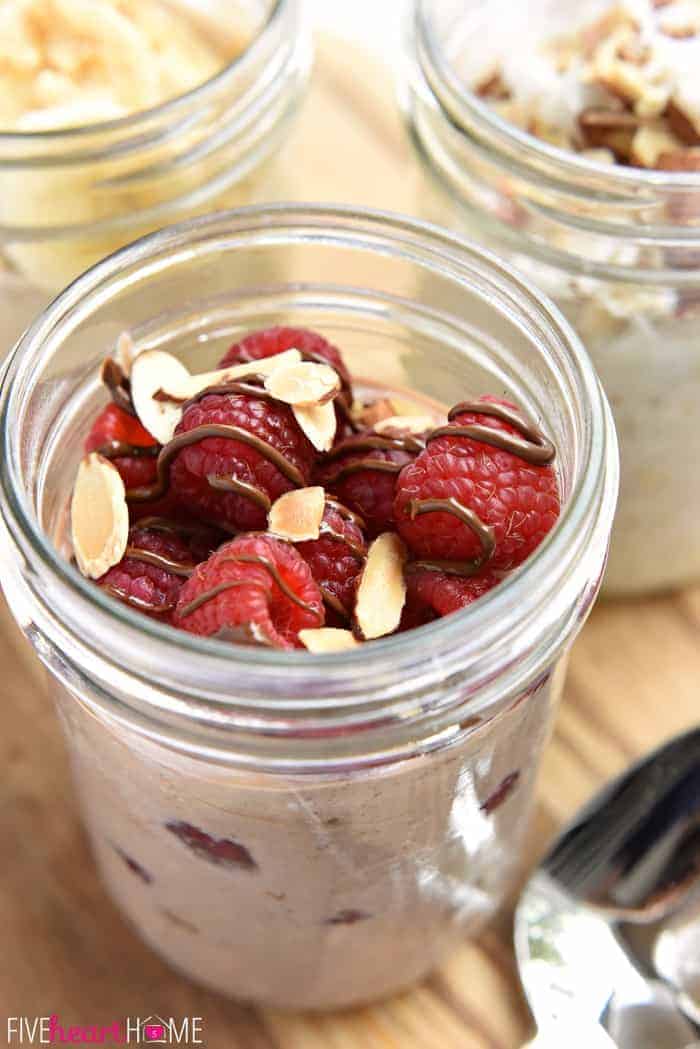 Helpful Tips, Tricks, & Equipment
You've probably noticed that every photo you see for overnight oats has them in a glass jar. There's a reason for that (besides looking pretty). Jars are big enough and tall enough to not only allow the oats to soak properly, but also for you to be able to dig a spoon in in the morning and eat them right out of the container with ease. Plus, they have lids, meaning they stack and fit well in your fridge. And without the lids, they are microwave-safe! All of this adds up to less dishes to wash, and more grab-and-go convenience.
You certainly don't have to leave these in the fridge overnight to enjoy them. Three to four hours will do the trick. That way you can enjoy them anytime, day or night.
Measure out your ingredients...at least until you get familiar with the ratios. Sure, you can guesstimate how many raspberries you want to put on top, but you'll want to measure out the oats, milk, and yogurt. You could end up with either runny or dry oatmeal otherwise.
Don't skip the salt. I know, it sounds weird. But most baked goods call for salt (even desserts). It really enhances just about any flavor, and you only need a tiny bit. It won't taste salty — promise.
The type of oats you use does make a difference in this recipe. Use old-fashioned rolled oats rather than quick oats. Quick oats soak up moisture too...quickly. 🙂 The old-fashioned rolled oats just hold up better. You'll want a little texture in your oats and not just a bowl of mush.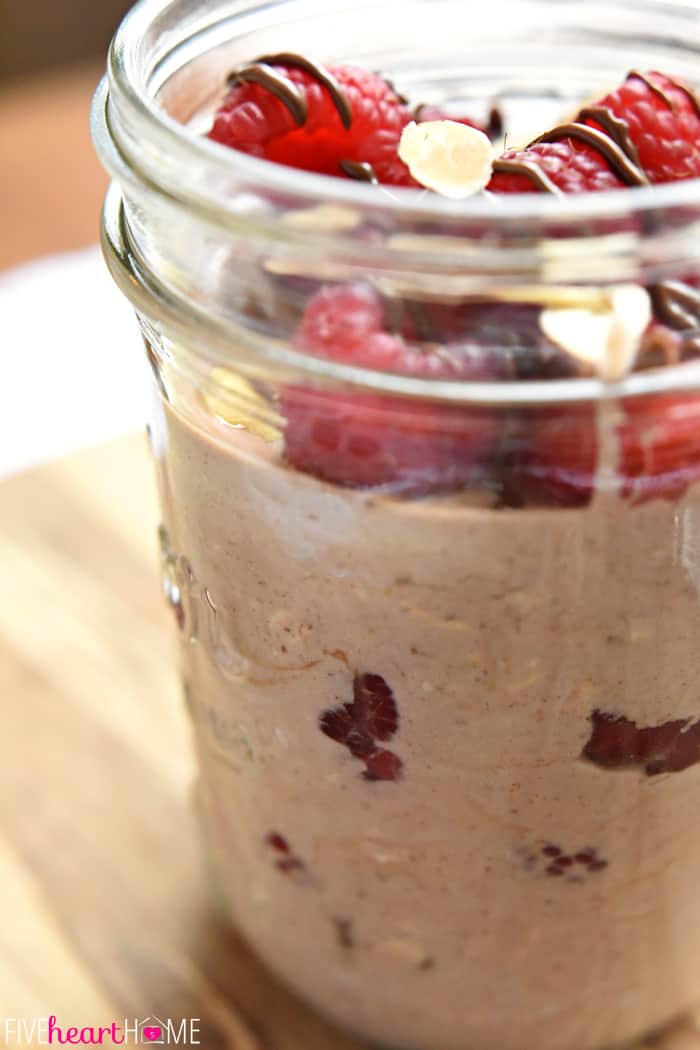 Flavor Ideas
I'll admit that the first time I made Overnight Oats, I went pretty basic with my recipe (as I tend to do with most new recipes I'm just trying out). And they were great!
I also quickly learned that I could achieve simple, effortless flavoring by stirring in a bit of fruit preserves or jam or even Blueberry Compote.
But soon enough, I decided to embark upon a little experimentation. I tried three combos: Peanut Butter Banana, Raspberry Nutella, and Coconut Almond. Then in the morning, my family and I had a little taste-test in an attempt to decide our favorite flavor. But we honestly couldn't agree on which one we liked the best, so I figured...why not give you all three options and let you choose?
Peanut Butter Banana
Option A is Peanut Butter Banana, and it's as easy as it sounds.
Simply mash a banana and stir it into your oat mixture along with a couple of tablespoons of peanut butter. Mix in a sprinkle of cinnamon, a pinch of salt, and a squeeze of honey, and you're good to go.
As you can see, I topped my jar of oats with an additional dollop of PB, some sliced bananas, and a few chopped peanuts, but you don't have to go to the trouble unless you want to...that was mainly for the photo op. Rumor has it that a few mini chocolate chips might be decadently delicious on this variation as well.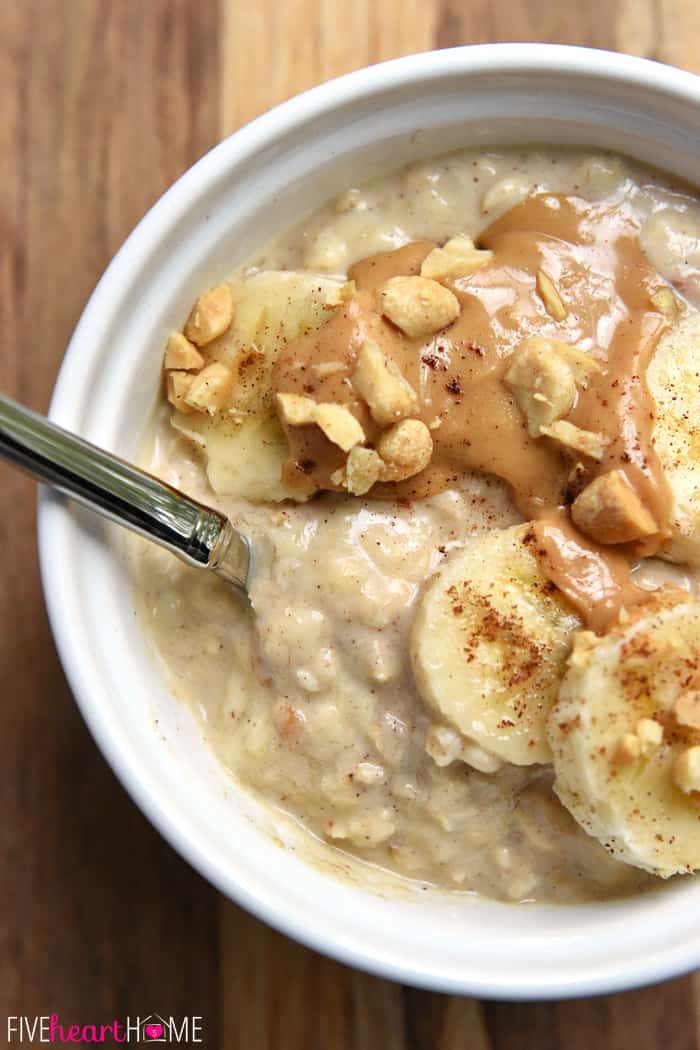 Raspberry Nutella
Next up, we have a Raspberry Nutella flavor.
Again, it's perfectly straightforward with additions of (wait for it!) raspberries and Nutella.
In the morning, I added extra raspberries on top as well as some toasted, sliced almonds for crunch, but just about any nut would be tasty.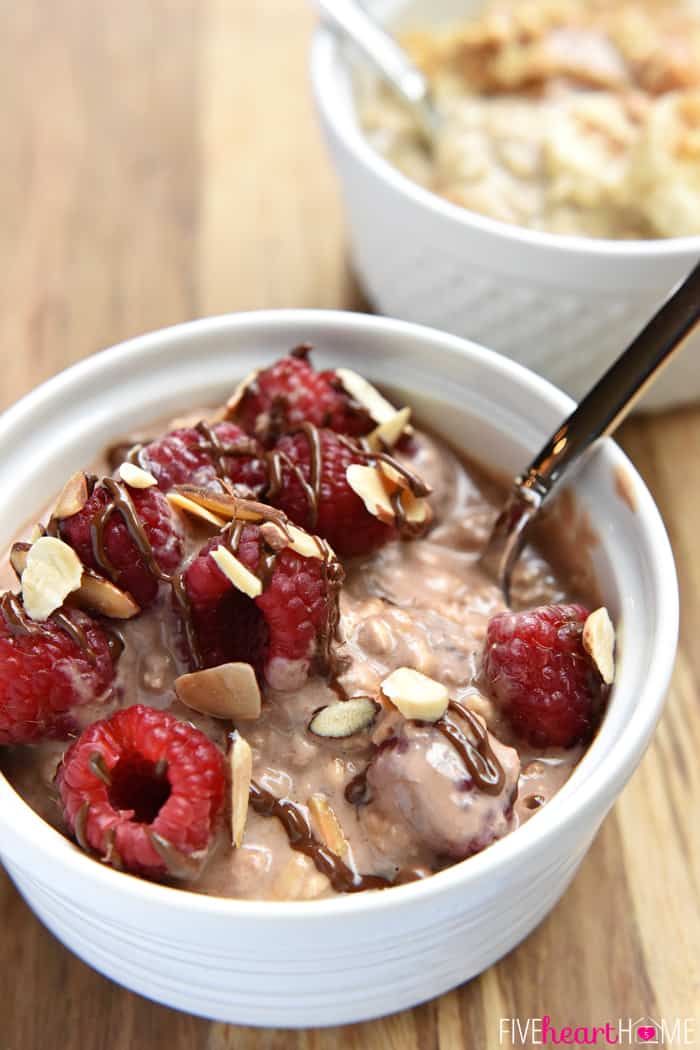 Coconut Almond
My final Overnight Oats inspiration to get you started is Coconut Almond.
This variation actually gets a bit thicker than the others thanks to the coconut, so feel free to thin it out with a splash of extra milk, if you wish.
I chose to use coconut milk in this one to make it even more coconutty, as well as vanilla yogurt instead of plain.
Then I topped it with more coconut and a handful of crunchy almonds.
And by the way, if you decide to add chocolate chips to this one, you could just go ahead and call it Almond Joy Overnight Oats. Mmm-mmm-MMMM!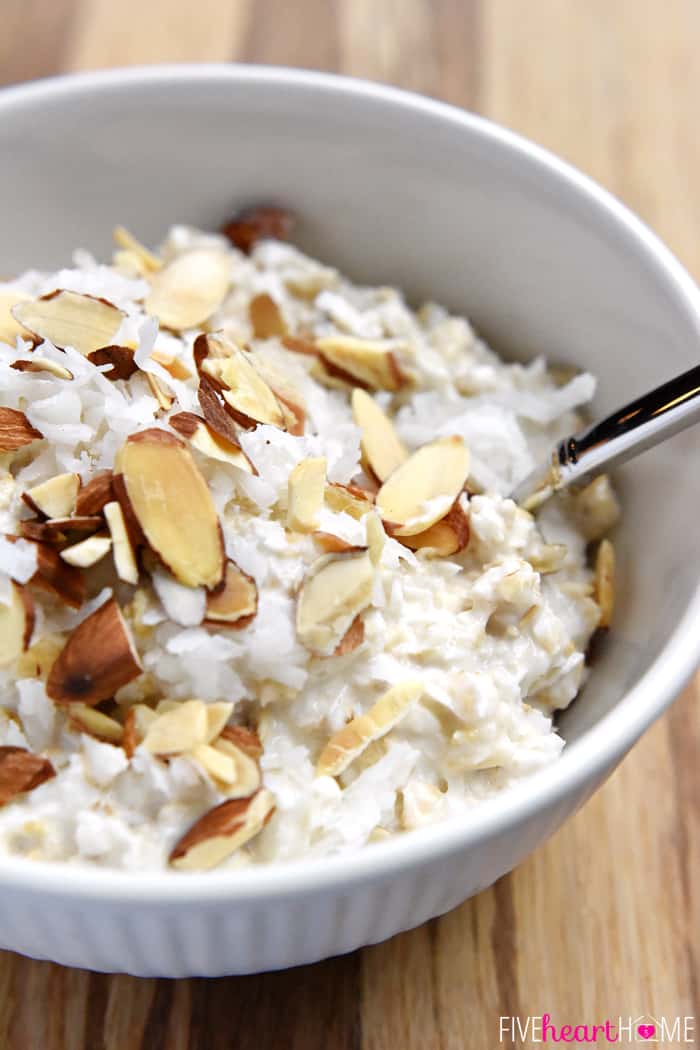 So have I convinced you to give Overnight Oats a spin?
They're my favorite grab-and-go breakfast, and the kids love having a variety of flavors from which to choose.
They're easy and make-ahead, they're healthy and filling, and even picky kids love 'em.
What more can you ask of a way to start your morning? 🙂
More Wholesome Breakfast Recipes with Oats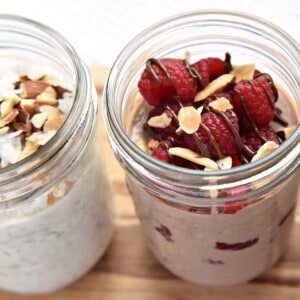 Overnight Oats
Creamy, wholesome Overnight Oats are as simple as refrigerating oats, milk, yogurt, and your favorite flavors overnight for an instant, no-cook breakfast. Try them in three yummy flavor options: Peanut Butter Banana, Raspberry Nutella, and Coconut Almond!
Print
Pin
Rate
Ingredients
Peanut Butter Banana
⅓

cup

rolled oats

⅓

cup

milk

⅓

cup

plain yogurt

½

cup

mashed banana

,

approximately 1 large banana

2

tablespoons

peanut butter

,

smooth or crunchy

1

teaspoon

honey

,

more or less to taste

⅛

teaspoon

ground cinnamon

Pinch

of salt

Optional Toppings: banana slices, dollop of PB, chopped peanuts, mini chocolate chips
Raspberry Nutella
⅓

cup

rolled oats

⅓

cup

milk

⅓

cup

plain yogurt

2

tablespoons

Nutella

Pinch

of salt

½

cup

raspberries

Optional Toppings: additional raspberries, drizzle of Nutella, toasted almond slices or other nuts
Coconut Almond
⅓

cup

rolled oats

⅓

cup

coconut milk

⅓

cup

vanilla yogurt

¼

cup

shredded coconut

⅛

teaspoon

pure vanilla extract

Pinch

of salt

Optional Toppings: additional shredded coconut, ¼ cup toasted almond slices, mini chocolate chips
Instructions
In a bowl or a jar, mix together oats, milk, and yogurt. Stir in any additional ingredients and flavorings (but not the toppings). Cover and refrigerate for at least four hours and up to overnight. Before serving, garnish with desired toppings.

Notes
The Nutrition Facts below have been calculated for one serving of plain Overnight Oats without add-ins or toppings.
You may use your favorite type of milk in Overnight Oats. You may use regular or Greek yogurt, but if using Greek, it might be necessary to add a bit more milk to thin it out. You may use plain or vanilla yogurt. Honey or maple syrup may be used to sweeten the oats to taste, if you wish.
For the Coconut Almond variation, I use the type of coconut milk that is sold in a carton in the refrigerated section (near the soy milk, etc.). Canned coconut milk would also work but will make for richer/more decadent oatmeal.
For the Raspberry Nutella version, I don't stir in the raspberries at the same time as the oats and other ingredients, so as not to break them up. Rather, I just pile them on top of the oats and then gently stir them in before serving.
To boost the nutrition even more, you may add a teaspoon or two of chia seeds or flaxseeds to your oat mixture.
I don't recommend using quick oats as they will get too mushy. Steel cut oats are not recommended either, as they won't soften adequately.
Calories:
201
kcal
|
Carbohydrates:
25
g
|
Protein:
8
g
|
Fat:
7
g
|
Saturated Fat:
3
g
|
Cholesterol:
18
mg
|
Sodium:
74
mg
|
Potassium:
331
mg
|
Fiber:
2
g
|
Sugar:
8
g
|
Vitamin A:
215
IU
|
Calcium:
205
mg
|
Iron:
1.2
mg
Post originally published on April 9, 2015, and updated on March 19, 2019, February 23, 2020, February 11, 2021, and June 20, 2023.