Creamy, wholesome Overnight Oats are as simple as refrigerating a mixture of oats, milk, and yogurt overnight for an instant, no-cook breakfast…and they can be flavored with your favorite additions, like PB Banana, Raspberry Nutella, or Coconut Almond!

Welllll…even though I may very well be the last one to hop on the Overnight Oats bandwagon, I do believe I am the newest, most enthusiastic member.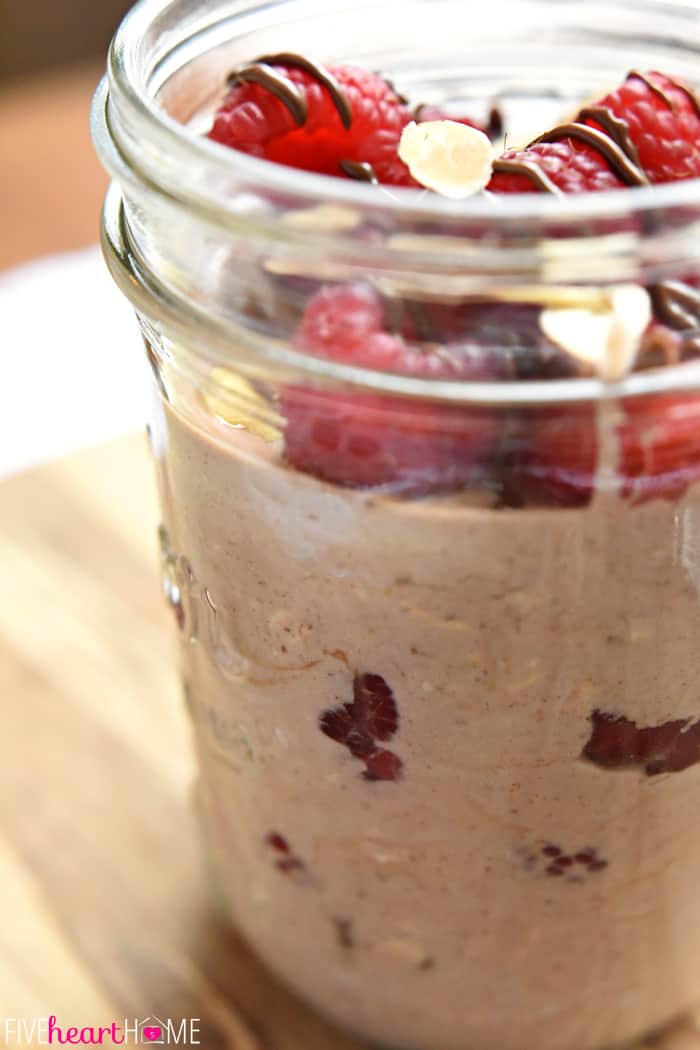 Y'ALL. Have you tried Overnight Oats before? I am blown away at how effortless they are, how good they are, how nourishing they are. And the possibilities for dressing them up? Endless. I did a little experimentation this round to come up with Peanut Butter Banana, Raspberry Nutella, and Coconut Almond flavors, but I honestly can't decide which one I like the best. I'm only sorry that I didn't try this genius concoction sooner!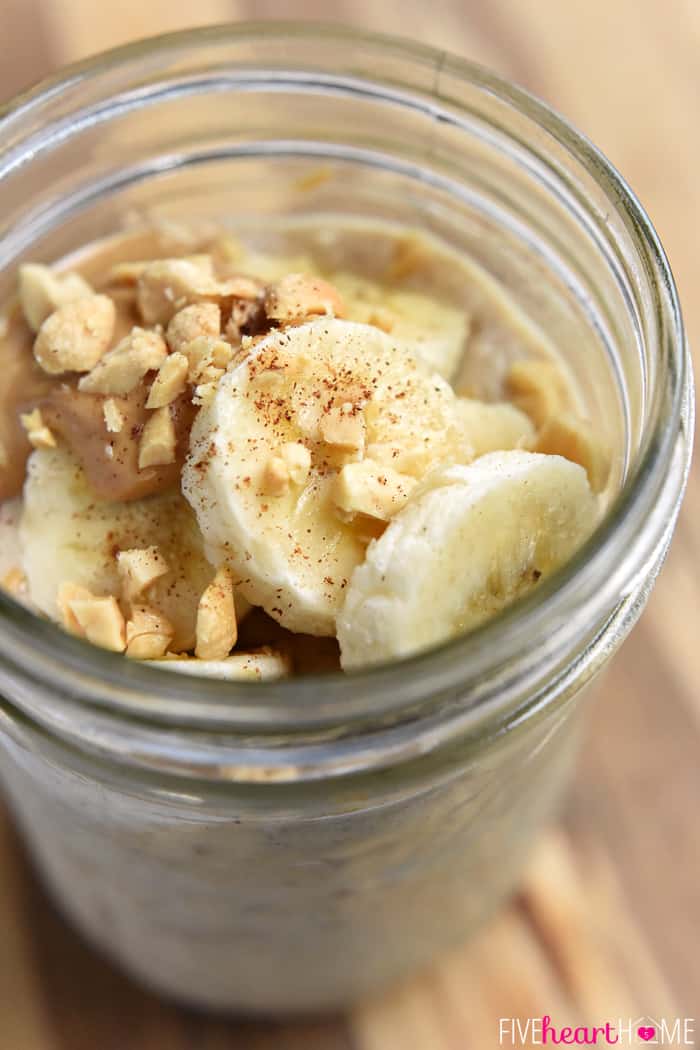 So for all of you OO novices out there like myself, allow me to explain. Before heading to bed, you basically combine regular rolled oats with yogurt and milk. To that mixture you add a few additional ingredients for texture and flavor. Then you simply cover and pop it in the fridge…and in the morning, your creamy, filling, wholesome breakfast is ready and waiting!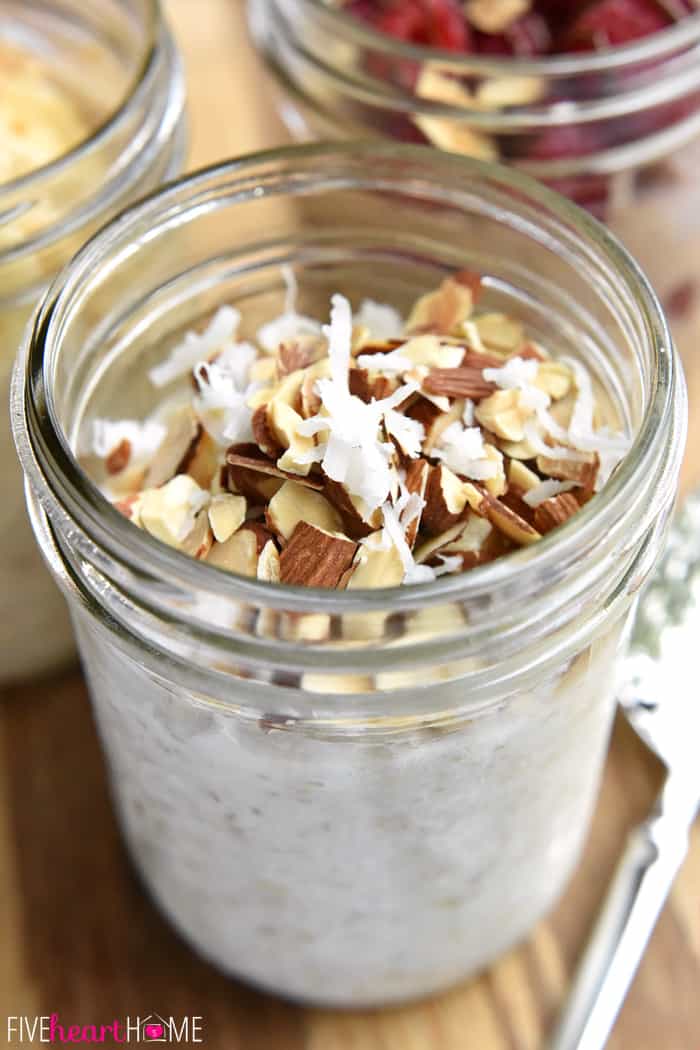 The flavor of your oats will, of course, depend upon the extra ingredients you decide to add. As far as texture, the closest thing to which I can compare these Overnight Oats would be a thick, luxurious pudding. The oats soften and swell up and the whole mixture becomes thick and creamy…it's almost like eating dessert for breakfast, really. 😉 Once you make this recipe a time or two, you'll get a sense for whether you prefer your oats creamier or drier (necessitating more or less milk/yogurt). Finally, it's easy to tweak the sweetness of this recipe by using plain versus vanilla yogurt, or you can always add a little honey or maple syrup as a natural sweetener.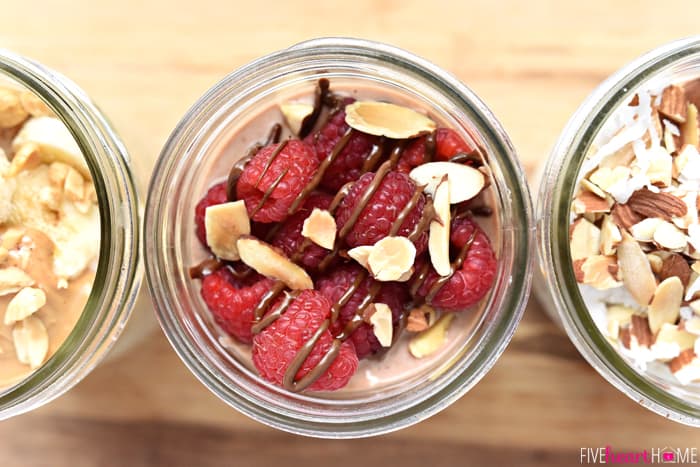 Now let's talk about the specific ways I decided to embellish my Overnight Oats (though keep in mind that the possibilities are endless).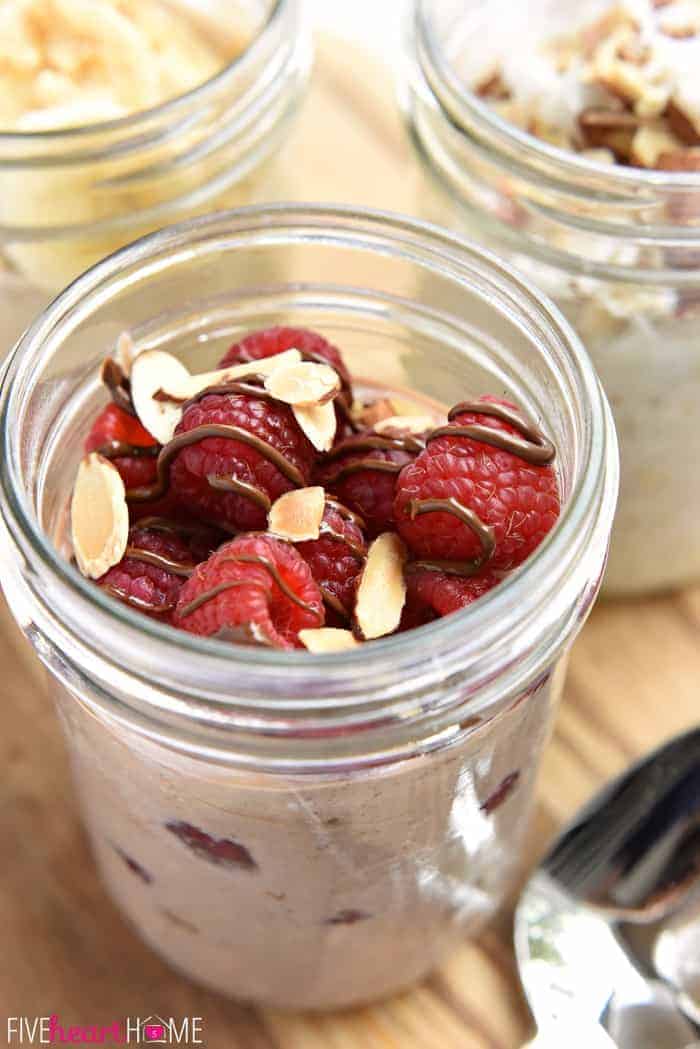 Option A is Peanut Butter Banana, and it's as easy as it sounds. Simply mash a banana and stir it into your oat mixture along with a couple of tablespoons of peanut butter. Mix in a sprinkle of cinnamon, a pinch of salt, and a squeeze of honey, and you're good to go. As you can see, I topped my jar of oats with an additional dollop of PB, some sliced bananas, and a few chopped peanuts, but you don't have to go to the trouble unless you want to…that was mainly for the photo op. Rumor has it that a few mini chocolate chips might be decadently delicious on this variation as well… 😉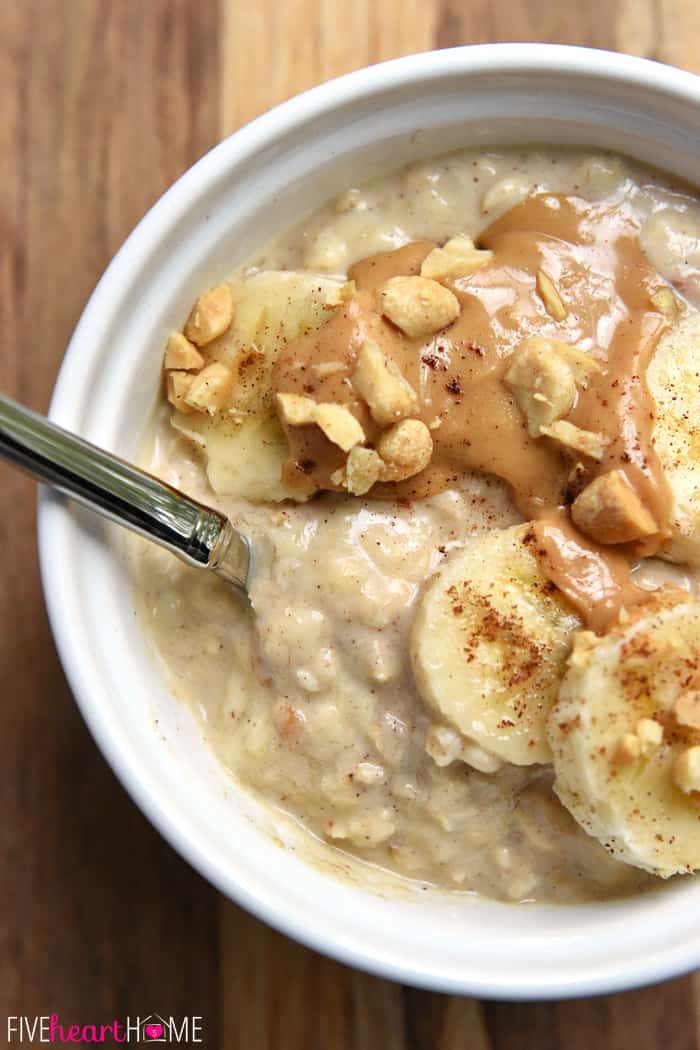 Next up, we have a Raspberry Nutella flavor! Again, it's perfectly straightforward with additions of (wait for it!) raspberries and Nutella. In the morning, I added extra raspberries on top as well as some toasted, sliced almonds for crunch, but just about any nut would be tasty.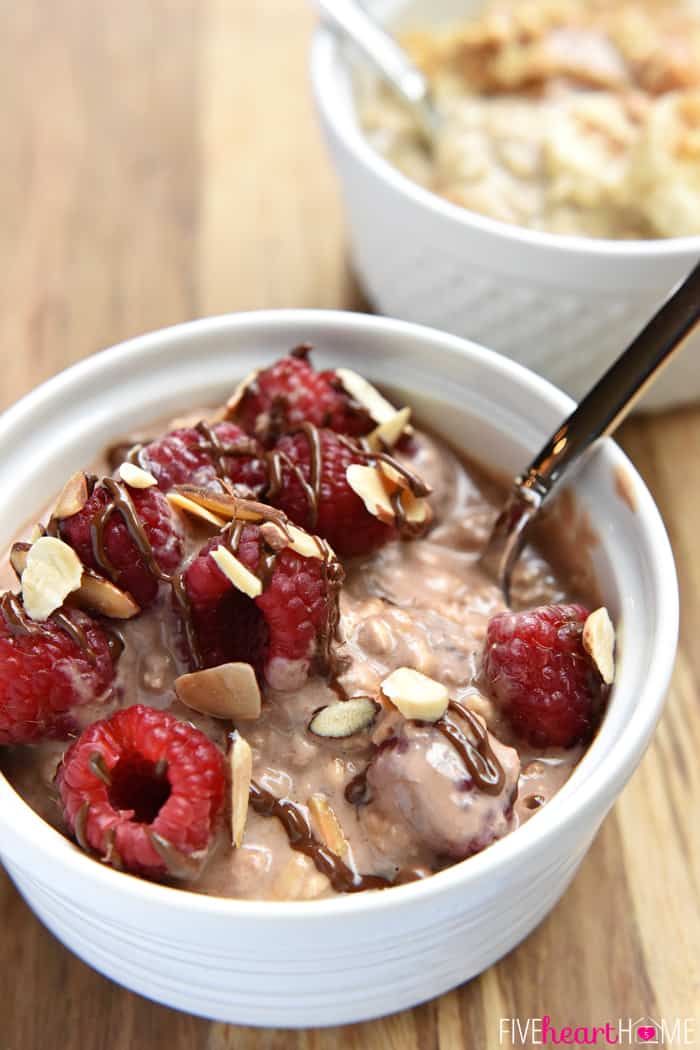 My final Overnight Oats inspiration for you is Coconut Almond. This variation actually gets a bit thicker than the others thanks to the coconut, so feel free to thin it out with a splash of extra milk, if you wish. I chose to use coconut milk in this one to make it even more coconutty, as well as vanilla yogurt instead of plain. Then I topped it with more coconut and a handful of crunchy almonds. And by the way, if you decide to add chocolate chips to this one, you could just go ahead and call it Almond Joy Overnight Oats. Mmm-mmm-MMMM!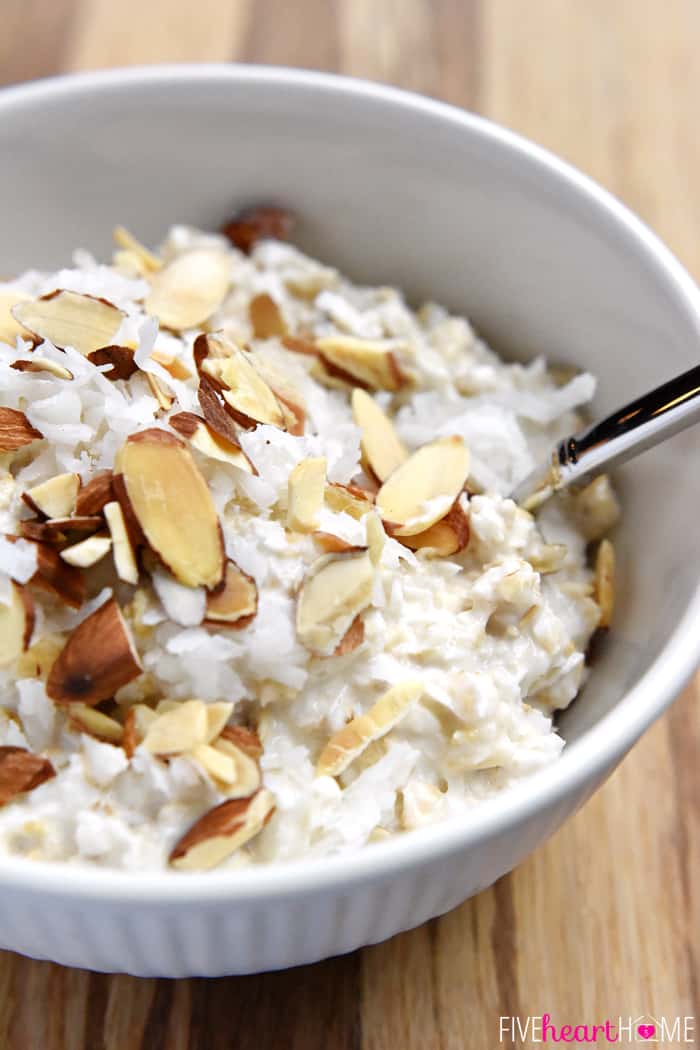 So have I convinced you to give Overnight Oats a spin? They're my new favorite breakfast. They're easy and make-ahead, they're healthy and filling, picky kids love 'em…what more can you ask of a way to start your morning?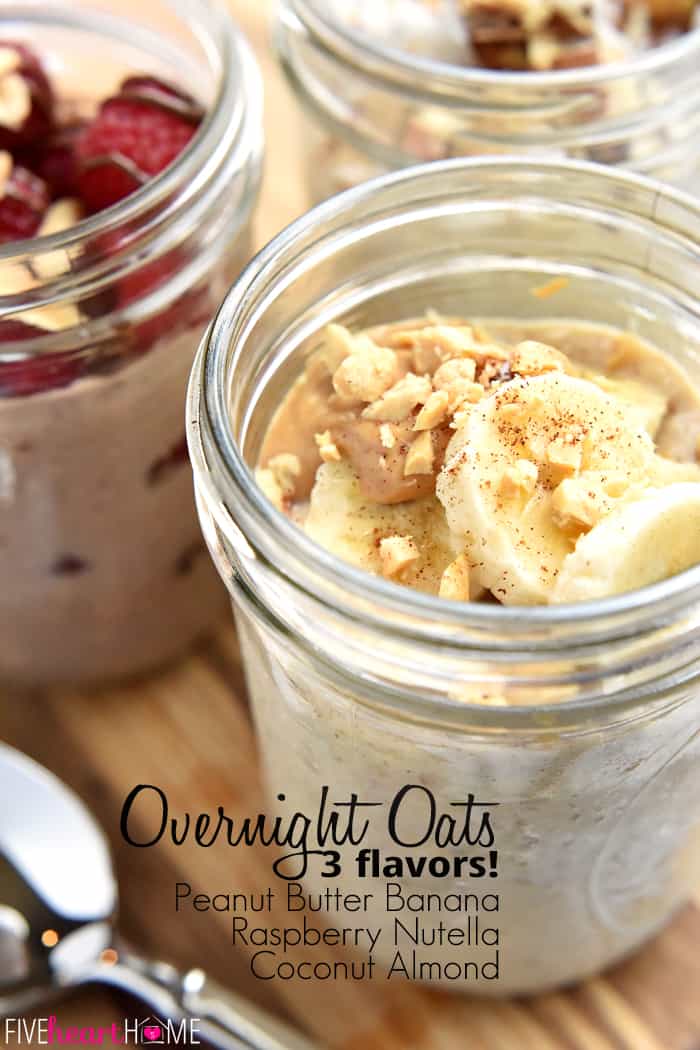 Overnight Oats, 3 Ways ~ PB Banana, Raspberry Nutella, & Coconut Almond
Creamy, wholesome Overnight Oats are as simple as refrigerating a mixture of oats, milk, and yogurt overnight for an instant, no-cook breakfast! Best of all, they can be flavored with your favorite additions, like Peanut Butter Banana, Raspberry Nutella, or Coconut Almond!
Ingredients
PEANUT BUTTER BANANA:
1/3 cup rolled oats
1/3 cup milk
1/3 cup plain yogurt
1/2 cup mashed banana (about 1 medium banana)
2 tablespoons peanut butter (smooth or crunchy)
1 teaspoon honey (more or less, to taste)
1/8 teaspoon ground cinnamon
Pinch of salt
*Optional Toppings: banana slices, dollop of PB, chopped peanuts, mini chocolate chips
_
RASPBERRY NUTELLA:
1/3 cup rolled oats
1/3 cup milk
1/3 cup plain yogurt
2 tablespoons Nutella
Pinch of salt
1/2 cup raspberries
*Optional Toppings: additional raspberries, drizzle of Nutella, toasted almond slices or other nuts
_
COCONUT ALMOND:
1/3 cup rolled oats
1/3 cup coconut milk
1/3 cup vanilla yogurt
1/4 cup shredded coconut
1/8 teaspoon pure vanilla extract
Pinch of salt
*Optional Toppings: additional shredded coconut, 1/4 cup toasted almond slices, mini chocolate chips
Instructions
In a bowl or a jar, mix together oats, milk, and yogurt. Stir in any additional ingredients and flavorings (but not the toppings). Cover and refrigerate for several hours up to overnight. Before serving, stir in desired toppings.
Notes
You may use your favorite type of milk in Overnight Oats. You may use regular or Greek yogurt, but if using Greek, it might be necessary to add a bit more milk to thin it out. You may use plain or vanilla yogurt. Honey or maple syrup may be used to sweeten the oats to taste, if you wish.
For the Coconut Almond variation, I use the type of coconut milk that is sold in a carton in the refrigerated section (near the soy milk, etc.). Canned coconut milk would also work (and probably taste richer/more decadent).
For the Raspberry Nutella version, I don't stir in the raspberries at the same time as the the oats and other ingredients, so as not to break them up. Rather, I just pile them on top of the oats and then gently stir them in before serving.
You may add a teaspoon or two of chia seeds or flaxseeds to your oat mixture, if you want to boost the nutrition even more.
I don't recommend using quick oats as they will get too mushy. Steel cut oats are not recommended either, as they won't soften adequately.
https://www.fivehearthome.com/overnight-oats-3-ways-pb-banana-raspberry-nutella-coconut-almond/
https://fivehearthome.com ~ All recipes and images on Five Heart Home are copyright protected. Please do not use without my permission. If you would like to feature this recipe, please rewrite the directions in your own words and give proper attribution by linking back to this blog.
More wholesome breakfast ideas…
Eggnog Overnight Oats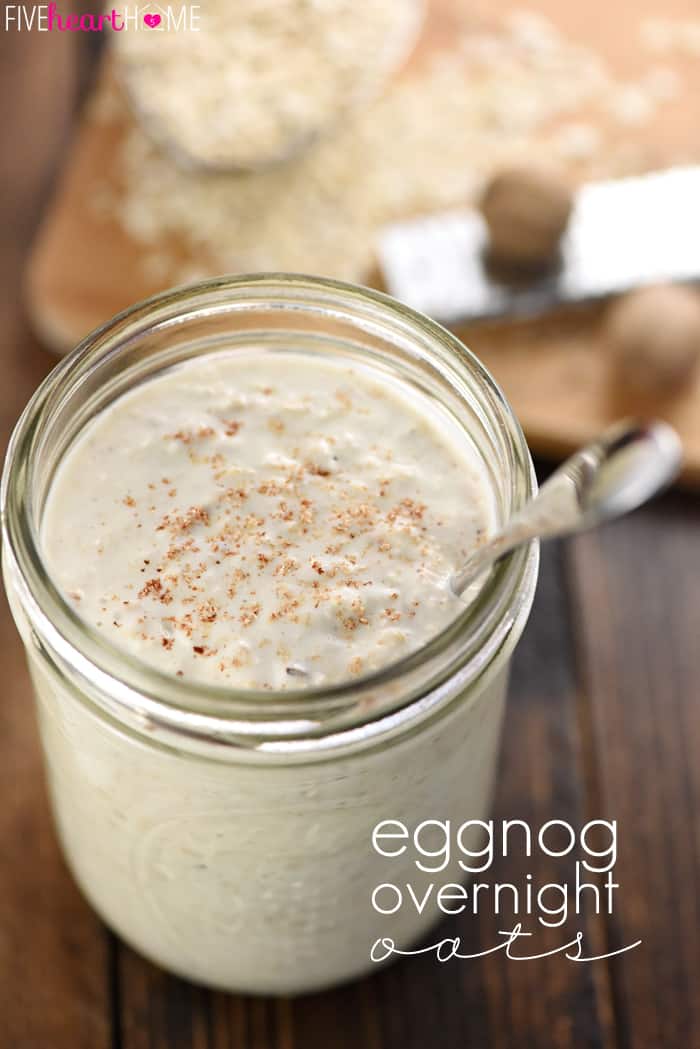 Carrot Cake Baked Oatmeal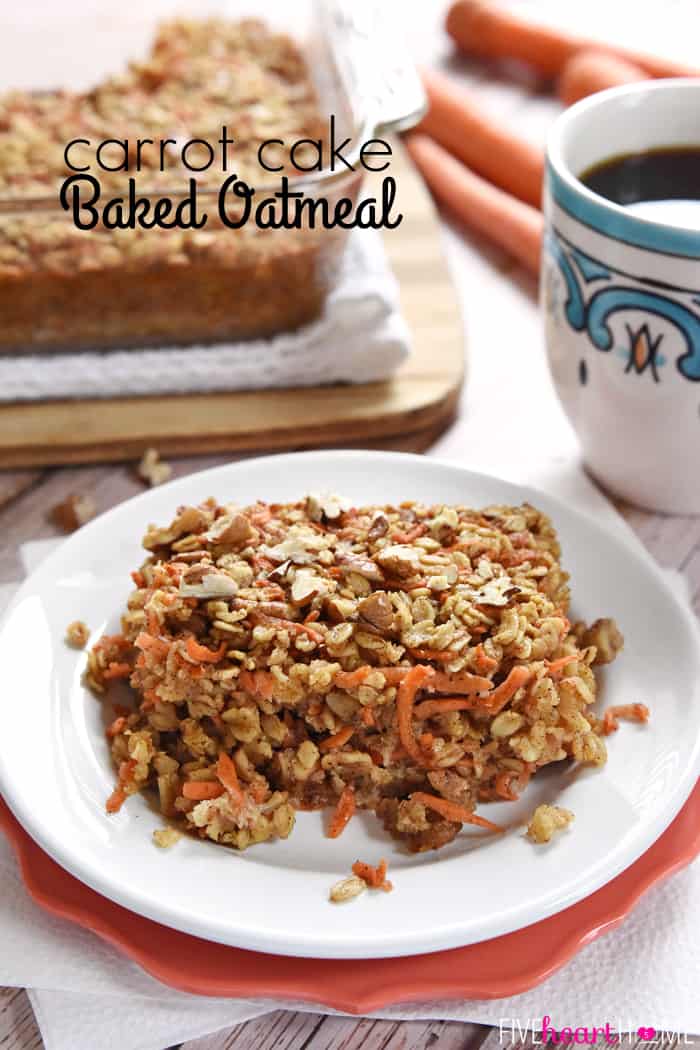 {Dairy-Free} Coconut Waffles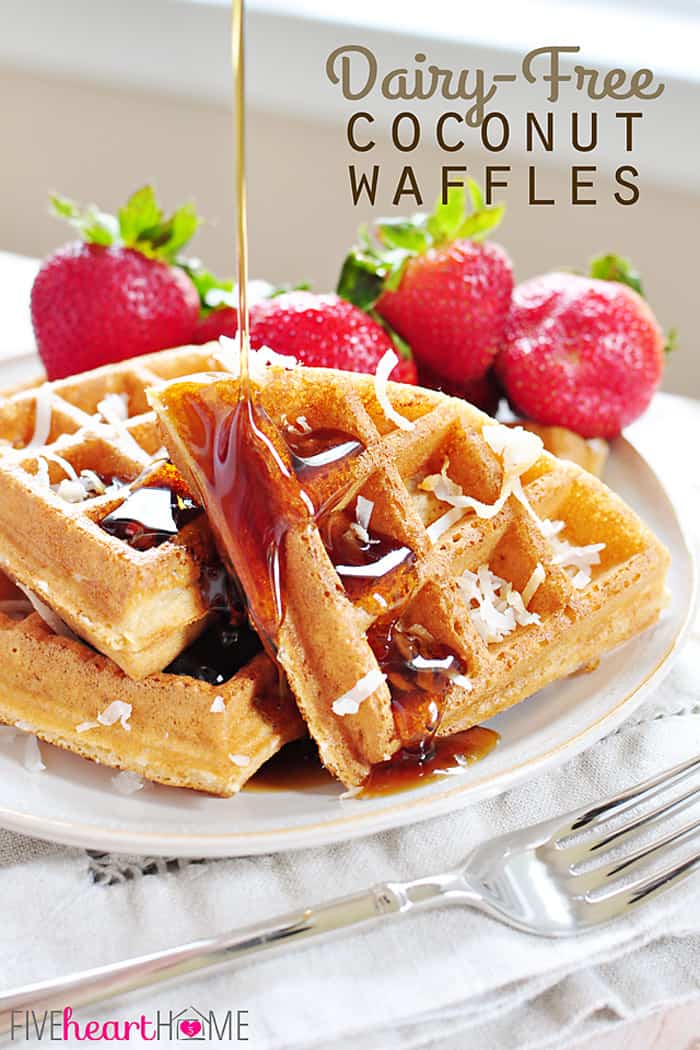 Homemade Whole Wheat Pancake Mix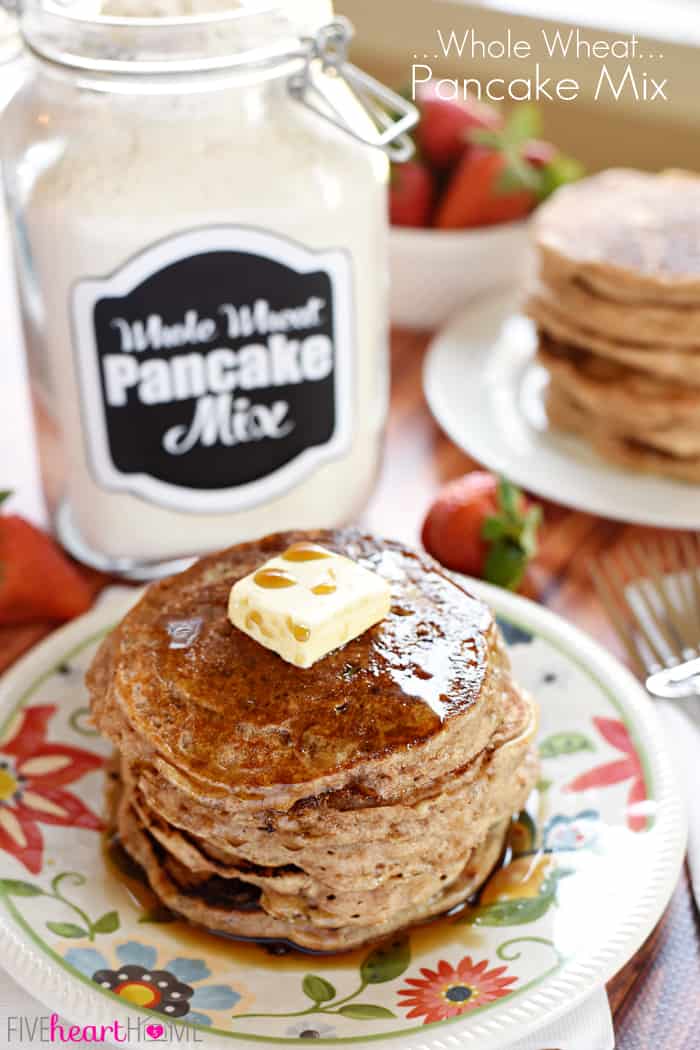 Green Chile Cheddar Egg Bake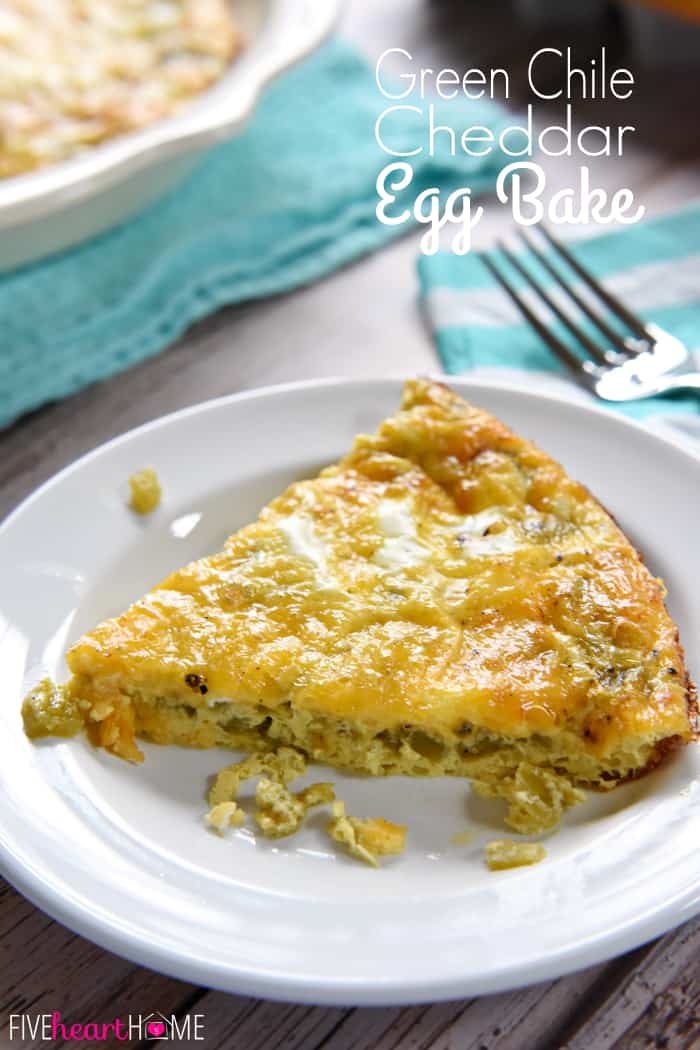 Healthy Oat Smoothies ~ Blueberry Muffin & Peach Cobbler Flavors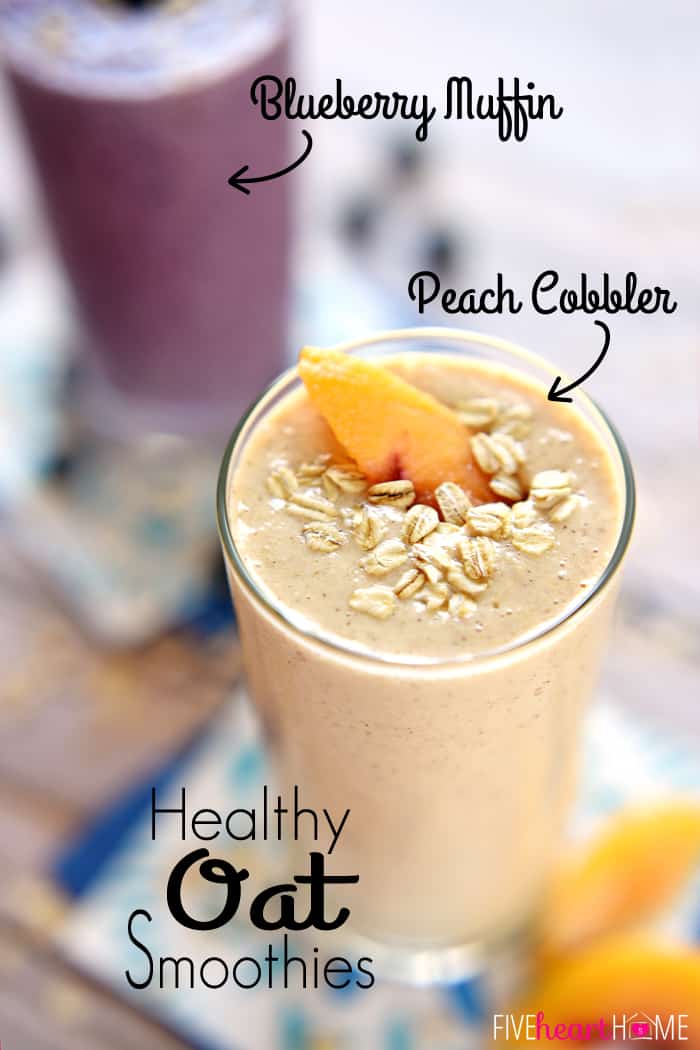 Oats & Honey Granola Bars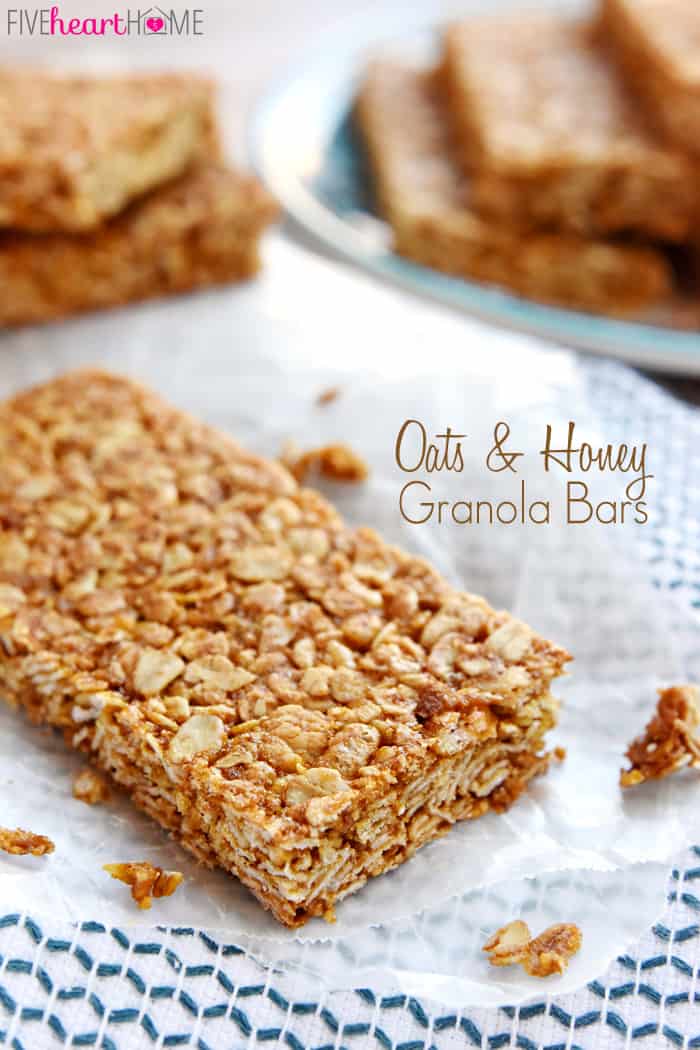 159