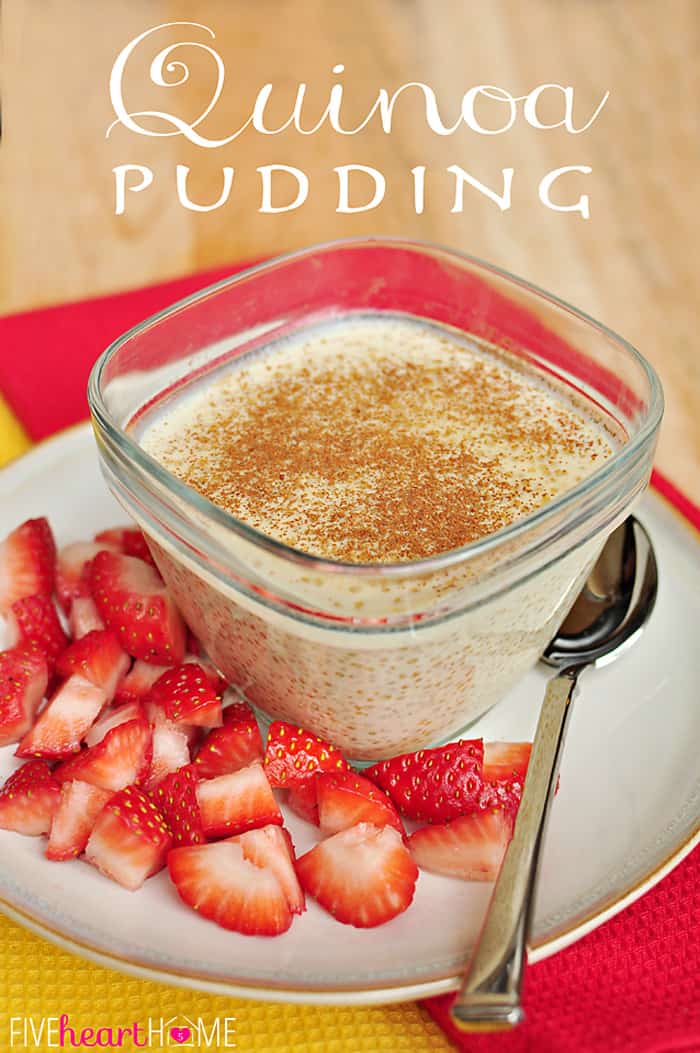 Nutritious superfood quinoa is the star of this creamy, coconut milk-based Quinoa Pudding, that tastes like a cross between rice pudding and tapioca!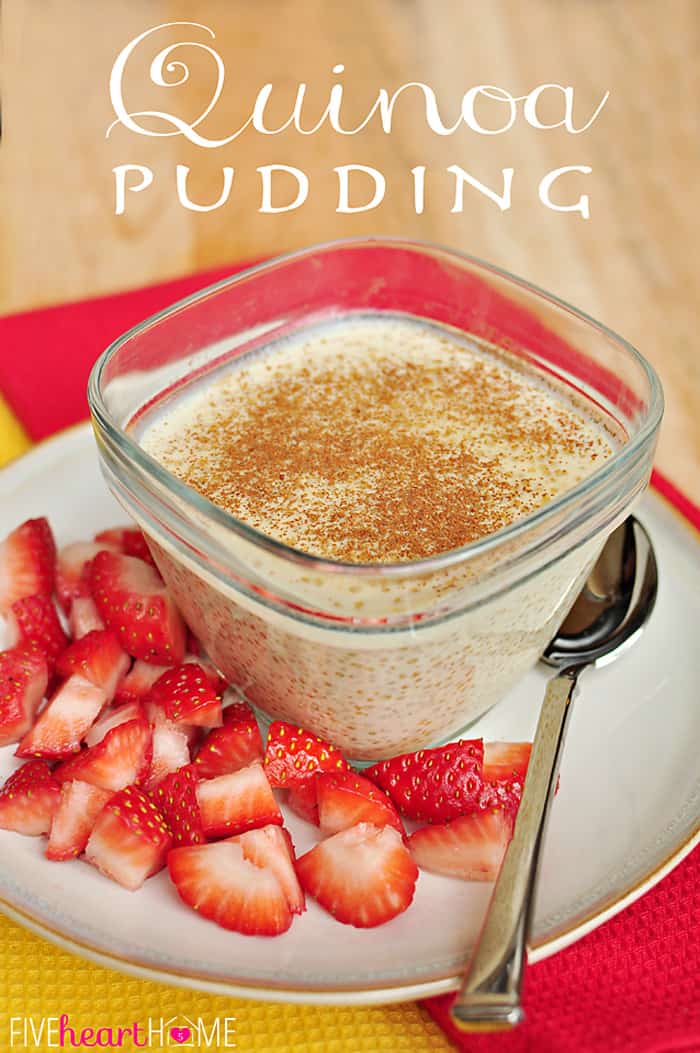 I'm quickly discovering that January is a month of multiple personalities when it comes to food blogging. First of all, after a holiday season filled with rich, indulgent foods, everyone is resolute to start off the year on a healthy foot. Thus, enter the lightened up, nutritious recipes. Then there's the fact that January is one of the coldest months, so everyone is craving comfort food via their effortless crock pots. With Super Bowl right around the corner, some folks are trying to plan out their game-watching (or at least their commercial-watching) appetizers and snacks. And finally, Valentine's Day is on the horizon, so that means decadent desserts and lots and lots of chocolate!
So before I delve into football-friendly fare and recipes incorporating hearts and effusive amounts of butter, I thought I'd squeeze in a sweet treat that's actually wholesome and comforting at the same time. And since that covers most, but not quite all, of the January food blogging bases, I suppose you could also eat this dish while watching a football game. 😉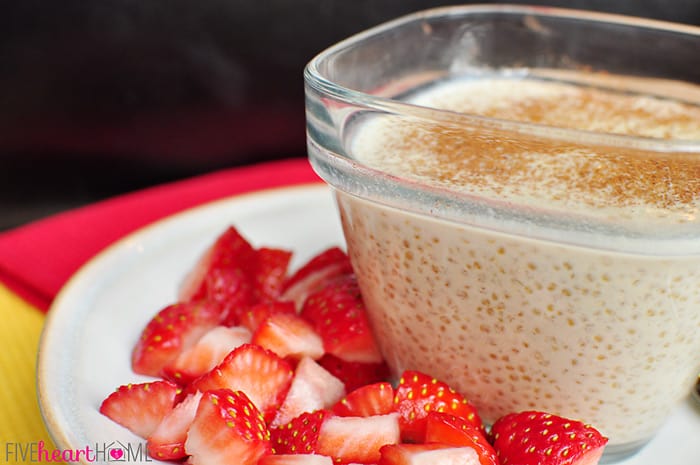 Have you jumped on the quinoa bandwagon yet? This gluten-free, high fiber, complete protein of a grain has become mainstream and quite popular over the last couple of years, and rightfully so. Nevertheless, it's been a fairly recent addition to my family's menu plan, and so far I've primarily relegated it to the savory side dish category as a replacement for rice or pasta. Well, in 2014, I'm determined to incorporate quinoa into our diet more regularly and in unique ways. The other day it struck me that it might make a tasty and healthy pseudo-rice pudding, so I got to experimenting.
I ended up making this recipe multiple times in different variations to determine my favorite combination of ingredients. After trying several versions, I think I came up with a perfect formula for Quinoa Pudding. My kids went cuckoo over this and I think you will, too! But first, here's how I came to my conclusions...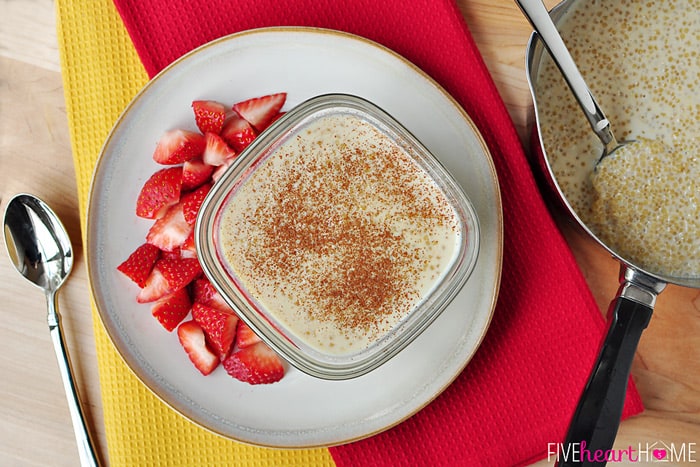 Coconut Milk vs. Whole Milk
My eldest son is lactose-intolerant, so I often substitute unsweetened coconut milk (the kind that comes in a carton in the refrigerated section) for regular cow's milk in my cooking. Sometimes it lends a coconut undertone to the recipe and sometimes it doesn't. I did not notice that it contributed any coconut flavor to this quinoa pudding. But it did make it dairy-free and vegan.
For experimentation's sake, I also made a batch of this pudding with regular milk. My family drinks whole milk, which worked beautifully in this recipe, resulting in creamy, luxurious pudding. I'm sure that skim milk or 2% would work as well, but be prepared for a potentially thinner final texture.
In conclusion? Both coconut milk and regular milk work perfectly well in this recipe. What to use is up to you!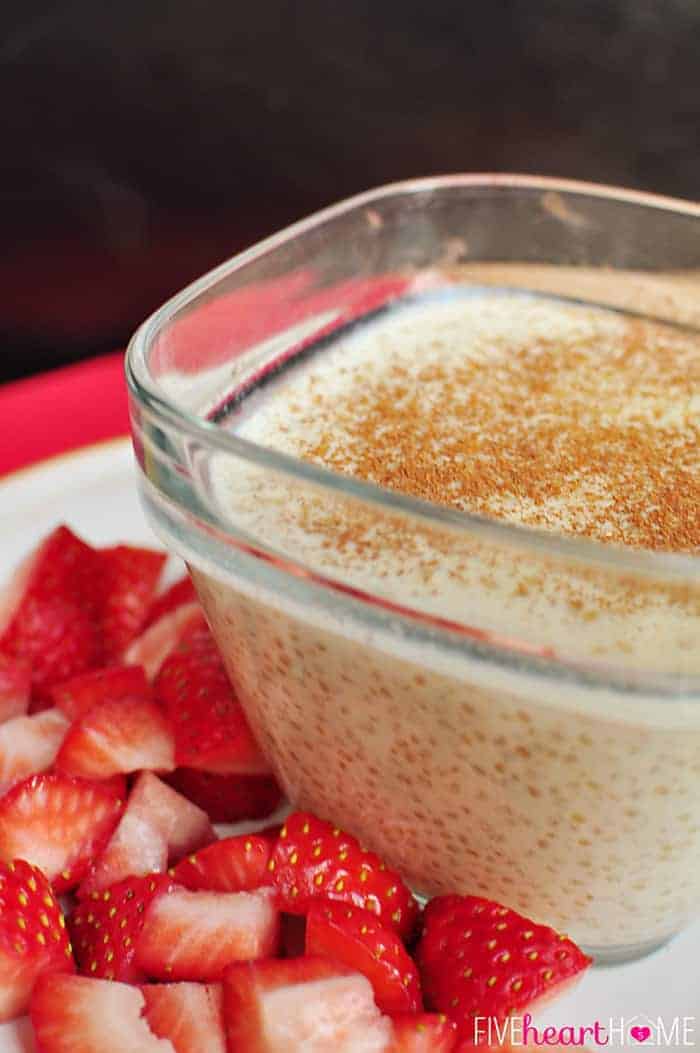 Amount of Milk
The first time I made this recipe, I started with 3 cups of milk. After about 20 minutes of cooking time, the quinoa had absorbed all of it. The final dish had the texture of a thick oatmeal and the quinoa still had an al dente bite. It was delicious, but a tad thicker than I had hoped it would be.
So the next time, I started with 4 cups of milk. As a result, the cooking time naturally increased, but I actually preferred the resulting quinoa, which was more tender and milder in flavor. Plus I loved that the pudding was creamy and almost tapioca-like in texture, with quinoa grains floating in a pool of thick vanilla cream.
To sum it up? More milk and longer cooking time is definitely my preference here.
How to Sweeten Quinoa Pudding
Both worked and I didn't really notice a difference in the resulting flavor or sweetness level. But since this quinoa recipe originated in the name of health, I lean towards sweetening it with pure maple syrup, which is at least a natural, unrefined sweetener. However, plain ol' white sugar will work just fine as well if that's your preference or what you have on hand.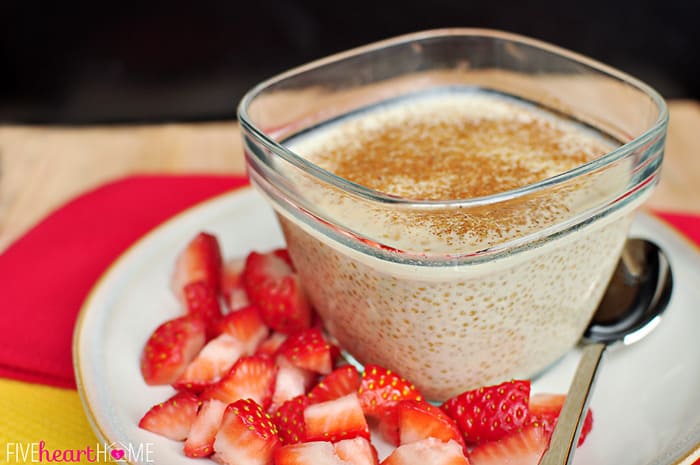 Cinnamon...or Not?
I love cinnamon in my rice pudding but I didn't know if it would overpower the rest of the flavors, so I experimented with making this pudding with and without. I have to say, I really enjoyed the version in which cinnamon was added to the pudding while cooking. I was afraid it might overwhelm the vanilla, but instead, I found the non-cinnamon version to be a little bland. But certainly feel free to leave it out -- or simply sprinkle it on the top -- if you're more of a no-cinnamon-in-your-pudding purist.
So there you have it! Warm, dreamy Quinoa Pudding. It's like a 2014 version of comfort food...tastes like a decadent treat but brimming with nutrition! It's equally delicious and nourishing as breakfast, a snack, or dessert. Whether you've been wanting to try quinoa or you're already a quinoa veteran, this recipe is a winner. I can't wait for y'all to try it!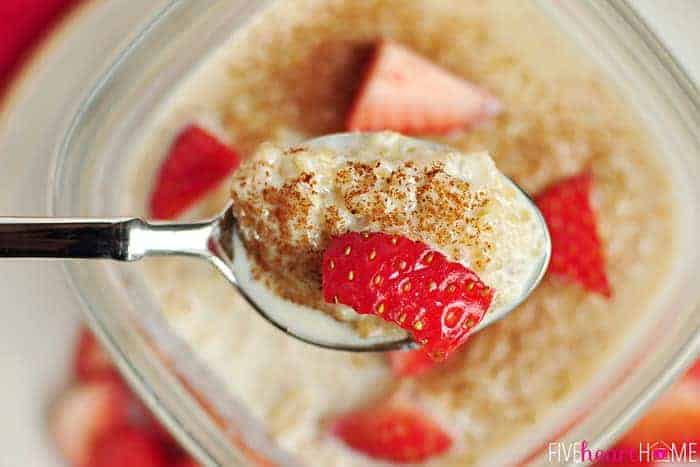 P.S. Call me a redneck, but while I logically know that quinoa is pronounced "KEEN-wah," every time I read it or write it, I can't help but sound it out in my head as "kwin-OH-uh." Please tell me I'm not the only one... 😉
More Wholesome Breakfast Ideas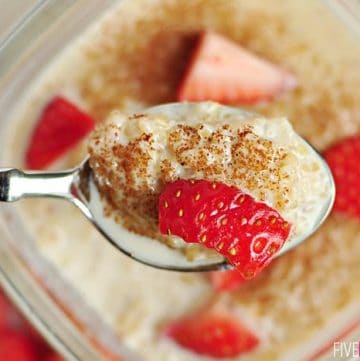 Quinoa Pudding
Nutritious superfood quinoa is the star of this creamy, coconut milk-based Quinoa Pudding, that tastes like a cross between rice pudding and tapioca!
Print
Pin
Rate
Servings:
4
to 6 servings
Ingredients
1

cup

quinoa

4

cups

unsweetened coconut milk OR whole milk

⅓

cup

maple syrup

1 ½

teaspoons

pure vanilla extract

1

teaspoon

cinnamon

¼

teaspoon

salt
Instructions
Place quinoa in a mesh colander. Rinse thoroughly with cold water and allow to drain.

In a medium (approximately 3-quart) pot, combine quinoa, coconut milk, maple syrup, vanilla, cinnamon, and salt. Bring to a boil over medium heat. Reduce heat to a low simmer and cover, leaving the lid cracked so that some steam may escape. Simmer for 25 minutes, stirring about every 5 minutes.

Remove the lid and continue simmering for 5 more minutes or until pudding has thickened and the quinoa has absorbed most (but not all) of the milk. Remove from heat.

Pour into bowls and allow to cool for a few minutes before serving (pudding will continue to thicken as it cools). Sprinkle with additional cinnamon, if desired.
Notes
Thoroughly rinsing the quinoa is an important step in order to remove any potential bitter residue.
I used the kind of coconut milk beverage that is sold in a carton in the refrigerated section of the grocery store. Canned coconut milk would probably work as well and result in even creamier/richer pudding with a stronger coconut flavor.
If you use regular milk, watch carefully so that it doesn't boil, foam, and overflow. Also, it is normal for regular milk to form a skin on the surface as the pudding cooks. Simply stir it back into the pudding and it will dissolve.
You may use white sugar in lieu of the maple syrup.
You may stir regular or golden raisins into the pudding if you wish.
Calories:
303
kcal
|
Carbohydrates:
54
g
|
Protein:
6
g
|
Fat:
7
g
|
Saturated Fat:
4
g
|
Sodium:
150
mg
|
Potassium:
300
mg
|
Fiber:
4
g
|
Sugar:
23
g
|
Calcium:
152
mg
|
Iron:
2
mg