Crunchy, golden Slow Cooker Granola combines oats, nuts, coconut, coconut oil, and honey in the crock pot for an effortless, wholesome treat!

Slow Cooker Granola...who knew it was a thing?! I have to admit that I was more than a bit skeptical the first time I heard you could make granola in a crock pot. After all, I make granola all the time, in a multitude of variations. But I've always just baked it. Isn't that the norm?
So I was definitely intrigued when a friend recently mentioned slow cooking granola...like, in a slow cooker. What??? After a bit of research and some experimentation, however, I can now report that not only does Slow Cooker Granola work, but it turns out delicious, with a texture that's actually very comparable to oven-baked granola. Crazy!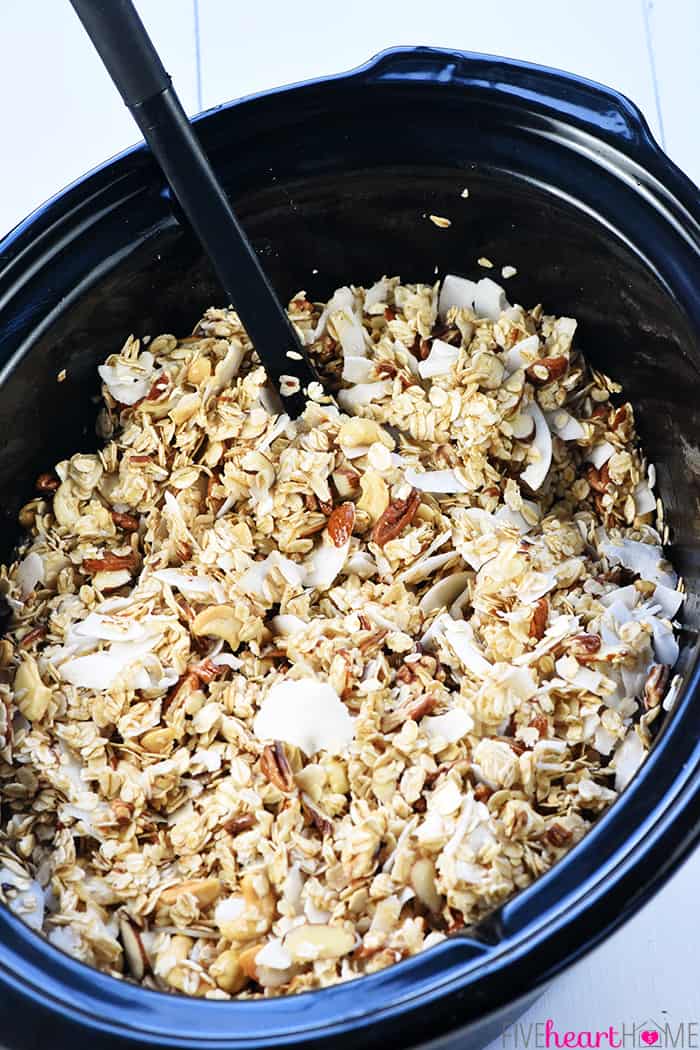 Three Important Tips
That being said, there are three keys to crunchy granola from the slow cooker:
1. You must crack the lid of the slow cooker while the granola cooks. This allows the steam to escape, alleviating the potential pitfall of soggy granola.
2. You must stir your granola frequently -- most likely, every 20 to 30 minutes -- but exactly how often will depend on how hot your slow cooker runs. And finally...
3. After a couple of hours, your granola will be golden brown, but it won't exactly be crunchy. Therefore, you must transfer the cooked granola from the crock pot to a large rimmed baking sheet to finish cooling. This is where the magic happens...it will go from soft and chewy to crispy and crunchy in no time!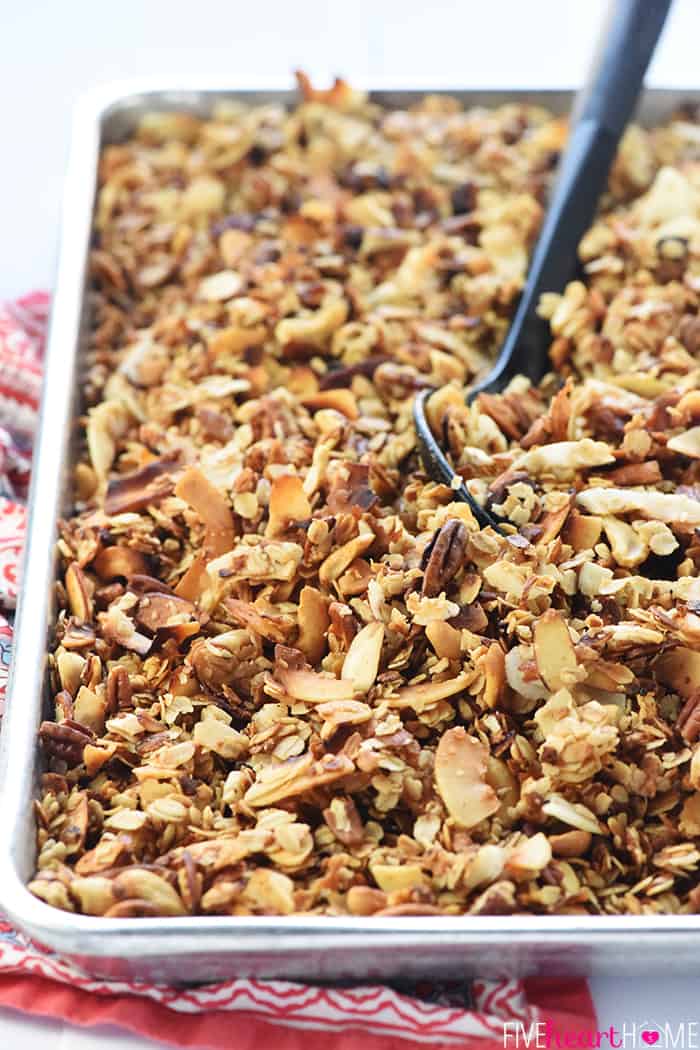 But Why Make Granola in the Crock Pot?
Why would you want to make granola in a slow cooker in the first place? Well, I'm so glad you asked. 😉
First of all, it's easy. You can mix together your ingredients directly in the crock pot insert. There's no big bowl to dirty, and because a slow cooker is so deep, it doesn't make a mess to stir the ingredients around every so many minutes. When you bake granola in the oven on a baking pan, it can be tricky to flip and stir everything without spilling it onto the counter. Not so with the slow cooker!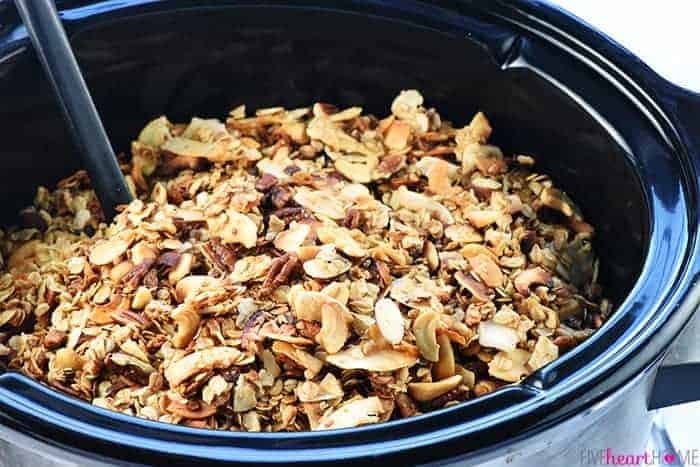 Additionally, if you use a large (6- to 7-quart) slow cooker, you can make a big batch of granola all at once. I've written the proportions below as a standard-sized recipe (yielding about 10 cups of granola). But the truth is, granola never lasts very long at my house. So since a large crock pot has the capacity to hold lots o' goodies, I can easy double (or multiply X 1.5) my standard granola recipe for a giant batch that will last more than a few days with my hungry crew.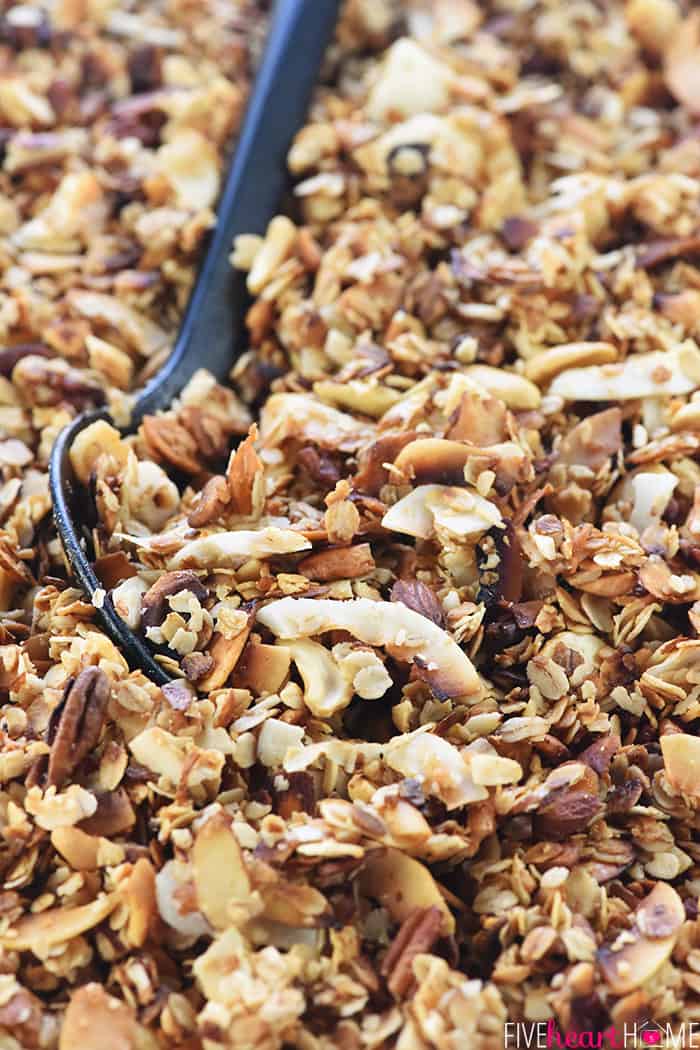 Finally, whipping up granola in the crock pot is ideal when you don't have (or don't want to use) the oven. Maybe your oven is already occupied with other recipes. Maybe it's too hot outside to heat up the whole kitchen by turning on the oven (hellooo, high of 95°F on September 21st...?). Maybe you're cooking in a location that lacks a full kitchen. Whatever the reason, isn't it nice to have the option of a slow cooker for recipes like this that typically require an oven?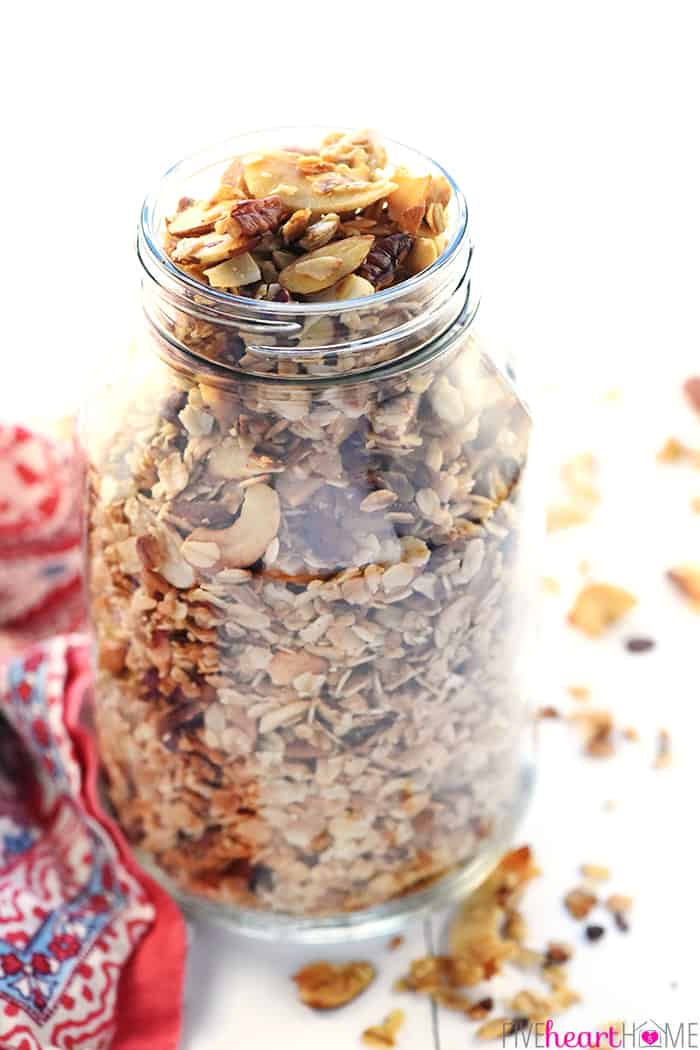 Slow Cooker Granola does require stirring every so many minutes, so it's not a recipe you can walk away from for hours at a time. The heat from the crock pot insert is what turns the oats, nuts, and other goodies golden brown, so if not regularly stirred, they'll be pressed against the hot interior for too long and go from golden to burnt. However, I find this to be a perfect recipe to make when I'm working around the house getting other things done (or, you know, doing nothing at all...aside from making granola). I just set the kitchen timer to remind me when to stir. As a bonus, the whole house smells heavenly!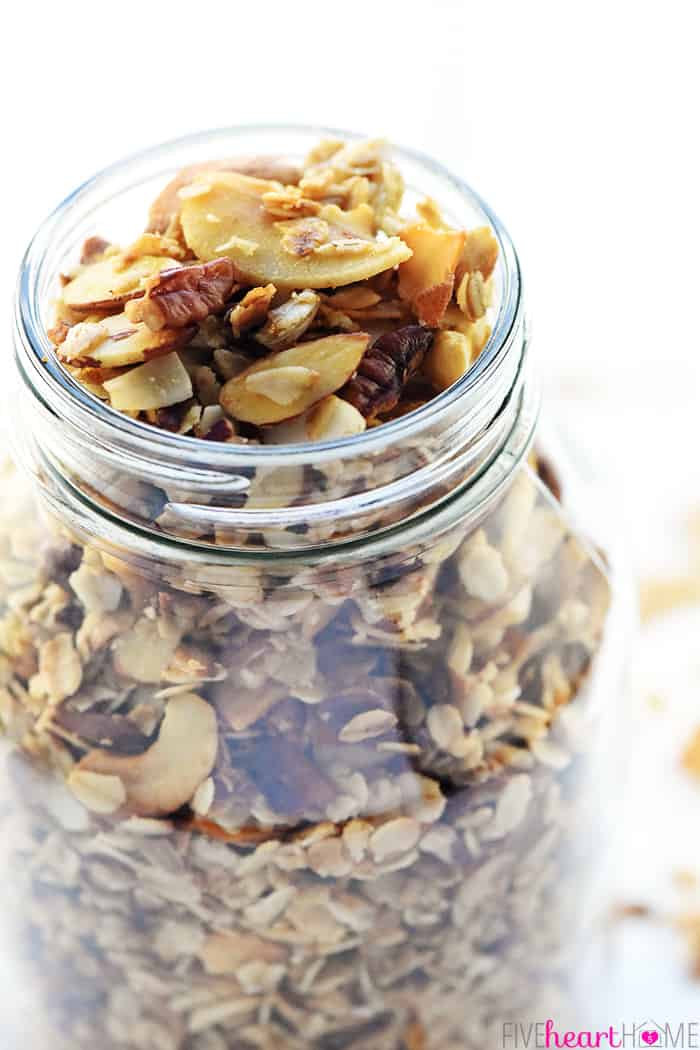 So who's ready to put your crock pot to work making coconut oil-fortified, honey-kissed, nut- and coconut-loaded Slow Cooker Granola? I think you'll be pleasantly surprised by how effortless it is and how tasty it turns out!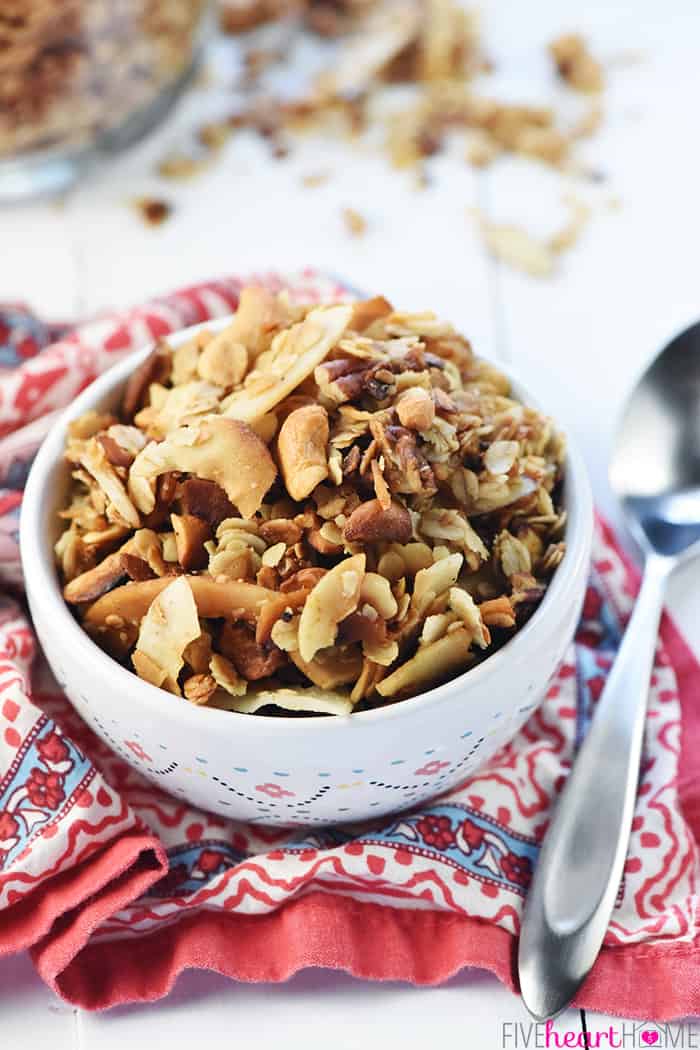 Helpful Tips, Tricks, & Equipment
The biggest takeaway after perfecting this recipe is that Slow Cooker Granola is going to take a bit of trial-and-error the first time you make it in order for the recipe to work with YOUR particular slow cooker. If you have a really hot running slow cooker (which is a common phenomenon with many newer-model slow cookers), the granola is going to cook (and potentially burn) a lot faster. This means you may have to stir it more frequently. (So if, after the first 30 minutes, you notice it getting too dark around the edges, start stirring it every 15 to 20 minutes instead.) It also means that you may not want to add more delicate ingredients -- like coconut -- until after the first hour or so. Beyond those measures, if your granola is still browning too fast, you may even need to turn the slow cooker down to LOW instead of cooking it on HIGH the entire time.
I first made this recipe in one of my slow cookers that runs hot, and I had to stir the granola frequently and turn the slow cooker to LOW after the first hour. I made the recipe on a second occasion in my favorite slow cooker (that doesn't run overly hot), and I was able to cook the granola on HIGH the entire time.
Use your favorite nuts in this recipe. My family enjoys a combo of chopped pecans, sliced almonds, and cashew pieces. You can also replace some of the nuts with sunflower seeds or pumpkin seeds.
For extra nutrition, feel free to stir in a few tablespoons of chia seeds or flax seeds.
By melting the coconut oil in a measuring cup and then measuring the honey on top, the residue of the oil will help the honey slide out of the cup without sticking.
You may use agave or maple syrup in place of the honey, but keep in mind that these alternatives will give the granola a slightly different taste.
I spread my granola onto a large rimmed sheet pan to cool. This is my favorite size for kitchen versatility...I have about a ten of them (it's an admitted addiction?) and I use them every single day.

More Granola and Breakfast Bar Goodness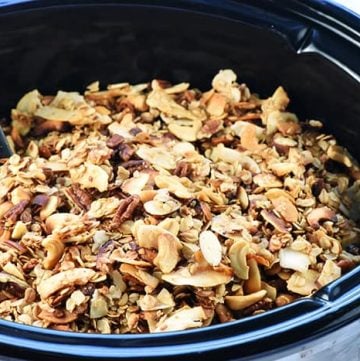 Slow Cooker Granola
Crunchy, golden Slow Cooker Granola combines oats, nuts, coconut, coconut oil, and honey in the crock pot for an effortless, wholesome treat!
Print
Pin
Rate
Servings:
20
(½ cup) servings
Ingredients
4

cups

old-fashioned oats

2

cups

chopped nuts

2

cups

shredded coconut

¼

teaspoon

salt

½

cup

coconut oil

,

melted

½

cup

honey

1

cup

dried fruit

,

optional
Instructions
Generously coat a large slow cooker with nonstick cooking spray (I prefer coconut oil spray). Place the oats, nuts, coconut, and salt in the slow cooker; stir to combine. Melt the coconut oil in a measuring cup then measure the honey on top. Pour into the slow cooker and stir until all of the ingredients are evenly coated.

Cover the slow cooker so that the lid is askew, leaving a 1- to 2-inch gap. Cook on HIGH for 30 minutes; stir well, making sure that all of the granola is scraped from the sides, bottom, and corners of the slow cooker. Continue cooking, stirring well every 20 to 30 minutes, until the granola is golden brown, for a total of 2 to 2 ½ hours. (If the granola is getting too dark too fast, you may need to turn your slow cooker down to LOW and/or stir more frequently.)

Once the granola is done, transfer it to a large, rimmed baking sheet and spread into an even layer. Allow to cool, stirring occasionally, until crunchy and completely cool. If desired, mix in dried fruit. Store in an airtight container.
Calories:
260
kcal
|
Carbohydrates:
25
g
|
Protein:
4
g
|
Fat:
17
g
|
Saturated Fat:
8
g
|
Sodium:
54
mg
|
Potassium:
158
mg
|
Fiber:
3
g
|
Sugar:
12
g
|
Vitamin C:
0.2
mg
|
Calcium:
25
mg
|
Iron:
1.3
mg
Save
Save