Tender, fluffy Whole Wheat Lemon Poppy Seed Pancakes are wholesome, delicious, and drizzled with a scrumptious Lemon Poppy Seed Syrup!

Happy Spring, y'all! I hope today finds you enjoying flowers, sunshine, and lovely weather…and perhaps, if you're lucky, a stack of Whole Wheat Lemon Poppy Seed Pancakes. 😉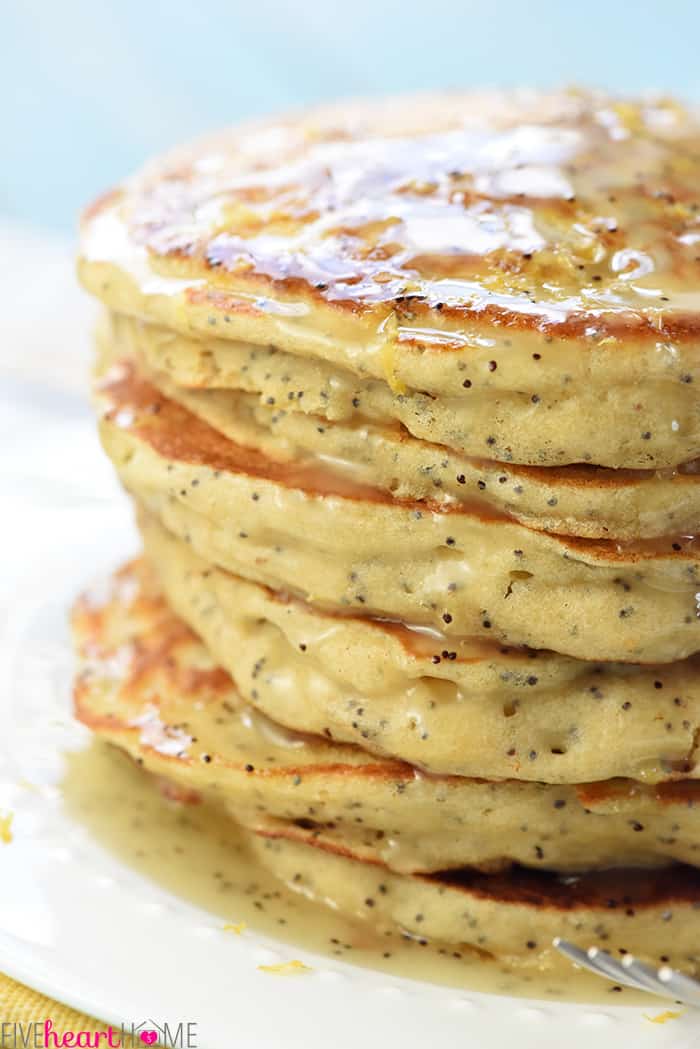 We're returning to reality this morning after Spring Break, and I have to say…hopefully reality will be more enjoyable than the past week has been at our house. We're still trying to recover from The Great Stomach Bug Plague of 2017. That's right…there was no Spring Break fun to be had around here. We were stuck at home all week long while the stomach bug passed from family member to family member and ran its course. Ugh. Hope y'all's Spring Break was (or will be, if it's this week) a better experience than ours! I'm definitely ready for a fresh start on this first day of spring.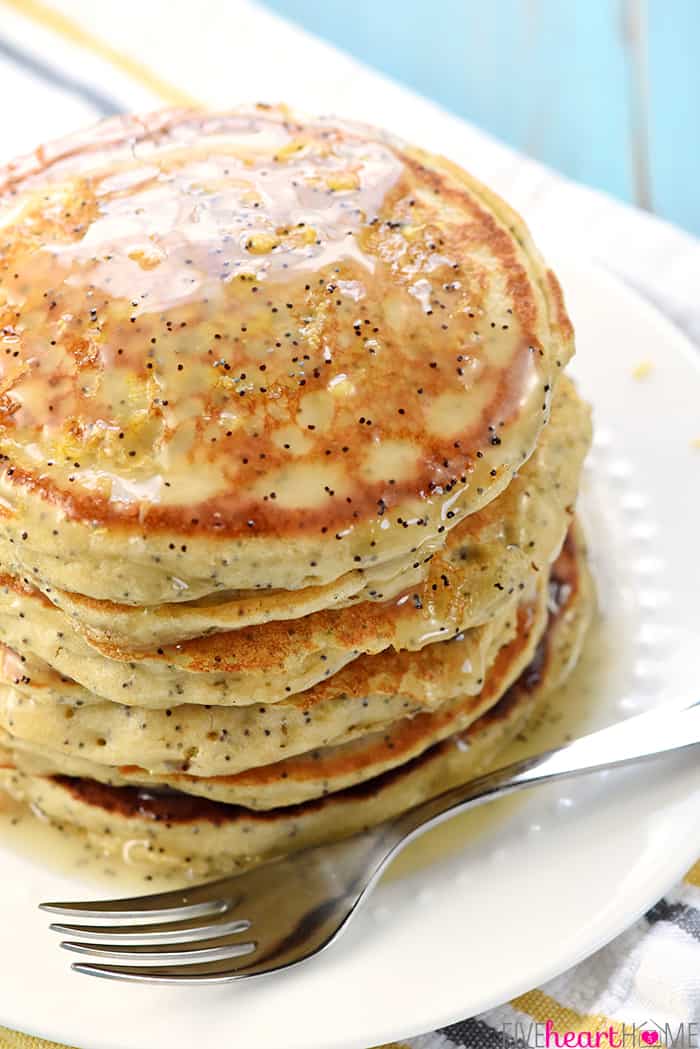 Speaking of spring and fresh starts, how 'bout a delectable breakfast to kick things off? These Whole Wheat Lemon Poppy Seed Pancakes are every bit as sunny and yummy as they sound. I transformed my favorite Homemade Whole Wheat Pancake Mix by adding fresh lemon juice, lemon zest, and poppy seeds for pancakes that are still 100% whole wheat and wholesome but magically taste like dessert.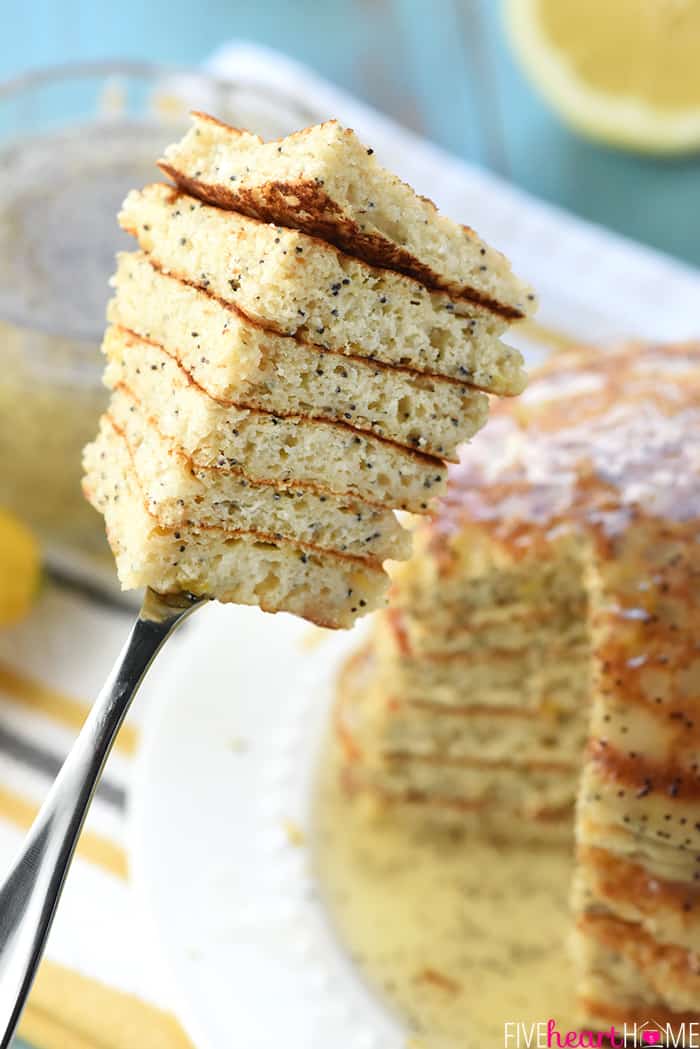 If you're a lemon fan — or better yet, a lemon poppy seed fan — you're guaranteed to go crazy over these pancakes! They boast a subtle lemon undertone, but the lemony flavors get a big boost once drizzled with Lemon Poppy Seed Syrup (a syrup recipe borrowed from my Lemon Blueberry Overnight Baked French Toast and jazzed up with poppy seeds).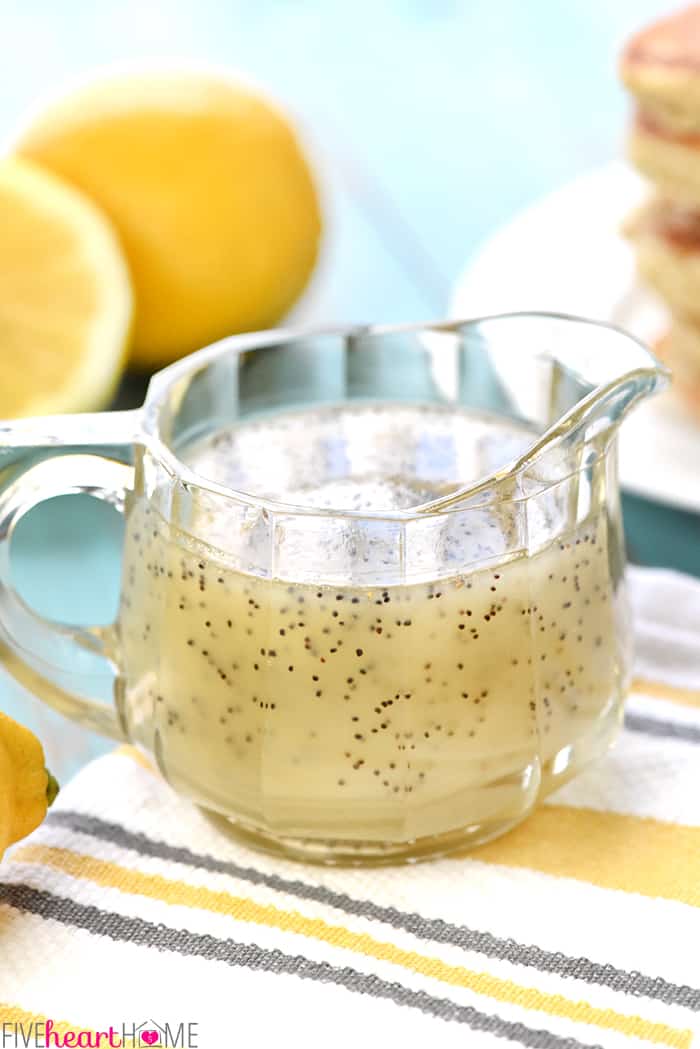 The result is like eating a plate of sunshine for breakfast! Or brunch. Or brinner (because I feel certain that these would make a great breakfast-for-dinner treat)…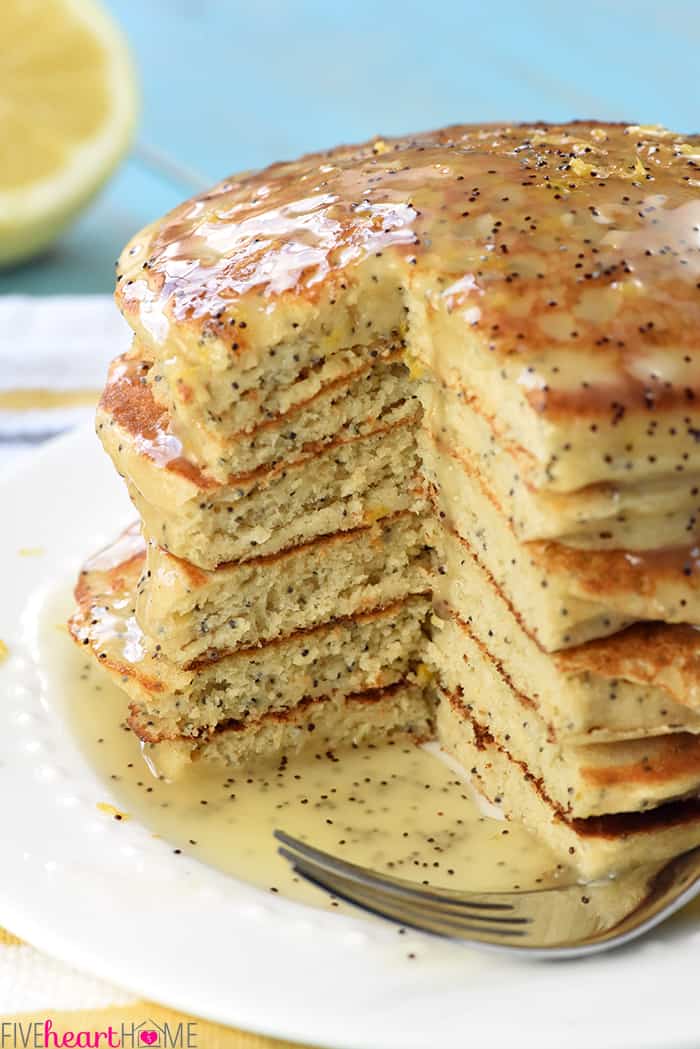 As a side note, I was fortunate enough to have my husband home when I took the photos for this post, and I wrangled him into helping with the syrup-pour shots. I usually attempt such photos all by my lonesome, which means I'm trying to hold steady a heavy camera and long lens with one hand (hoping for somewhat centered/in-focus pics), while reaching my hand out in front of me and blindly pouring (hoping that the syrup will actually hit the pancake and not run all over the table…for which my current success rate hovers around 50%). Let me tell you, it's quite the spectacle.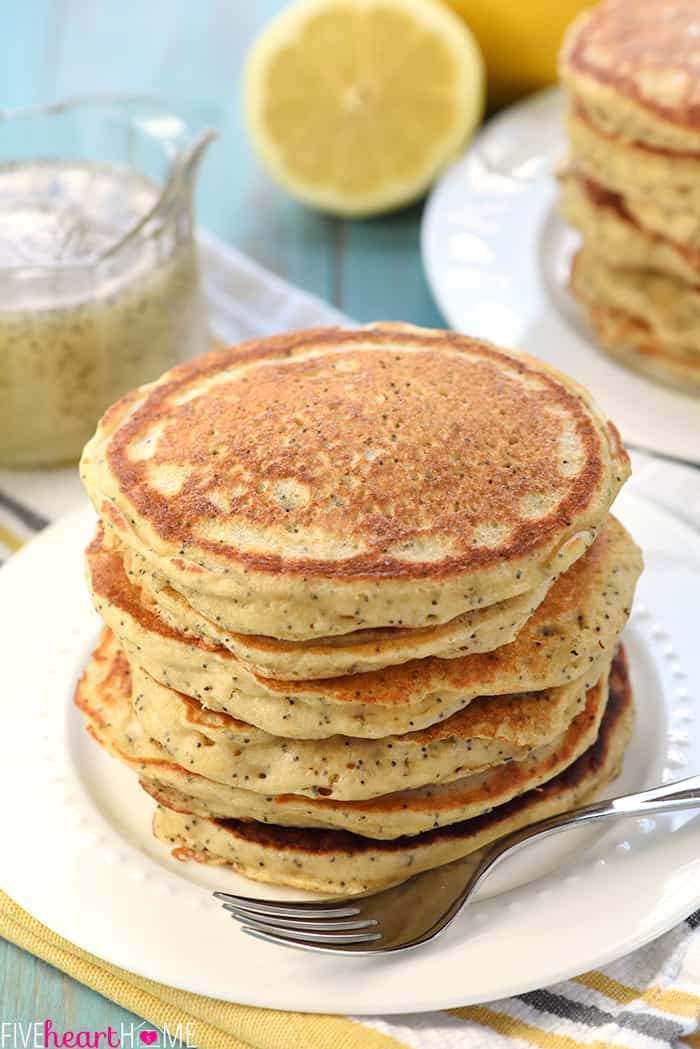 But would you believe it's WAY easier to take said shots with an extra set of hands? No body contorting, no massive mess of syrup…I told my husband he's officially hired! Now if only he could quit his day job to stay home and help me out every day. 😉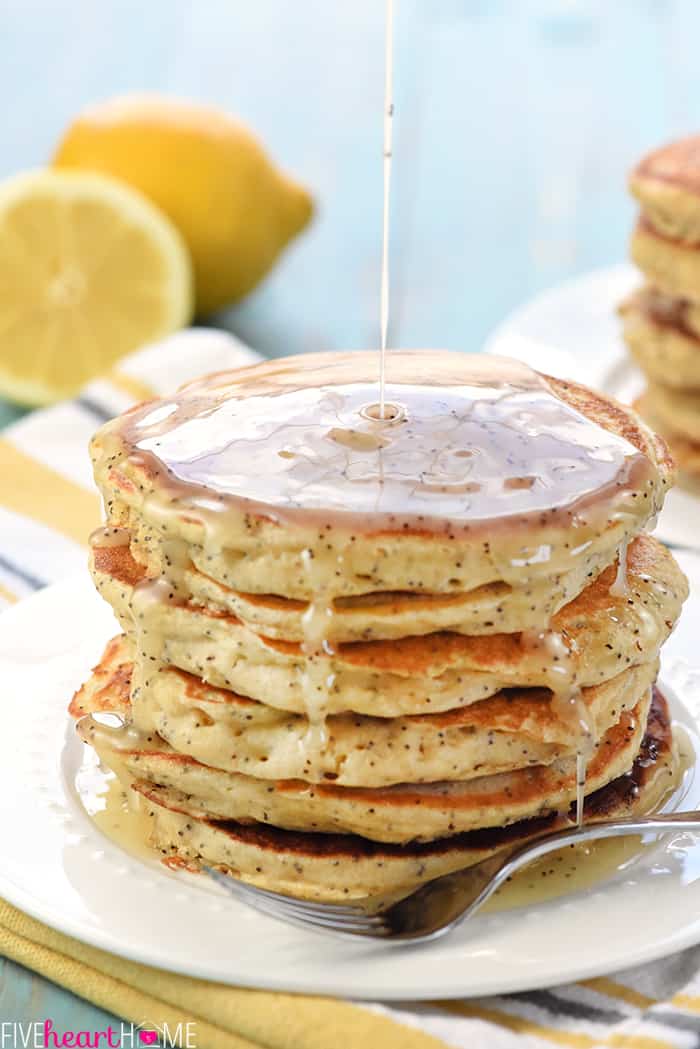 I've written out full directions for making these Whole Wheat Lemon Poppy Seed Pancakes, but as I mentioned before, you can totally make this recipe by starting out with my Homemade Whole Wheat Pancake Mix. If you haven't already tried that mix, it's such a great staple to keep in your pantry for when you want to quickly whip up homemade pancakes. It's all-natural, with nary an icky ingredient to be found (which can't be said for most store-bought pancake mixes). And now you can use it to make a new, tasty flavor of pancakes!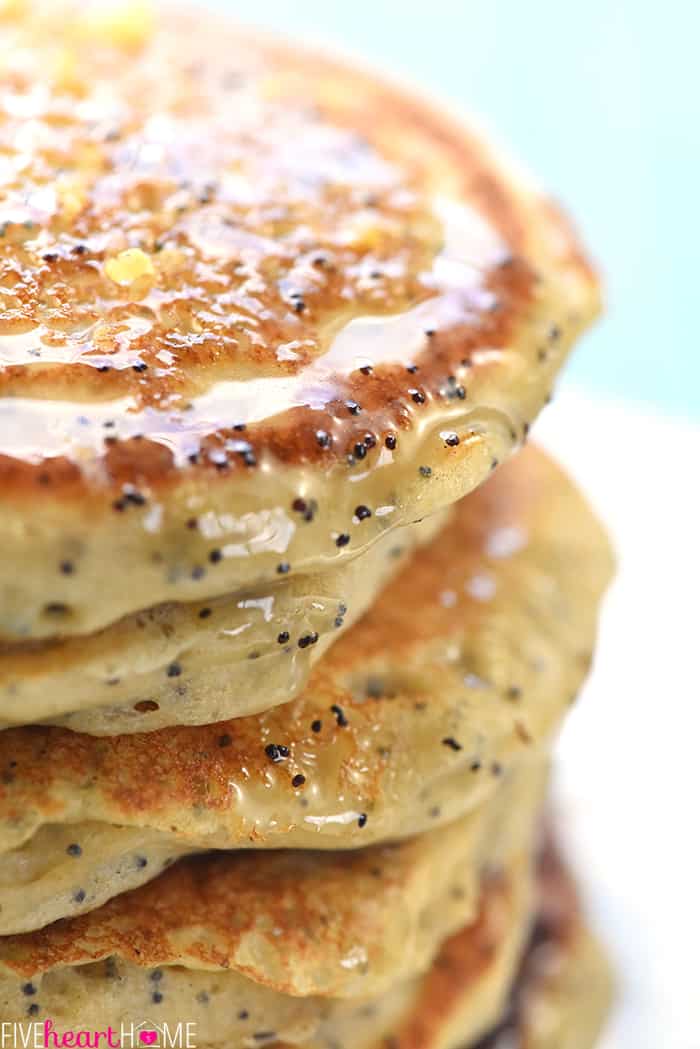 So who's ready for a plate of luscious and lovely lemon deliciousness? After all, Whole Wheat Lemon Poppy Seed Pancakes are the perfect recipe for welcoming spring! Incidentally, I've also heard they make a nice reward for surviving the Great Stomach Bug Plague of 2017… 😉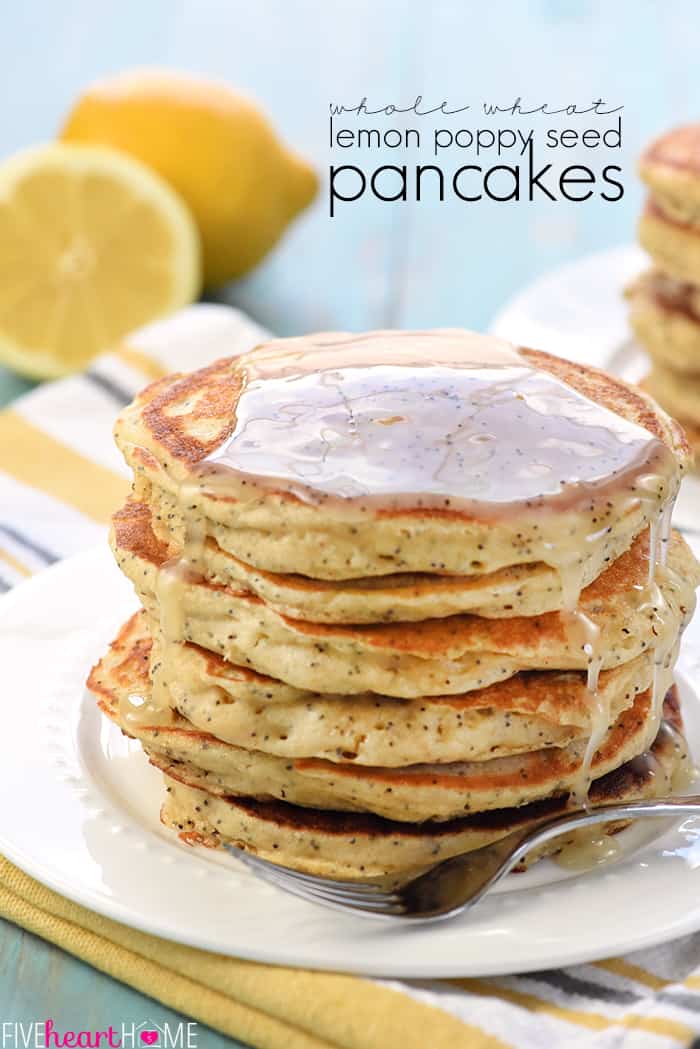 Whole Wheat Lemon Poppy Seed Pancakes
Tender, fluffy Whole Wheat Lemon Poppy Seed Pancakes are wholesome, delicious, and drizzled with a scrumptious Lemon Poppy Seed Syrup!
Ingredients
FOR THE LEMON POPPY SEED SYRUP:
1/2 cup water
2/3 cup sugar
1/3 cup freshly-squeezed lemon juice
1 teaspoon fresh lemon zest
2 teaspoons corn starch
2 tablespoons salted butter, at room temperature
2 tablespoons heavy cream
1/2 teaspoon pure vanilla extract
1 teaspoon poppy seeds
_
FOR THE PANCAKES:
3 cups whole wheat pastry flour*
1/4 cup sugar*
1 tablespoon baking powder*
3/4 teaspoon baking soda*
3/4 teaspoon salt*
3 cups buttermilk
2 eggs
3 tablespoons freshly squeezed lemon juice
1 1/2 tablespoons lemon zest
2 1/2 tablespoons poppy seeds
1 1/2 teaspoons pure vanilla extract
5 tablespoons butter, melted & cooled
Instructions
To make the Lemon Poppy Seed Syrup: In a small pot, whisk together the water, sugar, lemon juice, lemon zest, and corn starch until well blended. Set pot over medium-high heat and bring to a boil while occasionally whisking. Reduce to a simmer and cook for 3 to 5 minutes, stirring occasionally, or until syrup has thickened. Remove pot from the heat and stir in butter, heavy cream, vanilla, and poppy seeds, until all ingredients are smooth and well blended. Set aside and allow to cool.
In a large bowl, whisk together the whole wheat pastry flour, sugar, baking powder, baking soda, and salt until well-combined (*OR measure out 3 1/4 cups Homemade Whole Wheat Pancake Mix + 1 additional tablespoon sugar into a large bowl). Measure buttermilk into a large measuring cup (4-cup capacity) or medium bowl. Whisk in the eggs, lemon juice, lemon zest, poppy seeds, and vanilla until well combined.
Make a well in the center of the dry mix and pour in the buttermilk mixture. Stir a few times, add the melted butter, and then stir gently until just combined, taking care not to overmix (a few lumps are okay).
Set a large skillet over medium heat. Once the skillet is heated, add a small piece of butter (and/or a small dollop of coconut oil) and swirl to coat the pan. Use a 1/4-cup measuring cup to pour circles of batter onto the skillet. Cook until the underside of each pancake is golden brown and bubbles begin to form on top. Flip pancakes and cook for another minute or two until the second sides are golden brown.
Serve pancakes immediately with Lemon Poppy Seed Syrup (or pure maple syrup). Or keep them warm in a 200°F oven (for 20 to 30 minutes) by placing them in a single layer on a cooling rack set on top of a baking sheet.
Notes
*If you wish to use my Homemade Whole Wheat Pancake Mix as a base for this recipe, you may substitute 3 1/4 cups of Pancake Mix for the asterisked ingredients above. Add an additional 1 tablespoon sugar to the mix, however, since these pancakes need a little extra to balance out the lemon. Then proceed with the recipe as directed, starting with the buttermilk.
Whole wheat pastry flour lends baked goods a lighter texture than that achieved with regular whole wheat flour, while retaining the wholesome nutritional benefits of 100% whole wheat. If you can only find regular whole wheat flour, I recommend making this recipe with half all-purpose white flour. Or, if you don't care about whole wheat pancakes at all, you may certainly make this recipe with only all-purpose white flour.
DIfferent stovetops (or electric griddles) heat differently. So if you're unsure of the best pancake-cooking temperature for your stove, start at medium heat and increase/decrease the heat accordingly, depending on how quickly your pancakes are cooking.
https://www.fivehearthome.com/whole-wheat-lemon-poppy-seed-pancakes-lemon-poppy-seed-syrup-recipe/
https://fivehearthome.com ~ All recipes and images on Five Heart Home are copyright protected. Please do not use without my permission. If you would like to feature this recipe, please rewrite the directions in your own words and give proper attribution by linking back to this blog.
More lemon lusciousness…
Lemon Sugar Baked Donuts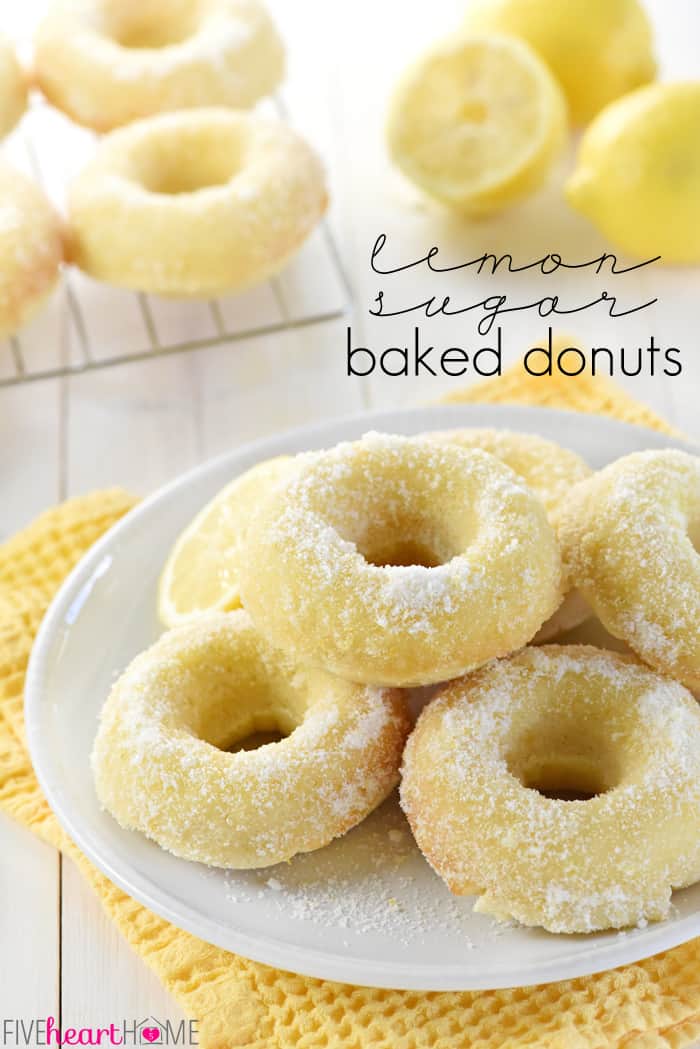 The BEST Lemon Cupcakes with Lemon Cream Cheese Frosting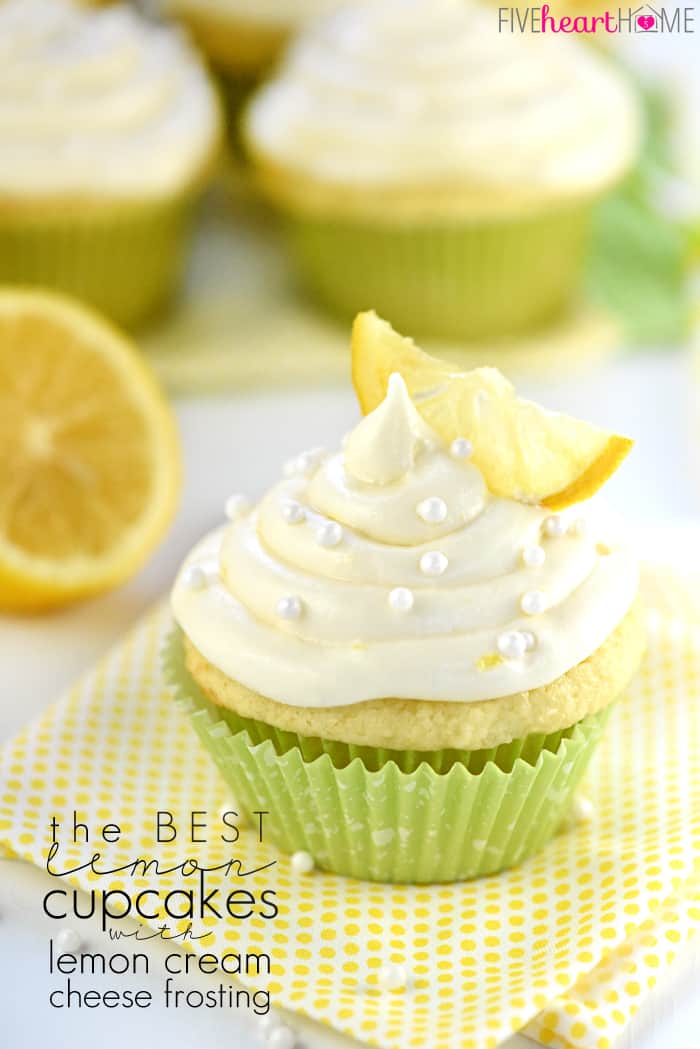 Lemon Poppy Seed Mug Cake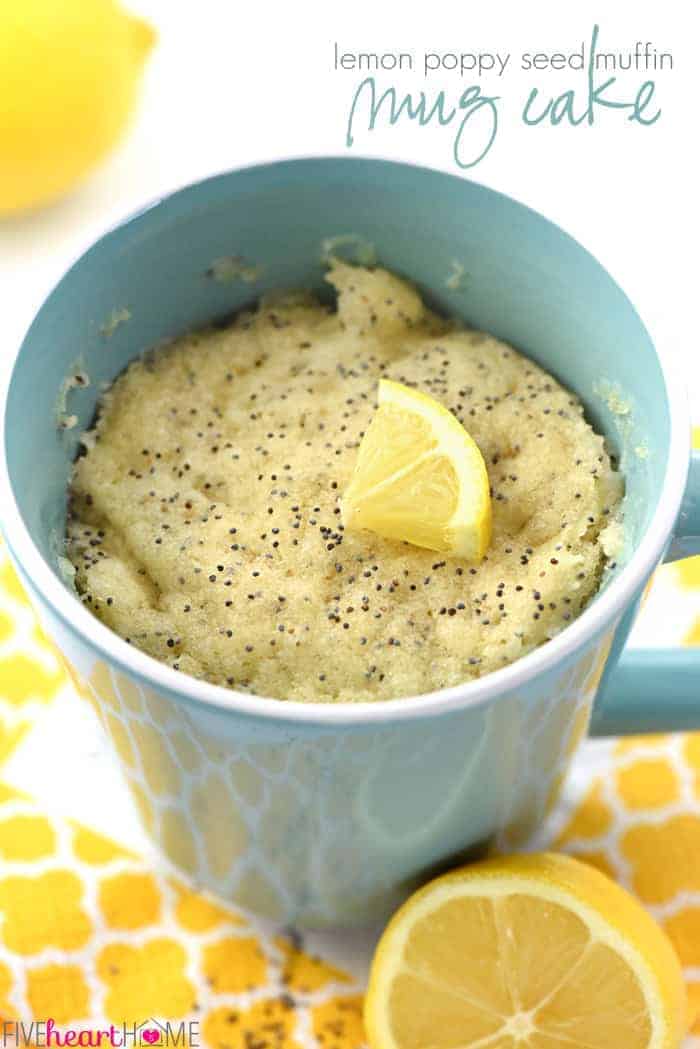 Lemon & White Chocolate Tiramisu ~ Mason Jar Trifles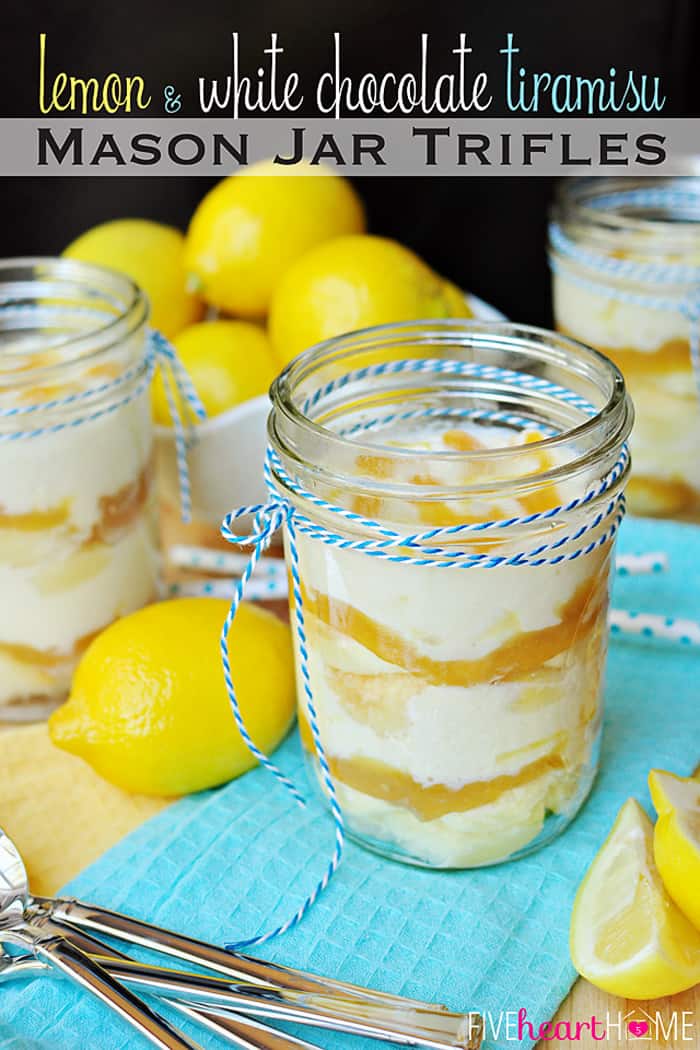 Save
Save
16