Homemade buttermilk pancake batter is baked up as cute mini muffins in this quick and easy breakfast. Top your Whole Wheat Pancake Bites with mini chocolate chips, berries, diced bananas, or nuts for even more flavor!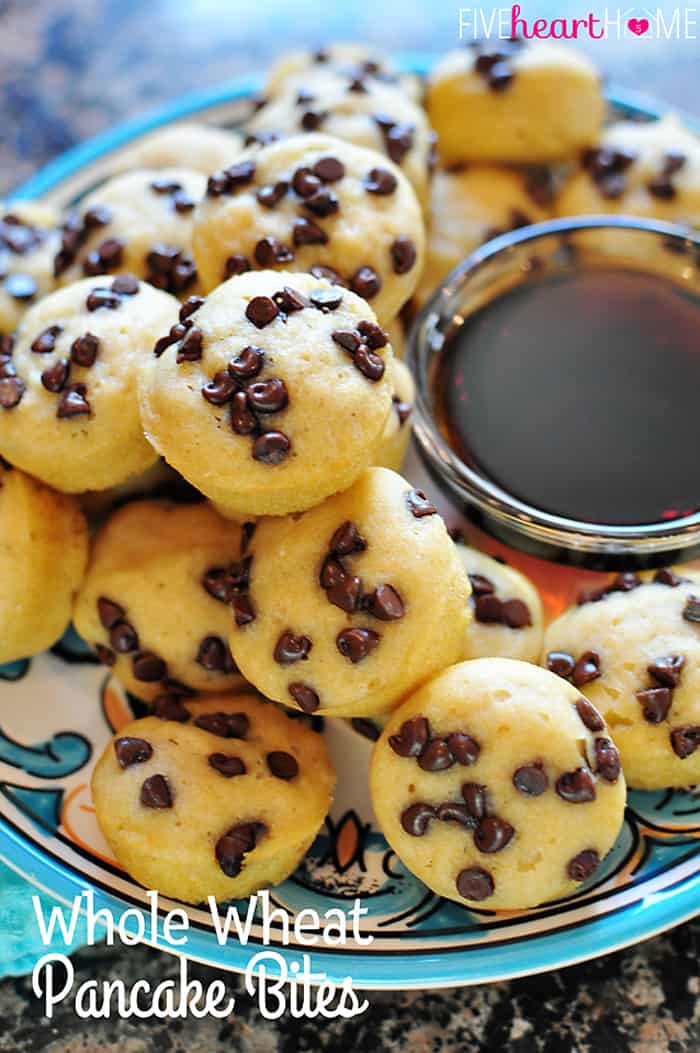 Well, Monday officially marks back-to-school at our house (Pre-K and 2nd grade...here we come!), and I've spent much of this past week putting together my game plan for how I'm going to start off the school year all organized and prepared and super efficient. Although I recognize that this urge will likely fade away as the months weeks wear on, I'm at least momentarily motivated to think outside the box when it comes to breakfast and lunch options for my kids' first week of school. So step back, cereal and oatmeal...next week I'll be surprising my offspring with Pancake Bites!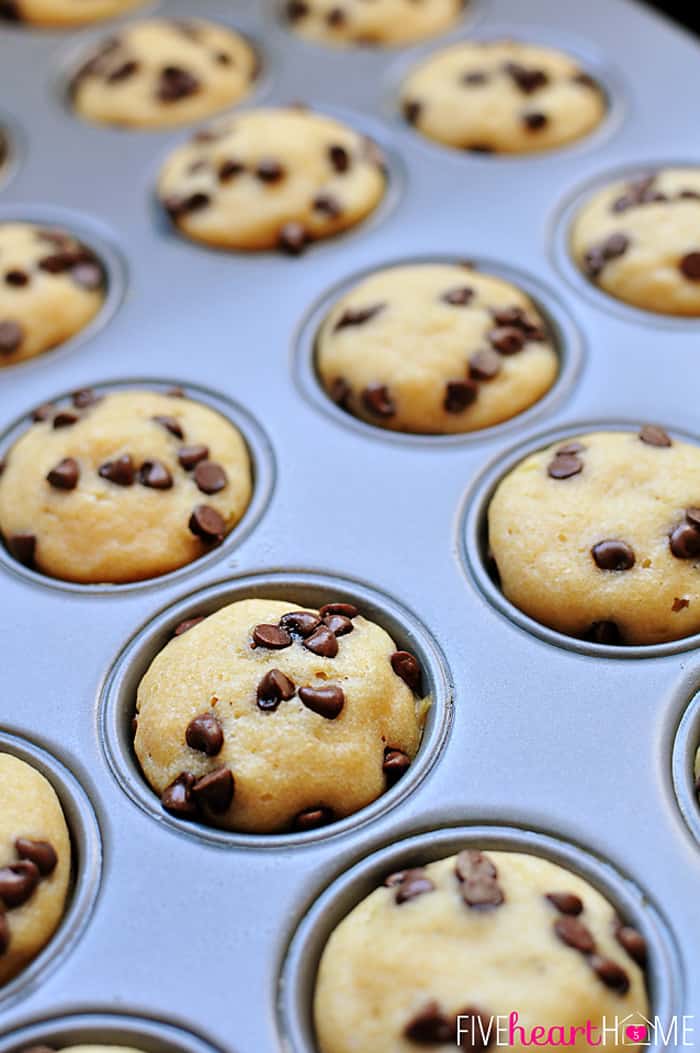 What Are Pancake Bites?
You've likely seen this concept floating around Pinterest before, but Pancake Bites basically involve everyday pancake batter baked up in mini muffin form. Instead of spending a lot of time standing at the stove cooking and flipping a few pancakes at a time, this allows you to bake a batch of pancake batter all at once using mini muffin tins.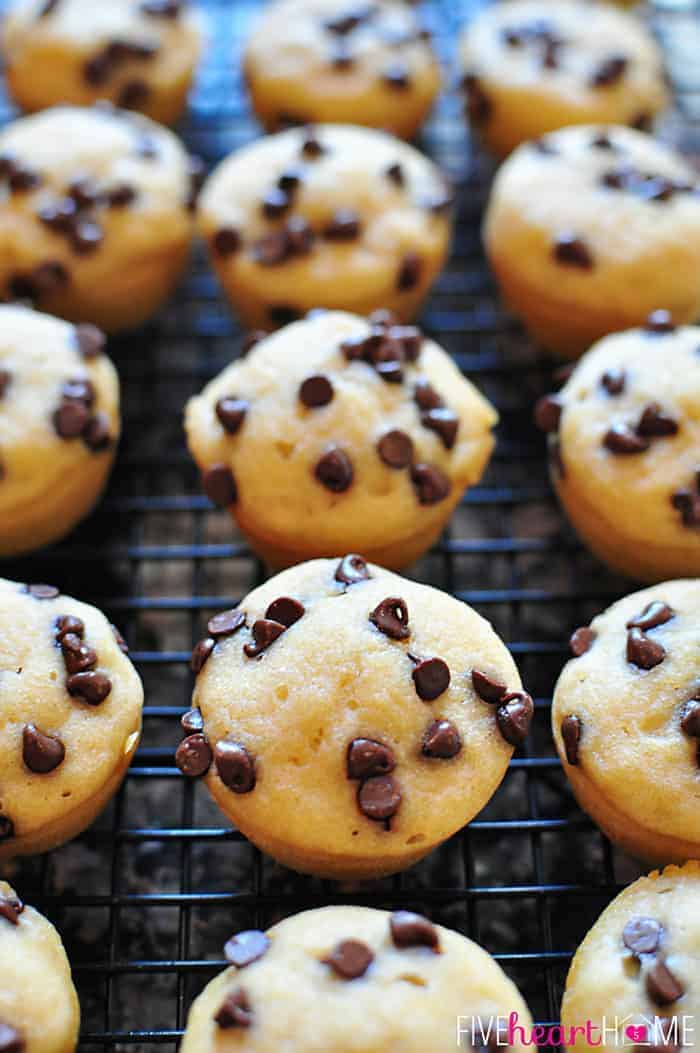 Toppings
Even more exciting? These little cuties are fun (and tasty!) to embellish.
Facing early mornings that first week of school can sometimes require a bit of extra coaxing, so I figured that sprinkling this batch of Pancake Bites with mini chocolate chips only made sense.
However, if you want to go in a healthier direction, these mini pancake-y muffins are equally delicious topped with whole blueberries or raspberries, diced strawberries, peaches, bananas, or kiwi fruit...the list goes on!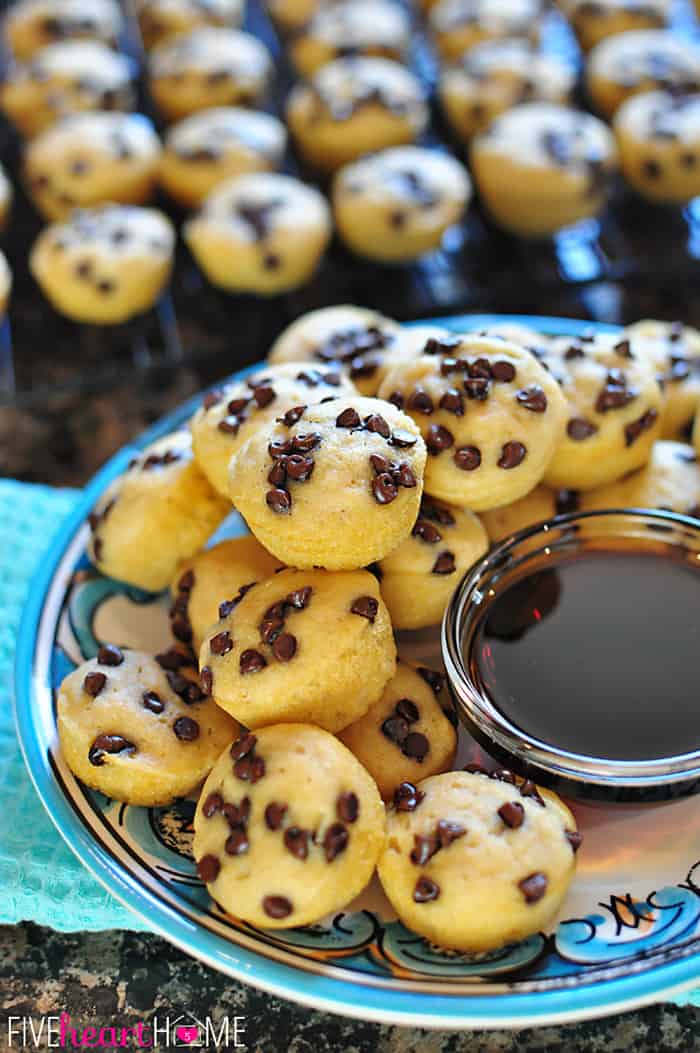 Or you could add some toasted coconut and/or nuts.
Or a sprinkle of cinnamon/sugar.
Or a streusel topping.
Or -- if you're feeling really wild and crazy -- crumbled (cooked) bacon or sausage!
Maybe I'm the only one that thinks that latter idea sounds promising, but as someone who enjoys dipping her bacon in syrup, I can't wait to try it. And if my kiddos don't enjoy that particular incarnation...oh well, more for me! 😉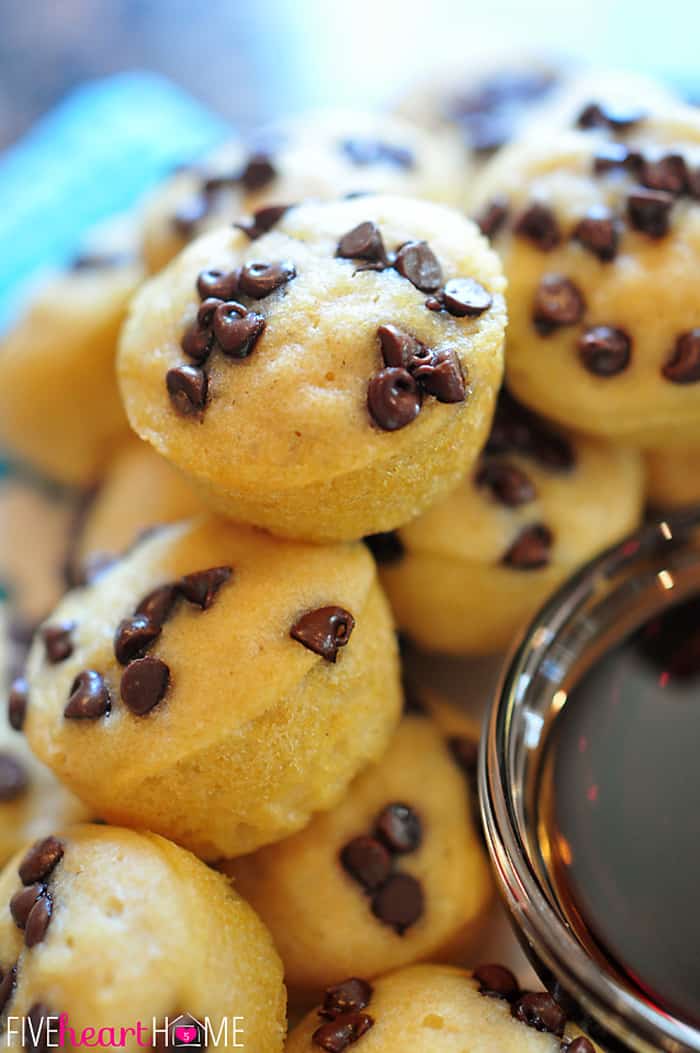 How to Serve Them
The point is, whether you embellish them or leave them unadulturated, Pancake Bites are going to be the hit of the breakfast table!
They are perfection served warm with a small bowl of maple syrup for dunking.
But they're also yummy at room temperature if you find yourself short on time and need a breakfast option that's easy to eat on the run or in the car.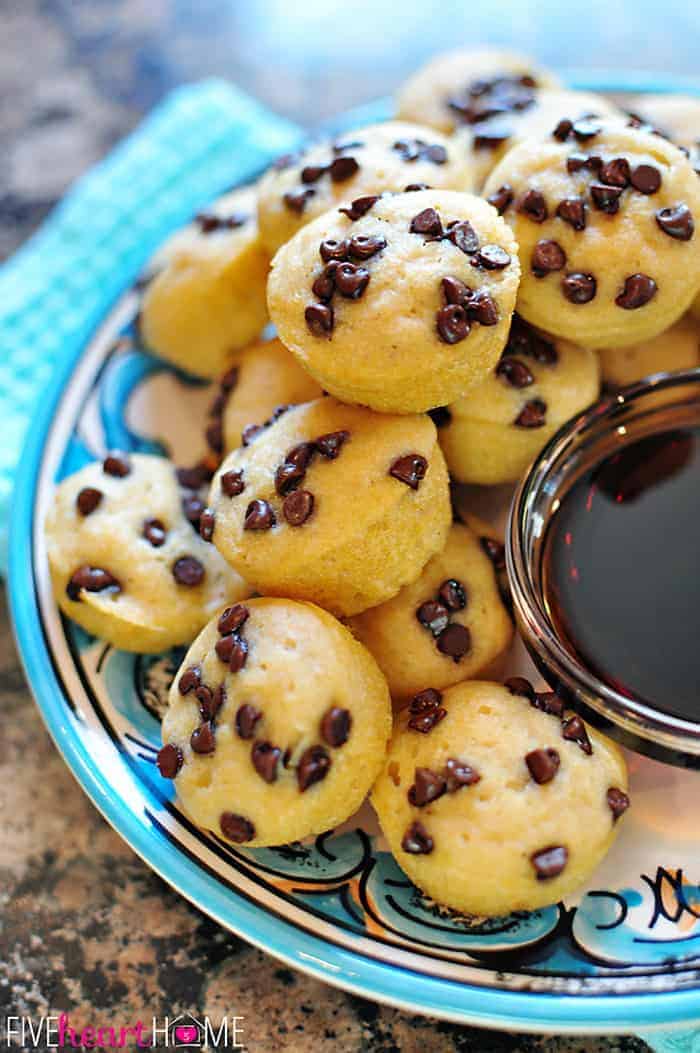 Batter Options
I whipped up these Pancake Bites using a simple pancake batter featuring whole wheat pastry flour and buttermilk. 100% whole wheat pastry flour makes them more wholesome while retaining a light flavor and texture, similar to that achieved with white flour.
However, if you have your own favorite pancake batter recipe (whether it be homemade or compliments of Bisquick), I'm sure that would work swimmingly as well! If using a different batter than the one suggested here, just keep an eye on your pancake bites to make sure that you don't need to adjust the baking time.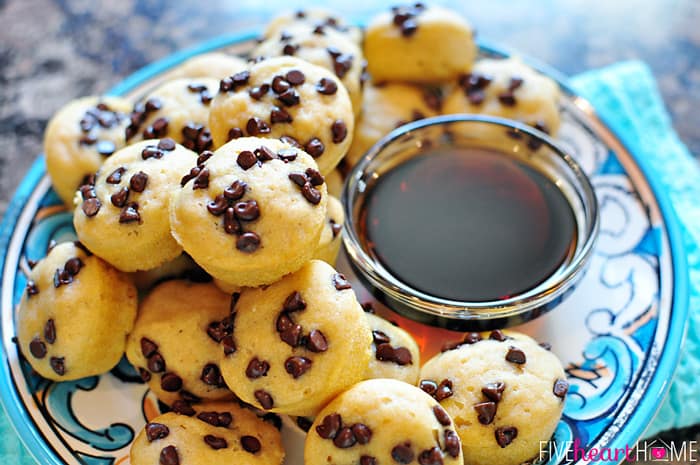 So who's already back in school?
If your summer is still going, how many weeks are left?
And are you happy or sad about the demise of summer vacation?
I love everything that summer entails, and I've loved having all of my kids home at the same time, but my endlessly-energetic and constantly-aggravating-each-other boys are about to make me lose my ever-lovin' mind.
So this mama is reluctantly ready to get back into a routine. And even if that routine involves once again waking up at an ungodly hour, at least I have Whole Wheat Pancake Bites to look forward to...once I pry myself out of bed, that is. 😉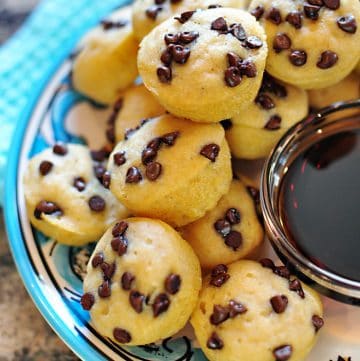 Whole Wheat Pancake Bites
Homemade buttermilk pancake batter is baked up as cute mini muffins in this quick and easy breakfast. Top your Whole Wheat Pancake Bites with mini chocolate chips, berries, diced bananas, or nuts for even more flavor!
Print
Pin
Rate
Servings:
55
to 60 mini muffins
Ingredients
2

cups

whole wheat pastry flour

1

teaspoon

baking powder

½

teaspoon

baking soda

½

teaspoon

salt

2

cups

buttermilk

,

at room temperature

2

eggs

,

at room temperature

4

tablespoons

(½ stick) unsalted butter

,

melted & cooled

1

tablespoon

maple syrup

,

or honey

½

cup

mini chocolate chips

,

or any other topping, optional
Instructions
In a large bowl, whisk together flour, baking powder, baking soda, and salt. In another bowl, whisk together buttermilk, eggs, melted butter, and maple syrup until well incorporated. Slowly pour liquid ingredients into dry ingredients while gently stirring, and mix until just combined. Do not overmix; it's okay for batter to still have lumps. Allow batter to rest for 10 minutes.

While batter rests, preheat oven to 375°F. Lightly grease or spray mini muffin pans with nonstick cooking spray. Fill each muffin cup to the top with 1 tablespoon of batter (I use a small #70 cookie scoop). Sprinkle each muffin with mini chocolate chips. Bake for 9 to 11 minutes or until muffins are cooked through and starting to turn light golden brown. Allow muffins to rest in pan for 2 minutes before turning them out. Serve warm with maple syrup for dipping.
Notes
You may use white flour in lieu of whole wheat pastry flour, if desired.
If you don't have any buttermilk on hand, you can make your own by pouring 2 tablespoons of lemon juice (or white vinegar) into a 2-cup liquid measuring cup. Fill the remainder of the measuring cup (up to the 2-cup line) with milk (whole milk is preferred but low-fat/skim milk will work). Allow to sit for 5 to 10 minutes before proceeding with recipe.
Making sure that your milk and eggs are at room temperature will prevent your melted butter from re-solidifying when it hits cold ingredients. I quickly bring my buttermilk to room temperature by zapping it in the microwave for 30 seconds or so, and I still my eggs in a bowl of warm water for a few minutes.
You may omit the maple syrup/honey in the pancake batter, if you wish.
You may leave your Pancake Bites plain or top them with mini chocolate chips, whole berries, diced fruit (strawberries, bananas, peaches, kiwi, etc.), raw or toasted nuts or coconut, crumbled (cooked) bacon or sausage, or anything else that sounds good to you!
Calories:
39
kcal
|
Carbohydrates:
5
g
|
Protein:
1
g
|
Fat:
2
g
|
Saturated Fat:
1
g
|
Cholesterol:
9
mg
|
Sodium:
51
mg
|
Potassium:
38
mg
|
Fiber:
1
g
|
Sugar:
2
g
|
Vitamin A:
50
IU
|
Calcium:
18
mg
|
Iron:
0.2
mg
Pancake batter adapted from Cook's Illustrated Baking Book.