Lemon Blueberry Muffins are light, tender, and delicious, made with whole wheat flour and bursting with fresh lemon and juicy blueberries for a wholesome breakfast or snack!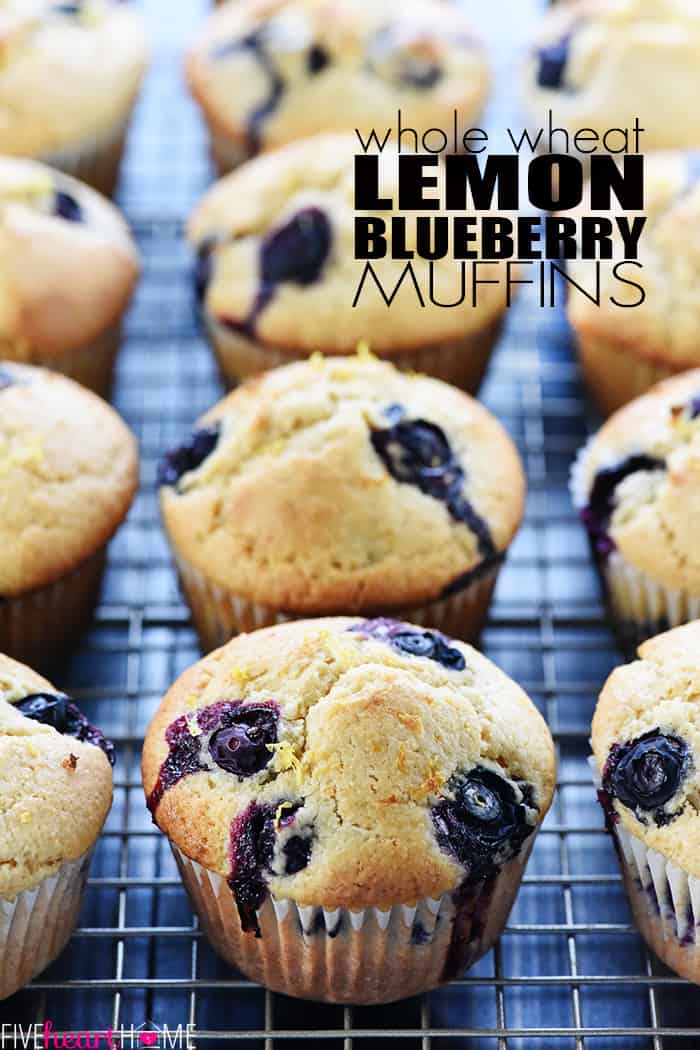 A few weeks ago, before I headed out of town to Canada, I spent a busy few days prepping to leave. My husband was coincidentally going to be away for a work trip on the same days that I was set to be gone, so my mom was coming over to our house to keep the kids. And while she's perfectly capable of wrangling the three of them on her own, I try to make things a little easier on her by making breakfasts and dinners before I leave so that all she has to do is feed the hungry mob without actually having to cook. And so were devised these delectable Lemon Blueberry Muffins!

The Inspiration
So before my trip, I whipped up a big batch of granola for breakfasts and snacks, and I also had plans to bake muffins with an extra pint of blueberries that had been hanging out in the fridge. I typically rely upon my tried-and-true Classic Blueberry Muffins recipe for such muffin-making, but I often swap in whole wheat pastry flour to up the health factor.
When my 7-year-old caught wind that I was making muffins, he asked if I could make them lemon, his favorite flavor for baked goodies. I initially told him no, because after all, I needed to use up those about-to-be-overripe blueberries. But then -- lightbulb moment -- it hit me that I could probably combine the two into Lemon Blueberry Muffins!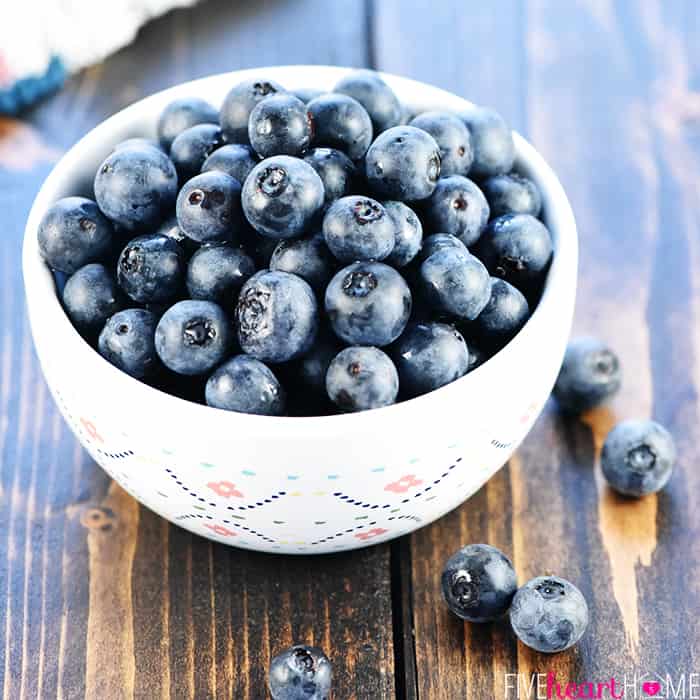 Ingredients
The ingredients for these Lemon Blueberry Muffins are pretty standard and straightforward. Here are a few noteworthy comments about a few of them:
Whole Wheat Pastry Flour. This is one of my favorite pantry staples when it comes to making baked goods more healthy. Whole wheat pastry flour is 100% whole wheat, but it lends baked goods a lighter taste and texture than regular whole wheat flour (more akin to baking with all-purpose white flour). That being said, you may substitute all-purpose flour in this recipe if you prefer. In the comments, others have also reported success making these muffins using regular whole wheat flour. However, I haven't tried doing so and it's possible that such muffins may turn out a bit denser, heavier, and more wheat-y tasting.
Butter. These muffins rely on softened butter instead of oil. As a result, the batter is decidedly thick and the muffins are soft and tender yet sturdy. I typically use unsalted, but salted will work just fine if that's all you've got.
Lemon juice. It's hard to beat fresh-squeezed citrus juice, but I've also been known to keep a bottle of real, all-natural lemon juice (AKA, the only ingredient is lemon juice) in my fridge for when I don't happen to have any fresh lemons on hand. In that case, I also leave out the zest but increase the lemon extract to ¾ teaspoon.
Blueberries. Fresh blueberries are great, but you can use frozen blueberries just as well. Just be sure not to thaw them first so that they don't get mushy and break up when you stir them in.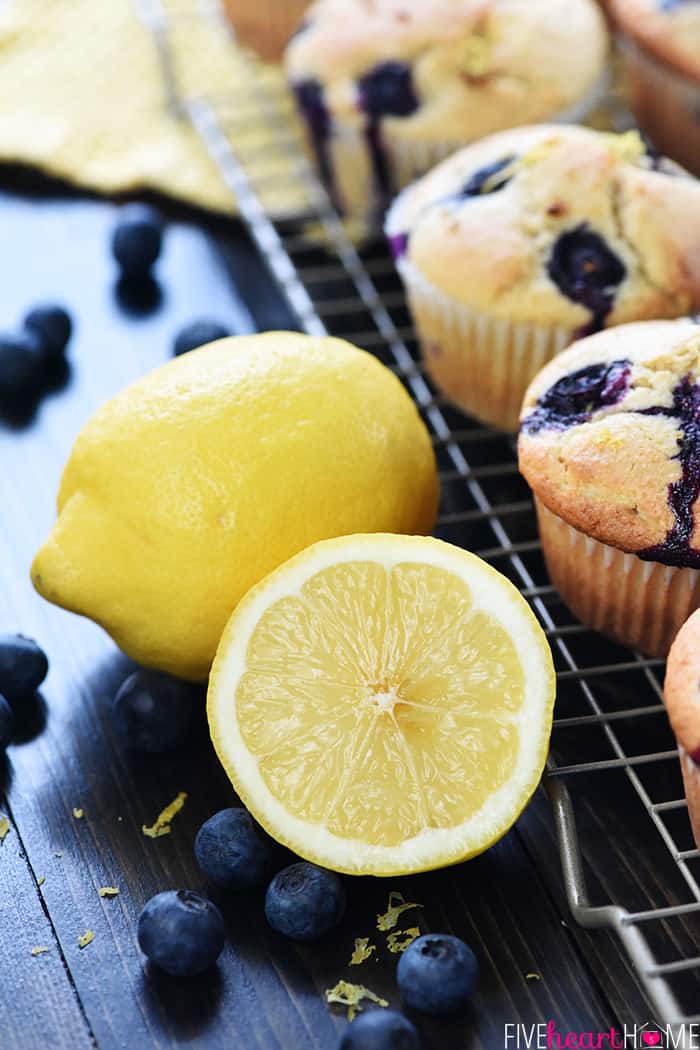 How to Make Lemon Blueberry Muffins
This recipe is quick and easy to make and, best of all, it dirties just one bowl!
Whisk together the dry ingredients.
Work in the softened butter using a fork or an electric mixer.
Blend in the remaining ingredients, and then fold in the blueberries.
Divide the batter between 18 lined muffin pans, bake until they just test done, and remove to a wire rack to cool.
Because these Lemon Blueberry Muffins bake at a relatively high temperature, they rise nicely and the tops get all golden and crunchy. The fresh lemon juice and zest add lovely flavor and the plump berries pop, oozing their sweet juices through the muffins.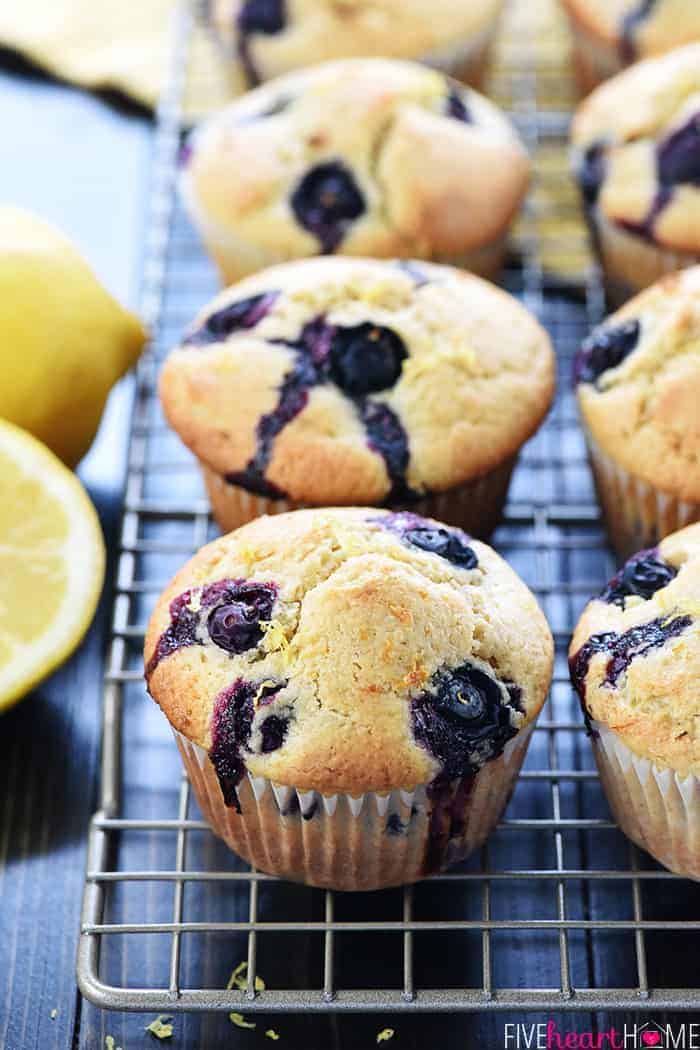 These whole wheat beauties were a success all around. They are wholesome yet light, boasting a tender crumb thanks to the 100% whole wheat pastry flour.
The kids and my mom reportedly enjoyed these muffins for breakfast every day that I was gone, alongside hard-boiled eggs and fruit. The only downside was that by the time I returned from my trip, there was nary a muffin left for me! Fortunately, I'd swiped a couple early that morning of my departure, before my red-eye flight... 😉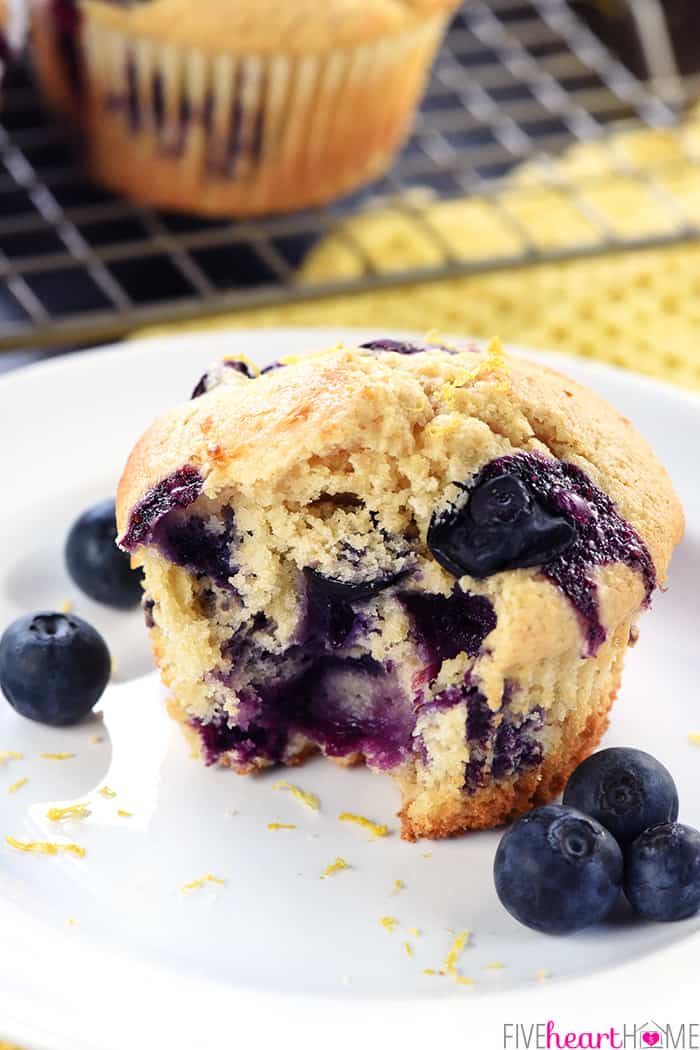 Suffice it to say that Lemon Blueberry Muffins will be going into rotation around here as our family's new favorite muffin recipe. I hope that you and yours love them just as much!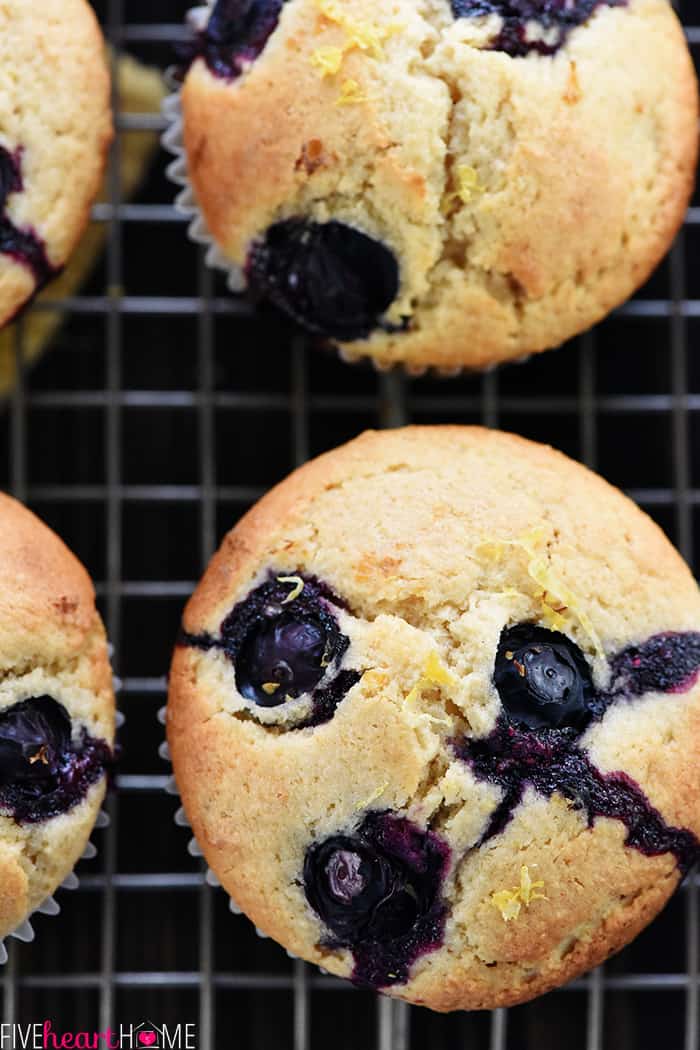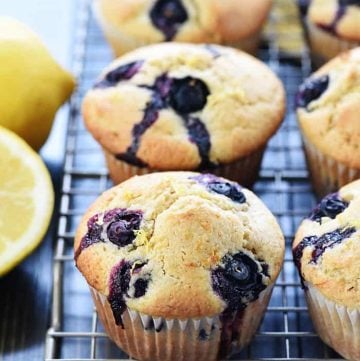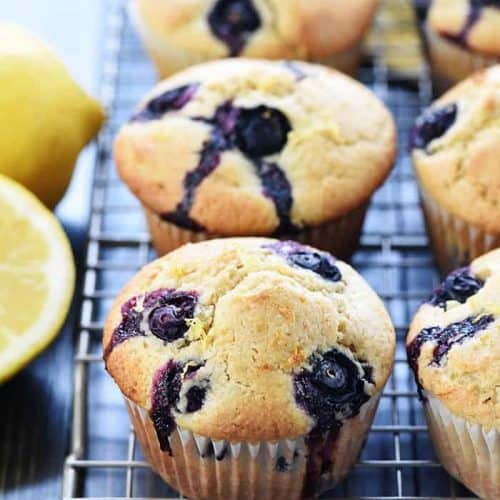 Lemon Blueberry Muffins
Lemon Blueberry Muffins are light, tender, and delicious, made with whole wheat flour and bursting with fresh lemon and juicy blueberries for a wholesome breakfast or snack!
Print
Pin
Rate
Ingredients
3

cups

whole wheat pastry flour

1

cup

sugar

1

tablespoon

baking powder

¾

teaspoon

salt

½

cup

(1 stick) butter

,

softened

2

eggs

,

at room temperature

¾

cup

milk

,

at room temperature

¼

cup

fresh-squeezed lemon juice

2

teaspoons

pure vanilla extract

2

teaspoons

lemon zest

½

teaspoon

pure lemon extract

,

optional

1

pint

fresh blueberries

,

about 2 cups
Instructions
Preheat oven to 400°F. Line 18 muffin cups with paper liners.

In a large bowl, whisk together whole wheat pastry flour, sugar, baking powder, and salt. Work in the softened butter with an electric mixer or fork. Blend in the eggs, milk, lemon juice, vanilla, lemon zest, and lemon extract (if using) until all ingredients are incorporated, but do not overbeat. Gently fold in the blueberries. Evenly divide the batter between the 18 prepared muffin cups.

Bake for 18 to 23 minutes or until the muffins just test done with a toothpick, taking care not to overbake. After a few minutes, remove the muffins from the pans and cool on a wire rack, or eat them warm out of the oven with a pat of salted butter.
Notes
You may use frozen blueberries in these muffins, but don't thaw them first. Doing so will just make them all mushy.
This recipe comes together quickly in the bowl of a stand mixer, but you can also mix it in a bowl by hand if you prefer.
For an extra special touch, sprinkle the muffins with coarse sparkling sugar before baking.
Calories:
187
kcal
|
Carbohydrates:
30
g
|
Protein:
3
g
|
Fat:
6
g
|
Saturated Fat:
3
g
|
Cholesterol:
32
mg
|
Sodium:
154
mg
|
Potassium:
183
mg
|
Fiber:
2
g
|
Sugar:
14
g
|
Vitamin A:
215
IU
|
Vitamin C:
4.1
mg
|
Calcium:
53
mg
|
Iron:
0.9
mg
Post originally published on July 13, 2017.
Save