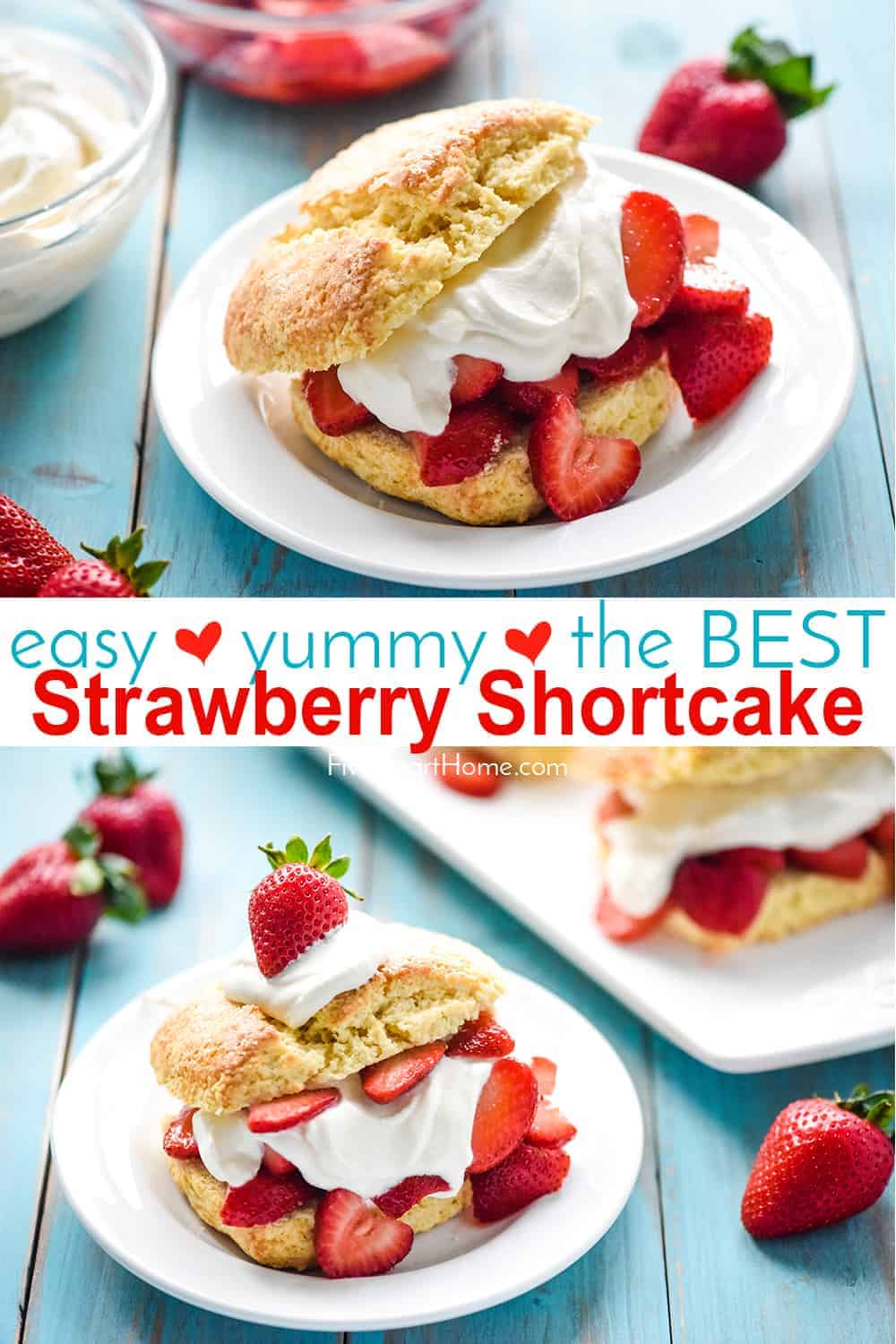 This scrumptious Homemade Strawberry Shortcake recipe is made from scratch using a method that makes it quick and easy, for a simple version of the classic summertime dessert!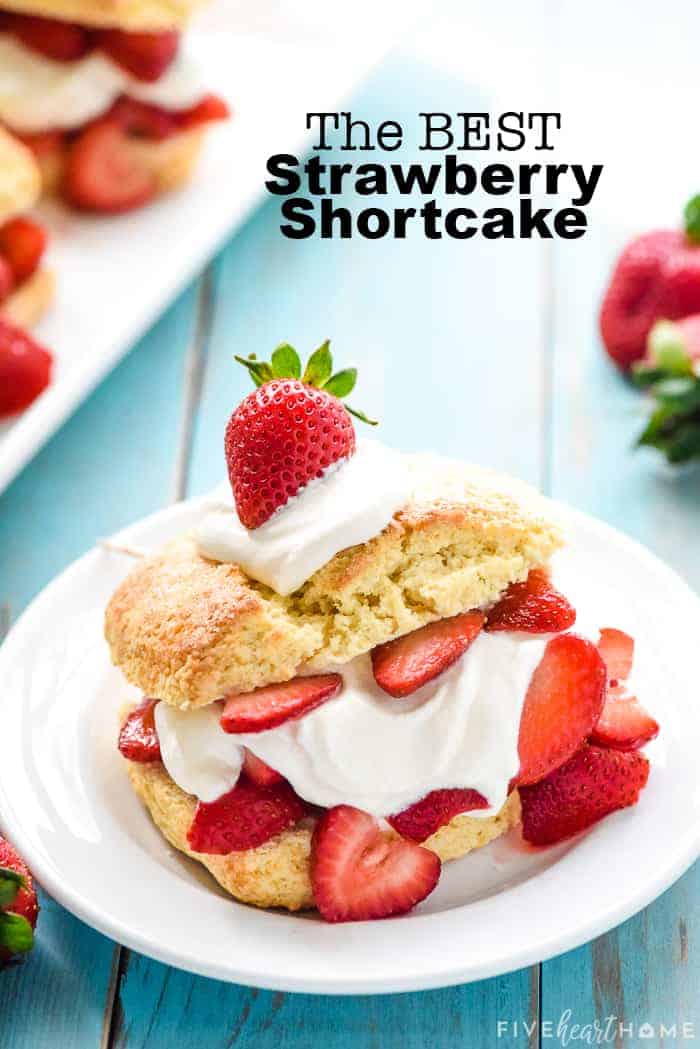 For more tasty treats that make the most of strawberry season, you may also enjoy Strawberry Chicken Salad, Strawberry Iced Tea, or Strawberry Spinach Salad!
It's taken me years, but -- glory be! -- I'm finally getting my Homemade Strawberry Shortcake recipe up for y'all on the ol' blog! Because, let's be honest...if this isn't the quintessential summer dessert, I'm not sure what is.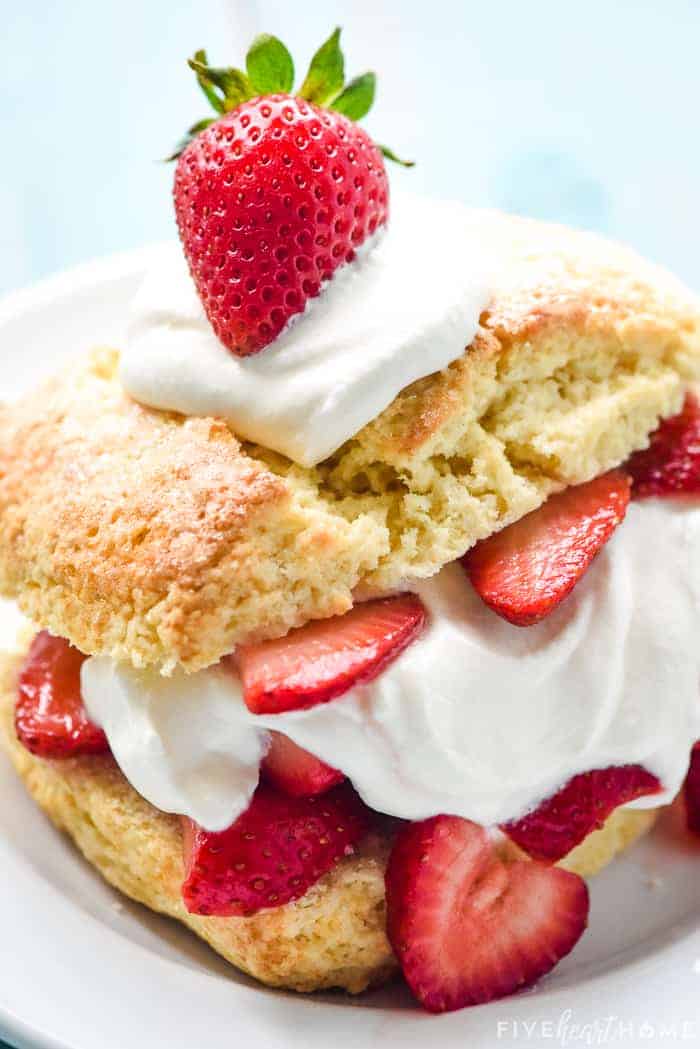 Now, I knew that if I was going to share a Strawberry Shortcake recipe, it had to be three things:
Homemade and from-scratch, using real ingredients.
Relatively quick and easy. And...
ABSOLUTELY DELICIOUS!
And I'm happy to report that this recipe achieves all three of those lofty goals!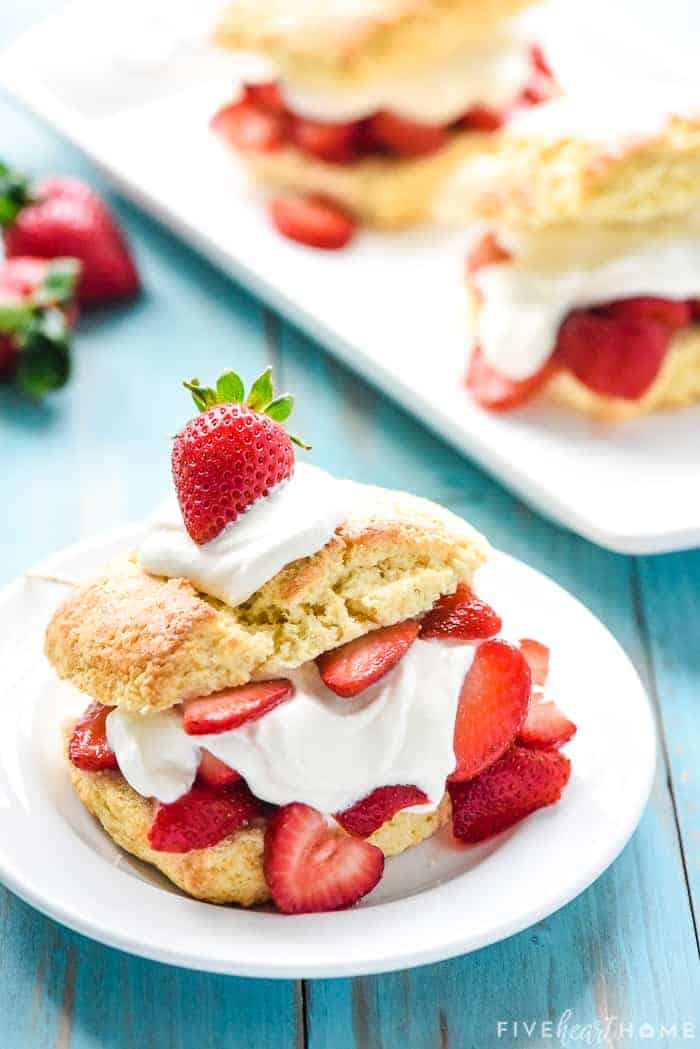 Homemade & From Scratch
I realize that there are shortcut versions of easy Strawberry Shortcake utilizing a certain ubiquitous baking mix, but I promise that whipping up from-scratch shortcakes using real, quality ingredients will make your dessert even better!
I also promise that it's not rocket science...we're talking flour, sugar, baking powder, salt, butter, milk, and eggs here. Simple, basic ingredients for amazing, homemade results!
And with my quick and easy method, using real ingredients doesn't take much more time or effort than using Bisquick.
So let's explore exactly how to make this amazing Homemade Strawberry Shortcake, shall we?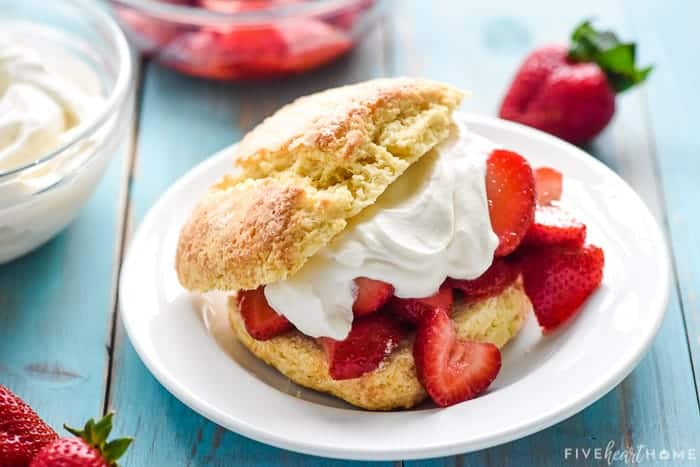 How to Make Strawberry Shortcake
Have I mentioned that this recipe is easy? 😉 It's pretty quick, too. As for the secret to success? Drumroll please...you can make the shortcake dough in mere minutes in the food processor!
But first, slice the strawberries and combine with sugar so they can macerate while you prep the other components of the dessert.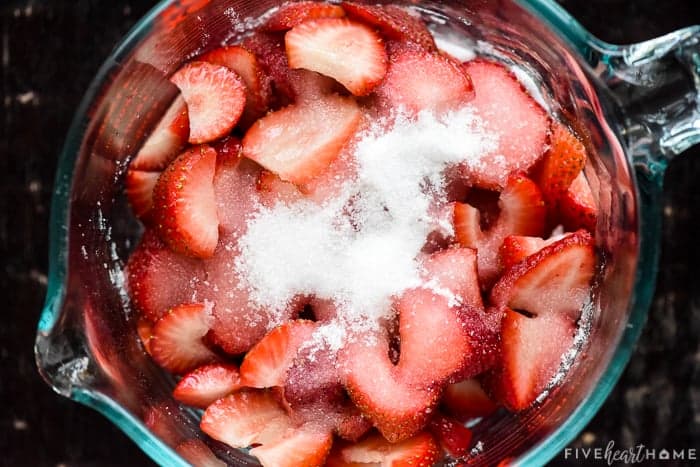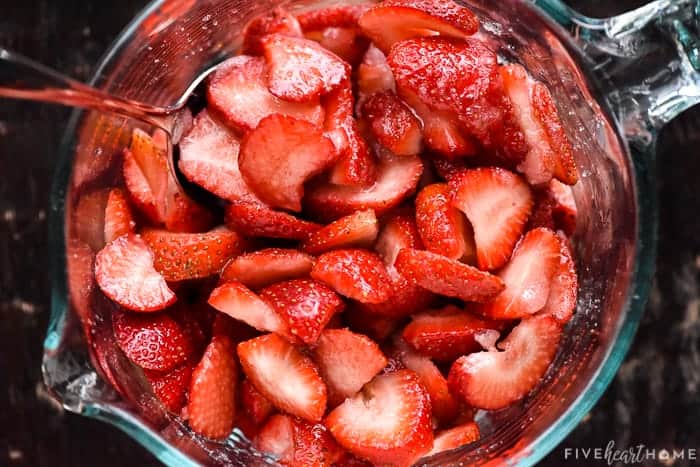 Once the strawberries are doing their thing, get started on the simple shortcake dough. This version of shortcake is more like American biscuit dough than an English sponge cake. I personally think a biscuit-like texture holds up better to juicy berries.
Simply pulse together the dry ingredients until combined.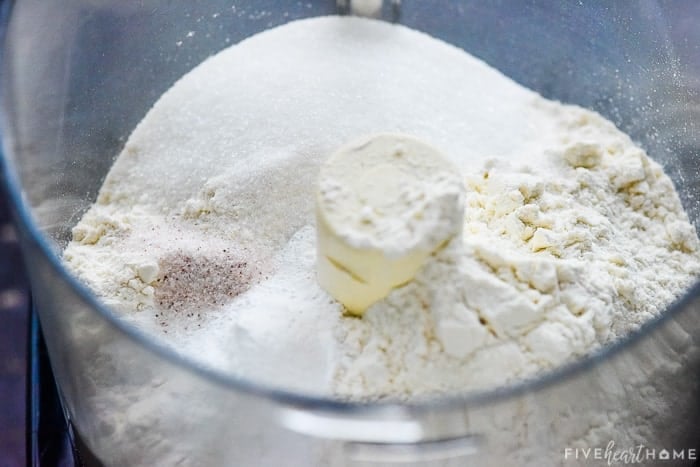 Add cubed, cold butter.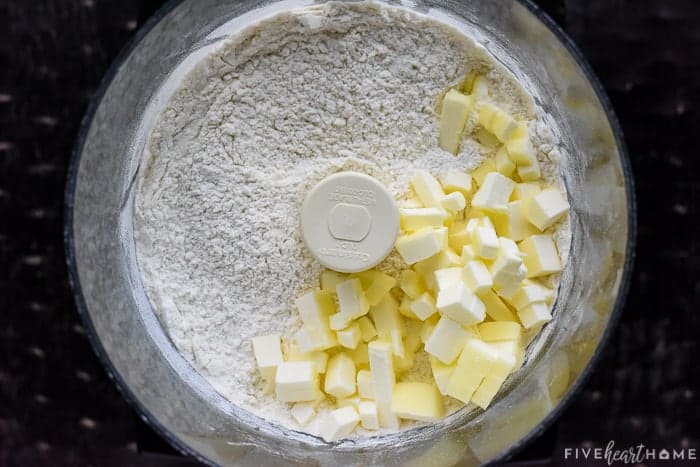 Pulse some more until the texture resembles coarse sand.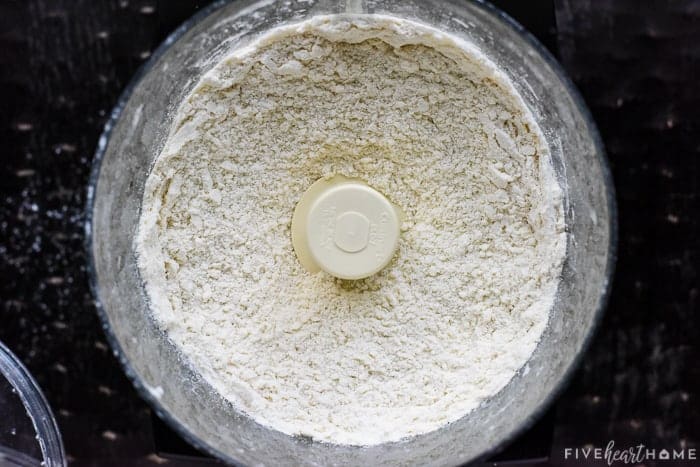 Whisk an egg into half a cup of milk. Feed that mixture through the tube of the food processor while pulsing until the dough forms large clumps.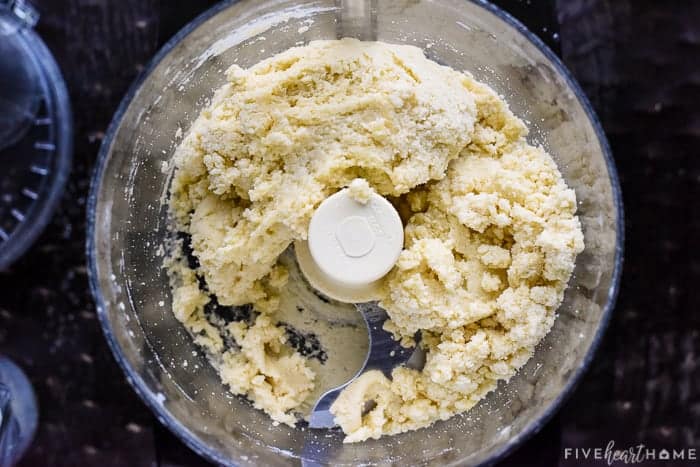 Then turn the dough out onto a floured board and gently knead until it comes together. Using your hands, form the dough into a 7 ½-by-5-inch rectangle (which should be ¾- to 1-inch thick).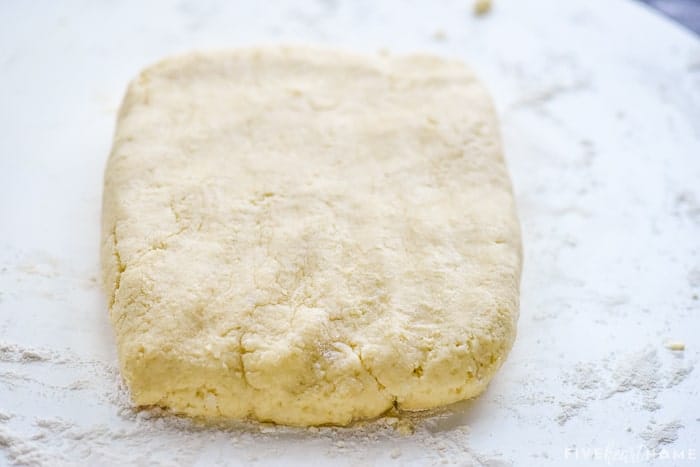 Use a pastry cutter to slice the rectangle into six equal squares.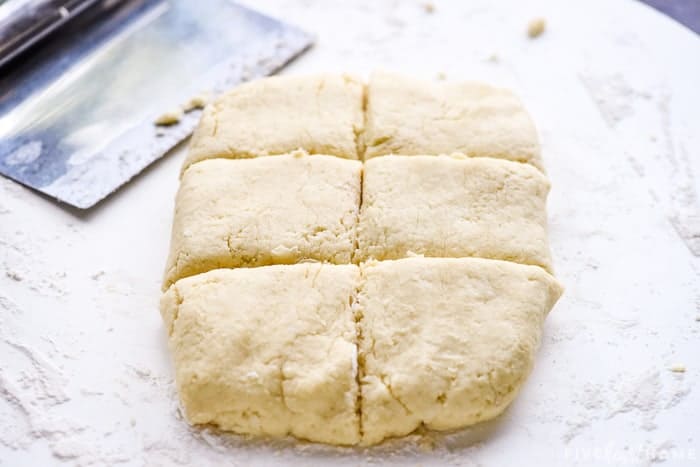 Arrange them on a parchment paper-lined baking sheet. I highly recommend brushing them with egg white and then generously sprinkling with sugar.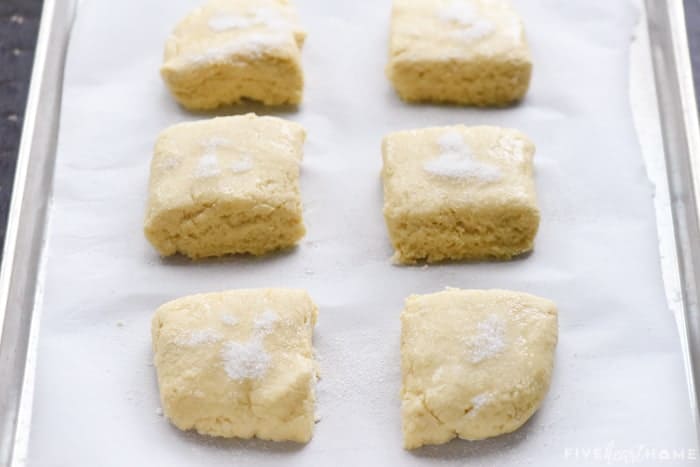 Finally, bake until puffy and beautiful and golden-brown!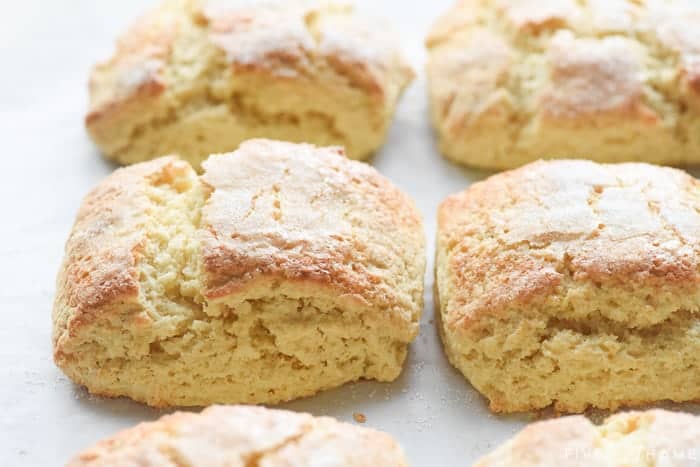 While the shortcakes are cooling, whip up some heavy cream with a smidge of vanilla and powdered sugar and set aside.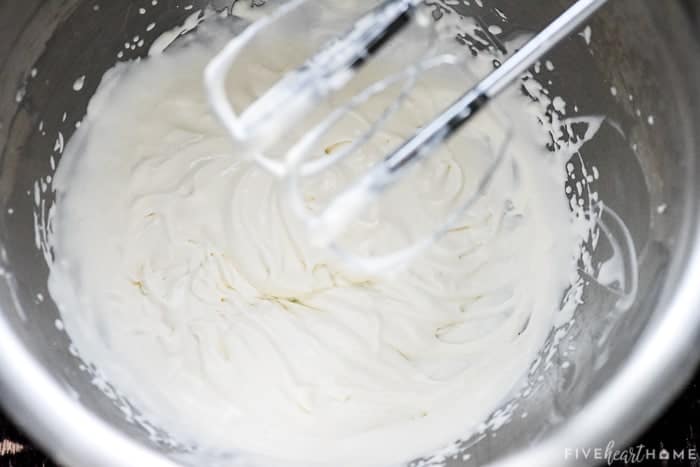 How to Assemble Homemade Strawberry Shortcake
Once your lovely pastries have had a chance to cool, it's time to assemble your Homemade Strawberry Shortcakes!
Slice a shortcake in half and place the bottom on a plate. Top with a big spoonful of macerated strawberries...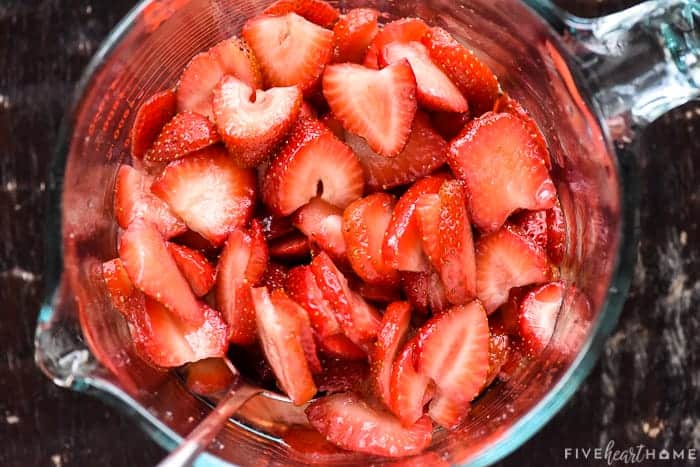 ...and a generous dollop of fresh whipped cream.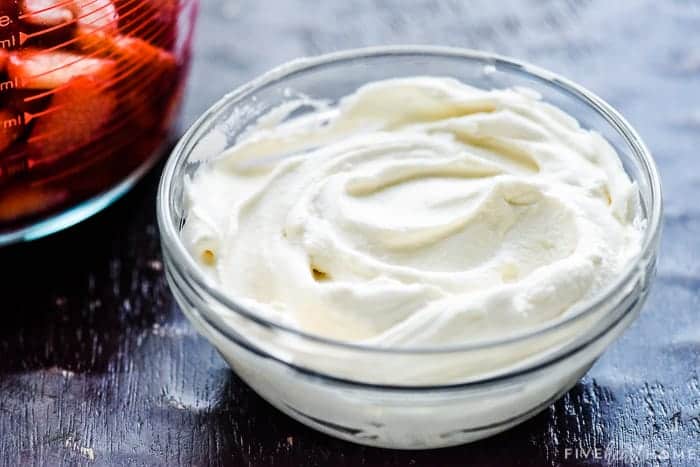 Looks pretty darn fabulous, doesn't it?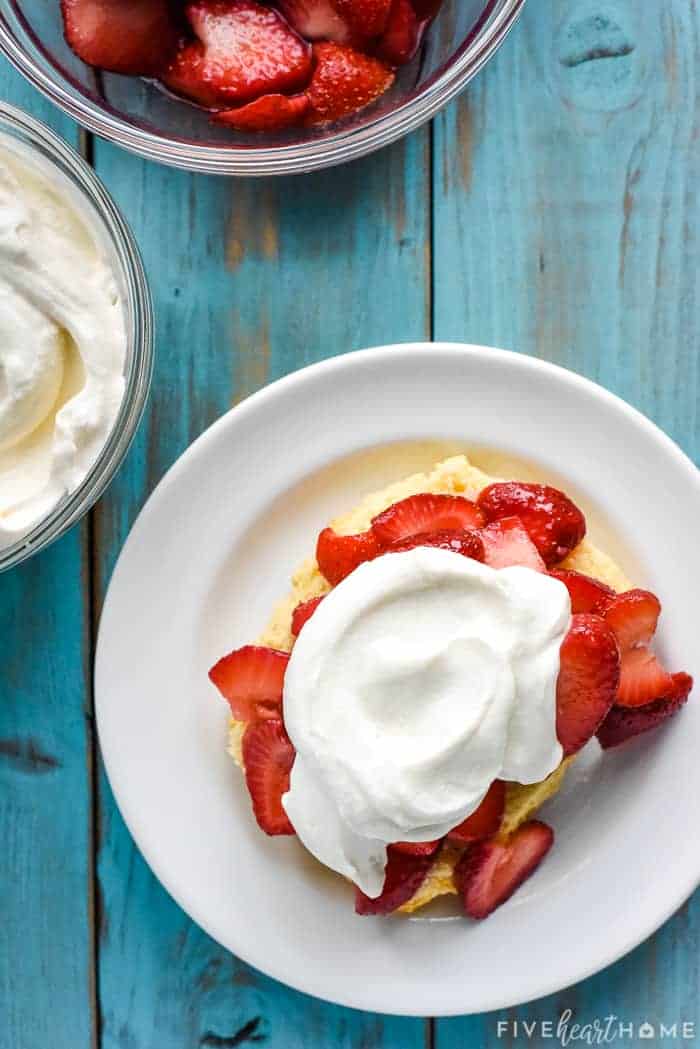 BECAUSE IT IS. Place the lid of the shortcake on top and repeat with your other five pastries.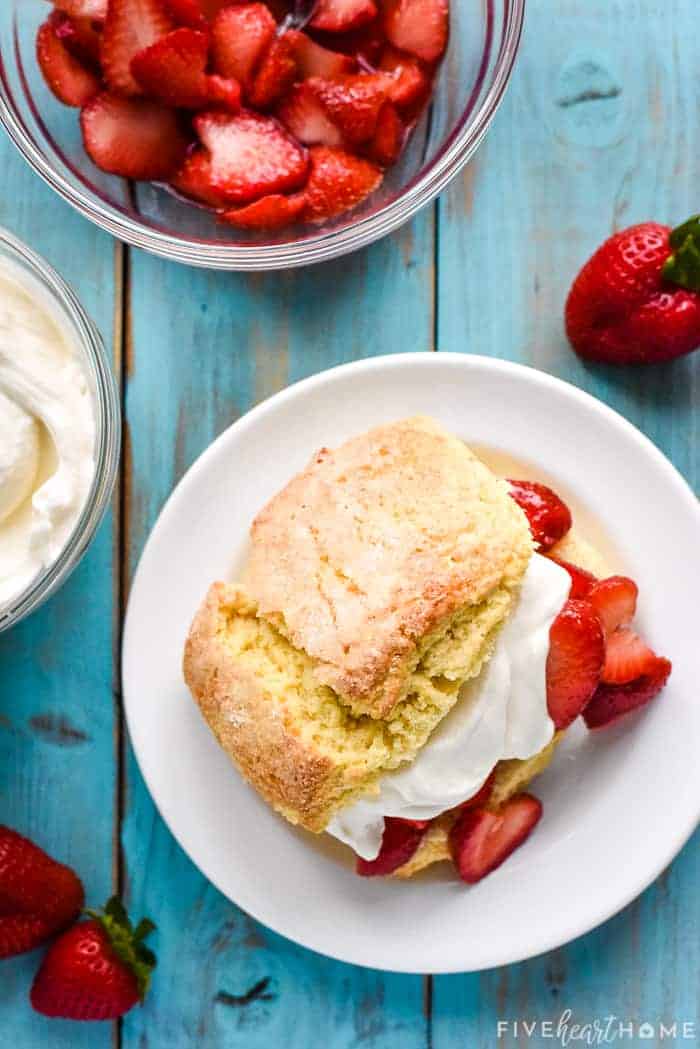 Ta-daaaaaa! A gorgeous, gloriously delicious, perfect-for-summer, easy, Homemade Strawberry Shortcake recipe!
And please don't be intimidated by the length of the recipe, y'all. As you can see above, there are multiple steps, but they are all simple and straightforward. I promise that the minimal time and effort put into this recipe are well worth the final results!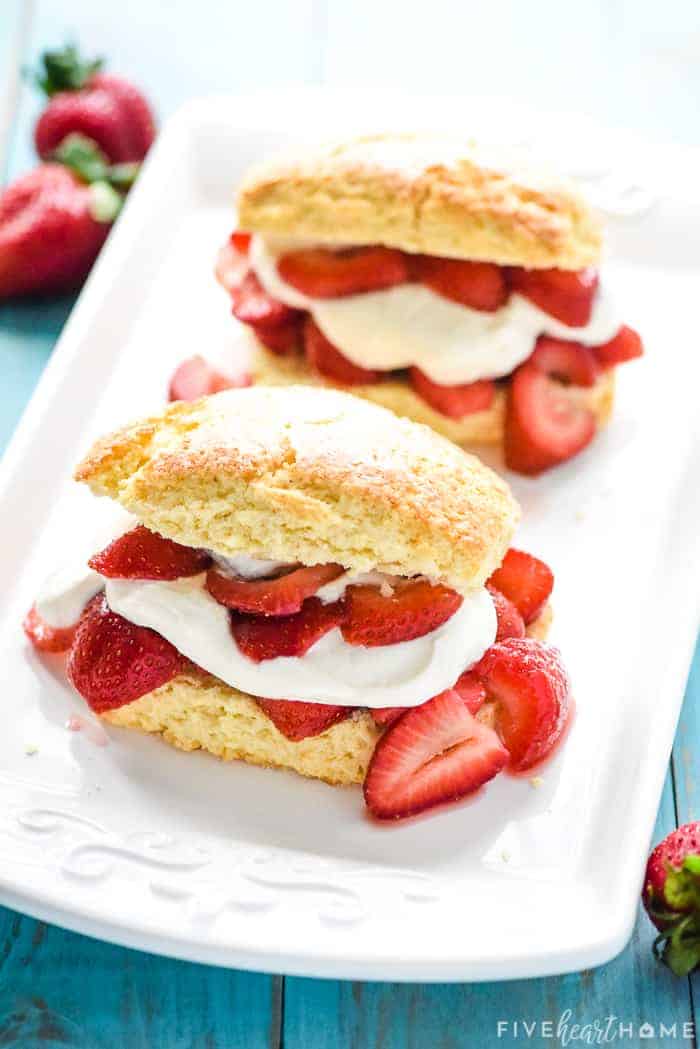 So are you ready for a beautifully sweet taste of summer? This Homemade Strawberry Shortcake recipe is so easy and so scrumptious that it truly makes the perfect summer dessert. In fact, I predict that after you make it once, it just might end up on your annual summer bucket list. 😉 Enjoy, friends!
More Summer Berry Desserts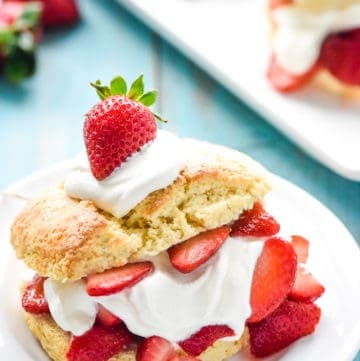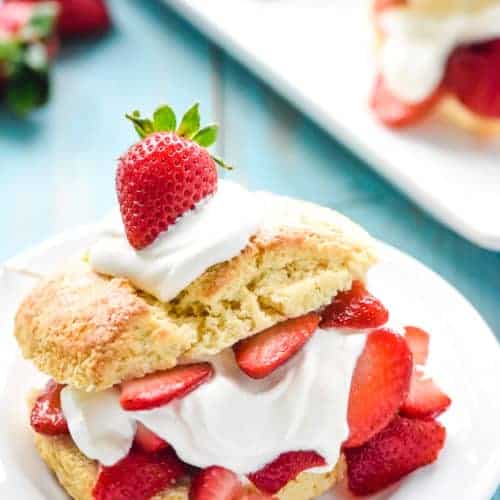 Homemade Strawberry Shortcake
This Homemade Strawberry Shortcake recipe is the BEST...a simple, homemade, scrumptious version of the classic summertime dessert!
Print
Pin
Rate
Ingredients
For the Strawberries:
1 ½

pounds

strawberries (about 6 cups whole berries)

,

washed, hulled, & sliced (for about 4 cups sliced)

6

tablespoons

sugar
For the Shortcakes:
2

cups

unbleached all-purpose flour

,

plus extra for forming & cutting dough

¼

cup

sugar

1

tablespoon

baking powder

½

teaspoon

salt

½

cup

(1 stick) unsalted butter

,

chilled & diced

½

cup

whole milk

1

egg

1

egg white

,

beaten

Coarse sparkling sugar (or regular granulated sugar)

,

optional
For the Whipped Cream:
1

cup

heavy cream

,

chilled

1

teaspoon

pure vanilla extract

3

tablespoons

powdered sugar
Instructions
For the Strawberries:
Place the sliced strawberries in a bowl and sprinkle with the sugar. Stir to combine, cover, and refrigerate for 1 to 2 hours to allow the berries to macerate.
For the Shortcakes:
Place an oven rack in the lower-center position of the oven. Preheat the oven to 425°F. Line a baking sheet with parchment paper and set aside.

Measure the flour, sugar, baking powder, and salt into the bowl of a large food processor. Pulse to combine. Add the cold butter and pulse (1-second pulses) until the butter is incorporated and the mixture resembles coarse sand.

In a measuring cup, use a fork to whisk together the milk and the egg. Slowly pour the milk mixture through the tube of the food processor while pulsing (1-second pulses) until the dough just forms into large clumps. Turn out the dough onto a floured surface and gently knead until it comes together.

Use your hands to form the dough into a rough rectangle measuring approximately 7 ½- by 5-inches (and ¾- to 1-inch thick). Use a floured pastry cutter to cut the dough into six equal squares. Arrange them on the parchment paper-lined baking sheet with 1 to 2 inches between each piece. Brush the tops with the beaten egg white and sprinkle with sparkling or granulated sugar.

Bake for 10 to 12 minutes or until the shortcakes are puffed up and golden brown. If the tops are getting too dark before the centers are done, loosely lay a sheet of foil over the tops for the last few minutes of baking time. Transfer the baking sheet to a cooling rack and allow to cool for 10 to 15 minutes or until they are still warm but cool enough to handle.
For the Whipped Cream:
While the shortcakes are cooling, measure the heavy cream into a bowl. Add the vanilla and powdered sugar. Using an electric mixer, start on low speed then increase to medium-high and whip until stiff peaks just form (do not overbeat or the cream will start to curdle). Set aside.
To Assemble:
Slice each shortcake in half like a biscuit. Place the six bottom halves on individual plates (or on a large serving platter) and top with macerated strawberries, evenly dividing the berries between the shortcakes. Add a generous dollop of whipped cream on top of the strawberries on each shortcake. Carefully lay the shortcake tops over the whipped cream, garnishing the tops with remaining whipped cream, if desired. Serve immediately.
Notes
Whipped cream gets the best volume when you use very cold cream plus a chilled bowl and beaters. I typically pop my bowl/beater in the freezer for 10 minutes before I make my whipped cream.
Calories:
459
kcal
|
Carbohydrates:
65
g
|
Protein:
6
g
|
Fat:
20
g
|
Saturated Fat:
12
g
|
Cholesterol:
56
mg
|
Sodium:
212
mg
|
Potassium:
454
mg
|
Fiber:
3
g
|
Sugar:
29
g
|
Vitamin A:
665
IU
|
Vitamin C:
66.7
mg
|
Calcium:
145
mg
|
Iron:
2.6
mg
Adapted from Baking Illustrated.
Originally published June 8, 2019, and updated on June 15, 2020.