Strawberry Chicken Salad is light and fruity, with crunchy toasted pecans and a creamy, honey-kissed, poppy seed dressing that's been lightened up with Greek yogurt!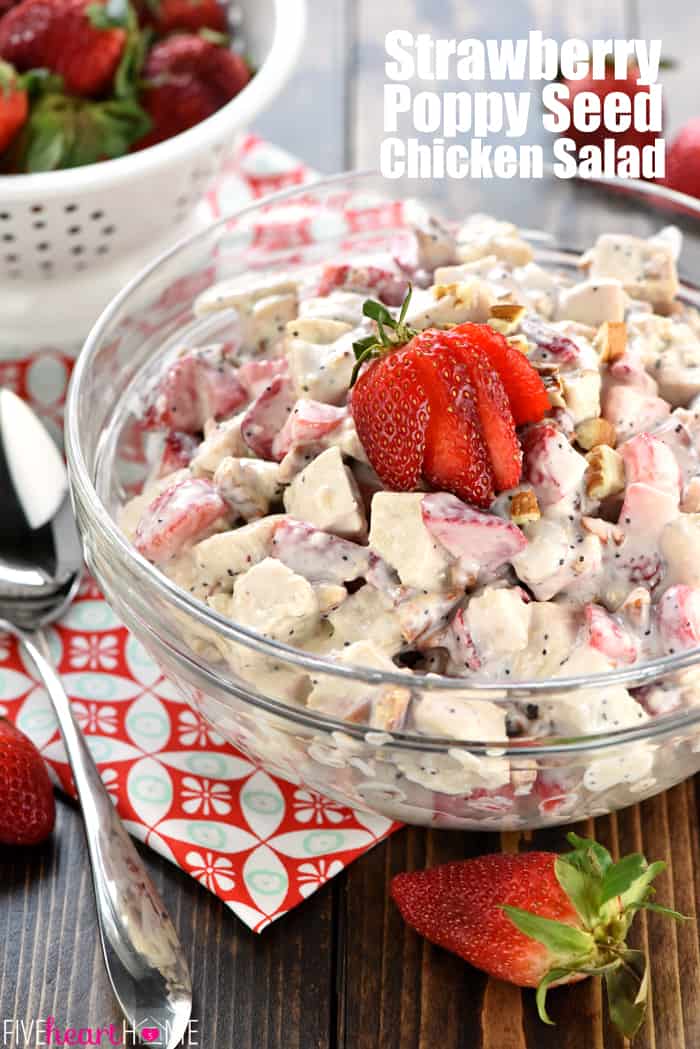 Spring is officially here...yippee! True to form, central Texas was already hitting the high 80s in February...and then dipped into the mid-30s last night. Our poor bluebonnets are so confused. Nevertheless -- Lone Star State weather-schizophrenia aside -- the arrival of spring (and Easter coming up this weekend) means that it's time to bring on the light and lovely recipes that have been hibernating all winter! Chicken salad anyone? Or perhaps...Strawberry Chicken Salad?
I've revamped my favorite, tried-and-true Sonoma Chicken Salad before (AKA, my fall-friendly Apple Chicken Salad), but I haven't yet given it a spring spin...until today.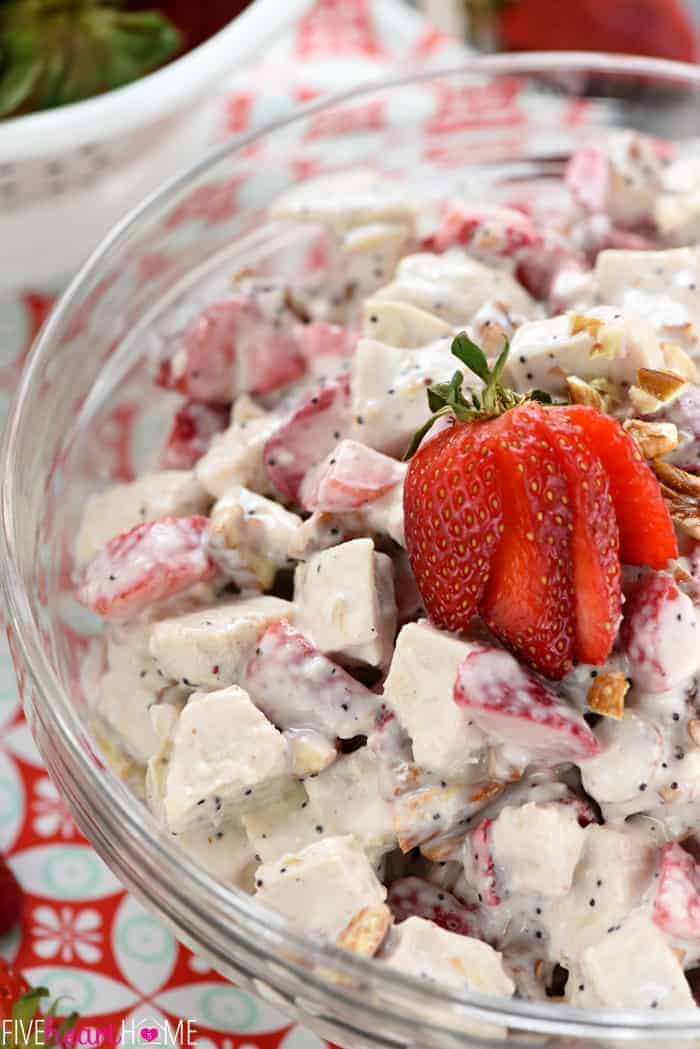 Ingredients
Strawberry Chicken Salad boasts tender chunks of chicken and toasty pecans in a honey-sweetened, poppy seed-studded, Greek yogurt-based dressing.
And have I mentioned the ruby-red diced strawberries? Well, they add a juicy pop of sweetness to every bite!
Ways to Enjoy It
Yup, this is pretty much chicken salad perfection, made over for Easter gatherings and picnic baskets and spring or summer baby or bridal showers.
It can be piled onto mini croissants or homemade sandwich bread.
It can be scooped up with crackers.
It can be rolled into wraps.
It can be served on a bed of lettuce and eaten as a true salad.
But no matter how you serve your Strawberry Chicken Salad, it's guaranteed to elicit oohs and ahhs and disappear in a flash! Because -- let's admit it -- not only is it scrumptious, but it's a unique (and pretty!) twist on a beloved classic.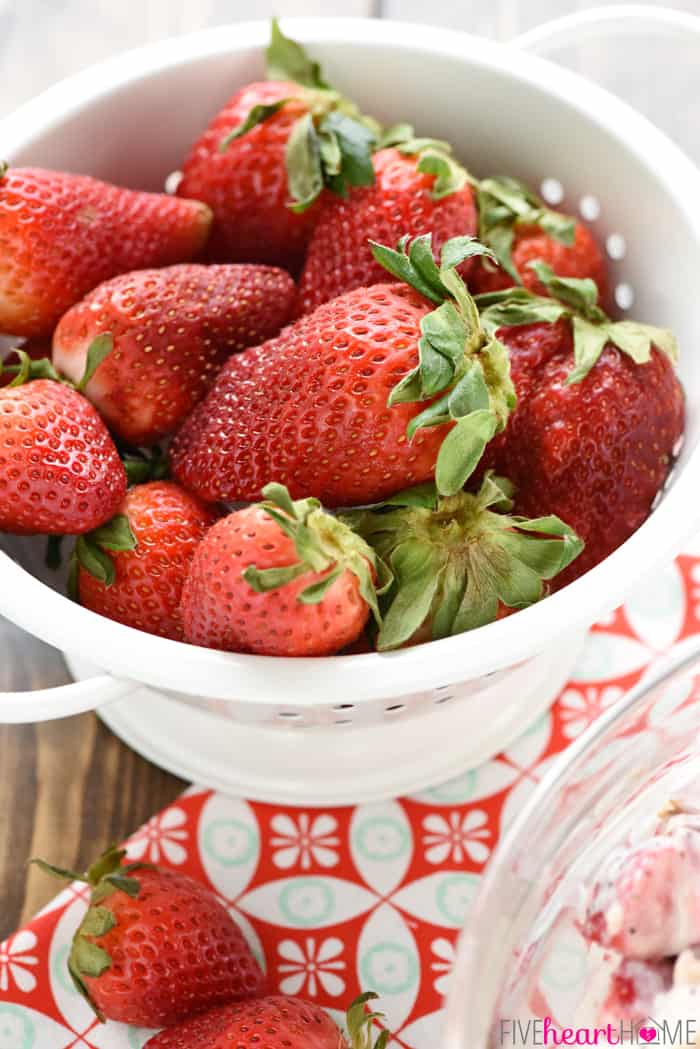 The Add-Ins
I always prefer toasting my pecans for extra crunch, and I do so while the chicken breasts are cooking so that this step doesn't end up taking any extra time.
If you like, you may swap out your favorite type of nut for the pecans -- chopped walnuts or sliced almonds would be yummy as well.
As for the poppy seeds in the dressing, feel free to add more than a teaspoon. In fact, I probably would have added twice that much if making this chicken salad for myself. However, seeing as how I knew I'd be feeding this batch to three unpredictably-persnickety children, I figured I better exercise restraint when adding suspicious black specks to their food.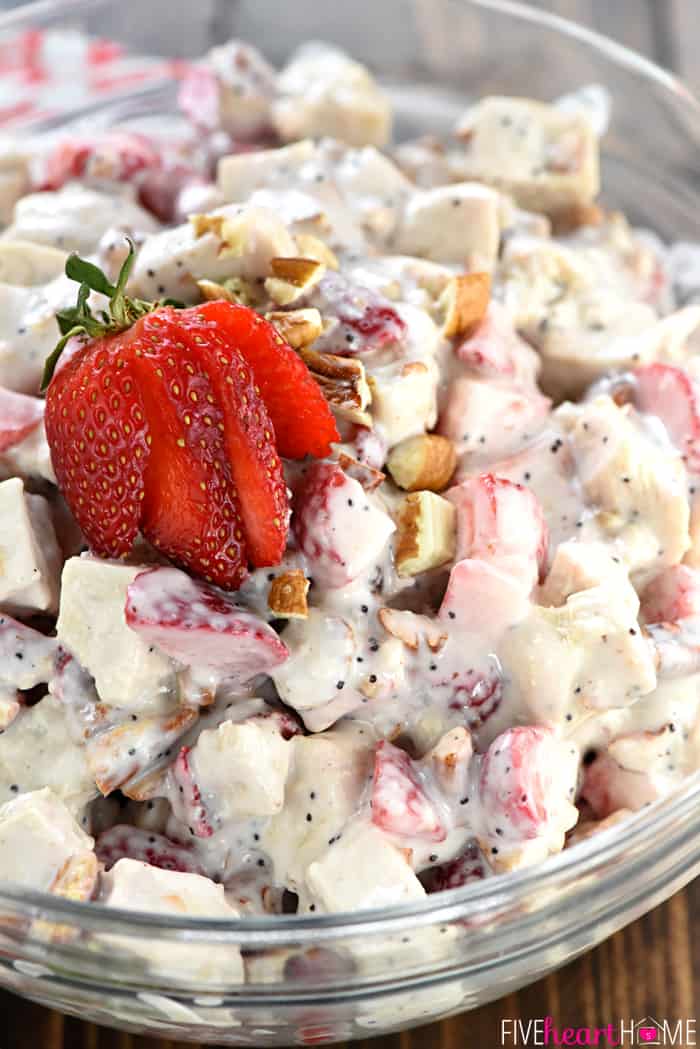 Dressing Tips & Tricks
When I first started making chicken salad, I used solely mayonnaise for the base of the dressing. Over the years, however, I've started swapping out half of the mayo for Greek yogurt to lighten it up and make it healthier.
In this Strawberry Chicken Salad, I actually used ⅔ Greek yogurt and only ⅓ mayonnaise and it still tasted perfect. So honestly? I think you could probably tweak the Greek yogurt/mayo ratio to your liking and this recipe would turn out delicious.
The amount of honey you use is also adjustable. I've always added ¼ cup honey to my dressing and received nothing but rave reviews. This is supposed to be a sweet and fruity chicken salad, after all! But if you prefer your chicken salad more savory, you are more than welcome to reduce the honey.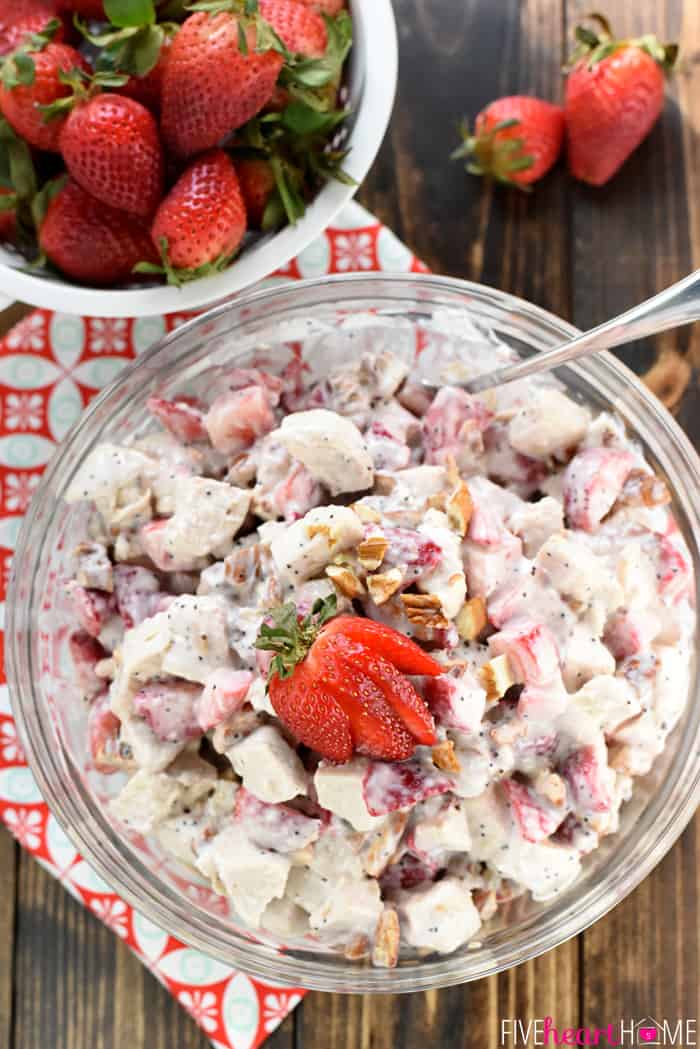 Perfectly Cooked Chicken
Furthermore, you may cook your chicken however you prefer. Unless I have a bunch of leftover chicken to use up, I typically poach three (thawed, but from a bag of frozen) boneless, skinless chicken breasts when making chicken salad. Sometimes, however, I get distracted and inadvertently overcook my chicken, causing it to become slightly dried out.
So this time, I stole an idea from all of my slow cooker cookbook recipe testing and stuck a probe-type digital food thermometer in the center of the largest breast while the chicken simmered, setting the temperature alert to 165°F. As soon as the thermometer started beeping, I knew that my chicken breasts had reached a safe temperature. So I immediately removed them to a plate and, sure enough, they were juicy and perfectly cooked!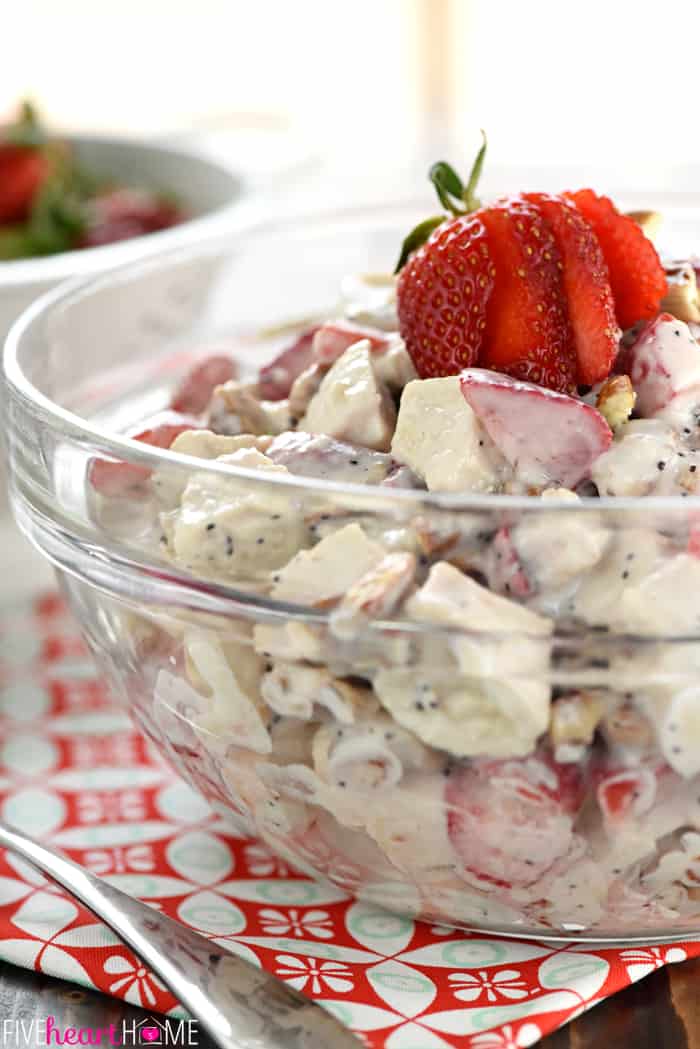 So who's ready to welcome spring with some Strawberry Chicken Salad? After all, it's the type of recipe that springtime dreams are made of...confused Texas weather aside. 😉
More Stellar Strawberry Recipes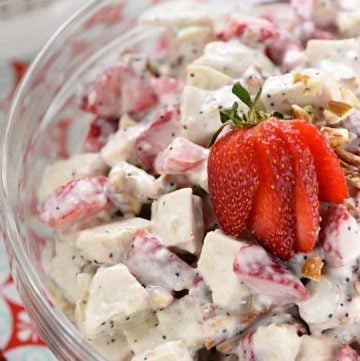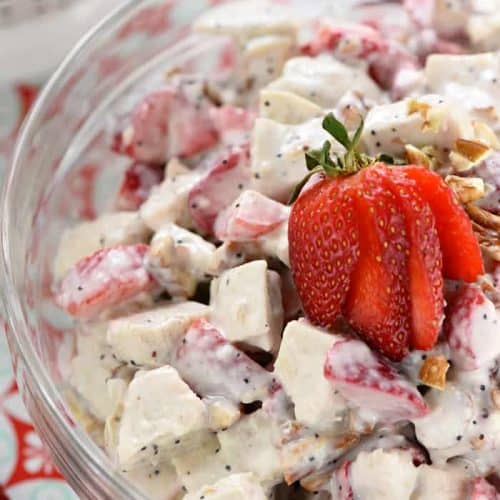 Strawberry Chicken Salad
Strawberry Chicken Salad is light and fruity, with crunchy toasted pecans and a creamy, honey-kissed, poppy seed dressing that's been lightened up with Greek yogurt!
Print
Pin
Rate
Ingredients
⅔

cup

Greek yogurt

⅓

cup

mayonnaise

1

tablespoon

apple cider vinegar

¼

cup

honey

Salt & freshly ground black pepper

,

to taste

1 ½

pounds

diced chicken

,

about 4 cups

1

cup

chopped toasted pecans

2

cups

diced strawberries

1 to 2

teaspoons

poppy seeds
Instructions
In a large bowl, whisk together Greek yogurt, mayonnaise, apple cider vinegar, honey, salt, and pepper until thoroughly combined. Cover and refrigerate until ready to use, for up to two days.

To the bowl of dressing, add diced chicken, toasted pecans, diced strawberries, and poppy seeds. Carefully stir until all ingredients are evenly coated. Refrigerate for at least an hour before serving to chill and allow the flavors to blend.
Notes
You may substitute regular plain yogurt for the Greek yogurt, but it will make your dressing thinner. You may also use all mayonnaise and no yogurt if you prefer.
You may cook chicken using your favorite method (or use rotisserie chicken or leftover cooked chicken). Seasoned chicken (using at least salt & pepper) will give your chicken salad more flavor. You may dice it or shred it depending on your preferred chicken salad texture. I poached 3 (average-sized) boneless, skinless chicken breasts for this recipe.
To toast pecans, preheat oven to 350°F. Spread chopped pecans on an ungreased baking sheet and toast for 5 to 7 minutes or until fragrant and light golden brown. Cool on baking sheet.
Calories:
416
kcal
|
Carbohydrates:
19
g
|
Protein:
29
g
|
Fat:
26
g
|
Saturated Fat:
3
g
|
Cholesterol:
79
mg
|
Sodium:
221
mg
|
Potassium:
612
mg
|
Fiber:
3
g
|
Sugar:
16
g
|
Vitamin A:
44
IU
|
Vitamin C:
30
mg
|
Calcium:
62
mg
|
Iron:
1
mg