Jazz up your favorite salad with a homemade, sweet-and-tangy salad dressing, in both French Dressing and Catalina Dressing varieties!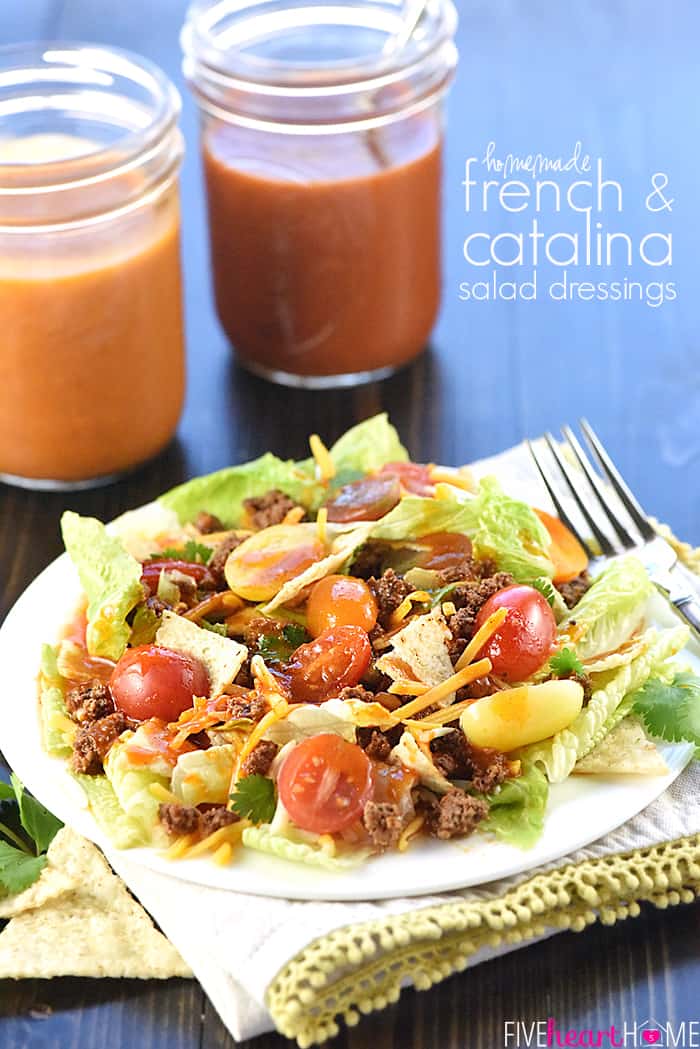 I don't know about y'all, but after indulging in some of my favorite dips and appetizers during the big game yesterday, I feel like I need to cleanse this week with a barrage of smoothies and salads -- ha.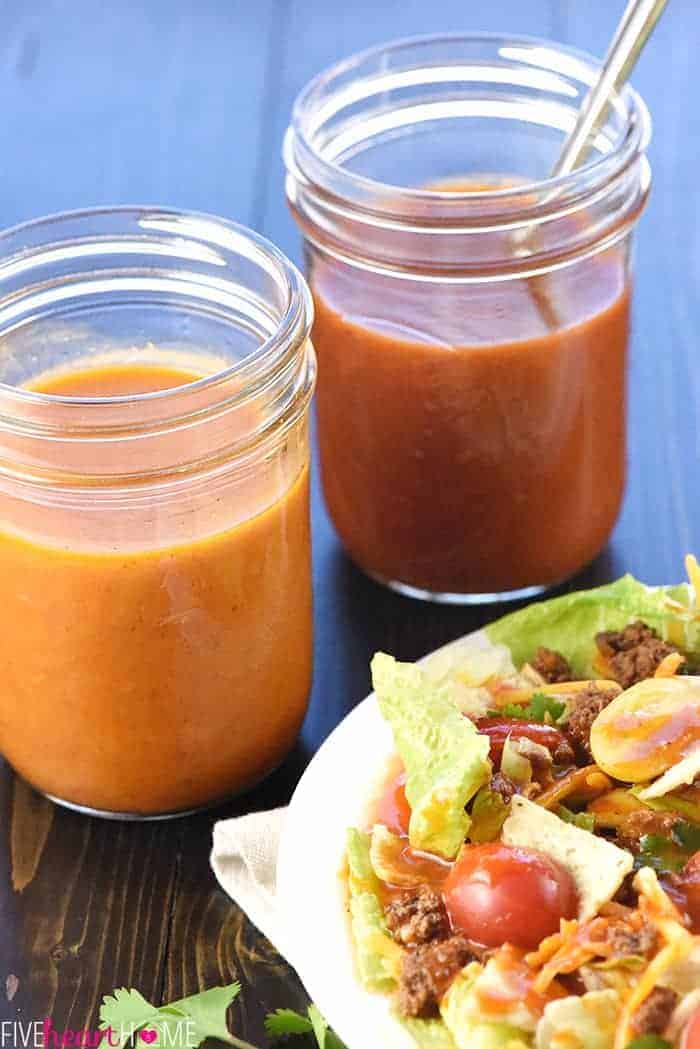 I try to make my own homemade salad dressing whenever possible, but when I'm short on time and buy a bottle from the store, I typically reach for a brand called Brianna's. This isn't an ad...I just like it because it tastes fresh and has pretty straightforward ingredients. Occasionally, Brianna's comes out with a new flavor, and one that we tried recently and really enjoyed is called Zesty French Dressing. It's simultaneously tangy and sweet, reminiscent of traditional French Dressing but better. So of course I had to try to recreate it myself at home. 😉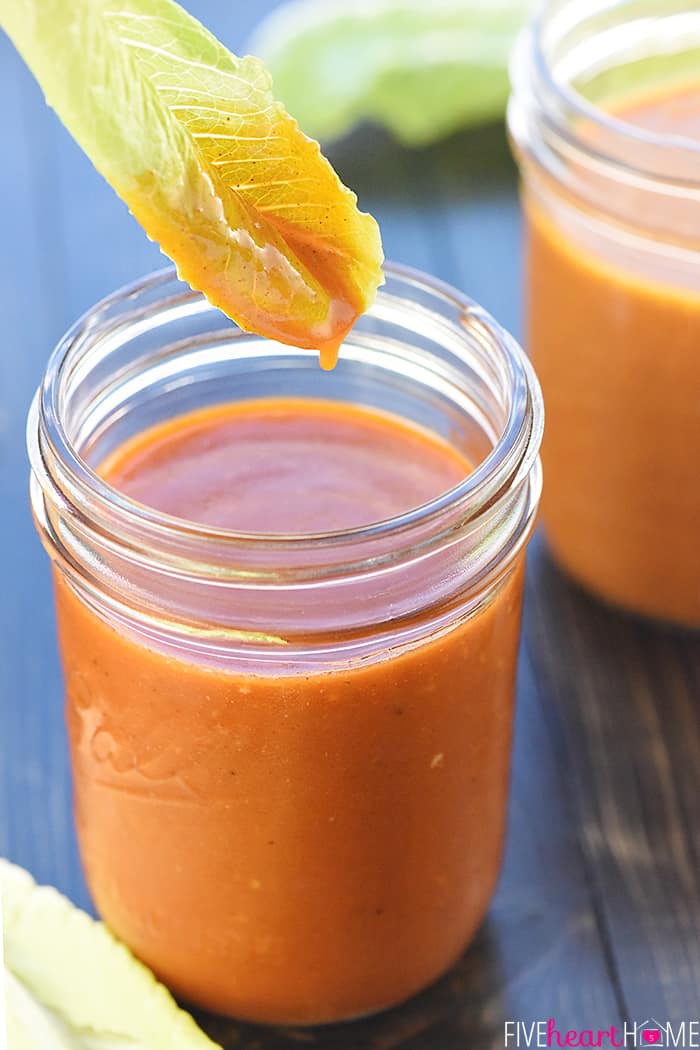 Tomato or Not?
I started out by perusing the ingredient list on the bottle, and then I studied a bunch of other online recipes for French Dressing.
The Brianna's version doesn't have tomatoes as an ingredient, but many other store-bought French Dressings do.
Even more confusingly, many people claim that French dressing should contain no tomato products, yet French Dressing recipes from the likes of Martha Stewart and Bon Appétit include ketchup or tomato paste.
And some will argue that French Dressing's similar-tasting cousin Catalina Dressing does include tomato in some form.
Basically, all of my French Dressing research yielded no consensus.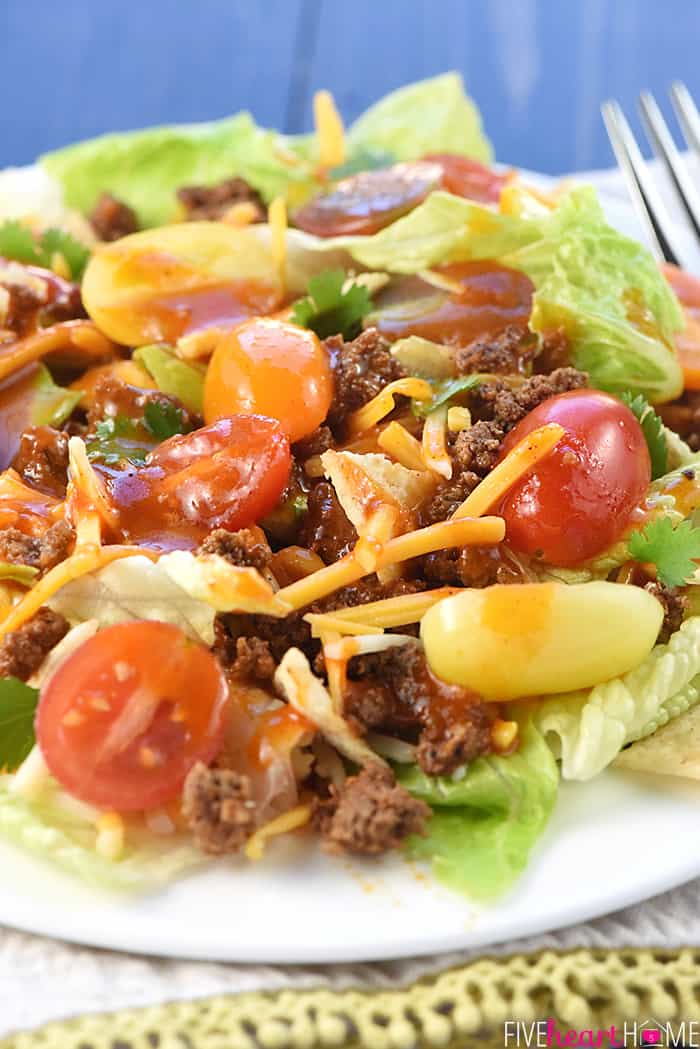 French vs. Catalina
I first decided to attempt concocting a homemade French Dressing recipe with tomato undertones, via all-natural ketchup and a dollop of tomato paste. The resulting dressing was very tasty, but when I compared it to the Brianna's that I was originally trying to replicate, I could taste that the addition of tomato did cause it to differ.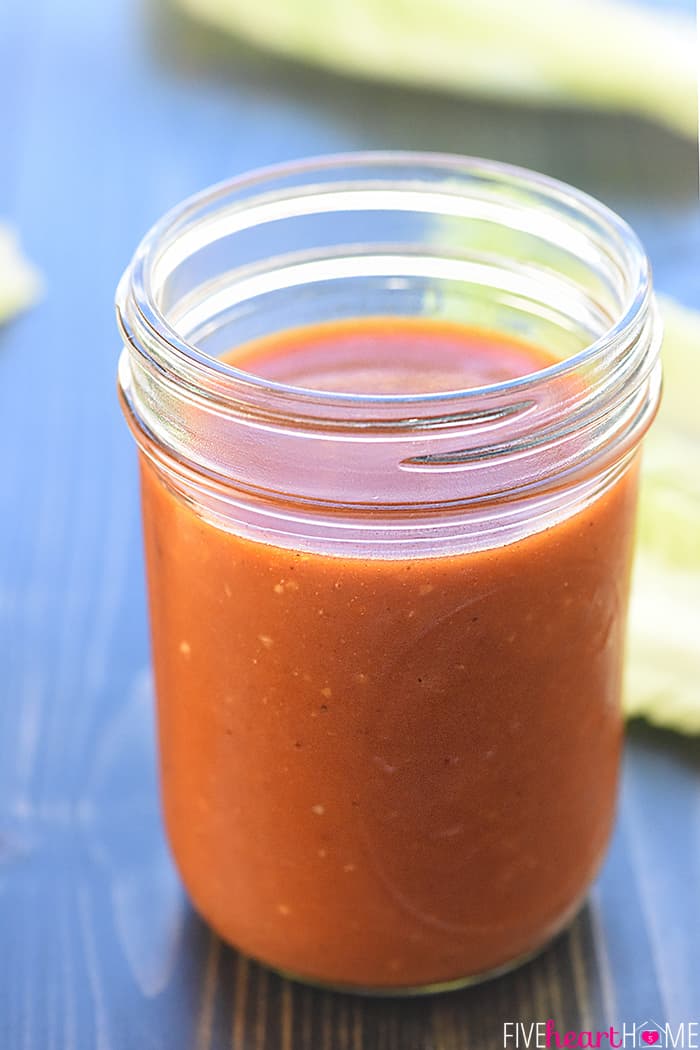 So I tried again, omitting the tomato influence this time and tweaking some of the other ratios. The outcome was definitely much closer to Brianna's French Dressing...not identical, but decidedly delicious.
The first version I had created was tasty as well, however, so I refrigerated both dressings and put them to the ultimate family taste test that evening during dinner.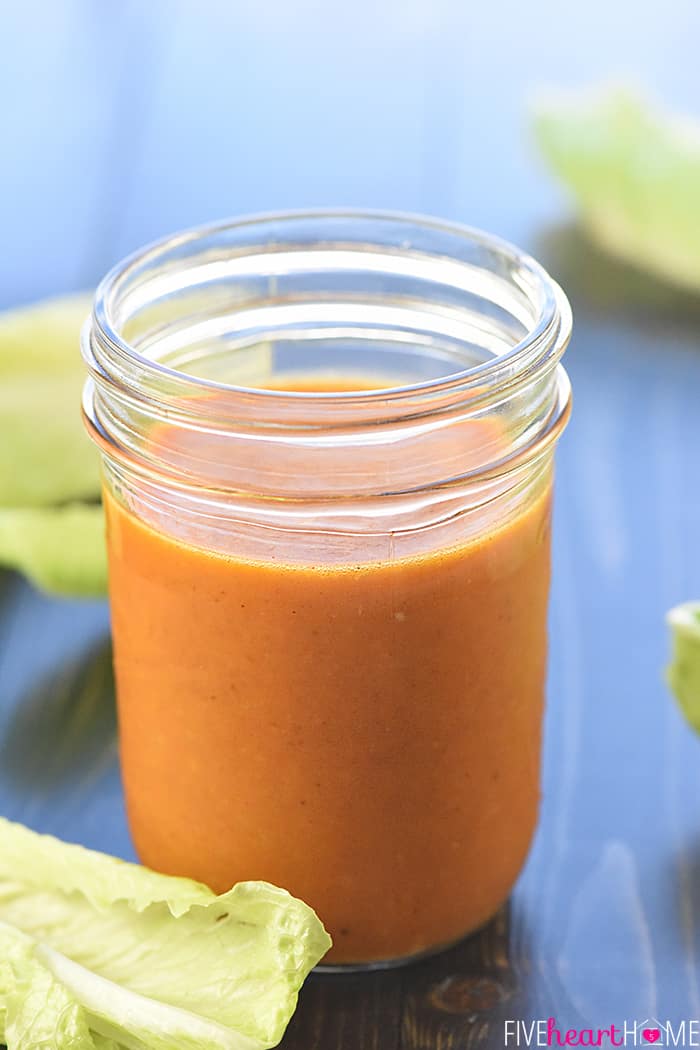 The Verdict
And the final vote? The kids liked both varieties, but they slightly preferred the one with tomato.
My husband and I liked both varieties, but we slightly preferred the dressing without tomato.
And since I couldn't determine which one y'all would like best, I decided to offer you both recipes here today!
Let's call the one without tomato French Dressing and the one with tomato Catalina Dressing. Sound good?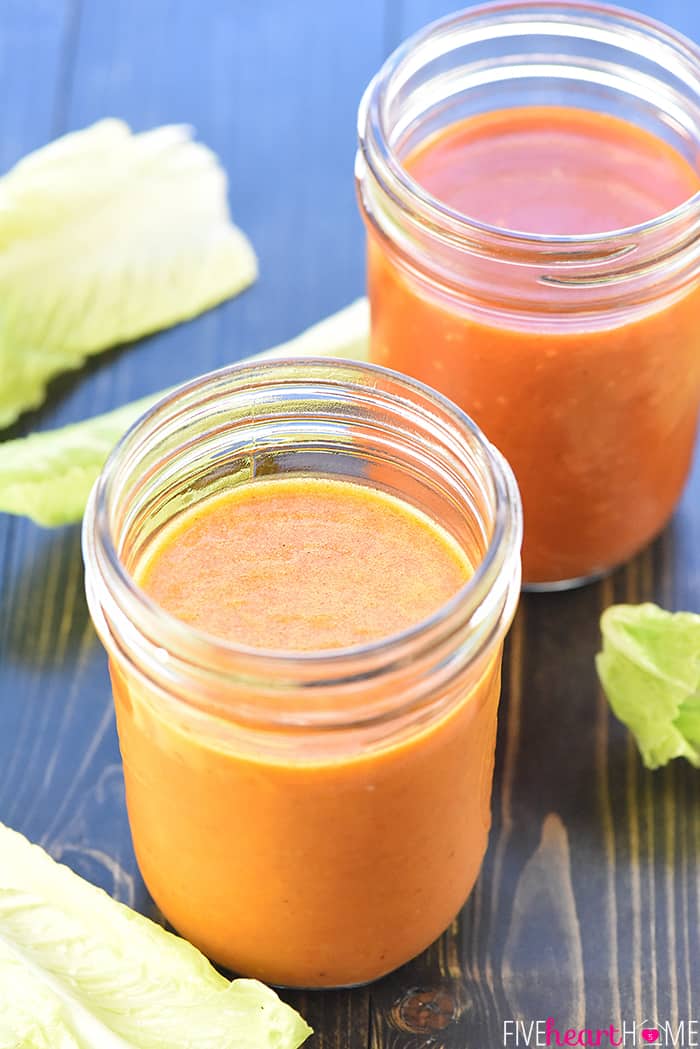 Tips & Tricks
Since people have different opinions on how sweet this type of dressing should be, feel free to tweak the amount of honey. You can always start with a little and add more to taste.
Also, after I stored these dressings in the refrigerator, I noticed that the French Dressing version separated more readily than the Catalina Dressing, which likely had to do with the ketchup acting as an emulsifier in the latter. At any rate, the separation wasn't anything that a quick shake o' the jar couldn't fix.
Both of these dressings would be yummy on a simple dinner salad, but we particularly enjoy them on taco salad or any salad with Tex-Mex flavors. After all, sweet, zesty dressing is a delicious complement to certain types of ingredients, including taco seasoned meat, tomatoes, cheese, tortilla chips, and cool, creamy avocado.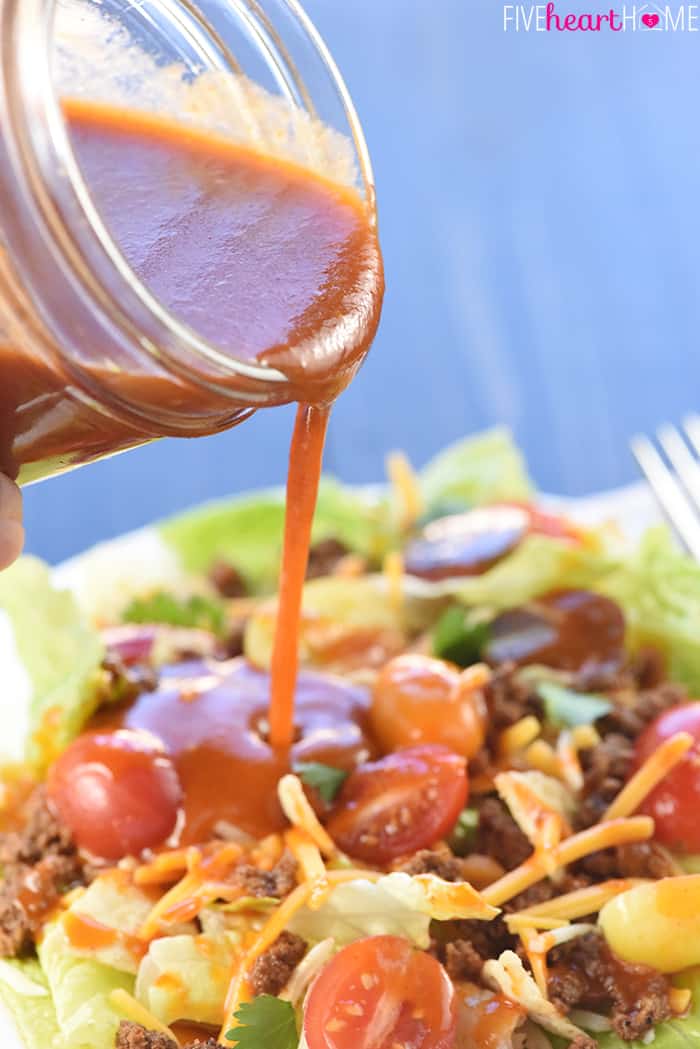 So there you have it...Homemade French Dressing and Homemade Catalina Dressing! You're totally free to pick your poison. 😉
And if you decide to try both, please let me know which one gets your vote!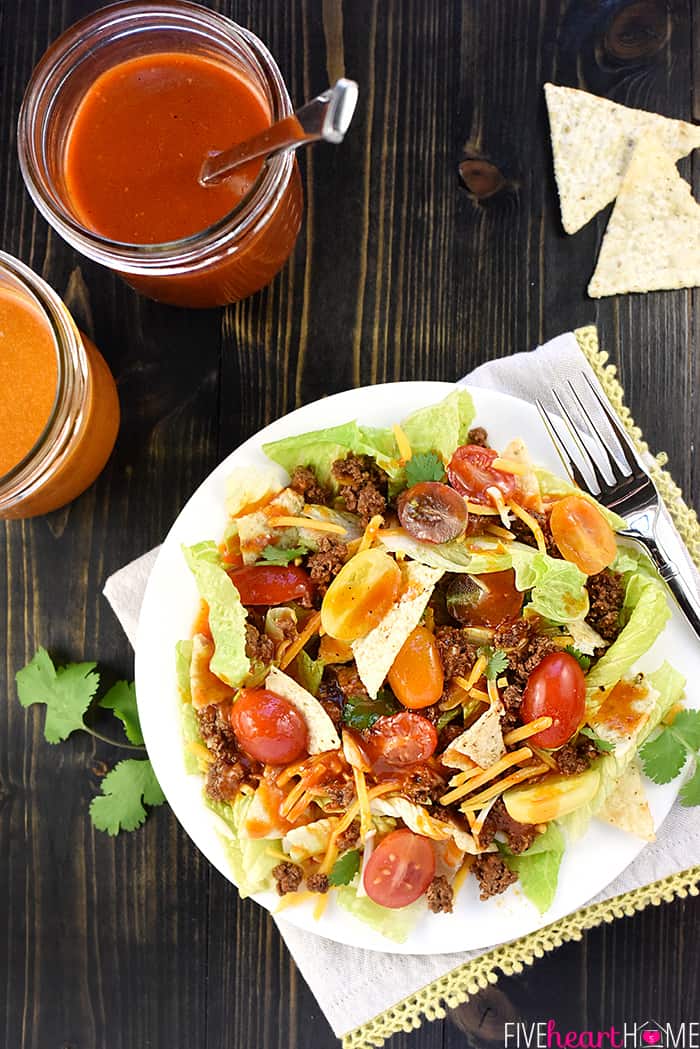 More Homemade Dressings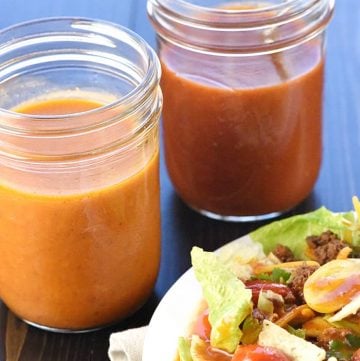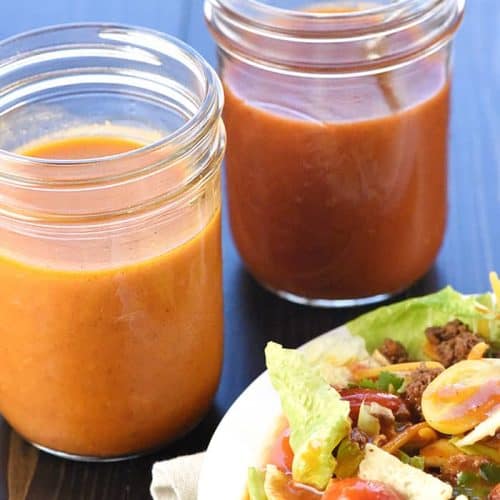 Homemade French Dressing and Catalina Dressing
Jazz up your favorite salad with a homemade, sweet-and-tangy salad dressing, in both French Dressing and Catalina Dressing varieties!
Print
Pin
Rate
Servings:
12
to 16 (2-tablespoon) servings. The recipe makes approximately 1 ½ cups of French dressing and 2 cups of Catalina dressing.
Ingredients
FOR FRENCH DRESSING:
1

large clove garlic

⅔

cup

sunflower, safflower, or other light vegetable oil

¼

cup

white vinegar

¼

cup

apple cider vinegar

3

tablespoons

honey

,

more or less to taste

1

teaspoon

Worcestershire sauce

1

teaspoon

Dijon mustard

1

teaspoon

paprika

¾

teaspoon

salt

,

plus additional to taste

½

teaspoon

garlic powder

½

teaspoon

onion powder

Freshly ground black pepper

,

to taste
Instructions
Place garlic in a blender or small food processor; pulse until minced. Add oil, white vinegar, apple cider vinegar, honey, Worcestershire sauce, Dijon, paprika, salt, garlic powder, onion powder, and black pepper. Purée until well-combined. Adjust the salt and pepper to taste, if desired, and purée again. Transfer to a jar or bottle and store in the refrigerator for up to a week. Shake well before serving.
Notes
FOR CATALINA DRESSING ~ Follow the same directions using the following ingredients:
1 large clove garlic
⅔ cup canola oil
½ cup all-natural ketchup
¼ cup white vinegar
¼ cup apple cider vinegar
¼ cup honey (more or less, to taste)
1 tablespoon tomato paste
1 tablespoon lemon juice
2 teaspoons Worcestershire sauce
1 teaspoon Dijon mustard
1 teaspoon paprika
½ teaspoon garlic powder
½ teaspoon onion powder
½ teaspoon salt (plus additional to taste)
Freshly ground black pepper (to taste)
* * * * * * * * * *
If desired, you may finely mince the garlic with a knife, place all of the ingredients in a large jar with a tight-fitting lid, and shake vigorously until well-combined.
Feel free to cut the ingredients in half for a smaller batch of dressing.
Calories:
127
kcal
|
Carbohydrates:
5
g
|
Protein:
1
g
|
Fat:
12
g
|
Saturated Fat:
1
g
|
Sodium:
156
mg
|
Potassium:
11
mg
|
Fiber:
1
g
|
Sugar:
4
g
|
Vitamin A:
80
IU
|
Vitamin C:
0.1
mg
|
Iron:
0.1
mg
Save
Save