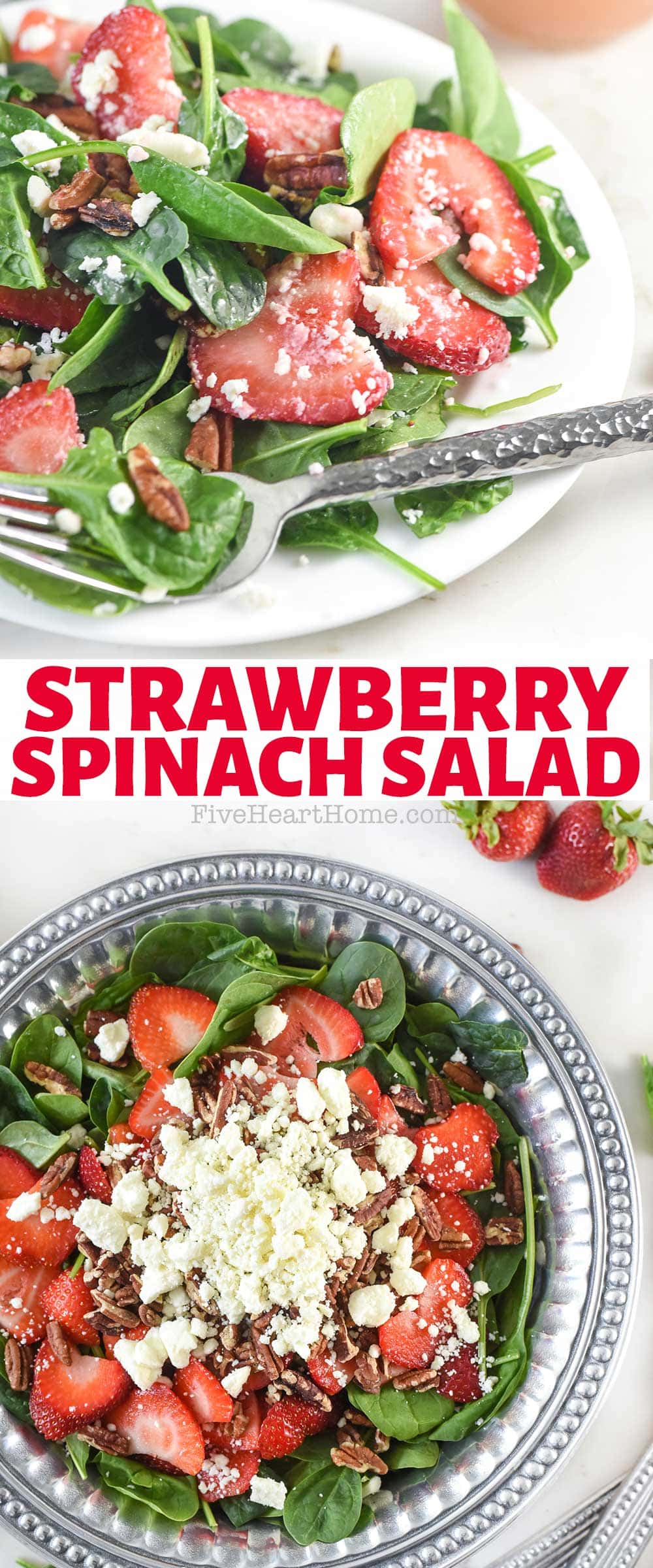 Spinach Salad with Strawberries is vibrant and delicious, enhanced by toasted pecans, creamy feta, and an amazing homemade blush wine vinaigrette!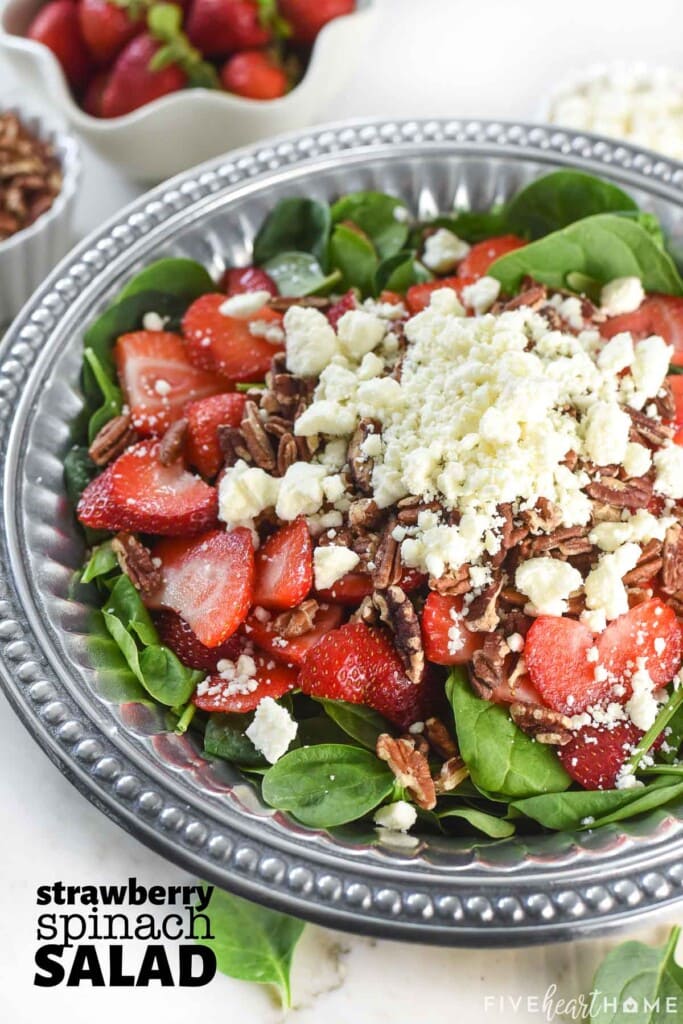 For more berry-loaded salads and dressings, you'll also love Raspberry Vinaigrette, bursting-with-blueberries Brain-Healthy Salad, or Strawberry Goat Cheese Salad with Lemon Vinaigrette!
Ten years ago today, I hit *publish* on my first ever post at FiveHeartHome.com. And would you believe that it was this Spinach Salad with Strawberries recipe? With one measly photo and an anecdote about my then-3-year-old, I launched a blog that I never imagined would become my passion and my livelihood over the next decade.

So as I revamp and republish this 10-year-old post today, thank you to those of you who have joined me on this journey, whether you're a long-time reader or you've hopped over for the first time just now via a recipe search. Food bloggers don't open up our ol' blog post intros with personal stories anymore these days -- so forgive my transgression this one time -- but one thing that hasn't changed in the past ten years is that YOU are the ones who make this job possible for a work-at-home mom who made up a job on the internet so that she could have a flexible schedule to raise her kids. 🙂

So thank you again...truly. My gratitude is endless.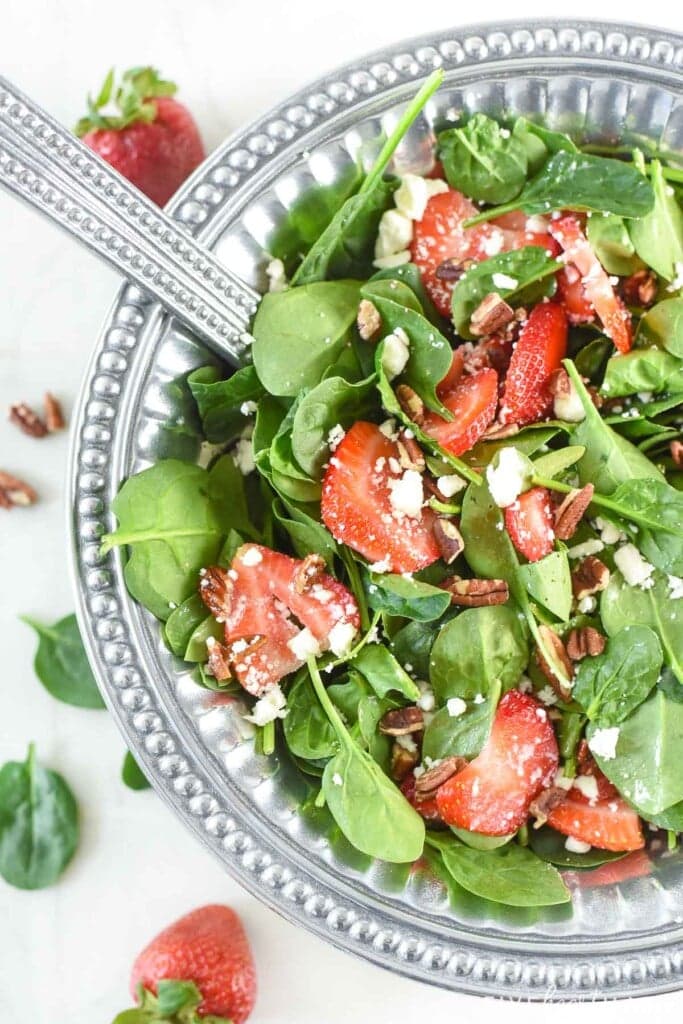 I don't know about you, but my palate changes with the seasons. Summertime has me gravitating towards recipes that are on the lighter side, quick and easy to prepare, and raring to take advantage of in-season produce. So along with homegrown tomatoes and dinners from the grill and corn on the cob and freshly churned peach ice cream, nothing screams summer like salads...and specifically, Spinach Salad with Strawberries!
In fact, this Spinach Salad with Strawberries, with its varied flavors and textures, is probably my very favorite salad, whether I'm eating it in January or June. The juicy strawberries are a nice counterbalance to the crisp spinach, the feta cheese adds a creamy richness, and the toasted pecans supply the perfect amount of crunch. And don't even get me started on the fabulous dressing!
Ingredients
For a basic Spinach Salad with Strawberries, you'll need just four simple ingredients...and I bet you can already guess two of them! 😉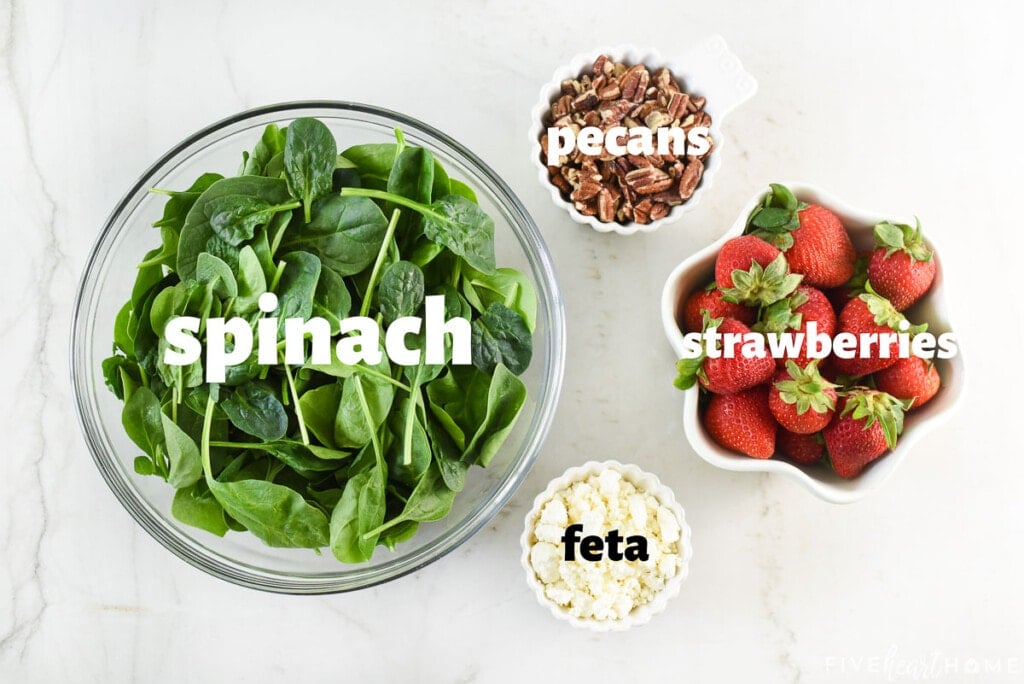 Spinach. This recipe is fabulous with fresh baby spinach, but it would of course work with other tender salad greens, such as baby romaine, butter lettuce, or spring mix.
Strawberries. Fresh, perfectly ripe, and sliced. That being said, raspberries, blackberries, and/or blueberries would all be yummy in this salad.
Pecans. I like them chopped, but you could use pecan halves if you prefer. Either way, I highly recommend toasting them for deeper flavor and extra crunch. You could also substitute other nuts, such as walnuts, slivered almonds, or pistachios, or even candied nuts if you don't mind your salad leaning on the sweeter side.
Feta. You can buy it already crumbled or crumble a log of feta yourself. Goat cheese would be a great alternative, or if you don't mind a stronger, more pungent flavor, a mild blue cheese would work as well.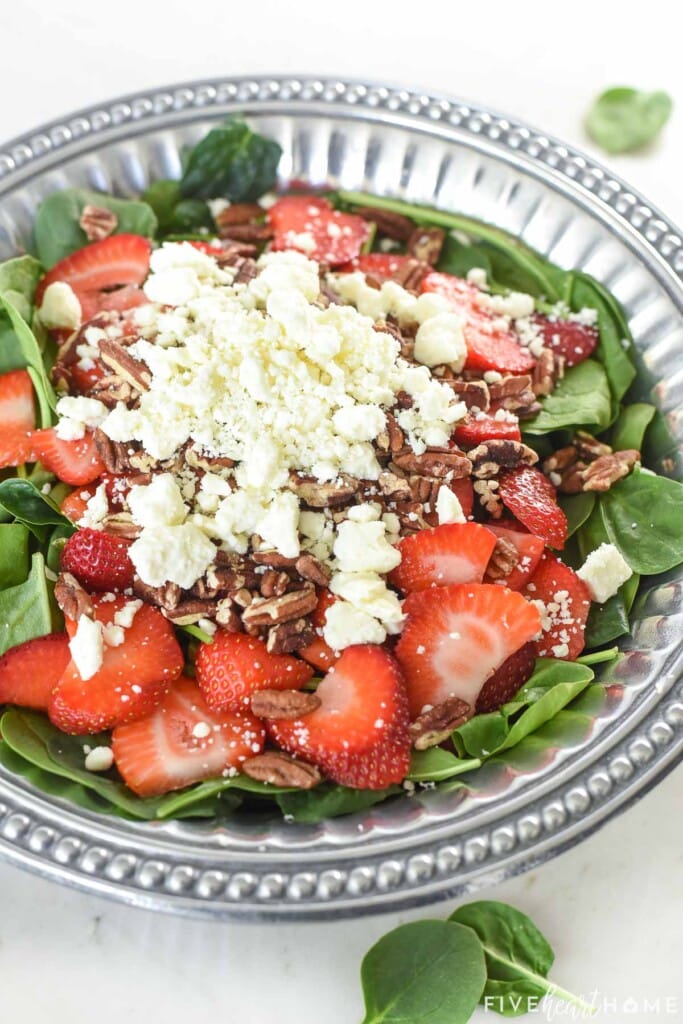 Optional Additional Ingredients
As much as I enjoy my Spinach Salad with Strawberries to be plain and simple, you may find yourself wanting to branch out. So if that's the case, here are a few ideas for adding extra ingredients:
Thinly sliced red onions.
Cubes of creamy avocado.
Segments of clementines or mandarin oranges.
What else would you add???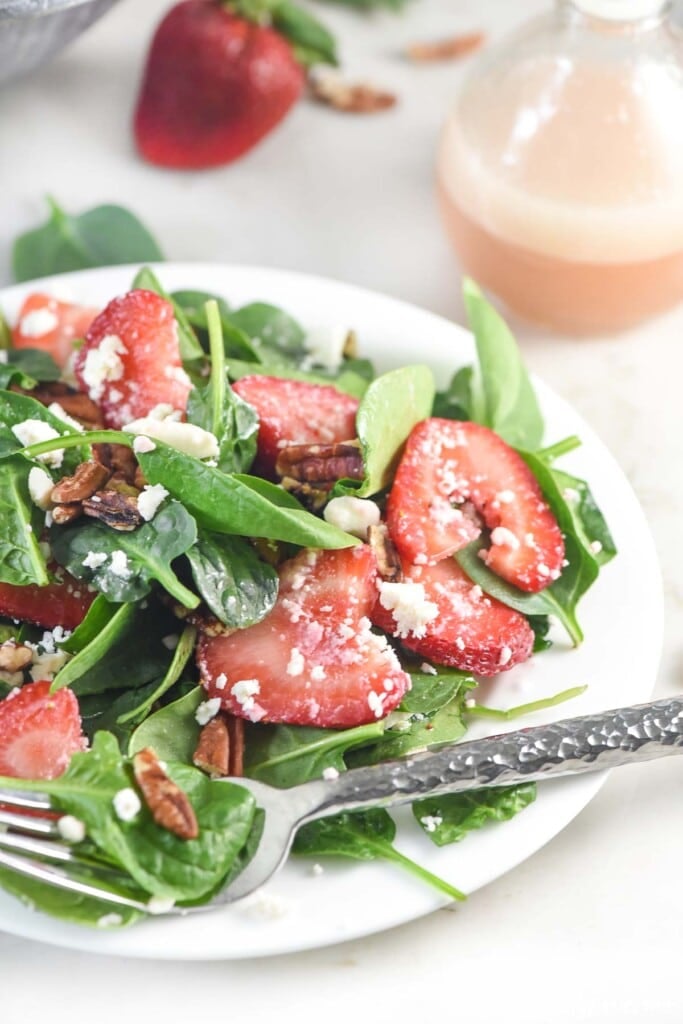 How to Make Spinach Salad with Strawberries
(The below photos are intended to be helpful, but please refer to the recipe card at the bottom of this post for FULL DIRECTIONS.)
It's pretty darn complicated. Are y'all ready?
Toast your pecans by spreading them out on a rimmed sheet pan and baking for a few minutes until lightly toasted. Allow to cool completely.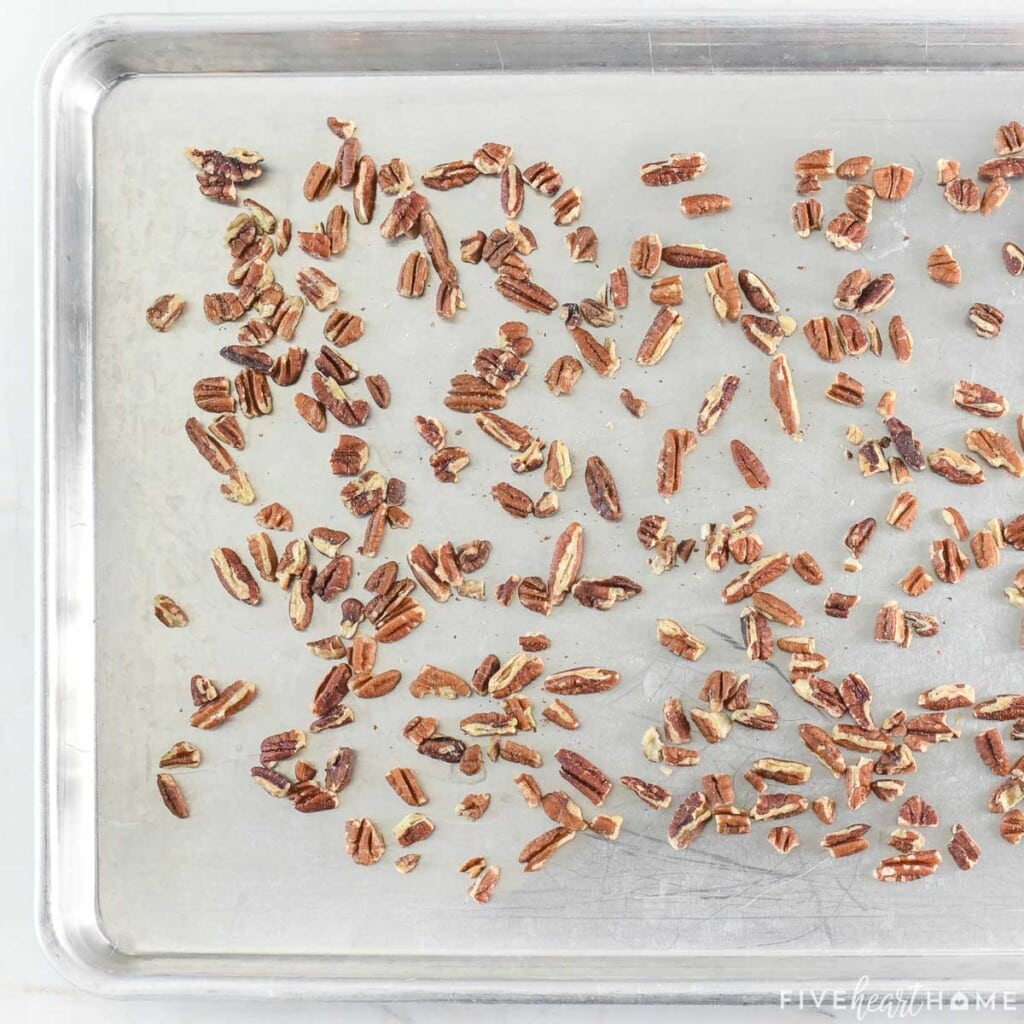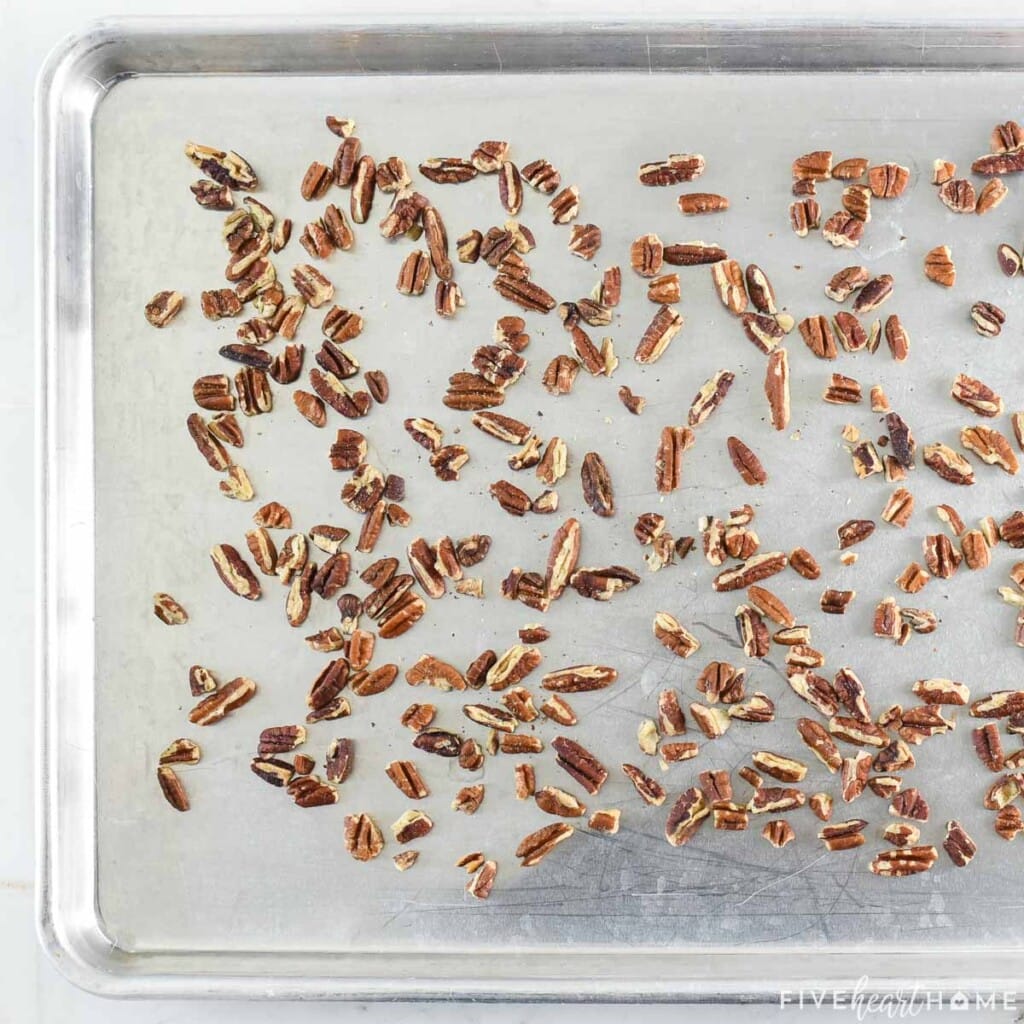 Place the baby spinach in a bowl.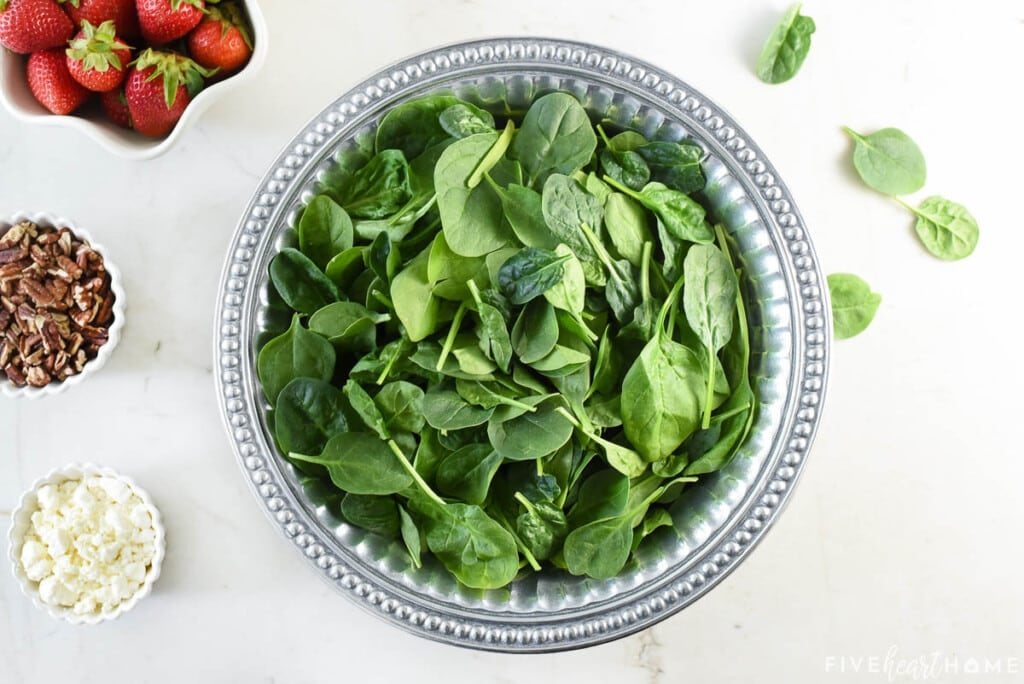 Layer the sliced strawberries on top.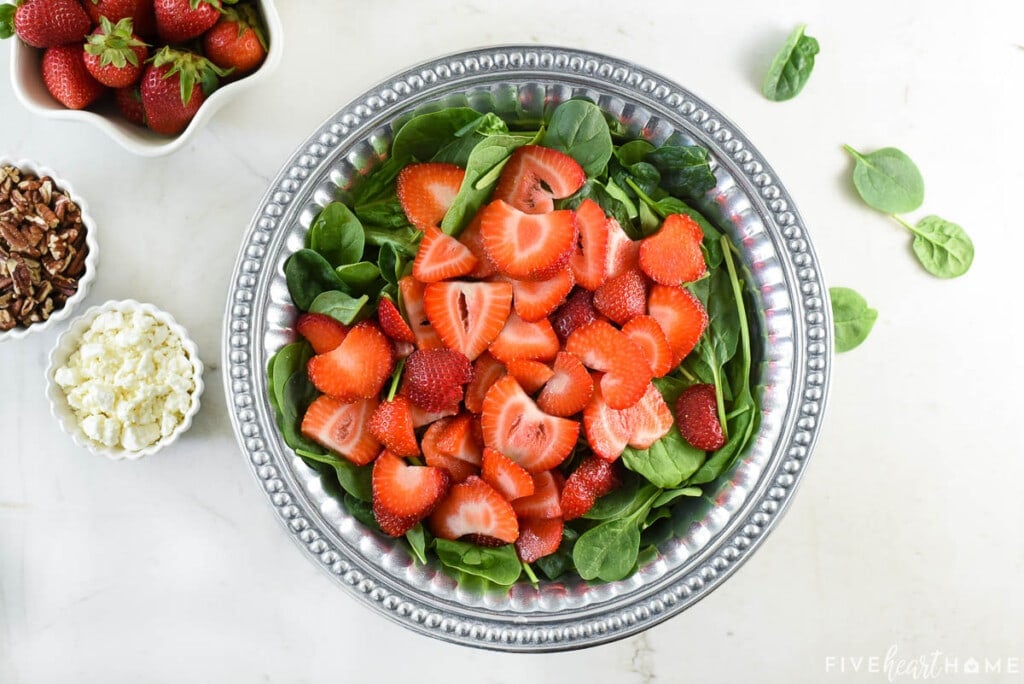 Layer the toasted and cooled pecans on top of the strawberries.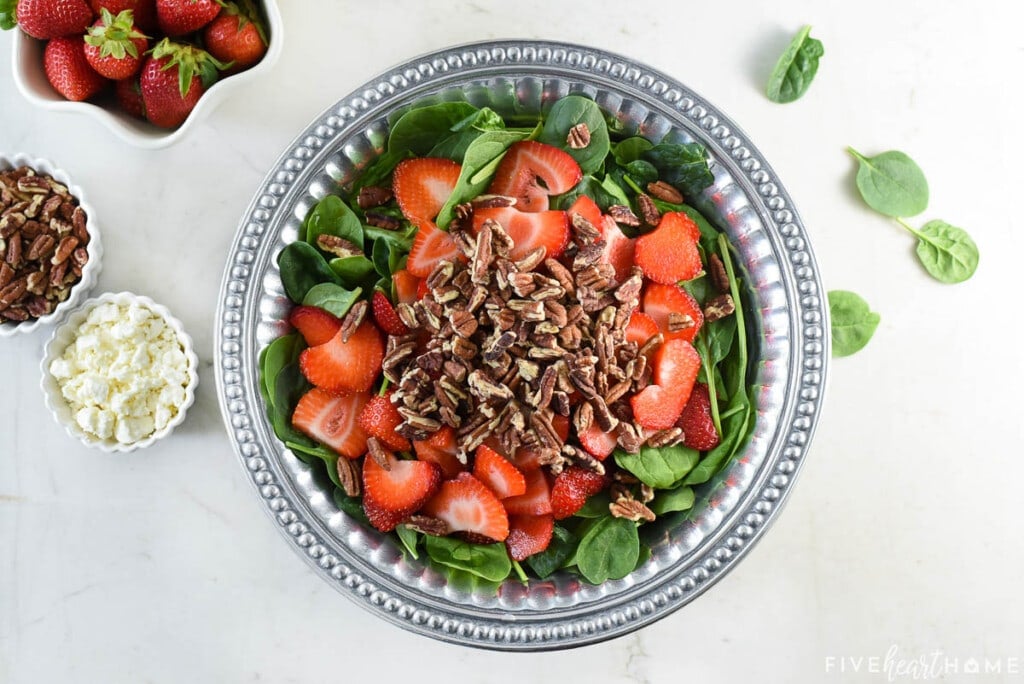 Sprinkle the crumbled feta on top of the pecans.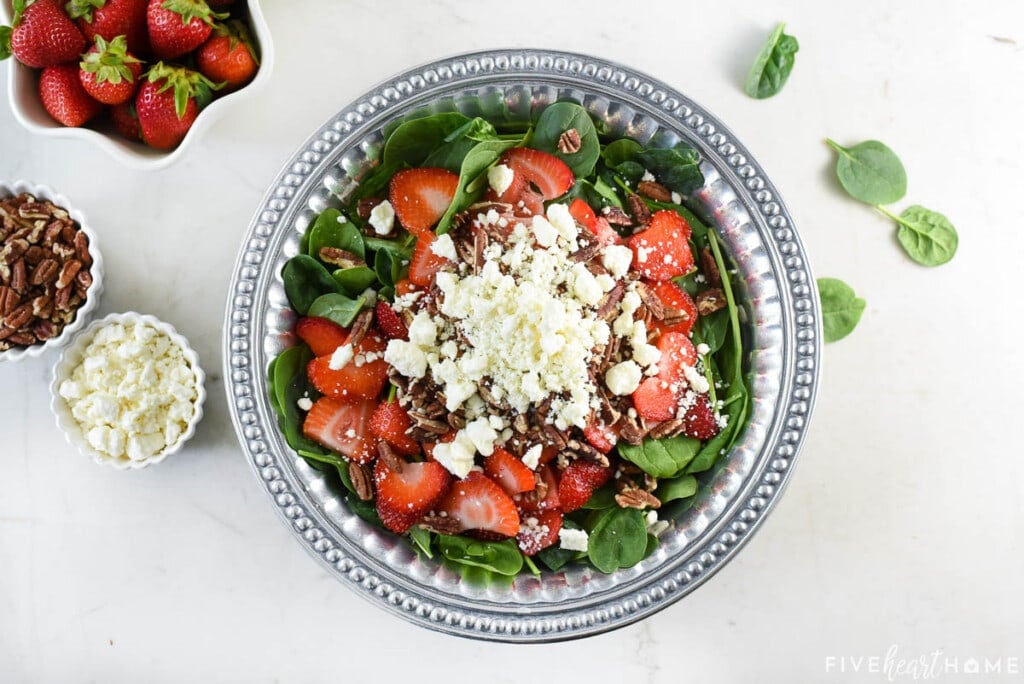 Just before serving, drizzle with salad dressing and toss to coat!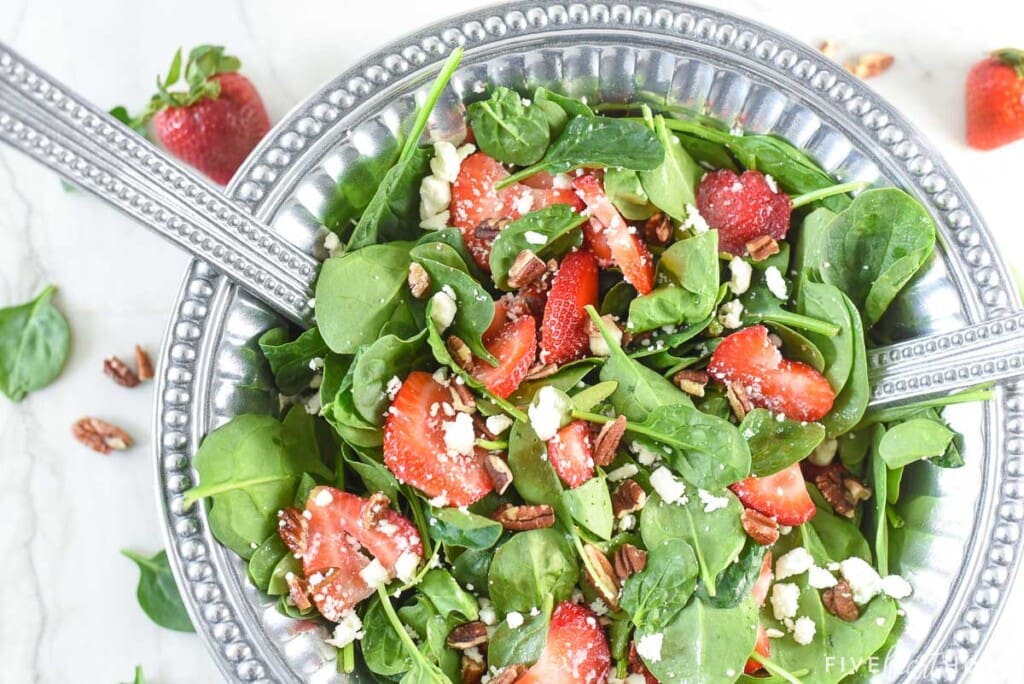 Strawberry Spinach Salad Dressing
The friend who first shared this recipe with me instructed me to dress the salad with the ever-popular Brianna's Blush Wine Vinaigrette. And that I did, for years and years. So that is a great, ready-made choice for a salad dressing when you make this recipe.
However, one day, as I was throwing this Spinach Salad with Strawberries together for a party, I realized that I only had a little bit of Brianna's left in the fridge and no new bottle in the pantry like I had assumed. There wasn't time to run to the store, so I perused the ingredient list on the back of my almost-empty bottle and came up with my own version of Blush Wine Vinaigrette.
And let me tell you, I think it's better! I was able to cut back on the sugar (which Brianna's lists as its first ingredient) while still maintaining a pleasantly (but not cloyingly) sweet end result, and adding a splash of lemon juice seemed to brighten up the overall flavor.
Or -- if Blush Wine Vinaigrette isn't your thing -- other strawberry spinach salad dressing options could include a sweet and creamy Poppy Seed Dressing or a classic Balsamic Vinaigrette!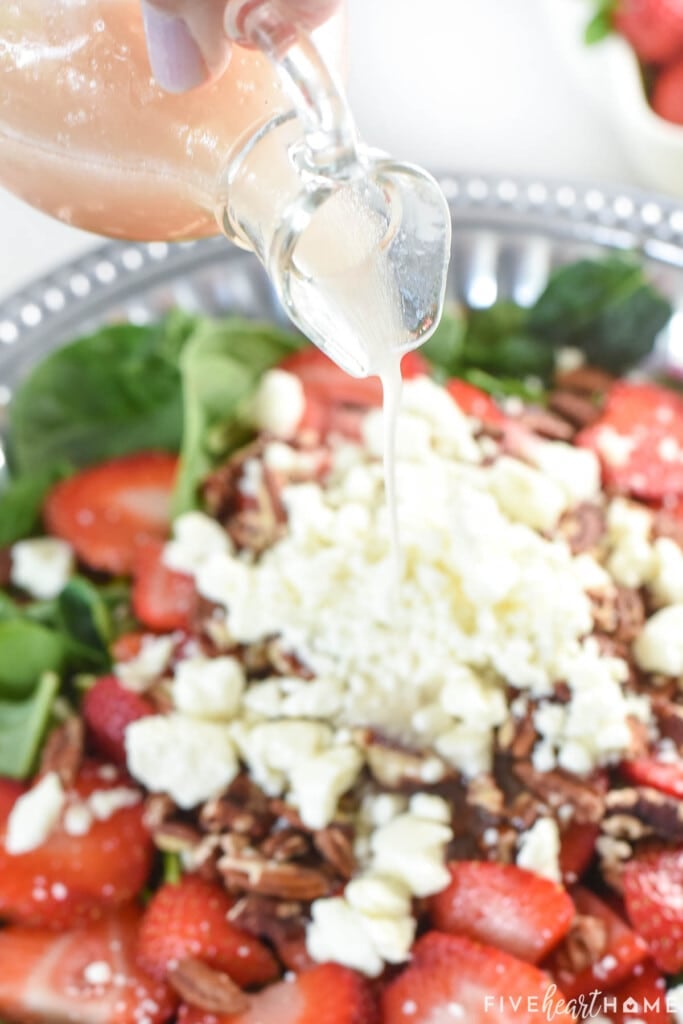 Occasions to Enjoy Spinach Salad with Strawberries
Spinach Salad with Strawberries is scrumptious, beautiful, and versatile enough to enjoy on a variety of occasions.
Serve it to company at a luncheon, a dinner party, or a BBQ.
Contribute it to a potluck.
Add some sliced chicken breasts on top and enjoy it for a weekday lunch or as a light supper.
This salad is delightful during the spring and summer, when berries are at their freshest and juiciest, but it's fabulous year-round if you're lucky enough to have access to strawberries.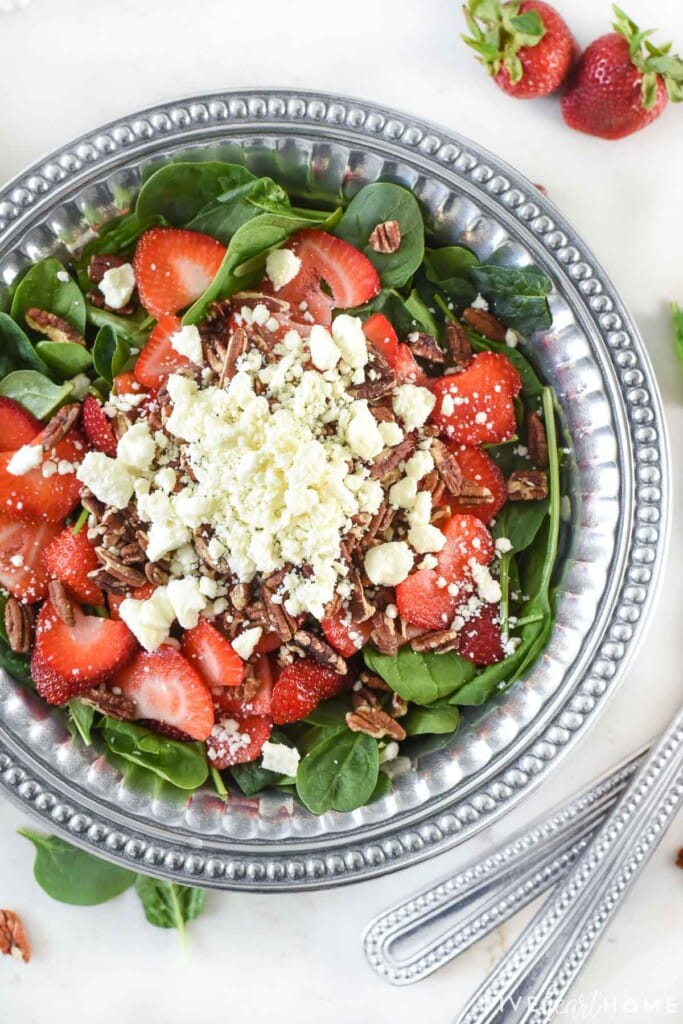 Indeed, this Spinach Salad with Strawberries recipe may be be celebrating its tenth blog birthday today...but its deliciousness is timeless. 🙂
More Summer Salads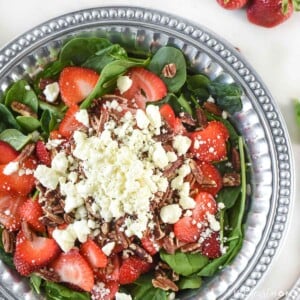 Spinach Salad with Strawberries, Pecans, & Feta
Spinach Salad with Strawberries is vibrant and delicious, enhanced by toasted pecans, creamy feta, and an amazing homemade blush wine vinaigrette!
Print
Pin
Rate
Ingredients
12

ounces

baby spinach

16

ounces

strawberries

,

washed, hulled, & sliced

1

cup

pecan halves

4

ounces

crumbled feta cheese
Instructions
Preheat oven to 350°. Spread pecans on sheet pan and bake for 7 to 10 minutes or until lightly toasted, watching carefully to prevent burning. Allow to cool and coarsely chop.

In a large salad bowl, layer the spinach, strawberries, pecans, and feta cheese. Just before serving, dress with Blush Wine Vinaigrette and toss until salad ingredients are evenly coated.
Notes
Toasting the pecans takes a few extra minutes, but it really is worth it as it brings out much more flavor and crunch.
Feel free to make substitutions to this base recipe as you see fit:

Other baby greens for the spinach, such as baby romaine, butter lettuce, or arugula.
Other berries for the strawberries, such as raspberries, blueberries, or blackberries.
Other nuts for the pecans, such as slivered almonds, pistachios, or chopped walnuts.
Other soft crumbled cheese for the feta, such as goat cheese or Gorgonzola.
Additions such as thinly-sliced red onions, cubed avocado chunks, or mandarin orange segments.

You may make your own Blush Wine Vinaigrette (highly recommended!) or use the store-bought Brianna's brand of it. Other dressings options could be poppy seed dressing or balsamic vinaigrette.
Only use as much vinaigrette as needed to dress the salad. You will have some leftover.
Calories:
254
kcal
|
Carbohydrates:
13
g
|
Protein:
5
g
|
Fat:
22
g
|
Saturated Fat:
4
g
|
Cholesterol:
13
mg
|
Sodium:
339
mg
|
Potassium:
384
mg
|
Fiber:
3
g
|
Sugar:
9
g
|
Vitamin A:
4061
IU
|
Vitamin C:
46
mg
|
Calcium:
130
mg
|
Iron:
2
mg
Originally published on June 1, 2013, and updated on January 21, 2021, and June 1, 2023. And because I'm sentimental, original 10-year-old photo below from the first recipe post ever published to this blog... :)