Summer Lentil Salad features protein-packed lentils, roasted corn, juicy tomatoes, creamy mozzarella, and fresh basil for a healthy, vibrant main dish or versatile side!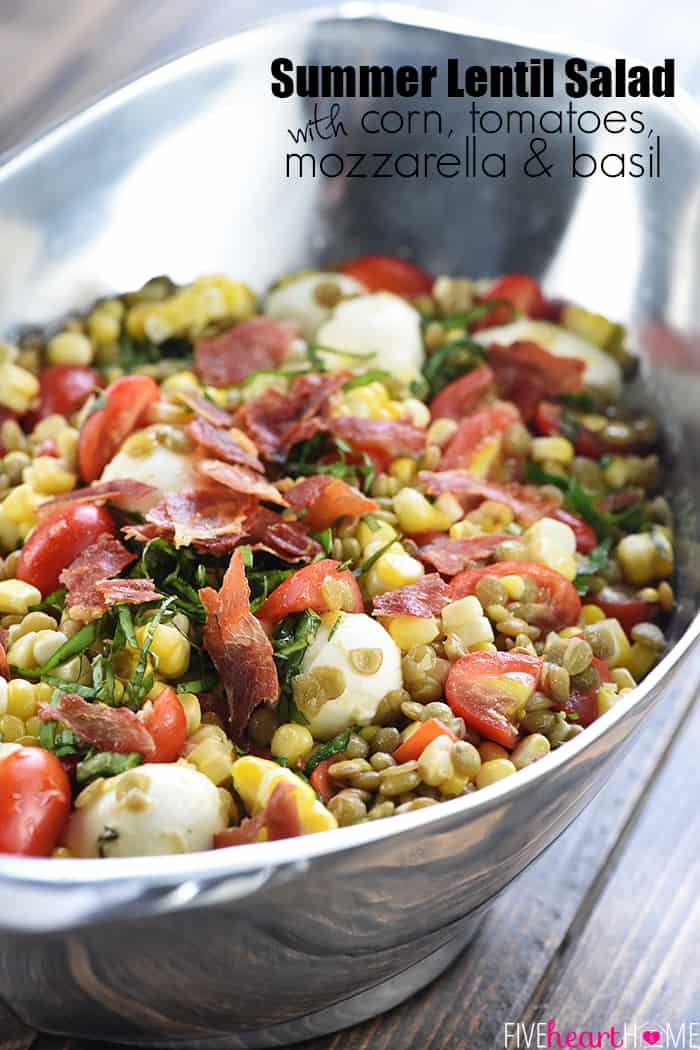 I was invited to participate in the #LetsLentil #LoveALentil campaign,
sponsored by Lentils.org. Although I have been compensated, all opinions are my own.
Growing up with a native German mother, my exposure to lentils as a child was pretty much limited to Linsen mit Spätzle (Swabian lentil soup with homemade noodles) which, incidentally, I loved. That being said, a familiarity with lentils was not the norm in my small town, where most of my childhood friends had no idea what lentils even were.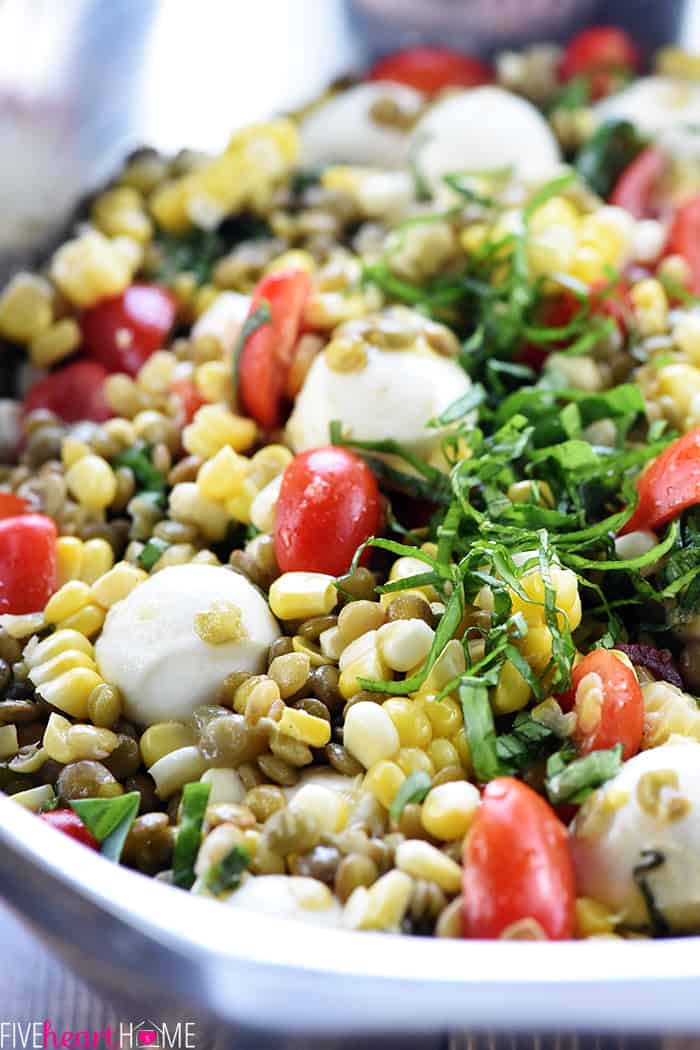 But times they are a-changin'! And despite the fact that, up to this point, I've only ever cooked and eaten lentils in warm, soup-like applications, my eyes have recently been opened to the vast potential of this protein- and fiber-packed pulse crop ("pulse" referring to the edible seeds of legumes, such as lentils, dry beans, dry peas, and chickepeas).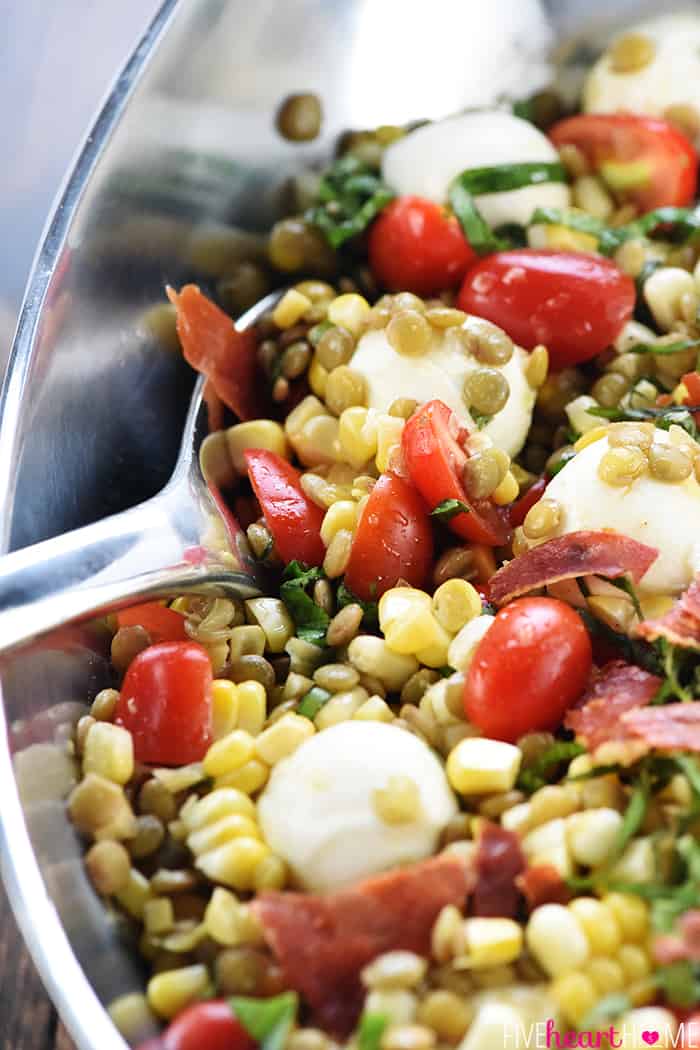 Last week, I had the amazing opportunity – organized by Lentils.org – to travel to Regina, Saskatchewan, and learn all about lentils. It was a true farm-to-table experience, touring lentil fields and a seed processing facility, followed by taking part in a lentil-oriented cooking class, and enjoying meal after delicious meal of healthy, lentil-centric recipes all day long, from appetizers to side dishes to main dishes to snacks to baked goods to desserts. Yep, all of those things can be made with lentils!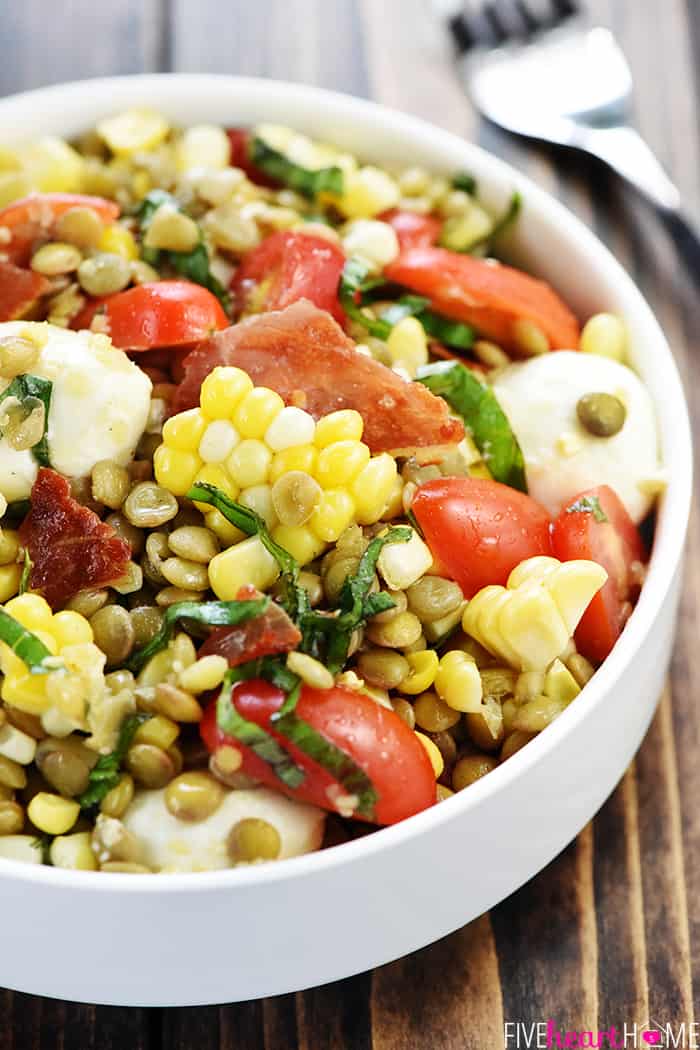 Before this trip, I had no idea that lentils could be incorporated into so many different types of recipes. But from my first bite of that sweet, moist, Lentil Pumpkin Muffin in the lentil fields, I was a believer.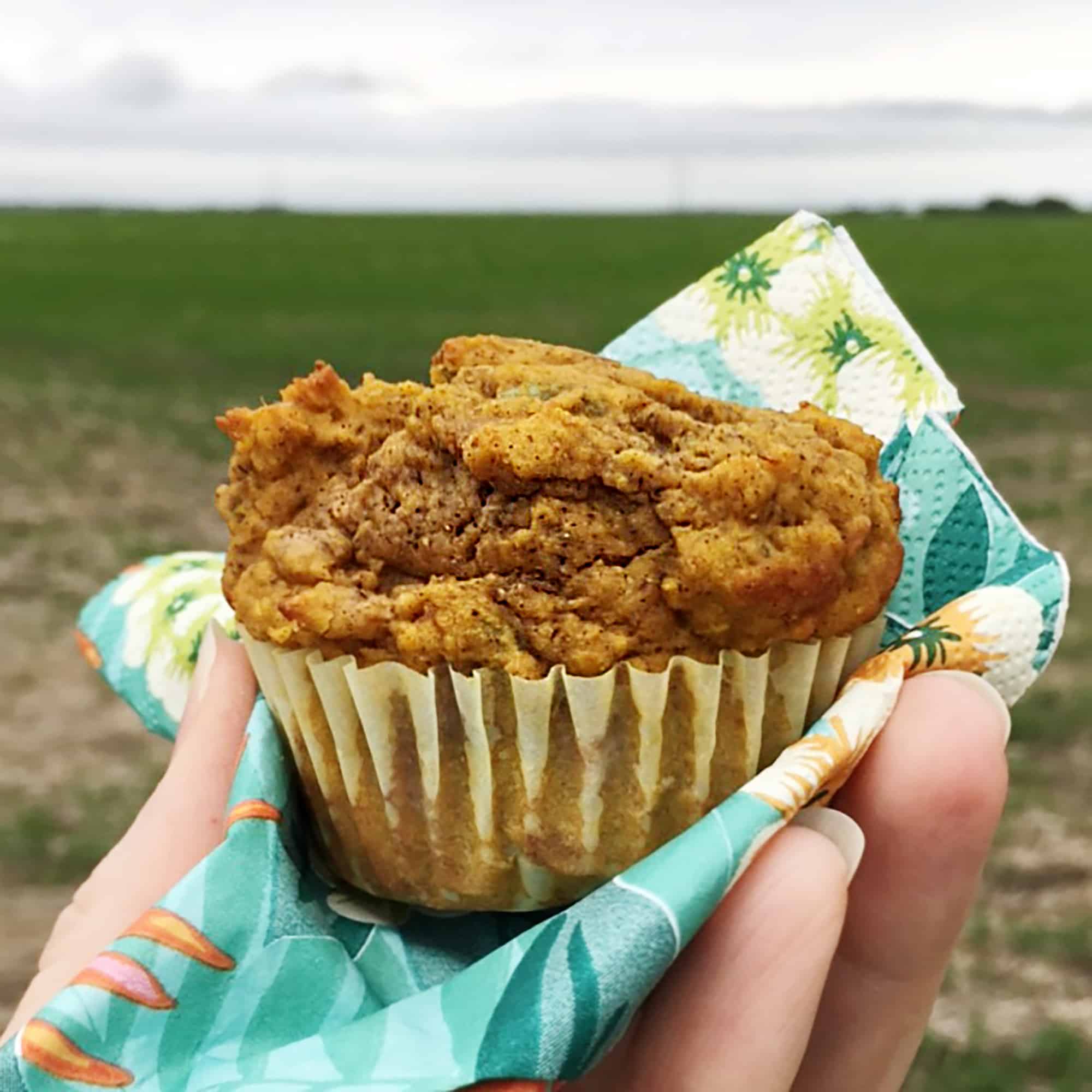 Simpson Seeds Inc. is a fourth generation family pedigree seed farm currently operating in Moose Jaw, Saskatchewan. What started as a family farm has greatly evolved over the years. Currently, Simpson Seeds Inc. is a buyer, processor, marketer and exporter of specialty crops including lentils, and they've shipped to over 80 countries. But what I found truly amazing about this company is the bond of the Simpson family, their dedication to running the business with quality, integrity, and innovation, and their commitment to maintaining and providing a farming legacy for future generations.
We started our tour in the lentil fields, where we examined lentil plants and learned how lentils are grown and how they are rotated with other crops to ensure that the soil doesn't become depleted.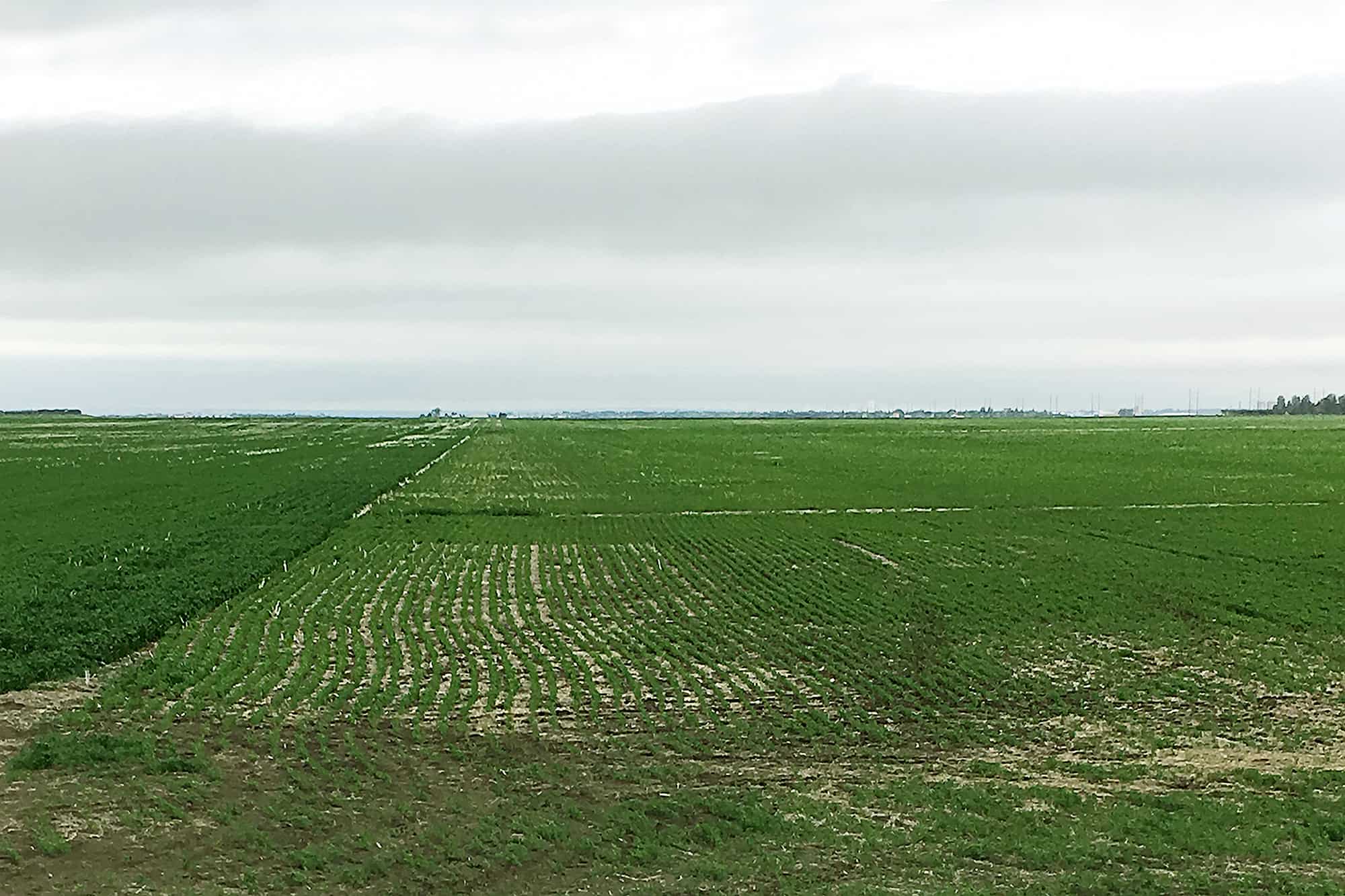 After exploring the lentil (and other crop) fields, we headed into the seed cleaning plant, where we observed the many steps required to take lentils from the fields to your local grocery store shelves, ensuring quality and consistency every step of the way.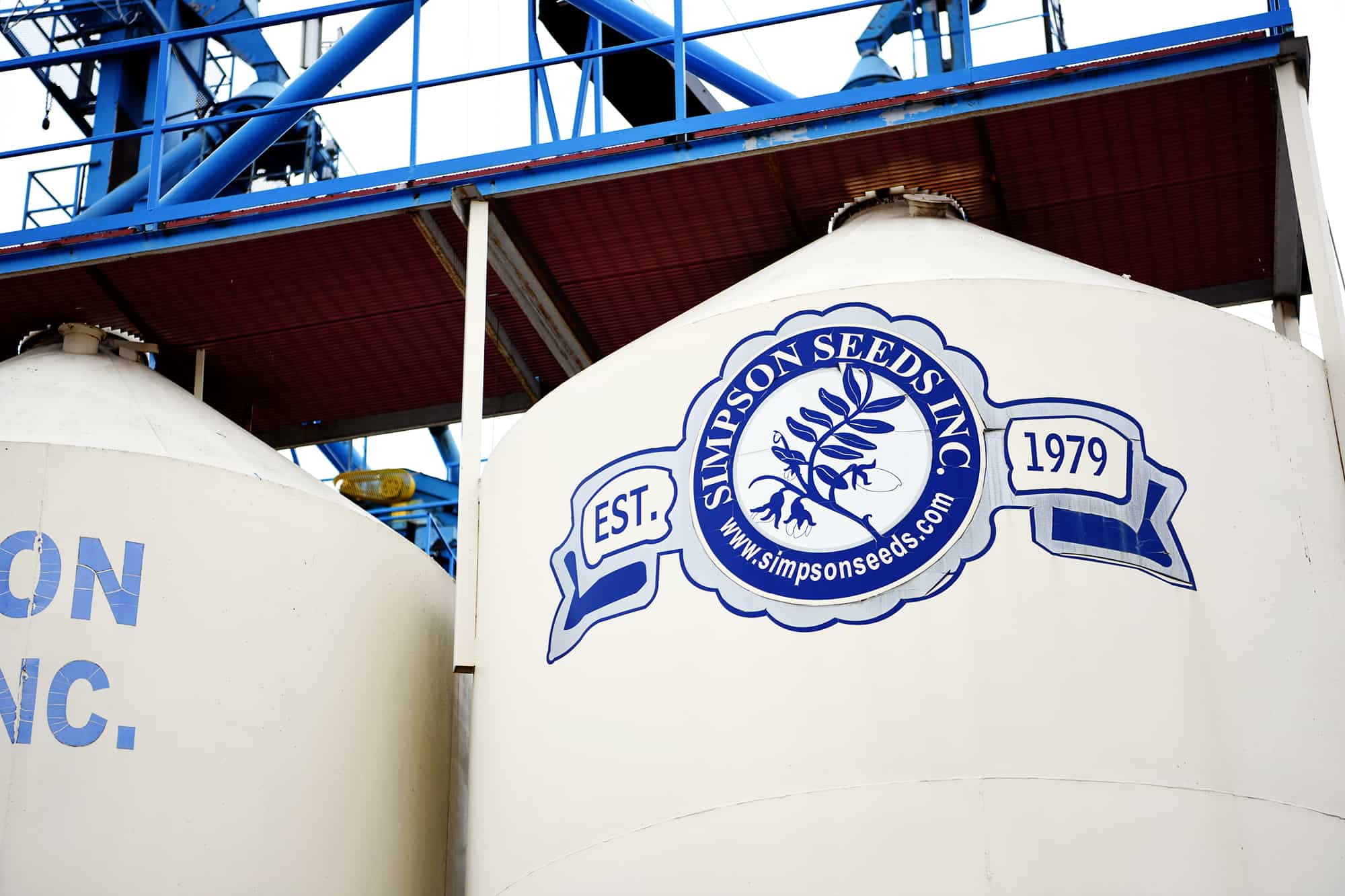 The Simpson family runs quite an impressive operation, and their pride in their work was evident in every part of the tour.
Once a delivery truck arrives, the staff visually inspects a sample of lentils to ensure that the grade matches what was declared. If the grade is a match, the truck is accepted. At this point, the lentils are moved from the truck into a grain storage bin.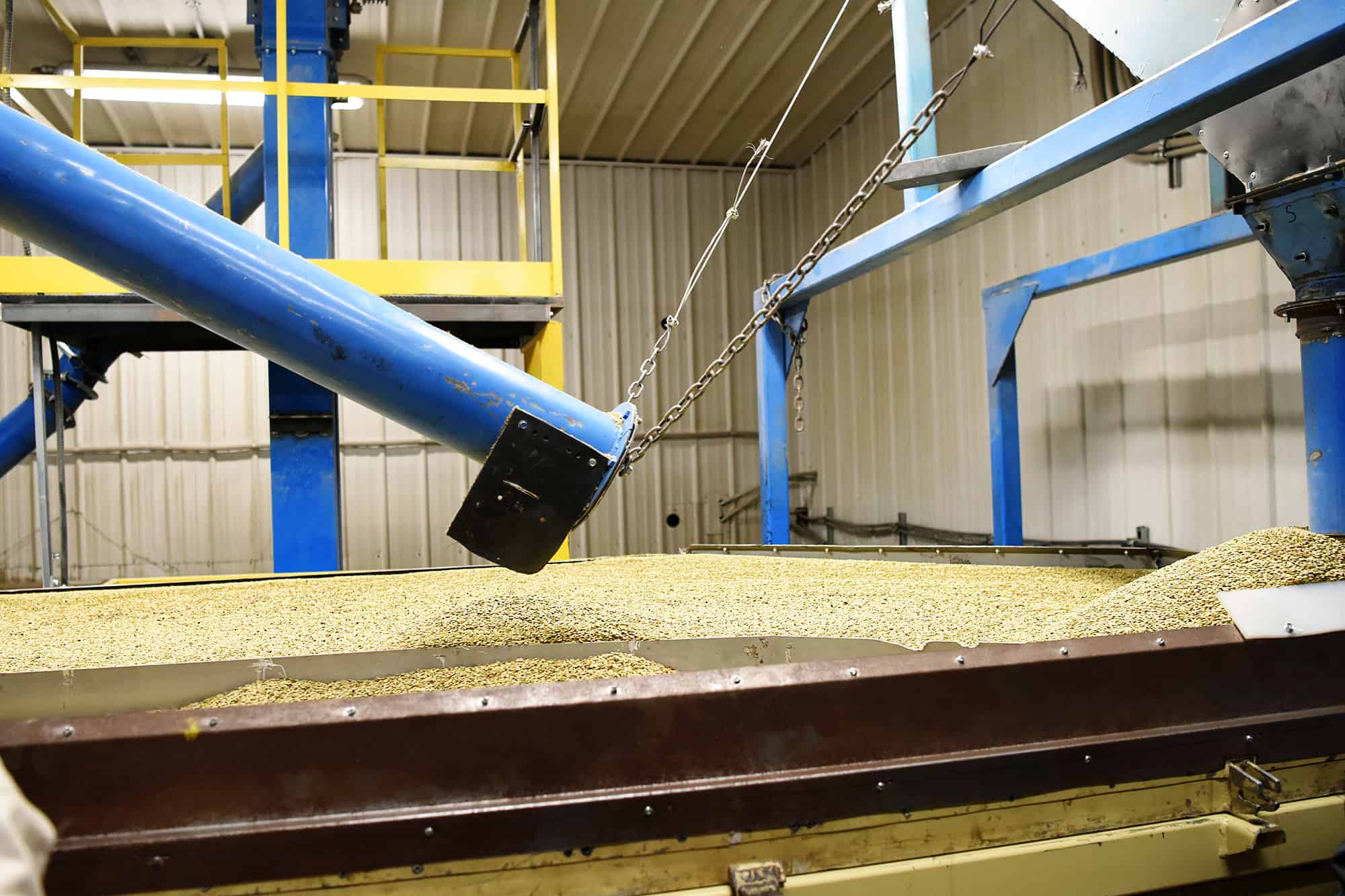 The cleaning process involves sorting the lentils by weight, size, and finally color to ensure that only uniform, top-quality lentils end up in your kitchen. Lower grades of lentils are utilized for different purposes.
Sorted lentils are bagged and screened for any metal or foreign objects. Finally, those bags are places into shipping containers or pallets for delivery all over the world. Who knew those little lentils take such a journey from beginning to end!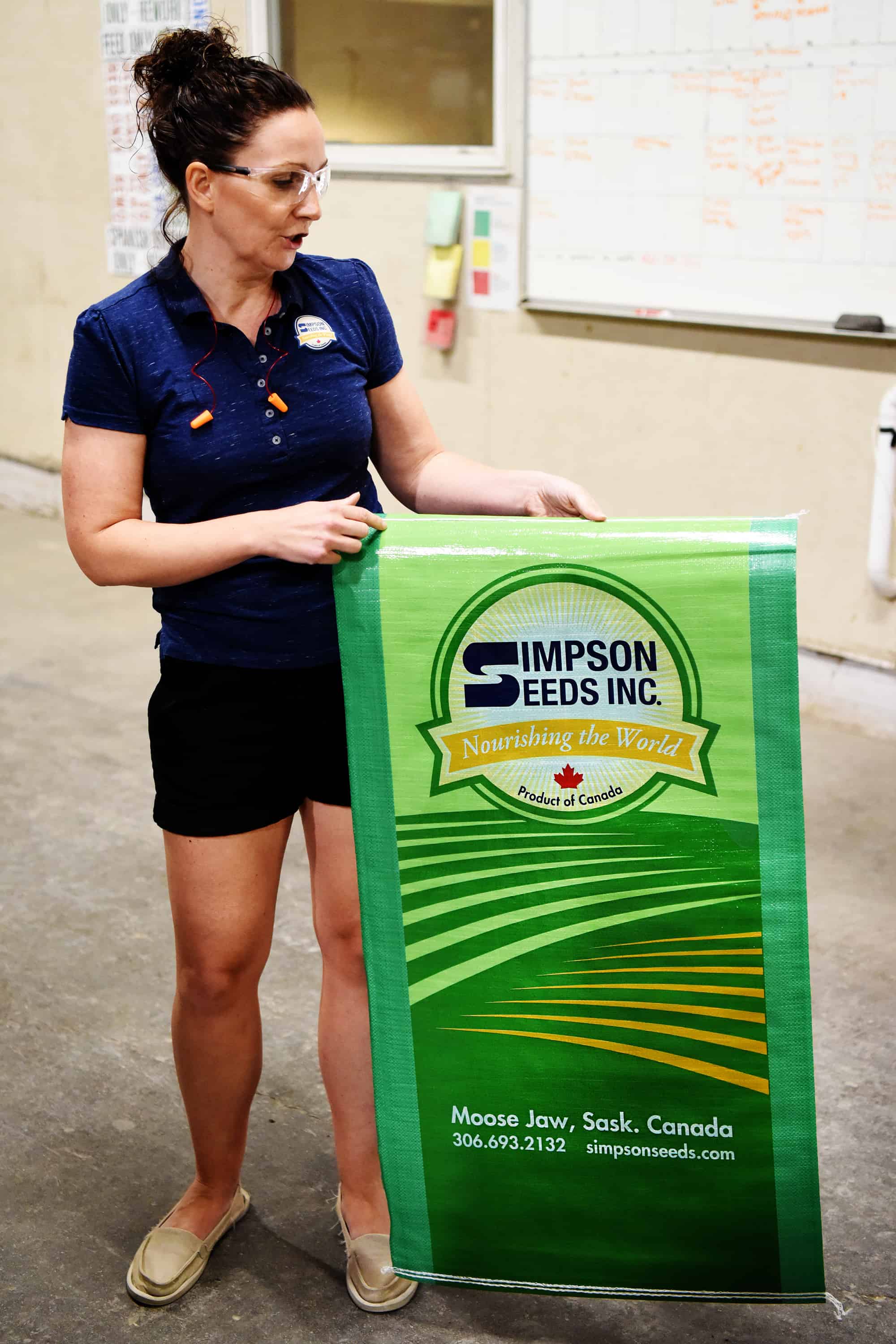 Once the tour ended, we headed into Moose Jaw where we enjoyed Red Lentil Coconut Curry Soup (yum) and Black Lentil Chocolate Brownies (double yum) for lunch at the cute and cozy Common Café + Bakery. Those brownies were dense and fudgy and I never would have guessed they were made with lentils!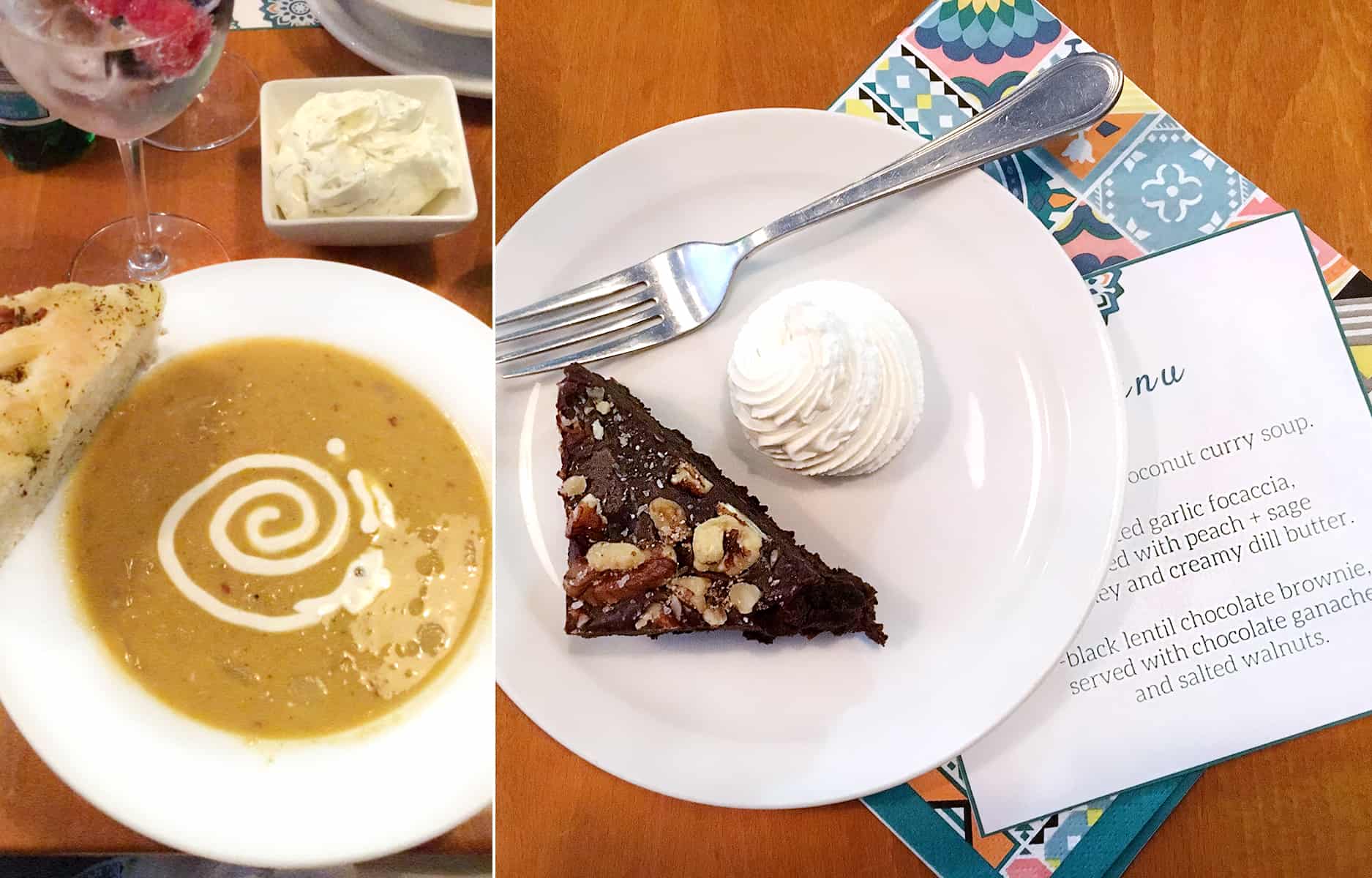 Then it was back to Schoolhaus Culinary Arts in Regina for an eye-opening lentil cooking class. Chef Renée first demonstrated a Roasted Sweet Potato & Lentil Dip reminiscent of hummus. It was sweet, creamy, and absolutely delicious. Then we food bloggers tried our hands at concocting Coconut Scented Barley & Lentils (AMAZING) and Coconut & Banana Lentil Bites. I mean, who knew you could make energy bites using lentils???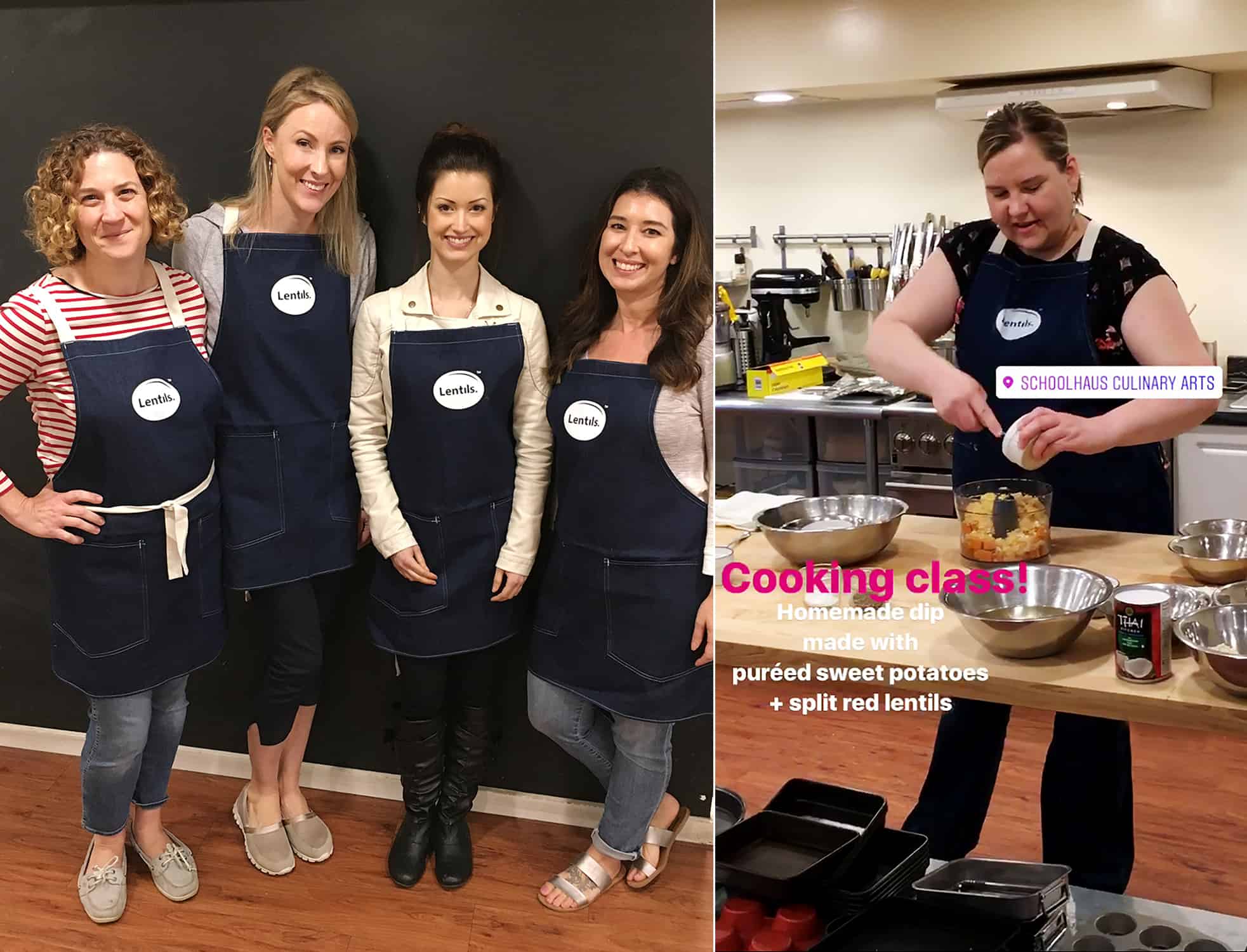 Right about now, you might be asking yourself WHY…why incorporate lentils into all of these otherwise lentil-free dishes? Well, I'm so glad you asked. 😉 Lentils are incredibly healthy…low in calories and fat, but high in protein, fiber, vitamins, and minerals such as potassium, iron, folate, zinc, and selenium. And because they are also neutral in flavor, they readily absorb whatever flavors you choose to impart…or they can be cooked, puréed, and blended into baked goods for added moisture and nutrition, and nobody will even know that they're there!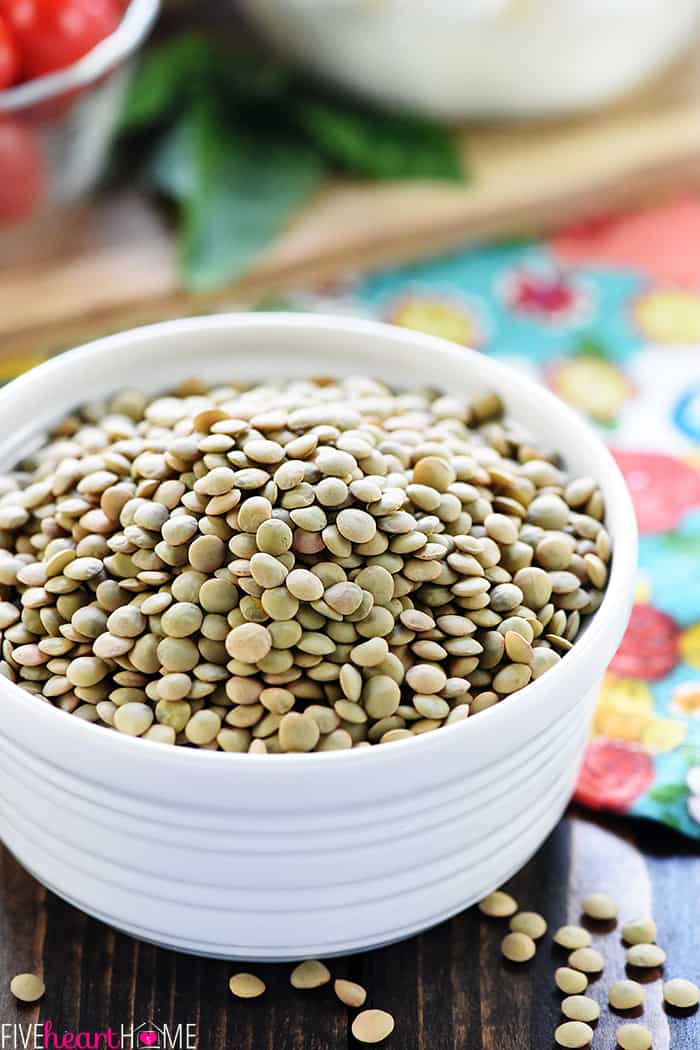 Lentils are also quick and easy to cook. They don't require pre-soaking, and they can be batch-cooked and portioned then refrigerated or frozen for later use. For example, you could quickly cook up a big pot of lentils, purée them or leave them whole, refrigerate (for up to one week) or freeze (for up to three months) in half-cup or so portions, and then defrost your desired amount any time you want to add wholesome lentils to other recipes!
The most common types of lentils found in stores are whole green lentils and split red lentils. Whole lentils add texture to recipes, making them perfect for today's Summer Lentil Salad. Split lentils have had the outer seed coat removed so that they cook faster and break down more readily, meaning they're wonderful in soups, curries, purées, or as a natural thickener in recipes.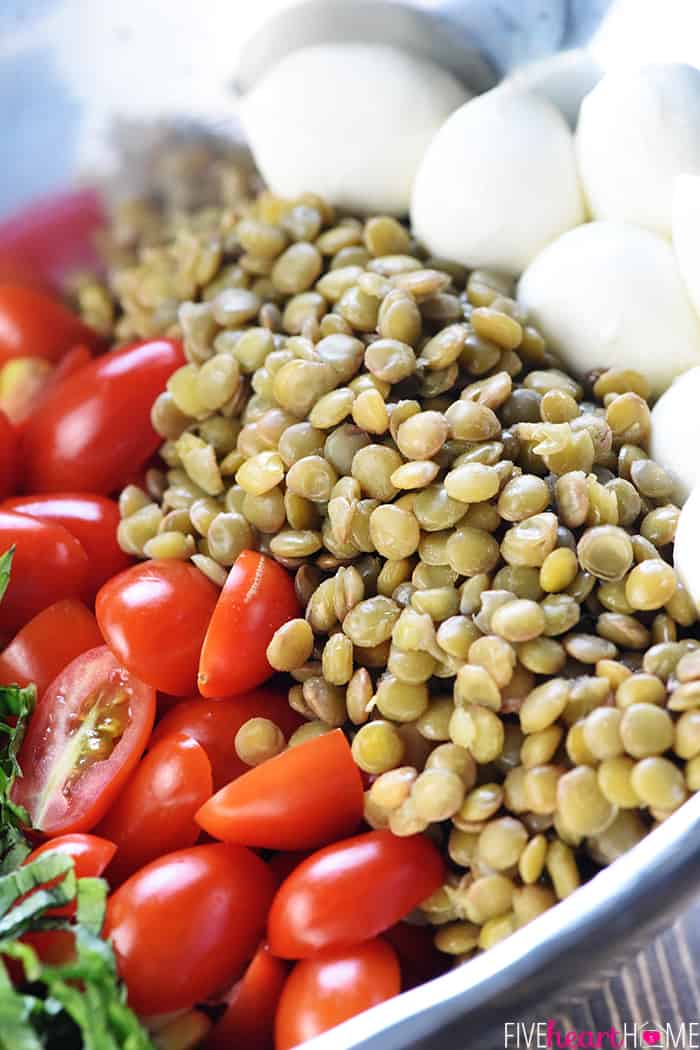 The variety of different lentil dishes that we enjoyed on this trip was mind-blowing and really demonstrated the potential of lentils as an ingredient across so many types of recipes. Our action-packed day of lentil learning closed out with a gourmet dinner at Crave Kitchen + Wine Bar that included an appetizer of Lentil Fritters, our choice of entrée served with either Sprouted Lentil Succotash, Lentil Fries, or Lentil & Harissa Puree, and Lentil Lavender Shortbread for dessert. Stuffed and happy, we all headed back to the hotel with visions of lentils dancing in our heads.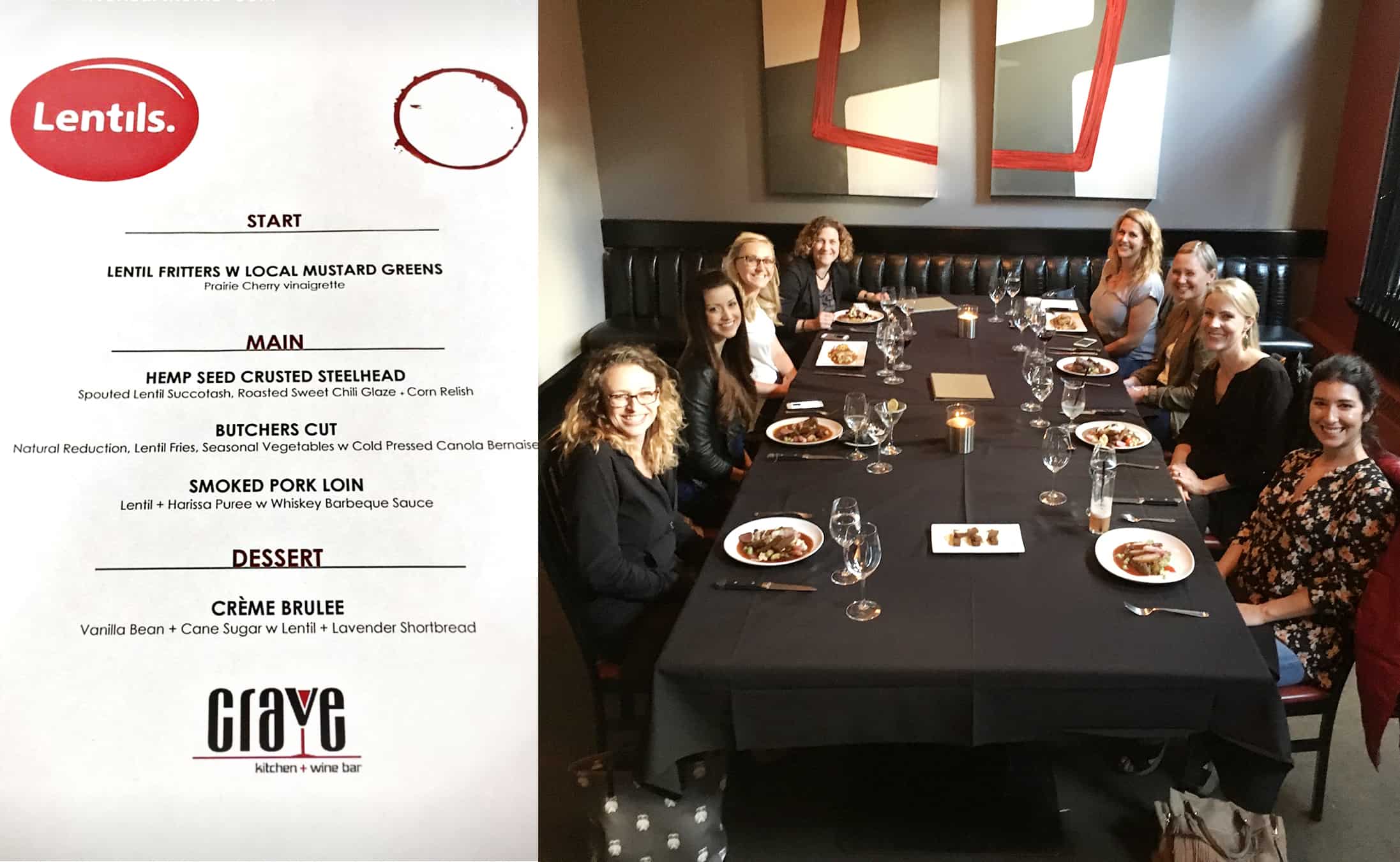 Because I have a feeling that most of you are probably like I was before this trip – uninitiated in the many magical culinary applications of lentils – I wanted to develop a recipe for you that's a little more out-of-the-box than lentil soup or curry, but not as wild and crazy as lentil cookies…because we have plenty of time to get to those yet. 😉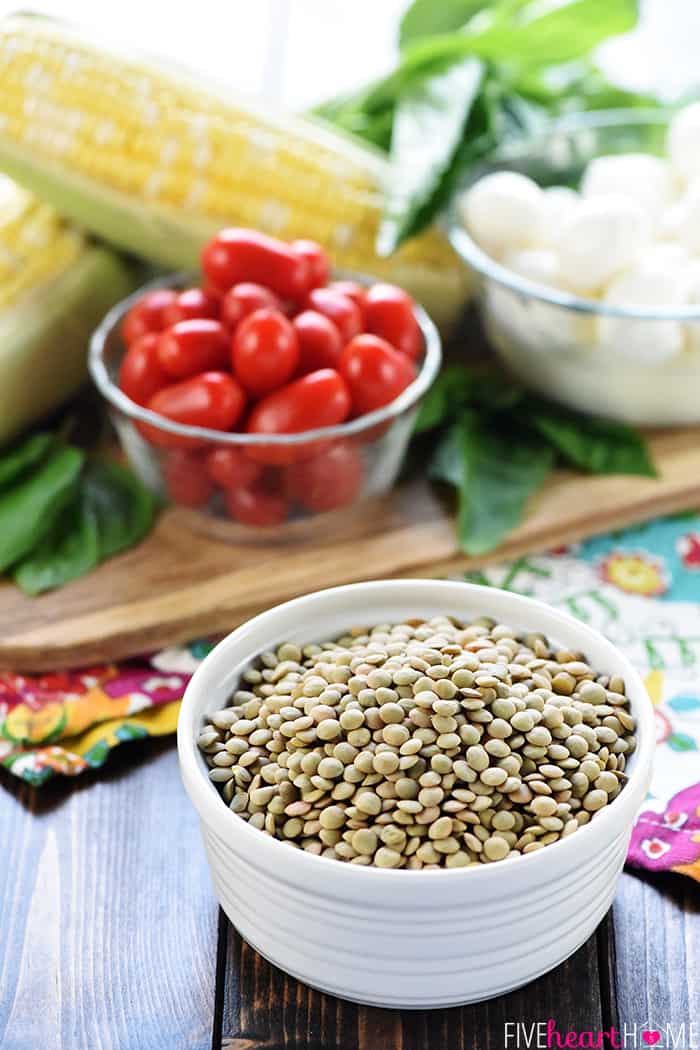 Summer Lentil Salad with Corn, Tomatoes, Mozzarella, & Basil is fresh and flavorful, loaded with the contrasting flavors and textures of seasonal summer ingredients. At the heart of the salad are tender green lentils, cooked, cooled, and folded into a beautiful recipe that's hearty enough to be an entree but versatile enough to be a side dish.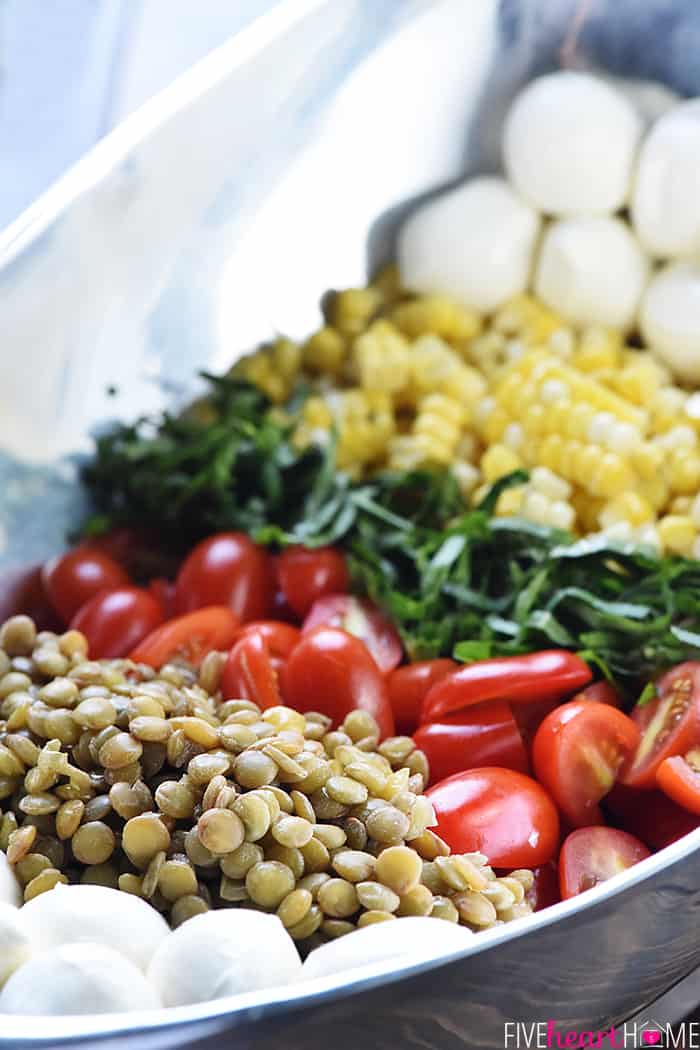 You may recognize a few caprese-like ingredients in the salad, but it also gets a sweet, extra summer-y vibe from the fresh roasted corn.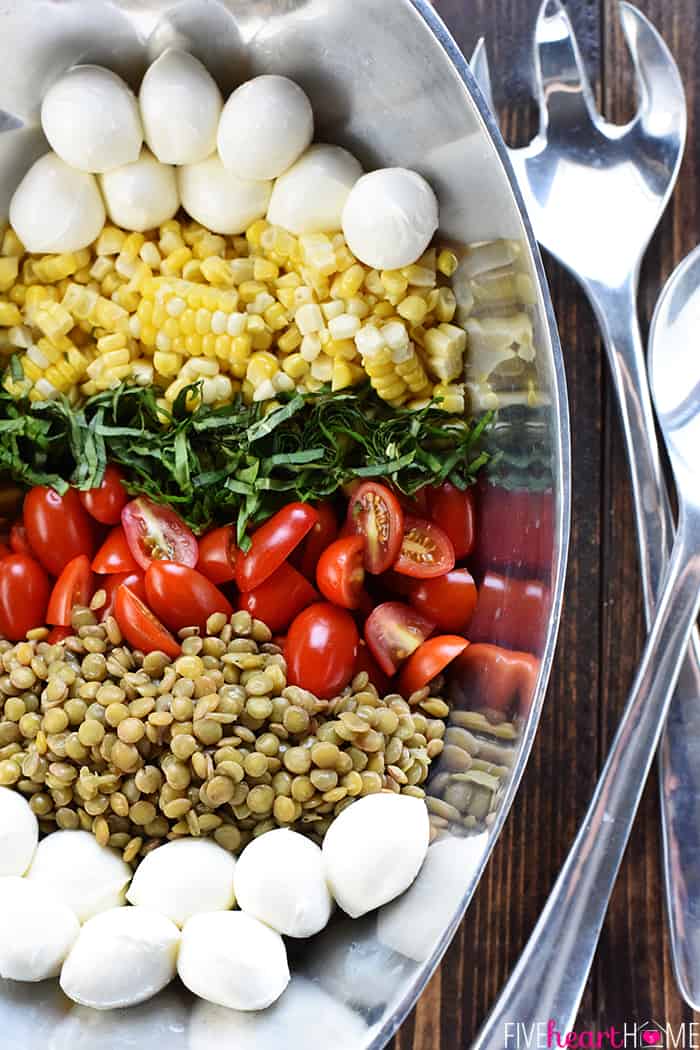 All of those glorious components get tossed with a simple, tangy, red wine vinaigrette, which the neutral-flavored lentils really soak up.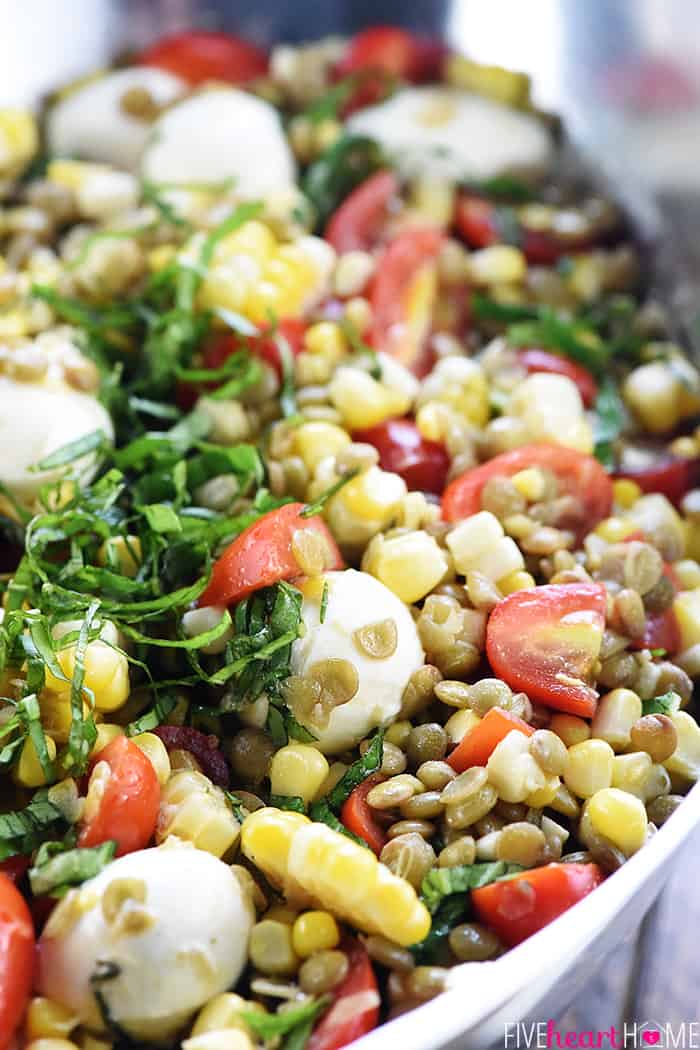 And then, for anyone who craves a bit of salty crunch, thin slices of prosciutto are quickly pan-crisped and then crumbled over the top of the salad. Bacon could always be used instead, but prosciutto adds an extra-special touch.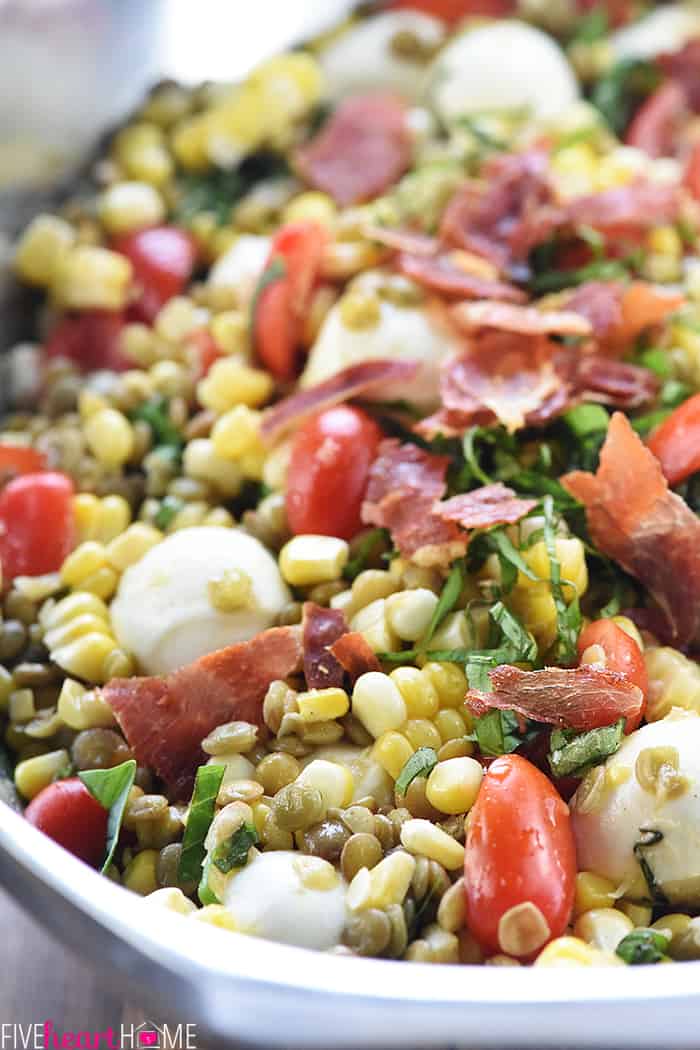 Colorful, fresh, delicious…this ain't your grandma's lentil soup! My whole family loved this salad and scarfed it right down. My 9-year-old even asked if he could have the leftovers for lunch the next day, which is a sure sign of a winning dish.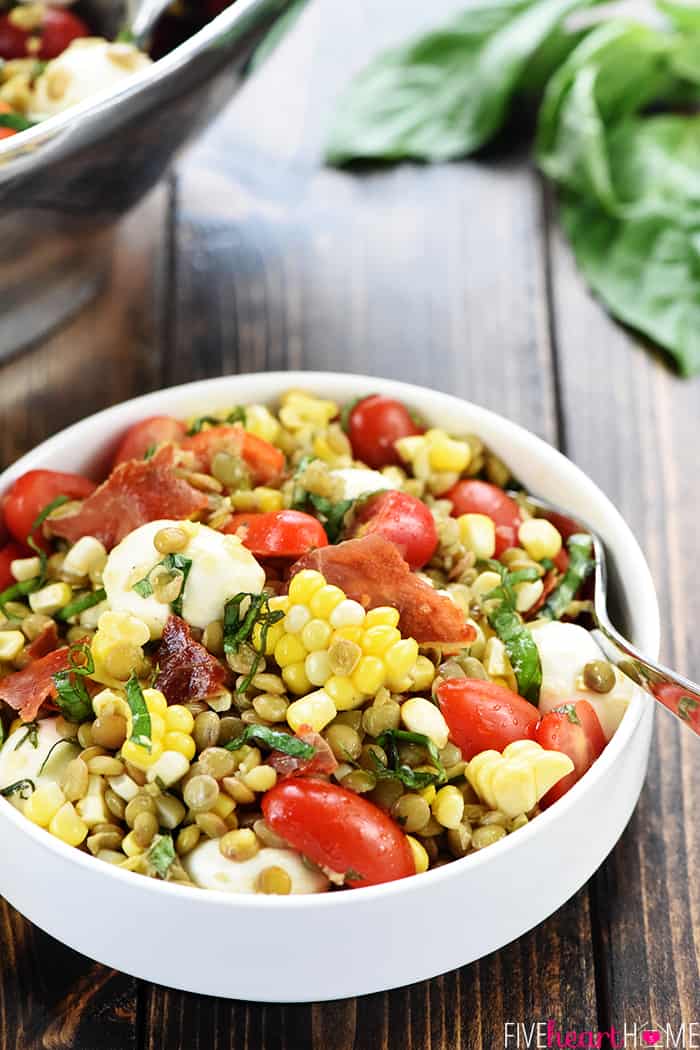 So who's ready to add extra protein, fiber, vitamins, and minerals to a variety of recipes using tasty, healthy lentils? I really hope you have a chance to try this Summer Lentil Salad with Corn, Tomatoes, Mozzarella & Basil before the summer is through.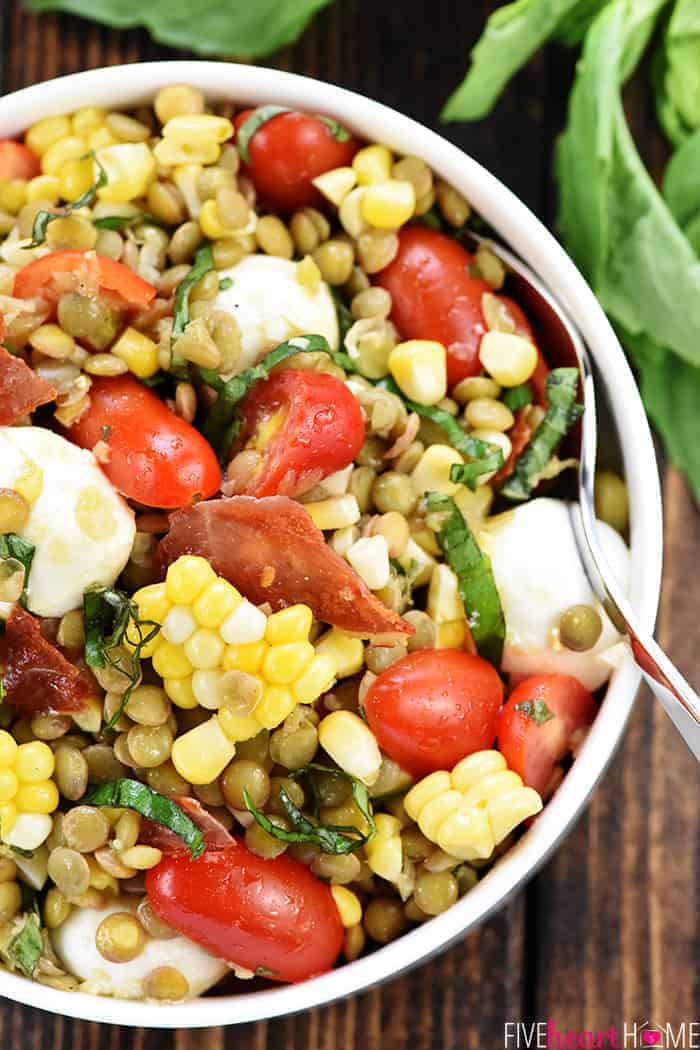 And rest assured that I'll be using my newfound lentil knowledge to start experimenting in the kitchen with this nutrient-packed, versatile ingredient. I'd love for you to join me!

More Summer Salads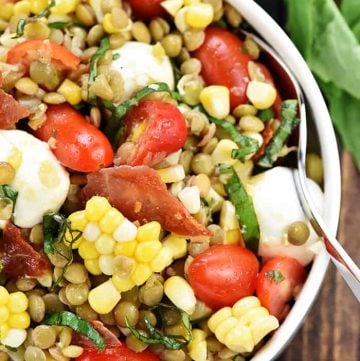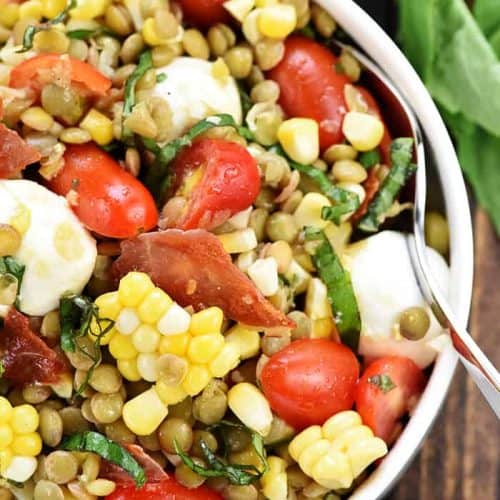 Summer Lentil Salad with Corn, Tomatoes, Mozzarella & Basil
Summer Lentil Salad features protein-packed lentils, roasted corn, juicy tomatoes, creamy mozzarella, fresh basil, and pan-crisped prosciutto for a healthy, vibrant main dish or a versatile side!
Print
Pin
Ingredients
For the vinaigrette:
½

cup

extra virgin olive oil

,

or another neutral-flavored oil, such as sunflower

2

tablespoons

red wine vinegar

1

tablespoon

lemon juice

½

teaspoon

Dijon mustard

1

tablespoon

finely minced fresh basil

½

teaspoon

crushed/finely minced garlic

½

teaspoon

salt

Freshly ground black pepper

,

to taste
For the salad:
1

cup

green lentils

2

ounces

thinly sliced prosciutto

2

cups

fresh corn kernels

,

cooked & sliced from the cob (from approximately 3 fresh ears of corn)

2

cups

(about 10 ounces) grape OR cherry tomatoes

,

halved or quartered (depending on size)

8

ounces

mini fresh mozzarella balls

,

ciliegine sized

¼

cup

fresh basil leaves

,

sliced in a chiffonade
Instructions
To make the vinaigrette, combine the oil, red wine vinegar, lemon juice, Dijon, minced basil, garlic, salt, and pepper in a jar with a tight-fitting lid. Shake vigorously; set aside.

Place the lentils in a colander and rinse with cool water. In a medium saucepan, bring 4 cups of water to a boil. Add the lentils, reduce to a simmer, cover, and cook for 15 to 20 minutes or until tender but not mushy. Drain in a colander, toss with salt until seasoned to taste, and set aside to cool.

Set a large pan over medium heat and add a single layer of prosciutto. Cook 3 to 5 minutes on each side until the prosciutto starts to crisp up and turn brown around the edges. Remove to a paper-towel lined plate to cool. Cook in batches until all of the prosciutto is crisped; set aside to cool.

In a large bowl, layer the lentils, cooked corn kernels, sliced tomatoes, mini mozzarella balls, and basil. Shake the vinaigrette well and drizzle it over the salad. Gently toss to combine all of the salad ingredients. Serve immediately or refrigerate for an hour or more to allow the salad to soak up the flavors of the dressing. Just before serving, stir the salad and crumble the prosciutto over the top.
Notes
Lentils should always be seasoned with salt after they are cooked. Adding salt to the cooking water can cause lentils to become tough.
Watch the lentils very closely as they near the end of their cooking time. They can go from a perfect consistency to mushy very quickly, and for this salad, you want them to be tender but not overly soft and falling apart.
If you plan on chilling the salad, wait until just before serving to cook and add the prosciutto.
You may use frozen (thawed) corn if you don't have fresh.
Calories:
357
kcal
|
Carbohydrates:
30
g
|
Protein:
18
g
|
Fat:
20
g
|
Saturated Fat:
5
g
|
Cholesterol:
20
mg
|
Sodium:
304
mg
|
Potassium:
552
mg
|
Fiber:
11
g
|
Sugar:
5
g
|
Vitamin A:
421
IU
|
Vitamin C:
17
mg
|
Calcium:
159
mg
|
Iron:
3
mg
This is a sponsored conversation written by me on behalf of Lentils.org.
The opinions and text are all mine.