Tomato Cucumber Salad with Olives & Feta is a perfect summer side dish for using up an overabundance of garden fresh produce!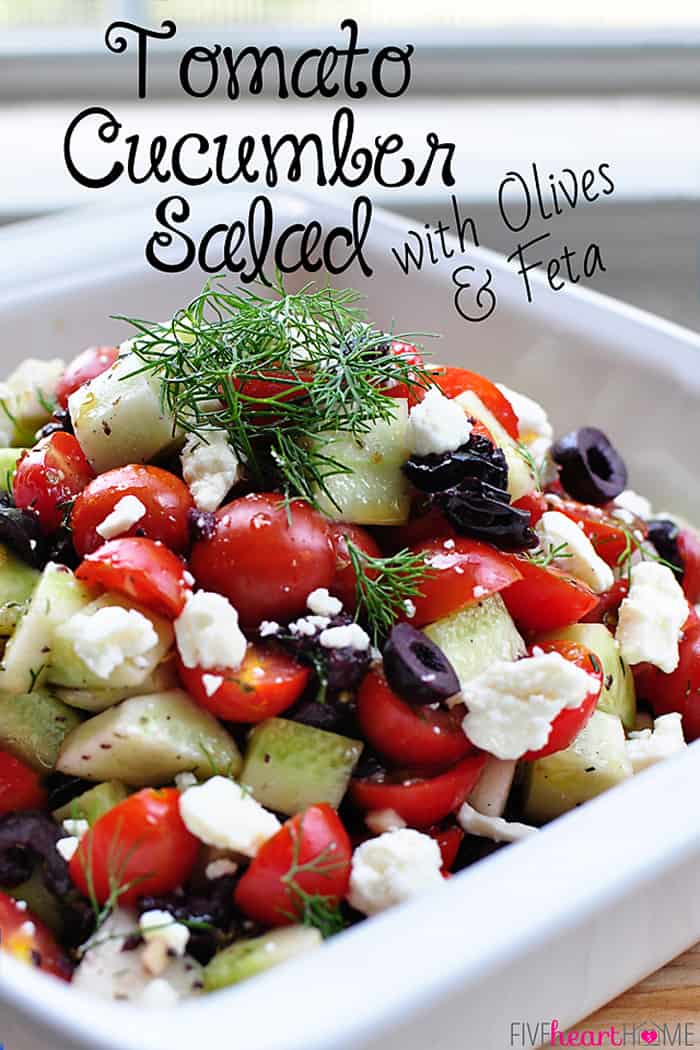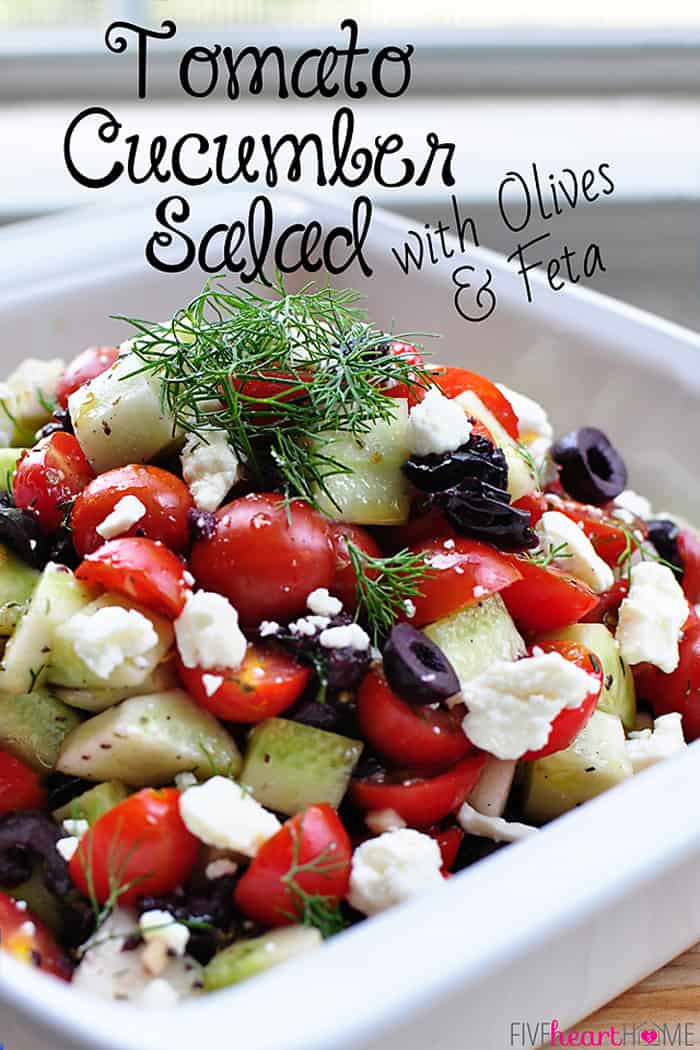 My father-in-law has quite the green thumb and consequently, each summer we are the lucky recipients of a plethora of zucchini, squash, eggplant, cucumbers, green beans, and — my favorite — tomatoes.  I'm not using the word plethora lightly.  This is a fraction of the veggies that my in-laws bestow upon us on a bi-weekly basis.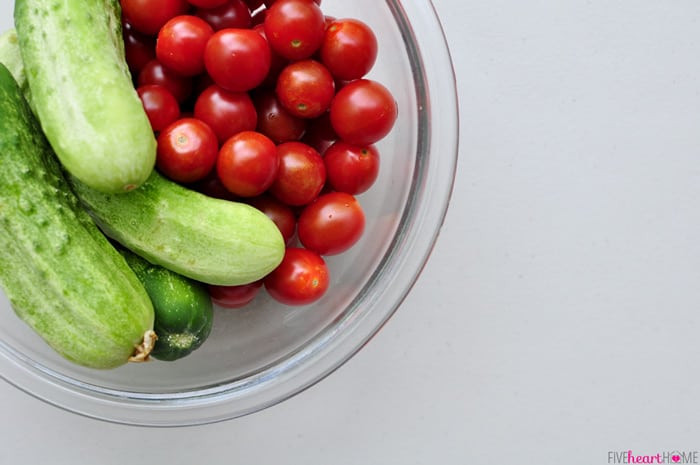 It's always fun to come up with new ways to eat these garden-fresh vegetables.  I especially love tomatoes and cucumbers together, so when I came across a recipe that called for this combo along with fresh dill (enter my own rampant herb garden), briny olives, and creamy feta cheese, I knew that it would be the perfect dish to make at least a small dent in our veggie surplus.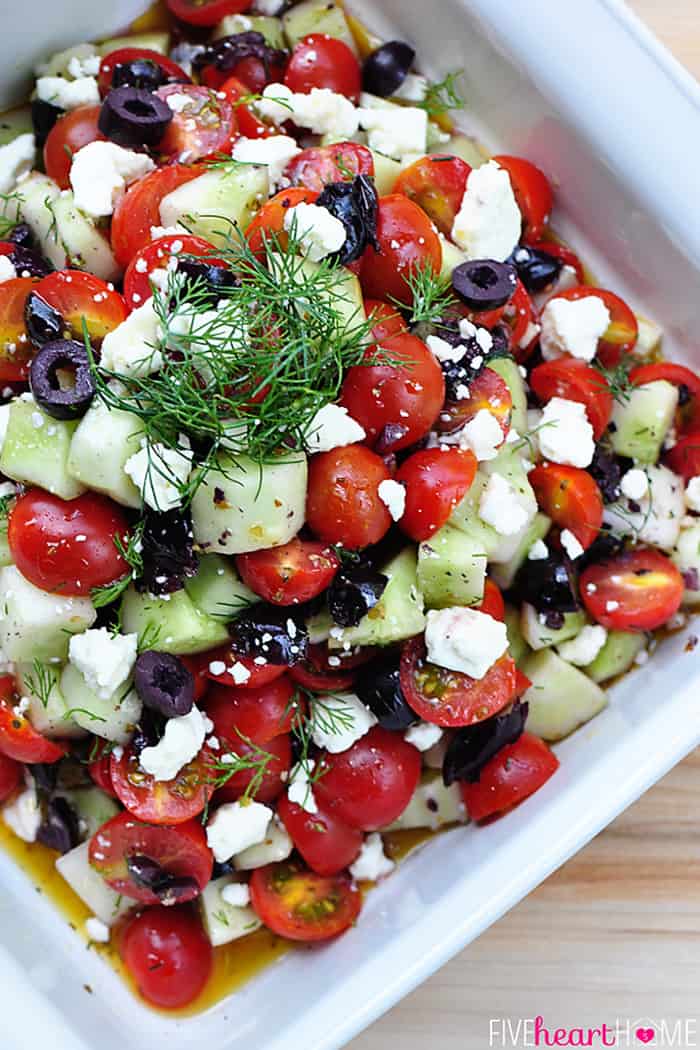 This salad is as tasty as it is beautiful, and I think it would make a lovely addition to your next summer meal or celebration.  And pssst…here's one last little hint.  Toss it with some cooked corkscrew pasta and turn it into a Tomato Cucumber PASTA Salad with Olives and Feta.  Yum!
And who needs a garbage disposal when your trusty kitchen assistant offers to eat all of the discarded cucumber skins for you?  Gotta love this cute and quirky boy. 😉
Tomato Cucumber Salad with Olives and Feta
There's something for everyone in this refreshing salad with its variety of flavors, textures, and colors.
Ingredients
Dill & Garlic Dressing:

1/2 cup extra-virgin olive oil
1/4 cup red wine vinegar
1 1/2 teaspoons sugar
1 clove garlic, minced
1 tablespoon fresh dill, minced
1 teaspoon dried oregano
1/2 teaspoon garlic powder
1/4 teaspoon salt
Freshly ground black pepper, to taste
Salad:

1 pound tomatoes (cherry or grape tomatoes, cut in half, or about 3 large tomatoes, seeded & chopped)
1 pound cucumbers (approximately 2 large or 4 small), diced
1/2 cup Kalamata olives, drained, pitted, & chopped
1/2 cup feta cheese, crumbled
2 tablespoons fresh dill, for garnish
Instructions
For the dressing:

In a medium bowl, whisk together all dressing ingredients until thoroughly blended. Alternatively, you may place ingredients in a jar, tighten the lid, and shake until incorporated.
For the salad:

In a large bowl, combine all salad ingredients. Toss with dressing until everything is evenly coated.
Cover salad and refrigerate for at least 4 hours, removing from the refrigerator at least 30 minutes before serving. Drain off any excess dressing and garnish with dill, if desired.
Notes
Click on link below recipe to turn this recipe into a Tomato Cucumber PASTA Salad!
https://www.fivehearthome.com/tomato-cucumber-salad-with-olives-and-feta/
https://fivehearthome.com ~ All recipes and images on Five Heart Home are copyright protected. Please do not use without my permission. If you would like to feature this recipe, please rewrite the directions in your own words and give proper attribution by linking back to this blog.
Adapted from Perfect Party Food.
 More scrumptious, summer-y salads…
Tomato Cucumber Pasta Salad with Avocado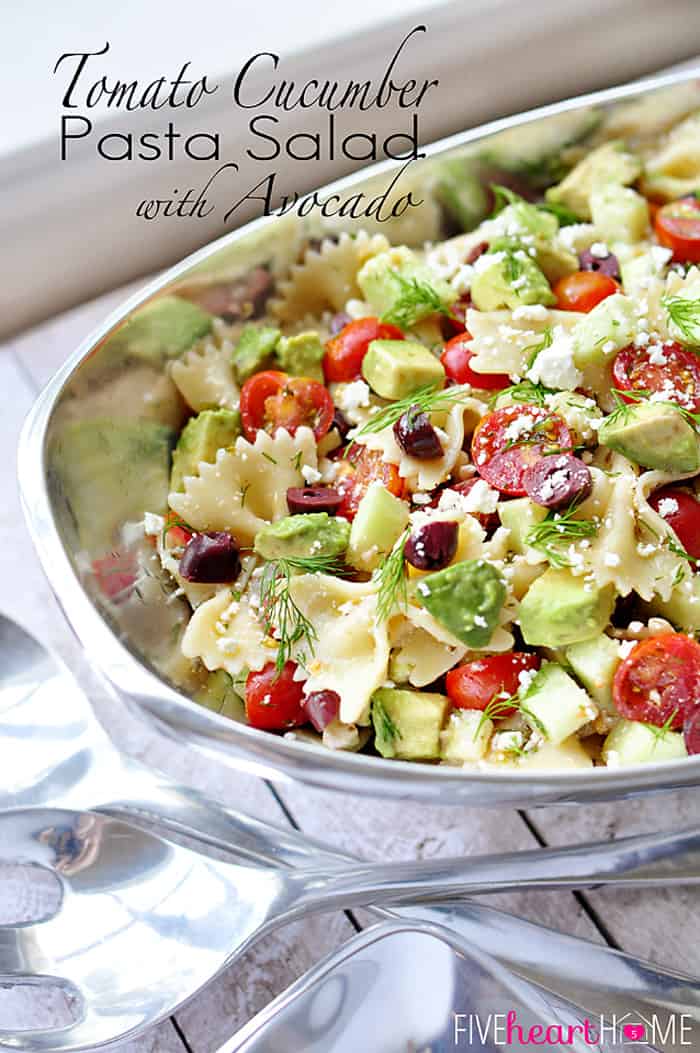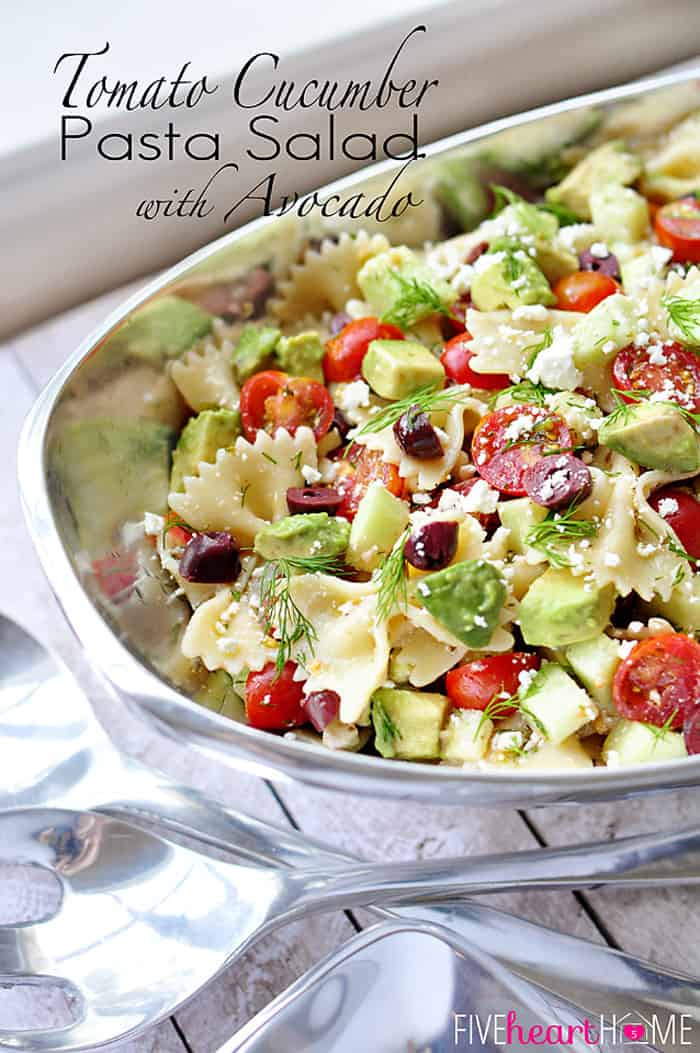 Tortellini Pasta Salad with Tomatoes, Basil, & Fresh Corn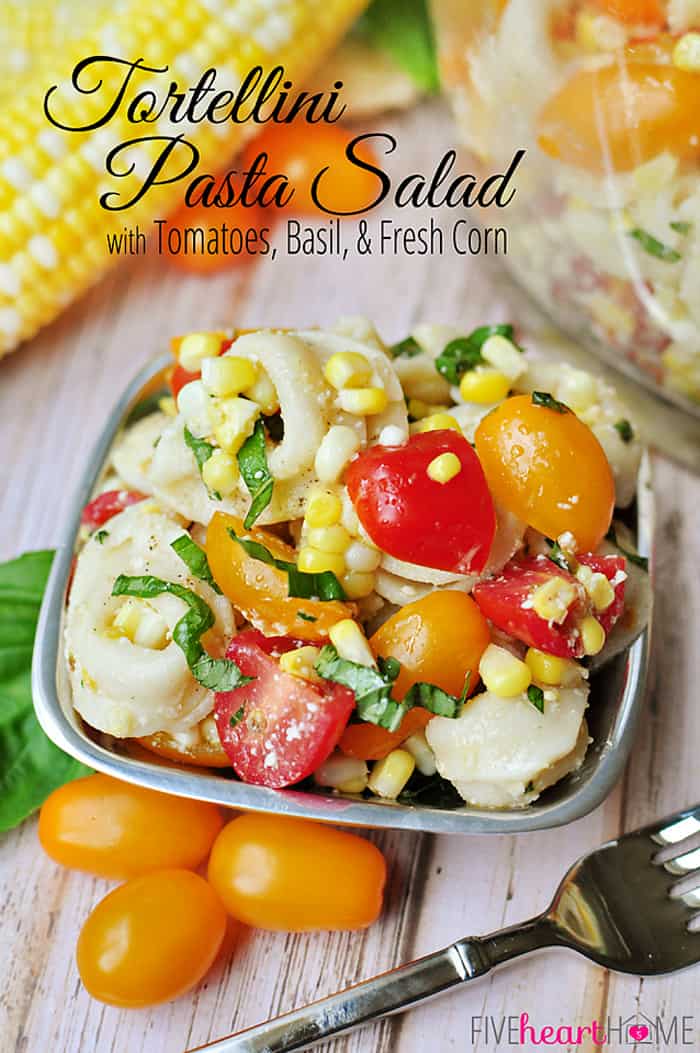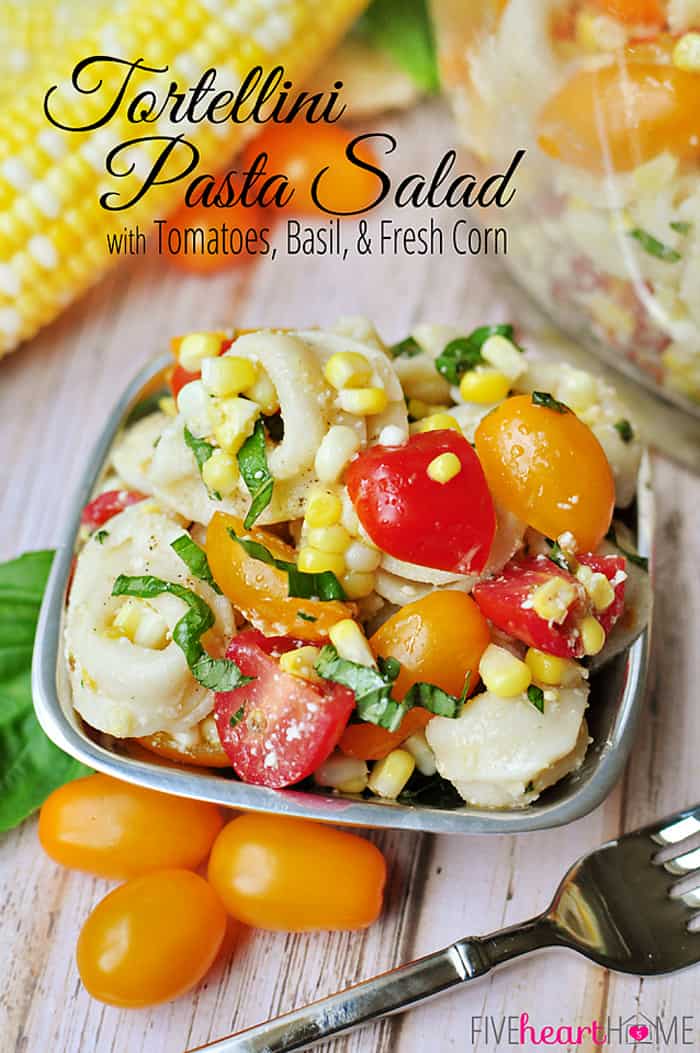 Mixed Greens Salad with Mandarins, Toasted Almonds, Avocado, & Sesame Ginger Vinaigrette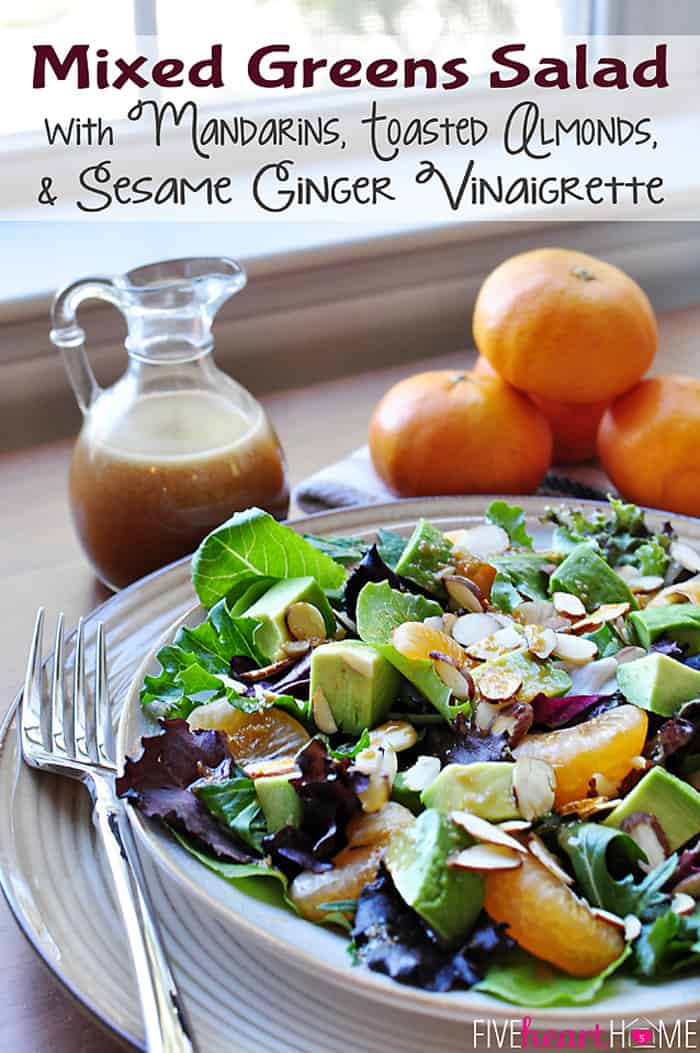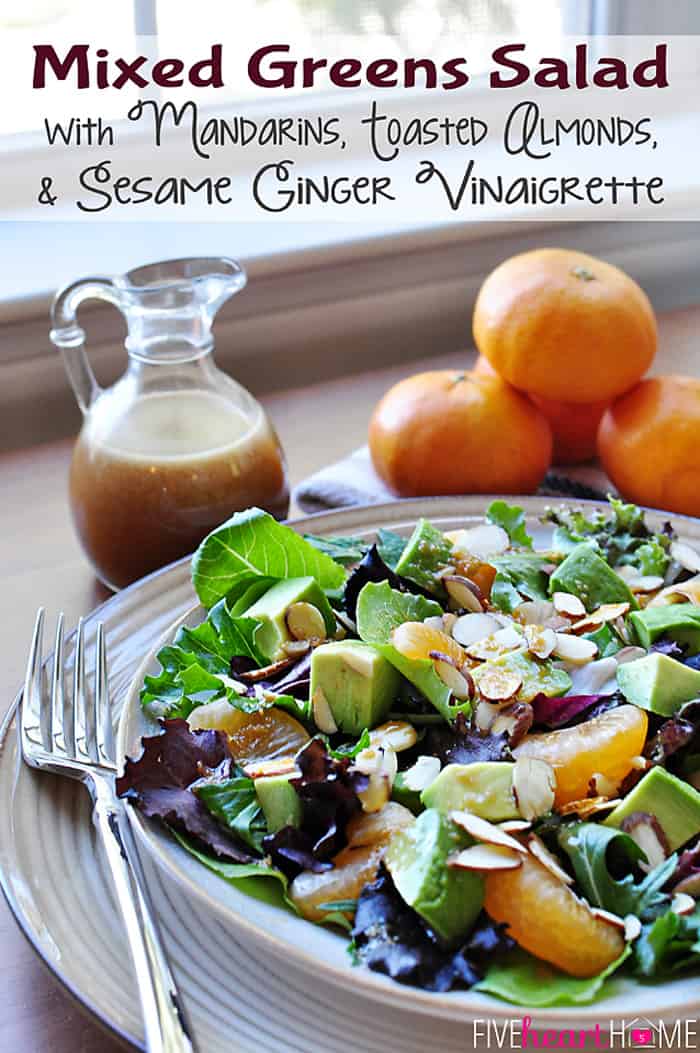 Corn, Black Bean & Tomato Salad (Texas Caviar)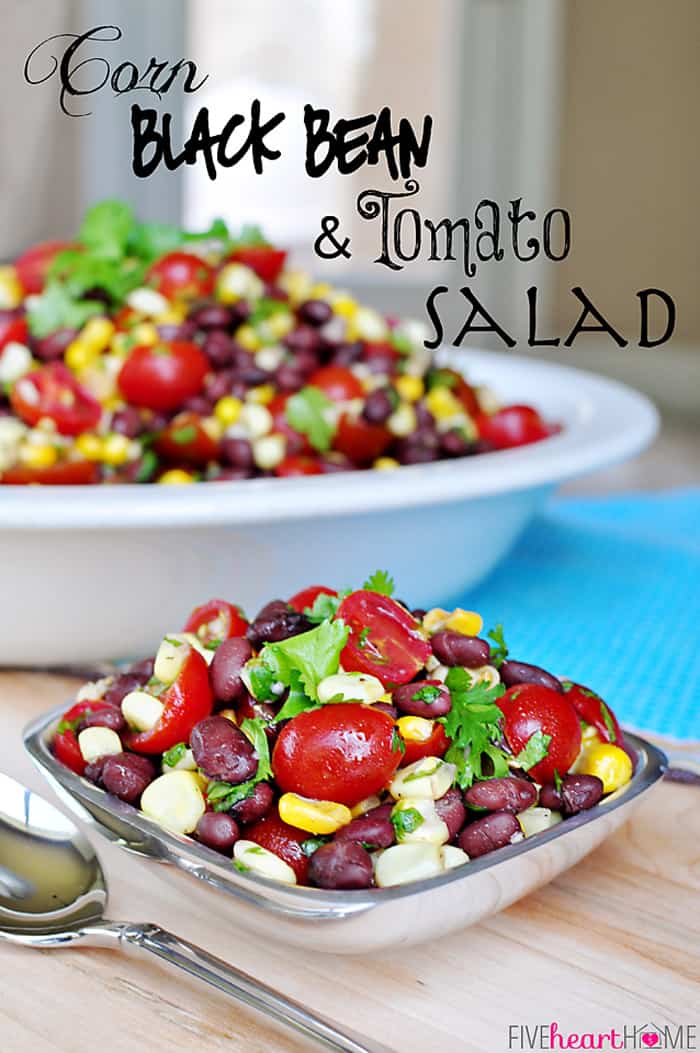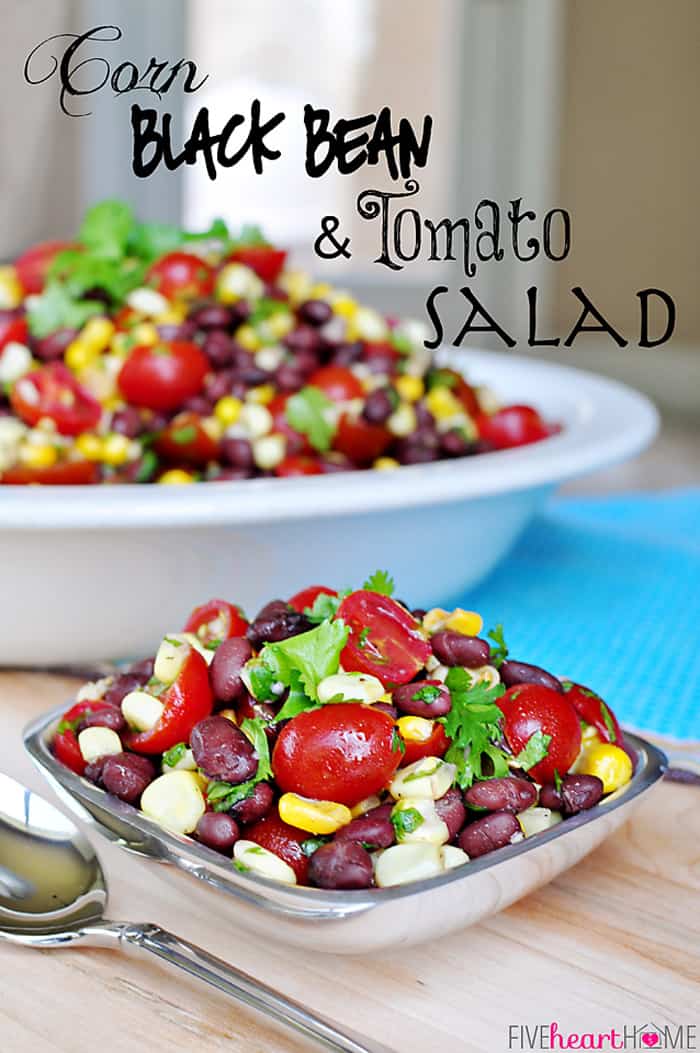 196