Sometimes a salad is more than just a salad.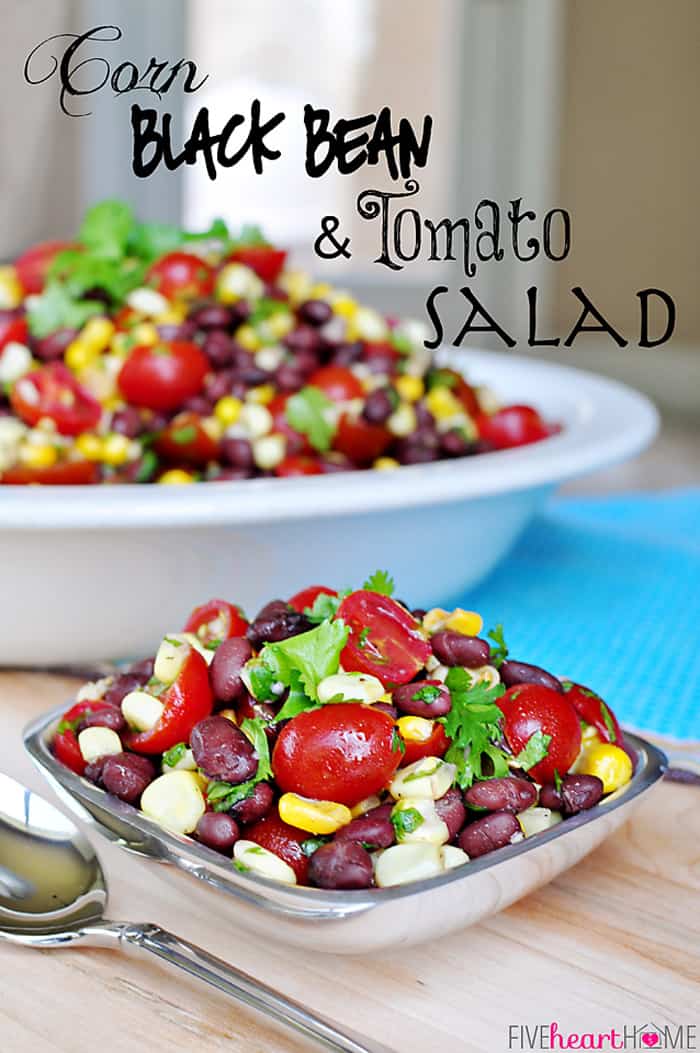 When I'm serving enchiladas or other Tex-Mex fare, I make this salad. When I'm throwing a party and need a hearty dip to go with tortilla chips, I make this salad. When I want a flavor-infused topping for otherwise-blah chicken or fish, I make this salad. When the garden is overrun with tomatoes and cilantro but I'm all salsa-ed out (who am I kidding? I could never get tired of salsa), I make this salad.
By now, you've probably gotten the hint that this is a pretty versatile recipe. Around my house, it's much loved as well. Even my non-tomato liking husband (which I cannot comprehend) happily eats it, and not many recipes can get him to eat a tomato.  There are many variations of this salad and I've seen it go by an assortment of names (Texas Caviar, anyone?), but I can promise you that this particular incarnation of it is delicious.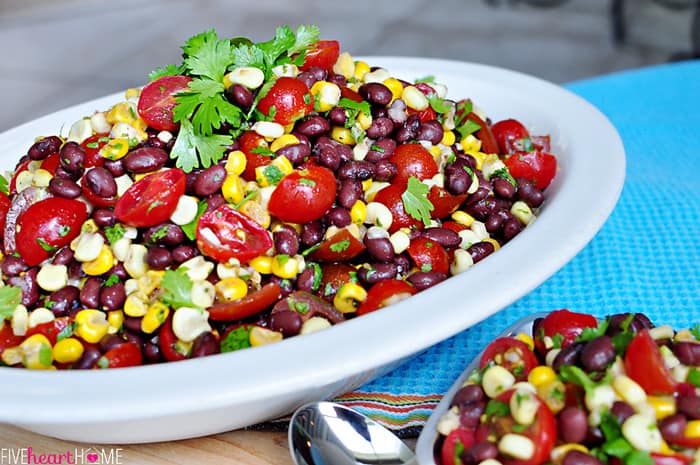 Let's start with a discussion of the ingredients, shall we? I think what makes this dish so good are all of the flavors going on at the same time. You have the acidic tomatoes balanced out by creamy black beans, sweet corn, and refreshing cilantro. Then all of that yumminess is enveloped in a garlicky, lime-infused dressing that makes you want to shout, "Olé!" Or maybe that's only if you've had a few too many margaritas to accompany your Mexican fare, but that's neither here nor there.
Now I'm not gonna lie.  Even when I eat this salad as a side dish, I still like to scoop it up with chips. The crunch is a nice contrast to the other textures going on. Yessir, I'm all about the textures. Furthermore, while plain tortilla chips are just dandy, the lightly seasoned ones make even tastier mediums for scooping because they really seem to bring out the sweetness of the corn. I'm not talking about Nacho Cheese Doritos here, y'all. If you are lucky enough to live in Texas or another state that sells Julio's, they are awesome with this recipe (or with anything else, but I digress). I also recently discovered some Hatch Chili tortilla chips at my grocery store that make for pretty tasty dippers as well.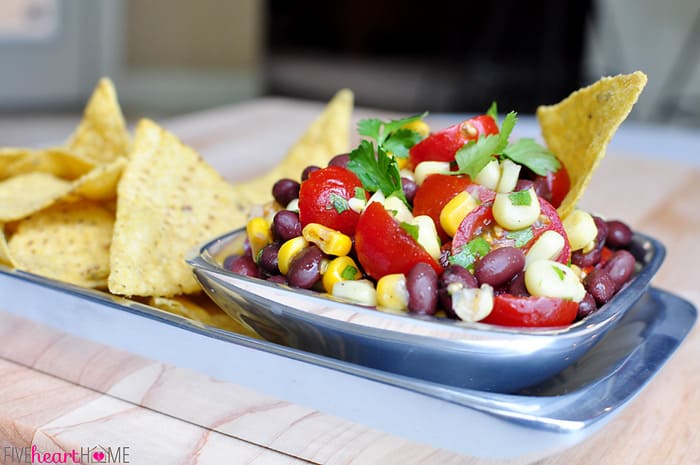 The jalapeños here are optional, but I don't think you should leave them out altogether. Just make sure you remove all of the seeds and membranes, and dice them very finely. If you're still afraid of the heat, use one jalapeño instead of two. Unfortunately, while preparing this recipe for this post, I realized that I forgot to pick up a couple jalapeños on my latest trip to the grocery store. I thought it wouldn't make that much of a difference to leave them out, but I definitely noticed their absence. The jalapeño just adds another flavor profile, and having had this salad more times than I can count, it's one that I'm missing this time around.
If you detect that some of the corn in these photos looks yellow and some of it looks white, no, there is nothing wrong with your computer monitor. When I can find them in the freezer section, I like to use both shades of corn to make this recipe…not because they taste any different, but because they sure look purty.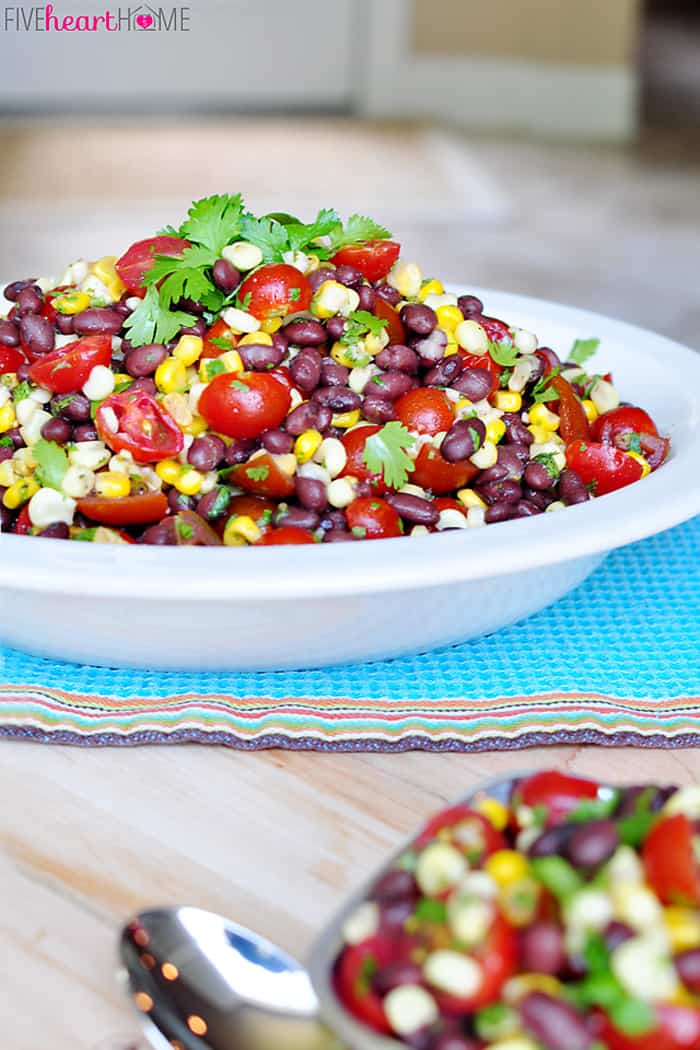 The last thing I want to mention is that the delectable dressing used to coat this salad is actually very concentrated. It needs to be, because it's going to be spread out amongst a bunch of ingredients, but just don't think that you can splash it on a salad of mixed greens as-is. I'm sure you could turn it into a traditional salad dressing by adding more olive oil and cutting back on the salt and pepper. But the way it's mixed according to the directions below ends up being perfect for this recipe…so don't be afraid of how strong it is if you happen to taste-test it before mixing it in.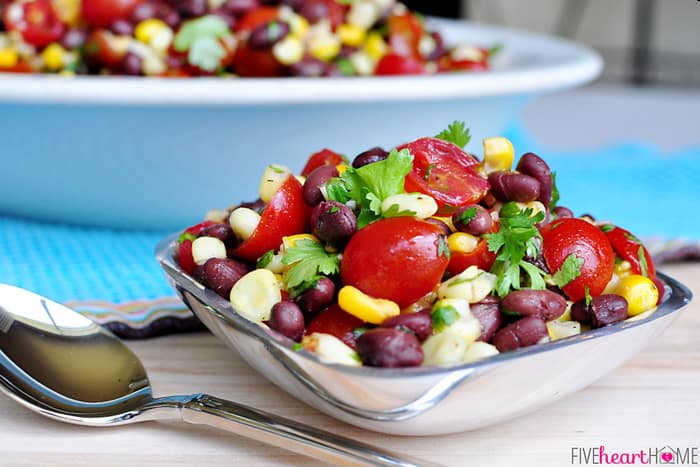 So have I convinced you to try this salad? I hope so! It's healthy, it's summery, it's scrumptious!
Corn, Black Bean, & Tomato Salad
This flavorful salad makes a perfect accompaniment to Tex-Mex fare or acts as a hearty dip for chips.
Ingredients
For the dressing:

3 tablespoons extra-virgin olive oil
1/3 cup freshly squeezed lime juice
1 1/2 tablespoons red wine vinegar
2 cloves garlic, finely minced
1 1/2 teaspoons salt
1 teaspoon freshly ground black pepper
For the salad:

2 (15 oz.) cans black beans, drained & rinsed
16 ounce bag of frozen corn
16 ounces cherry or grape tomatoes, halved (OR about 2 extra-large tomatoes, seeded & chopped)
2 fresh jalapeños, seeded, all membranes removed, & finely diced, optional
1/2 cup fresh cilantro leaves, chopped
Instructions
Make dressing by whisking all ingredients together in a medium bowl until thoroughly incorporated, or shaking them in a jar with a tightly-fitting lid. Set aside.
Place rinsed black beans in a very large bowl. Thaw corn by placing it in a colander and running it under warm water; drain well and add to bowl. Add tomatoes, jalapeños, and cilantro to bowl, pour dressing over top, and gently mix all ingredients with a large spoon until well combined. Refrigerate for several hours before serving to allow the flavors to blend.
https://www.fivehearthome.com/corn-black-bean-tomato-salad/
https://www.fivehearthome.com ~ All recipes and images on Five Heart Home are copyright protected. Please do not use without my permission. If you would like to feature this recipe, please rewrite the directions in your own words and give proper attribution by linking back to this blog.
♥More summer salads…

Fiesta Pasta Salad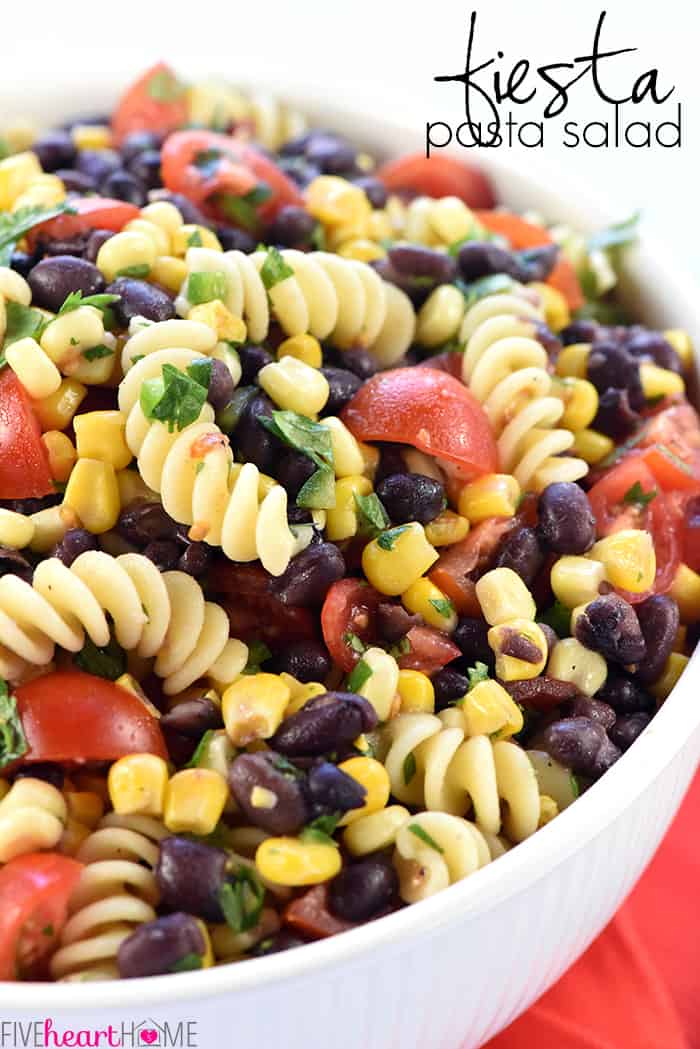 Corn, Tomato, & Avocado Salad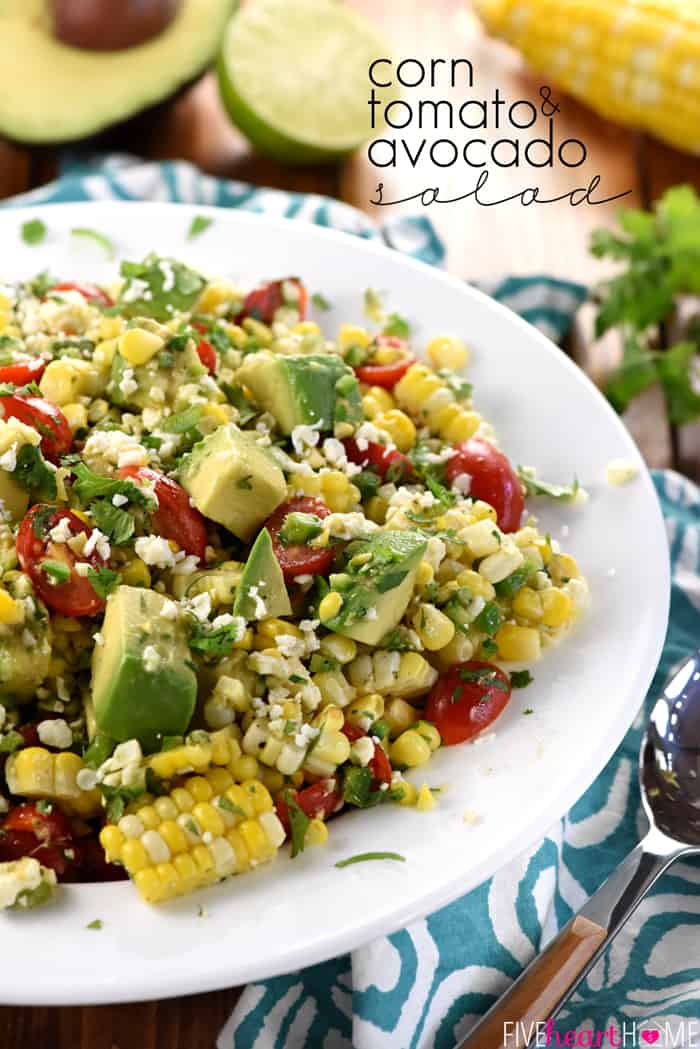 Warm German Potato Salad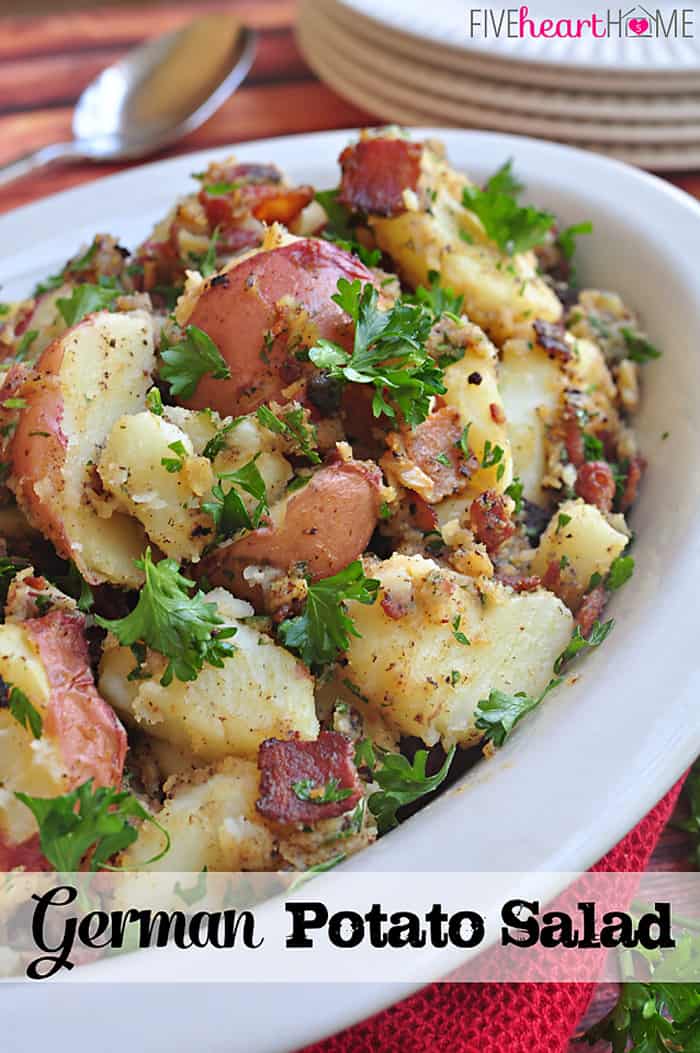 Caprese Chicken Salad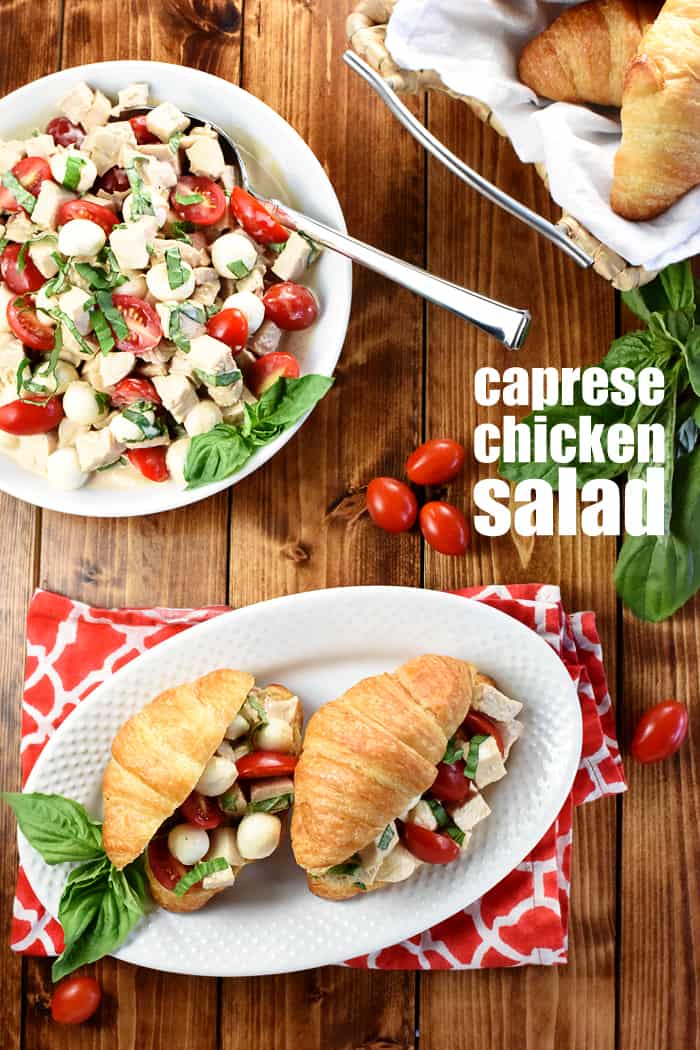 Save
Save
47