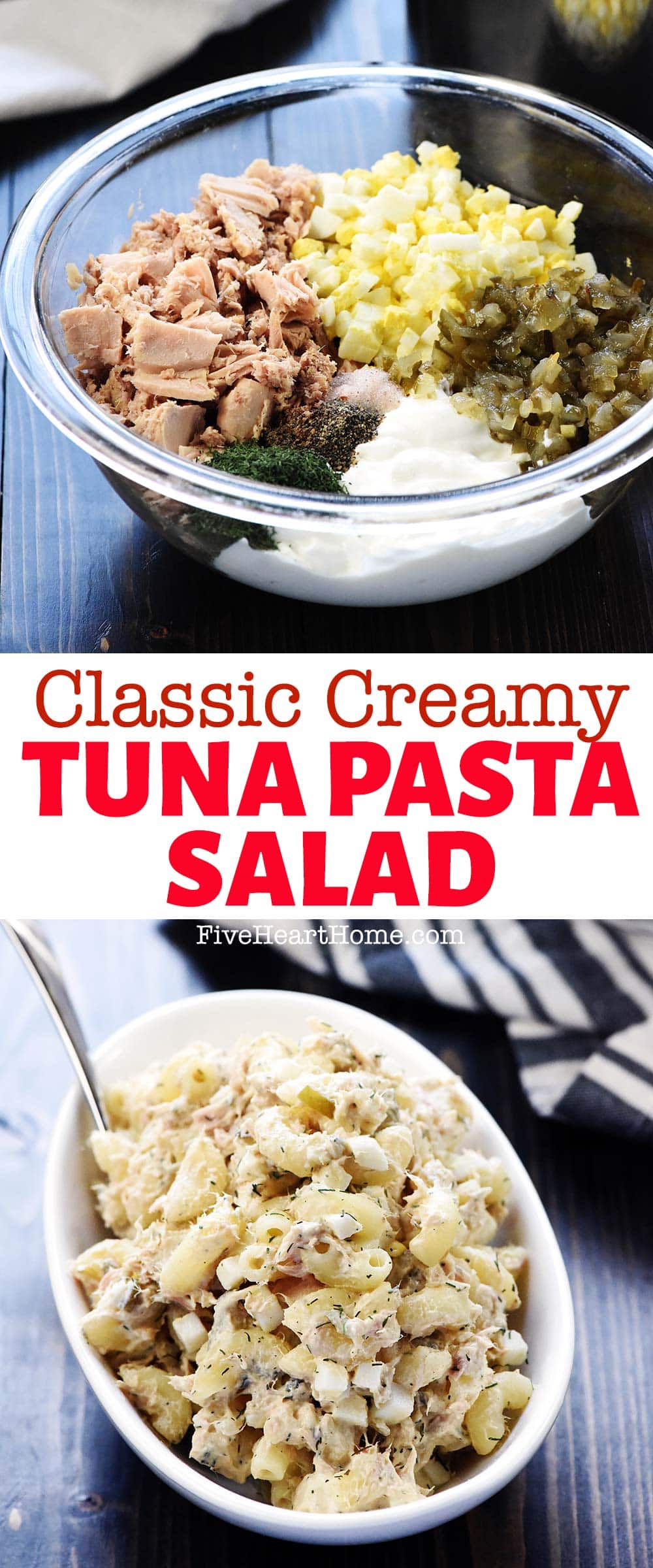 Tuna Pasta Salad features whole wheat macaroni, hard-boiled eggs, both sweet and dill pickles, and fresh dill in a lightened-up dressing of mayonnaise and Greek yogurt. This creamy, classic tuna macaroni salad is the BEST!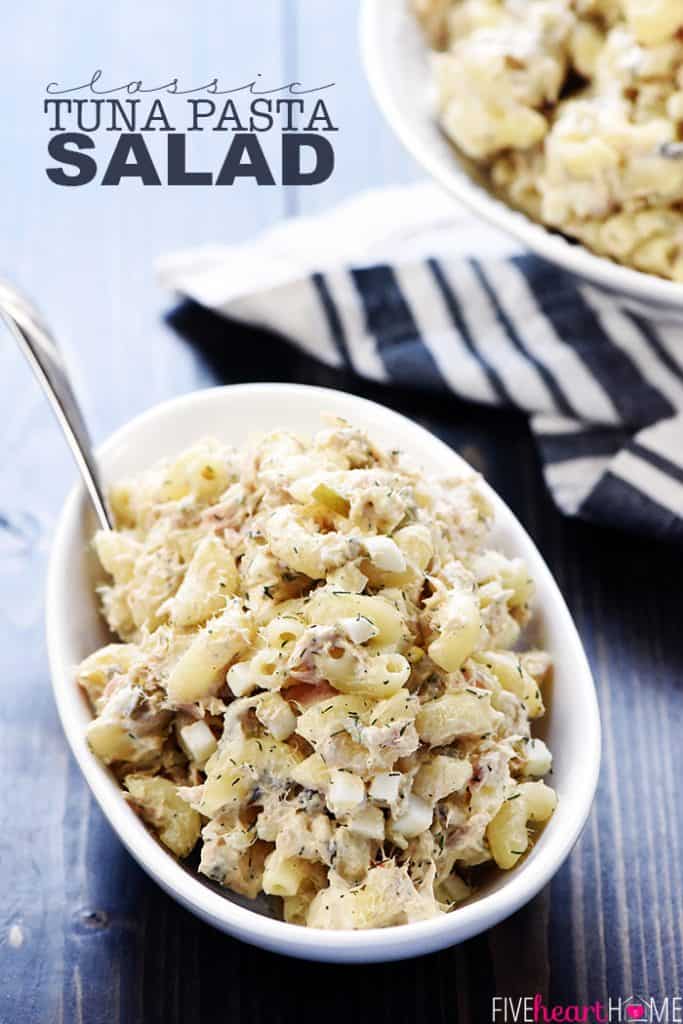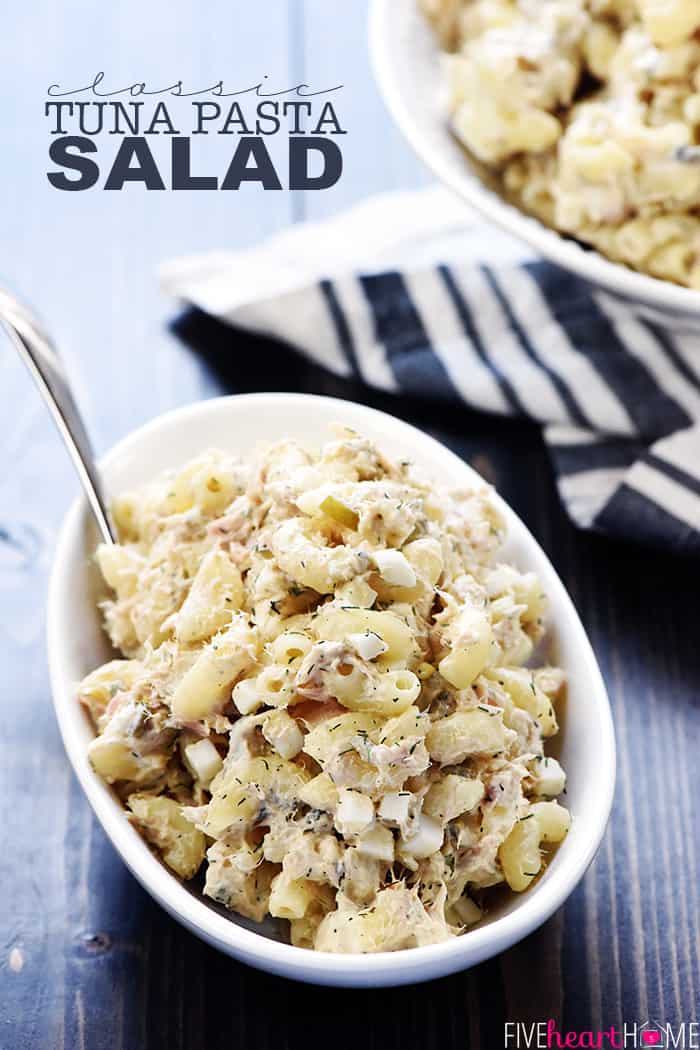 If you like seafood recipes, you may also enjoy Stovetop Tuna Noodle Casserole, Baked Salmon with Garlic & Parsley, or Salmon Patties!
Tuna Pasta Salad is one of those quick, easy recipes that I've loved since I was a kid. Growing up, this was a common lunch at our house on Saturday or Sunday afternoons, and as such, that's often when I find myself making it for my own family. That being said, it's also great as a weeknight dinner (particularly when you're overdue on a grocery store run and down to basic pantry staples), and it's perfect to enjoy on the patio when the weather is warm.
I make my Tuna Pasta Salad the same way my mama always did...simple and classic but with a few twists to make it healthier and, in my humble opinion, even more flavorful.
Ingredients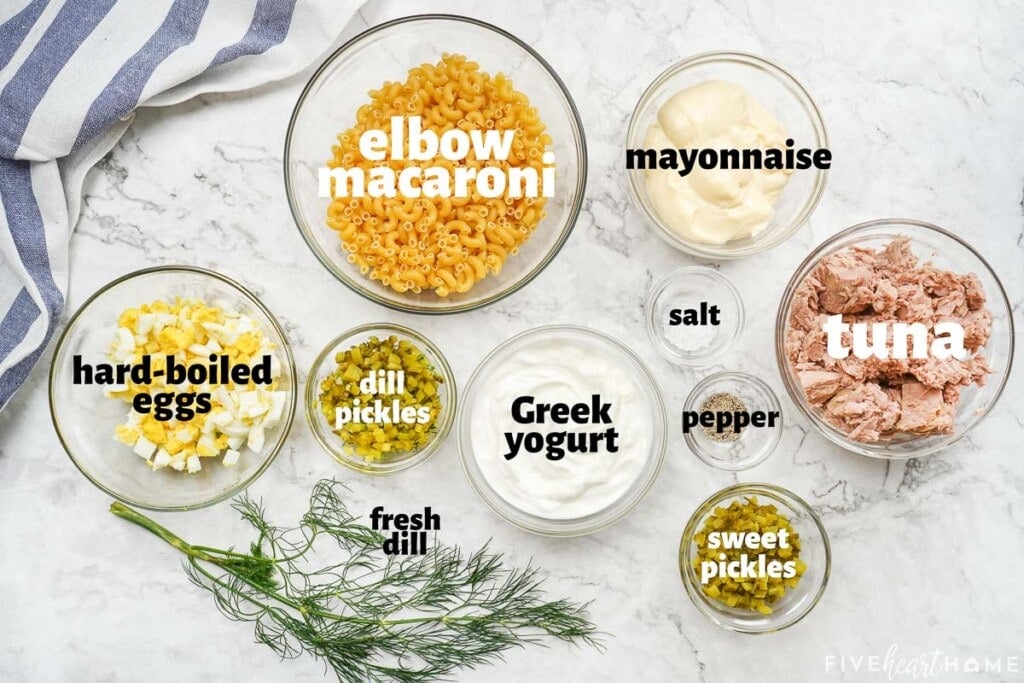 Water-packed tuna. I always buy chunk light (skipjack or tongol), since it's lower in mercury than chunk white (albacore).
Whole wheat macaroni. Opting for whole wheat just makes tuna macaroni salad a little healthier. You can use your favorite shape of pasta, and you may certainly use white pasta instead of whole wheat...just be sure to boil it in salted water for adequate seasoning.
Hard-boiled eggs. I love diced eggs in my cold tuna pasta salad. I find two eggs to be the perfect amount, but you can always add more or less.
Dill pickles + sweet pickles. This recipe just isn't complete without pickles for flavor and texture. I chop up both dill and sweet for a tasty surprise. I'm telling you, sweet plus savory makes this recipe even better!
Mayonnaise + Greek yogurt. My mom always made her tuna macaroni salad with mayonnaise, but I like to swap out half of the mayo for Greek yogurt. The flavor is still there, but the Greek yogurt reduces calories and adds protein while still keeping everything creamy dreamy.
Salt + pepper. Don't forget the seasoning! Be sure to add enough salt and be generous with the freshly ground black pepper.
Fresh dill. Do you know what takes this salad from good to great? DILL. If you can get your hands on some fresh dill, please, please, please use it! So. Good. But if your herb garden is currently blanketed by a layer of snow (or if your grocery store is flat out), not to worry...dried dill will do the trick just fine. Just keep in mind that dried dill is three times more potent than fresh, so you will only need to use one-third as much when substituting dried.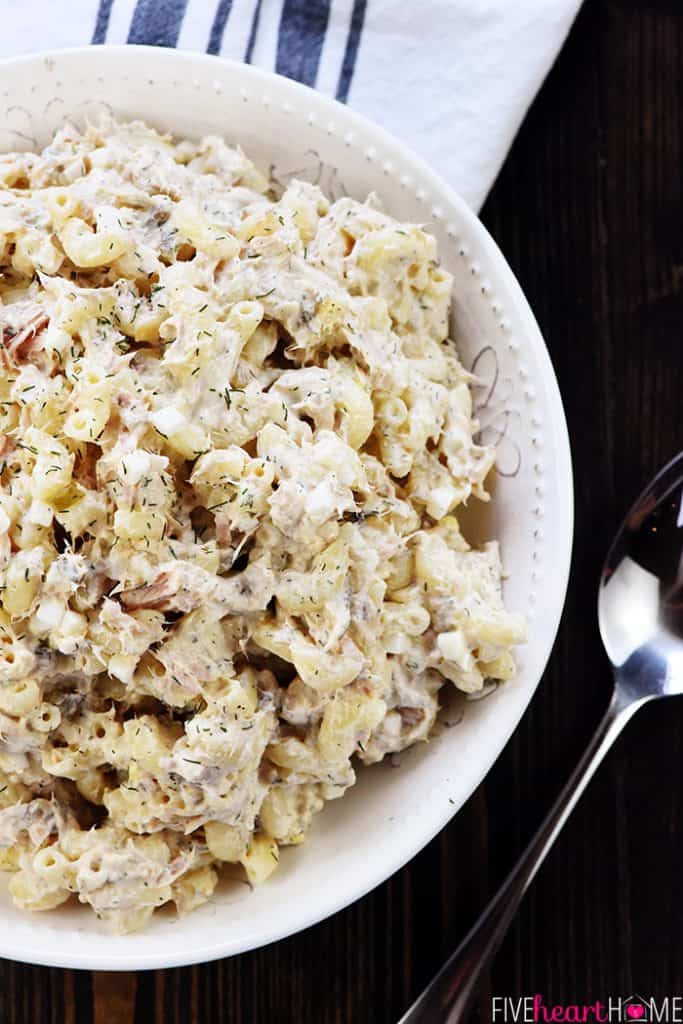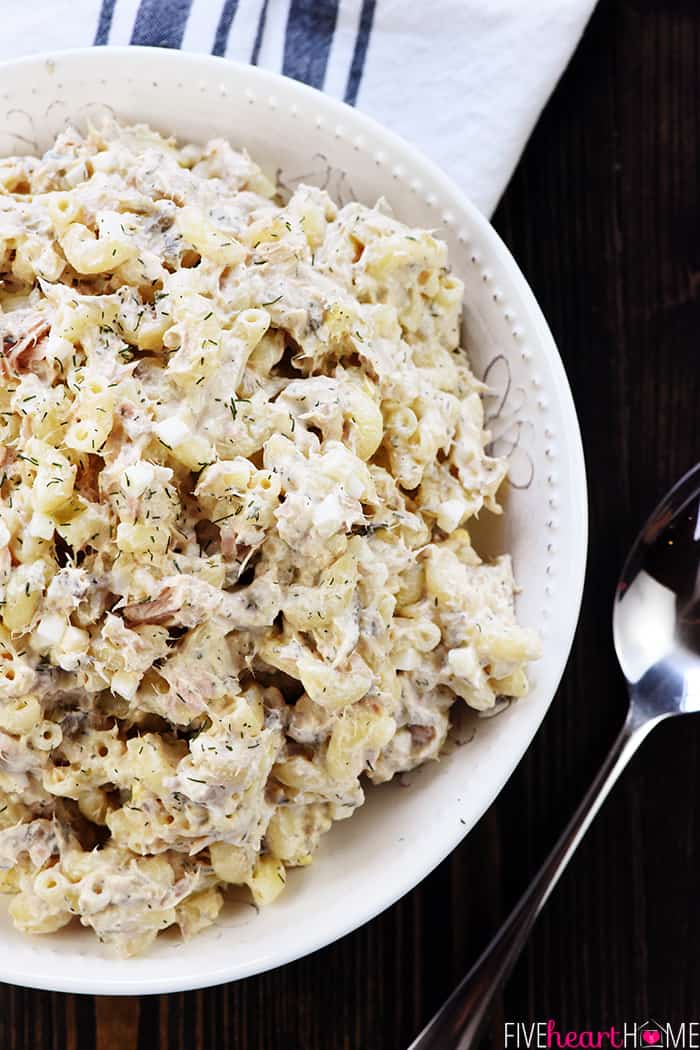 Now, you can certainly whip up your tuna mixture and stir in your macaroni and eat it right away and go on your merry way. But I happen to have a preferred method for assembling my Tuna Pasta Salad, and of course I'm going to share it with you now...whether you like it or not. 😉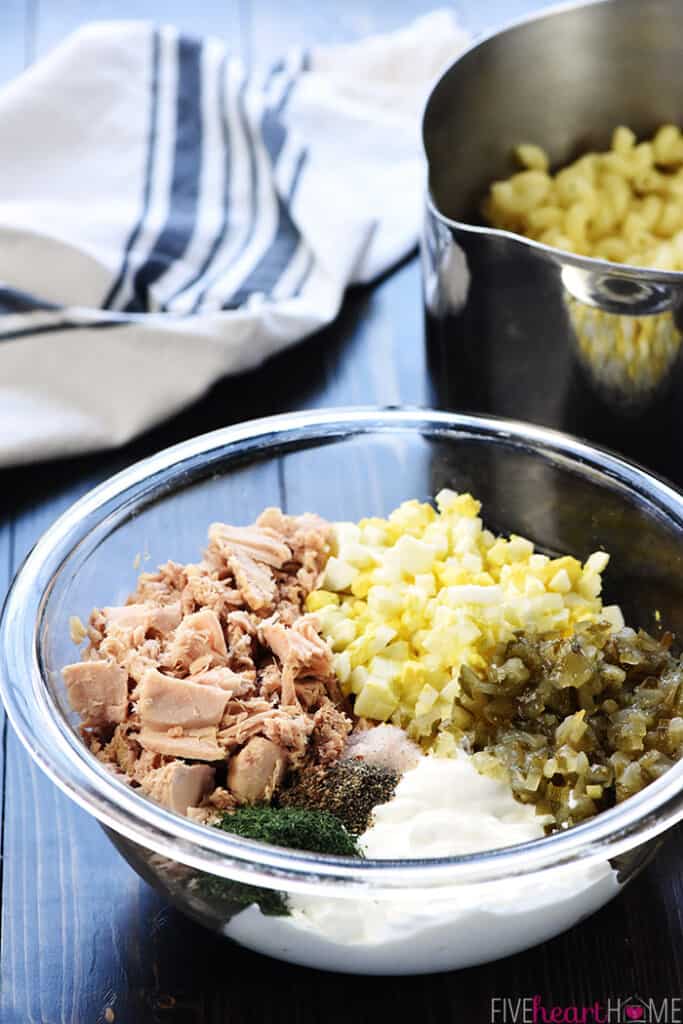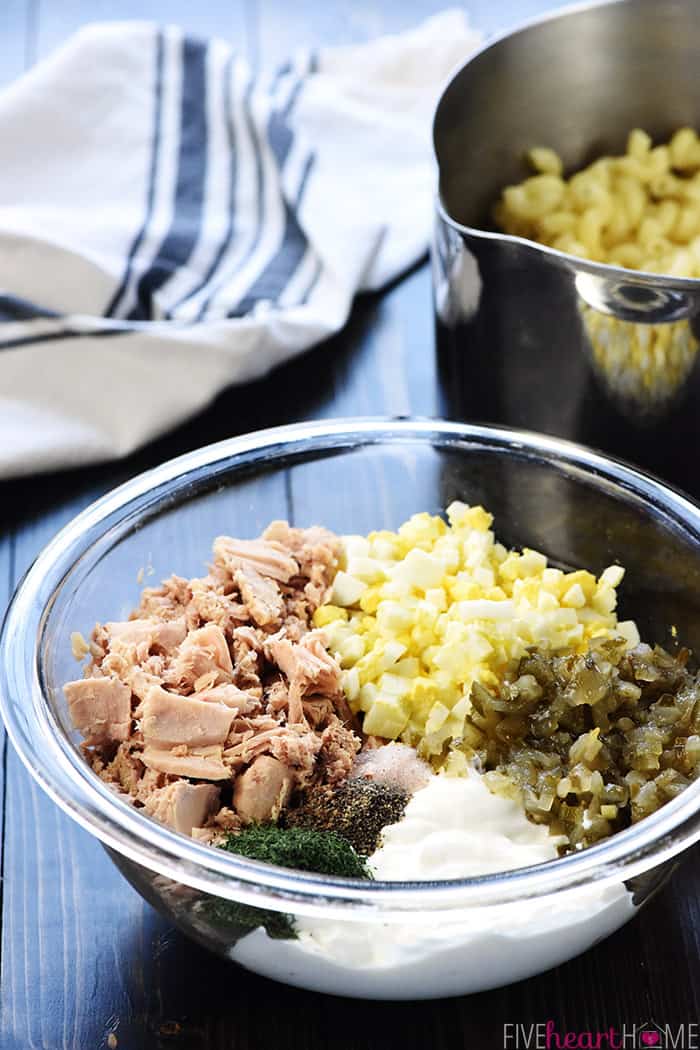 How to Make Tuna Pasta Salad
(The below photos are intended to be helpful, but please refer to the recipe card at the bottom of this post for FULL DIRECTIONS.)
My family enjoys our tuna macaroni salad nice and cold. And my personal opinion is that the tuna mixture needs time in the fridge for the flavors to blossom and blend. But if you mix in the pasta right away and let the whole thing chill for hours on end, the pasta often absorbs too much of the dressing and the salad gets rather dry. So here's my solution:
In a big bowl, mix up your tuna/eggs/pickles/mayo/Greek yogurt/dill/seasonings at least an hour ahead of time, but as far out as the night before. Cover and pop in the fridge.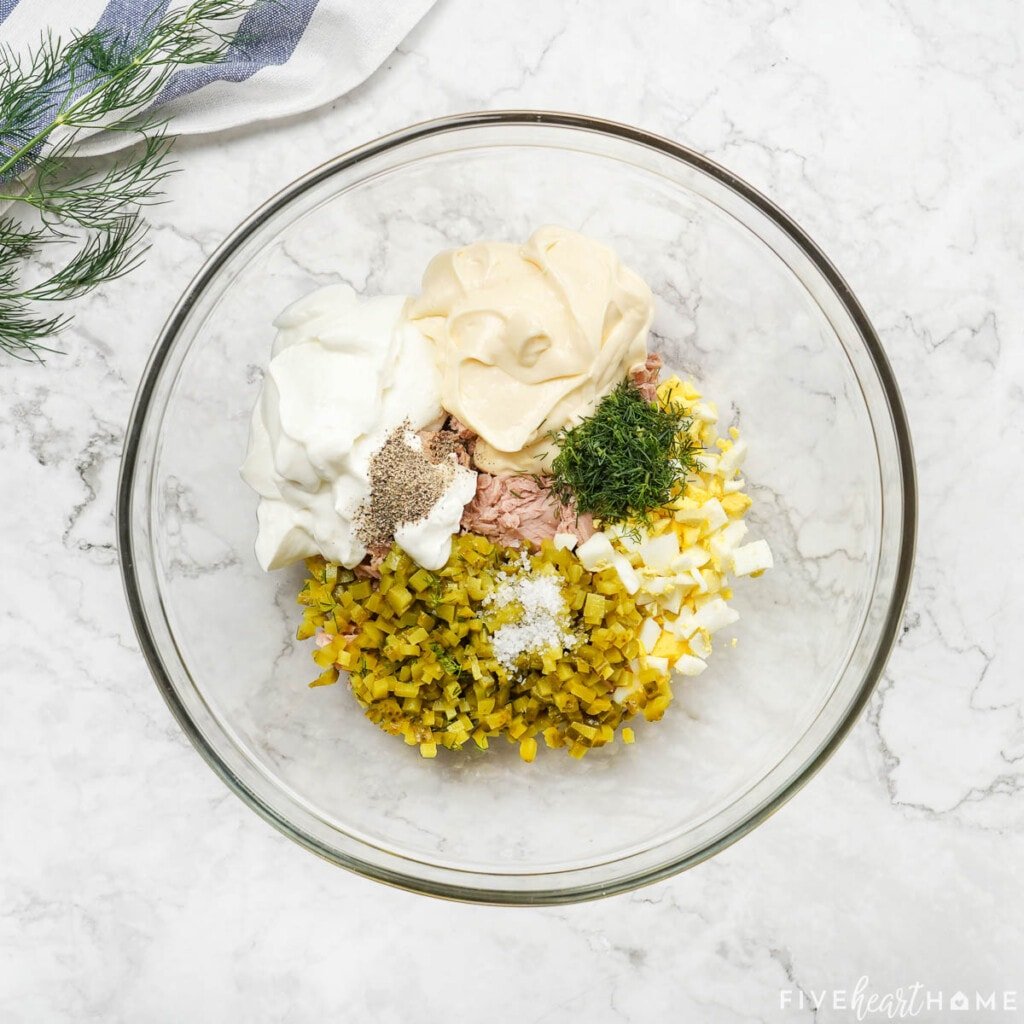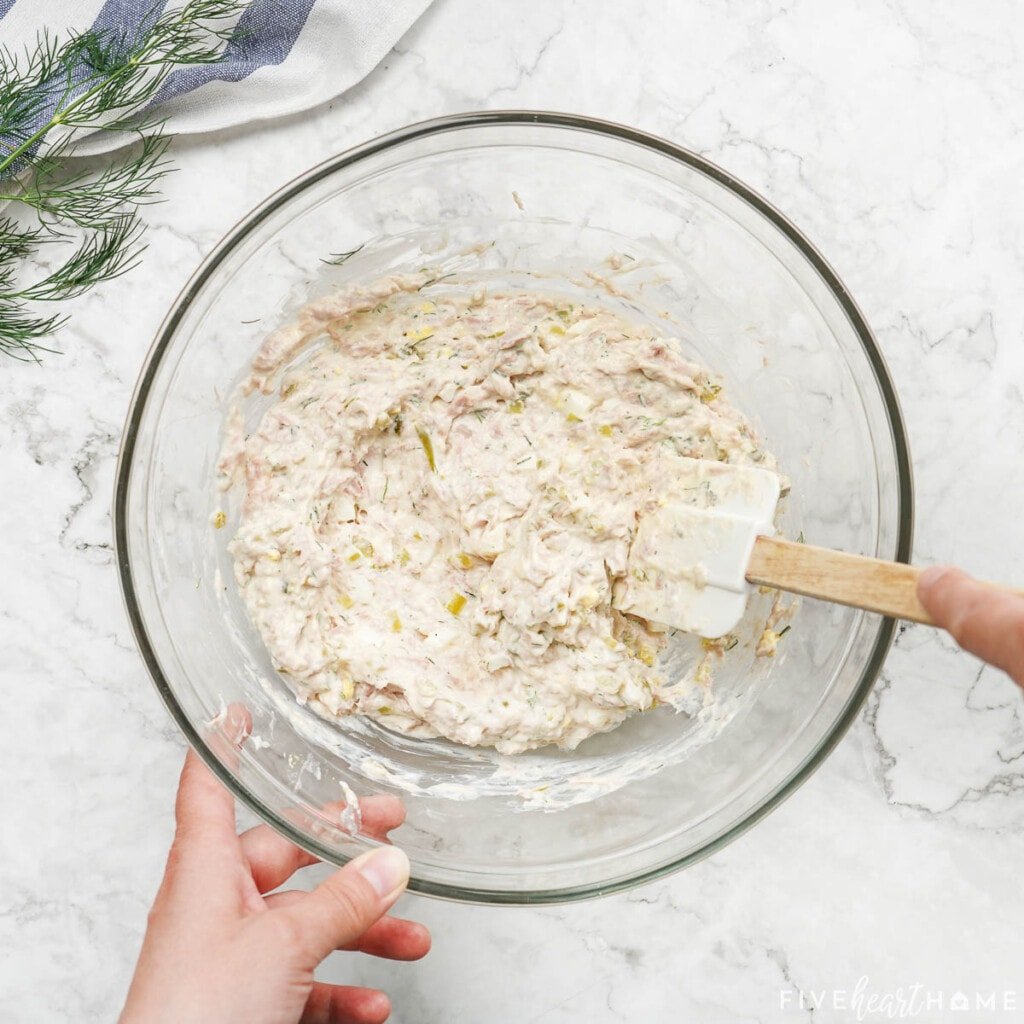 Then, when you're getting close to lunch or dinner time, cook your macaroni (or shells or whatever) in well-salted water until al dente, and then run under cold water until no longer warm.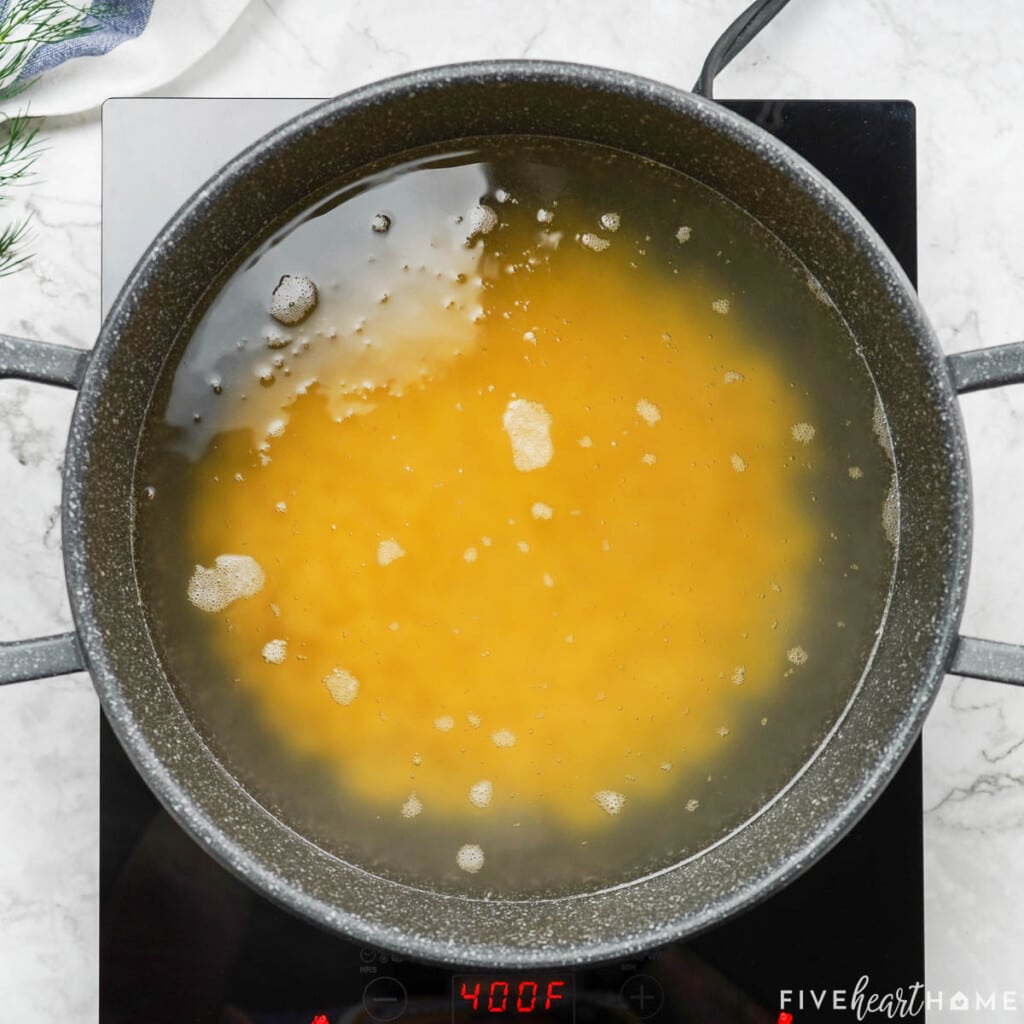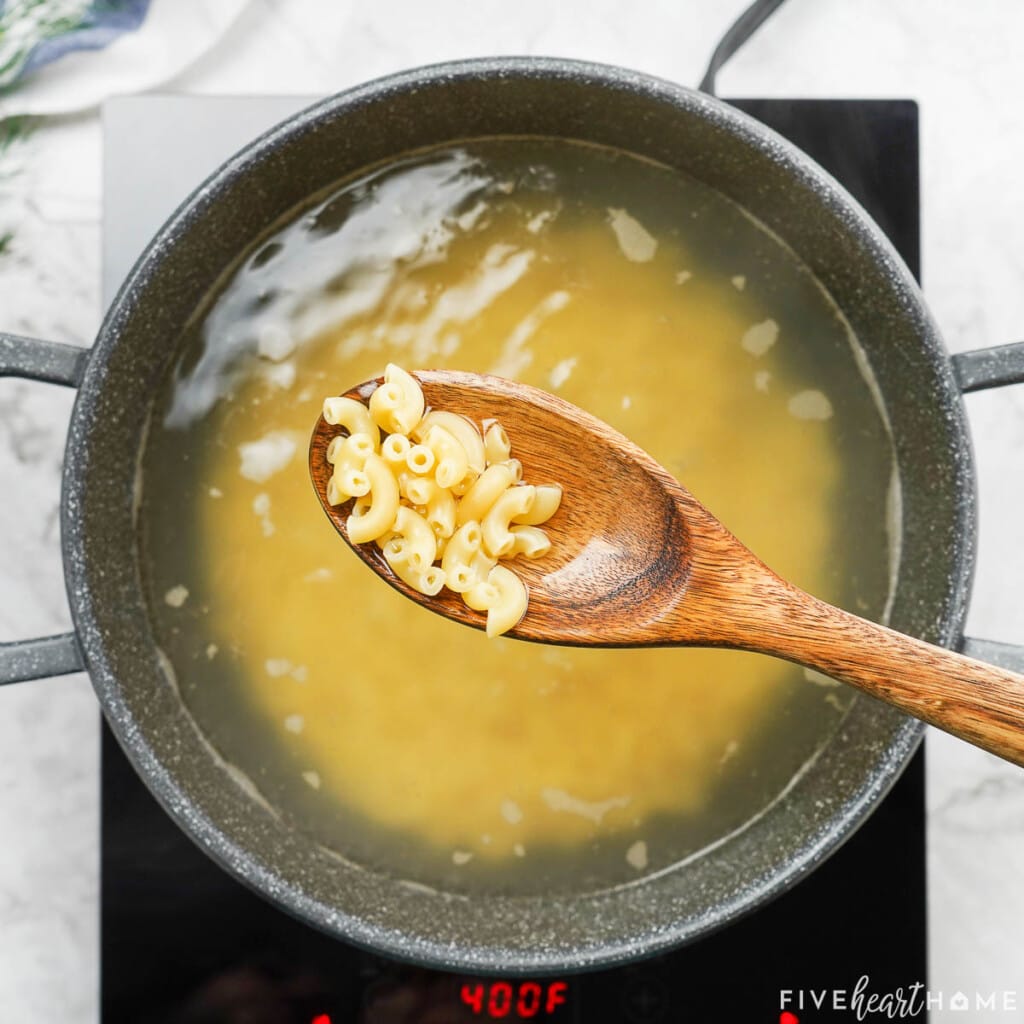 Drain well and stir the pasta into the chilled tuna mixture.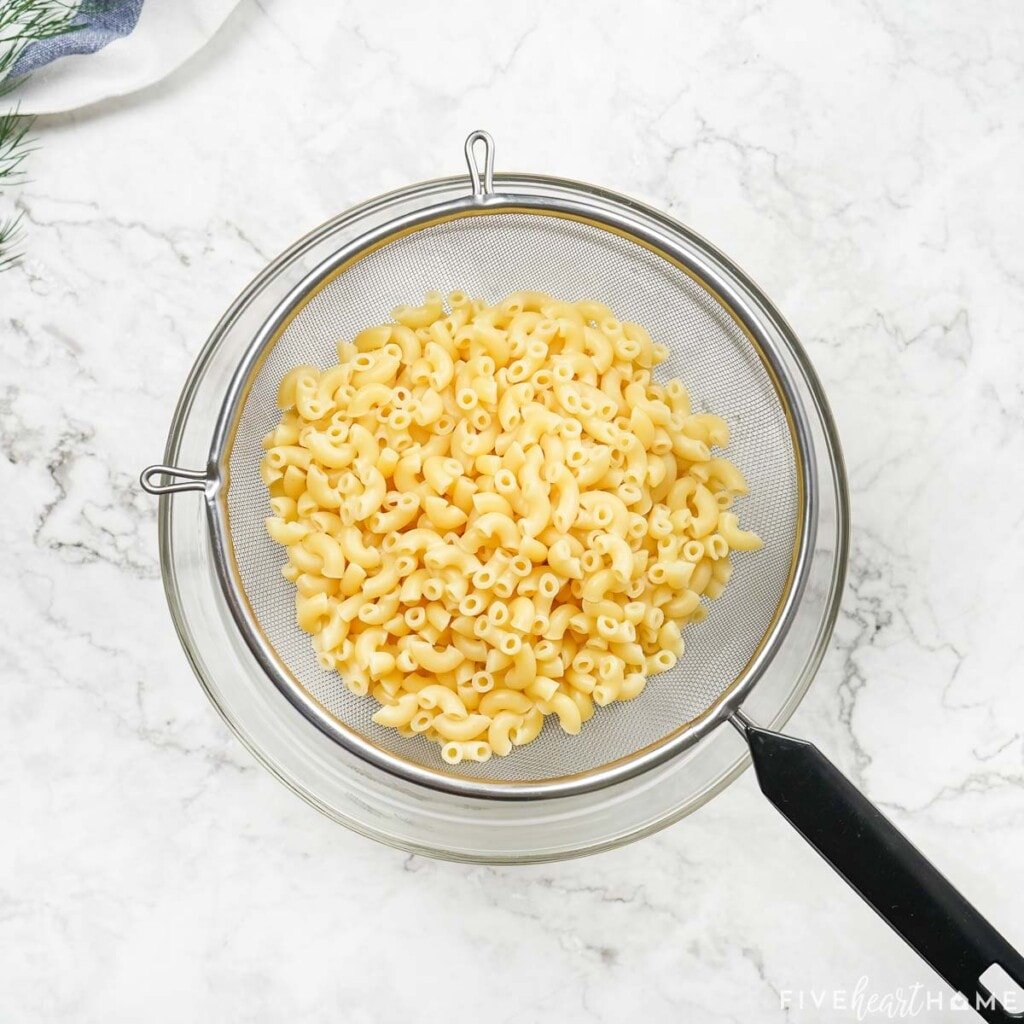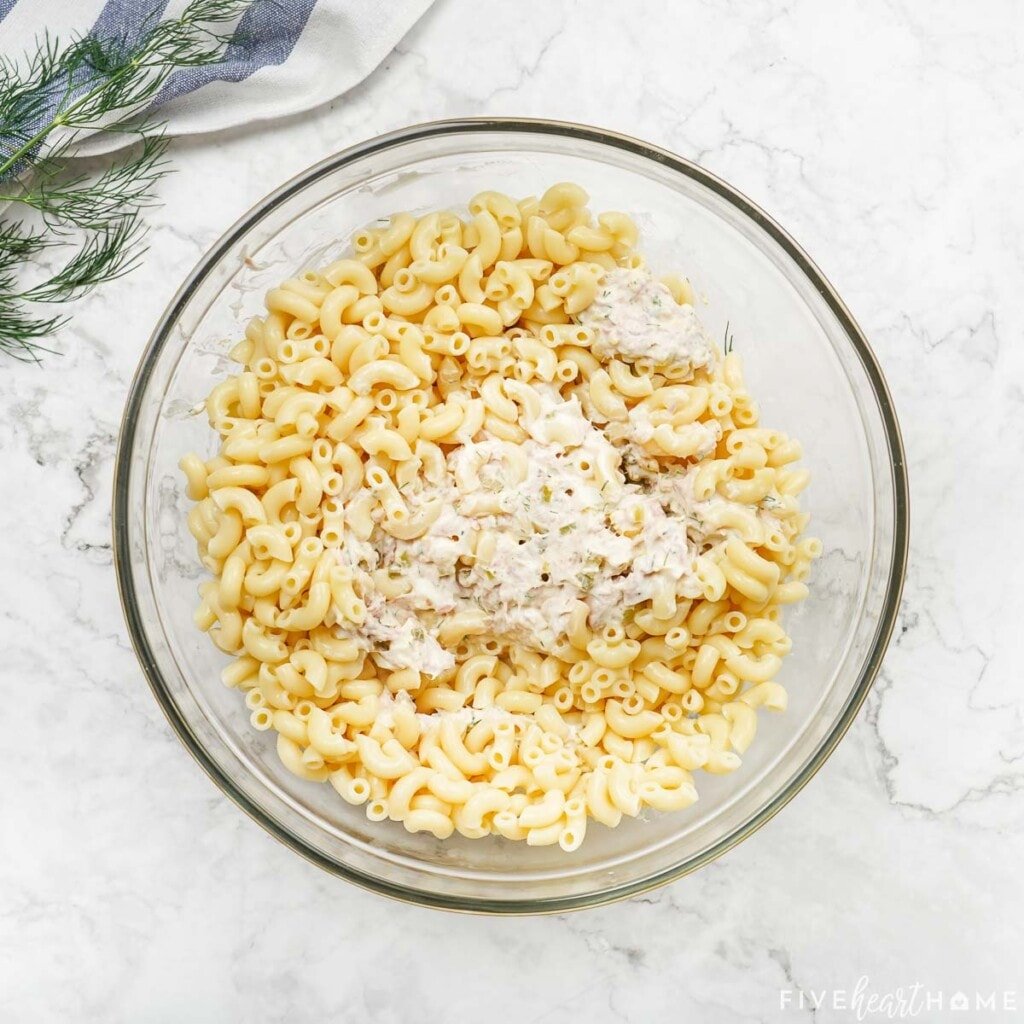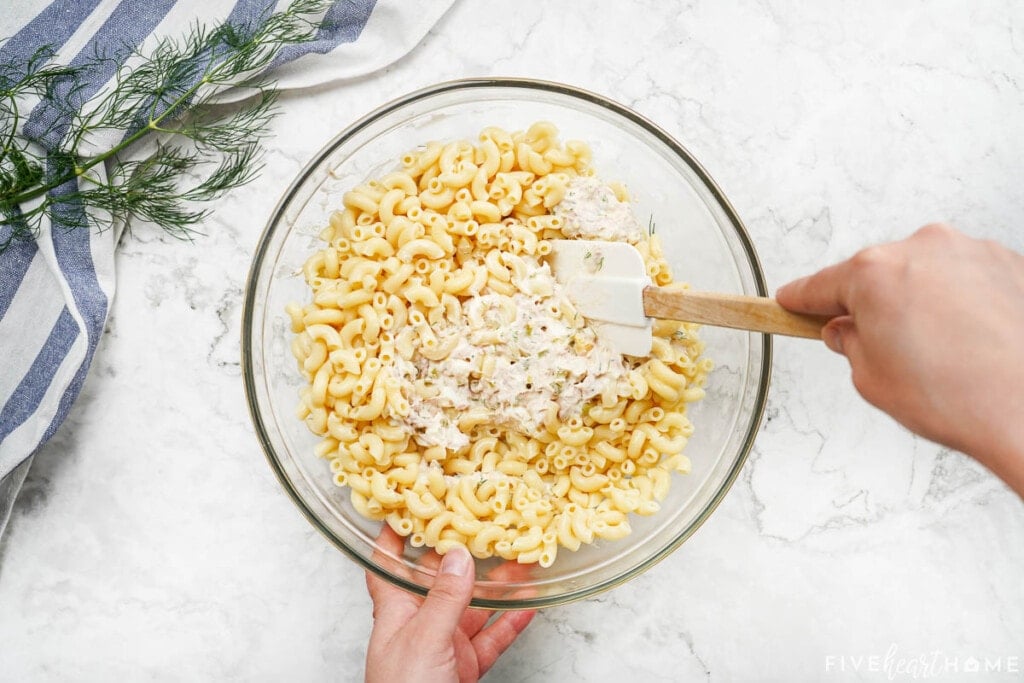 Finally, cover and chill the whole salad for about 30 minutes before serving.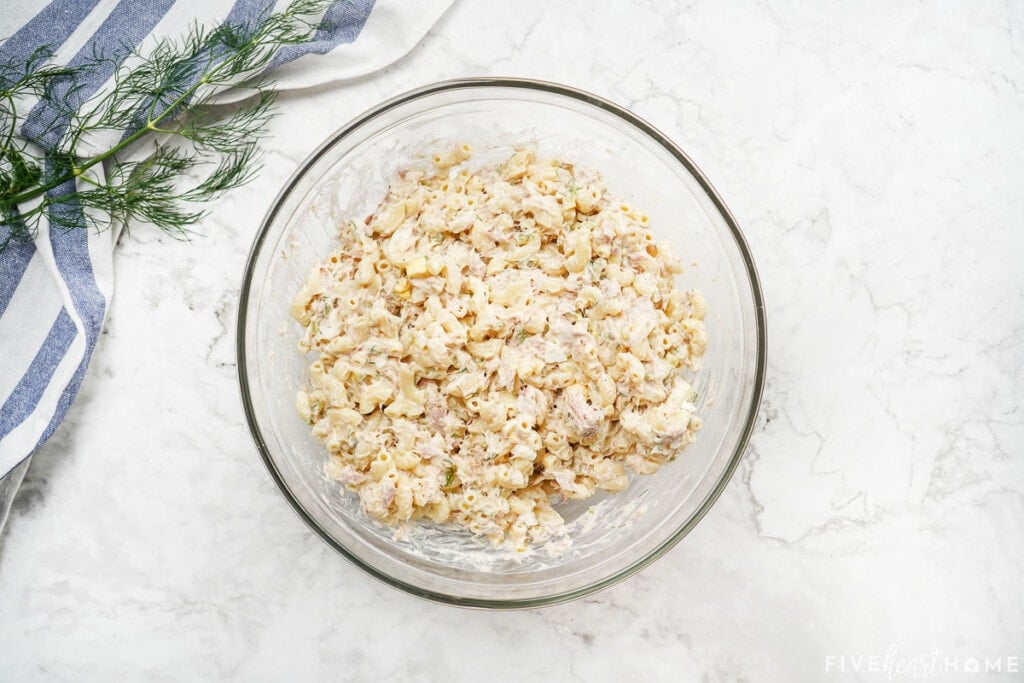 Tweaking the Steps
Again, you don't have to follow those steps.
You can throw together your entire Tuna Pasta Salad at the last minute and eat it right away.
Or you can make it a good bit ahead of time and enjoy it after it comes out of the fridge.
Just remember that stirring in a little extra dressing (mayonnaise, Greek yogurt, or both) after a long stint in the fridge can always bring this salad back to life, whether recently prepared or as leftovers.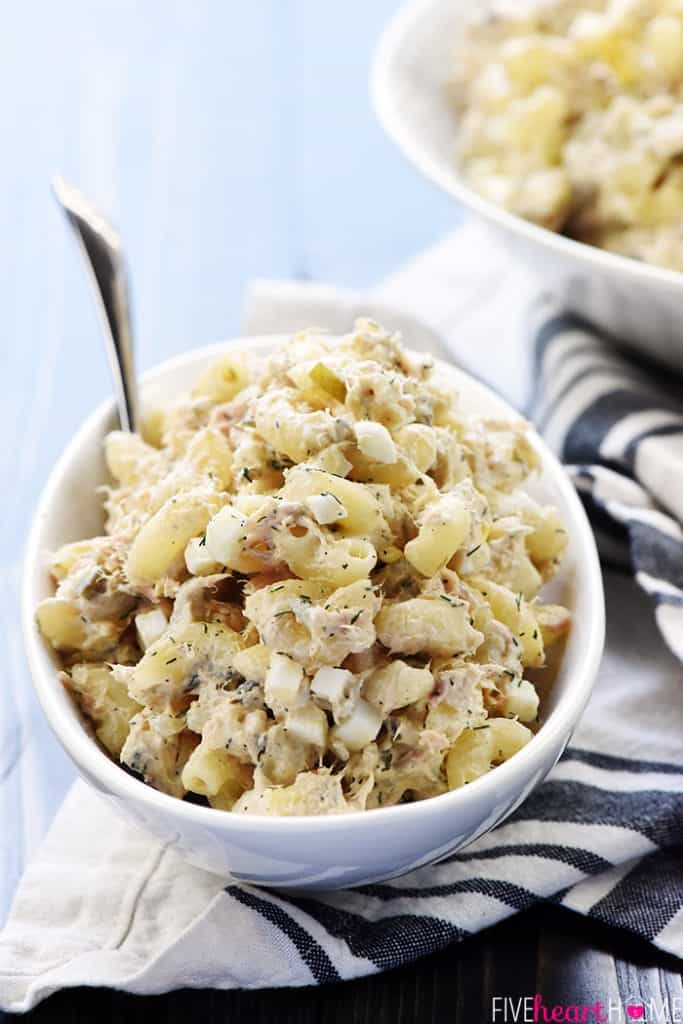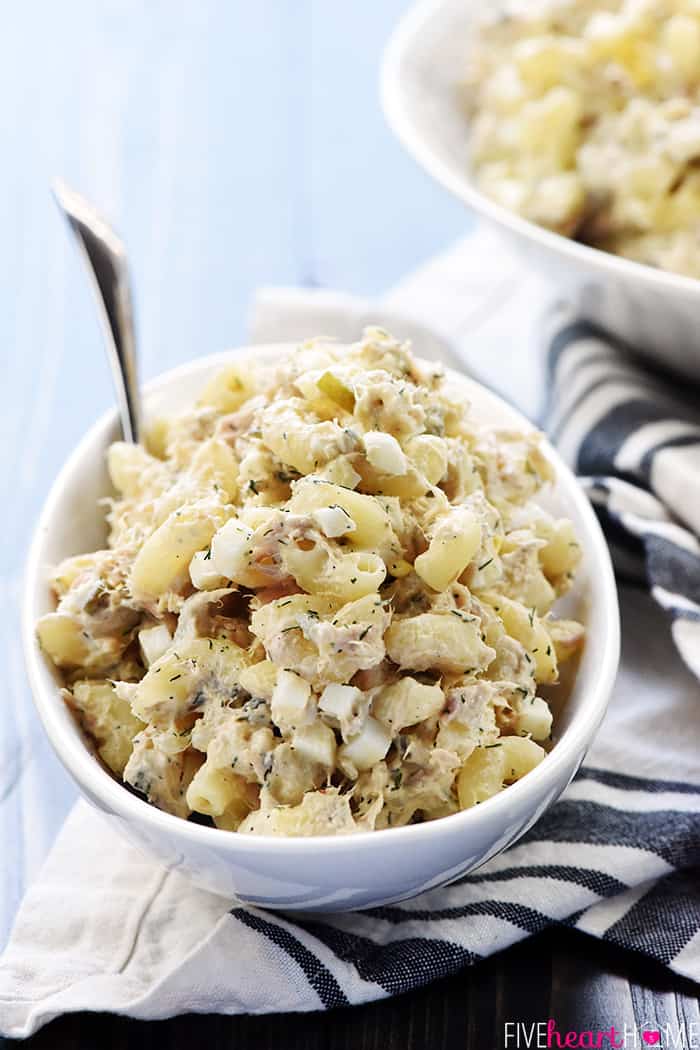 Helpful Tips, Tricks, & Equipment
It's important to measure your pasta by weight, because measuring it in a measuring cup can result in different amounts of pasta depending on the size/shape of the pasta. This recipe calls for 8 ounces of pasta, which is typically half a package (since most pasta is sold in a 1-pound bag or box). As long as you eyeball it pretty precisely, you don't actually have to weigh it. Just don't measure it out in an 8-ounce glass measuring cup, which is intended to measure liquid ingredients, not dry ingredients.
I typically chop my own pickles for bigger chunks, but you may certainly use pickle relish in this recipe to save time. I like 365 brand Organic Dill Relish and Sweet Relish from Whole Foods because they don't have the food coloring (and other preservatives) found in most store-bought pickle relishes.
I always dice my hard-boiled eggs using a trusty egg slicer. I slice the egg in the intended direction and then lift and hold the slices together, open the egg slicer, turn the egg 90 degrees, and slice it in the other direction. If I want even smaller pieces, I repeat this step a third time, though it gets a little trickier holding the egg together with each rotation. 😉
Feel free to stir a few stalks of chopped celery or half of a diced onion into your tuna macaroni salad, if you like. If you're feeling fancy, you could even toss in some capers!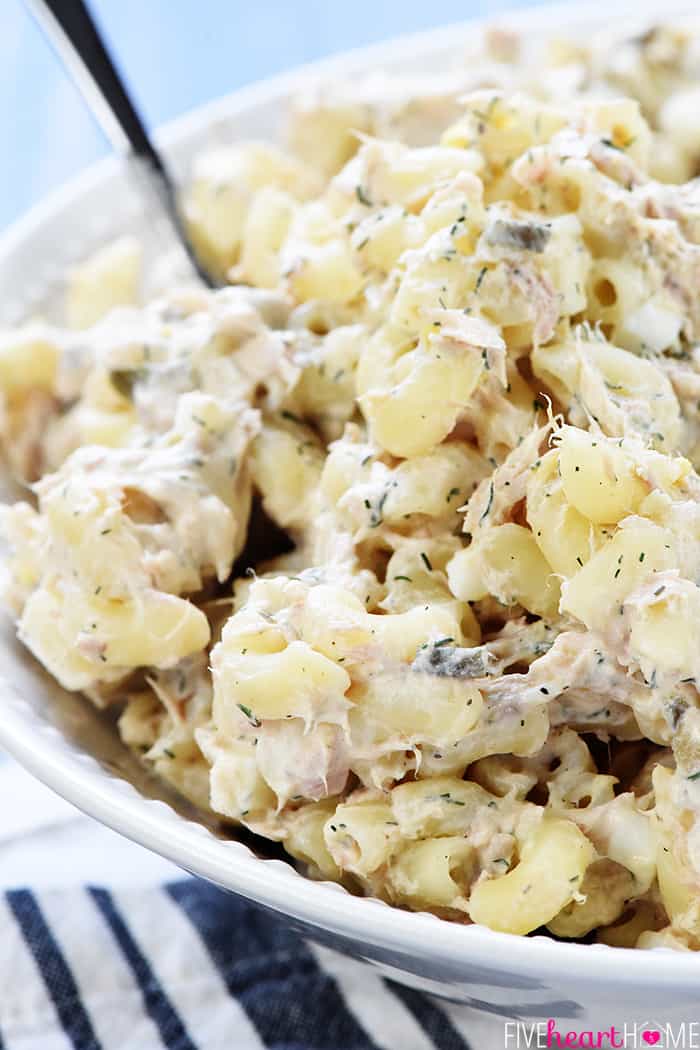 This Tuna Pasta Salad is nothing fancy, y'all, but it's a classic and a family favorite.
Despite its homely appearance (I'm telling you, it's a bit challenging to take attractive pics of creamy pasta salad), it's a great recipe for busy weeknights or weekend lunches or when the fridge and pantry are looking bare.
I hope you enjoy it as much as we do!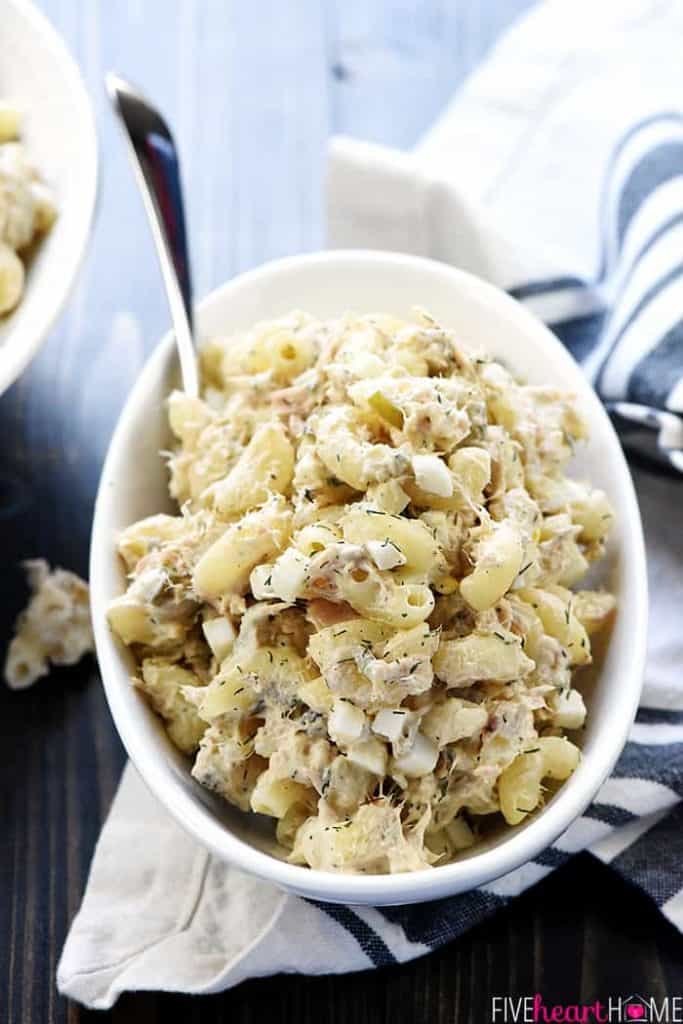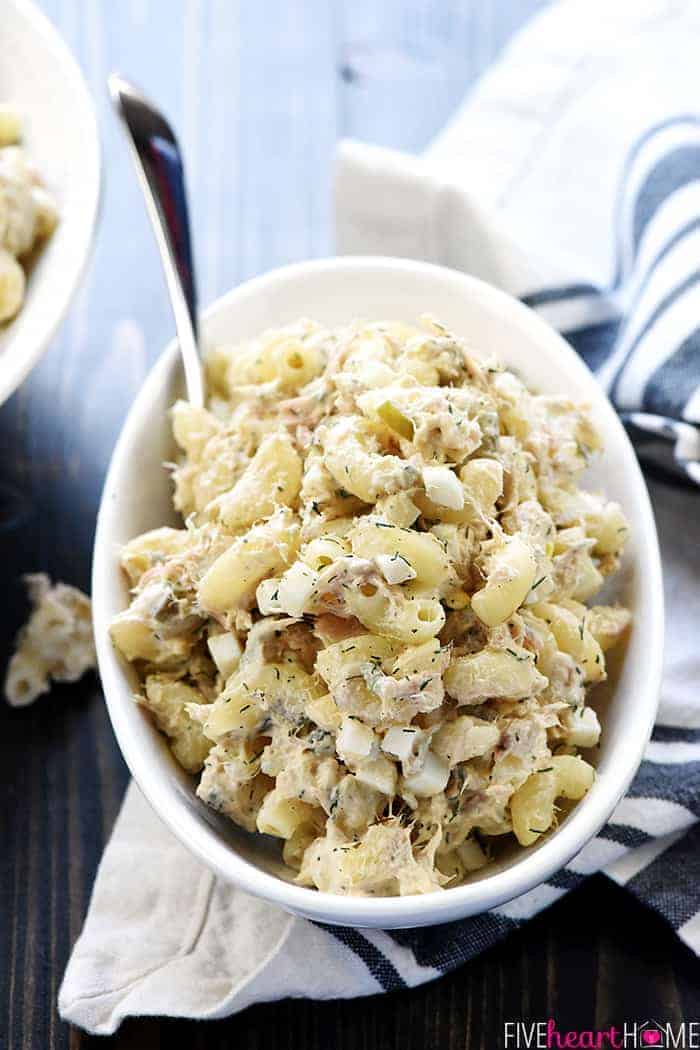 More Pasta Salads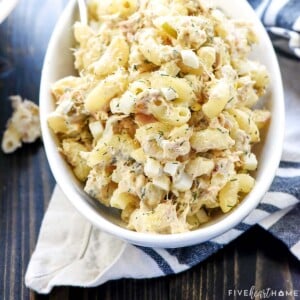 Tuna Pasta Salad
Tuna Pasta Salad features whole wheat macaroni, hard-boiled eggs, two kind of pickles, and fresh dill in a lightened-up dressing of mayonnaise and Greek yogurt. This tuna macaroni salad is the BEST!
Print
Pin
Rate
Ingredients
2

(5-ounce) cans chunk light tuna (packed in water)

,

drained

2

hard-boiled eggs

,

chopped

3

tablespoons

chopped sweet pickles

,

OR sweet relish

3

tablespoons

chopped dill pickles

,

OR dill relish

¾

cup

Greek yogurt

¾

cup

mayonnaise

1

tablespoon

fresh minced dill weed

,

OR 1 teaspoon dried dill weed

¾

teaspoon

salt

Freshly ground black pepper

,

to taste

8

ounces

(BY WEIGHT) whole wheat elbow macaroni

,

OR your favorite pasta
Instructions
In a large bowl, mix together the flaked tuna, chopped eggs, chopped sweet and dill pickles, Greek yogurt, mayonnaise, dill, salt, and pepper. Cover and chill in the refrigerator for at least an hour.

Boil the pasta according to package directions in well-salted water. Pour into a colander and hold under cold running water until the pasta is cool. Drain the pasta and stir it into the chilled tuna mixture until well combined. Cover and chill for 30 minutes to an hour more before serving.
Notes
Giving the tuna mixture time to chill allows the flavors to blend. On the other hand, chilling the finished tuna macaroni salad for too long can cause it to dry out (since the pasta absorbs the dressing the longer it sits). This is why the directions are written as they are; however, you can prepare the Tuna Pasta Salad all at once and eat it right away (or let it chill and eat it later) if you wish.
Calories:
419
kcal
|
Carbohydrates:
31
g
|
Protein:
22
g
|
Fat:
24
g
|
Saturated Fat:
4
g
|
Polyunsaturated Fat:
13
g
|
Monounsaturated Fat:
6
g
|
Trans Fat:
1
g
|
Cholesterol:
96
mg
|
Sodium:
740
mg
|
Potassium:
259
mg
|
Fiber:
1
g
|
Sugar:
3
g
|
Vitamin A:
213
IU
|
Vitamin C:
1
mg
|
Calcium:
71
mg
|
Iron:
3
mg
Post originally published on January 22, 2018, and updated on June 11, 2021, and April 19, 2023.