Crunchy on the outside and tender on the inside, Salmon Patties are a flavorful, quick and easy recipe for getting more brain-boosting, heart-healthy omega-3s into your diet!
Well, we're officially immersed in the no meat on Fridays season of Lent at our house…which means that, once a week, I have to remind myself to avoid meat approximately 47 times over the course of the day. Since fish is allowed on Fridays, however, Lent also means that I tend to make more of it at this time of year than any other.
I don't know why that is…fish is easy to cook and loaded with nourishing healthy fats and I should be serving it to my family more often. So with y'all as my witnesses, from here on out, I resolve to incorporate more fish into our diets! Fortunately, even if I can't make it to the seafood counter, these Salmon Patties require little more than a trip to the pantry.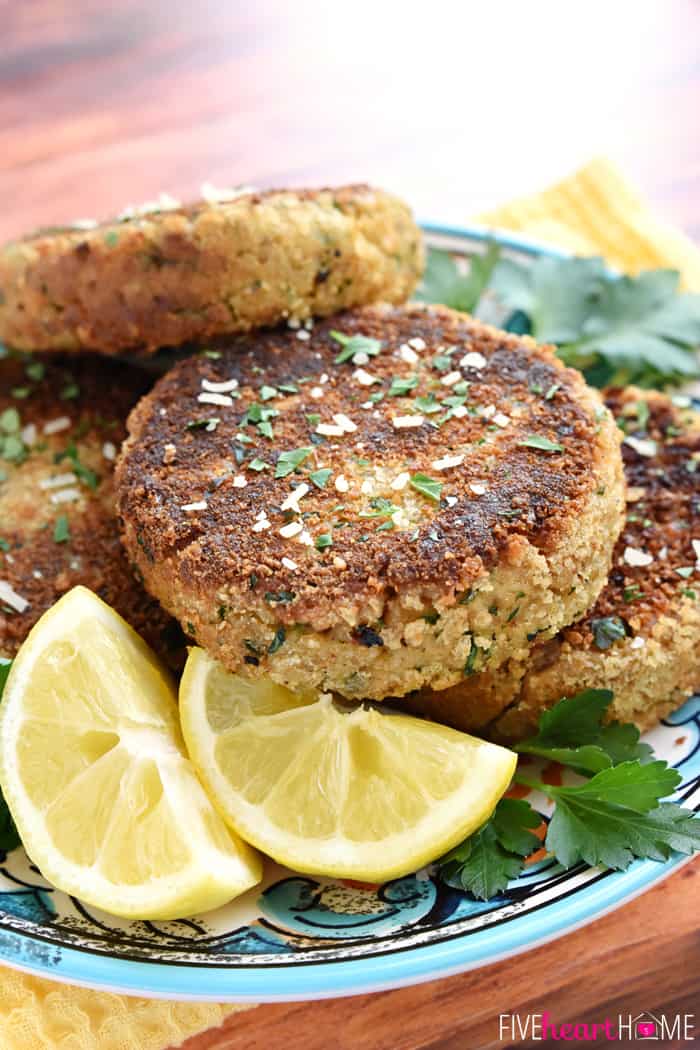 Have y'all cooked with canned salmon before? It's kind of crazy to me that you can buy wild-caught Alaskan salmon in little cans right next to the tuna fish. And honestly, the two can be used pretty interchangeably in a lot of recipes.
Salmon Patties are sometimes referred to as Salmon Cakes (think: Crab Cakes) or Salmon Croquettes (think: throwback to circa-1977…it was a mighty good year), and as mentioned above, they could just as easily be made with tuna. In this here version, the salmon is mixed with eggs, panko bread crumbs, Parmesan, parsley, and a variety of seasonings before being formed into — you guessed it! — patties, lightly coated with more crunchy panko, and then pan fried. The result is tasty, salmon-studded cakes that mix up in a flash and cook in mere minutes. Dinner. Is. Served!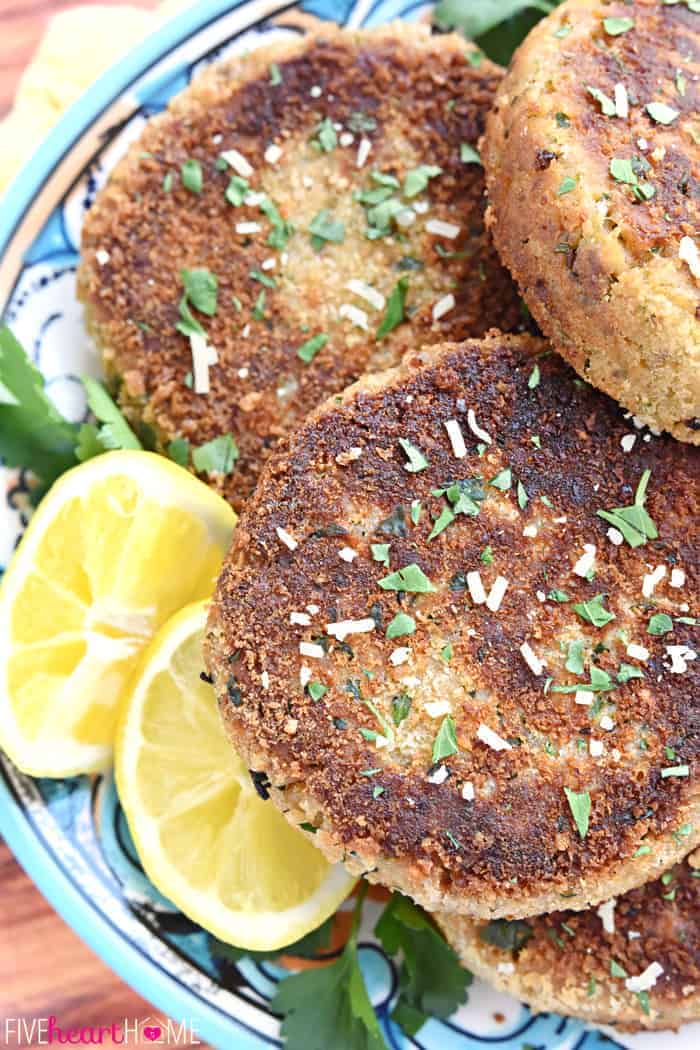 My picky kids were all over these (dipped in ketchup, of course, but hey…I'll take it). And I loved that they were getting a nice dose of the healthiest-of-healthy fish oils as a part of their ketchup-dredged dinner. The coating of panko on the outside of the patties makes them extra crunchy, and thanks to all of the layers of flavor, they don't taste fishy at all.
Now, before we get on with the recipe, I feel that it's my obligation to educate you canned salmon novices on the different varieties available. Canned salmon is traditionally sold with small, soft bones and pieces of skin intact. Everything in the can is totally edible, and the bones actually add a nice boost of calcium. However, if you happen to be on the squeamish side (like myself)…for the love of all that is good and holy, do yourself a favor and buy boneless, skinless canned salmon!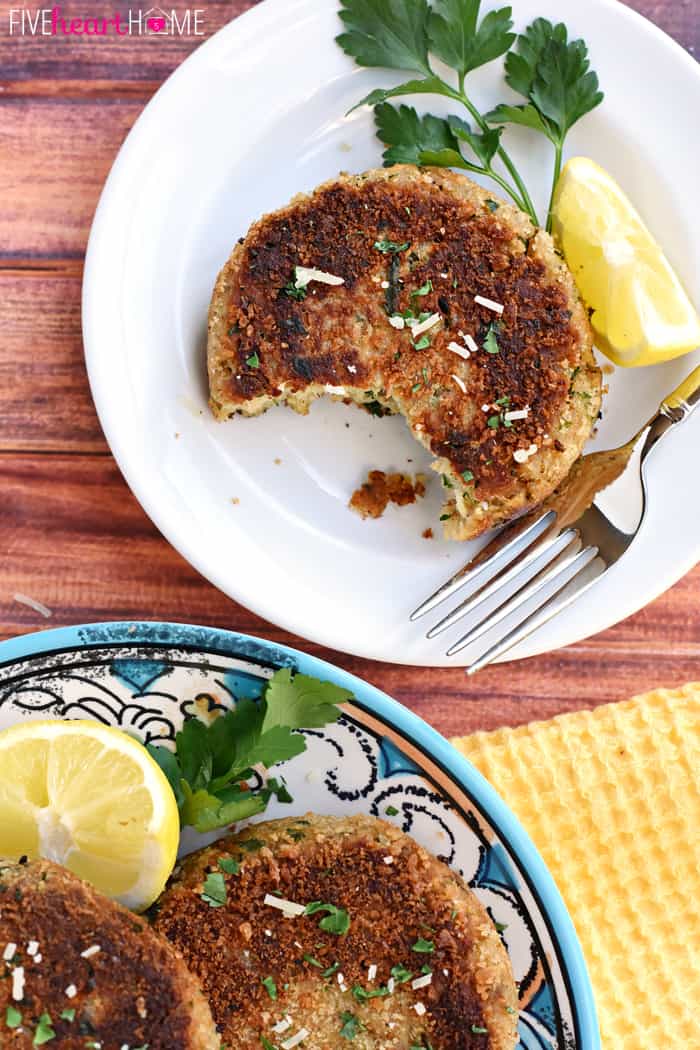 Because if you don't pay attention to the label, you might be ready to make your recipe, open up the cans, and look upon the contents in shock. You might consider pitching them straight into the trash before heading back to the store. You might decide that you don't have time for a trip to the store and, besides…your German mother ingrained in you an inability to waste perfectly good (albeit, shudder-worthy) food. But you might also know for dang sure that you won't be able to cook with — much less eat — any sort of fish that contains skin, small bones, and unrecognizable bits and pieces. So you might resolve to remove every last teeny-tiny particle of non-salmon meat from both cans, and it might take you a good 45 minutes to do so. But after all is said and done, you might eat your Salmon Patties with an extra sense of satisfaction and accomplishment for not having to bite into any foreign objects after all of that hard work.
Hypothetically speaking, of course.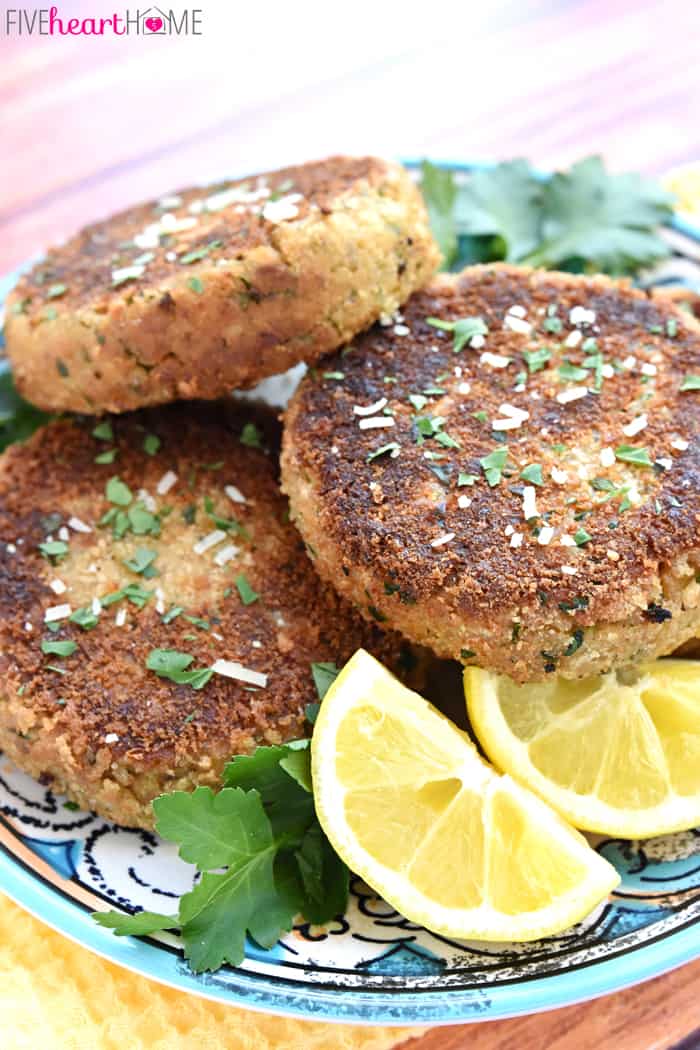 So if you are old-school, if you are tough, if you don't mind ingesting skin and bones (tiny though they may be), go for the regular canned salmon. But if you are a card-carrying member of the Weak Stomach Club, make sure you look for that boneless/skinless phrase on the can (and realize that it may come in a pouch as opposed to a can). Whatever your preference, either variety will be already cooked, and either will work perfectly fine in this recipe!
The next time you're in the mood for an easy, pantry-staple meal that will make your family smarter while simultaneously improving their cholesterol, I hope you'll give these Salmon Cakes a spin! I can safely say that they'll be going on our regular rotation 'round these parts, long after Lent is over…and as a result, I'll be extra vigilant about reading labels at the grocery store. 😉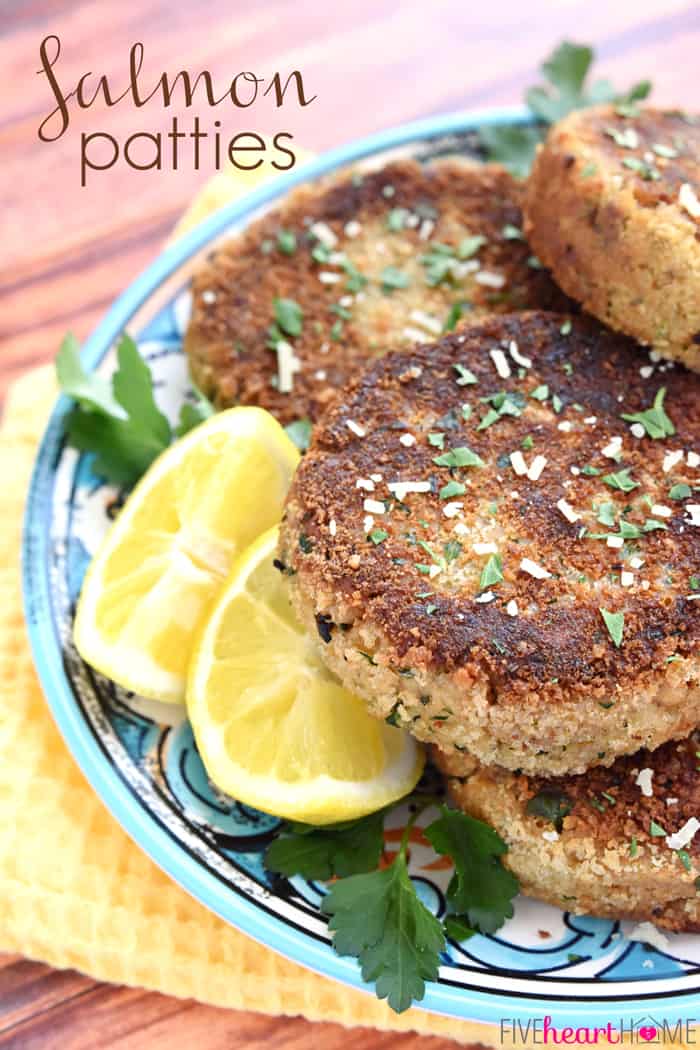 Salmon Patty Recipe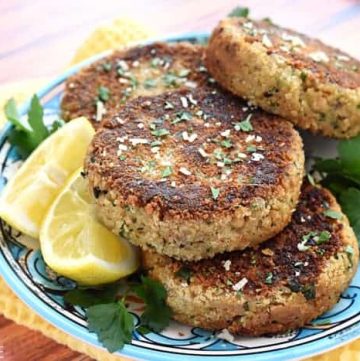 Salmon Patties
Crunchy on the outside and tender on the inside, Salmon Patties are a flavorful, quick and easy recipe for getting more brain-boosting, heart-healthy omega-3s into your diet!
Print
Pin
Rate
Chilling Time:
30
minutes
Ingredients
2

7.5-ounce cans canned salmon (Alaskan wild-caught and boneless/skinless)

,

drained

3

eggs

,

beaten

1

cup

panko bread crumbs

,

DIVIDED

1/4

cup

freshly grated Parmesan cheese

3

tablespoons

finely chopped fresh parsley

1

tablespoon

freshly-squeezed lemon juice

2

teaspoons

Worcestershire sauce

1

teaspoon

Dijon mustard

3/4

teaspoon

garlic salt

Freshly ground black pepper

A few dashes hot pepper sauce

,

such as Tabasco

2

tablespoons

extra-virgin olive oil

1

tablespoon

butter
Instructions
In a medium bowl, mix together drained salmon, eggs, 3/4 cup panko bread crumbs, Parmesan, parsley, lemon juice, Worcestershire sauce, Dijon, garlic salt, pepper (to taste), and hot pepper sauce (to taste). Divide the mixture into four equal balls and form into 3/4-inch thick patties. Place patties on a plate, cover with plastic wrap, and refrigerate for 30 minutes.

Place the remaining 1/4 cup panko breadcrumbs in a shallow dish and press both sides of each salmon patty into breadcrumbs. Heat a large saute pan over medium to medium-high heat. Add olive oil and butter to pan; once melted, swirl pan to coat. Add the salmon patties and cook for 3 to 4 minutes per side or until golden brown. Remove to a paper towel-lined plate and serve warm with a squeeze of fresh lemon juice.
Notes
If you're short on time, you can skip the step of chilling the patties before cooking. This step is intended to help the patties hold together, but the recipe will still work if you cook them immediately after forming.
Calories:
226
kcal
|
Carbohydrates:
12
g
|
Protein:
9
g
|
Fat:
16
g
|
Saturated Fat:
5
g
|
Cholesterol:
136
mg
|
Sodium:
761
mg
|
Potassium:
116
mg
|
Fiber:
1
g
|
Sugar:
2
g
|
Vitamin A:
575
IU
|
Vitamin C:
5.9
mg
|
Calcium:
123
mg
|
Iron:
1.7
mg
Adapted from Food Network
More Quick & Easy Dinners


21