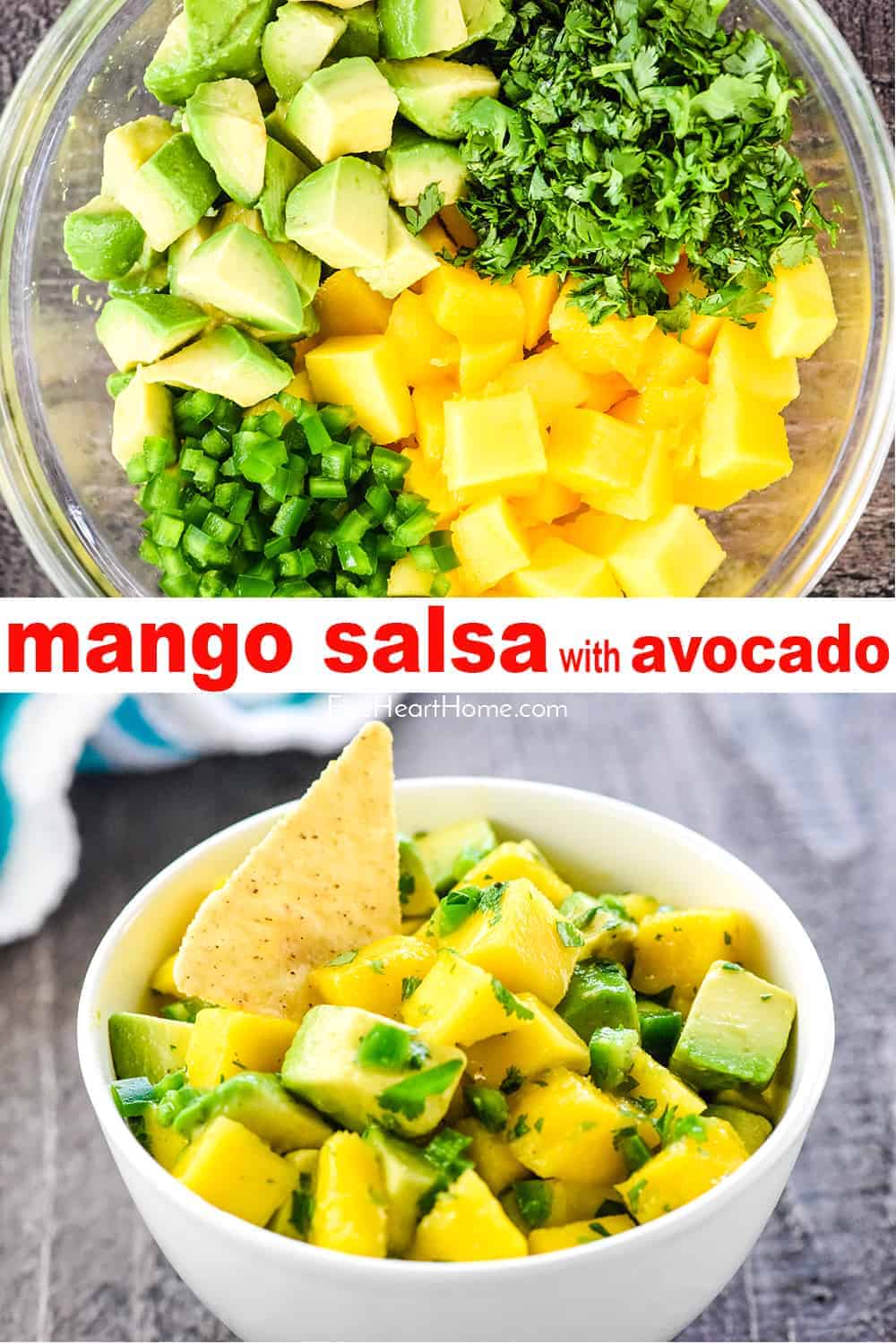 Mango Avocado Salsa is a fresh, simple recipe bursting with loads of summer flavor from sweet mango, creamy avocado, zesty jalapeño, and zippy cilantro...perfect as a dip or over fish!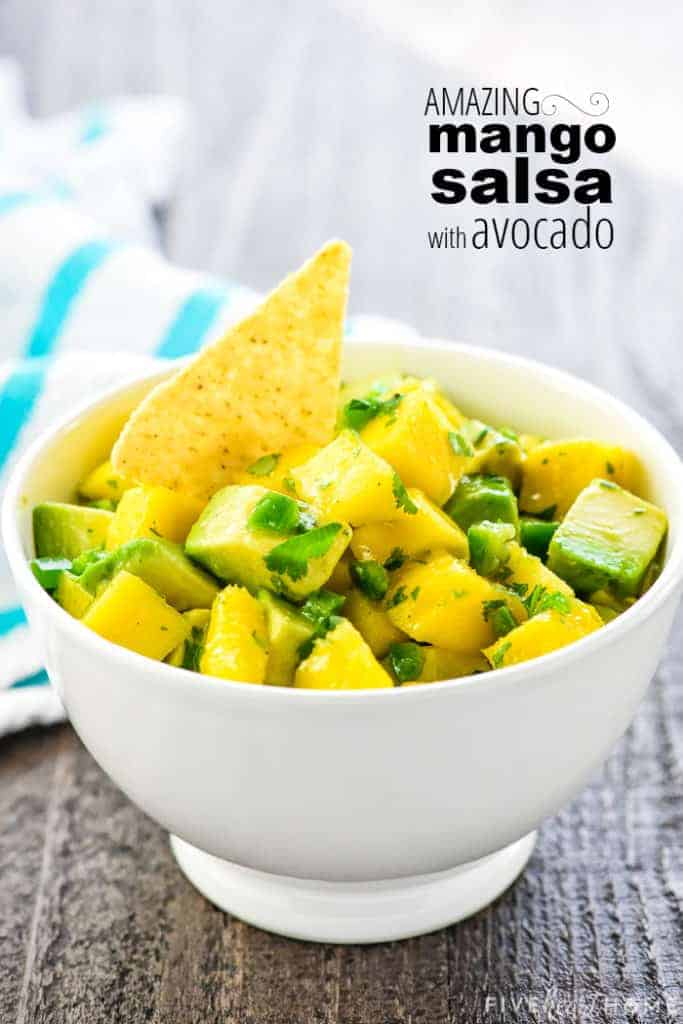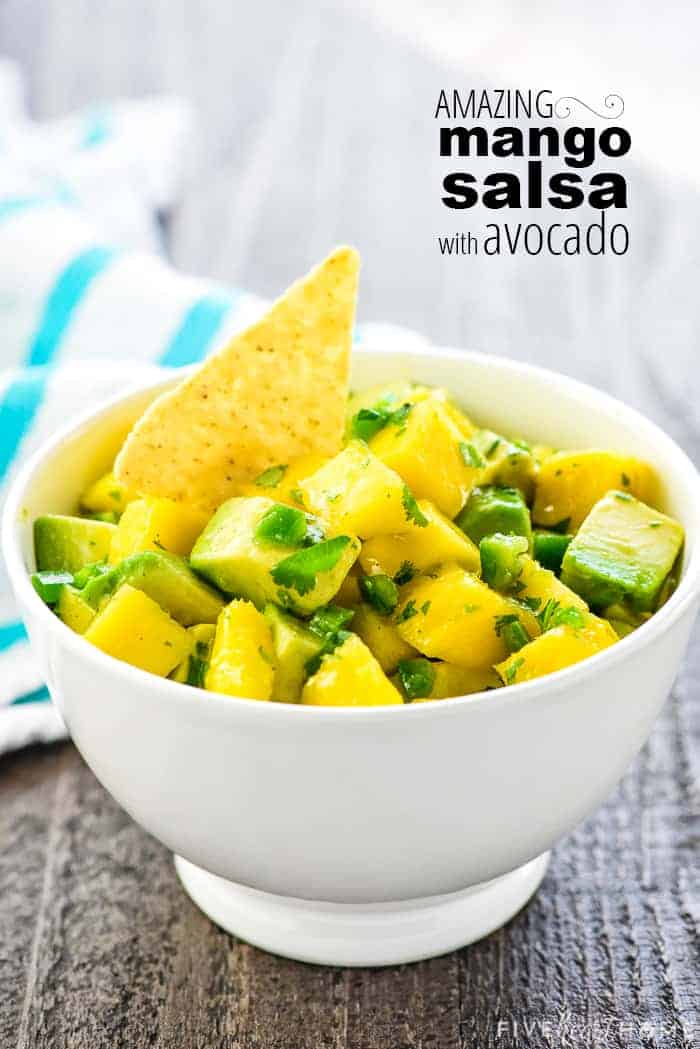 Summer is in full swing and -- not to jinx anything -- but I'm working on the patio right now as my kids frolic in the pool and it's sunny and 80 degrees. In Texas. IN JUNE. Now I'm not sure what in the Sam Hill is going on here, but believe me, I'm not complaining. In fact, I'm relishing every spring-like moment. Yesterday, I even whipped up a batch of Mango Avocado Salsa to celebrate this abnormal-yet-freaking-perfect summer weather we've been having!
Have y'all enjoyed the wonder that is Mango Avocado Salsa yet? I'll admit that I was a little late to the game in discovering it. But I made it for the first time a couple summers ago and, since then, I've been making up for lost time. Along with homegrown tomatoes and corn on the cob and summer veggies from the garden, I now consider it the epitome of fresh summer eating.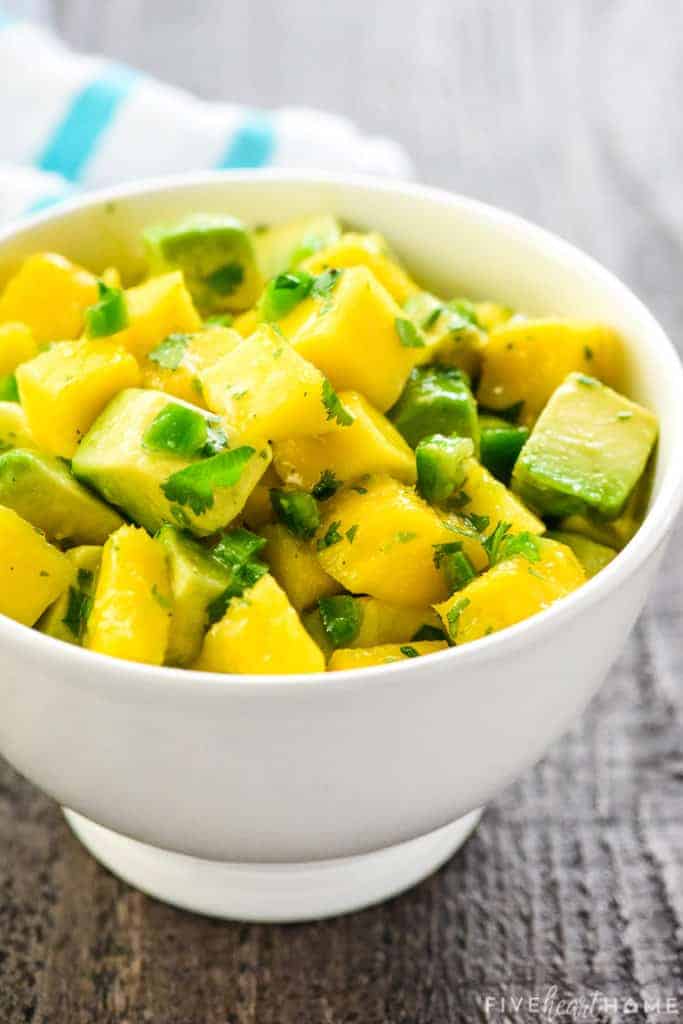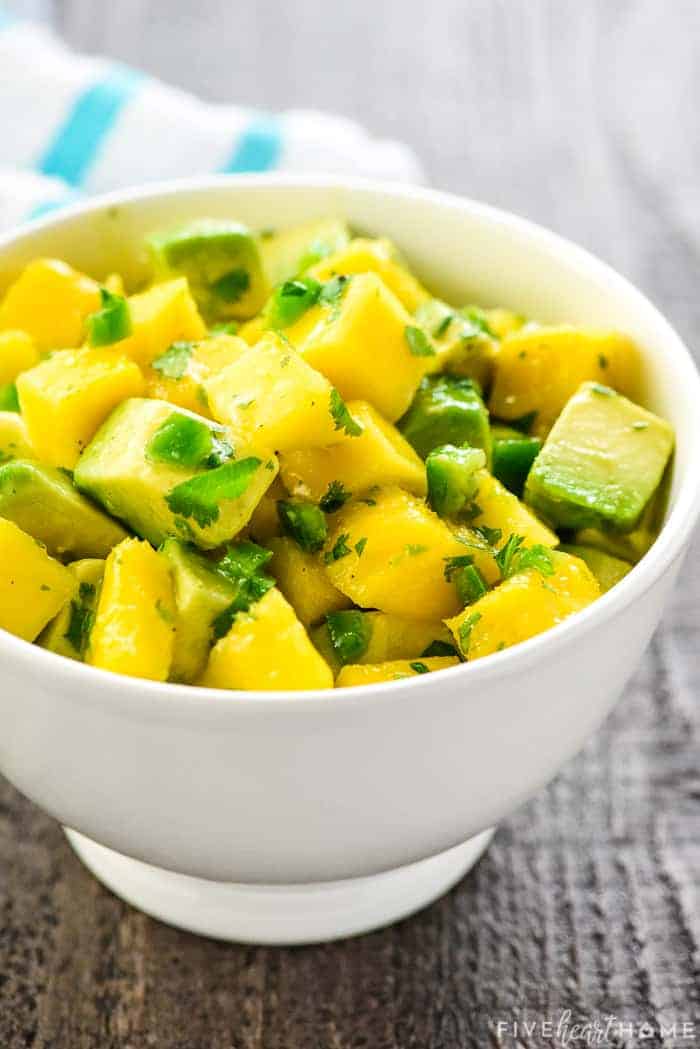 The BEST Mango Avocado Salsa
Of course, in making this delicious concoction countless times over the past couple of years, I've come up with what my family considers the ultimate Mango Avocado Salsa recipe. So what makes it so great?
It's simple, with just four main ingredients tossed with a fresh lime dressing.
It's bursting with summer flavor, utilizing a combo of ingredients that have contrasting flavors and textures: sweet mango, creamy avocado, spicy jalapeño, and fresh cilantro.
And it's versatile! This mango salsa is just as delicious scooped up with chips as it is piled on top of baked fish or grilled chicken.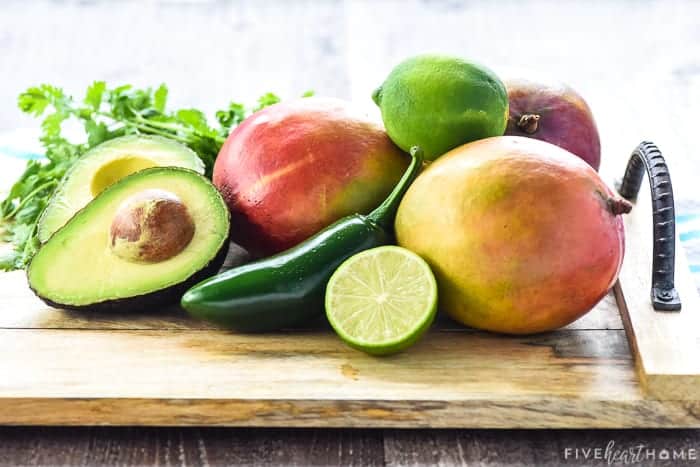 Ingredients
To throw together this recipe, you'll need just a few fresh ingredients:
Mangoes. Make sure they're nice and ripe! There are about a bazillion online videos showing how to dice a mango, so if you don't already know how to do so, it may be helpful to watch one. My favorite way to cut a mango is to slice along each side of the long, thin pit. Then score the flesh in each "half" and use a spoon to scoop it out for perfect little cubes. You can also use a special mango slicer tool to do the job if you find that easier.
Avocado. Since avocado browns pretty quickly, I wait to cut it until I'm ready to combine everything and serve. So if you're making this recipe ahead of time for a party, assemble everything except the avocado. Then cube and stir in the avocado just before serving.
Jalapeño. I typically use one jalapeño, but you can toss in an extra pepper, if you wish. Also, I generally remove the seeds and membranes from the jalapeño, which also removes most of the heat. But yesterday, my 11-year-old commented that he wished I'd make this Mango Avocado Salsa spicier. So next time, I'll probably leave some of the seeds and membranes intact.
Cilantro. We love cilantro at our house, so I start with a half cup of packed fresh cilantro leaves and then chop 'em up. If you prefer more or less cilantro (or none at all), use whatever amount floats your boat.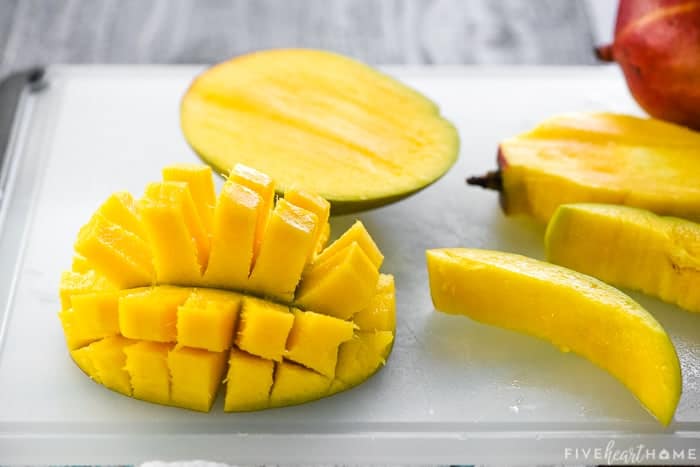 And for the dressing that coats it:
Lime juice. Freshly squeezed is best, but bottled works fine as well. For the best flavor, just make sure it's 100% lime juice with no added ingredients.
Vinegar. I recommend champagne vinegar if you have it, but white wine vinegar will also work.
Extra-virgin olive oil. I actually like adding a small bit of EVOO to the dressing to help it emulsify and give the salsa a shiny gloss. Alternatively, you can keep things super simple and just dress your salsa with plain fresh lime juice instead of a dressing.
Salt + pepper. To taste.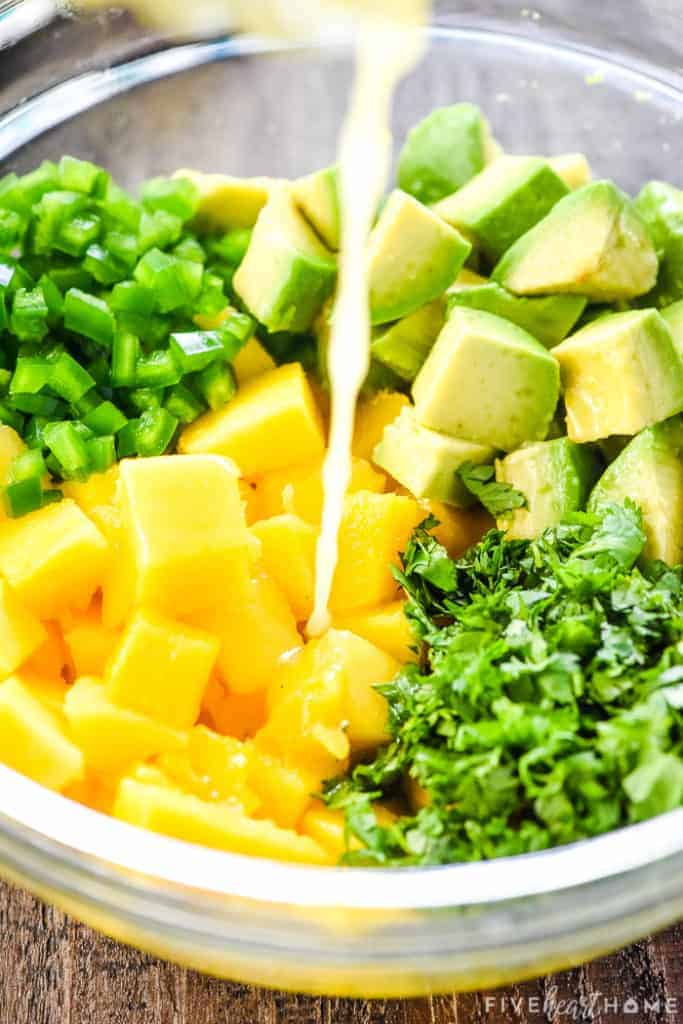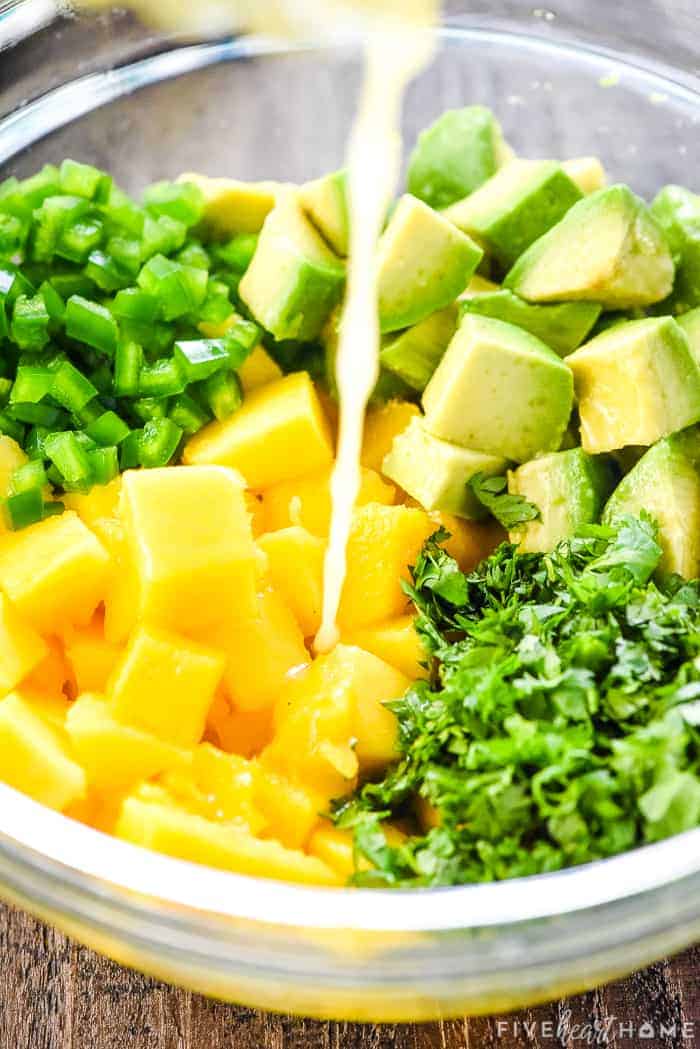 How to Make It
Making Mango Avocado Salsa is pretty quick and ridiculously easy. Allow me to break down the steps for you:
Whip up the dressing.
Mince the jalapeño.
Chop the cilantro.
Dice the mango and transfer to a big bowl.
Cube the avocado and add to the bowl.
Immediately add the rest of the prepped ingredients to the bowl. Give the dressing one last shake or stir before pouring it over the top. Gently stir to combine and serve immediately!
If using this Mango Avocado Salsa as a dip, keep in mind that it's easiest to scoop up with chips when the ingredients are chopped into uniformly-sized pieces.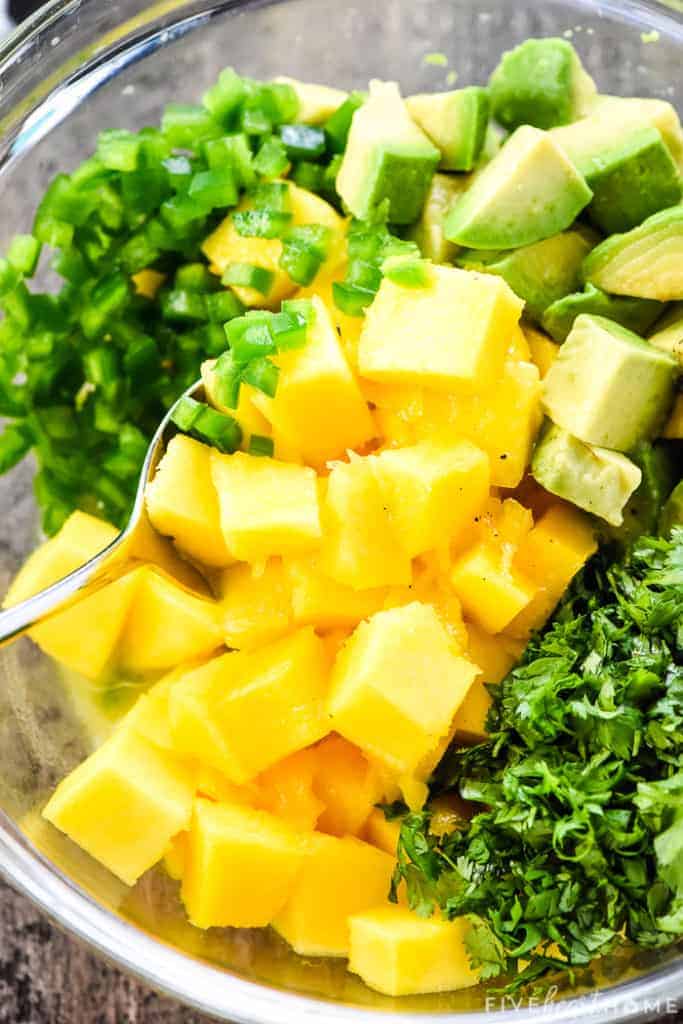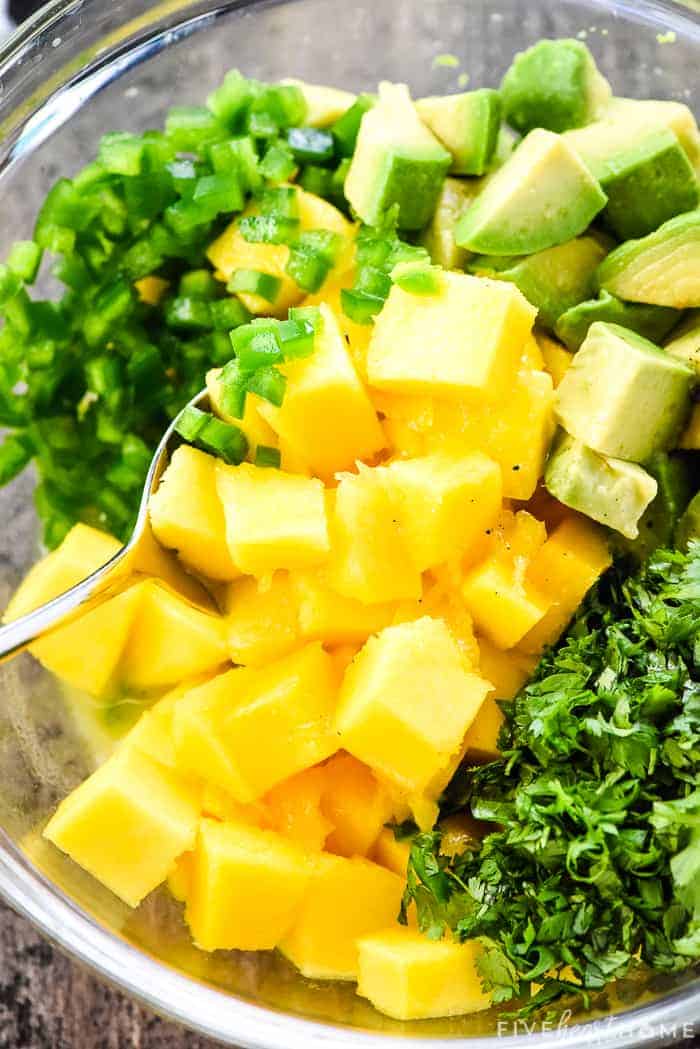 Alternative Ingredients
In the same way that I've tweaked my Mango Avocado Salsa recipe over time to suit my family's tastes, you should feel free to modify the recipe to fit you or your family's likes and dislikes! Feel free to incorporate any or all of the below ideas...
Leave out the avocado. I personally think that cool, creamy avocado elevates mango salsa to the next level. But you certainly don't have to include it, particularly if you're making a big batch and are planning on lots of leftovers (since the avocado will likely brown).
Add a peeled, diced cucumber for a nice, crisp crunch.
Stir in ½ cup finely diced red onion or a couple of chopped green onions.
Add 1 cup finely chopped red bell pepper.
Swap out one of the mangoes for complementary summer fruit, such as 2 cups of diced ripe peaches, apricots, or even fresh pineapple.
The sky's the limit when it comes to making this recipe your own!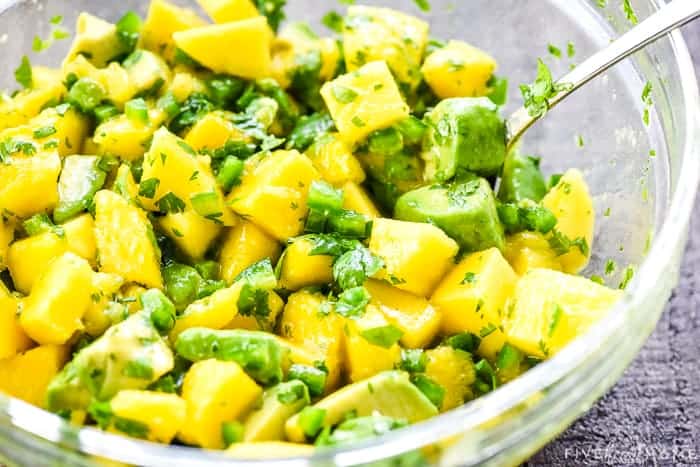 Ways to Enjoy Mango Avocado Salsa
As a dip. I could seriously eat this goodness scooped up with tortilla chips for breakfast, lunch, and dinner.
Over salads. Scattering some Mango Avocado Salsa over a bed of lettuce makes for a delicious salad. In that case, I'd probably double the dressing and reserve half of it to pour over my greens. I'd even consider topping the whole shebang with chilled cooked shrimp or sliced, grilled chicken breasts for a light summer meal!
Over tacos or burrito bowls. This recipe makes a scrumptious topping on tacos or burrito bowls featuring fish, shrimp, chicken, pork, or beef.
As a side salad or topping for chicken, fish, or other seafood. 'Nuff said.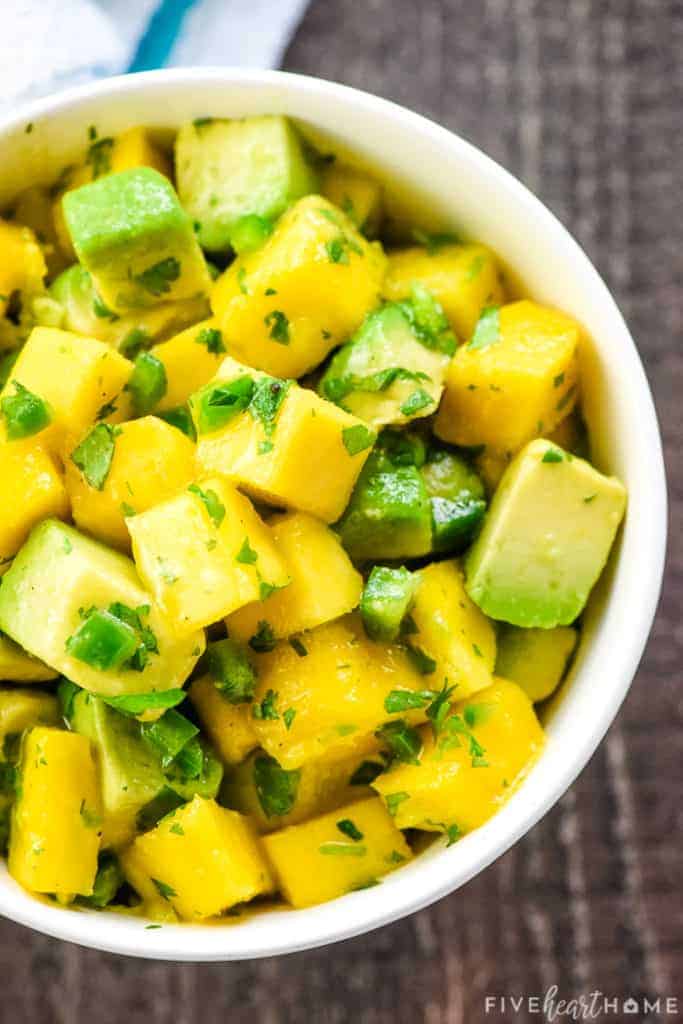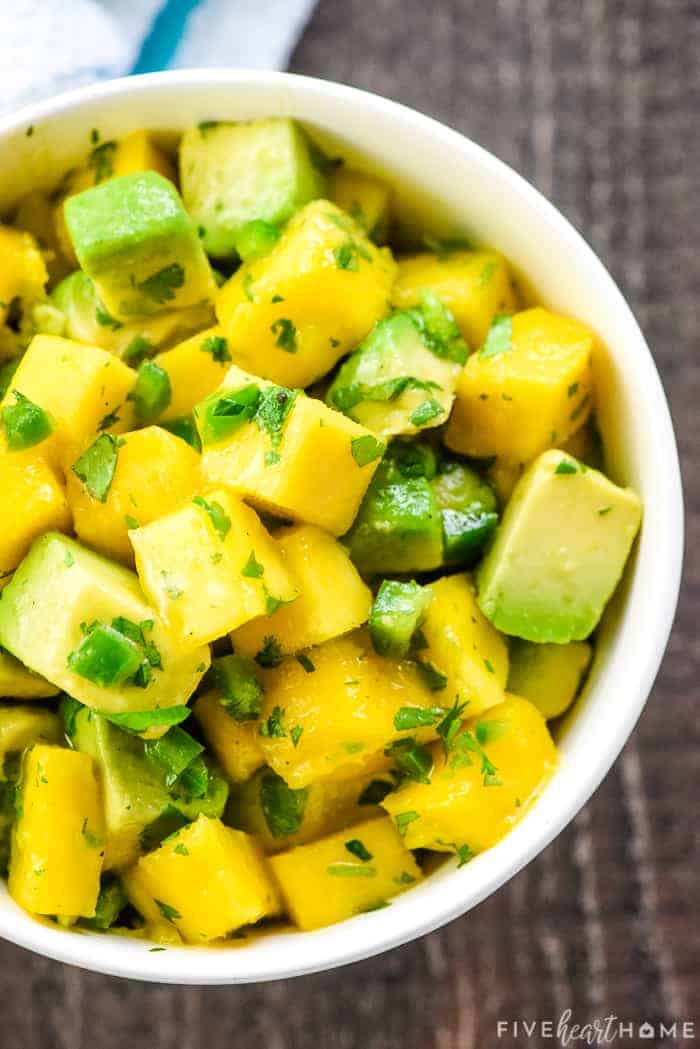 So who's ready to relish the season with a bountiful bowlful of fresh, flavorful Mango Avocado Salsa?!
It's like summer in a bowl, and I think you're going to love it. 🙂
More Fruity Summer Recipes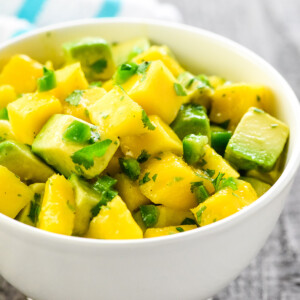 Mango Avocado Salsa
Mango Avocado Salsa is a fresh, simple recipe bursting with loads of summer flavor from sweet mangoes, creamy avocado, zesty jalapeño, and zippy cilantro...perfect as a dip or over fish!
Print
Pin
Rate
Servings:
8
servings (about 3 to 4 cups)
Ingredients
For the Dressing:
2

tablespoons

freshly-squeezed lime juice

1

teaspoon

champagne (or white wine) vinegar

1

teaspoon

extra-virgin olive oil

¼

teaspoon

salt

Freshly ground black pepper
For the Salsa:
2

large, ripe mangoes

,

diced

1

large, ripe avocado

,

diced

1

jalapeño

,

diced (seeds & membranes removed for mild)

½

cup

packed cilantro leaves

,

chopped
Instructions
In a small jar or bowl, measure the lime juice, vinegar, extra-virgin olive oil, salt, and pepper. Shake or whisk until well combined. Set aside.

Remove the seeds and membranes from the jalapeño (or leave them intact for spicier salsa) and finely dice. Finely chop the cilantro leaves. Peel, core, and dice the mangoes. Cube the avocado. Add all of the ingredients to a large bowl.

Shake the dressing, pour over the ingredients in the bowl, and gently stir to combine. Serve immediately with chips or as a topping.
Notes
1 diced (8-inch) cucumber
½ cup finely diced red onion or a couple of chopped green onions
1 cup finely chopped red bell pepper
diced ripe peaches, apricots, or even fresh pineapple
If you add a substantial amount of extra ingredients to the salsa, you may also want to double the dressing.
This salsa may be made a day or two ahead of time. Combine all of the ingredients except the avocado, cover, and chill. Cube and mix in the avocado just before serving.
This salsa is best enjoyed fresh. You may tightly cover any leftovers and store in the refrigerator, but keep in mind that the avocado will start to brown.
Calories:
71
kcal
|
Carbohydrates:
9
g
|
Protein:
1
g
|
Fat:
4
g
|
Saturated Fat:
1
g
|
Sodium:
75
mg
|
Potassium:
196
mg
|
Fiber:
2
g
|
Sugar:
6
g
|
Vitamin A:
570
IU
|
Vitamin C:
21
mg
|
Calcium:
8
mg
|
Iron:
0.2
mg