Slow Cooker Pork Tacos feature tender, spicy-sweet, honey lime pulled pork piled on tortillas with lots of tasty toppings. Leftover pork is equally great on nachos!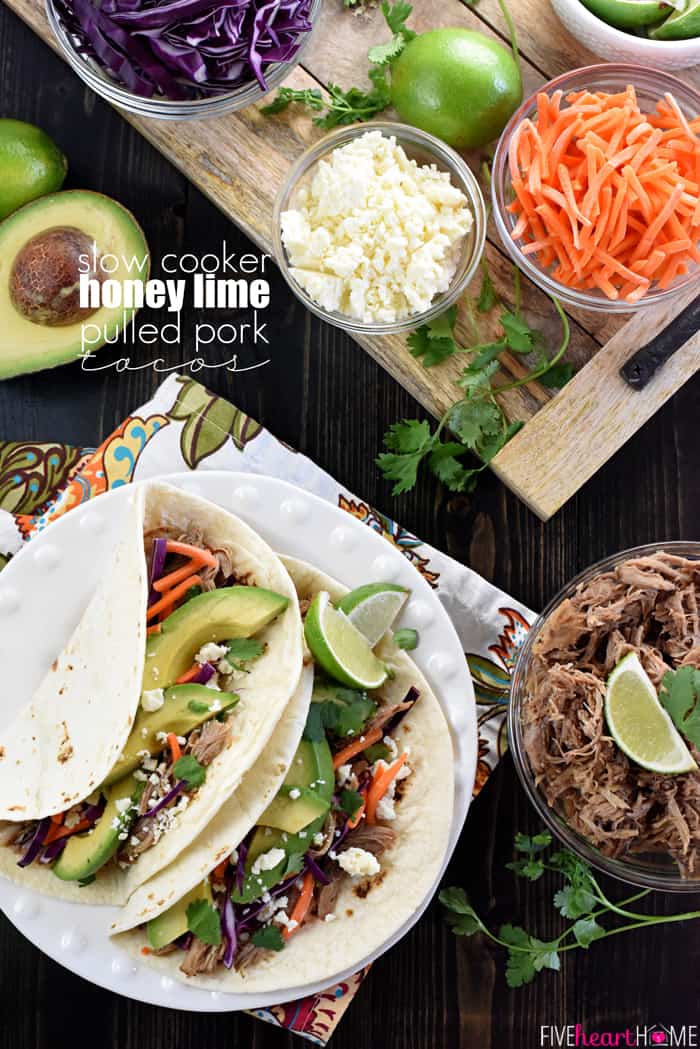 If you enjoy pork, you'll also love Pineapple Pulled Pork Pizza, Pork Tenderloin with Mushroom Gravy, or Crock Pot Pork Loin with Honey Balsamic Glaze!
Hi, friends! I missed y'all during my unexpected hiatus last week. I'll explain my absence in a moment, but in the meantime, hopefully I can beg your forgiveness with these melt-in-your-mouth Slow Cooker Pork Tacos, brimming with the flavors of fresh lime juice, honey, garlic, and chipotle. Sound like a deal?
The Best Cut for Pulled Pork
My family really enjoys tacos, but around here that typically means beef or chicken. So a few weeks ago, I decided to change things up by tossing a pork roast in the slow cooker.
Pork butt -- which is actually pork shoulder (why must cuts of meat be so confusing?!) -- is a great choice for pulled pork because its generous marbling results in moist, juicy meat.
That being said, I trim as much fat as possible from the pork before I cook it, and there's still plenty to skim from the surface of the cooking liquids once it's done.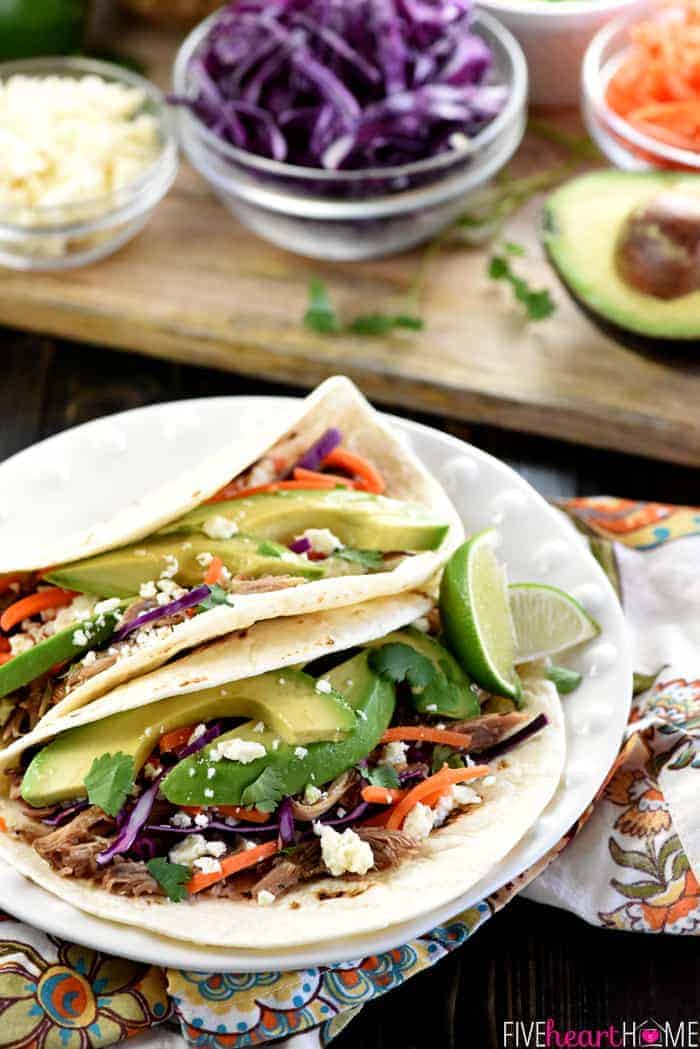 How to Make It
To flavor these Slow Cooker Pork Tacos, I decided to go for a honey-lime vibe enhanced with garlic and spiced with chipotle chile powder, which is basically ground-up smoked jalapeño peppers and not to be confused with regular ol' chili powder (a much milder spice blend).
Since adding the honey at the beginning of the recipe could result in darkening or burning around the edges of the slow cooker, I like to stir it in after the pork roast is cooked.
Then simply shred the pork and add it back to the sauce, allowing everything to cook for about 30 minutes more to absorb the sauce and mellow the honey.
This is also a good time to add salt or adjust the heat of the recipe to your liking...stir in ¼-teaspoon chipotle chile powder at a time, tasting in between, for spicier pulled pork.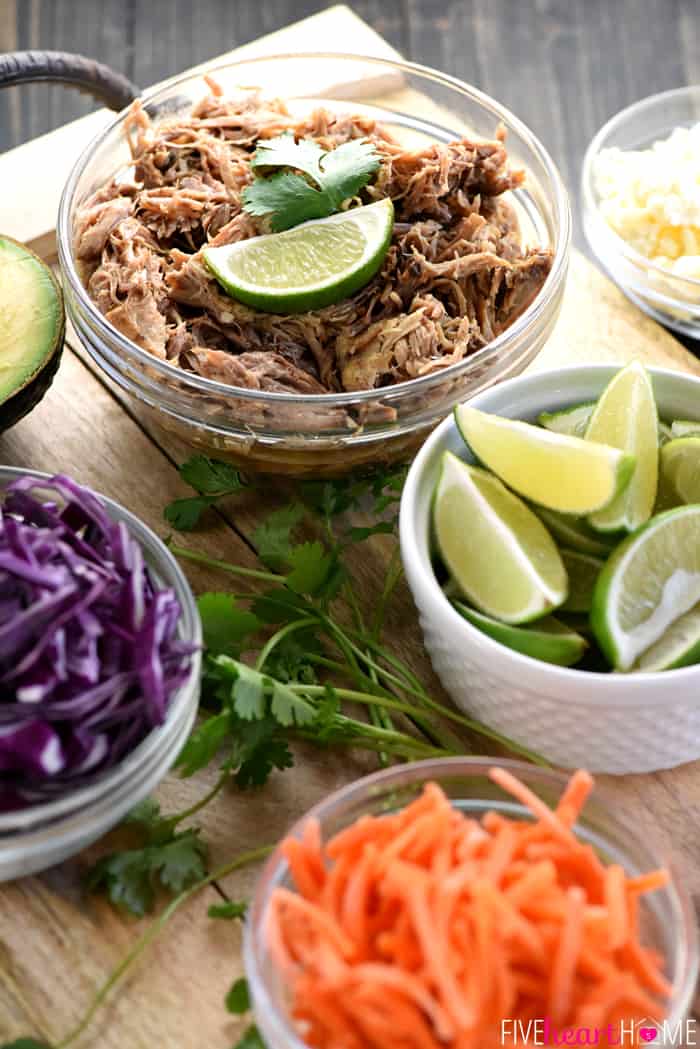 Garnishes
What I love about this tender Honey Lime Pulled Pork is that it's such a yummy canvas for a variety of taco toppings.
Feel free to go with your favorites, but I started out fresh and crunchy with finely chopped red cabbage and julienned carrots.
Then I brought in a creamy element with sliced avocado and salty cotija cheese crumbles.
And finally, I finished everything off with a bright punch of fresh cilantro leaves.
The resulting tacos are colorful, flavorful, and positively addictive!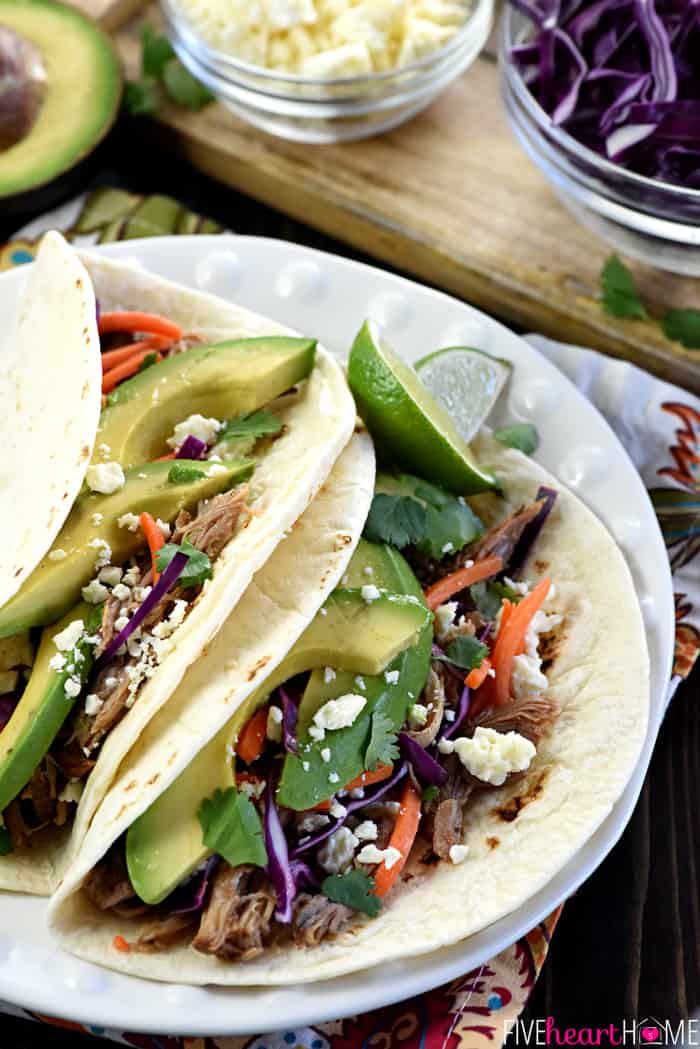 Leftovers? Make Nachos!
A bonus of this recipe is that, unless you're feeding a crowd, you'll probably end up with leftover pulled pork. And you know a great way to use up that pork?
Slow Cooker Honey Lime Pulled Pork NACHOS!
My family loved 'em every bit as much as the tacos, but we did decide on alternate toppings.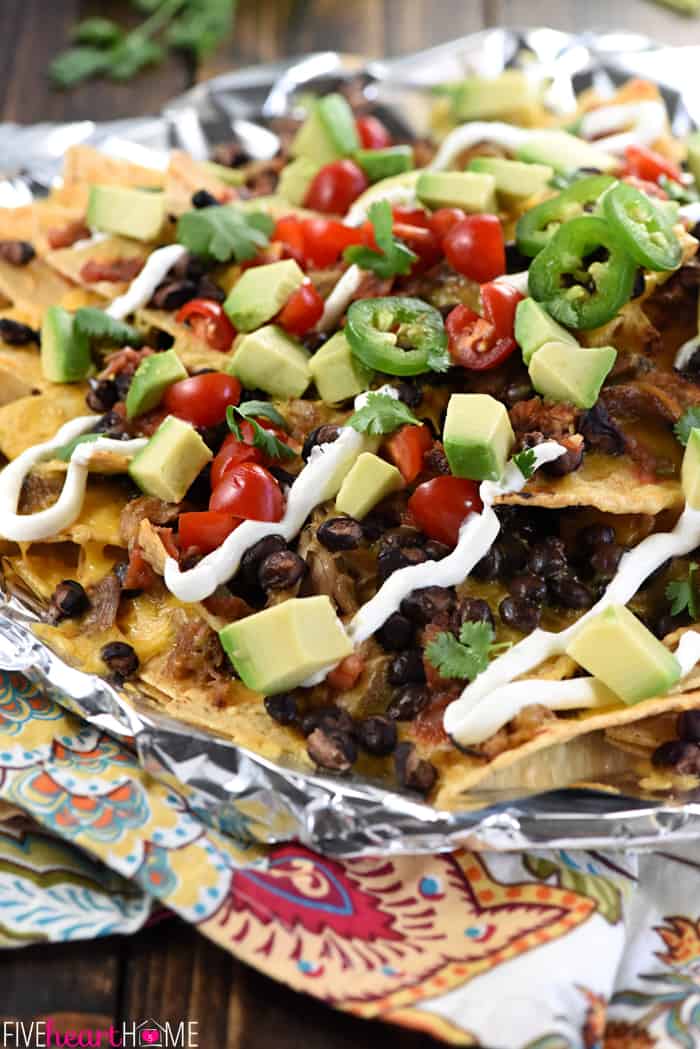 We layered our tortilla chips with pulled pork (obviously), black beans, and plenty of cheddar cheese, and baked for about 10 minutes.
Then we topped our melty nachos with diced tomatoes, chunks of avocado, sliced jalapeños, salsa, sour cream, and fresh cilantro.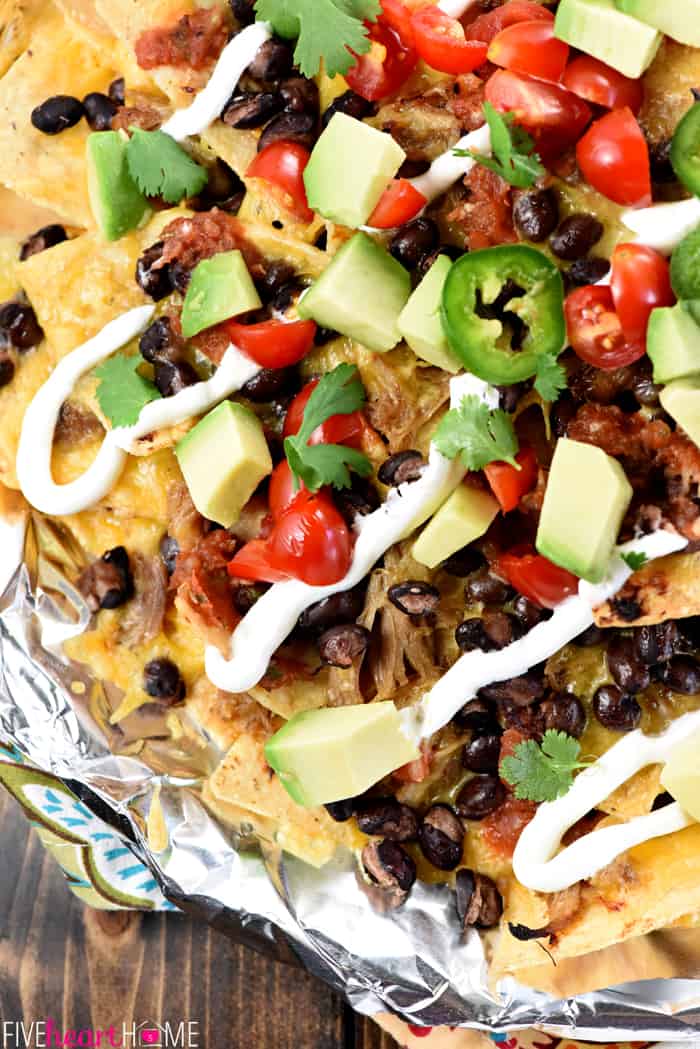 These Slow Cooker Pork Tacos are perfect for game day...perfect as an appetizer...perfect for dinner! And it was honestly a toss-up as to whether my crew enjoyed the tacos or the nachos more.
Would you believe that this is the first new slow cooker recipe I've created since wrapping up work on my Real Food Slow Cooker Suppers cookbook earlier this year?! To be perfectly honest, after six months of filling, running, and cleaning three separate slow cookers (simultaneously) pretty much 24/7, I was a teensy bit burned out. But with my cookbook's release date looming (October 11th!), I'm starting to get back into slow cooker mode and I'm actually really excited about it! Which brings me to the reason for my trip last week...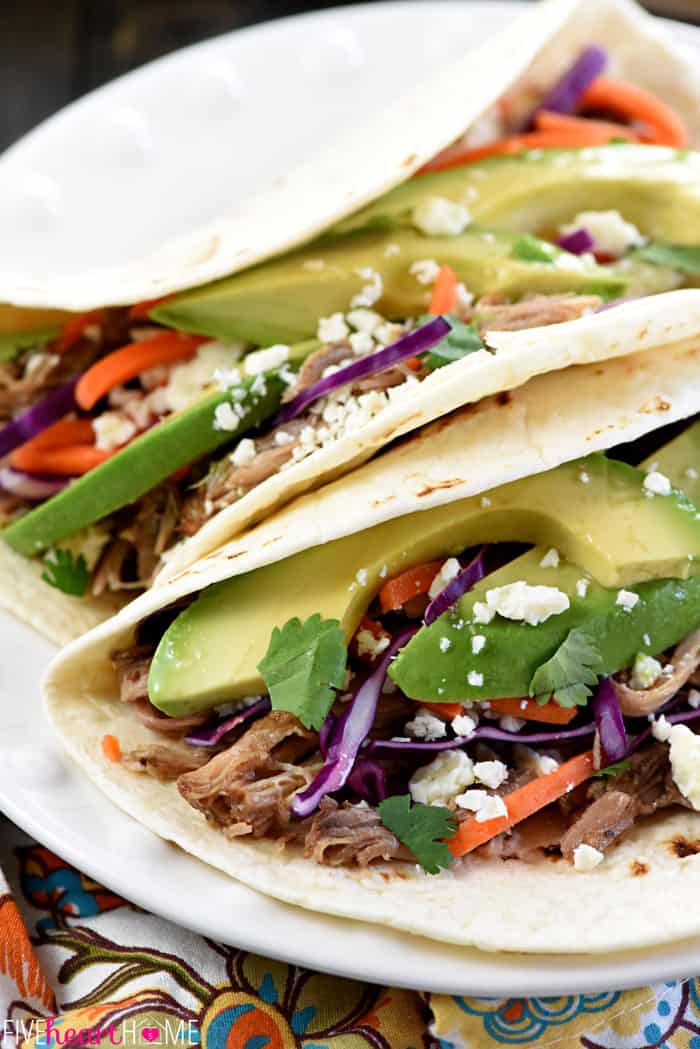 A couple of months ago, my publishing company let me know that QVC had chosen my cookbook to be featured in one of their segments. What the what?!?! The catch was that, depending on my media experience and how I did on screen, I would either be allowed to go on with my book...or a "representative" would do so for me. Well, seeing as how I have pretty much zero media experience, I was asked to send in a sample video of myself doing something kitchen-ly on camera. So while my kids were at school one day, I propped my iPhone on a shelf and proceeded to film myself performing a "cooking demo." And would you believe it...it passed QVC's muster! So with a projected end-of-September on-air date, I waited for information on when I would need to head to QVC headquarters to complete my guest training before the big show day.
Well, about 10 days ago, I got word that my QVC segment was going to be moved up to mid-September...and could I possibly fly up to Philadelphia the following week (which was last week) to complete my training? So after a flurry of flight and rental car and hotel reservations, last Wednesday I found myself here: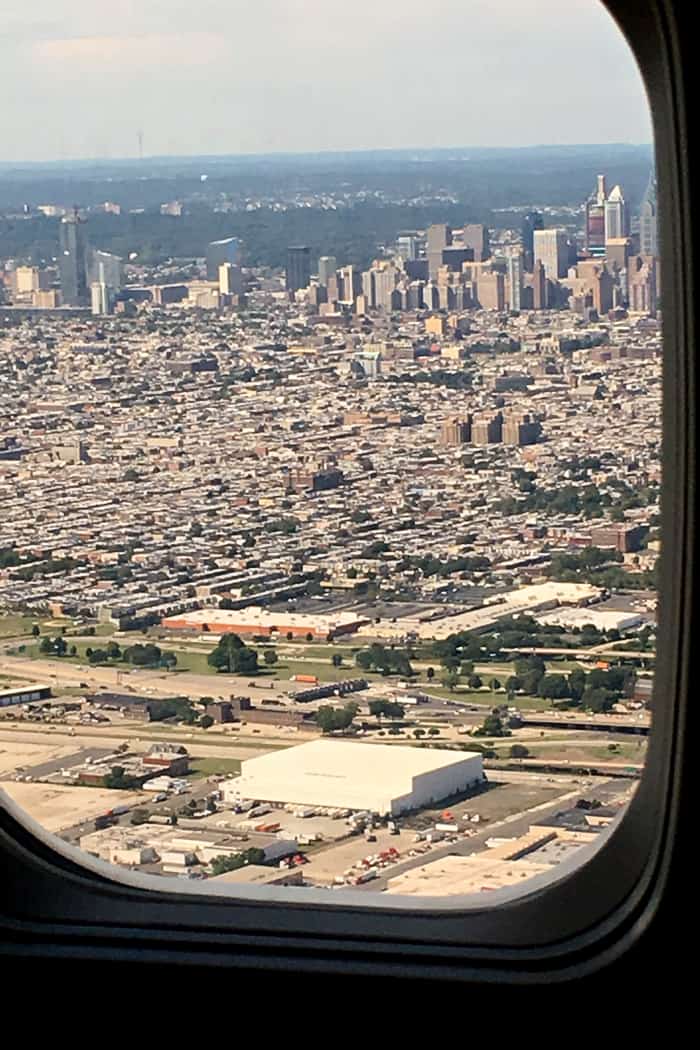 I'd be lying if I said I wasn't completely out of my comfort zone. My husband was wonderful enough to stay behind to man the homefront for pre-first-week-of-school obligations. And here I was navigating a strange city by myself and trying to quell my nerves about learning how to be on TV!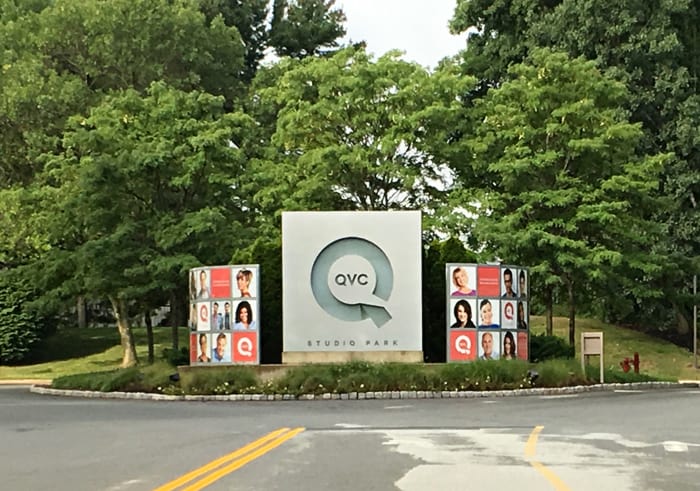 I was extremely nervous when I arrived at the QVC headquarters on Thursday morning, but I did my best to play it cool. Lucky for me, the QVC team does a beyond amazing job educating and training their guests. It was a jam-packed 8 hours, but I learned so much and I felt calmer and more confident as the day went on. And best of all, I passed my certification! So I'm happy to announce that I will officially be on QVC representing my cookbook on the evening of September 14th...set your DVRs, y'all! Ha. 😉
Now what say we have a honey-lime-kissed Slow Cooker Pork Taco to celebrate?!

More Tempting Tacos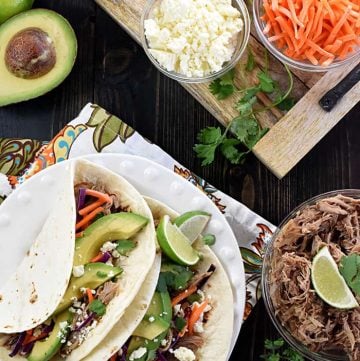 Slow Cooker Honey Lime Pulled Pork Tacos
Slow Cooker Honey Lime Pulled Pork Tacos feature tender, spicy-sweet pork piled on flour tortillas and topped with red cabbage, carrots, avocado, cotija cheese, and fresh cilantro for an easy, effortless dinner...and the leftover pork is fantastic on nachos!
Print
Pin
Rate
Servings:
8
to 10 servings
Ingredients
3 ½

pound boneless pork butt (shoulder roast)

6

large cloves garlic

,

minced

½

cup

freshly-squeezed lime juice

2

teaspoons

chipotle chile powder

1

teaspoon

ground cumin

1

teaspoon

Mexican oregano

1 ½

teaspoons

salt

,

plus more to taste

Freshly ground black pepper

,

to taste

⅓

cup

honey

1

tablespoon

cornstarch + 1 tablespoon water

Flour tortillas

Finely chopped red cabbage

Julienned matchstick carrots

Sliced avocado

Cotija cheese

,

crumbled

Fresh cilantro leaves

Lime wedges
Instructions
Remove as much fat as possible from the pork roast and pierce it all over with a small, pointy knife. Place the pork in the bottom of a large slow cooker. In a small bowl, mix together the garlic, lime juice, chipotle chile powder, cumin, Mexican oregano, salt, and pepper. Pour the mixture over the pork roast and rub it into the meat, turning evenly to coat. Cover and cook on LOW for 8 to 10 hours (or HIGH for 4 to 6 hours) until the pork is extremely tender.

Transfer the pork to a cutting board. Remove and discard the fat and use two forks to pull the pork into chunks. Use a large spoon to skim the fat from the surface of the liquids in the slow cooker. Turn the slow cooker to HIGH and stir in the honey. In a small bowl, stir the cornstarch into the water until dissolved, and then whisk this cornstarch slurry into the liquids in the slow cooker. Add the pulled pork back to the slow cooker and stir to combine, then taste and adjust the seasonings, adding more salt, pepper, and/or chipotle chile powder as desired. Cover and cook on HIGH for 30 minutes, which will mellow the flavor of the honey and allow the pork to absorb the sauce.

To serve, pile pulled pork onto warm flour tortillas and top with red cabbage, carrots, avocado, cotija cheese, cilantro, and a squeeze of lime.
Notes
Pork butt is actually a roast that comes from the shoulder of the pig. It's sometimes called Boston butt.
I sometimes use an all-natural bottled lime juice (the only ingredient is lime juice, with no added preservatives) in place of fresh-squeezed limes. The one I've been able to find is Whole Foods brand.
You may start out with less chipotle chile powder if you're worried about this recipe being too spicy. Alternatively, if you prefer more spice, you can always add more chipotle chile powder (adding ¼-teaspoon at a time and tasting in between) at the same time you add the honey.
If you don't have Mexican oregano, regular (Mediterranean) oregano will work just fine.
Leftover pulled pork may be used to make nachos. Overlap tortilla chips on a rimmed baking sheet. Top with pulled pork, a can of rinsed/drained black beans, and your choice of shredded cheese (sharp cheddar, Monterrey Jack, pepper jack, etc.). Bake at 400°F for 10 minutes or until cheese is melted. Sprinkle with your favorite toppings, such as diced tomatoes, diced avocado, sliced jalapeños, salsa, sour cream, and fresh cilantro leaves.
Calories:
319
kcal
|
Carbohydrates:
15
g
|
Protein:
38
g
|
Fat:
11
g
|
Saturated Fat:
4
g
|
Cholesterol:
119
mg
|
Sodium:
575
mg
|
Potassium:
721
mg
|
Fiber:
1
g
|
Sugar:
12
g
|
Vitamin A:
155
IU
|
Vitamin C:
5.3
mg
|
Calcium:
42
mg
|
Iron:
2.8
mg
Save
Save
Save
Save
Save
Save
Save