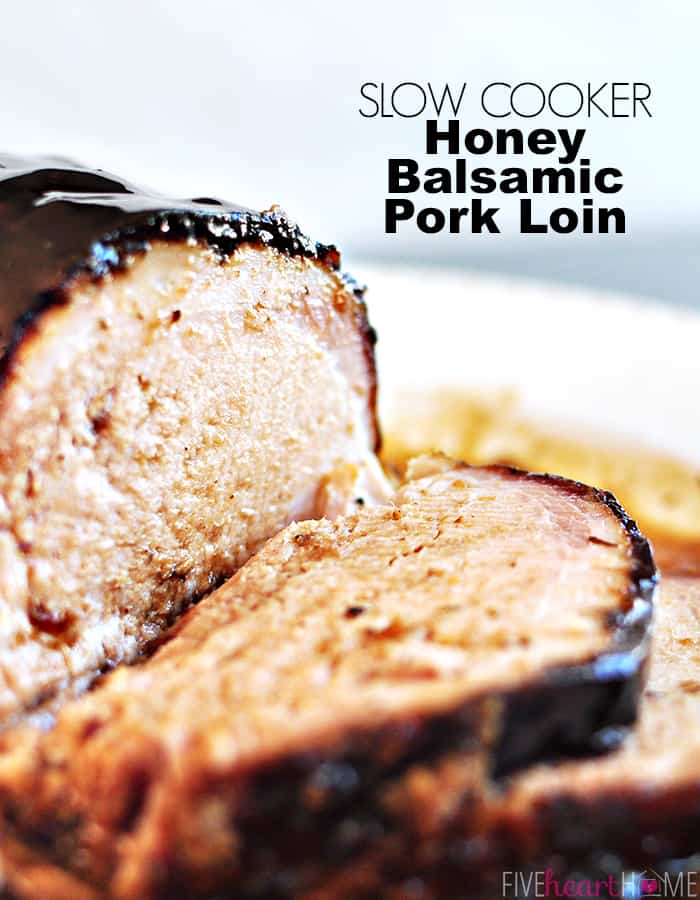 Slow Cooker Honey Balsamic Boneless Pork Loin is a moist, juicy, effortless crock pot dinner featuring a tangy, sweet and savory glaze that's impressive enough for company!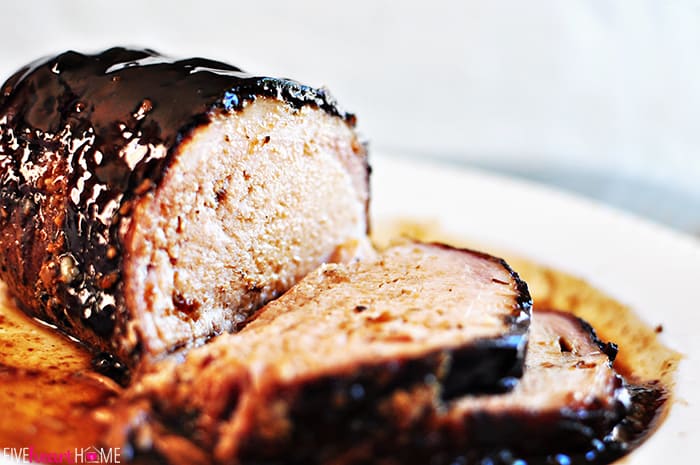 Even though our daily schedule becomes more flexible once school's out for the summer, that still doesn't mean I want to spend hours on end in a hot kitchen. So when we're not grilling outdoors, odds are I'm using my crock pot.
Plenty of folks (myself included) tend to think of slow cooker meals as winter fare, and many crock pot recipes certainly fall into that category. But there's something to be said for coming home from work or the pool or a playdate at the park and having dinner waiting on you. As an added bonus, said dinner didn't even require that the oven heat up the whole kitchen! This Slow Cooker Honey Balsamic Pork Loin is delectable any time of year.
Ingredients
Simple ingredients...amazing flavor!
To Season the Pork Loin
For the Glaze
Honey.
Balsamic vinegar.
More water.
Soy sauce.
Cornstarch.
How to Make Slow Cooker Pork Loin
This is one of those dinners that practically makes itself.
Place the pork loin in your slow cooker.
Combine the seasonings and sprinkle over the pork, pressing it into all sides.
Sprinkle minced garlic over the top.
Pour water into the bottom of the slow cooker, cover, and cook.
An hour before serving, prepare the glaze!
Mix the glaze ingredients together in a small pot until the cornstarch is completely dissolved.
Bring the mixture to a low simmer and cook, while stirring, until thickened.
During the last hour of cooking, brush the pork loin with the glaze three times.
The last time you go to glaze the pork loin, you have two choices: either pour all of the remaining glaze over the top, or brush with glaze one final time and reserve whatever remains as a dipping sauce to serve alongside your pork.
Reasons to Make This Recipe
I'm actually pretty picky about my crock pot recipes. It's so easy for meals from the slow cooker to all end up having the same general taste and texture. While that's fine when you need a quick and effortless meal, the crock pot recipes that I find myself repeating frequently are those that taste more like they could have come from the stovetop or out of the oven.
This slow cooker boneless pork loin is one of them! Sure, the meat is juicy and flavorful -- which can be said about many, if not most, crock pot meals -- but it's the glaze that really puts this dinner over the top. And when that glaze trickles down into the juices at the bottom of the pot to mingle into a flavorful, effortless pan sauce of sorts...well, YUM.
As if that's not enough to get excited about, this recipe makes a ton, so unless you have a very large family, leftover shredded pork has the potential to save you from cooking for another night or two (can I hear a "hip, hip, hooray"?!).
Ways to Enjoy Leftover
If transforming your leftovers into another meal sounds appealing to you, the possibilities are abundant
Fold some shredded pork into cheesy quesadillas (Brie would be delicious!)
Sprinkle it over a salad (with balsamic dressing to complement the glaze!)
Serve it on a bun (topped with crunchy, vinegar-based cole slaw!)
Please excuse the superfluous exclamation points. Who knew leftovers could be so exciting?

So do yourself a favor this summer (or any other season) and break out that crock pot to make this slow cooker boneless pork loin in all of its honey balsamic glory! Because in my book, minimal effort for maximum culinary delight is a recipe for summer fun.
More Pork Recipes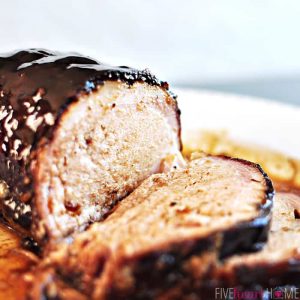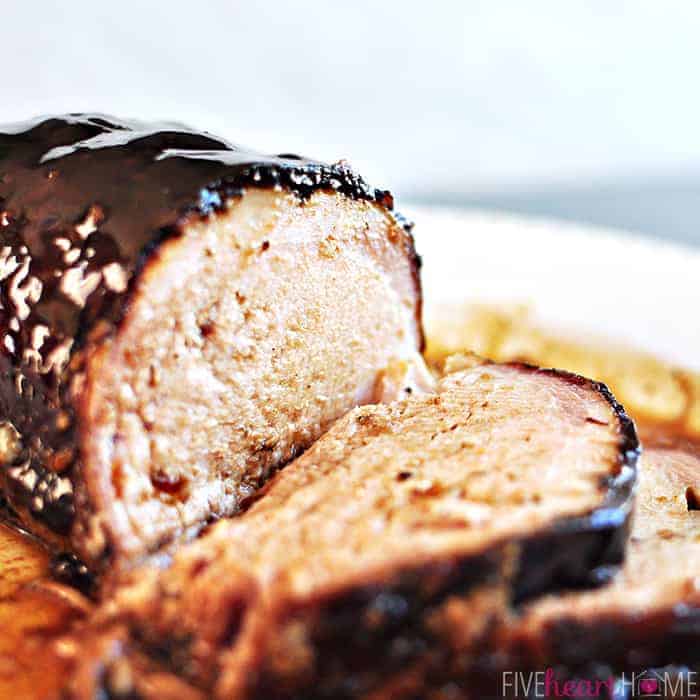 Slow Cooker Honey Balsamic Boneless Pork Loin
This tender crock pot pork loin is glazed in a sweet and tangy sauce featuring honey, balsamic vinegar, and soy sauce. Delicious and effortless, you'll never believe it came out of the crock pot!
Print
Pin
Rate
Ingredients
For the pork:
3

pound

boneless pork loin

2

teaspoons

ground sage

¾

teaspoon

salt

½

teaspoon

pepper

5

cloves

garlic

,

minced

½

cup

water
For the glaze:
⅓

cup

honey

¼

cup

balsamic vinegar

½

cup

water

2

tablespoons

soy sauce

1

tablespoon

cornstarch
Instructions
Place pork loin in the bottom of a large slow cooler.

In a small bowl, combine sage, salt, and pepper. Sprinkle half of the spice mixture onto one side of the pork loin and press it into the meat with your fingertips. Flip the pork over and repeat on the other side.

Spread minced garlic over the top of the pork loin and press down again.

Pour water into the bottom of the slow cooker and cook on low for 8 hours.

An hour before serving, prepare the glaze. In a small pot, mix glaze ingredients together until cornstarch has dissolved. Bring to a low simmer and cook, while stirring, for a few minutes or until the mixture has thickened. It will continue to thicken as it cools.

During the last hour of cooking, brush roast with glaze three times. The last time, either pour all of the remaining glaze over the pork loin, or reserve whatever is left after brushing as a dipping sauce.
Notes
If my pork loin has a layer of fat on one side when preparing this recipe, I cook it with that side up so that the fat can melt into the meat and further moisten it while cooking. Then I carefully flip the whole loin over with some tongs before I start glazing it. This way, when we're ready to eat, we can cut away the layer of fat without losing the glaze.
Calories:
267
kcal
|
Carbohydrates:
10
g
|
Protein:
38
g
|
Fat:
6
g
|
Saturated Fat:
2
g
|
Cholesterol:
107
mg
|
Sodium:
461
mg
|
Potassium:
660
mg
|
Sugar:
8
g
|
Vitamin C:
0.6
mg
|
Calcium:
13
mg
|
Iron:
1.1
mg
Adapted from Let's Dish