Rosemary Cider Brined Pork Loin is extra juicy and flavorful thanks to brining...and while it's easy enough to make for a weeknight dinner, it's impressive enough to serve for a special occasion!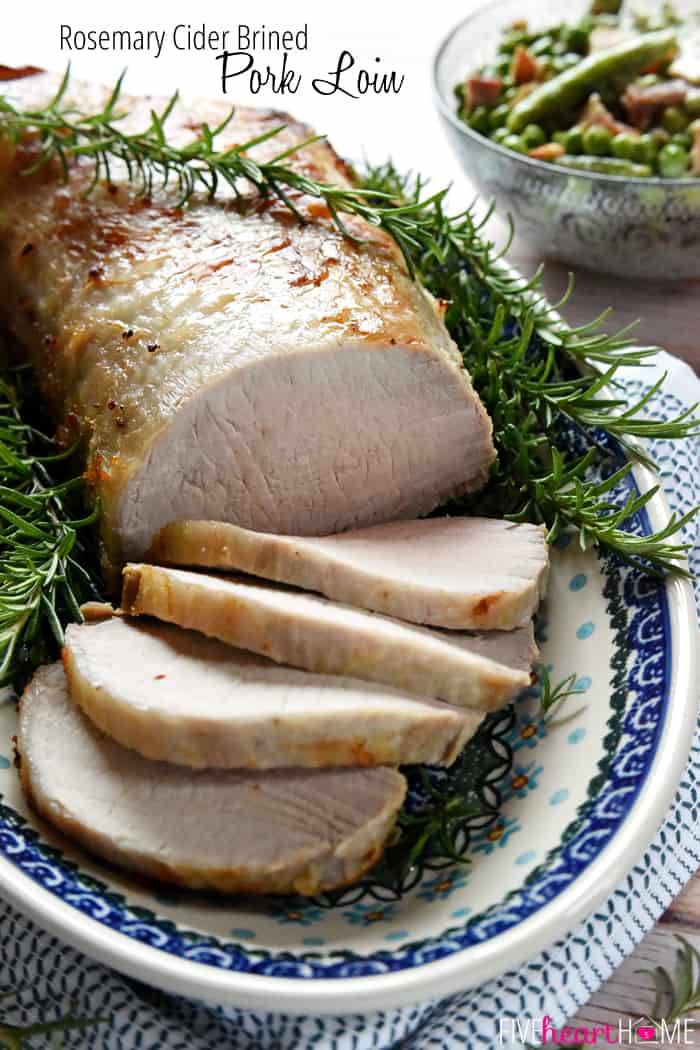 If you enjoy this recipe, you'll also love Crock Pot Pork Loin with Honey Balsamic Glaze!
Easter is just one short month away, folks...so who's already started to think about your menu? 😉 I realize that most people like to cook ham for Easter lunch or dinner, and I shared a super easy, super tasty recipe for a Slow Cooker Brown Sugar Ham around this same time last year (which, incidentally, is my most popular holiday recipe of all time!). But for those of you thinking outside of the box this Easter, how about sticking with pork while giving it a decidedly un-ham-like twist?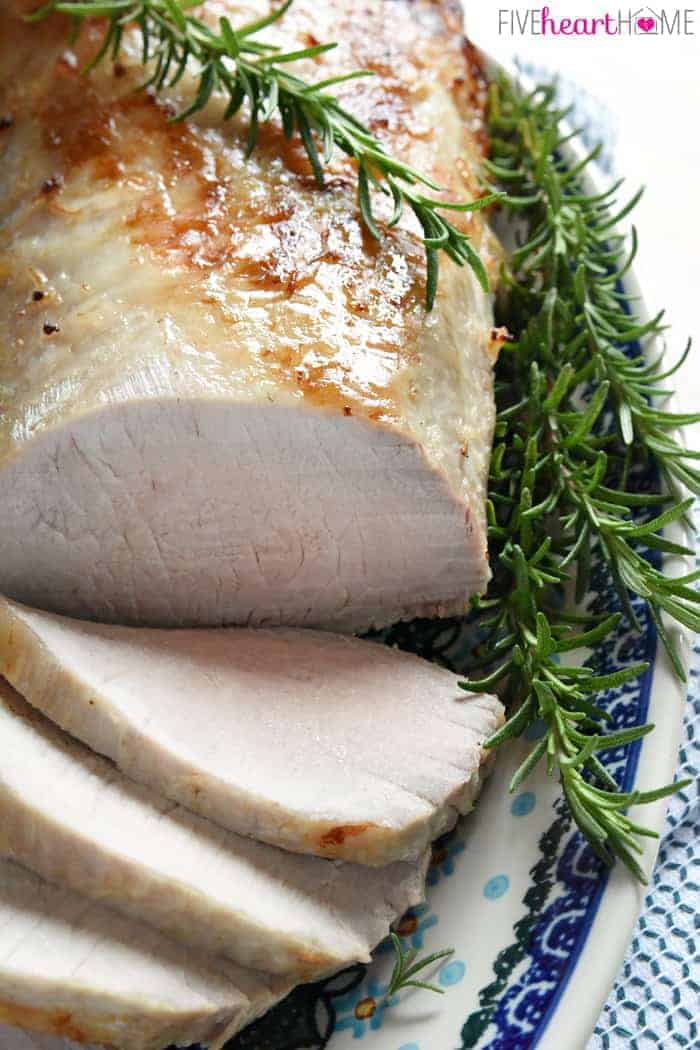 Of course, it doesn't have to be Easter to enjoy this succulent, flavor-infused Rosemary Cider Brined Pork Loin. This recipe is so simple to prepare yet so impressively yummy that you could easily serve it to oohs and ahhs year-round -- whether at a dinner party or at the family dinner table.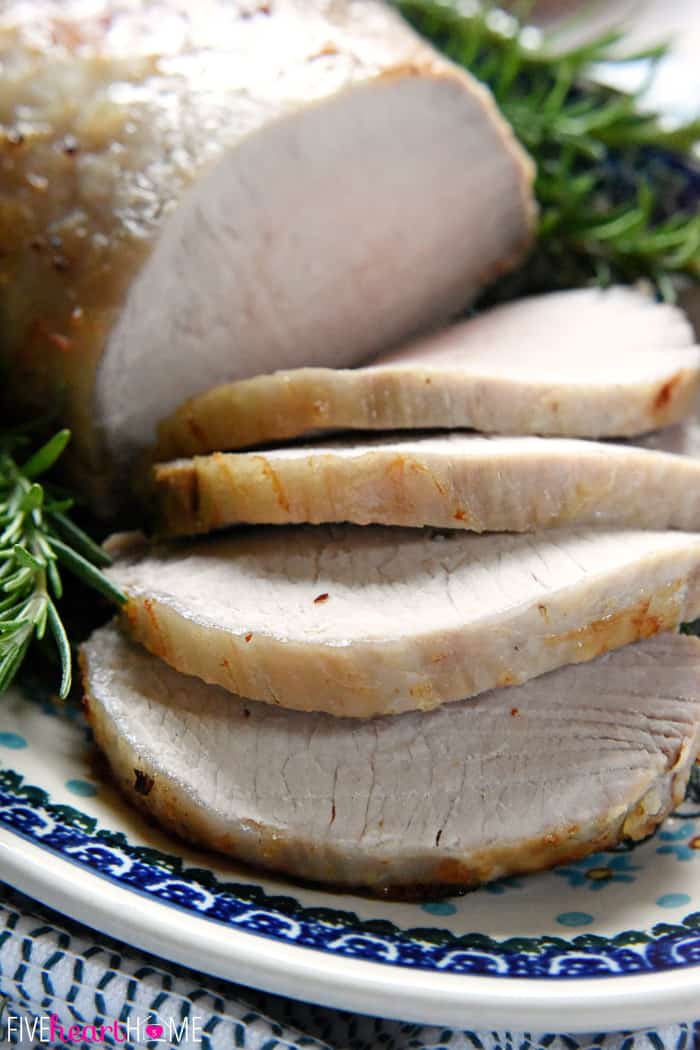 Pork Roast Brine
So what makes it so special?
Well, first off, we're starting with a good-sized hunk of relatively lean meat...and thus, the best way to infuse it with flavor and render it juicy is to brine it prior to roasting. The brine in question here is full of strong flavors -- after all, rosemary and apple cider don't mess around! But those flavors mellow out when they work their way into the pork loin, resulting in a savory main course that's not only juicy, but also perfectly seasoned.

The Sauce
And let's take a moment to pay homage to the sauce that accompanies this dish, shall we? The pan drippings from the pork are transformed into a broth + apple cider-based sauce flavored with additional apple cider vinegar, rosemary, and a touch of honey. The outcome is a slightly sweet and tangy sauce that perfectly complements the tender pork.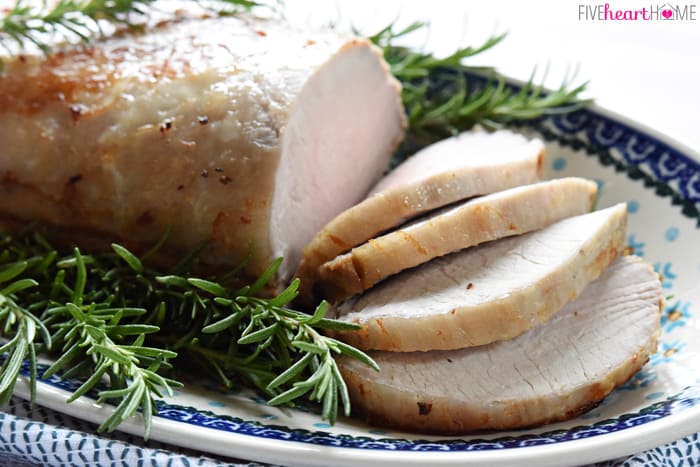 If ham has already got your number this Easter, I say go for it! But that doesn't mean you shouldn't also make room at some point on your upcoming spring menu for this Rosemary Cider Brined Pork Loin. Not only will it feed a crowd, but it will do so in a manner that leaves them full and happy. And come on now...what more can you ask of a recipe than that? 😉
Easter Sides and Desserts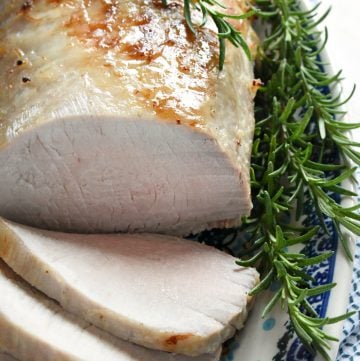 Rosemary Cider Brined Pork Loin
Rosemary Cider Brined Pork Loin is extra juicy and flavorful thanks to brining...and while it's easy enough to make for a weeknight dinner, it's impressive enough to serve for a special occasion!
Print
Pin
Rate
Ingredients
½

cup

kosher salt

½

cup

honey

1

cup

unsweetened apple cider

,

or juice

1

cup

apple cider vinegar

2

teaspoons

chili powder

1

bunch fresh rosemary

1

bunch fresh thyme

4

pound

pork loin roast

Extra virgin olive oil
FOR THE SAUCE:
3

tablespoons

all-purpose flour

¾

cup

unsweetened apple cider

,

or juice

¾

cup

chicken broth

1

tablespoon

apple cider vinegar

2 to 3

teaspoons

honey

,

to taste

1

teaspoon

finely minced rosemary

½

teaspoon

salt

Freshly ground black pepper

2

tablespoons

heavy cream
Instructions
In a small pot set over medium heat, combine the kosher salt, honey, apple cider, apple cider vinegar, and chili powder. Stir until the salt just dissolves. Remove from heat, add rosemary and thyme, and allow to cool completely.

Once cool, pour brine into an extra-large, freezer-thickness plastic baggie. Add pork loin. Squeeze air out of bag and seal to shut. Place inside a large bowl or pan (in case of leaks) and refrigerate for 24 hours. Flip bag at least a couple of times throughout the brining time.

Remove pork loin from the refrigerator at least a half hour before you're ready to cook so that it may come to room temperature. Adjust the rack in the center position of the oven and preheat to 350°F. Fit a large roasting pan with a rack, then drain the pork and discard the brine solution. Rinse the pork under cool water and pat dry with paper towels. Rub the pork with olive oil and place on the rack, fat side up. Insert a meat thermometer into the center of the pork.

Roast pork for 45 minutes, then remove it from the oven and carefully slice off most of the thick layer of fat from the top so that the surface of the roast may brown. Place pork back in the oven and continue roasting until the internal temperature reaches 145°F. Transfer to a cutting board, tent with aluminum foil, and allow to rest for at least 15 minutes before slicing.

While the pork is resting, make the pan sauce by spooning 3 tablespoons of pan juices into a medium saucepan set over medium heat. Stir in flour and whisk continuously for 1 minute. Slowly and gradually whisk in the apple cider and chicken broth, continuously stirring so that sauce becomes smooth. Bring to a boil while stirring and then reduce heat to medium. Stir in apple cider vinegar, honey, rosemary, salt, and pepper. Cook, stirring frequently, until sauce is thickened and reduced, which will probably take from 5 to 10 minutes. Remove saucepan from heat, stir in cream, and adjust seasonings, to taste.
Notes
My pork cooked for a total of 1 hour and 20 minutes before reaching 145°. Watch the thermometer closely as cooking time may vary depending on the thickness/shape of the pork loin. If you cook a smaller or larger pork loin, be prepared to adjust cooking time accordingly.
If you don't have enough pan juices to measure 3 tablespoons for the sauce, you may use butter to make up the difference.
The honey adds a touch of sweetness to the pan sauce, but you may adjust it to taste by using more or less.
When I cook pork loin, I prefer leaving the layer of fat attached and cooking the meat with the fat side up, so that the fat can melt down during roasting process and adds moisture to the meat. However, I do like to remove the layer of fat before the cooking time is over, which allows the top of the roast (and not just the fat) to turn golden brown in the oven. If you prefer to leave the fat on for the duration of the cooking time, that works, too. 🙂
Calories:
433
kcal
|
Carbohydrates:
30
g
|
Protein:
51
g
|
Fat:
11
g
|
Saturated Fat:
4
g
|
Cholesterol:
148
mg
|
Sodium:
7425
mg
|
Potassium:
961
mg
|
Fiber:
1
g
|
Sugar:
26
g
|
Vitamin A:
205
IU
|
Vitamin C:
2.3
mg
|
Calcium:
29
mg
|
Iron:
1.8
mg
Adapted from Wisconsin State Journal