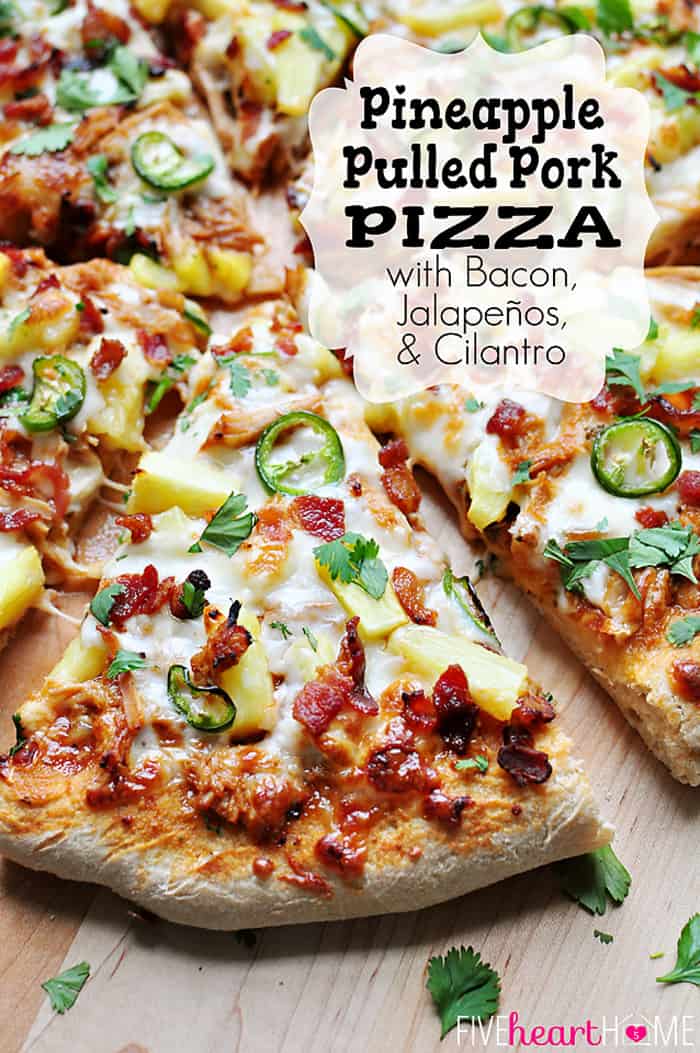 Cheesy, piping-hot Pineapple Pulled Pork Pizza is topped with Bacon, Jalapeños, Cilantro, with a sweet & tangy homemade Pineapple BBQ Sauce!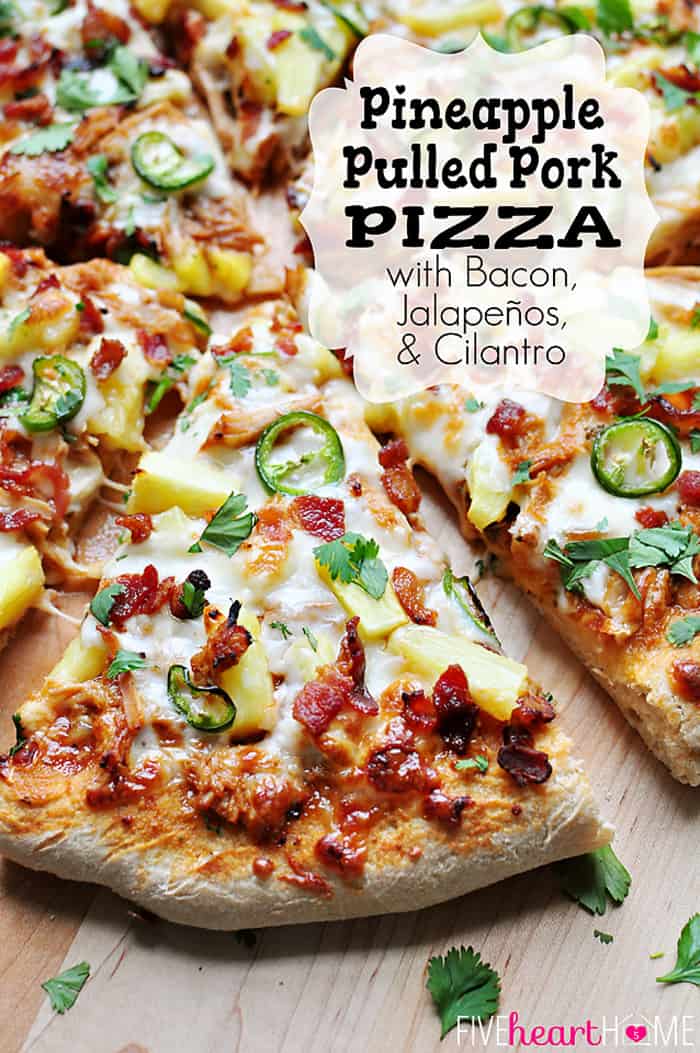 I can't believe that I've been blogging for over a year now and have never shared a pizza recipe! After all, pizza is one of my favorite things to eat. Now I won't necessarily give that answer if you ask me my favorite foods, but the truth is, I am up for eating pizza anytime, anywhere...and I never get tired of it.
I'm kind of sporadic about homemade pizza-making myself -- there will be a period of time that I make it regularly, and then I'll go for awhile without making it at all. But I really like the idea of a weekly or bi-weekly Family Pizza Night tradition, so I think that's going on my bucket list for this fall. And on the regular rotation, we will definitely be enjoying this Pineapple Pulled Pork Pizza with Bacon, Jalapeños, & Cilantro!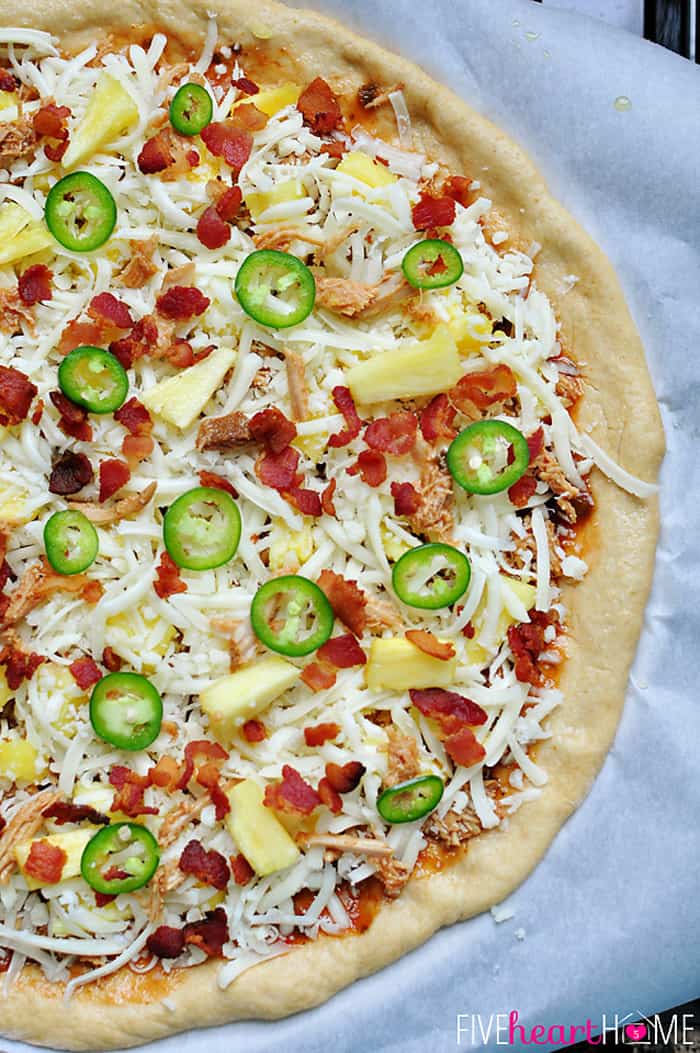 One of the things I love about pizza is how versatile it is. The potential delicious topping combinations are truly never-ending. So when I ended up with some leftover Slow Cooker Pineapple Pulled Pork last week, I decided that it just might make a to-die-for pizza topping. And boy was I right!
I made a homemade whole wheat crust for my pizza, and I intended to share the how-to in another post. But when you have all of your kids at home and you're trying to make your pizza crust in the middle of the day, sometimes you're putting someone down for a nap at the precise moment you should be taking a photo of your perfectly-risen dough. So I'll share my favorite pizza crust recipe another day, and in the meantime, you can make this pizza using your own favorite homemade or store-bought crust.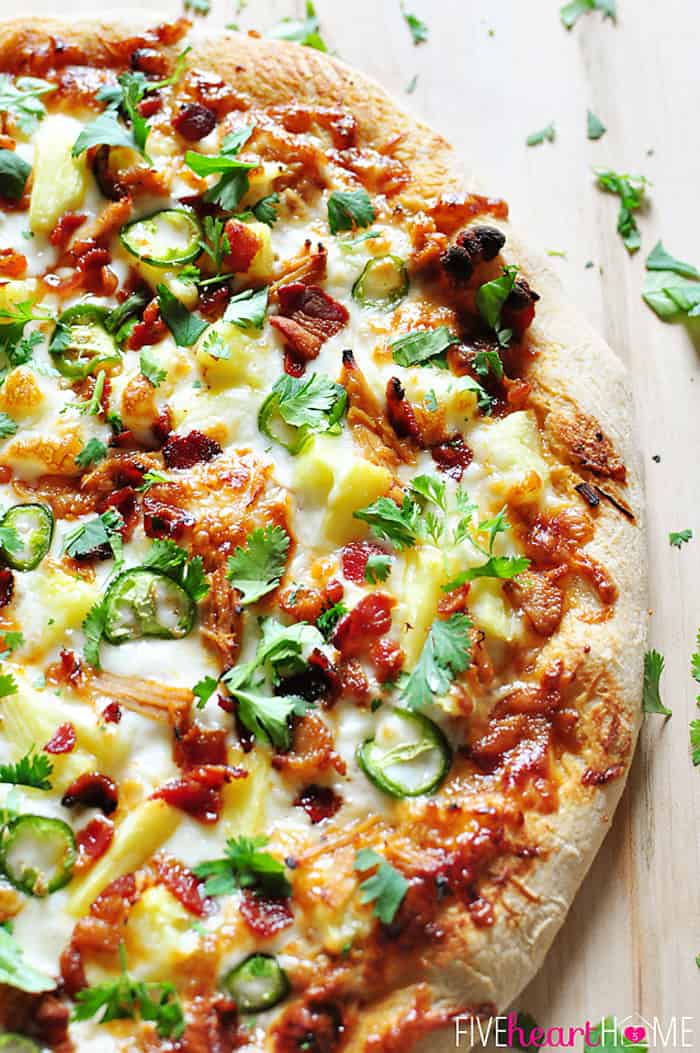 Ingredients
I think a big contributor to the yummy flavor of this pizza is the fact that I used Homemade Pineapple BBQ Sauce (the same kind that I stirred into my Slow Cooker Pineapple Pulled Pork) in lieu of traditional pizza sauce.
Then on top of that barbecue sauce goodness, I piled on a generous amount of my leftover pulled pork, fresh pineapple chunks, crispy crumbled bacon, thinly-sliced fresh jalapeños, and shredded mozzarella.
When my pizza came out of the oven, I finished it off with a sprinkling of fresh chopped cilantro and sliced it up. So, soooo good, y'all!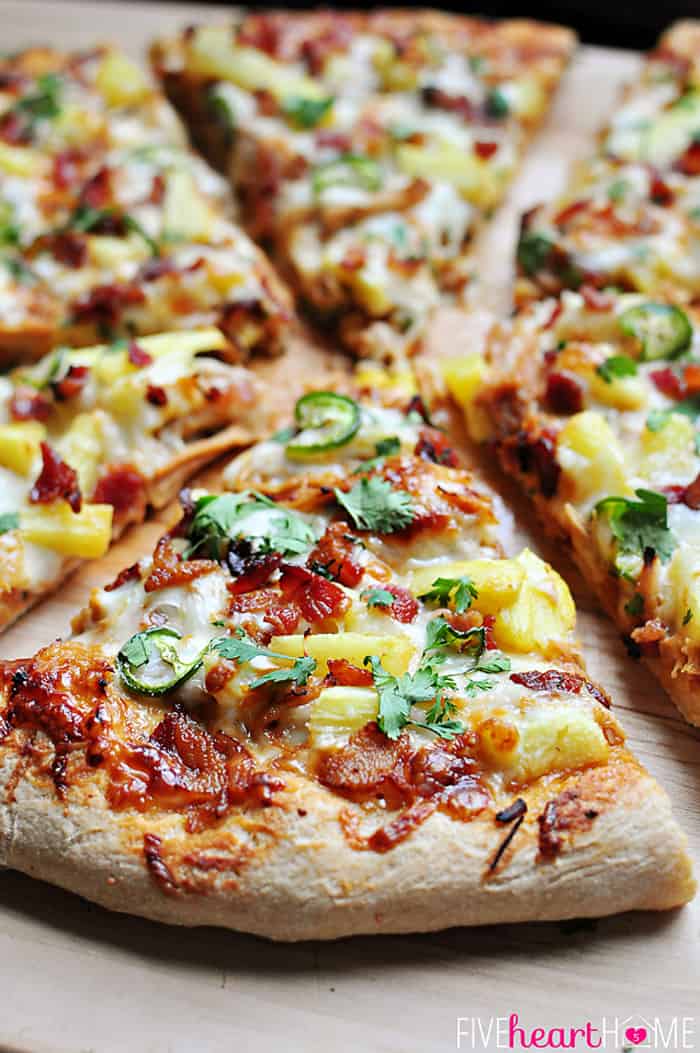 Tips, Tricks, & Equipment
And now for a few notes, because y'all know I like to be thorough.
Here's how I cook my pizzas, although you can use whatever method and temperature you typically use with your favorite crust:
I stick my pizza stone in the center of the oven and preheat it at 500°F for about 30 minutes. That's right, folks, 500°F! For optimal pizza making, you want your oven to be HOT.
Then I use a cornmeal-dusted pizza peel to slide my prepared pizza onto the stone and it's done in 10 minutes flat, give or take a couple of minutes.
However, there are plenty of different ways that work just fine when it comes to baking a homemade pizza, so I've listed some other options in the recipe below.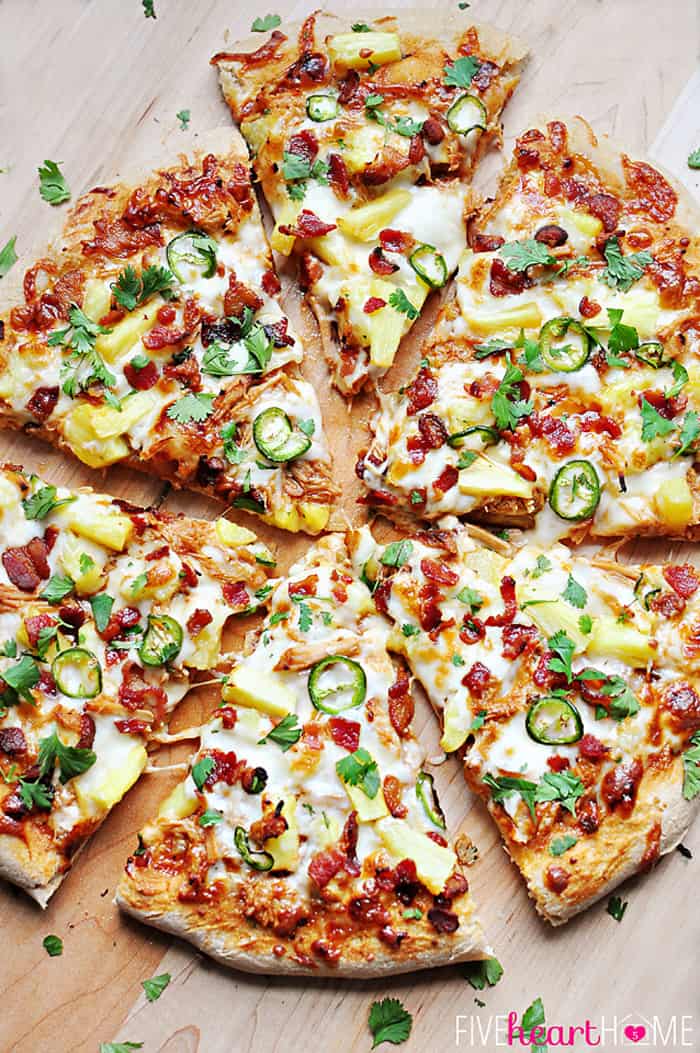 The BBQ Sauce
If you already know that you're going to use a bit of your Slow Cooker Pineapple Pulled Pork for this pizza when you make it, you can simply reserve about ⅓ cup of your Pineapple BBQ Sauce at that time.
If you have leftover pulled pork but didn't save any sauce, you can hop over to the Pineapple BBQ Sauce recipe and make a fresh batch for your pizza, cutting the amounts in half (or less).
That still might give you leftover sauce -- since that recipe yields between 2 to 2 ½ cups of sauce, and you only need less than a ½ cup for this recipe -- but I bet you can find a way to use it up!
A few ideas for you...barbecue, grilling, sandwiches, burgers -- or, hey! -- more pizza! It really is a tasty sauce. In fact, you might just decide to eat it with a spoon. 😉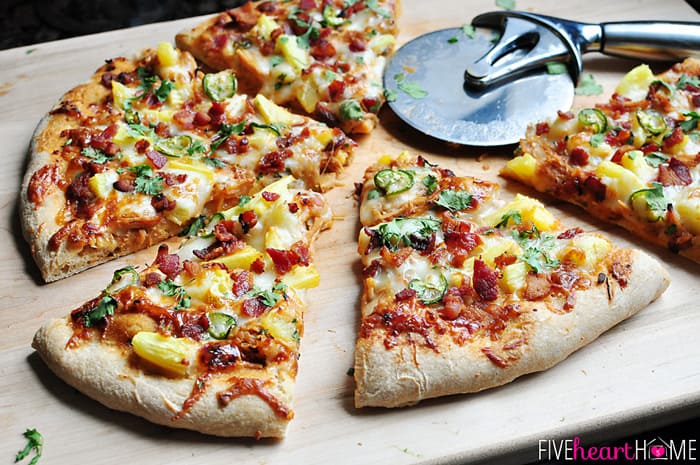 Toppings
I like using fresh pineapple as a pizza topping, but if pineapple is out of season or a can of pineapple tidbits is easier for you to deal with, that's just fine, too.
Your crumbled bacon for this pizza should be nice and crispy.
Finally, I find that if you add just one very-thinly sliced fresh jalapeño, it contributes a slight heat that's not overwhelming. As in, my kids had no problem eating the couple of thin jalapeños per slice of pizza. Of course, if you prefer things mild, you may leave off the jalapeño altogether...or if you enjoy some spice, feel free to add more than one (and/or cut thicker slices)!
And as for the fresh cilantro, it adds flavor and freshness, and it plays nicely off the cilantro that's already in the Pineapple Barbecue Sauce. Plus, you've got to admit...how pretty does it look?!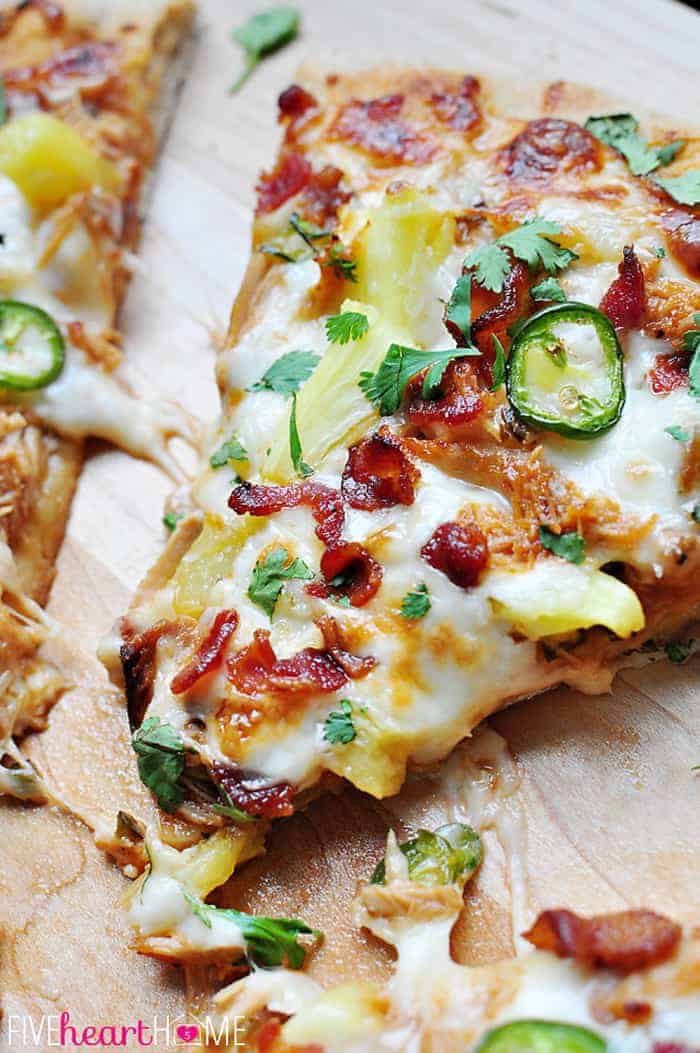 So who's hungry for pizza? We so enjoyed this one last week that I'm already craving it again. In fact, I think it's going to be an automatic addition to our upcoming dinner menu every single time I cook Slow Cooker Pineapple Pulled Pork from here on out! 😉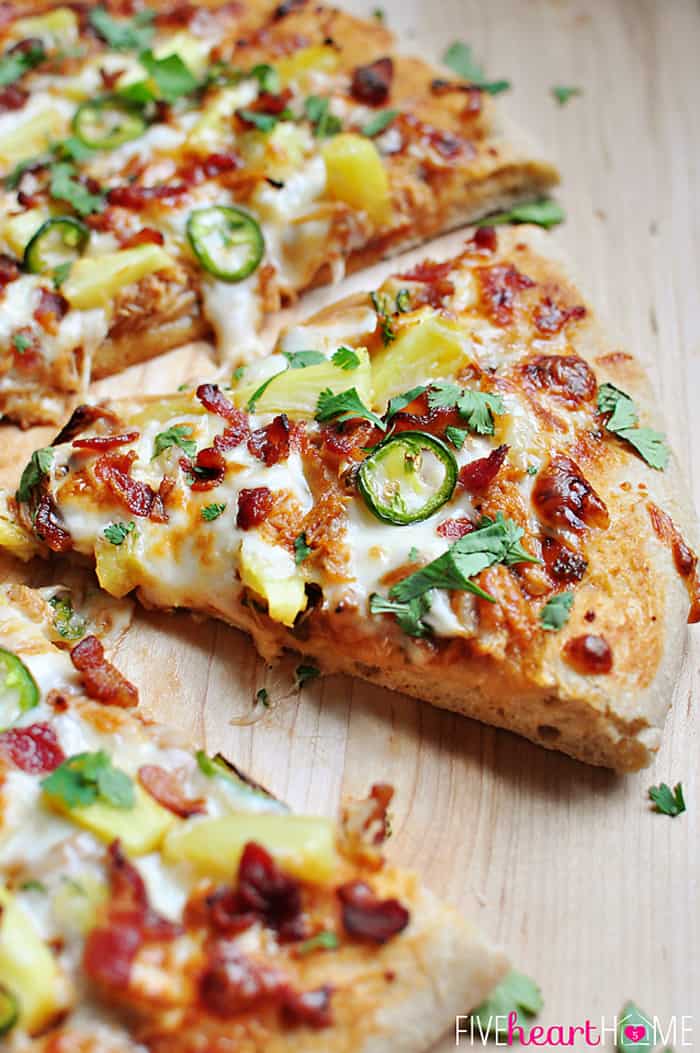 Other Favorite Pork Recipes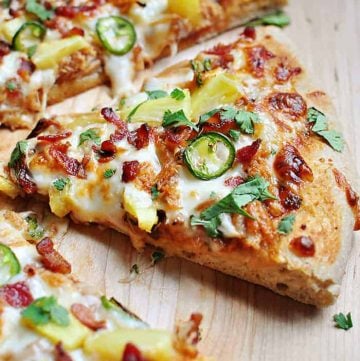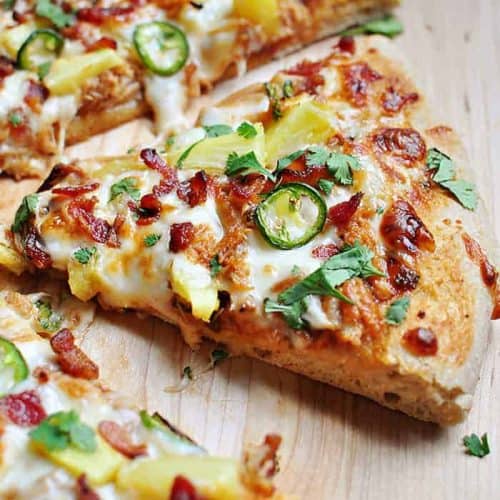 Pineapple Pulled Pork Pizza with Bacon, Jalapenos, & Cilantro
Cheesy, piping-hot pizza is topped with pulled pork, fresh pineapple, bacon, jalapeños, and cilantro, with extra flavor coming from a sweet and tangy homemade Pineapple BBQ Sauce!
Print
Pin
Rate
Servings:
6
slices (12-inch pizza)
Ingredients
1

large pizza crust

,

approximately 12-inch, homemade or store-bought

⅓

cup

Homemade Pineapple BBQ Sauce

1

cup

Slow Cooker Pineapple Pulled Pork

¾

cup

fresh pineapple chunks

6

ounces

bacon

,

cooked until crisp and then crumbled

1

jalapeño

,

very thinly-sliced

1 ½

cups

shredded mozzarella cheese

¼

cup

chopped fresh cilantro
Instructions
Position rack in center of oven and preheat to 500°F. Spread Homemade Pineapple BBQ Sauce on pizza crust. Evenly top with Slow Cooker Pineapple Pulled Pork, fresh pineapple chunks, crumbled bacon, sliced jalapeño, and shredded mozzarella. Bake for 8 to 12 minutes or until cheese is melted and golden brown spots are starting to appear on the cheese and crust. Carefully remove from the oven and allow to cool for a few minutes. Sprinkle with fresh chopped cilantro, slice, and serve.
Notes
Everyone has their favorite method for preparing their pizza dough before baking. I gently press and stretch my room-temperature dough it into a 12-inch circle, working slowly for an even shape. If the dough is shrinking back, I allow it to rest 5 minutes before proceeding. After forming my dough, I brush it with about a tablespoon of olive oil and let it sit for 15 minutes before topping it.
As far as transferring your pizza dough to the oven, there are several options for this as well. You may stretch/shape your dough on a lightly-floured surface (or even use a rolling pin), carefully transfer it to a pizza pan or baking stone, and then top your pizza before baking on the same pizza pan or baking stone. Or you may generously spray a pizza pan with nonstick cooking spray and form your crust directly on the pan before topping and baking it. Or you may form the dough, transfer it to a cornmeal-dusted pizza peel, top it, and then slide the pizza from the peel onto your baking stone, which should have already been preheating in a 500°F oven for 30 minutes.
Use a can of (drained) pineapple tidbits if fresh pineapple isn't available.
Use more or less jalapeños, depending on your spice tolerance.
Calories:
494
kcal
|
Carbohydrates:
49
g
|
Protein:
21
g
|
Fat:
24
g
|
Saturated Fat:
10
g
|
Cholesterol:
58
mg
|
Sodium:
1112
mg
|
Potassium:
137
mg
|
Fiber:
1
g
|
Sugar:
14
g
|
Vitamin A:
375
IU
|
Vitamin C:
13.5
mg
|
Calcium:
229
mg
|
Iron:
2.6
mg