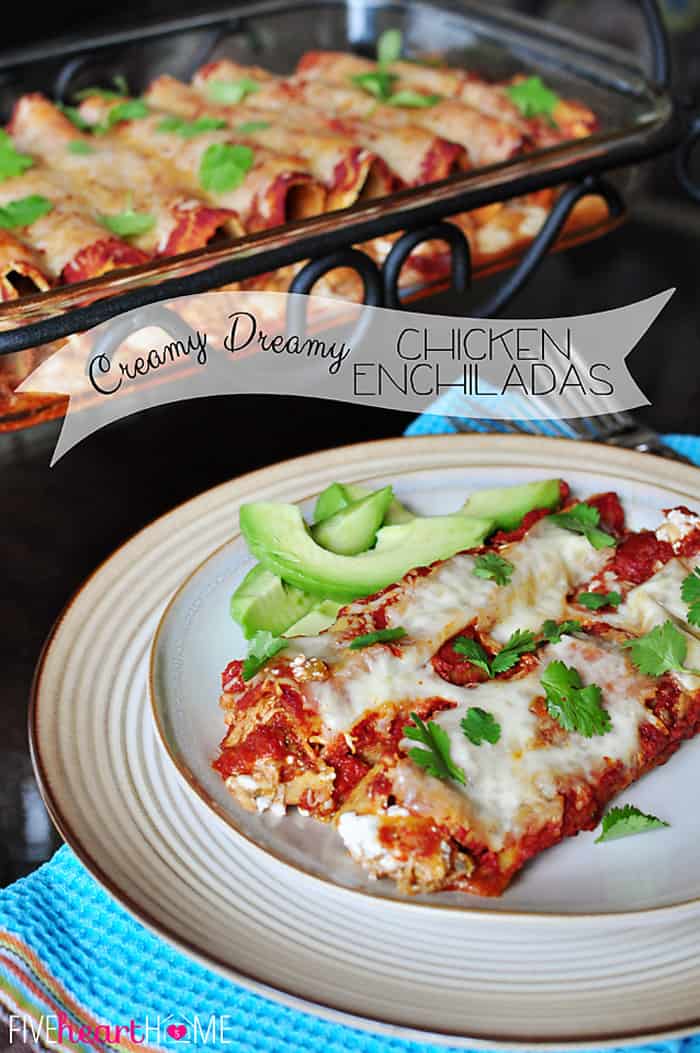 These red sauce-topped Creamy Chicken Enchiladas are stuffed with spiced chicken and Monterey jack cheese, plus a special secret ingredient that makes them extra creamy and delicious!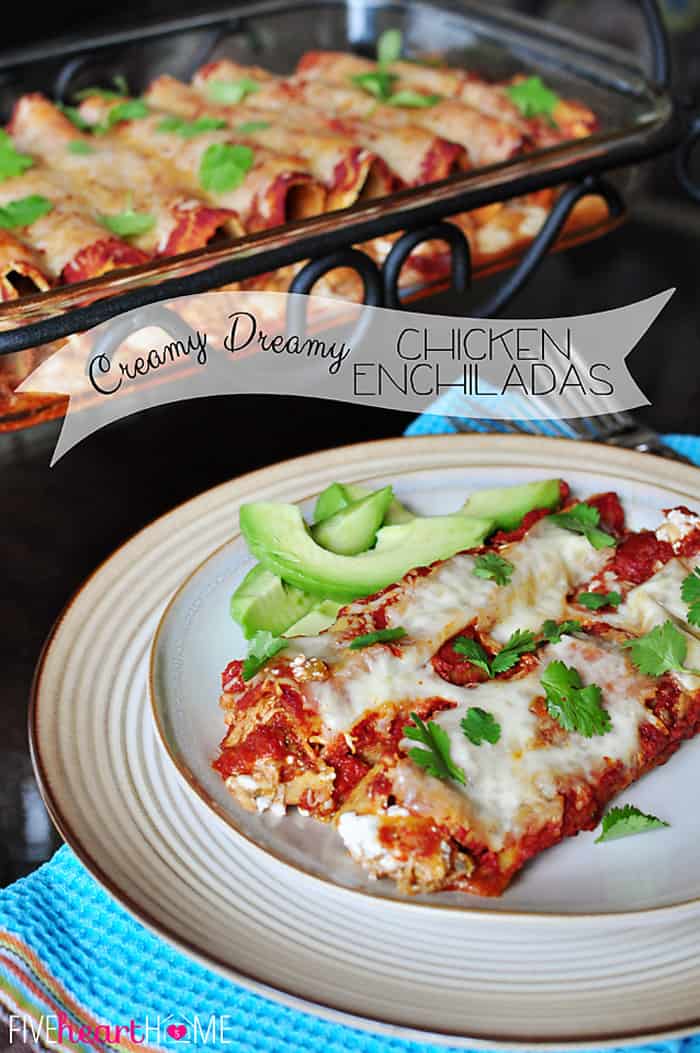 I have made this recipe no less than eleventy billion times. And every time, regardless of who tries them, they are a huge hit.
But what most people never realize is that these cheesy, creamy chicken enchiladas are made extra special by a secret ingredient. Promise you'll stick around if I tell you what it is?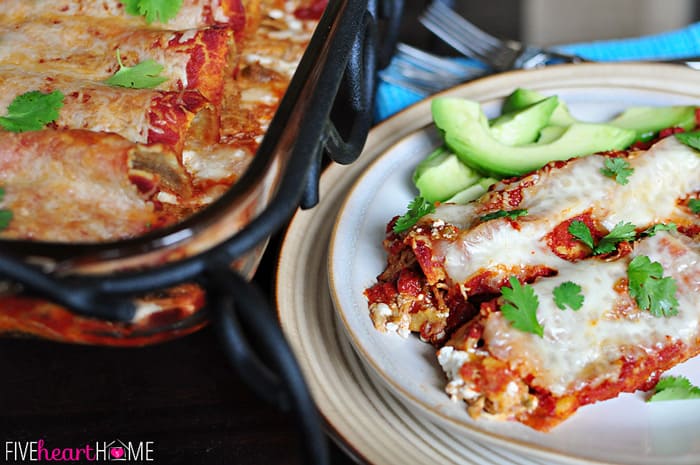 The Secret Ingredient
Cottage cheese.
That's right...cottage cheese.
Now I know it sounds weird, and I realize that it doesn't exactly scream authentic Mexican cuisine, (so don't come at me, because that's not what I'm claiming!). But I promise y'all, it makes these chicken enchiladas totally scrumptious. I swear I would not share this recipe if it wasn't going to go over well. Have I steered you wrong yet? So as strange as it may sound, I urge you to try this one!
You know how you can use cottage cheese in place of ricotta when you make lasagna? Well, that's pretty much the premise here. The cottage cheese not only lends creaminess to the dish, but it's also a cool contrast to the spices used to season the chicken. And its flavor is neutral enough that you can get away with using a good dollop of it per enchilada, whereas that much sour cream might end up tasting a bit too, well, sour.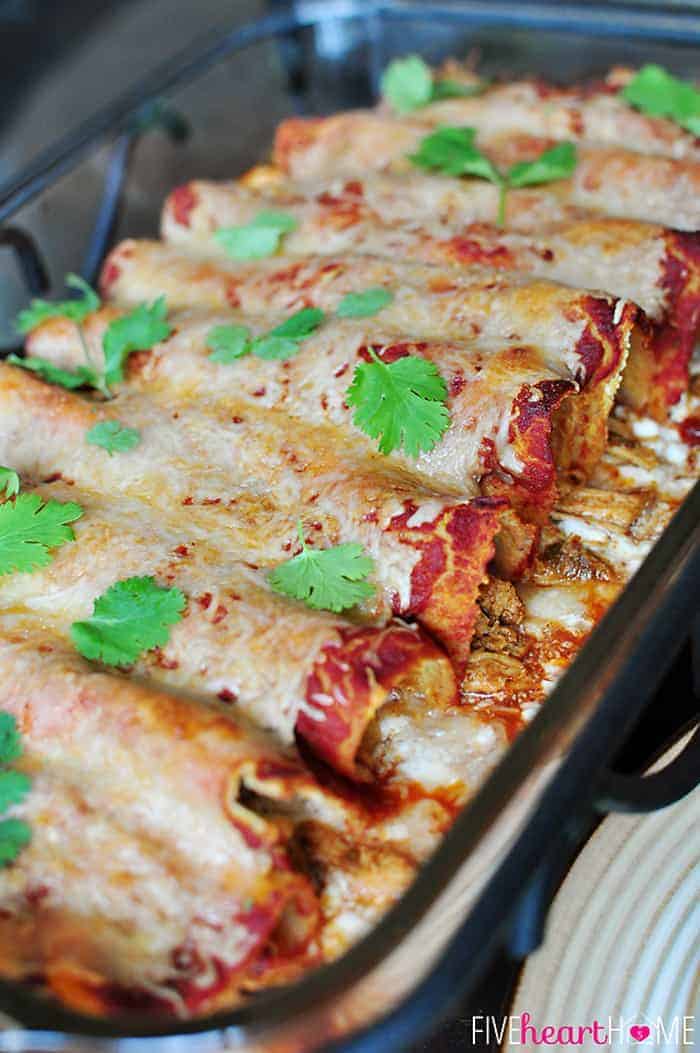 Other Ingredients
Corn tortillas are stuffed with shredded chicken, grated Monterey jack, and aforementioned seasoned cottage cheese, then topped with a red sauce and more cheese.
I'm telling you, the final results will make you shout ¡Olé!
The textures, the spices, the creamy, chicken-stuffed filling and the gooey cheese tying it all together...yum.
One bite and you'll totally understand why my family would have no complaints if these Creamy Chicken Enchiladas showed up on our dinner menu once a week!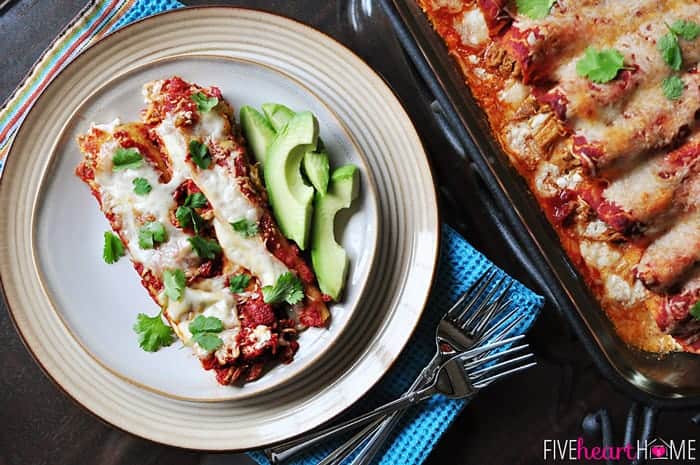 Recipe Notes
Now, a few things worth mentioning...
These Creamy Chicken Enchiladas are equally tasty when made with turkey. So with a certain holiday coming up, if you find yourself with excess leftover turkey the next day, this is a great recipe to use it up!
Make sure you buy small-curd cottage cheese, which blends right in with the other filling ingredients. Large-curd cottage cheese would still work and would even taste the same, but the texture might stand out a little more.
You can buy a can of enchilada sauce to use with this recipe, but I have yet to find a brand that is without questionable ingredients, so I prefer to quickly whip up my own version of pseudo-enchilada sauce out of tomato sauce or puree.
Plenty of enchilada sauce is key to enchiladas that stay moist and tortillas that don't crack. And along those lines, if you haven't made your own homemade taco seasoning yet, I urge you to try that, too!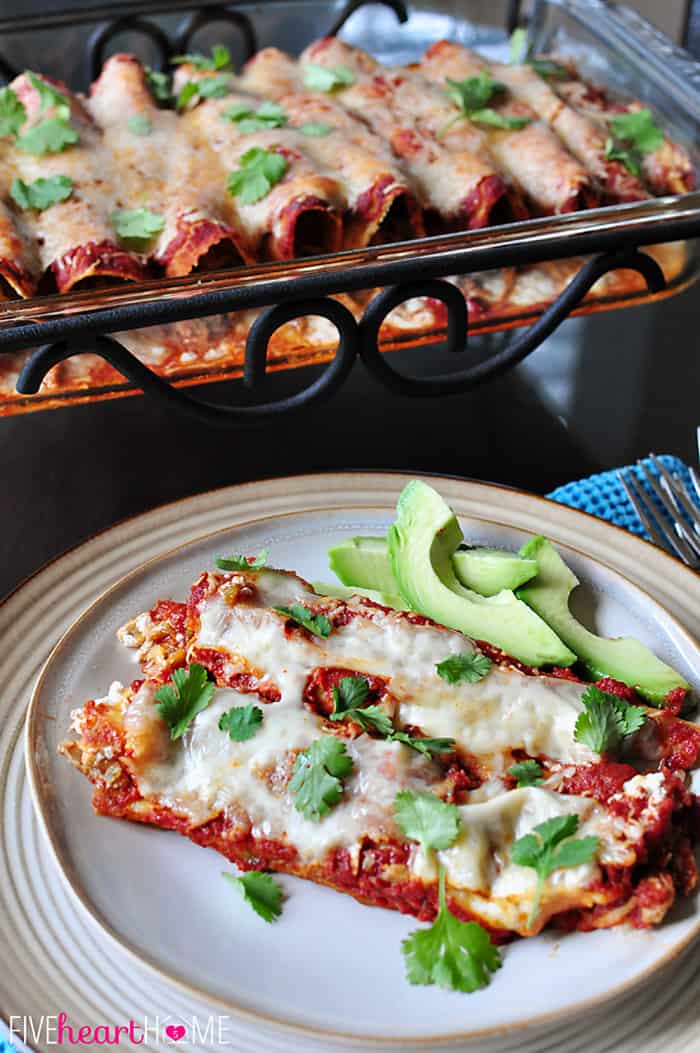 Yield
Finally, I find that this recipe typically makes more than 12 enchiladas.
You want to generously fill each tortilla, but you don't want it so stuffed that it won't roll closed or it splits open when you try to roll it.
I have made this recipe many times by cramming as many enchiladas into a 9- by 13-inch dish as I can fit, even turning a few of them perpendicular down the sides of the dish. But that doesn't make for the prettiest presentation and it's not always easy to get your Creamy Chicken Enchiladas out of the dish without breaking them.
So don't be lazy and impatient like me. What I would recommend instead is fitting about nine enchiladas down the center of a 9- by 13-inch dish, and then fit five or so more in an 8- by 8-inch dish. If there is any leftover chicken or cottage cheese after that, just dollop it in the empty corners before covering the whole shebang with the remaining red sauce and shredded cheese.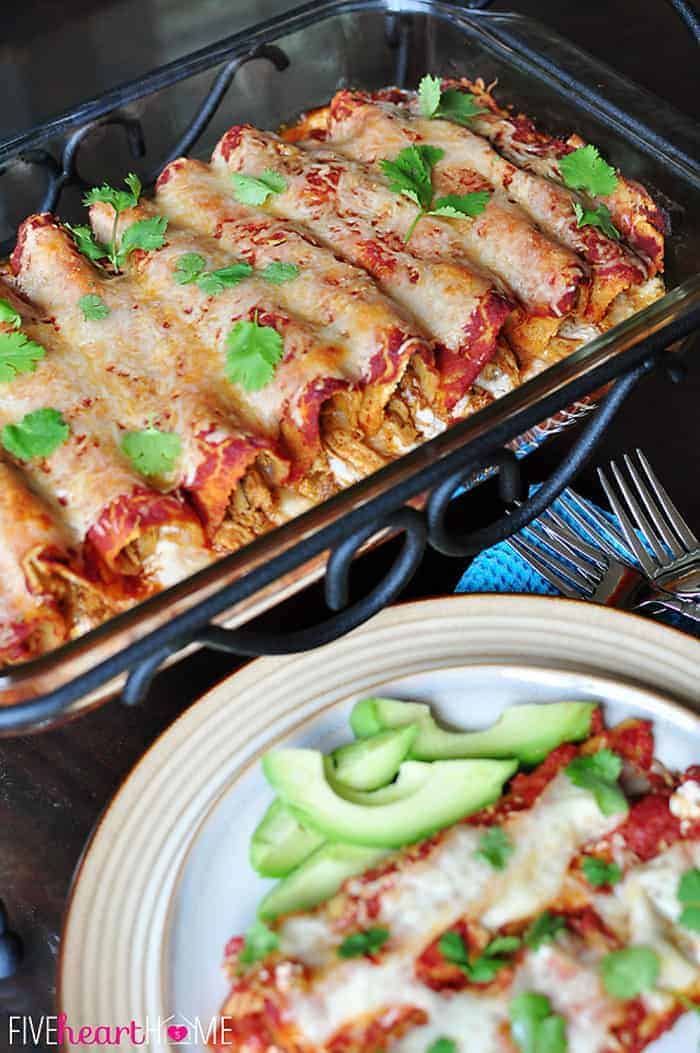 So despite the odd-sounding, unexpected ingredient, have I convinced you to try this recipe?
I promise that I'm not one piñata short of a fiesta...these Creamy Chicken Enchiladas really are utterly delectable.
Once you taste them, I think you'll be happy to add them to your recipe box, too!
Now go make some chicken enchiladas! 😉
More Tex-Mex Favorites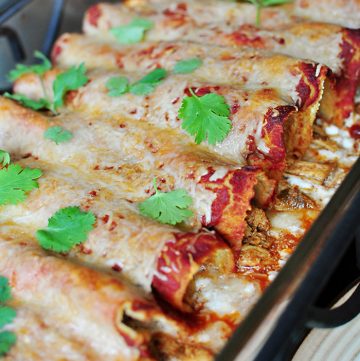 Creamy Chicken Enchiladas
These red sauce-topped Creamy Chicken Enchiladas are stuffed with spiced chicken and Monterey jack cheese, plus a special secret ingredient that makes them extra creamy and delicious!
Print
Pin
Rate
Ingredients
For the enchilada sauce:
3

cups

tomato sauce

2

tablespoons

chili powder

1

teaspoon

garlic powder

1

teaspoon

cumin

½

teaspoon

salt

¼

teaspoon

oregano

⅛

teaspoon

hot pepper sauce

,

optional

2

cloves

garlic

,

minced

1

can

(7 ounces) chopped green chiles

4

cups

shredded chicken

1

package taco seasoning

,

or 2 tablespoons homemade taco seasoning

¼

cup

water

½

cup

sour cream

,

OR plain yogurt OR Greek yogurt

16

ounces

small-curd cottage cheese

1

teaspoon

salt

Freshly ground black pepper

,

to taste

12

6-inch corn tortillas

2

cups

shredded Monterey Jack cheese
Instructions
In a large bowl, stir together tomato sauce, chili powder, garlic powder, cumin, salt, oregano, and optional hot pepper sauce. Mix until well combined and set aside.

Heat a drizzle of olive oil in a large skillet over medium heat. Cook minced garlic until just golden, stirring constantly. Mix in green chiles and shredded chicken. Sprinkle with taco seasoning, pour in water, and saute for a few minutes or until water is absorbed and seasoning is evenly distributed. Remove from heat.

In a medium bowl, mix together sour cream, cottage cheese, salt, and pepper. Set aside.

Preheat oven to 350°F. Spray a 9- by 13-inch baking dish with nonstick cooking spray. (If you wish to prevent your enchiladas from being overcrowded, be prepared to use an additional 8- by 8-inch pan as well.) Spread a thin layer of enchilada sauce on the bottom of the dish.

Place corn tortillas on a plate, cover with a damp paper towel, and heat for 30 seconds in the microwave to make them pliable. Moisten each tortilla with enchilada sauce (on both sides) and wipe off any excess. Spread a spoonful of chicken mixture, cottage cheese mixture, and shredded cheese down the center of each tortilla. Roll the tortilla around the filling and place it seam side down in the baking dish. Top with a spoonful of sauce to prevent the tortilla from splitting while you prepare the rest of the enchiladas.

When all of the enchiladas are in the dish(es), dollop any remaining chicken and/or cottage cheese along the edges or in the corners of the dishes. Evenly pour the rest of the red sauce over the enchiladas, gently spreading it with the back of a spoon, if necessary. Sprinkle the remaining shredded cheese on top of the sauce. Bake for 30 minutes of until golden and bubbly.
Notes
I use leftover chicken if I have it, but otherwise, I poach 3 chicken breasts, which yields approximately 4 cups of shredded chicken.
If you prefer, you may use a 19-ounce can of store bought enchilada sauce in lieu of seasoning your own tomato sauce.
Calories:
578
kcal
|
Carbohydrates:
37
g
|
Protein:
47
g
|
Fat:
28
g
|
Saturated Fat:
13
g
|
Cholesterol:
132
mg
|
Sodium:
1977
mg
|
Potassium:
944
mg
|
Fiber:
6
g
|
Sugar:
9
g
|
Vitamin A:
2001
IU
|
Vitamin C:
16
mg
|
Calcium:
445
mg
|
Iron:
4
mg
Adapted from AllRecipes.