Homemade Red Enchilada Sauce is all-natural, quick and easy to make, full of flavor, and as mild or spicy as you prefer!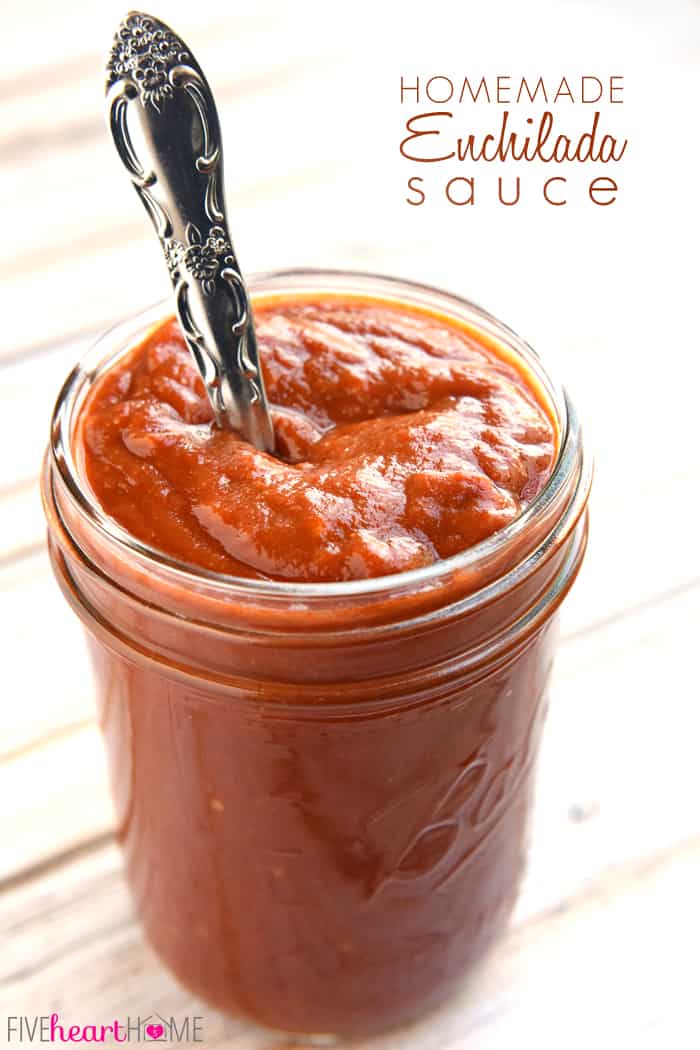 Happy Friday, friends! I'm popping in today with another recipe to file under the ol' Make-Your-Own Kitchen Staples section of the blog...Homemade Enchilada Sauce!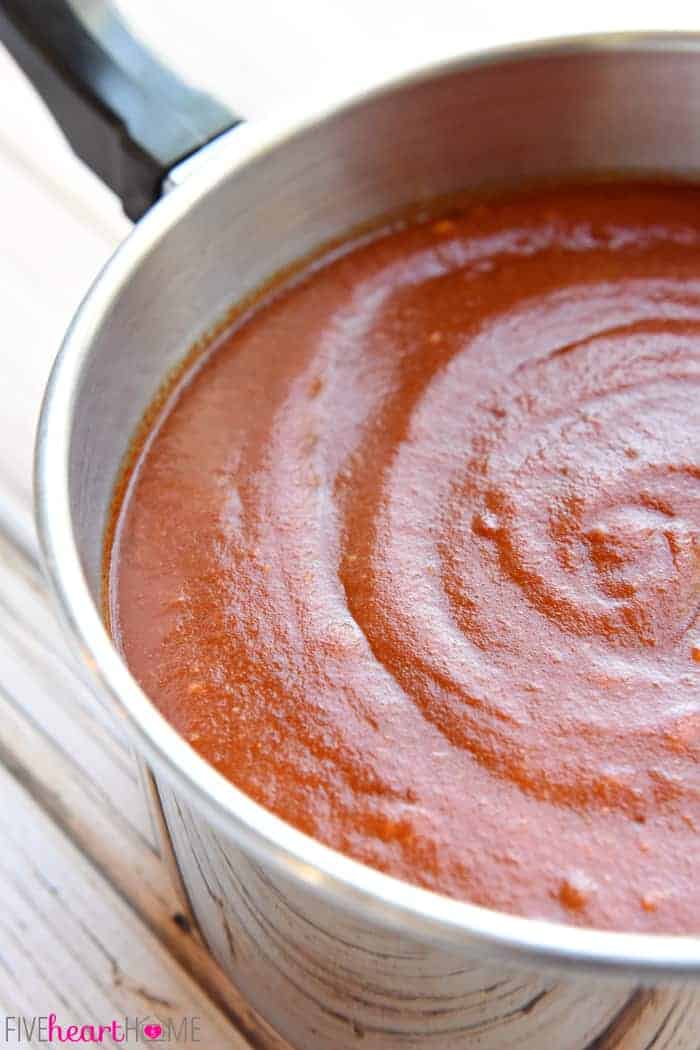 If you're anything like my family, you eat Tex-Mex/Mexican food, ahem, frequently. And if you enjoy cooking it at home, there are certain spice blends and sauces that can be used across a variety of Mexican recipes.
Take taco seasoning, for example...whip up a big jar of preservative-free, Homemade Taco Seasoning and use it for everything from tacos (duh) to casseroles to soups. In the same way, a nice batch of Homemade Enchilada Sauce can be used for enchiladas, of course, but also for casseroles, soups, rice bowls, burritos, and so much more!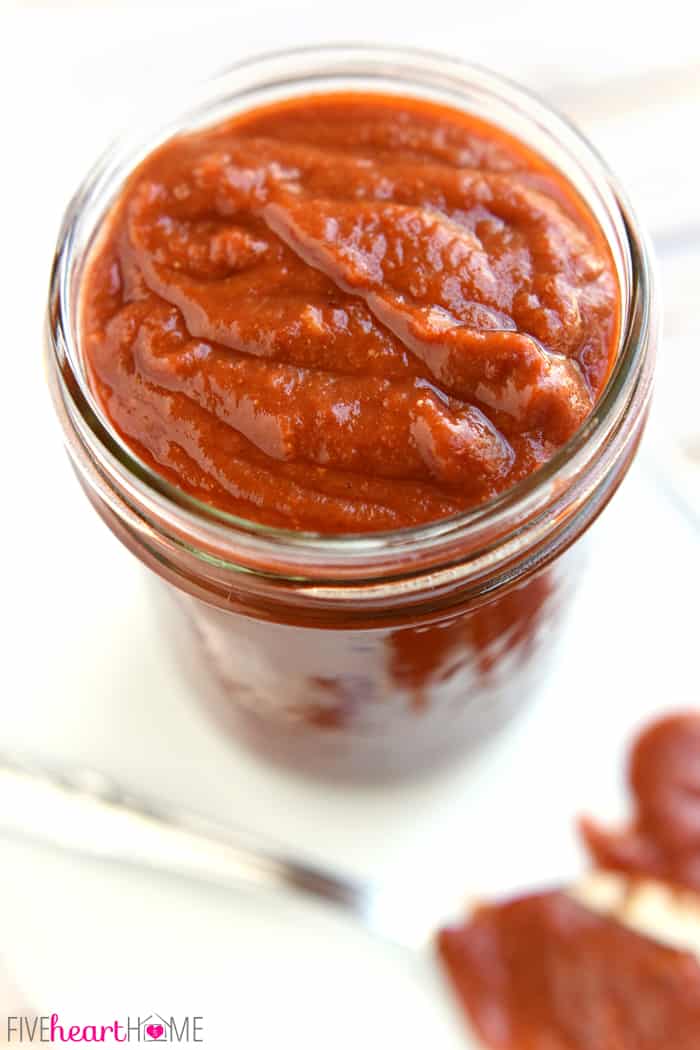 Red Enchilada Sauce
The enchilada sauce in question today is a red sauce. One can certainly make a delicious, homemade, tomatillo-based verde (green) enchilada sauce as well, but today's recipe is all about the chili powder and chipotles in adobo.
If you saw the Slow Cooker Beef Barbacoa that I posted a couple days ago, you may recall that that recipe called for canned chipotle peppers in adobo sauce. Well, when I had a few leftover chipotles after making said crock pot barbacoa, I brainstormed what other recipe I could use them for. And the obvious answer? Enchilada sauce, because that's the reason I typically buy chipotles in adobo in the first place.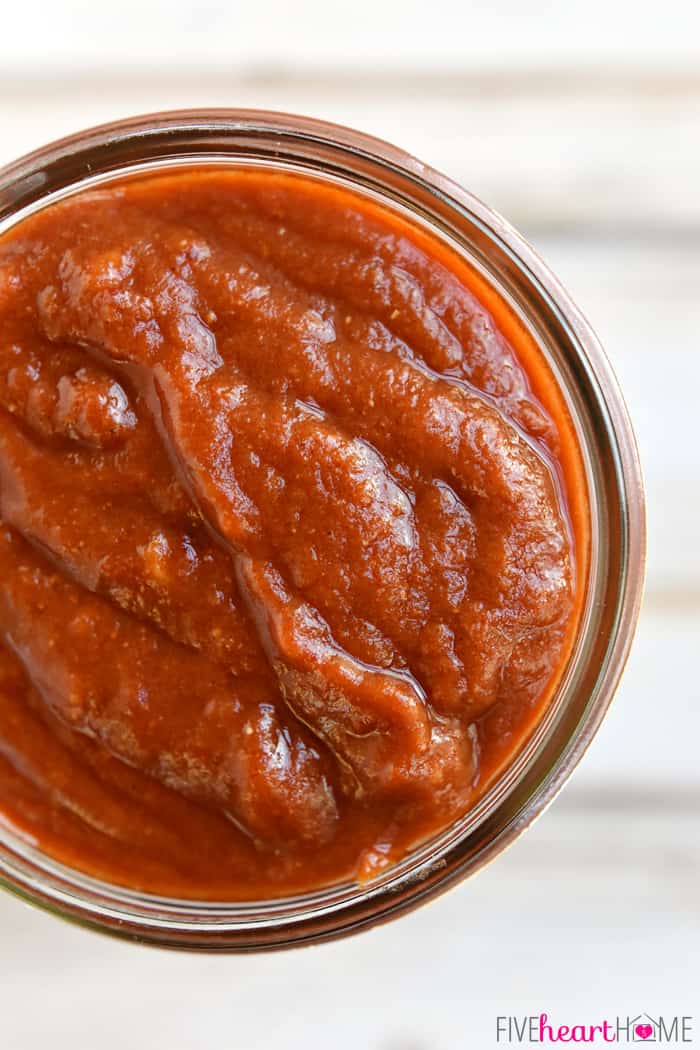 Controlling the Heat
I find that one chipotle pepper plus a teaspoon of adobo sauce is the perfect amount to lend my Homemade Enchilada Sauce some heat without making it overly spicy.
I should point out, however, that I slice open the chipotle and scrape out the seeds before mincing the pepper and adding it to the sauce. The seeds and membranes are typically the spiciest parts of a pepper, so feel free to leave the seeds intact...if you dare. 😉 A
ctually, feel free to add more peppers if you really want to crank up the heat...or leave them out completely if you prefer a mild sauce. Just keep in mind that smoky chipotles add flavor to the sauce as well as heat, so your final sauce probably won't have the same depth of flavor if you leave out the chipotles altogether.
For what it's worth, my kids didn't think this Homemade Enchilada Sauce was too hot...but they are also Texas natives who were wolfing down copious quantities of chips and salsa by their first birthdays. So sample as you go the first time you make this sauce until you achieve your perfect, preferred level of spice.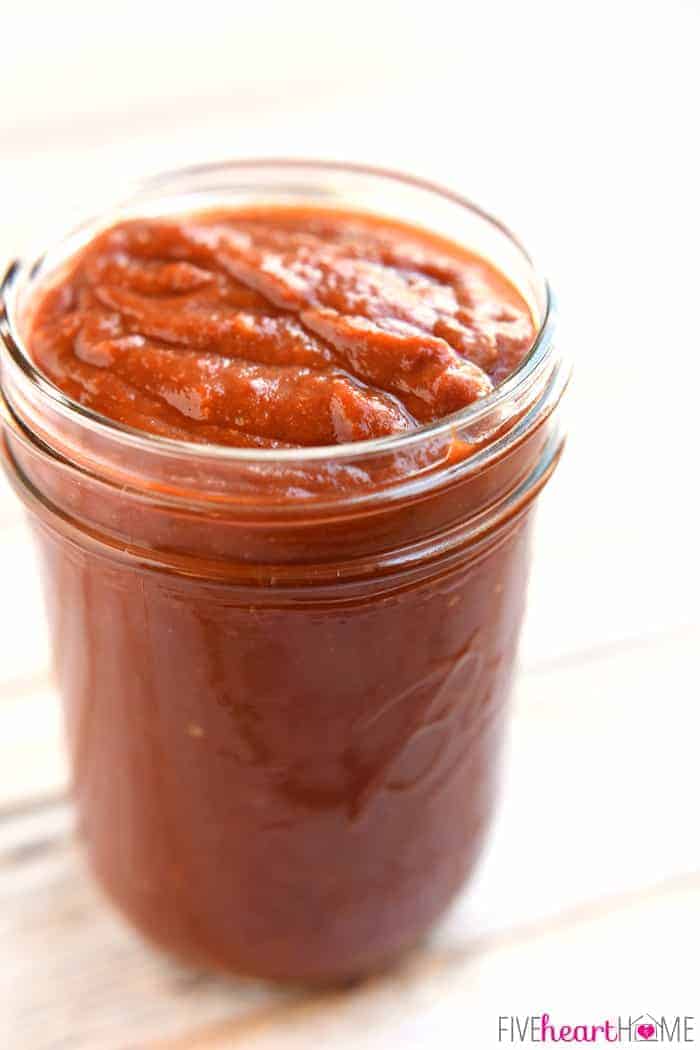 Now, before I get grief for the not-quite-authenticity of this recipe, I am here to tell you up front...this is an Americanized version of Enchilada Sauce.
It contains <gasp!> tomato sauce, rather than solely relying on chili powder and rehydrated peppers to achieve its red hue.
But it's tasty and easy and -- unless your standards hail from south of border -- I'm pretty sure you will love it.
Soooo...if leftover chipotles in adobo from a barbacoa recipe resulted in this enchilada sauce recipe, guess what's coming next? Why, a new recipe calling for some of this zippy Homemade Enchilada Sauce, of course! All I need to do is figure out how to use those leftovers in a subsequent recipe and we'll have achieved the food blog equivalent of If You Give A Mouse A Cookie... 😉 Have a great weekend, y'all!
More Tex-Mex Favorites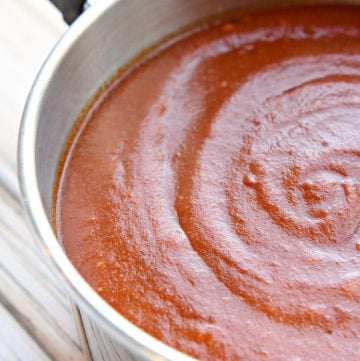 Homemade Enchilada Sauce
Homemade Enchilada Sauce is all-natural, quick and easy to make, full of flavor, and as mild or spicy as you prefer!
Print
Pin
Rate
Servings:
24
servings (Approximately 2 ½ cups)
Ingredients
2

tablespoons

extra-virgin olive oil

4

large cloves of garlic

,

minced

2

tablespoons

all-purpose flour

16

ounces

tomato sauce

8

ounces

chicken broth/stock

3

tablespoons

chili powder

2

teaspoons

cumin

1

teaspoon

garlic salt

1

teaspoon

sugar

½

teaspoon

onion powder

½

teaspoon

dried oregano

1

canned chipotle pepper in adobo sauce

,

seeds removed and finely minced
Instructions
Heat a medium pot over medium heat. Add olive oil and minced garlic; stir for 30 seconds or until fragrant. Whisk in flour and stir continuously for 1 minute. Slowly whisk in tomato sauce and chicken broth followed by chili powder, cumin, garlic salt, sugar, onion powder, and dried oregano. Stir in minced chipotle pepper plus 1 teaspoon of adobo sauce (more or less pepper/sauce, to taste).

Bring sauce to a boil. Reduce to a simmer, stirring occasionally, and cook for 10 minutes or until thickened.
Notes
Add the chipotle and adobo sauce a little bit at a time if you're unsure of how spicy you would like your sauce.
Calories:
23
kcal
|
Carbohydrates:
3
g
|
Protein:
1
g
|
Fat:
1
g
|
Saturated Fat:
1
g
|
Sodium:
255
mg
|
Potassium:
95
mg
|
Fiber:
1
g
|
Sugar:
1
g
|
Vitamin A:
410
IU
|
Vitamin C:
2.1
mg
|
Calcium:
9
mg
|
Iron:
0.6
mg
Adapted from Cook's Illustrated