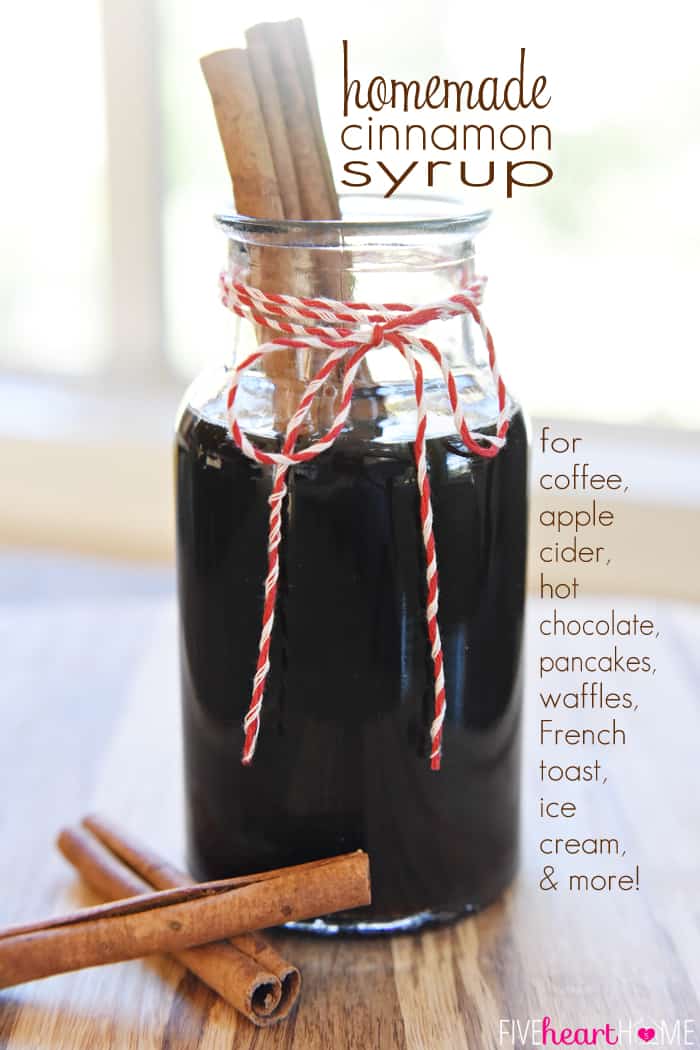 Cinnamon Syrup is an easy, homemade, 5-minute recipe that's perfect for creating an all-natural copycat of Starbucks' Cinnamon Dolce Latte or Caramel Apple Spice Cider...and it doubles as a delicious topping for pancakes, waffles, ice cream, & more!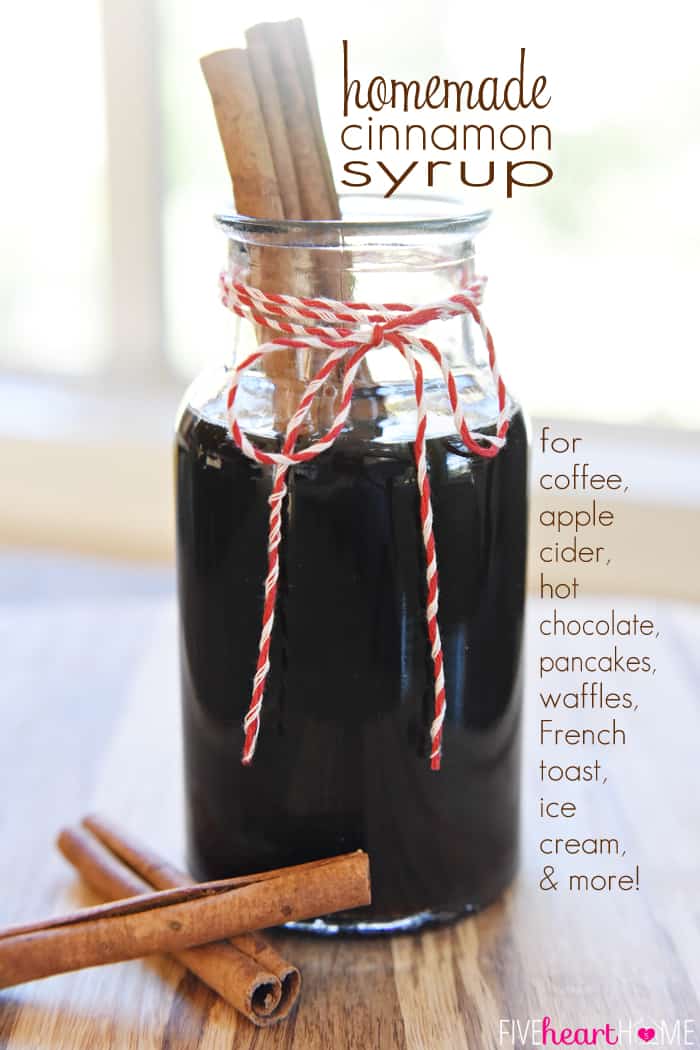 If there's anything I require to get going on a Monday morning, it's a big mug of coffee. Now I don't necessarily drink a ton of coffee...just enough to wake me up. Because there's something about that first cup of jo that helps clear the morning brain fog and enables me to greet my family with something more pleasant than a growl. (You're welcome, dear husband and sweet children.)
I have to admit, however, that when it comes to coffee, I'm a frou-frou girl. I wish I could claim to be a cool, legit grown-up who drinks it black. But the truth is, that tastes like tar to me. This girl needs milk and sugar, man...and preferably some flavoring to give my morning coffee a Starbucks latte-esque boost...like this delectable Cinnamon Syrup!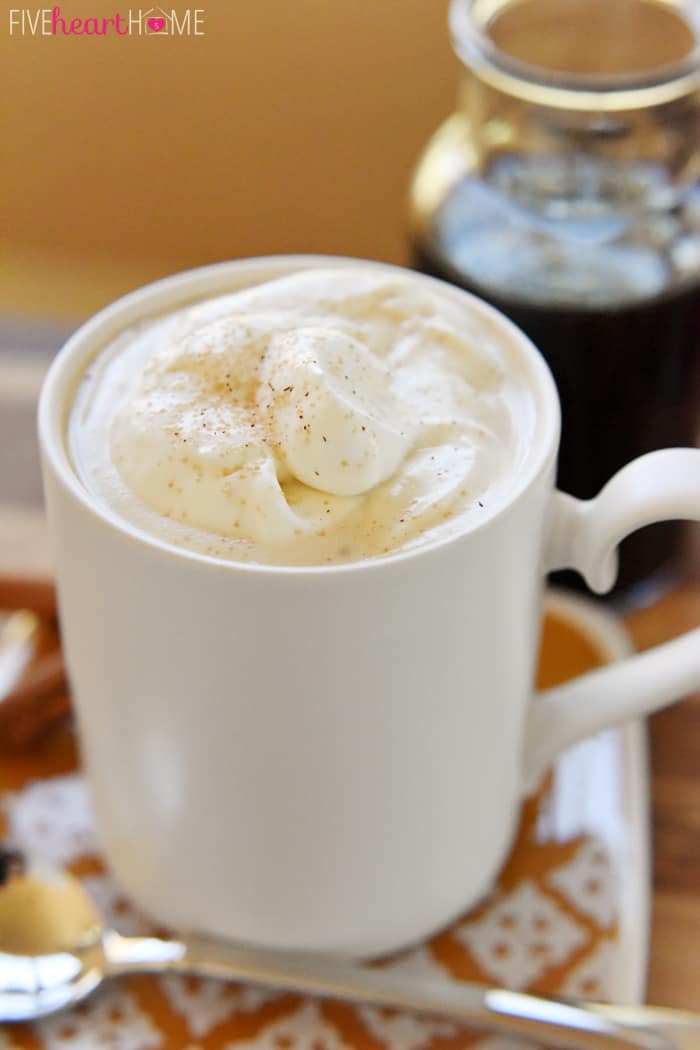 Awhile back I shared the recipe for my All-Natural Homemade Vanilla Coffee Creamer, which is comprised of milk, cream, maple syrup, and vanilla extract in lieu of artificial ingredients or icky preservatives. It's good stuff, and a staple in my refrigerator. But sometimes vanilla feels a little ho-hum and I like to jazz things up a bit with some different flavors.
Cinnamon Dolce Latte Inspo
This here homemade Cinnamon Syrup totally fits the bill! Especially in the fall and winter months when I'm already incorporating this warm spice into all of my baking.
Have you ever had a Cinnamon Dolce Latte at Starbucks? Well, this syrup is a perfect copycat of the bottled syrup they use to make that drink.
Now I don't get all fancy with steaming and foaming my milk and such. I just fill my coffee mug with half (strong) coffee and half milk, and then I pour in some Cinnamon Syrup, to taste. If I'm feeling really decadent, I may even stir in a spoonful of my beloved 5-Minute, 5-Ingredient Homemade Caramel Sauce, and then top the whole shebang with some homemade whipped cream. Because if cinnamon is good, cinnamon + caramel + whipped cream is even better. (Told you I was frou-frou.)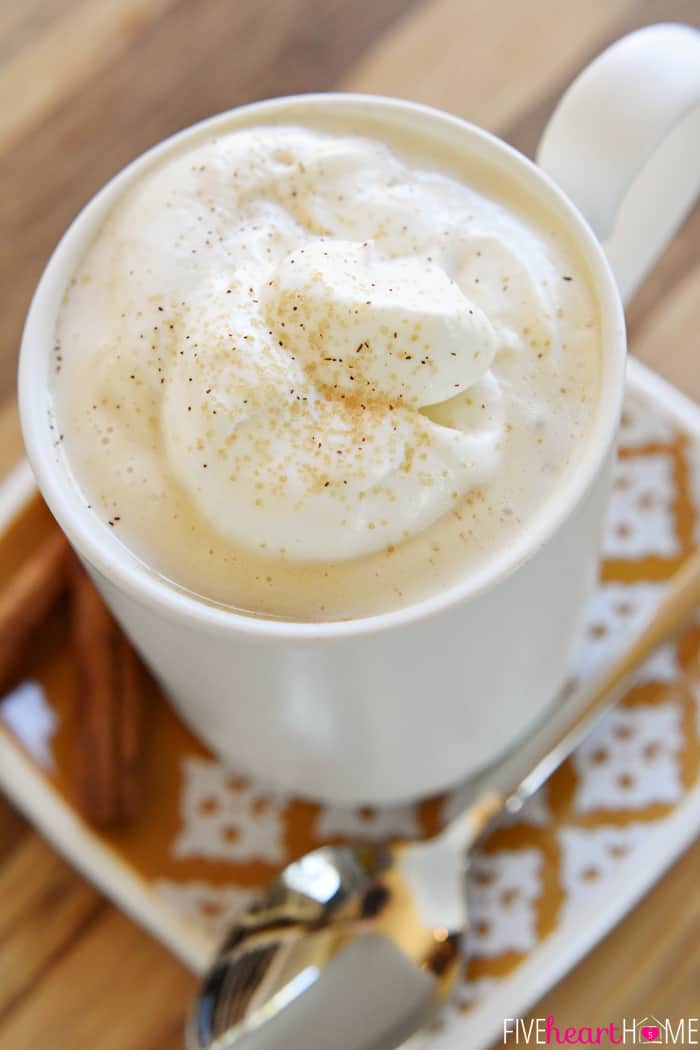 Ways to Enjoy Cinnamon Syrup
What's particularly fabulous about this Cinnamon Syrup is that it has a plethora of potential uses beyond simply flavoring coffee.
It's equally delicious stirred into hot chocolate or apple cider. And that means it can yield a drinkable treat for kids and adults alike!
But this syrup is totally not limited to enhancing beverages. It's also "syrupy" enough to top your favorite pancakes, waffles, or French toast. I mean, how glorious would Gingerbread Pancakes, Whole Wheat Pumpkin Spice Waffles, Pumpkin Baked Oatmeal, or a Peach German Pancake be with this gorgeous, cinnamon-flecked syrup generously poured on top?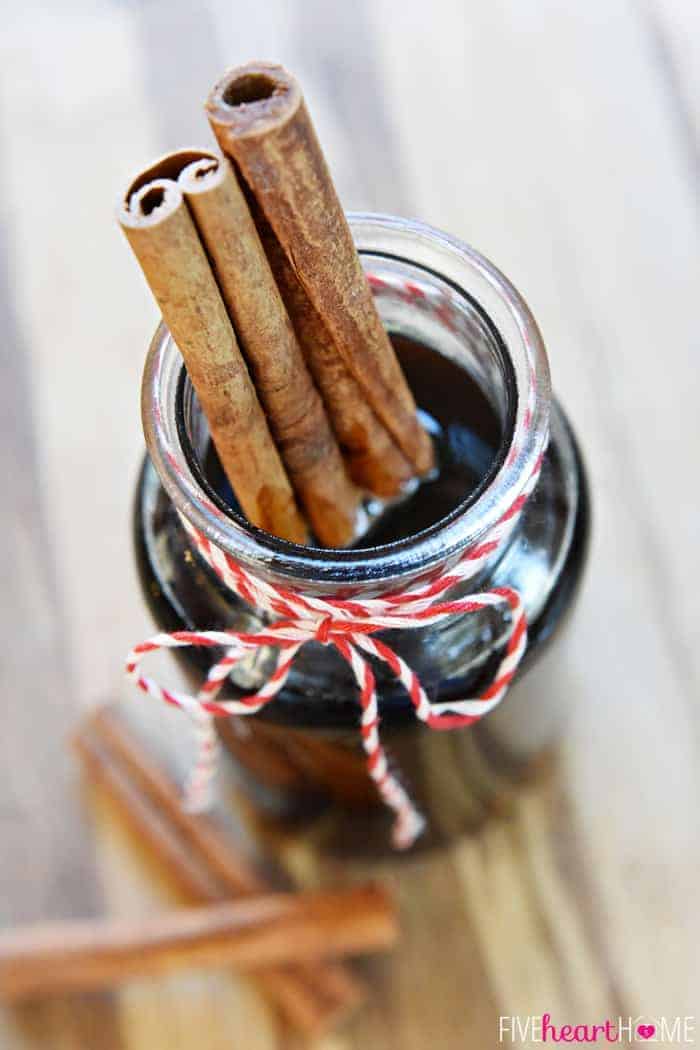 Yet breakfast foods need not have all the fun. Homemade Cinnamon Syrup would also make a yummy topping for vanilla ice cream.
And it would be perfectly lovely drizzled over warm, fruity desserts, from apple pie to grilled peaches to baked stuffed apples to poached pears.
I can further envision it complementing bread pudding, cheesecake, and even sweet potatoes! It never hurts to think outside of the box, friends. 😉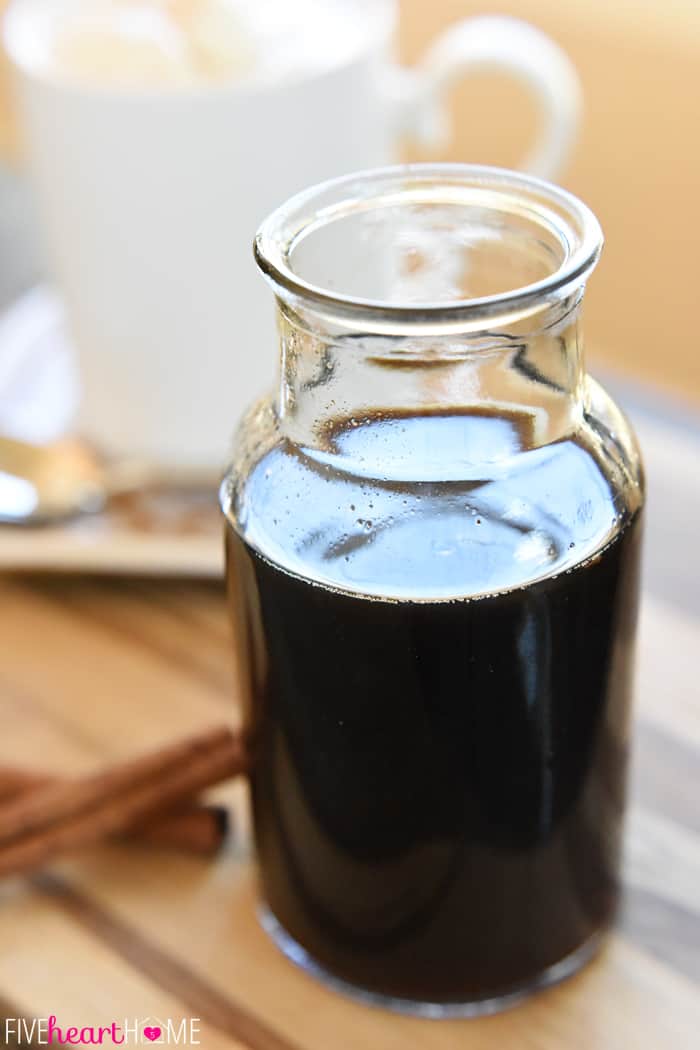 So if you're looking for a way to spice up your coffee, you're just a few minutes away from a jar of sweet, warming, homemade Cinnamon Syrup!
And in case cinnamon is a flavor that you'd like to carry into other parts of your day, this recipe has got you covered...from breakfast right on through dessert.
It's my new favorite, versatile recipe. Enjoy, y'all!
More Homemade Syrups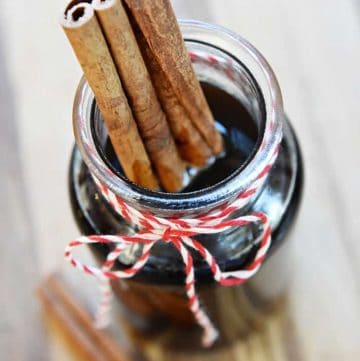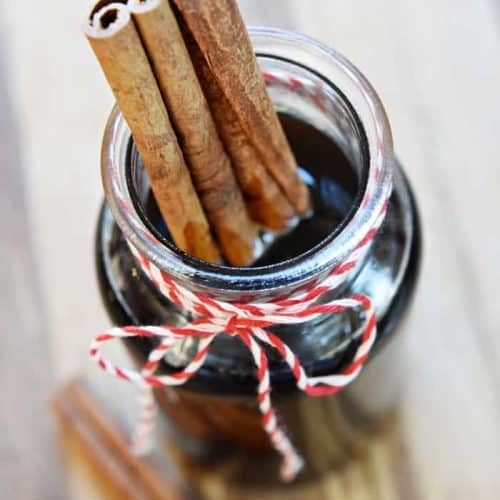 Cinnamon Syrup
Homemade Cinnamon Syrup is perfect for creating an all-natural copycat of Starbucks' Cinnamon Dolce Latte or Caramel Apple Spice Cider...and it doubles as a delicious topping for pancakes, waffles, ice cream, & more!
Print
Pin
Rate
Servings:
12
servings (makes 1 ¼ cups of syrup)
Ingredients
1

cup

water

1

cup

brown sugar

1

teaspoon

cinnamon

1

teaspoon

pure vanilla extract
Instructions
In a medium saucepan set over high heat, combine water, brown sugar, and cinnamon. Whisk continuously until sugar is dissolved and mixture comes to a boil. Reduce heat to a simmer and whisk for 5 minutes longer, or until syrup thickens.

Remove pot from heat and stir in vanilla. Transfer syrup to a clean glass jar and allow to cool. Cover and store in the refrigerator for up to one month.
Notes
Be sure your saucepan is deep enough to account for the bubbling syrup that will rise up the sides of the pan as it cooks.
The Cinnamon Syrup will continue to thicken as it cools, and even more so once it's refrigerated. But even after chilling, it will remain a relatively thin syrup.
This syrup may be stirred into coffee, apple cider, or coffee. It may be used to sweeten breakfast items such as pancakes, waffles, French toast, or baked oatmeal. Finally, it may be used to top ice cream, apple pie, baked apples, other fruit-based desserts, cheesecake, and even sweet potatoes!
Calories:
71
kcal
|
Carbohydrates:
18
g
|
Protein:
1
g
|
Fat:
1
g
|
Saturated Fat:
1
g
|
Sodium:
6
mg
|
Potassium:
24
mg
|
Fiber:
1
g
|
Sugar:
18
g
|
Calcium:
17
mg
|
Iron:
0.1
mg