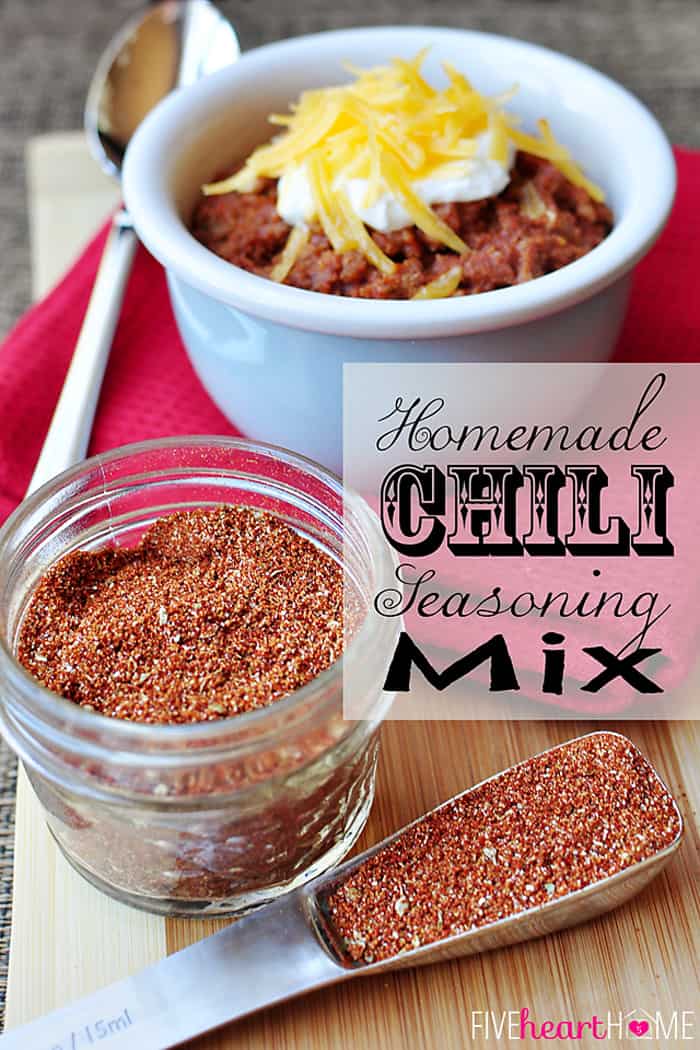 Make your own Homemade Chili Seasoning Mix in bulk to have on hand any time you want to whip up a quick pot of chili! Not only does it taste great, but since you control the ingredients, there are none of the icky preservatives that can be found in store-bought mix.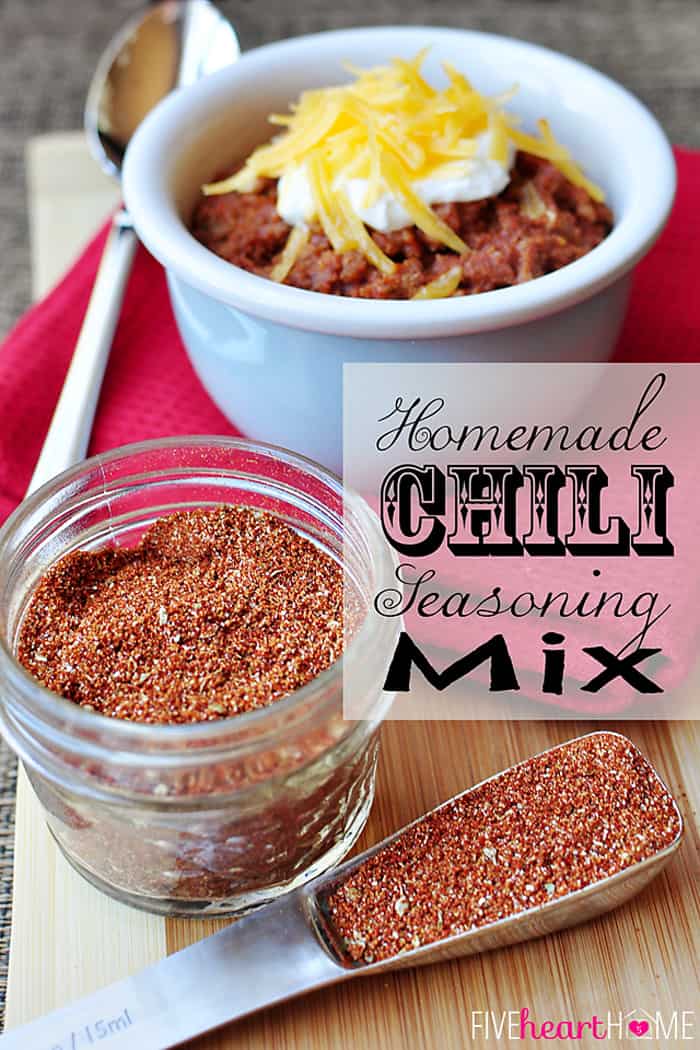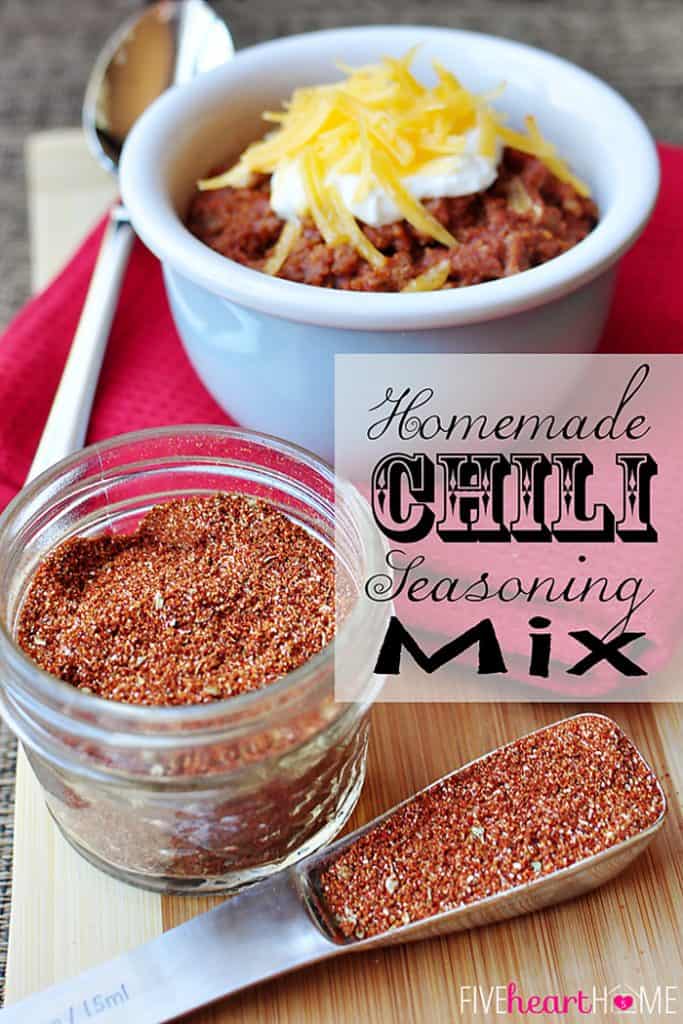 If you enjoy chili, you'll also love Easy Chili Mac, Slow Cooker Beefy 3-Bean Chili, and All-Natural Chili Cheese Dip!
Are y'all ready for spring yet? Because I, for one, have had just about enough of this cold weather. I'm also ready to move on from all of the germs and viruses that have plagued my household all winter long. From croup to strep to colds to flu to stomach viruses to chicken pox, it's been a rough few months around here.
Alas, Phil saw his shadow and Mr. Meteorologist is predicting more winter weather to come, so on the upside, that means that at least I can keep cranking out my favorite, comforting, warm-you-up type meals for a little while longer.
One of our favorites -- year-round, actually -- is chili. Regardless of the season or the weather, it seems that we eat chili every month of the year. Right now we prefer to enjoy it straight-up in a bowl, with assorted toppings and a side of hot, buttered cornbread. But even as the temperatures begin to thaw, we'll enjoy chili dogs and Frito pies right on through the summer.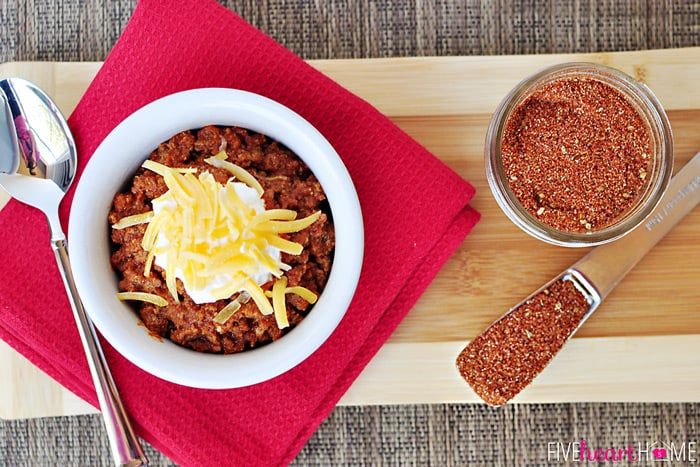 Why Homemade Chili Seasoning?
So with all of that chili making and chili eating going on, it only makes sense that I would save myself a little bit of time by whipping up a homemade chili seasoning mix.
Now I know that everyone has seen and possibly purchased the chili mix packets in the grocery store. And most of those are all well and good until you examine the ingredients.
I try to avoid preservatives and artificial additives when possible, so when it comes to dry pantry staples, I like to take control over the ingredients that my family ingests by making my own mixes. From taco seasoning to chocolate chip cookie mix to chili seasoning to the numerous other mixes that I plan on sharing in the upcoming months, I've got you covered. 😉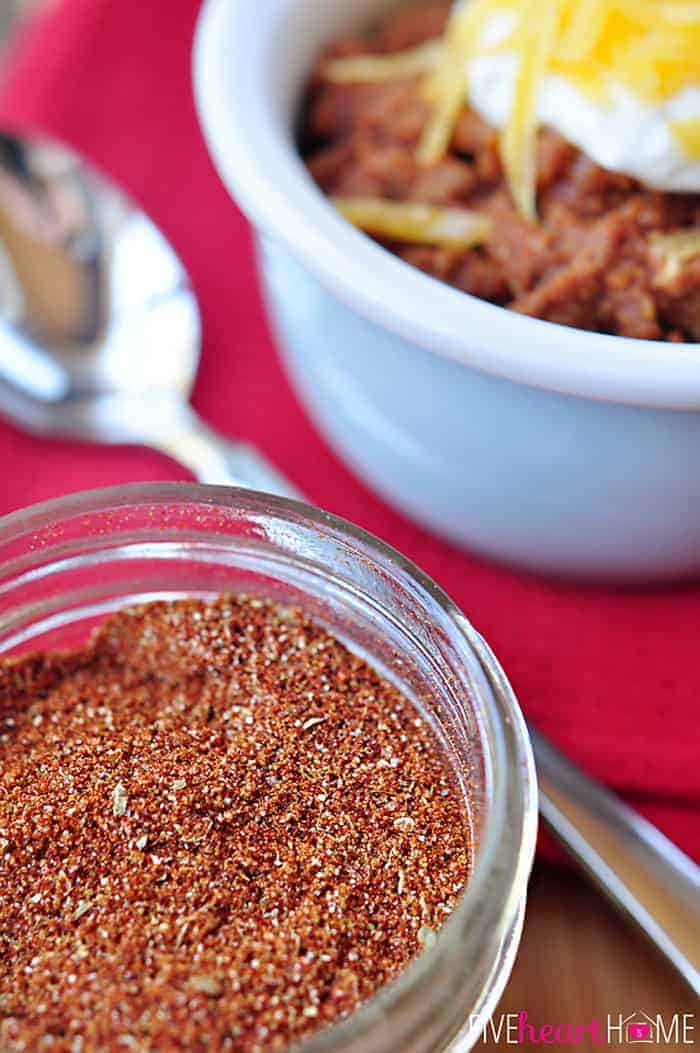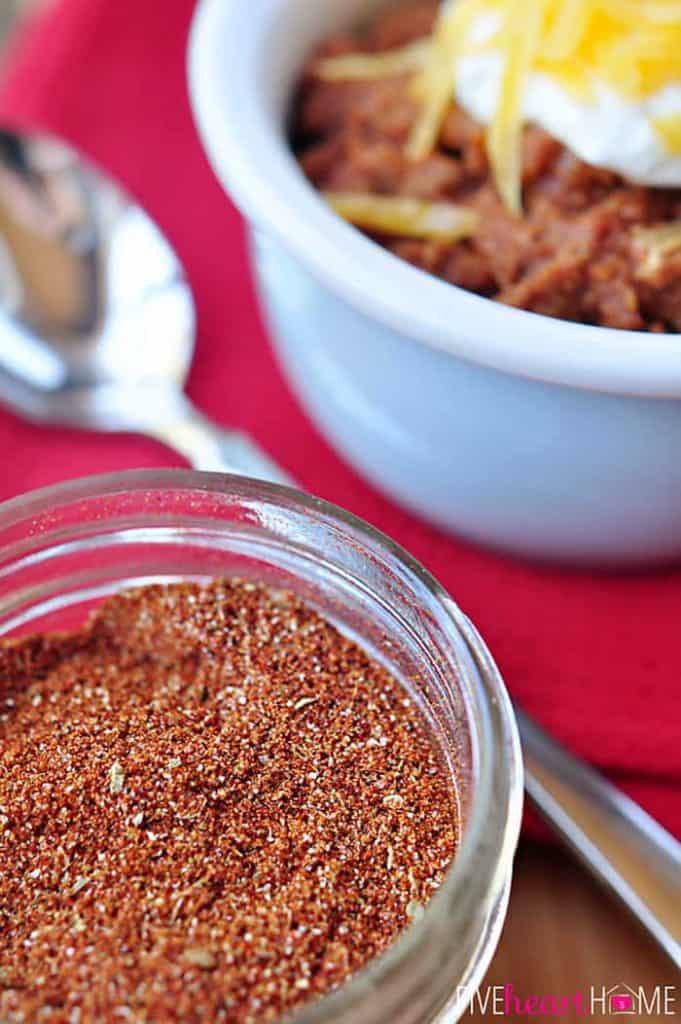 Using Your Chili Mix
Not only is this chili mix great for making, well, chili, but a sprinkle of it can also be used to season ground beef or turkey for a variety of other uses.
When making actual chili, however, after you've mixed in your chili seasoning into your ground beef, you are empowered to add as much cayenne as you would like (or none at all for mild chili).
And don't leave out the last step of adding corn meal (or masa harina, if you can find it) to your chili towards the end of the cooking time. It really does contribute a depth of flavor that is otherwise sorely lacking.
Finally, this Texas girl knows better than to add beans to chili around these parts, but feel free to toss in a can of pintos if it's not sacrilege to do so in your neck of the woods. 😉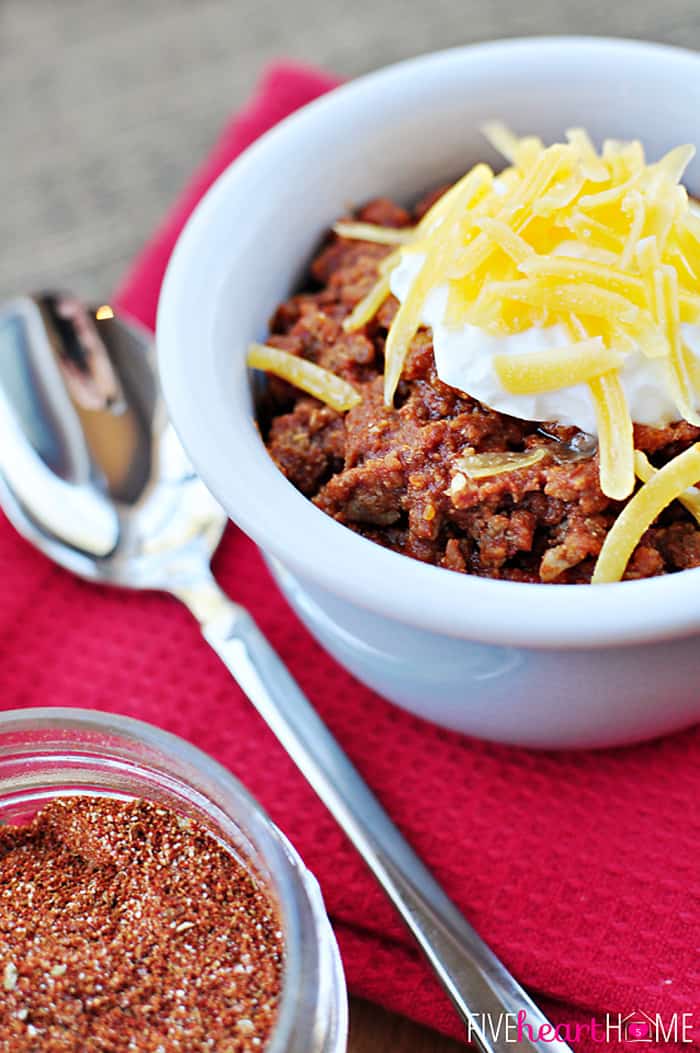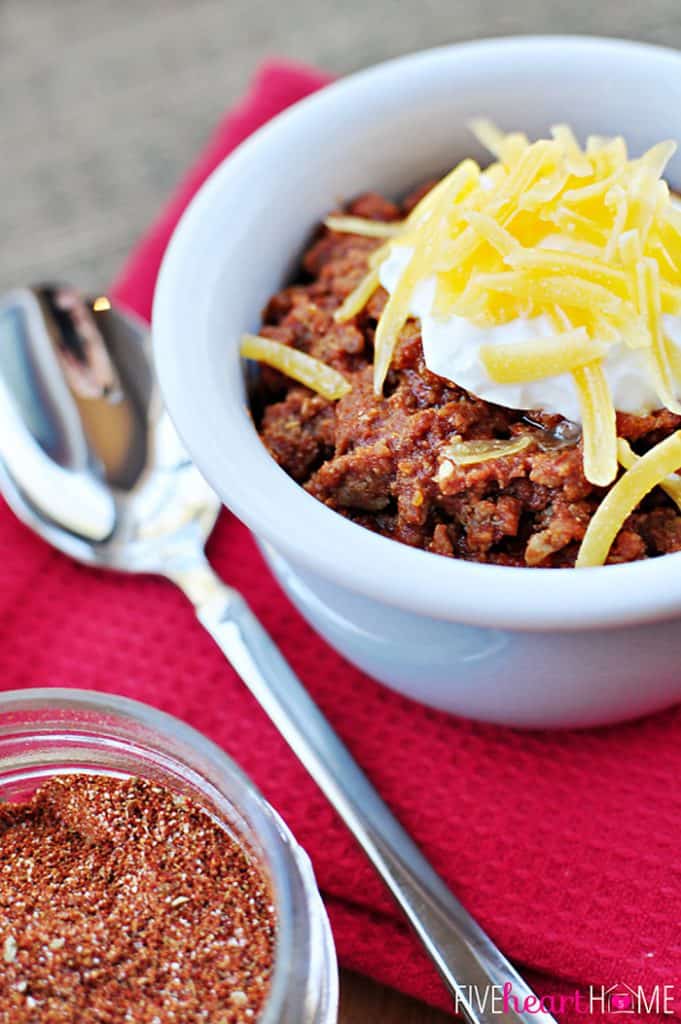 So save yourself some time on busy weeknights (and simultaneously feel good about what you're feeding your family) by stocking your pantry with a jar of this chili seasoning mix.
I know you are probably thinking to yourself, well gee, it doesn't take that long to measure out the spices to make chili! But just think of how much faster it would be not to have to get out all of those little spice bottles and different sized measuring spoons. There's a reason that all of those pre-made mix packets at the grocery store are so popular...every minute counts when you're trying to throw dinner together in a hurry while assisting one child with homework and helping another kid find a Lego, all with a screaming toddler clinging to your leg. Oh wait, is that just me?
Regardless, do a little bit of measuring and mixing now, and make future meal prep faster and easier...because who wouldn't appreciate that?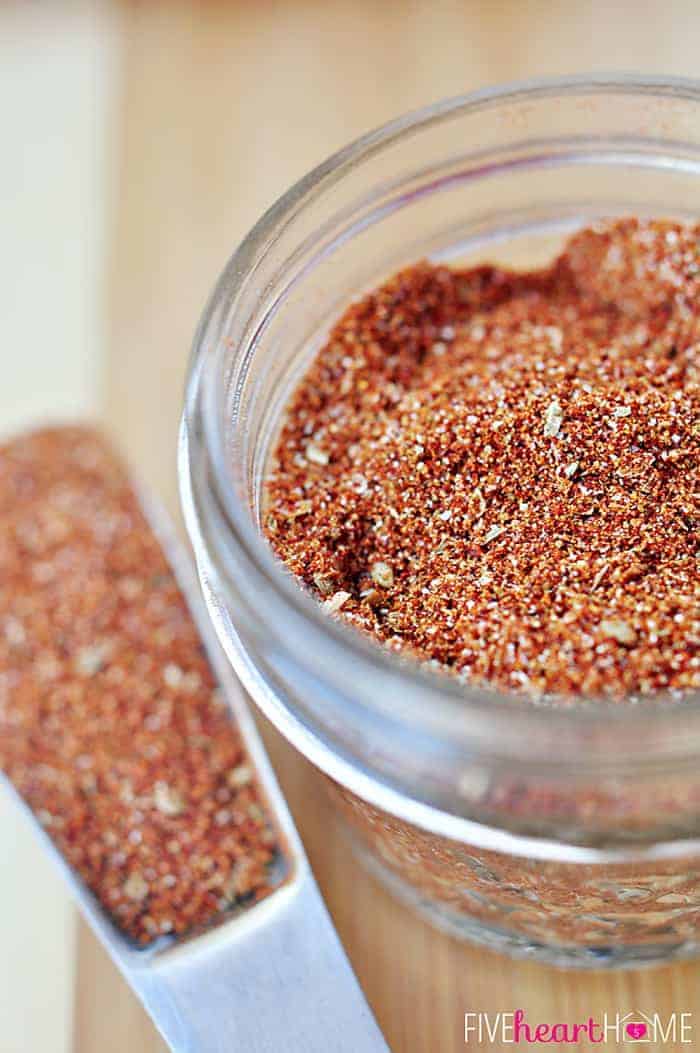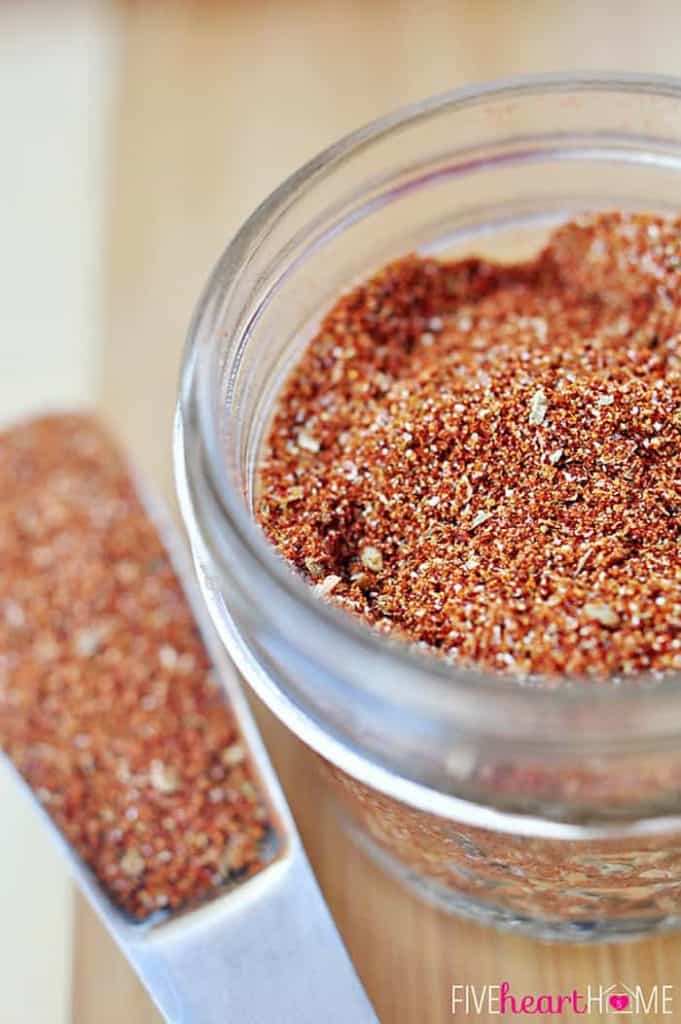 More Homemade Mixes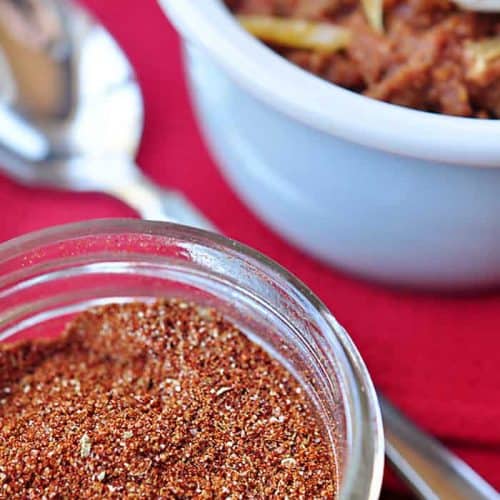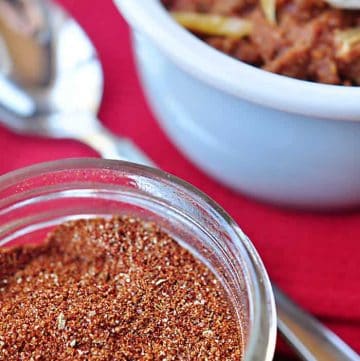 Homemade Chili Seasoning Mix
Make your own chili seasoning mix in bulk to have on hand any time you want to whip up a quick pot of chili! Not only does it taste great, but since you control the ingredients, there are none of the icky preservatives that can be found in store-bought mix.
Print
Pin
Rate
Servings:
1
batch of Chili Mix will season 6 pots of chili (using 1 pound ground beef each)
Ingredients
FOR CHILI SEASONING MIX:
2/3

cup

chili powder

1/4

cup

cumin

1

tablespoon

oregano

1

tablespoon

salt
TO MAKE A BATCH OF CHILI:
1

pound

ground beef

2

cloves

garlic

,

minced

2 1/2

tablespoons

Chili Seasoning Mix

1/8

teaspoon

cayenne

,

optional

8

ounces

tomato sauce

1

(15-ounce) can diced tomatoes

,

with juices

1/2

cup

water

,

OR low-sodium beef broth

2

tablespoons

masa harina (Mexican corn flour)

,

OR corn meal may be substituted

1/4

cup

water
Instructions
TO MAKE CHILI SEASONING MIX:
In a medium bowl, whisk together all ingredients until thoroughly combined. Store in an airtight jar.
TO USE CHILI SEASONING MIX:
In a large pot set over medium heat, brown ground beef and garlic; drain fat. Stir in 2 1/2 tablespoons of Chili Seasoning Mix (per pound of ground beef), cayenne (if using), tomato sauce, diced tomatoes with juice, and water or beef broth. Reduce heat to low and place lid on pot. Simmer for 45 minutes, stirring occasionally and adding additional tomato sauce, beef broth, or water, if chili becomes too dry.

After 45 minutes, taste chili and adjust salt and/or cayenne, if desired. Stir masa into 1/4 cup water. Pour corn meal mixture into chili and mix well. Cover and simmer for 10 more minutes.
Notes
A pot of chili made with 1 pound of ground beef will yield about four average-sized servings.
To feed a larger or hungrier family, cook 2 pounds of ground beef seasoned with 5 tablespoons of Chili Seasoning Mix, and double all of the other ingredients.
Feel free to substitute your favorite type of chili meat for the ground beef. Ground turkey will work, as will beef stew meat, etc.
If you can't find masa harina (corn flour), corn meal will give your chili the same ultimate flavor...it just has a coarser/grittier texture.
If you prefer more sauce in your chili, add a bit more liquid before the last 10 minutes of simmering time. If you prefer drier chili, leave the lid off the pot during the last 10 minutes of simmering.
NUTRITION CALCULATIONS are for one serving from one pot of chili (made as directed using 1 pound of ground beef, with one pot of chili yielding 4 servings).
***If you want to cook one small batch of this chili to ensure that you like the way it tastes before making a whole jar of Chili Seasoning Mix, the individual measurements for 1 pound of ground beef are approximately equivalent to 5 teaspoons chili powder, 2 teaspoons cumin, 1/2 teaspoon oregano, and 1/2 teaspoon salt.***
Calories:
220
kcal
|
Carbohydrates:
13
g
|
Protein:
27
g
|
Fat:
7
g
|
Saturated Fat:
3
g
|
Cholesterol:
70
mg
|
Sodium:
908
mg
|
Potassium:
913
mg
|
Fiber:
3
g
|
Sugar:
5
g
|
Vitamin A:
1146
IU
|
Vitamin C:
14
mg
|
Calcium:
80
mg
|
Iron:
6
mg
Inspired by Wick Fowler chili seasoning.