Keeping a jar of all-natural Whole Wheat Pancake Mix in your pantry means that you can whip up a breakfast of fluffy, homemade, 100% whole wheat buttermilk pancakes in a matter of minutes!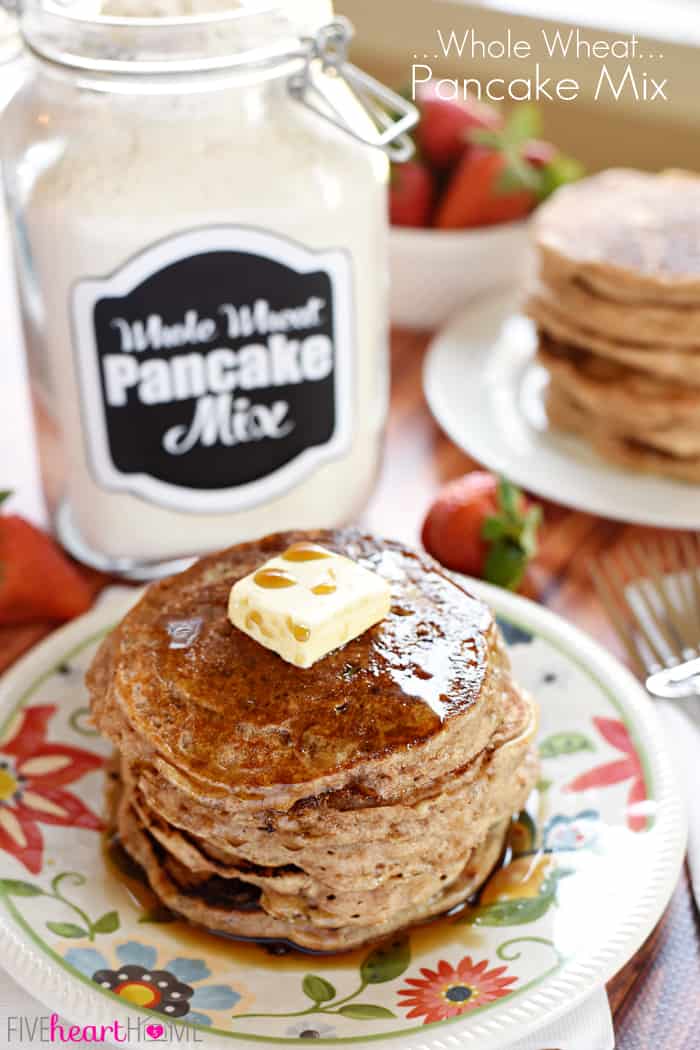 Raise your hand if you like pancakes! I am an enthusiastic fan of breakfast foods in general, but if I had to choose a favorite, let's just say it would start with pan and end with cake. In my humble opinion, there's absolutely nothing better than a tall stack of hot, melt-in-your-mouth pancakes, dripping with melted butter and pure maple syrup.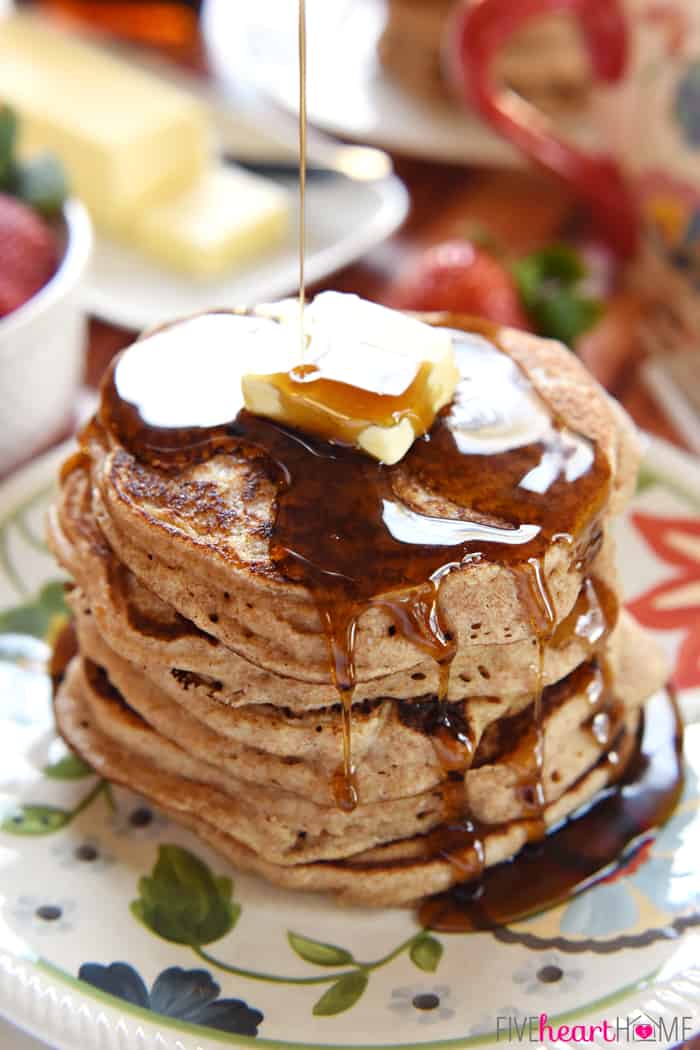 So today, not only do I bring you light, fluffy, buttermilk pancakes, but I bring you light, fluffy buttermilk pancakes that are 100% whole wheat! And not only are these light, fluffy, pancakes 100% whole wheat, but they are also super speedy and simple to make using an all-natural, homemade pancake mix that you whip up yourself and keep in a big jar in the pantry for anytime pancake cravings!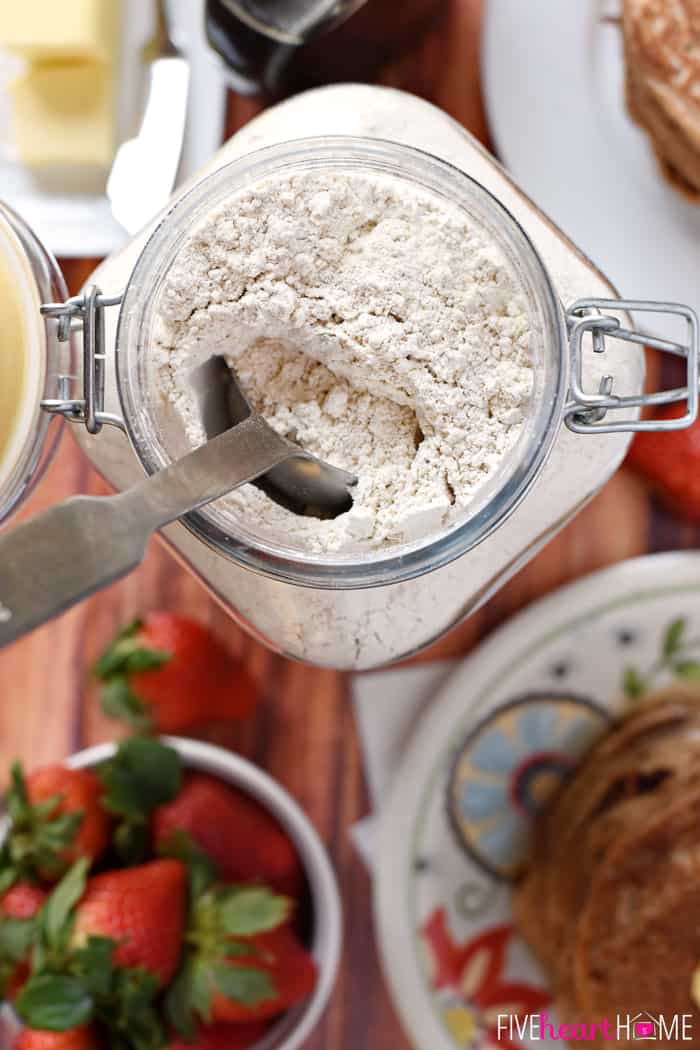 This Whole Wheat Pancake Mix is the latest addition to the Make Your Own Mixes and Kitchen Staples section of Five Heart Home, which you should definitely check out if you enjoy cooking shortcuts but prefer to avoid the preservatives and artificial additives found in store-bought sauces, seasonings, and mixes. Because that's the bottom line here, friends...we all love the convenience of a canister of pancake mix from the grocery store, but most of them are laden with not-so-natural ingredients. And if you do happen to find an organic/all-natural mix, well, you're going to pay a pretty penny for it at the cash register.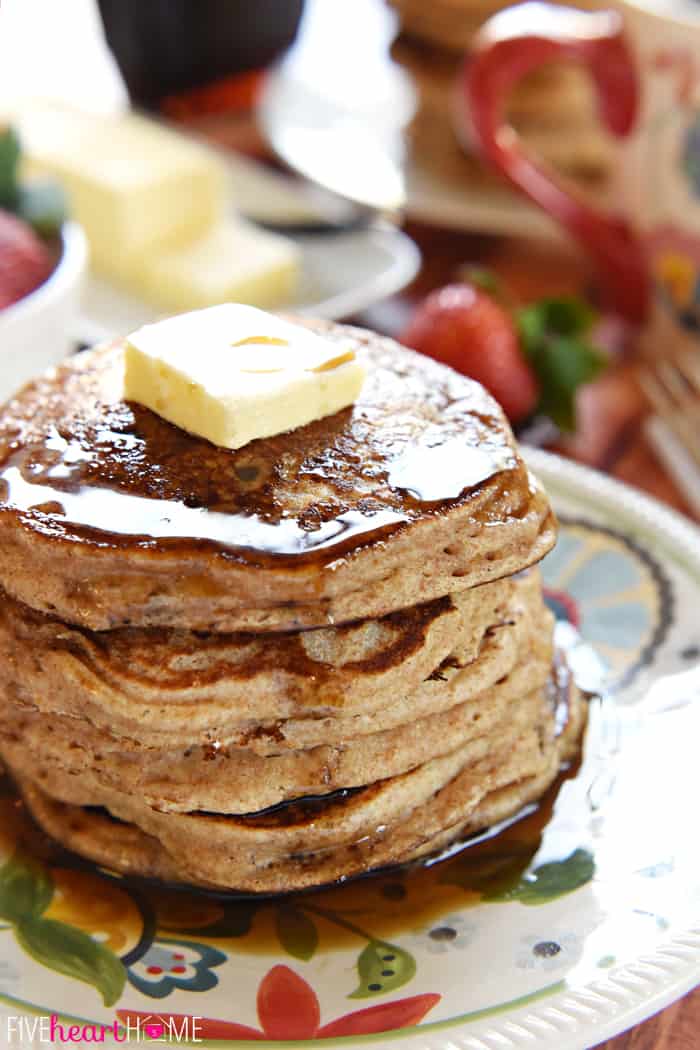 So why not make your own pancake mix? Combining the dry ingredients for multiple batches of pancakes will take the same amount of time as stirring together a single batch, but it'll save you time the next morning you want to make pancakes...you won't have to get out and measure all of those dry ingredients again!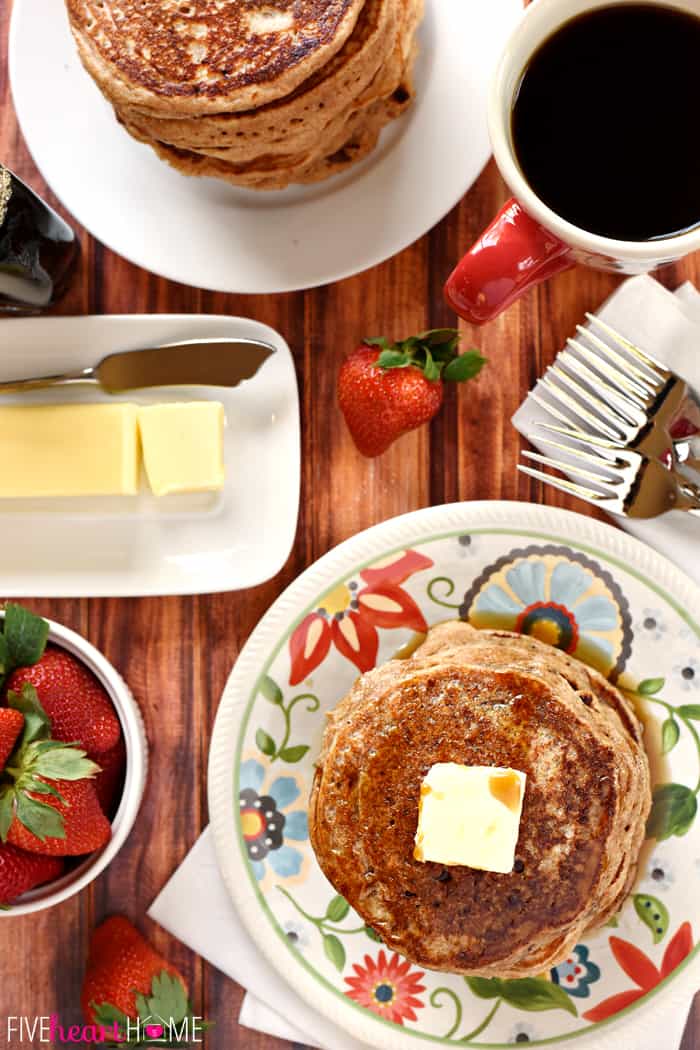 But the best part about these pancakes is that they really and truly taste delicious! If you are worried that whole wheat pancakes can't measure up to pancakes made with white flour, then I implore you to give these a whirl. They're fluffy and tender on the inside with slightly crispy edges. The secret to whole wheat pancakes that aren't heavy and dense? Whole wheat pastry flour!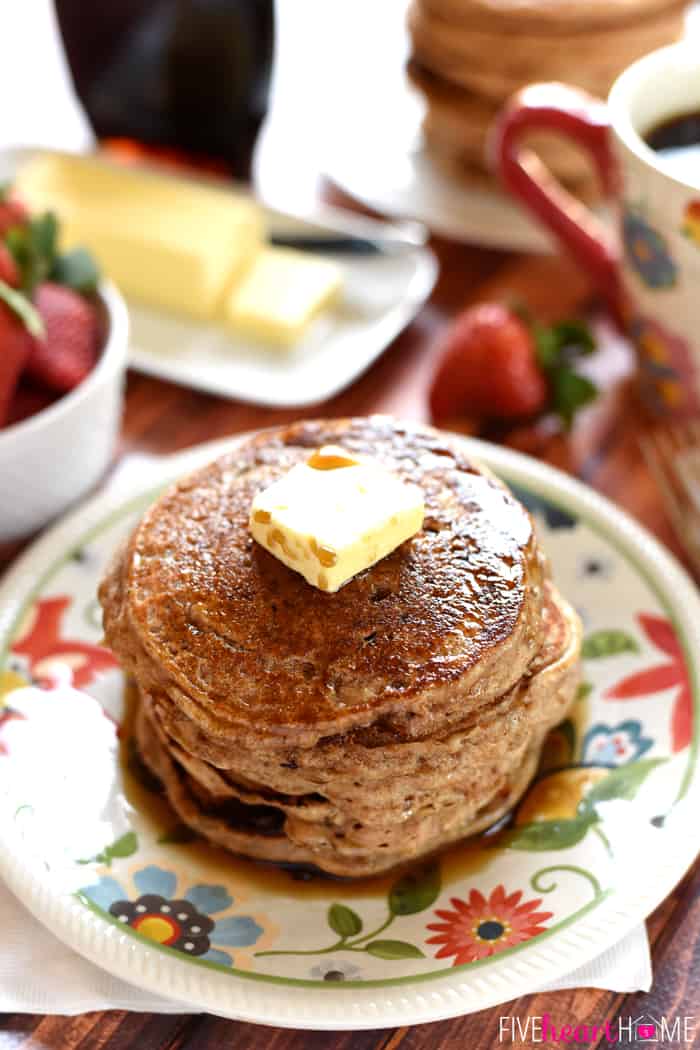 My regular readers are probably already familiar with my adoration of using whole wheat pastry flour to make baked goods more wholesome. So feel free to skim here if you've read my explanation before... 😉 Whole wheat pastry flour lends baked goods a lighter texture than that achieved with regular whole wheat flour, while retaining the wholesome nutritional benefits of 100% whole wheat. I still use regular whole wheat flour for baking breads, pizza crusts, etc. involving yeast, such as my most-popular-recipe-on-the-entire-site, The Very Best Whole Wheat Homemade Bread. But I typically substitute whole wheat pastry flour for white flour in just about any quick bread you can think of with excellent results, including pancakes and waffles.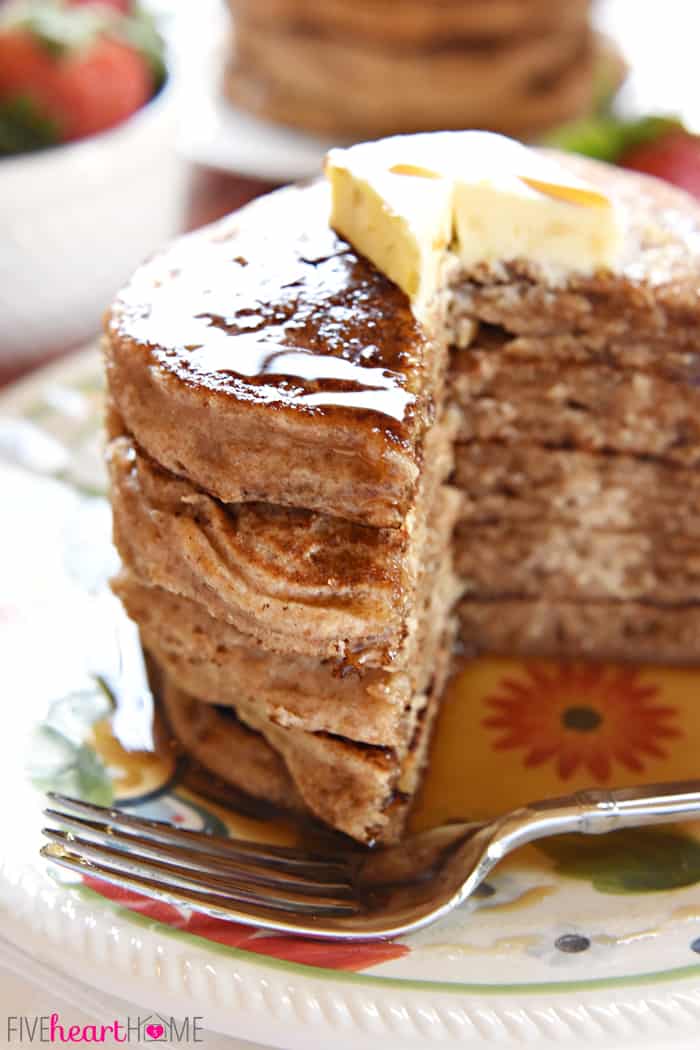 Whole wheat pastry flour aside, the biggest pancake-cooking tip that I will leave you with today is not to overmix your pancake batter! You should hand stir the batter until just combined...a few streaks and lumps of flour are actually a good thing, as they indicate that you haven't overmixed.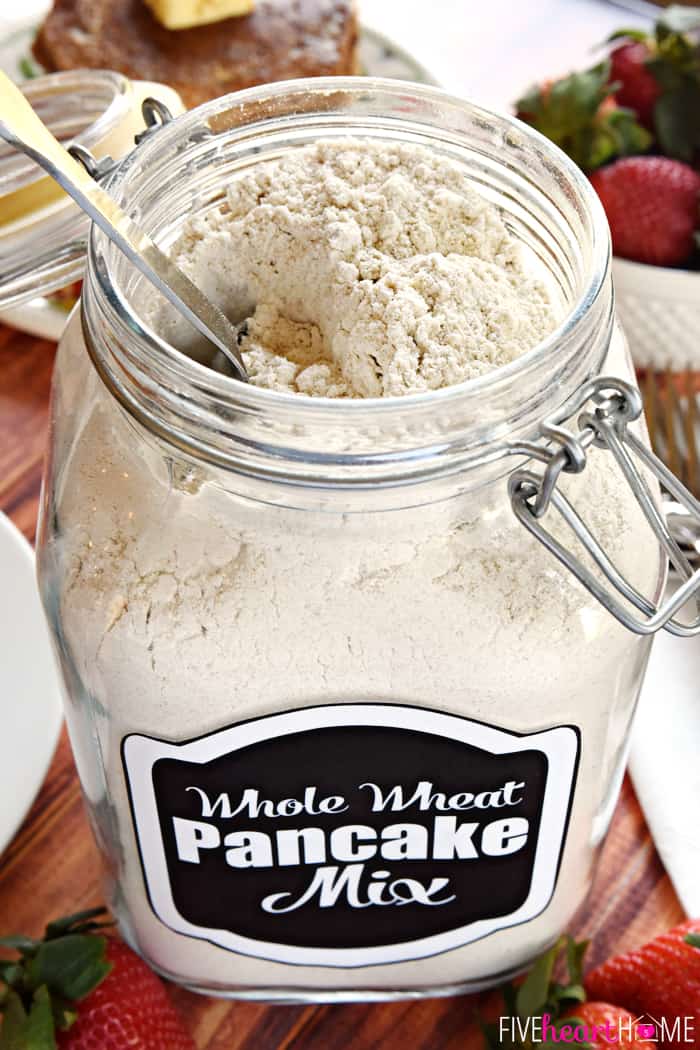 Oh, and one final thing...if you scroll down past the recipe below, there is a printable label that you can affix to your container of Pancake Mix so that your pantry doesn't end up harboring any UFOs (Unidentified Flour-based Objects). And not only that, but there is a second label for the back of the container that gives instructions for how to use your mix to make a batch of pancakes...just like a canister of Bisquick would! Handy, no? 😉

Enjoy these wholesome, whole wheat buttermilk beauties, and happy pancake making, y'all!
More Homemade Baking Mixes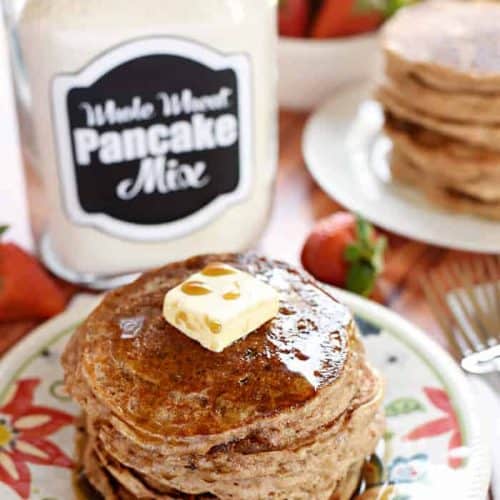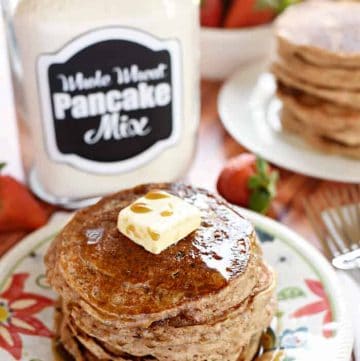 Homemade Whole Wheat Pancake Mix
Keeping a jar of all-natural Pancake Mix in your pantry means that you can whip up a breakfast of fluffy, homemade, 100% whole wheat buttermilk pancakes in a matter of minutes!
Print
Pin
Rate
Servings:
1
jar of Pancake Mix yields 4 batches of pancakes; 1 batch of pancakes yields two dozen 3- to 4-inch pancakes (8 servings)
Ingredients
FOR THE PANCAKE MIX:
12

cups

whole wheat pastry flour

3/4

cup

sugar

4

tablespoons

baking powder

1

tablespoon

baking soda

1

tablespoon

salt
TO MAKE A BATCH OF PANCAKES:
3 1/4

cups

Whole Wheat Pancake Mix

3

cups

buttermilk

2

eggs

5

tablespoons

butter

,

melted & cooled

1

teaspoon

pure vanilla extract
Instructions
TO MAKE PANCAKE MIX:
In a large bowl, whisk together whole wheat pastry flour, sugar, baking powder, baking soda, and salt until very well combined. Store in an airtight container.
TO USE PANCAKE MIX:
Measure buttermilk into a large measuring cup (4-cup capacity) or medium bowl. Whisk in eggs, melted butter, and vanilla until well combined.

Measure 3 1/4 cups Whole Wheat Pancake Mix into a large bowl. Make a well in the center of the dry mix and pour in the buttermilk mixture. Stir gently until just combined, taking care not to overmix. A few lumps and streaks of flour should remain.

Set a large skillet over medium heat. Once the skillet is heated, add a small piece of butter (or a small dollop of coconut oil) and swirl to coat the pan. Use a 1/4-cup measuring cup to pour circles of batter onto the skillet. Cook until the underside of each pancake is golden brown and bubbles begin to form on top. Flip pancakes and cook for another minute or two until the second sides are golden brown.

Serve pancakes immediately with butter and pure maple syrup. Or keep them warm in a 200°F oven (for 20 to 30 minutes) by placing them in a single layer on a cooling rack set on top of a baking sheet.
Notes
If you don't have any buttermilk on hand, you can make your own by pouring 3 tablespoons of lemon juice (or white vinegar) into a 3-cup liquid measuring cup. Fill the remainder of the measuring cup (up to the 3-cup line) with milk (whole milk is preferred but low-fat/skim milk will work). Stir and allow to sit for 5 to 10 minutes before proceeding with recipe.
Different stovetops (or electric griddles) heat differently. So if you're unsure of the best pancake-cooking temperature for your stove, start at medium heat and increase/decrease the heat accordingly, depending on how quickly your pancakes are cooking.
NUTRITION CALCULATIONS are for one serving from one batch of pancakes, with one batch of pancakes yielding 8 servings.
***If you would like to test this recipe (to make sure you like the pancakes before making a quadruple-batch of Pancake Mix!), a single batch of dry ingredients would call for: 3 cups whole wheat pastry flour, 3 tablespoons sugar, 1 tablespoon baking powder, 3/4 teaspoon baking soda, and 3/4 teaspoon salt.***
Calories:
308
kcal
|
Carbohydrates:
42
g
|
Protein:
10
g
|
Fat:
12
g
|
Saturated Fat:
7
g
|
Cholesterol:
70
mg
|
Sodium:
267
mg
|
Potassium:
452
mg
|
Fiber:
5
g
|
Sugar:
9
g
|
Vitamin A:
427
IU
|
Calcium:
192
mg
|
Iron:
2
mg
Adapted from The New Best Recipe.
***To download Pancake Mix Labels <<< click here!***