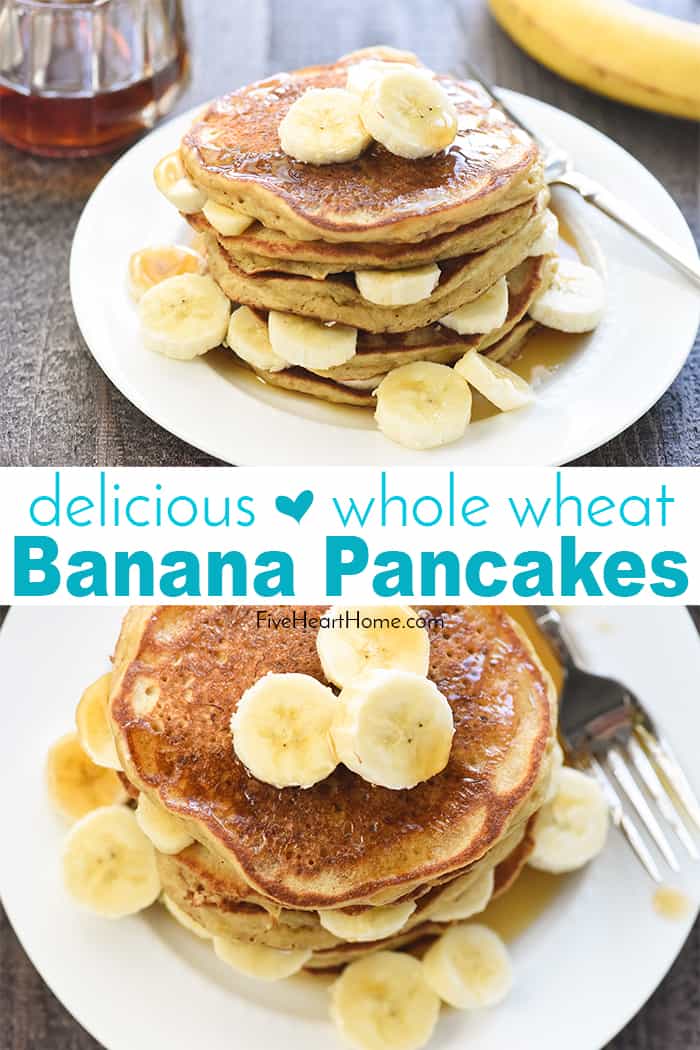 Perfect Banana Pancakes are both scrumptious and wholesome...light and fluffy with crisp, golden edges and delicious banana flavor. And nobody will ever guess that this amazing banana pancake recipe is relatively healthy, made with 100% whole wheat flour!
For more healthy, simple, yummy banana breakfast ideas, you'll love Banana Baked Oatmeal, Banana Blender Muffins, or Soft-Baked Banana Oatmeal Bars.
Do y'all love Jack Johnson as much as I do? Because I LOVE HIM. And the whole time I've been working on this recipe and these photos and this post, I've had his Banana Pancakes song running through my head on a constant loop. And I'm not particularly sad about it.
Much like the song, these (surprisingly whole wheat!) Banana Pancakes are happy and mellow and laid-back. Or maybe they're just so darn tasty that eating them makes you feel happy and mellow and laid-back? At any rate, they're the perfect breakfast to welcome a lazy Saturday morning...or really anytime you just want to pretend like it's the weekend.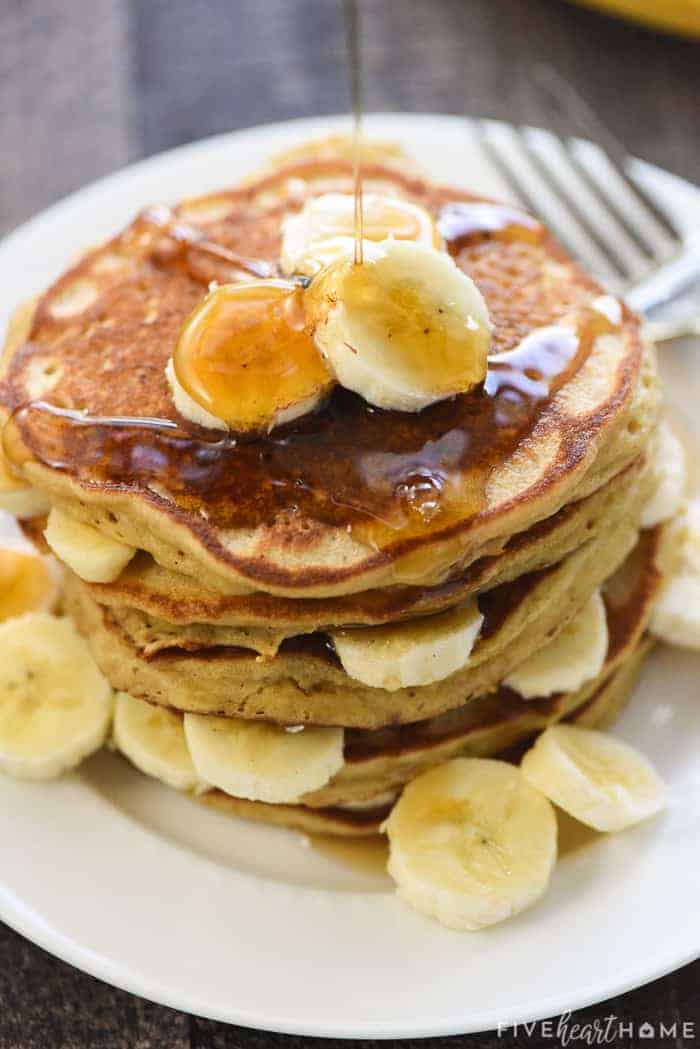 Heh. Sorry...I just couldn't help myself.
This Banana Pancakes recipe is actually one of my favorite ways (and I have many ways) to use up brown, overripe, seen-their-better-days bananas. I mean, what's easier than stirring 'em into a simple, healthy, whole wheat pancake batter that I was going to make anyway? It just makes sense. No food waste guilt for me, extra smiles from the kids at the breakfast table.
Banana Pancake Ingredients
So what else -- aside from bananas -- goes into this scrumptious Banana Pancake recipe?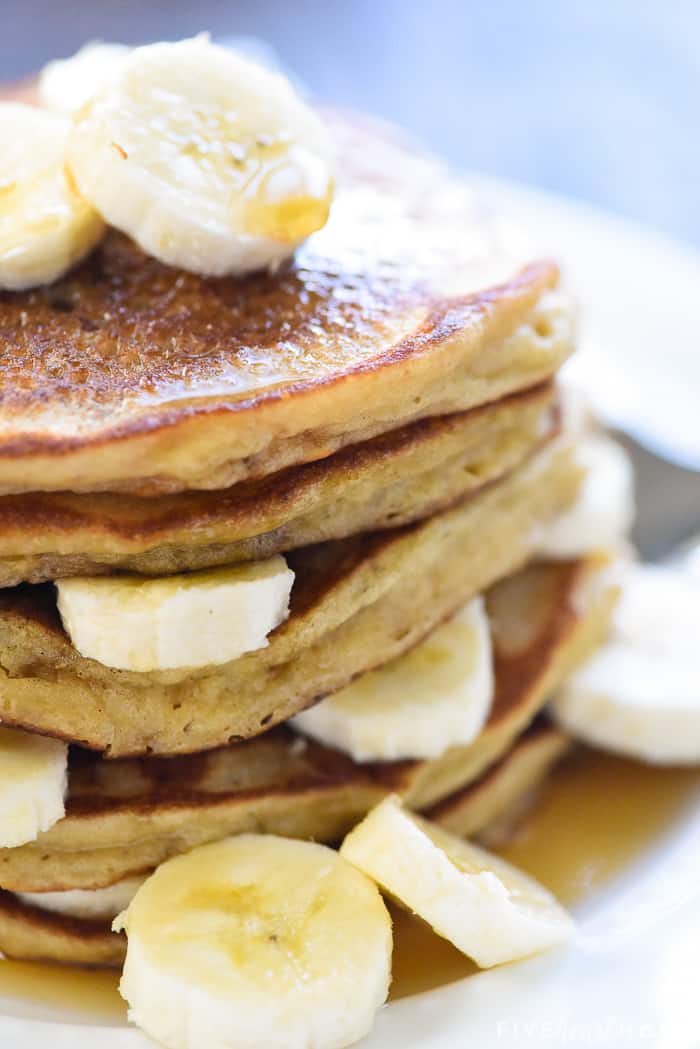 How to Make Banana Pancakes
Making this Banana Pancake recipe is easy-peasy. It's also a fun one to whip up with the kiddos because -- hello! -- some of the steps can be "messy!" It just depends on how much you want to monitor the banana-mashing and the flour-stirring.
Or -- if you have an incredibly industrious and determined 11-year-old who wakes up at the crack of dawn before the rest of the house -- he just might be able to make these pancakes himself. Just be prepared for the fact that he might also sweetly ask you to man the pan and flip the last few pancakes because he's soooo hungry...and tired of standing at the stove. Despite the fact that you yourself just stumbled downstairs and haven't yet poured a cup of coffee. Waning attention spans apparently trump caffeine.
Even though you'll likely already have the required ingredients in your pantry and fridge, you can actually make this recipe even quicker and easier if you just so happen to have a tub of my Homemade Whole Wheat Pancake Mix on hand! But either way, the steps are pretty simple.
Whisk together the dry ingredients in a big bowl. Then, in a large measuring cup, combine the milk, eggs, vanilla, and banana. Make a well in the center of the dry ingredients, pour in the milk mixture, and stir.

Next, add the melted butter and stir some more until all of the ingredients are combined. You don't want lumps but be careful not to over-stir.
I use a stainless steel, single-burner round griddle for making pancakes, but you could also use a nonstick griddle (stovetop or electric). The cooking temperature will be variable depending on what you choose. I find that I actually have to adjust the heat slightly up and slightly down between batches any time I make pancakes in order to cook them through without burning.
Start with a temperature between medium and medium-high heat and wait for your griddle to heat up. You'll know it's ready when you sprinkle a few drops of water and they sizzle right off. Then grease your griddle. I actually prefer greasing my stainless pan with a combo of butter and coconut oil -- swirling to coat the entire surface -- but you can use your favorite option. Or you might not need much of anything if your surface is nonstick.
To pour my pancakes onto the pan, I like to use a ¼-cup measuring cup, leaving enough space between the pancakes for flipping. But here's the most important part...knowing when to flip! Like some wise Jedi master, it's not you who tells the pancake when to flip. Rather, it's the pancake who tells *you* when to flip. And it'll tell you by forming little bubbles all over its top surface. Once you see those bubbles, take a peek at the underside. If it's golden brown, flip that puppy to the other side!

Remove the pancake from the pan after the middle puffs up and the second side is golden, which usually takes another minute or two.

For serving, you can always just plate them as fast as you can cook them! Or -- to serve everyone their delectable Banana Pancakes at the same time -- place them on an oven-safe cooling rack set on top of a rimmed baking sheet as soon as they come off the griddle. Keep the rack/pan in the oven at 200°F and the pancakes will stay warm until breakfast time.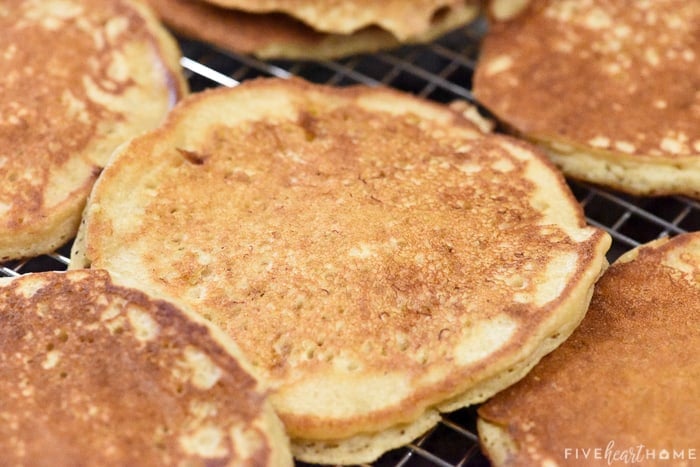 Ideas for Customizing Banana Pancakes
These Banana Pancakes are simple and delicious as-is, but it's also easy to fancy them up if you so desire.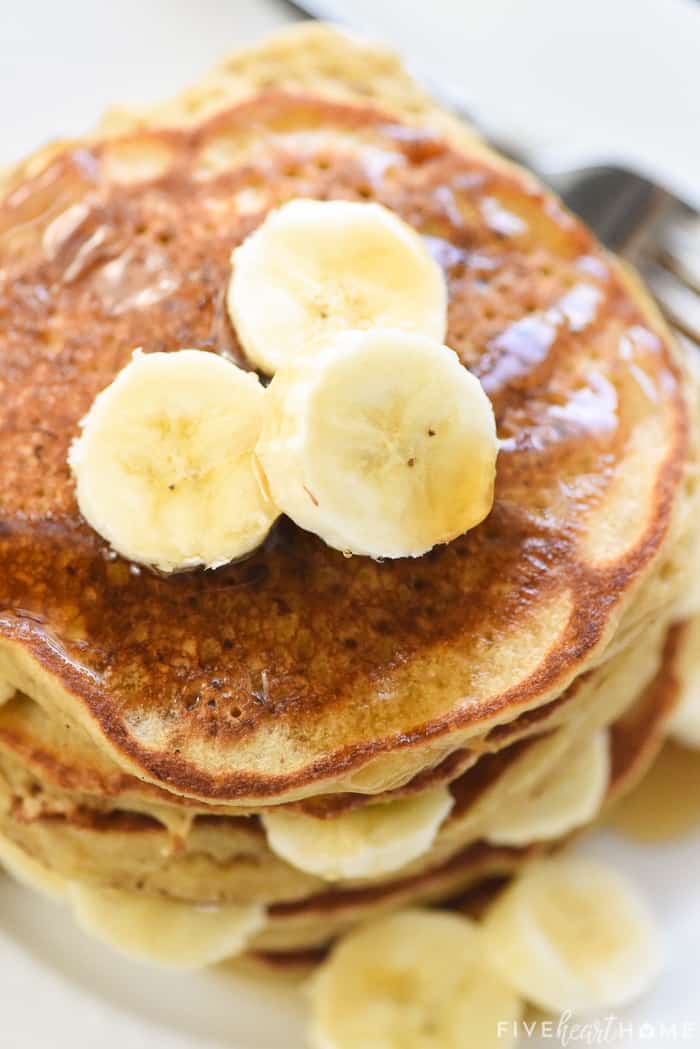 How to Freeze and Reheat Pancakes
Banana Pancakes freeze beautifully and are easy to reheat for breakfast on busy weekday mornings.
After the pancakes have cooled, place them in a single layer on a parchment paper-lined baking sheet (add another piece of parchment paper on top if you have more than one layer of pancakes). Pop the pan in the freezer and allow the pancakes to freeze for an hour or two. Once they are nice and solid, transfer them to a gallon-sized, freezer-thickness plastic baggie (or a freezer-safe airtight container) and store in the freezer for up to two months.
And there's no need to thaw pancakes before reheating! Simply place your desired number of (frozen) pancakes on a microwave-safe plate. Heat on high for about 20 seconds for one pancake, 35 seconds for two pancakes, and 1 minute for 3 or 4 (or even 5?) pancakes. The exact cooking time, of course, will depend on your particular microwave, so you may need to experiment a bit on your first try to get it just right. Just be careful not to over-reheat pancakes or they'll get weird and chewy.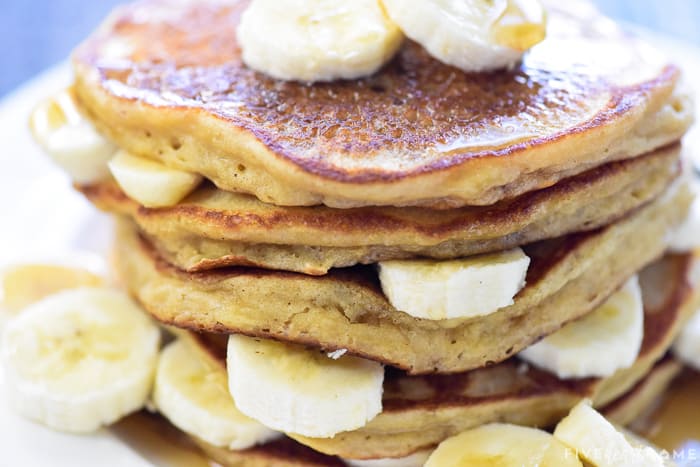 Helpful Tips, Tricks, & Equipment
I hope y'all have a chance to try this recipe. Even more so, I wish that I could personally make you Banana Pancakes. You know, to pretend like it's the weekend now. We could pretend it all the time! Can't you see that it's just rainin'? There ain't no need to go outside. 😉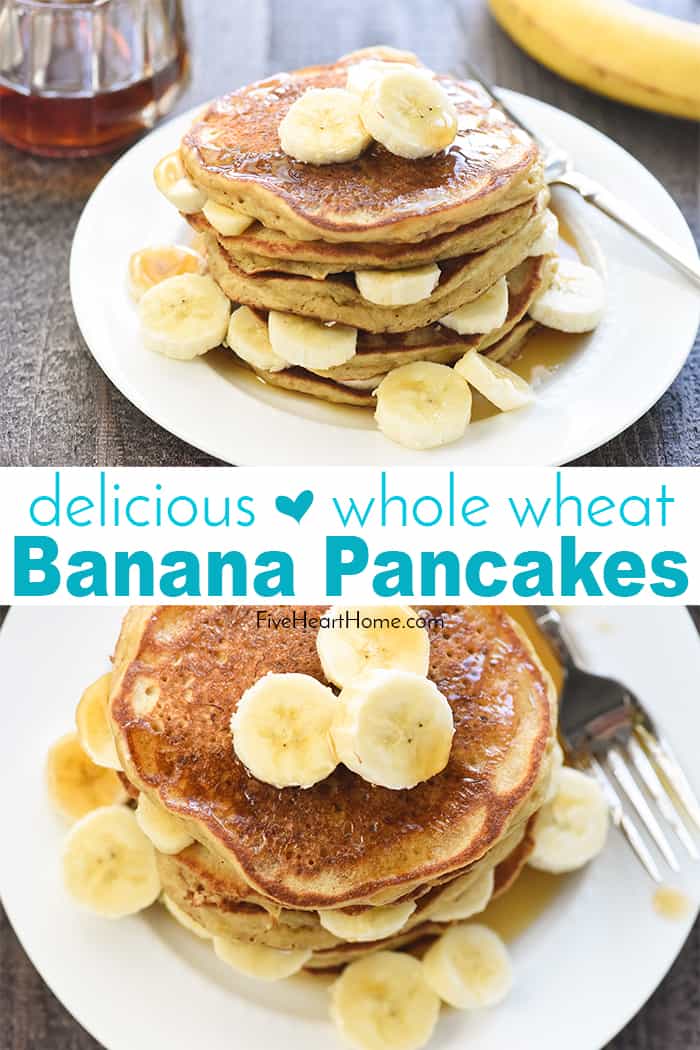 More Tasty Pancake Recipes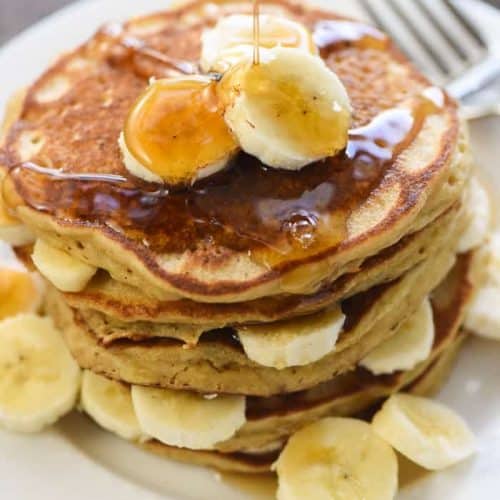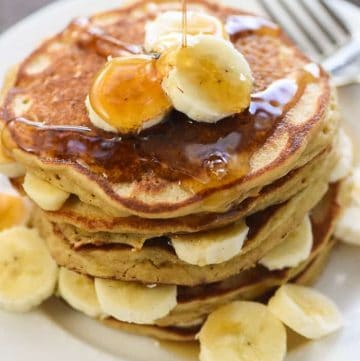 Perfect Banana Pancakes
Perfect Banana Pancakes are both scrumptious and wholesome...light and fluffy with crisp, golden edges and delicious banana flavor. And nobody will ever guess that this amazing banana pancake recipe is relatively healthy, made with 100% whole wheat flour!
Print
Pin
Rate
Servings:
8
servings (two dozen 4 to 5-inch pancakes)
Ingredients
2

cups

whole wheat pastry flour*

2

tablespoons

brown sugar*

4

teaspoons

baking powder*

1/2

teaspoon

salt*

2

cups

milk

,

at room temperature

2

eggs

,

at room temperature & lightly beaten

2

teaspoons

pure vanilla extract

1

cup

mashed banana

,

from approximately 2 large or 3 medium overripe bananas

4

tablespoons

butter

,

melted & cooled
Instructions
In a large bowl, whisk together the whole wheat pastry flour, brown sugar, baking powder, and salt. In a large measuring cup, mix together the milk, eggs, vanilla, and mashed banana until well combined. Make a well in the center of the dry mix and pour in the milk/banana mixture. Stir a few times, add the melted butter, and then stir gently until combined, taking care not to overmix.

Set a large griddle or skillet over medium to medium-high heat. Once the griddle is heated, add a small piece of butter (and/or a small dollop of coconut oil) and swirl to coat the pan. Use a 1/4-cup measuring cup to pour circles of batter onto the skillet. Cook until bubbles begin to form on top and the underside of each pancake is golden brown. Flip pancakes and cook for another minute or two until the second sides are golden brown.

Serve pancakes immediately. Or keep them warm in a 200°F oven (for 20 to 30 minutes) by placing them in a single layer on a cooling rack set on top of a baking sheet.
Notes
*If you wish to use my Homemade Whole Wheat Pancake Mix as a base for this recipe, you may substitute 2 1/4 cups of Pancake Mix for the asterisked ingredients above. Add an additional 1 tablespoon brown sugar to the mix, however. Then proceed with the recipe as directed, starting with the milk.
Whole wheat pastry flour lends baked goods a lighter texture than that achieved with regular whole wheat flour, while retaining the wholesome nutritional benefits of 100% whole wheat. If you can only find regular whole wheat flour, I recommend making this recipe with half all-purpose white flour. Or, if you don't care about whole wheat pancakes at all, you may certainly make this recipe with only all-purpose white flour.
Different stovetops (or electric griddles) heat differently. So if you're unsure of the best pancake-cooking temperature for your stove, start at medium heat and increase/decrease the heat accordingly, depending on how quickly your pancakes are cooking.
Calories:
248
kcal
|
Carbohydrates:
35
g
|
Protein:
8
g
|
Fat:
10
g
|
Saturated Fat:
5
g
|
Cholesterol:
62
mg
|
Sodium:
241
mg
|
Potassium:
512
mg
|
Fiber:
4
g
|
Sugar:
10
g
|
Vitamin A:
350
IU
|
Vitamin C:
2.6
mg
|
Calcium:
178
mg
|
Iron:
1.5
mg