Homemade Pumpkin Butter is a healthy, creamy, easy-to-make spread that's delicious slathered on toast and waffles or stirred into oatmeal and smoothies!

It  should come as no surprise that the Homemade Pumpkin Puree I shared earlier this week has since been transformed into Homemade Pumpkin Butter. Not all of it, actually…I froze a baggie of puree for future pie-making merriment, but then I decided to turn the rest of it into this yummy, lightly-spiced, all-natural spread!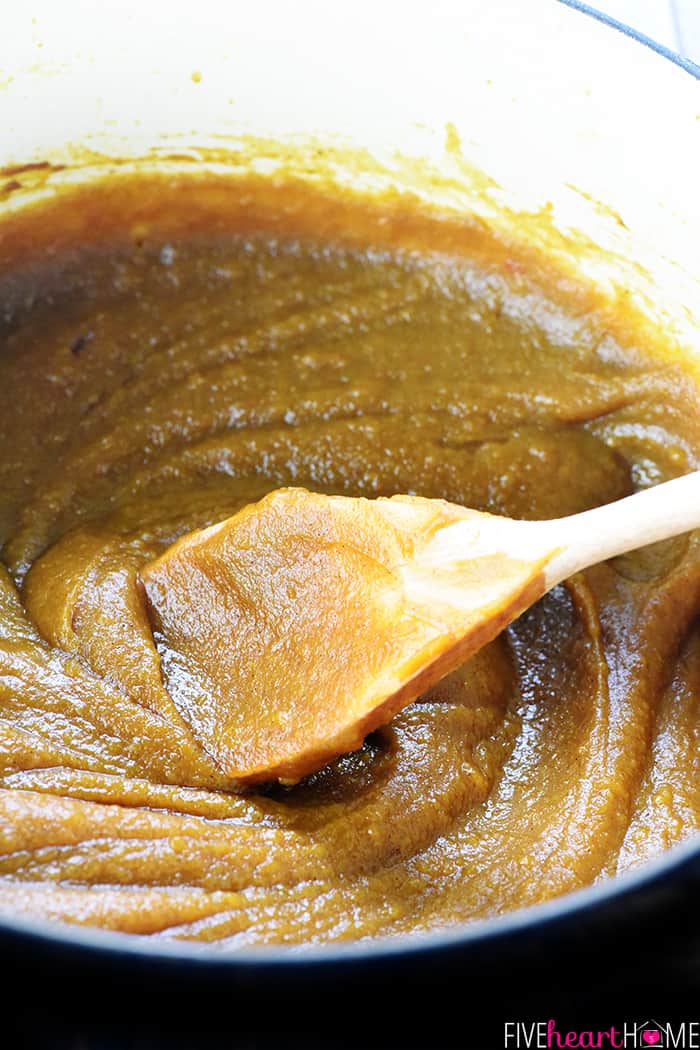 Right about now, you may be wondering what the difference is between pumpkin puree and pumpkin butter? Well, I'm so glad you asked. 😉 Pumpkin puree is 100% pure pumpkin…just cooked and mashed/whipped/blended into a smooth puree with no additional ingredients.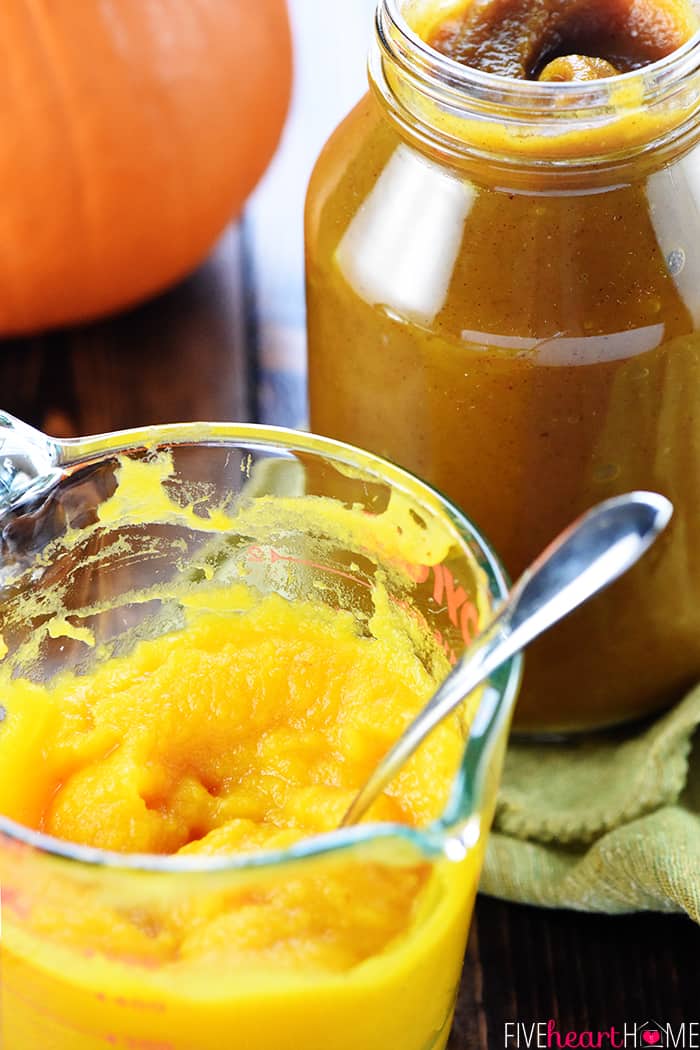 Pumpkin butter, on the other hand, is pumpkin puree that has been combined with a variety of other goodies — such as maple syrup for unrefined sweetness and cinnamon and spices for flavor — and then simmered and reduced until thick and creamy.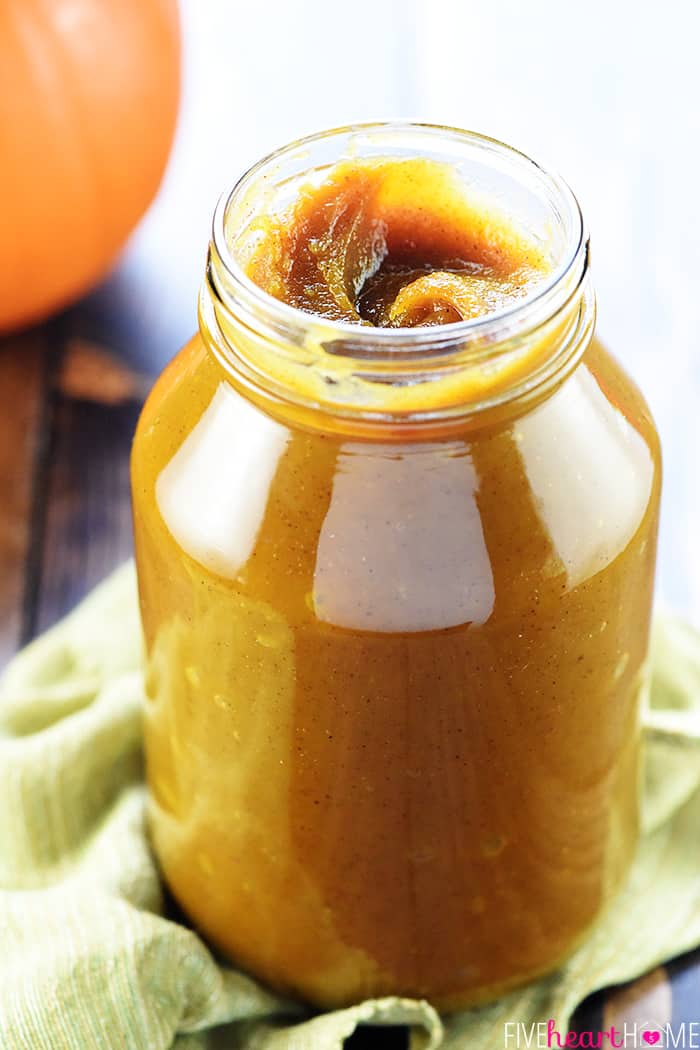 They're both delicious, of course, but because of its silky texture and already sweetened status, Homemade Pumpkin Butter can be enjoyed in so many tasty applications. Allow me to enumerate a few…
spread on toast or biscuits
slathered on waffles or pancakes
blended into egg custard for French toast
stirred into oatmeal or Greek yogurt
whipped into smoothies
baked into cookies, muffins, or cakes
smeared onto baked Brie
as a dip for fresh fruit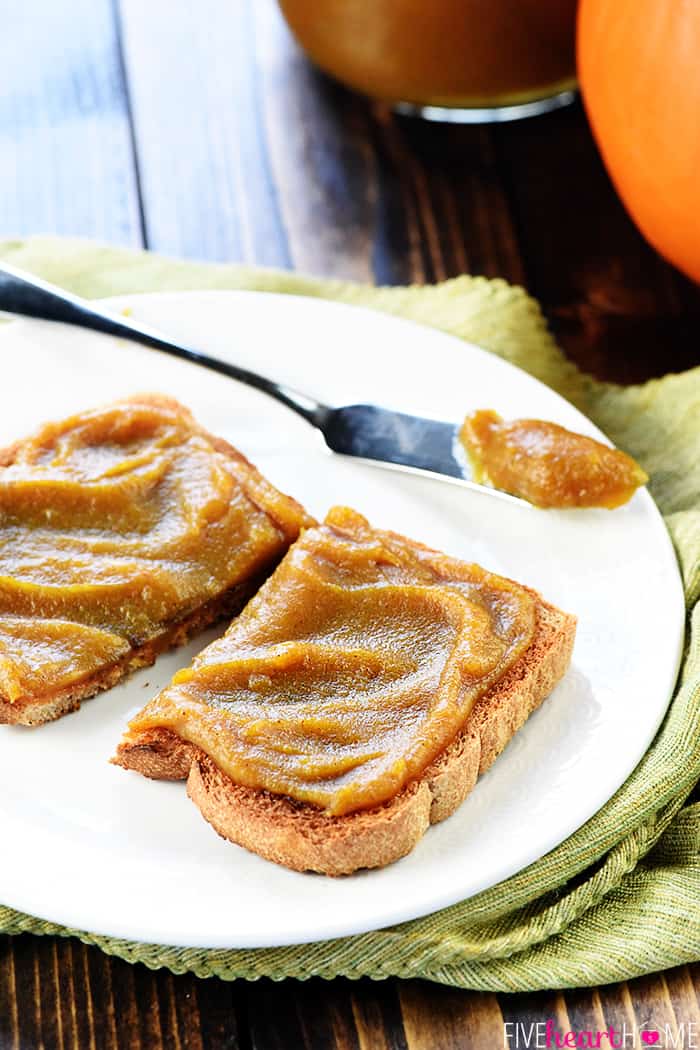 Inspired, I hope? Get as creative as you like, though…the possibilities are endless!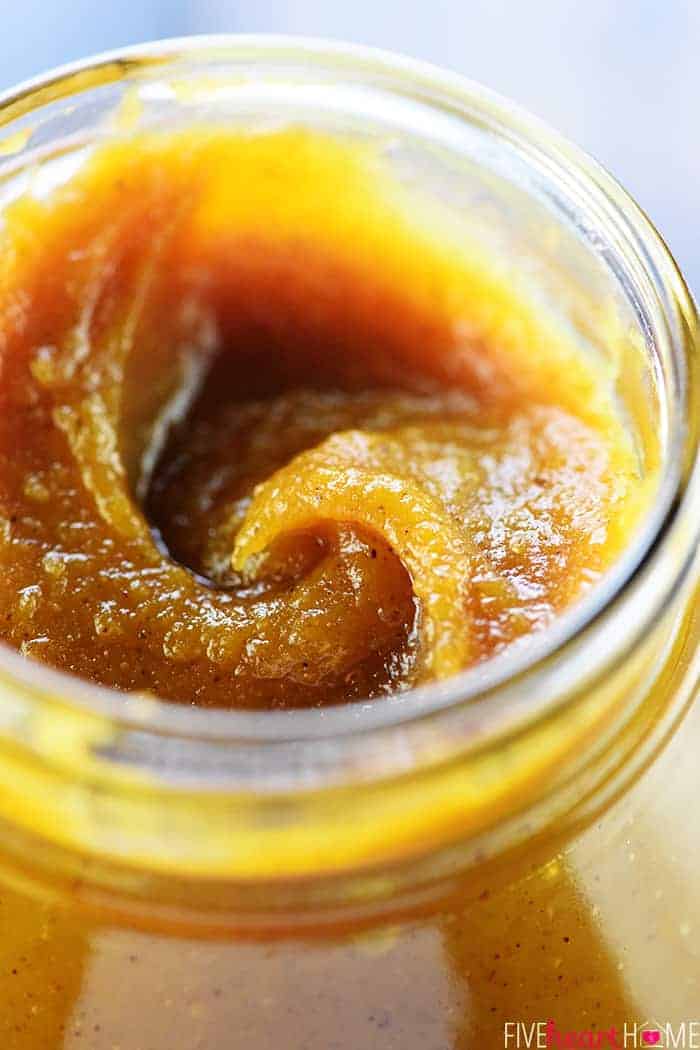 So are you pumpkined-out yet? I try not to get ahead of myself with the seasons, and since I have this self-imposed rule that pumpkin should be appropriately enjoyed from September 1st through the end of November, I say that Homemade Pumpkin Butter is fair game for another month yet! If you happen to agree, I hope you have a chance to add this tasty fall recipe to your repertoire soon. 🙂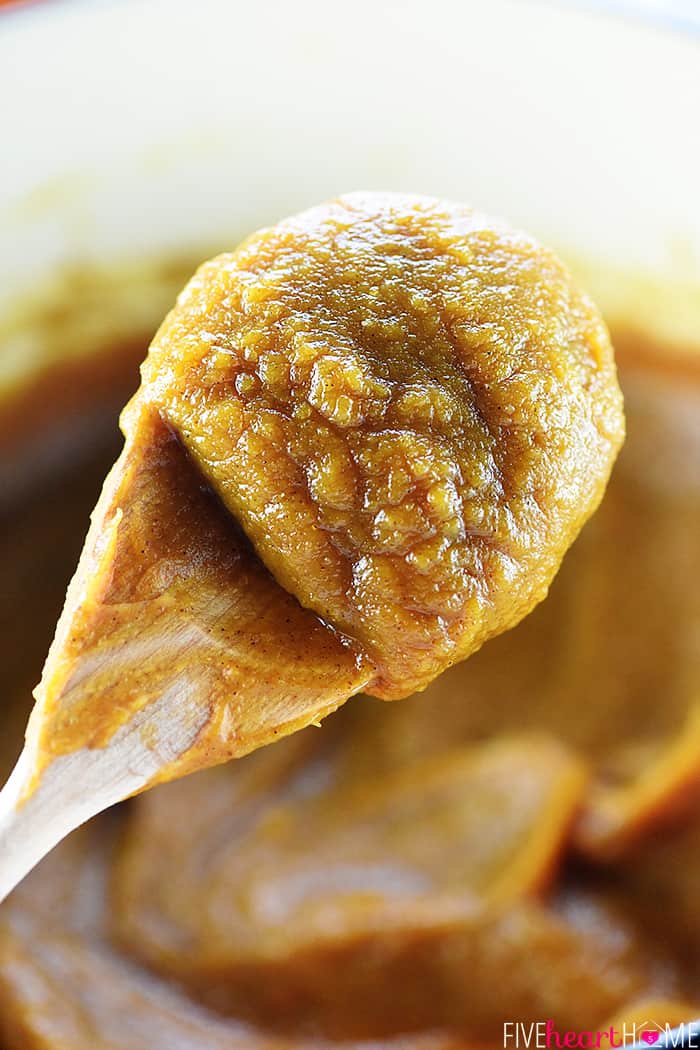 Helpful Tips, Tricks, & Equipment
(some affiliate links below)
You can make Homemade Pumpkin Butter using homemade or canned pumpkin puree. 3 1/2 cups of fresh/homemade pumpkin puree is approximately equivalent to 2 (15-ounce) cans of store-bought pumpkin puree.
You may use unsweetened apple juice, apple cider, or water for the added liquid in this recipe. The apple juice/cider give another fall layer of flavor, and the final product does not end up tasting "apple-y." However, you can use water instead, if you wish.
I decided to sweeten this pumpkin butter recipe with 100% maple syrup to keep it free of refined sugars. If you prefer sweeter pumpkin butter, feel free to add a bit more maple syrup (or about 1/4 cup of brown sugar). On the other hand, if you use sweetened apple juice or cider, you may want to slightly reduce the maple syrup.
The spices may be tweaked to taste as well.
The lemon juice adds a brightness without actually being able to taste it. However, you may omit it if you don't have any.
This Homemade Pumpkin Butter splatters a lot at the beginning. I recommend making it in a big/deep pot (I used my favorite Dutch oven) and leaving the lid askew in between stirring to minimize splatters while still allowing steam to escape. The heat of the stove should be just enough the keep it bubbling, but it shouldn't be at a rapid boil. As the pumpkin butter cooks and thickens, the splattering should lessen.
Total cooking time will depend on how watery your pumpkin puree was to start, and how thick you'd like your final pumpkin butter to be.
FDA guidelines deem it unsafe to can pumpkin butter. That being said, it's okay to freeze it.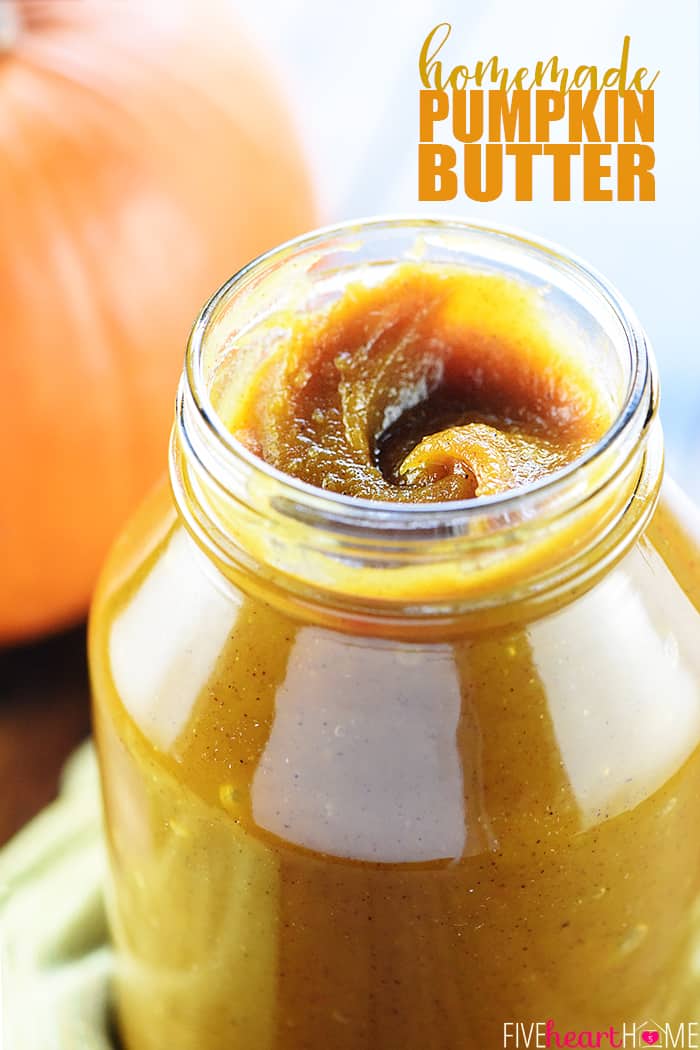 Homemade Pumpkin Butter is a healthy, creamy, easy-to-make spread that's delicious slathered on toast and waffles or stirred into oatmeal and smoothies!
Ingredients
3 1/2 cups fresh Homemade Pumpkin Puree OR 2 (15-ounce) cans pumpkin puree
3/4 cup unsweetened apple juice/apple cider OR water
2/3 cup pure maple syrup
2 teaspoons ground cinnamon
1/2 teaspoon ground nutmeg
1/2 teaspoon ground ginger
1/4 teaspoon ground allspice
1/4 teaspoon salt
1/8 teaspoon ground cloves
1 1/2 teaspoons lemon juice
1/2 teaspoon pure vanilla extract
Instructions
In a large, deep pot set over medium heat, combine the pumpkin puree, apple juice, maple syrup, cinnamon, nutmeg, ginger, allspice, salt, and cloves. Bring to a low simmer and cook, stirring frequently, for 30 to 45 minutes or until thickened to your desired consistency. (In between stirring, partially cover the pot with the lid to minimize splattering while allowing steam to escape.) Stir in the lemon juice and vanilla.
Allow to cool a bit before transferring to an airtight container and storing in the refrigerator.
https://www.fivehearthome.com/homemade-pumpkin-butter-recipe/
https://www.fivehearthome.com ~ All recipes and images on Five Heart Home are copyright protected. Please do not use without my permission. If you would like to feature this recipe, please rewrite the directions in your own words and give proper attribution by linking back to this blog.
♥ Recipes to enjoy with pumpkin butter…
Oatmeal Spice Muffins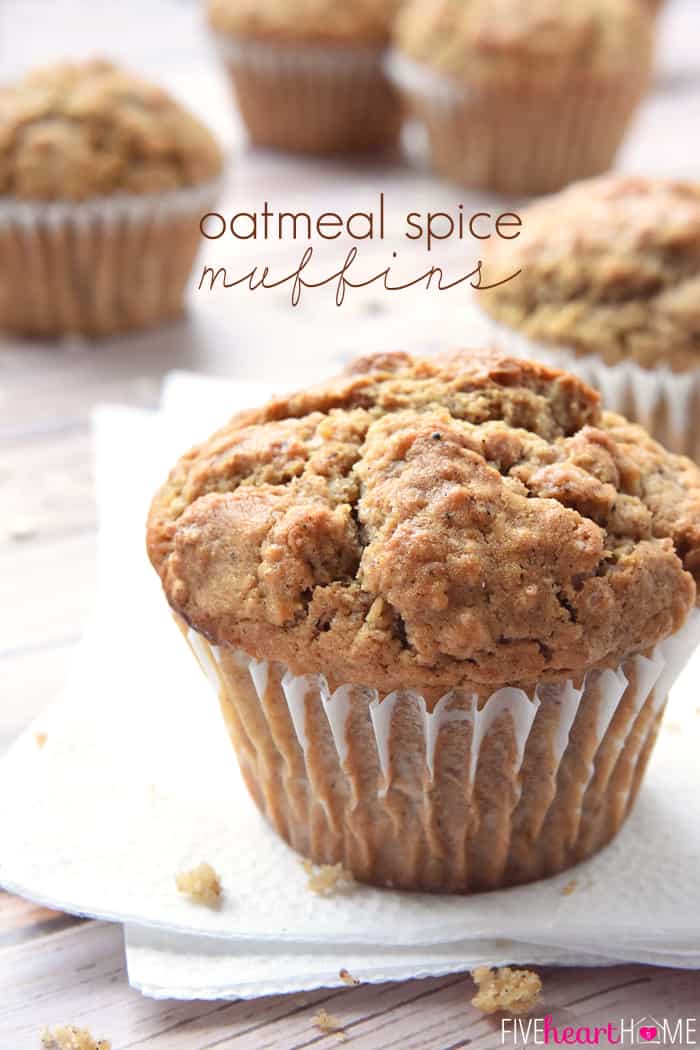 Quick & Easy Pumpkin Oatmeal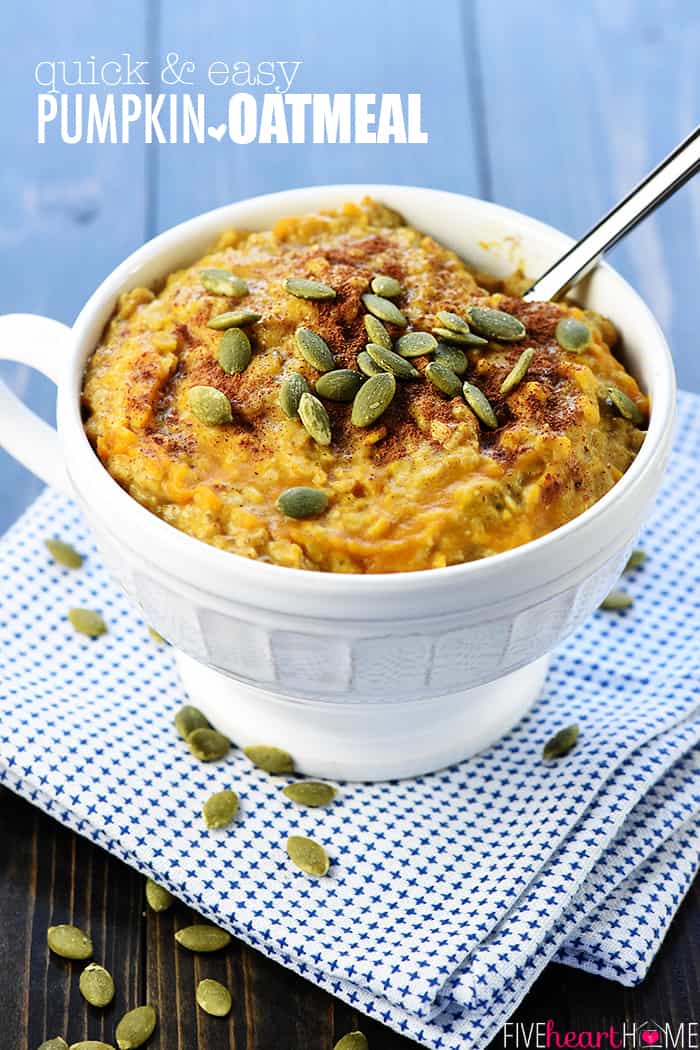 Pumpkin Pie Smoothie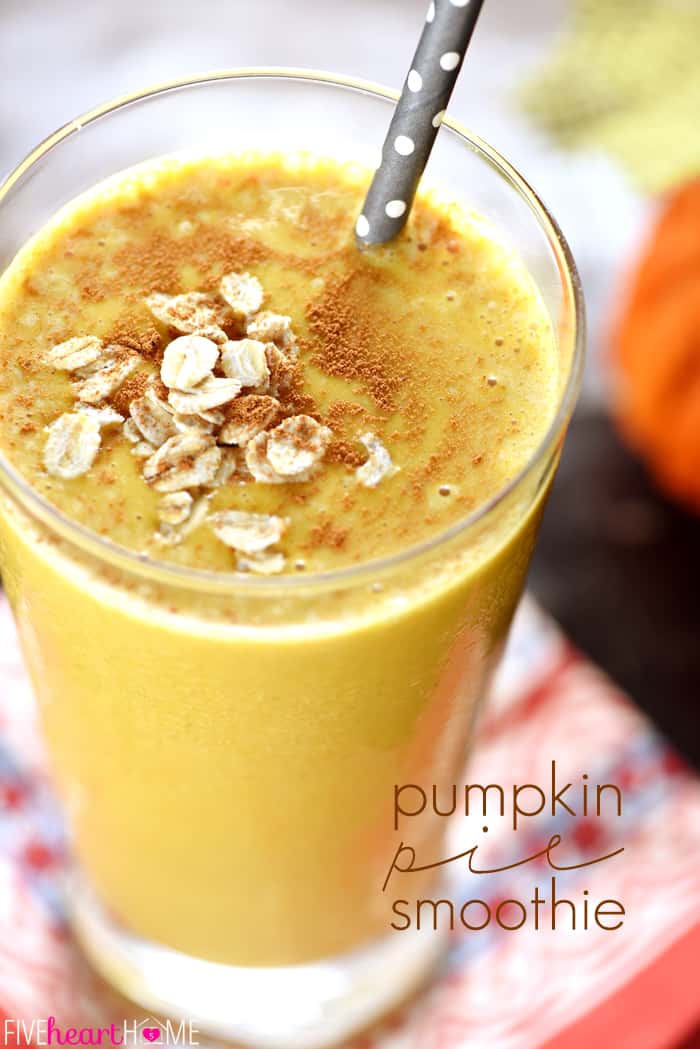 Whole Wheat Pumpkin Spice Waffles {Dairy-Free}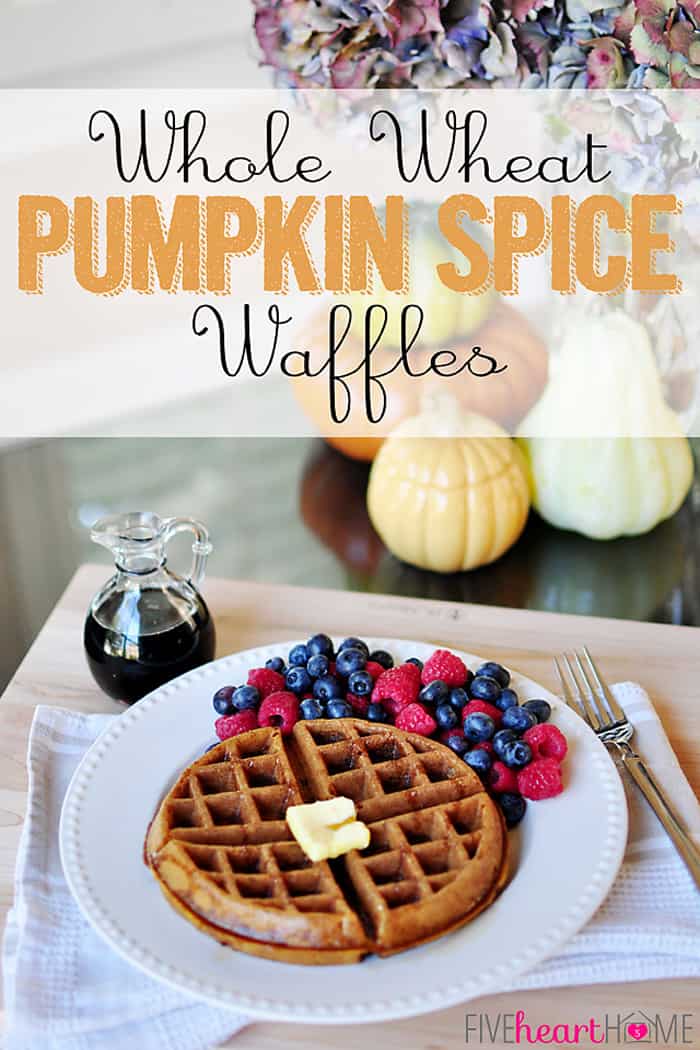 21