Quick & Easy Pumpkin Oatmeal is a healthy, yummy fall breakfast recipe sweetened with a touch of maple syrup and topped with roasted pumpkin seeds!

Big news from outta' central Texas, folks…it's the beginning of September and it was in the 50s when we woke up this morning. Furthermore, the high today is only going to reach 85°F! Seriously, it feels like fall, and I don't recall ever saying that so early in the year. September is usually still blazing hot summer around here, and it typically doesn't cool down until November or so. In fact, the kids sweat through their Halloween costumes more often than not. All of that to say, this morning was the PERFECT occasion for a fall-worthy breakfast of Quick & Easy Pumpkin Oatmeal!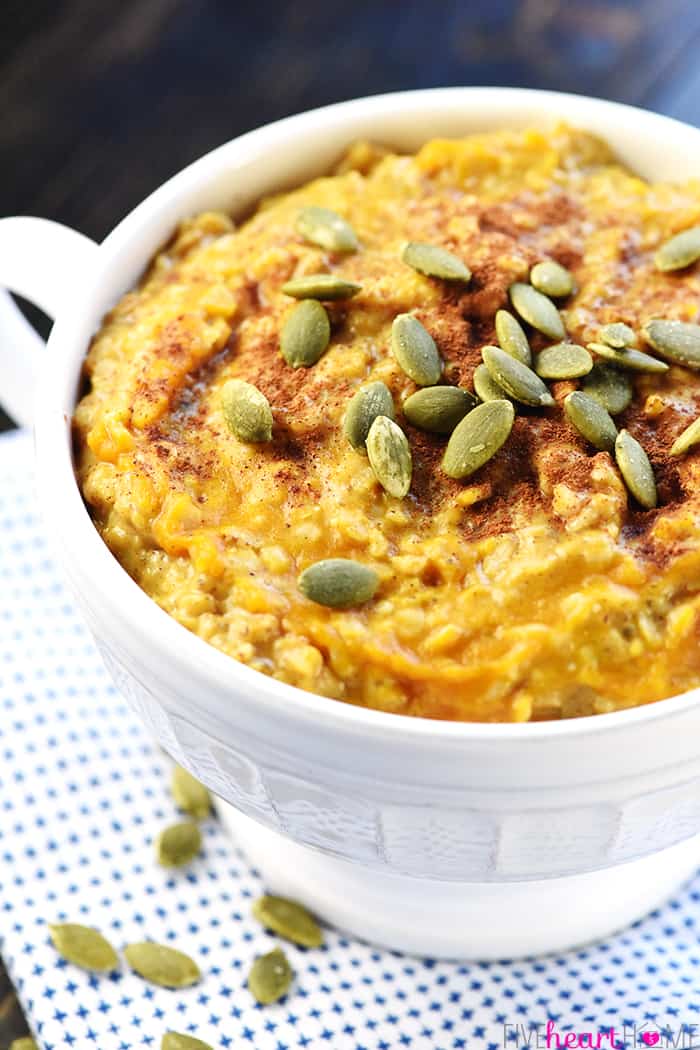 Y'all may have gathered that I have a thing for pumpkin oatmeal, seeing as how I've previously shared recipes for Pumpkin Baked Oatmeal with Maple & Pecans and Slow Cooker Overnight Pumpkin Oatmeal. And both of those are fabulous for throwing together ahead of time and/or feeding a crowd.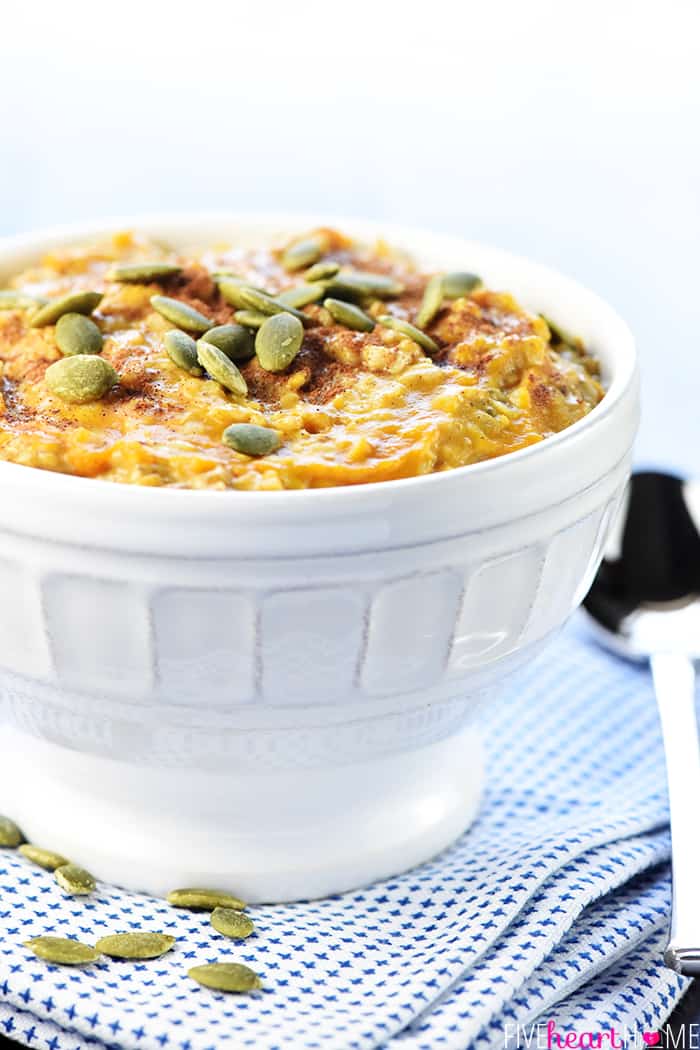 But what if you only need a bowl or two of pumpkin oatmeal? And what if you have a few minutes to whip it up just before enjoying it? Well, my friends…that's where Quick & Easy Pumpkin Oatmeal comes in!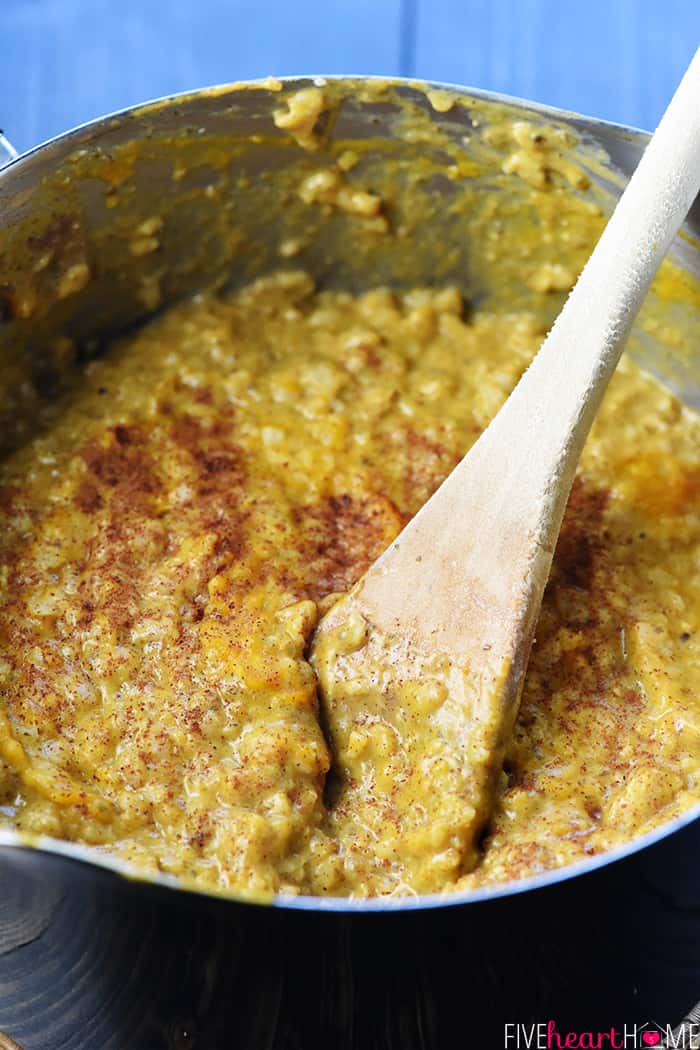 This recipe actually evolved from my oh-so-popular Quick Peanut Butter & Banana Oatmeal. Earlier this year, I did a spring spin on that recipe with Easy Strawberries & Cream Oatmeal. So it only seems natural that I'd apply the same simple technique with fall-worthy ingredients like pumpkin, cinnamon and spices, and maple syrup. I also added a bit of almond butter for depth of flavor and protein and a spoonful of chia seeds for vitamins, calcium, and fiber.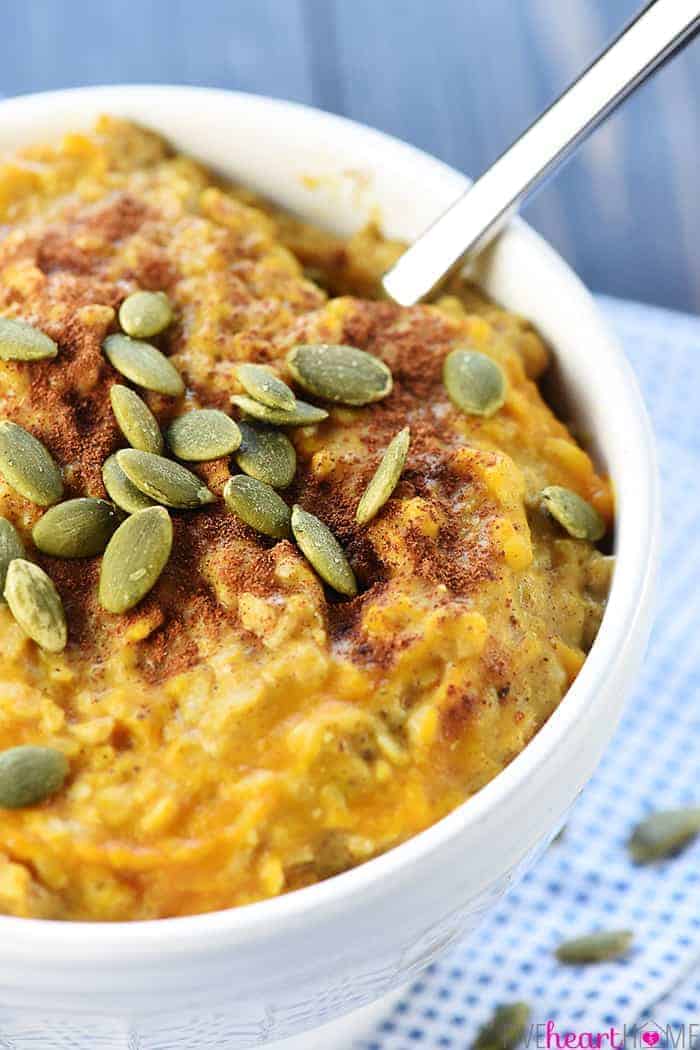 I originally thought I'd garnish my pumpkin oatmeal with nuts, but then it occurred to me that I could use toasted pumpkin seeds (pepitas) instead! The salty crunch they add to the sweet, creamy oatmeal is perfection.
When my middle child smelled this oatmeal cooking the other day, he excitedly asked, "Is this the time of year when you make lots of stuff with pumpkin???" Why yes, my child, it is. Cooking and baking with pumpkin feels "right" to me from about September through November, so the time is short and I have much to squeeze in. We'll be enjoying pumpkin everything for the next few months around here…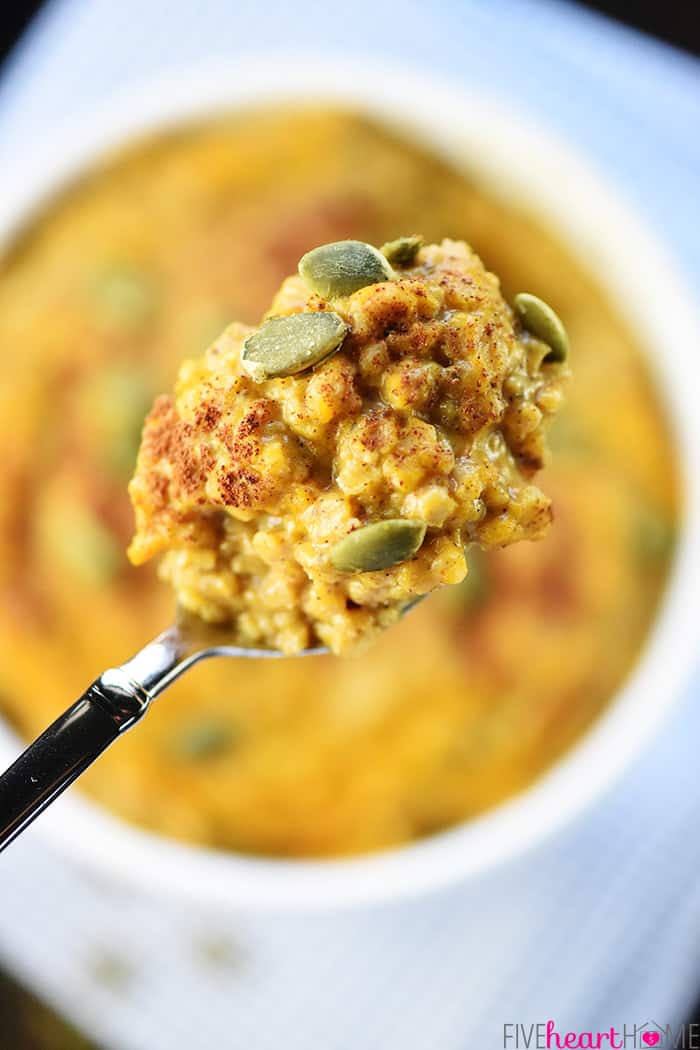 Are you excited about the impending arrival of fall? Are you a pumpkin aficionado as well? Do you appreciate quick, wholesome breakfasts that taste delicious and provide fuel to keep you going all morning long? If so, join me for a bowl of Quick & Easy Pumpkin Oatmeal! And hurry…because (unfortunately) it's going to be 95°F again before we know it. 😉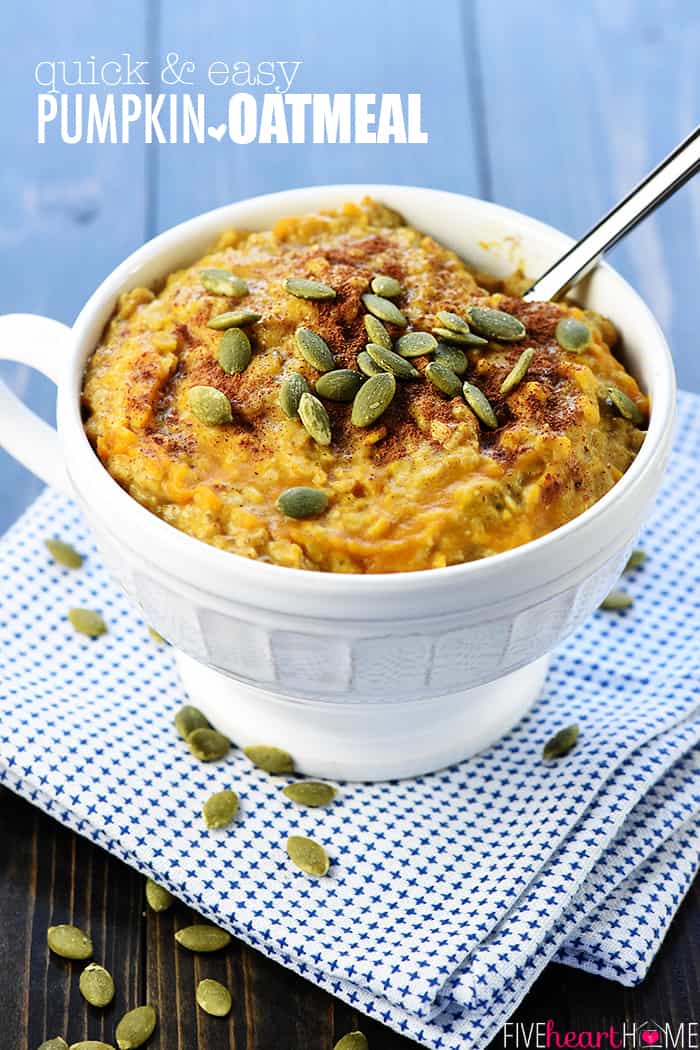 Quick & Easy Pumpkin Oatmeal
Quick & Easy Pumpkin Oatmeal is a healthy, yummy fall breakfast recipe loaded with pumpkin, almond butter, chia seeds, and cinnamon & spices, sweetened with a touch of maple syrup, and topped with roasted pumpkin seeds!
Ingredients
1 3/4 cups milk
1 cup quick oats
3/4 cup pure pumpkin puree
1 tablespoon almond butter (optional)
1 tablespoon chia seeds
1 teaspoon ground cinnamon
Pinch of ground nutmeg
Pinch of ground allspice
Pinch of salt
1/4 teaspoon pure vanilla extract
1 to 2 tablespoons maple syrup (or more, to taste)
Roasted pumpkin seeds, for garnish
Instructions
In a medium saucepan set over medium heat, bring milk to a boil, watching carefully so that it doesn't boil over. Stir in oats, reduce heat to a simmer, and cook for 1 to 2 minutes, stirring occasionally. Remove from heat and cover for a few minutes. Stir in pumpkin, almond butter, chia seeds, cinnamon, nutmeg, allspice, salt, and vanilla. Stir in maple syrup, to taste. Top with extra cinnamon and roasted pumpkin seeds before serving.
Notes
Feel free to adjust the quantities as you wish, adding extra almond butter, chia seeds, cinnamon, and/or maple syrup, to taste.
https://www.fivehearthome.com/quick-easy-pumpkin-oatmeal-fall-breakfast-recipe/
https://fivehearthome.com ~ All recipes and images on Five Heart Home are copyright protected. Please do not use without my permission. If you would like to feature this recipe, please rewrite the directions in your own words and give proper attribution by linking back to this blog.
♥More pumpkin goodies…

Pumpkin Bread & Chocolate Muffins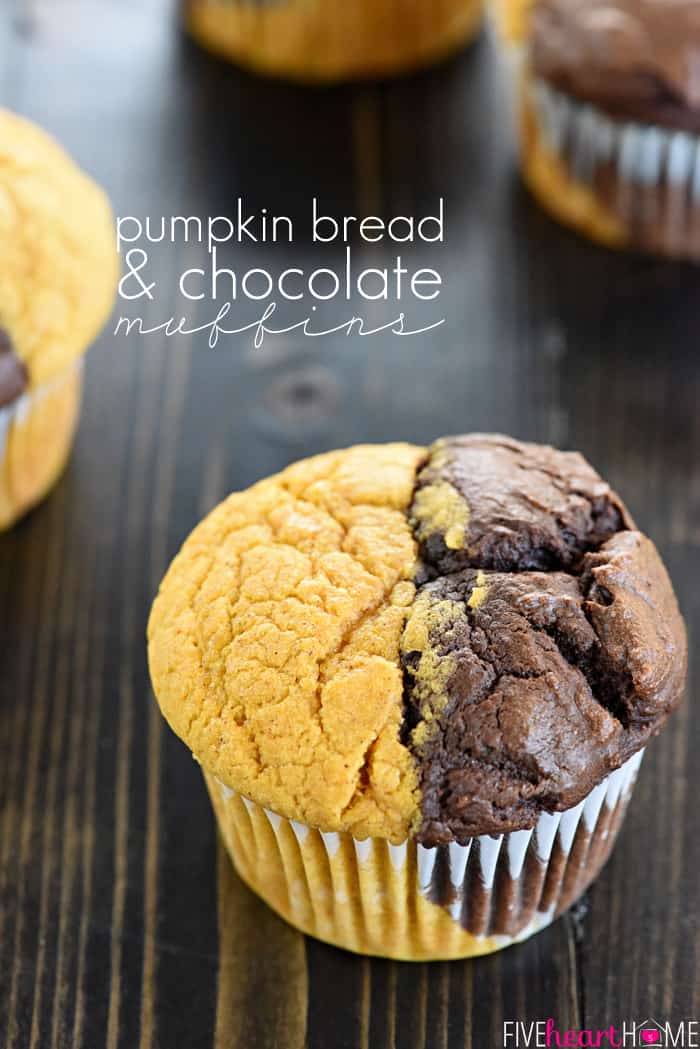 Pumpkin Gingersnap Icebox Cake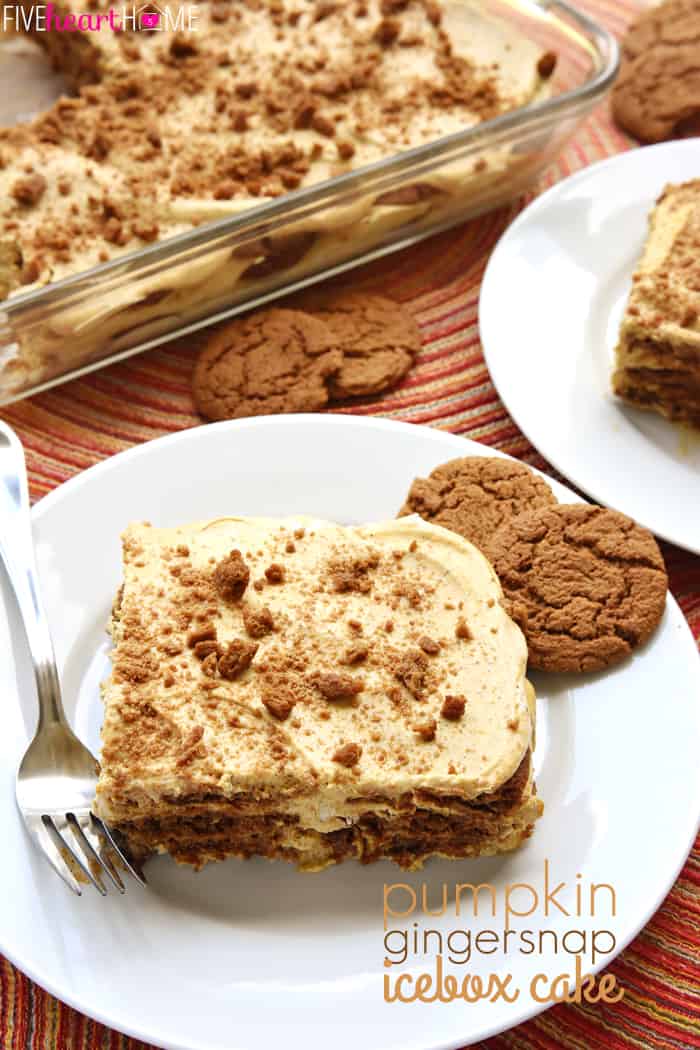 Pumpkin Pie {Healthy Oat} Smoothie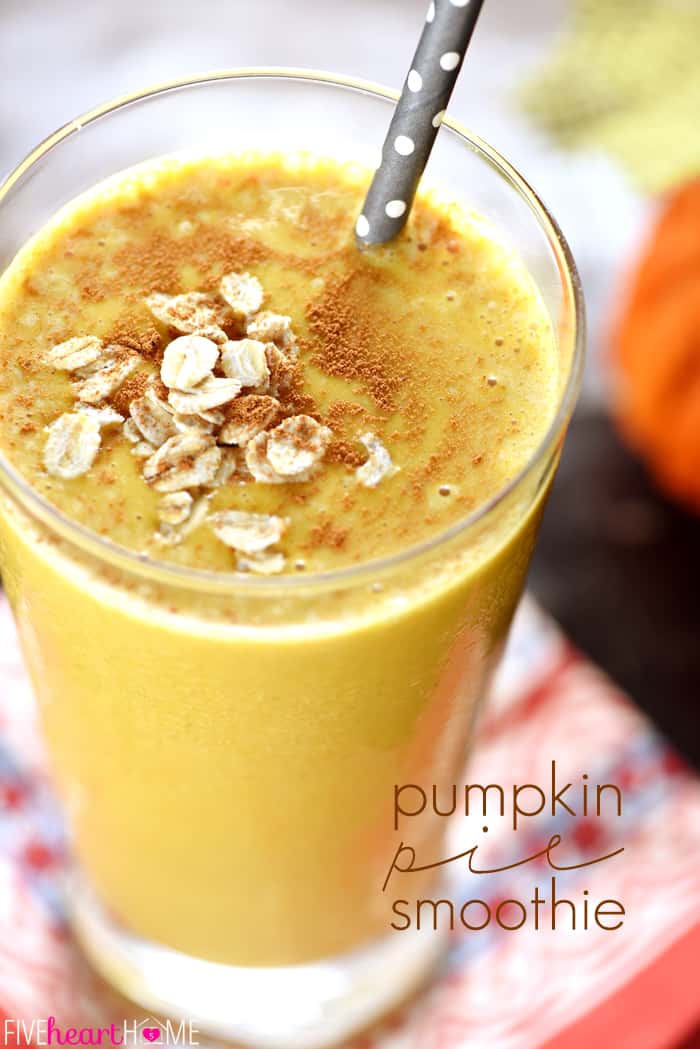 Pumpkin Scones with Brown Butter Glaze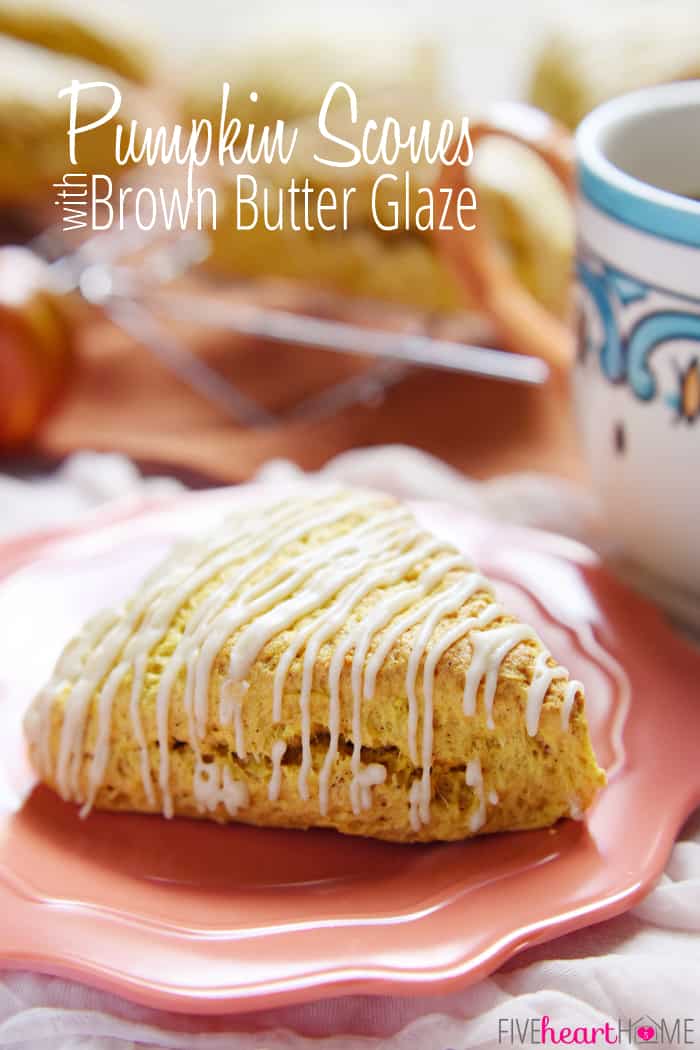 Save
Save
13