Apple Pie Snack Cups layer graham cracker crumbs, diced apples, applesauce, and whipped cream for a healthy snack or dessert that tastes just like apple pie!

I'm very excited to welcome my middle child as he takes over the blog today for
his first (and Five Heart Home's second) Kids in the Kitchen Guest Post! ♥

But I also like to help in the kitchen, so I'm excited to make these Apple Pie Snack Cups for you today!
This past summer, I went to Vacation Bible School and one day we had really good snacks made of graham crackers, apples, applesauce, and whipped cream. The kids got to help make the snacks.
First we crushed graham crackers in our hands, put the crumbs in a cup, and put chopped apples on top. Then we scooped some applesauce from a little plastic cup on top of the apples. And then we squirted whipped cream on top of the applesauce. It tasted really good! I was really surprised that it tasted just like apple pie!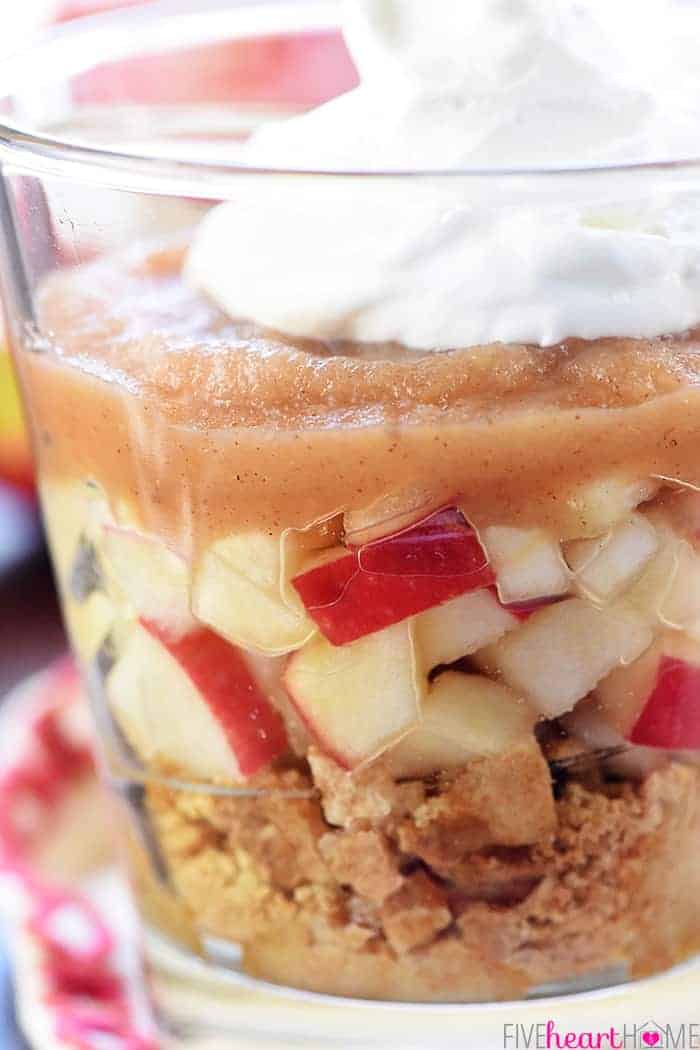 My brother didn't go to VBS this year, but when I got home and told him about the Apple Pie Snack Cups, he wanted to try one. So I showed him how to make it. And then when my mom asked if I'd like to do a Kids in the Kitchen Guest Post, I thought this would be a good recipe to share on her blog!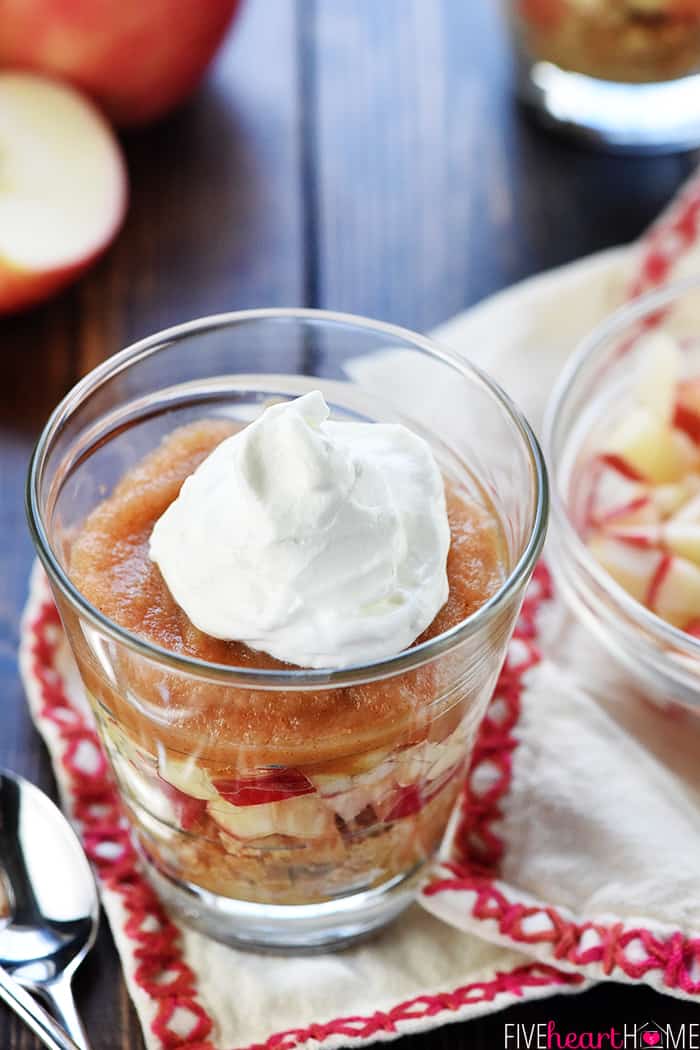 This recipe is fun and easy for kids to make. Kids can help crush the graham crackers. Just put a graham cracker in a plastic baggie and hit it with the flat side of a meat mallet. Or you could use a rolling pin to crush it, or you could break the graham cracker with your fingers. But I like using a mallet because it is easier to smash the cracker and it's fun to hit it!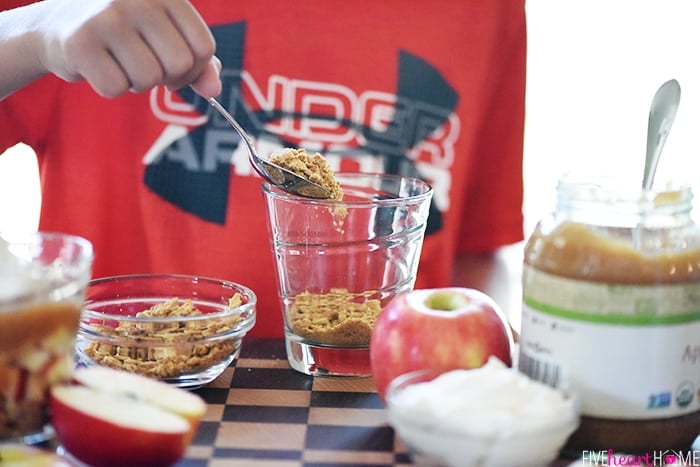 I made the whipped cream for this recipe by putting some heavy cream in a big bowl and beating it with an electric mixer. I had to hold the bowl and keep the beaters down the whole time or the whipped cream would have gone everywhere and made a big mess! I also added a little powdered sugar and vanilla. It took about five minutes to whip the cream. But if you don't want to whip your own cream, you can buy the kind that squirts out of a can.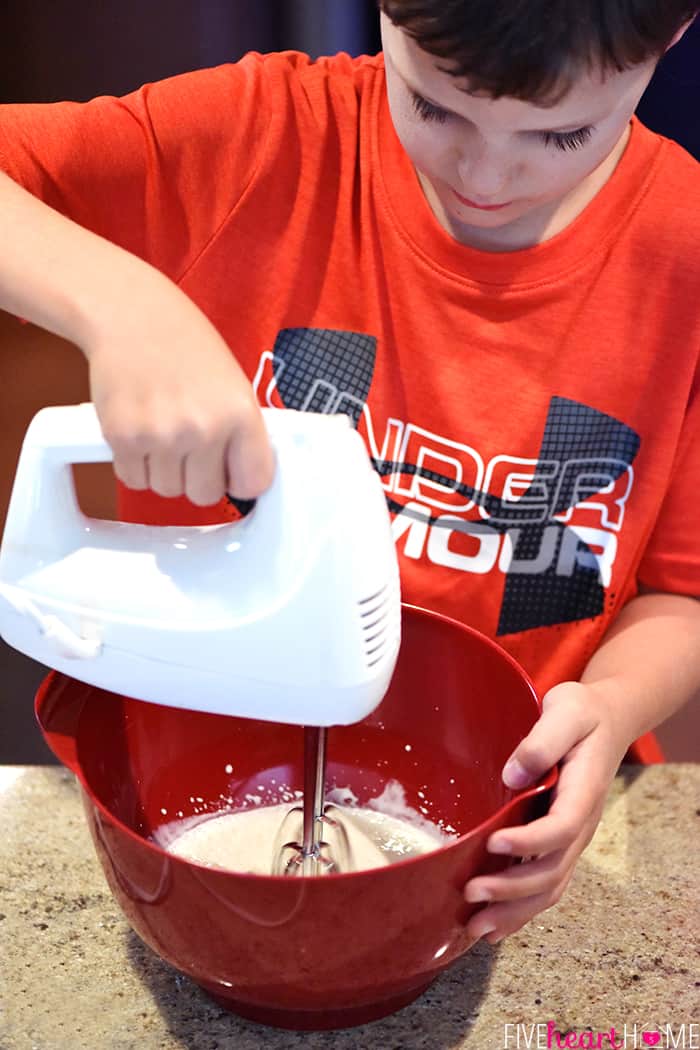 Next I needed my mom's help to chop an apple into small pieces. Kids can cut their fingers with a knife, so it's important to have a grown-up chop the apple. If you're not going to eat your Apple Pie Snack Cup right away, you can put some lemon juice on the apple pieces so they don't turn brown.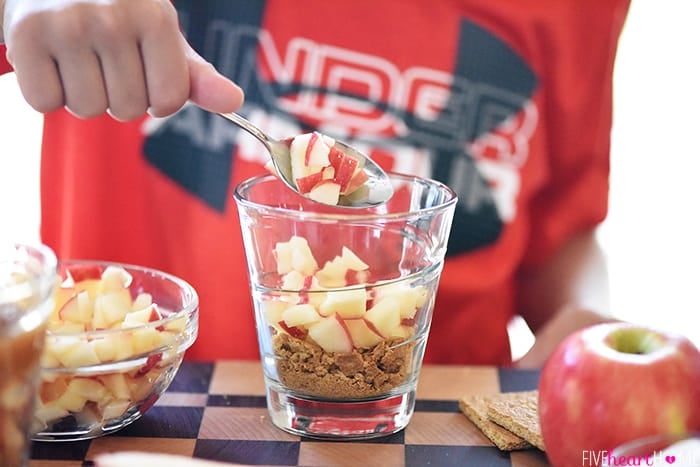 I didn't make the applesauce for this recipe. I just got a jar of unsweetened cinnamon applesauce out of the pantry. I picked cinnamon applesauce instead of plain applesauce because I think it makes the whole thing taste more like real apple pie. If you don't have cinnamon applesauce, you could just sprinkle some cinnamon on top of regular applesauce.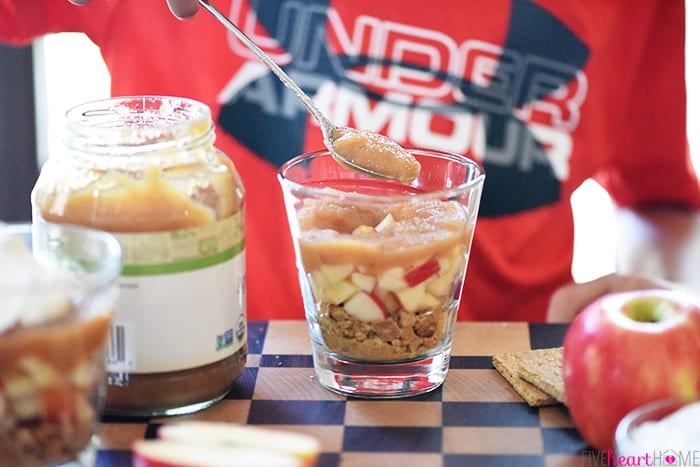 Finally it was time to layer the ingredients in a cup: graham cracker crumbs, diced apple pieces, applesauce, and whipped cream.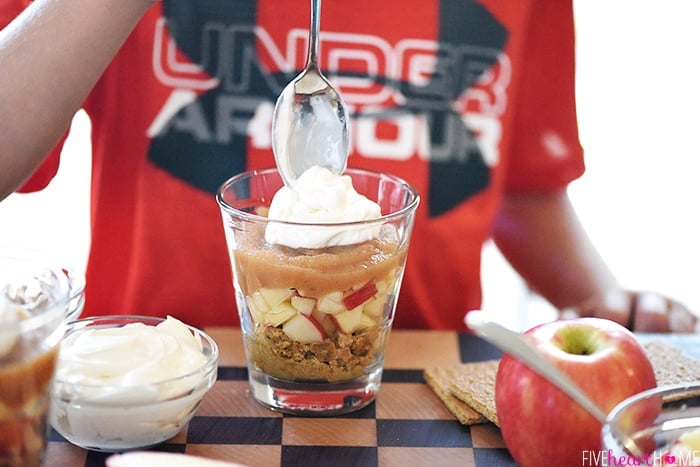 After my mom took some pictures, I ate my Apple Pie Snack Cup. It was so good!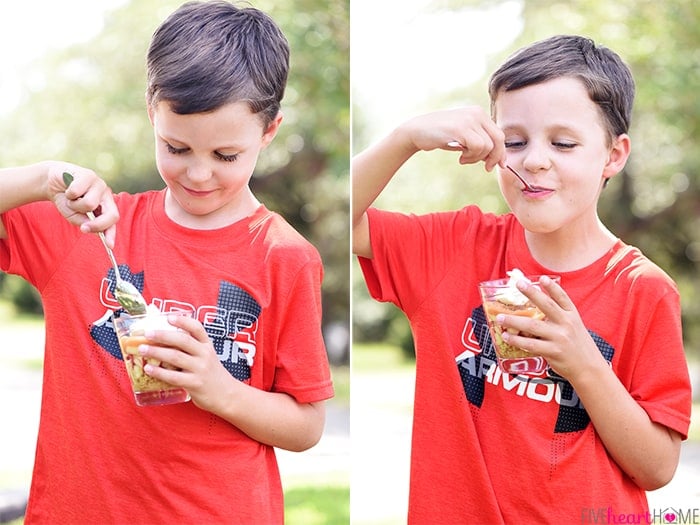 I think you should try this recipe because it has healthy ingredients like apples and applesauce. It makes a great after-school snack, but it's also a good treat or dessert. You could even eat it for breakfast! But my mom probably would not let me put the whipped cream on top for breakfast.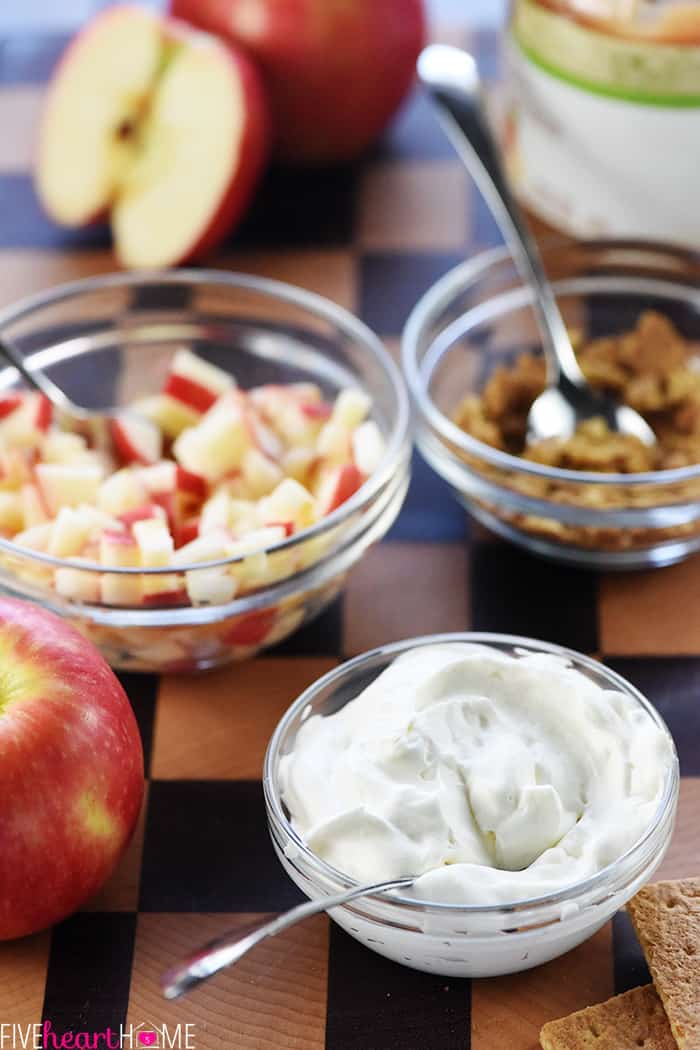 You won't believe how much an Apple Pie Snack Cup tastes like apple pie! Have fun trying it! Thank you for reading!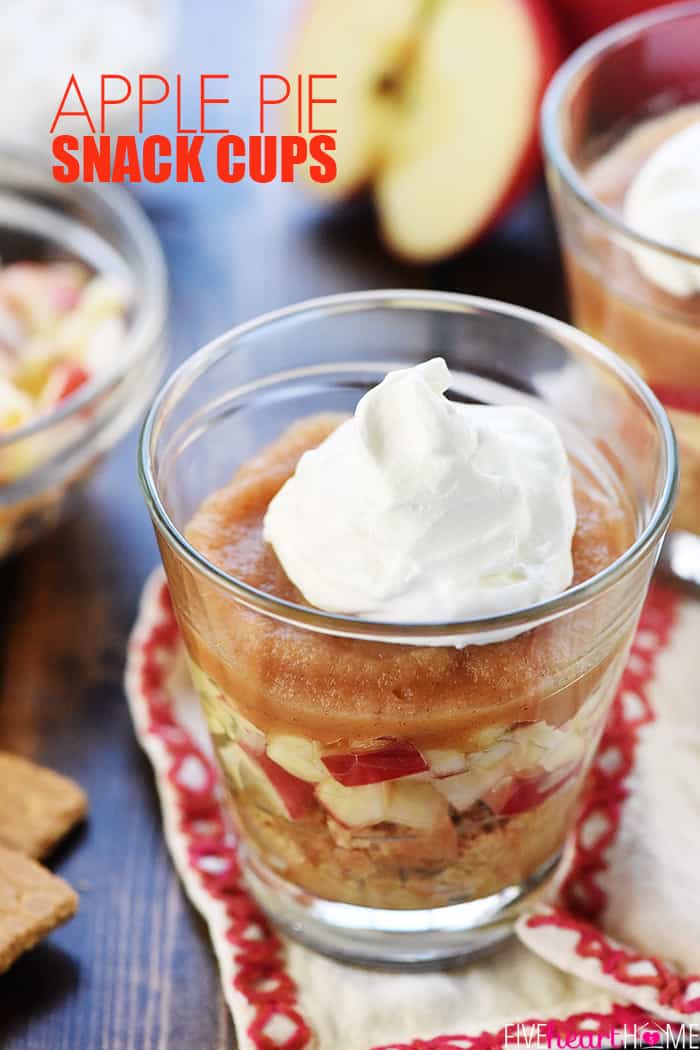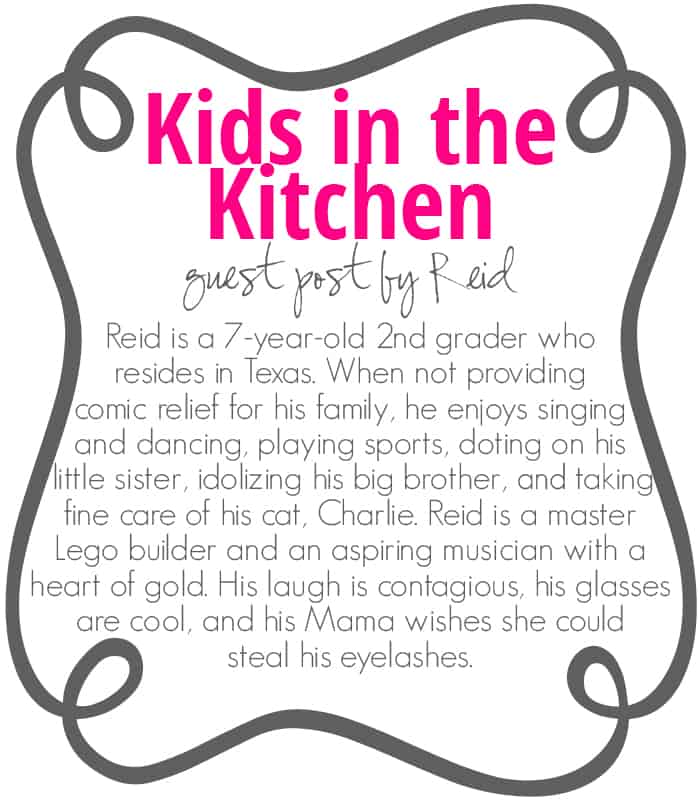 Apple Pie Snack Cups layer graham cracker crumbs, diced apples, applesauce, and whipped cream for a healthy snack or dessert that tastes just like apple pie!
Ingredients
1 graham cracker
1/2 small apple, diced
3 to 4 tablespoons unsweetened cinnamon applesauce
Dollop of whipped cream
Instructions
Crush or break the graham cracker into coarse crumbs and place in the bottom of a small cup or bowl. Layer the diced apples on top. Spread applesauce on top of the apples and top with a dollop of whipped cream, if desired. Serve immediately.
Notes
You can put the graham cracker in a plastic baggie and gently bash it with a rolling pin or the flat side of meat mallet. Or you may break and crush the graham cracker with your hands.
Use your favorite type of apple. If you need to dice it ahead of time, you can toss the pieces with a little lemon juice to keep them from browning too quickly.
You may use regular applesauce instead of cinnamon. You can stir some cinnamon into it or not.
To make fresh whipped cream, pour about 1/2 cup of heavy whipping cream, 1/2 teaspoon vanilla, and 1 to 2 tablespoons powdered sugar into a bowl. Use an electric mixer on low to combine, then beat on medium-high to high speed until stiff peaks just form. Store leftover whipped cream in an airtight container in the fridge. Alternatively, you may use spray whipped cream from a can or omit the whipped cream altogether.
https://www.fivehearthome.com/apple-pie-trifle-snack-cup-recipe/
https://fivehearthome.com ~ All recipes and images on Five Heart Home are copyright protected. Please do not use without my permission. If you would like to feature this recipe, please rewrite the directions in your own words and give proper attribution by linking back to this blog.
♥More after-school snack ideas…

Oatmeal Peanut Butter Energy Bars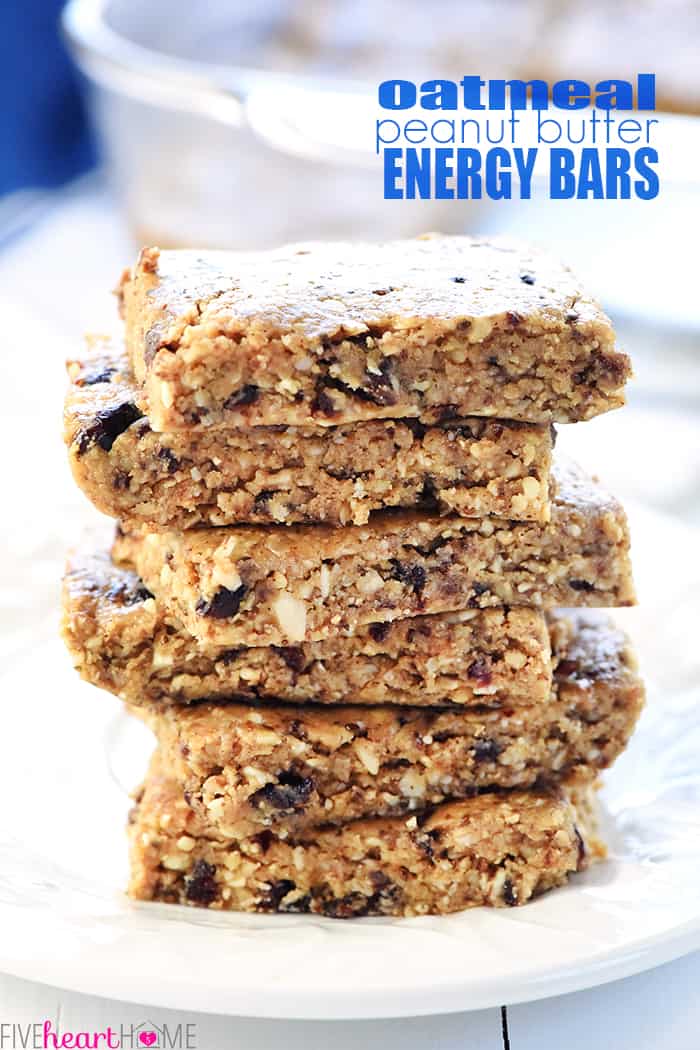 Healthy Copycat Dole Whip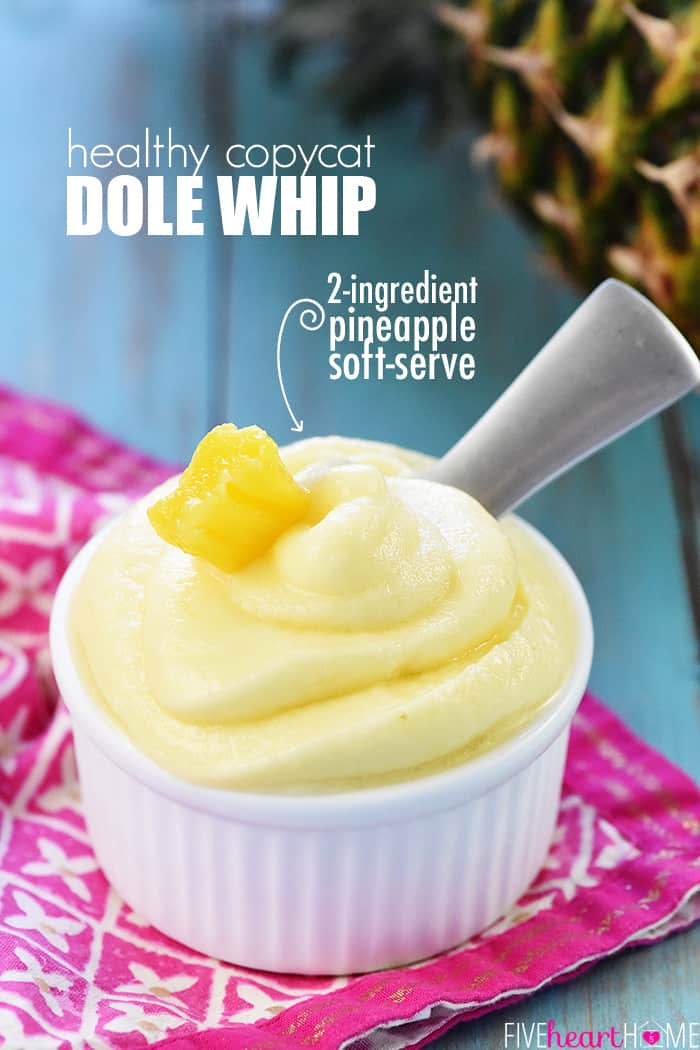 Fruit & Mozzarella Skewers with Honey Lime Drizzle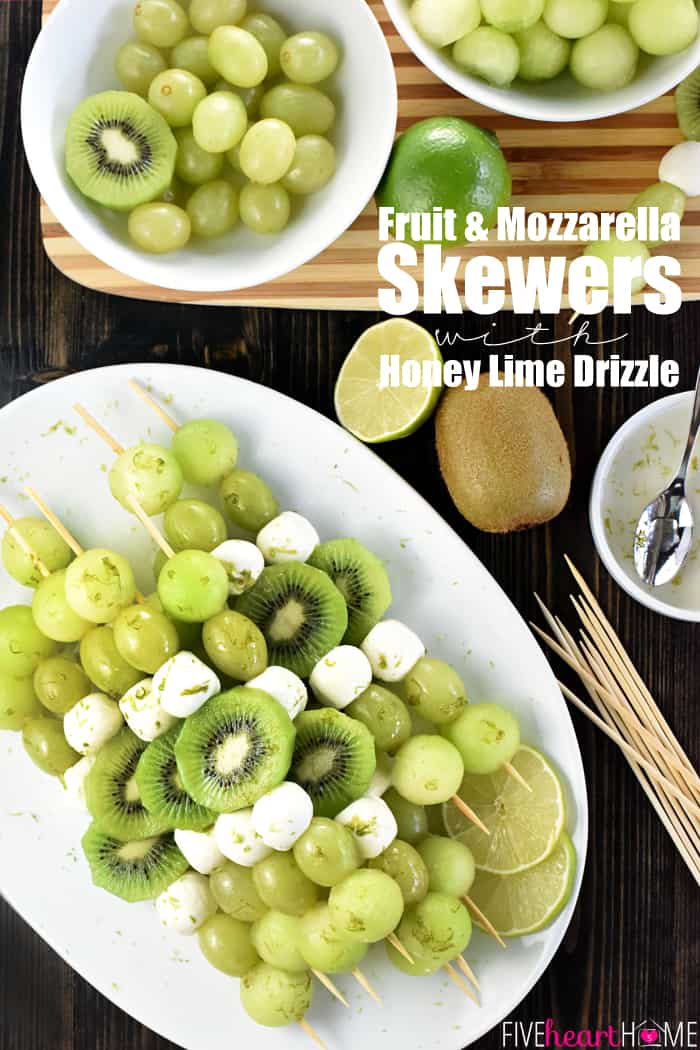 Soft-Baked Banana Oatmeal Bars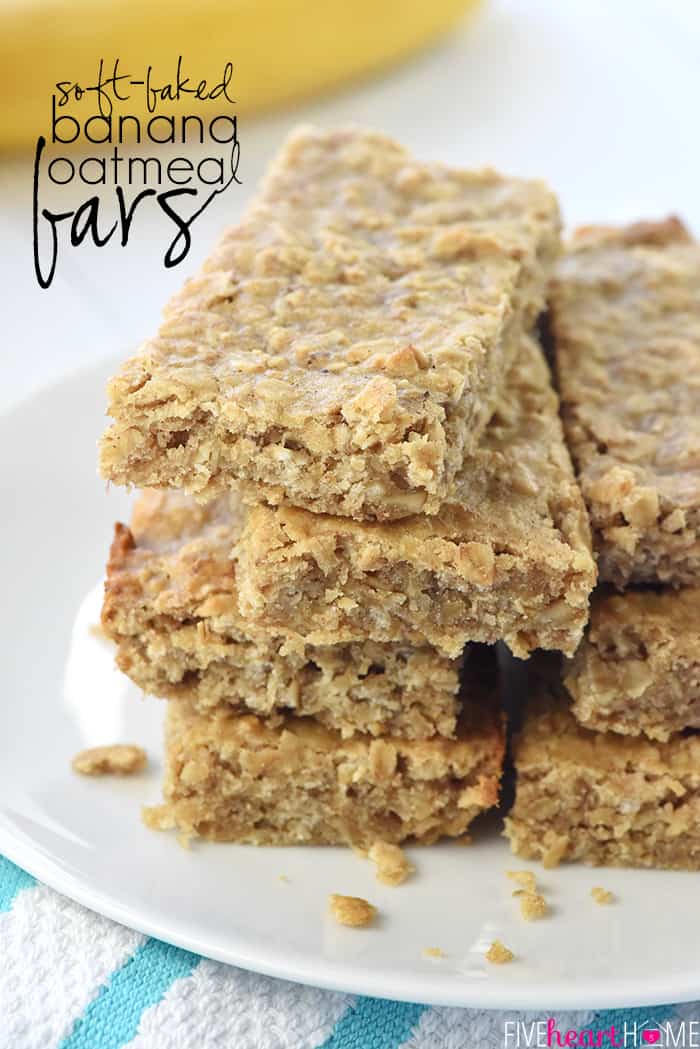 Save
Save
18