Healthy Pumpkin Breakfast Bars are soft-baked, chewy, and loaded with wholesome ingredients like oats, coconut oil, & honey for a grab-n-go breakfast or snack!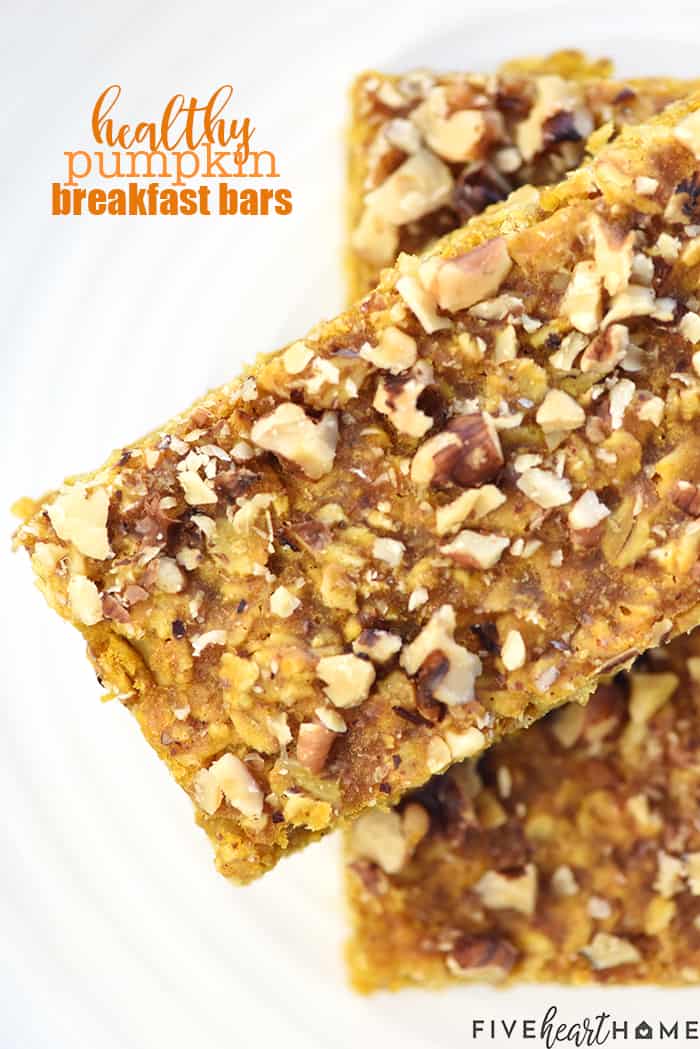 So what have you baked so far this fall? At the rate this year is flying by, I thought I'd share one last pumpkin recipe before the season is completely behind us. And since I've already shared pumpkin-related recipes this year that are respectively practical and decadent, I thought a more wholesome pumpkin treat was in order this time!
By the highly descriptive and informative title, I bet you can already guess that these Healthy Pumpkin Breakfast Bars are wholesome. They boast a base of oats that's supplemented with either whole wheat pastry flour or oat flour -- which basically just means whizzing rolled oats in your blender or food processor until finely ground. In other words, if you use gluten-free oats, you can make these bars gluten-free, should your little heart so desire.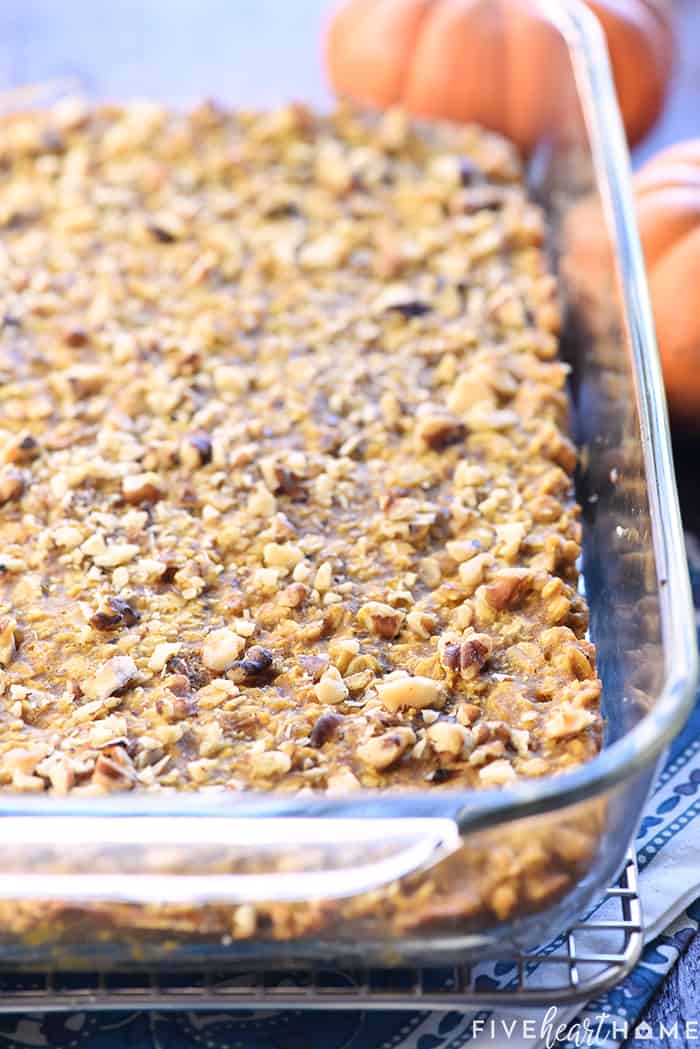 In addition to nutrient-dense oats, this recipe calls for coconut oil as a healthy fat, honey as a natural sweetener, and a sprinkling of chopped nuts on top (I opted for walnuts) to add crunchy texture and make the bars even more wholesome.
These Healthy Pumpkin Breakfast Bars also contain a good amount of -- wait for it -- pumpkin! You can use the canned stuff, or you can make your own Homemade Pumpkin Puree (<---highly recommend trying at least once). Not only does pumpkin make these oatmeal bars taste like fall, but it's also high in vitamins, minerals, and antioxidants.
That's a good argument for year-round pumpkin treats, don't you think??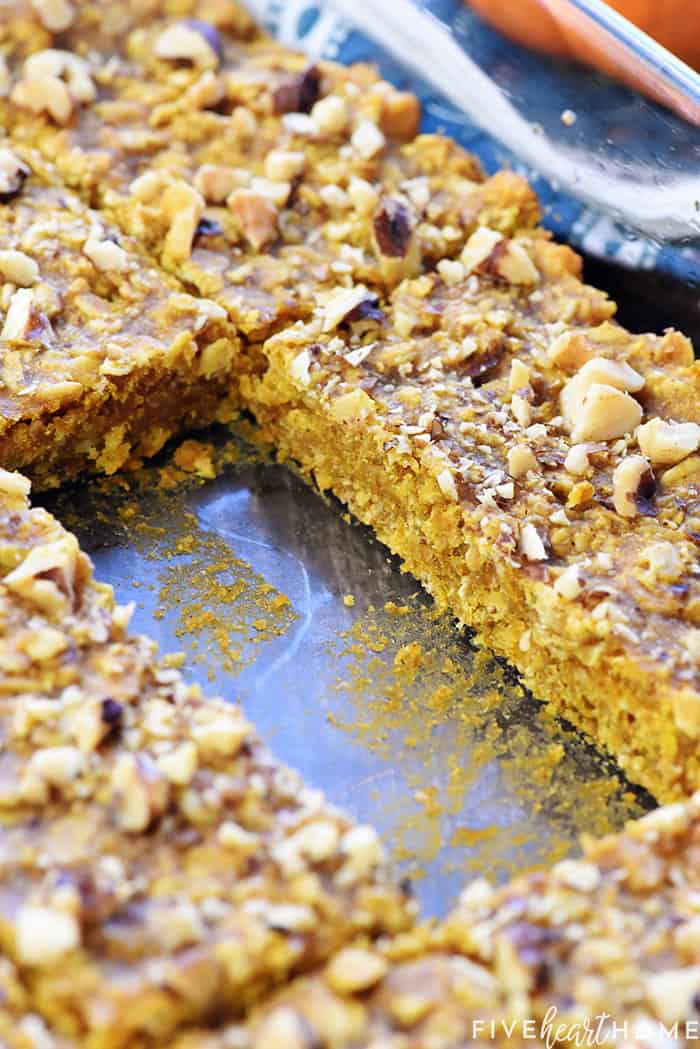 Yet another clue can be found in the title "Healthy Pumpkin Breakfast Bars."
Did you find it???
BREAKFAST!
That's right, friends. These soft-baked, chewy bars make a magnificent breakfast. They are make-ahead and portable, which means they're ideal for hectic mornings. And let's be honest here...what weekday morning isn't hectic? My kids love them before school (and I love that there's minimal breakfast prep for Mama!), and I've even been known to wrap one up and throw it in my purse before heading out the door.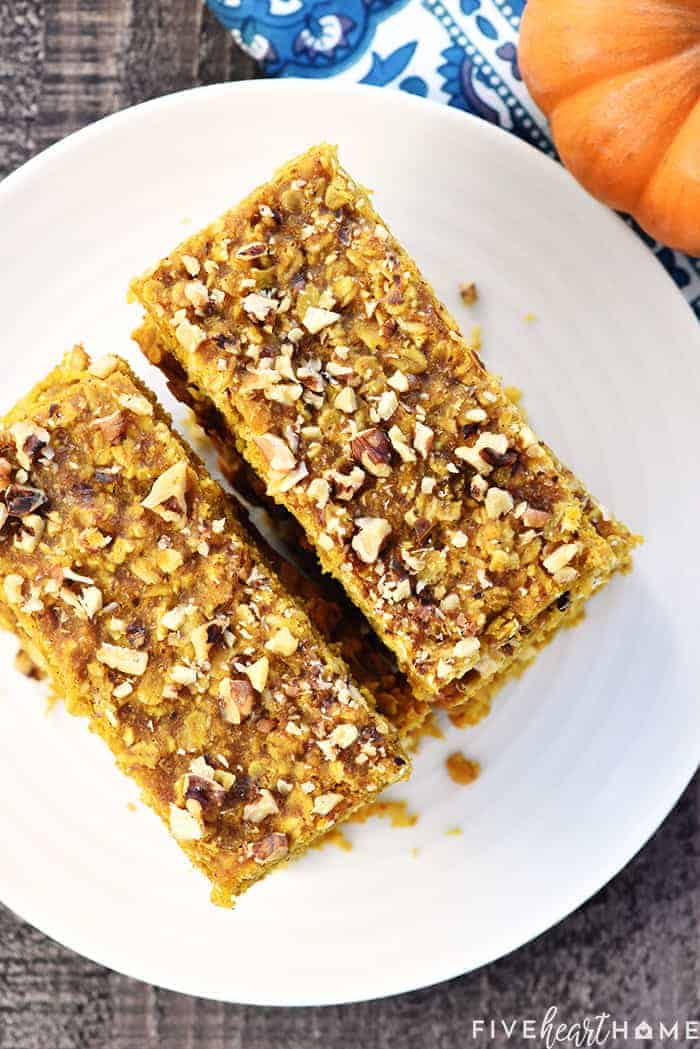 Along the same lines, these pumpkin oat bars make a great snack. They're soft but sturdy enough to stay intact when transported. And rumor has it that they even make a nice, healthy little treat when added to a lunchbox!
This recipe is as simple as combining all of the ingredients in a big bowl with a wooden spoon...no fancy mixer required. Once the batter is ready, simply spread it into a greased baking dish, pop in the oven, and bake for around 20 minutes or until the center tests done and the edges just start to turn golden.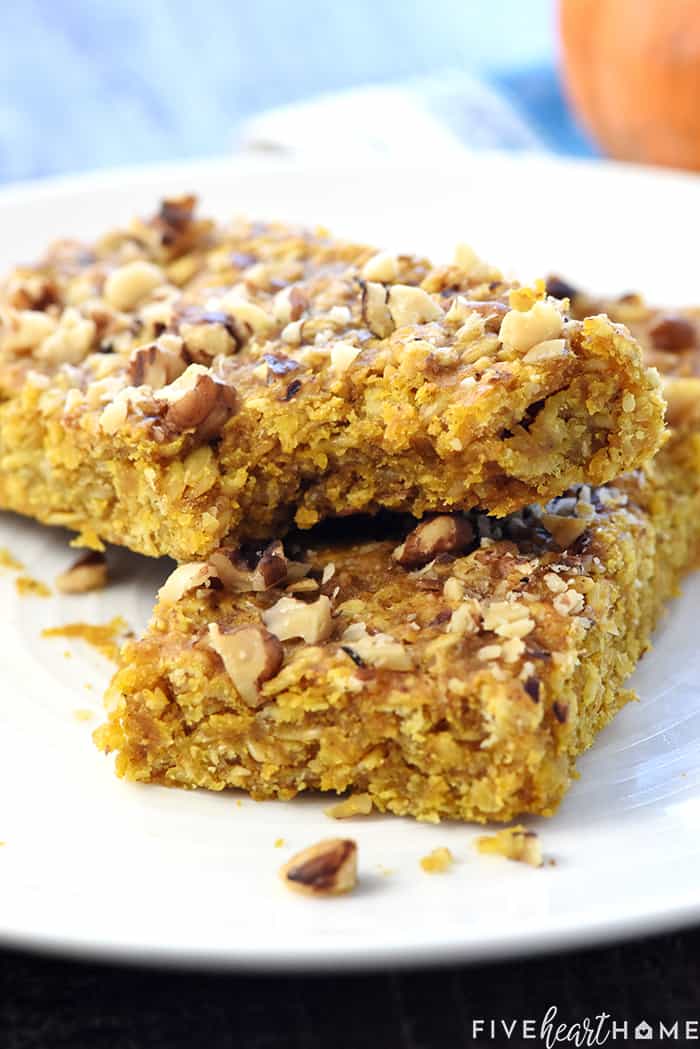 I adapted this recipe from the Soft-Baked Banana Oat Bars already on my site (which were originally intended to mimic those store-bought, soft-baked, square breakfast bars). My recipe testing yielded results very similar to those banana bars, with an obviously pumpkin twist. I did find, however, that this fall version required significantly more cinnamon/pumpkin pie spice, since pumpkin in a more neutral flavor than banana.
And ta-daaa! My recipe tweaking efforts were ultimately rewarded by this glorious pan of tasty Healthy Pumpkin Breakfast Bars. They turned out soft and chewy, yummy and filling. And even though these bars can easily be grab-n-go, they're still satisfying enough to power you through your morning.
Happy pumpkin baking!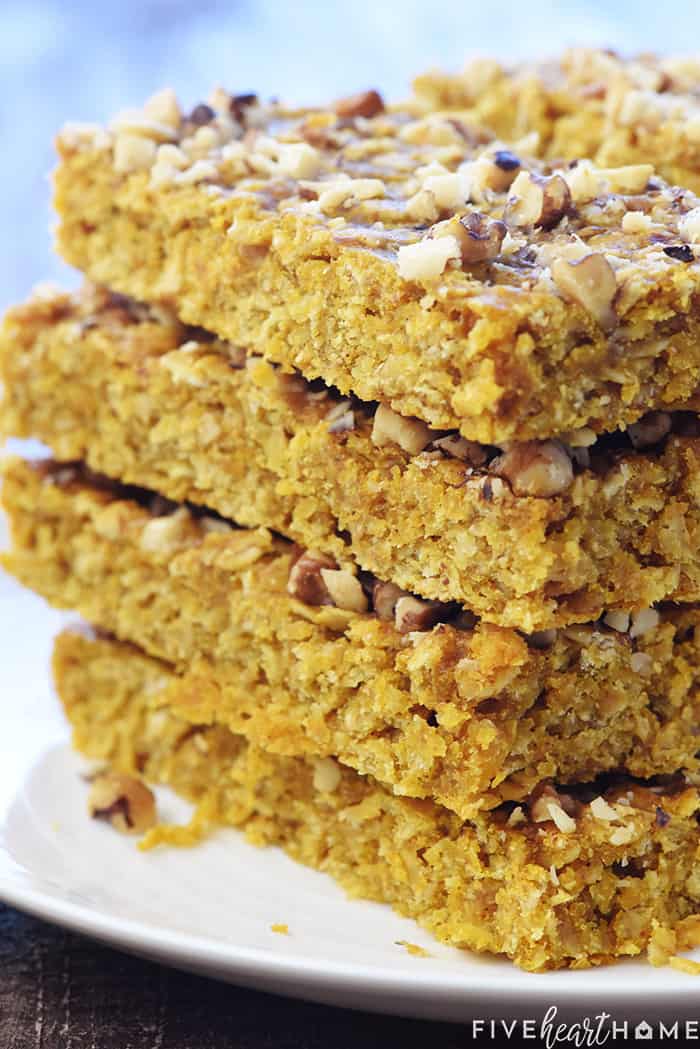 Helpful Tips, Tricks, & Equipment
I recommend making this recipe with old-fashioned rolled oats (as opposed to quick oats), which will result in a nice, chewy texture. If you decide to use quick oats, however, perhaps start out by adding slightly less than the recipe calls for -- and then checking if your batter seems too dry -- before adding the full amount.
Whole wheat

pastry

flour is 100% whole wheat but has a lighter taste and texture than regular whole wheat flour.
Alternatively, to make oat flour, use a mini food processor or a blender to grind 1 ¾ cups oats into a fine powder. Measure out 1 ¼ cups of oat flour for the recipe after grinding.
And to save a dirty dish, I melt the coconut oil in a measuring cup in the microwave and then measure the honey and vanilla on top. The coconut oil helps the honey slide out of the measuring cup.
You may tweak the honey, of course!

More Wholesome Breakfast/Snack Bars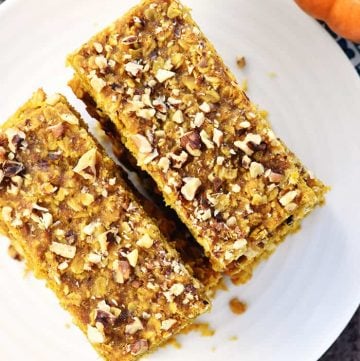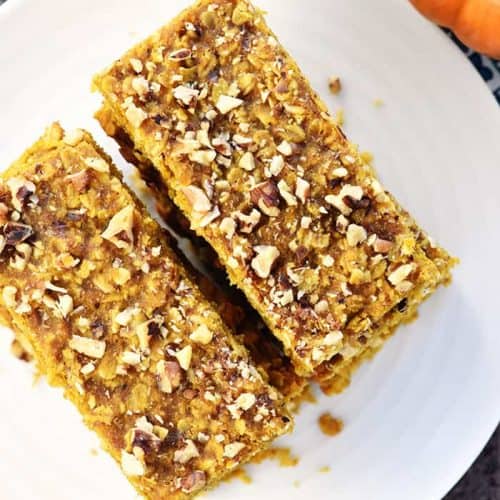 Healthy Pumpkin Breakfast Bars
Healthy Pumpkin Breakfast Bars are soft-baked, chewy, and loaded with wholesome ingredients like oats, coconut oil, & honey for a grab-n-go breakfast or snack!
Print
Pin
Rate
Ingredients
1

cup

pumpkin puree,

canned or homemade

½

cup

coconut oil

,

melted

⅔

cup

honey

1

egg

,

lightly beaten

2

teaspoons

pure vanilla extract

2 ½

cups

rolled oats

1 ¼

cup

whole wheat pastry flour

,

OR oat flour -- see Tips & Tricks, just above recipe

1 ½

teaspoons

pumpkin pie spice

½

teaspoon

cinnamon

½

teaspoon

salt

¼

cup

chopped nuts

,

such as pecans or walnuts, OPTIONAL
Instructions
Arrange oven rack in center position and preheat oven to 350°F. Grease a 9- by 13-inch baking dish with coconut oil or softened butter, or coat with non-stick cooking spray.

In a large bowl, stir together the pumpkin puree, coconut oil, honey, egg, and vanilla. In a separate bowl, whisk together the oats, flour, pumpkin pie spice, cinnamon, and salt. Blend the oat mixture into the pumpkin mixture and stir until well-combined.

Scrape the batter into prepared baking dish and smooth the top so that it's an even thickness. Sprinkle with chopped nuts, if using, and lightly press them into the surface. Bake for 20 to 24 minutes or until the edges just start to turn golden brown. Allow to cool for at least 10 minutes before slicing into bars.

Cool completely and store in an airtight container.
Calories:
273
kcal
|
Carbohydrates:
38
g
|
Protein:
5
g
|
Fat:
13
g
|
Saturated Fat:
8
g
|
Cholesterol:
14
mg
|
Sodium:
105
mg
|
Potassium:
174
mg
|
Fiber:
4
g
|
Sugar:
17
g
|
Vitamin A:
3197
IU
|
Vitamin C:
1
mg
|
Calcium:
26
mg
|
Iron:
2
mg