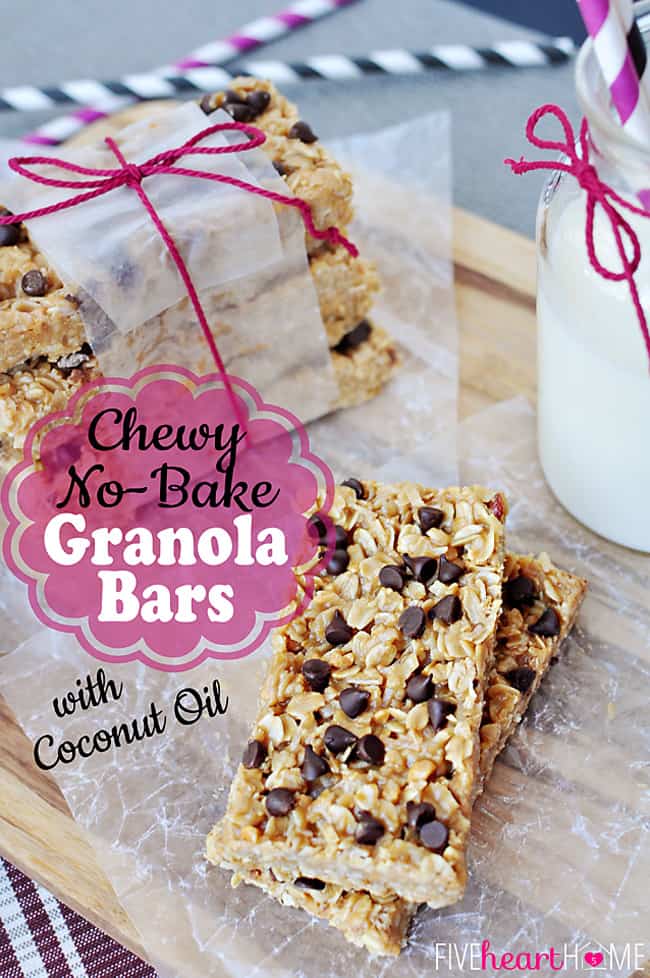 These Chewy No-Bake Granola Bars -- featuring wholesome oats, your favorite type of nut butter, superfood coconut oil, and honey as a natural sweetener -- can be whipped up (and will be gobbled up) in a matter of minutes!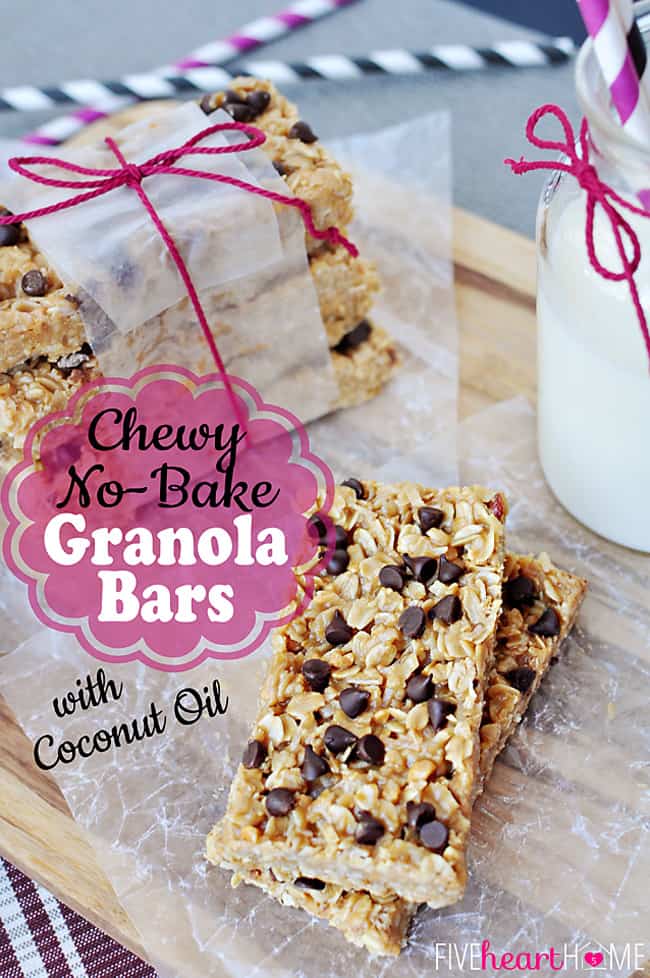 Do y'all like granola bars? Because we are big fans at my house. Not only are they universally enjoyed around here, but they also win this mama's approval as a ready-to-go, or on-the-go, breakfast or snack. Unfortunately, store bought granola bars can contain some questionable, processed ingredients, and while there are all-natural options out there, they tend to be fairly expensive. So what's a granola bar-lovin' family to do?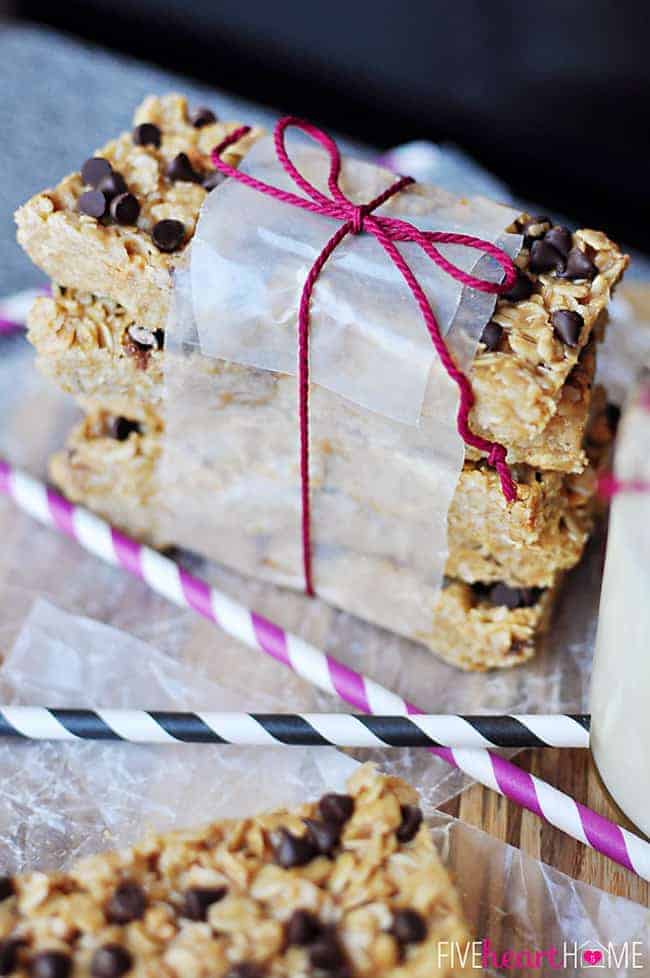 Well...have you ever tried making your own?! Doing so not only allows you to control the ingredients, but you can also make a whole slew of them far more economically than buying a small box of the organic ones.
Many granola bar recipes call for a stint in the oven, and while delicious, the results can be more on the crunchy side than the chewy. That's all good and well, but if you prefer a chewy granola bar experience instead, I've got you covered!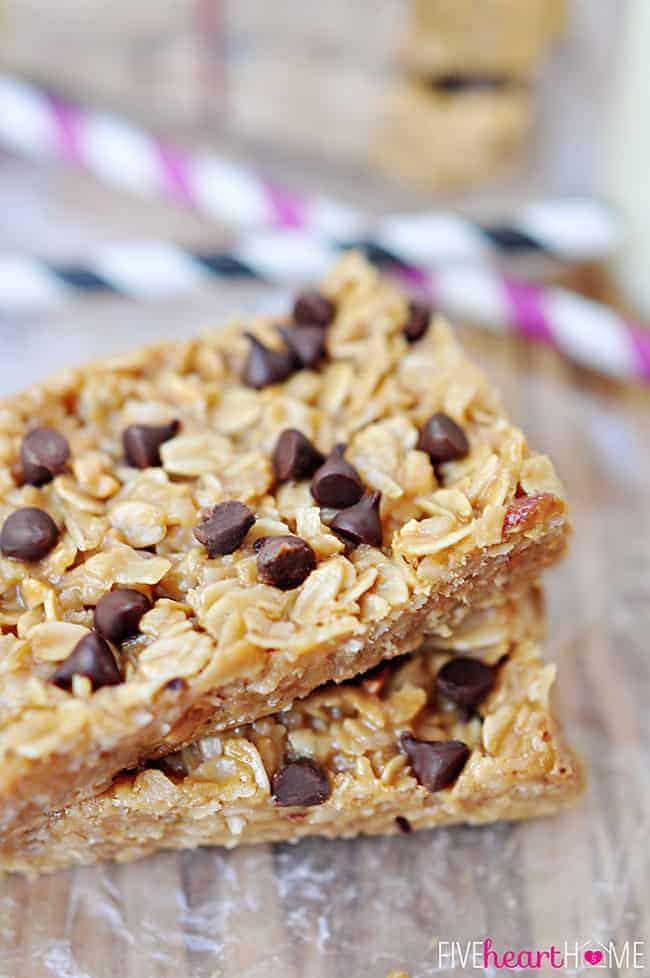 I must admit that I have a thing for coconut oil. I first discovered the superfood wonder that is coconut oil around the time that I was expecting my first child, around seven years ago. Coconut oil wasn't quite as mainstream and easily found back then as it is now, so I ordered it online in bulk and experimented with it to my heart's content. In fact, I still do order it online in bulk, because I go through a ton of it and it ends up being a lot more affordable than buying the little jars you can find at the grocery store. Furthermore, plenty of experimentation has taught me that it can be effectively substituted for vegetable oil in most baked goods with excellent results...which means I use it all the time.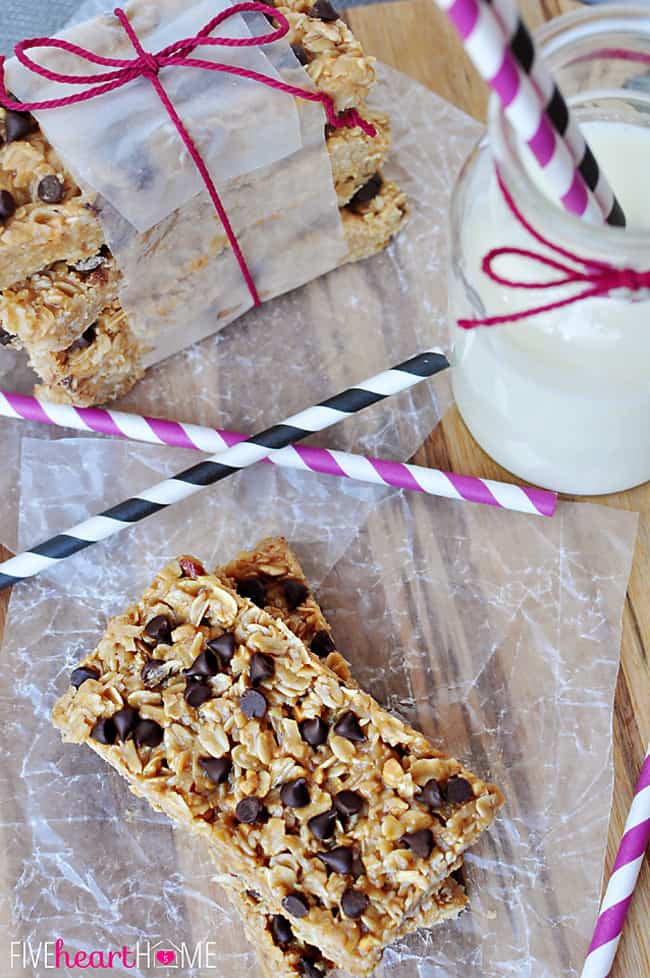 So back to these granola bars. The ingredient that gives them such a great texture without the benefit of baking is -- you guessed it -- coconut oil! Coconut oil is solid up to 76°F, so it melts as you mix up these bars and then solidifies again once you pop them into the fridge. But mixed with the oats and nut butter and honey, it creates a soft and chewy texture that rivals any storebought granola bar, whose chewy texture is likely attributable to artificial ingredients.
The other great thing about this recipe is that you can totally customize it to make it your own! Think of the base as oats, coconut oil, and honey. Now decide on your favorite nut butter to use. Peanut butter is the obvious go-to choice, but feel free to substitute almond butter, cashew butter, or for a nut-free version, sunflower seed butter (I use sunflower seed butter for my little ones until they're old enough to try peanut butter, and then even afterwards, since they like the taste). If you don't care for the addition of shredded coconut in this recipe, you can use a cup of chopped nuts, seeds, and/or dried fruit instead. And while I like to sprinkle a few mini chocolate chips on top to complement the peanut butter, you can definitely leave them off (or add more!). Just be forewarned that if you decide to stir chocolate chips directly into your warm oat mixture before pressing it into the pan, there's a good chance that some or all of your chocolate chips will melt, resulting in a brown-tinted, chocolate/nut butter granola bar. In no way is this a bad thing...just thought I should warn you. 😉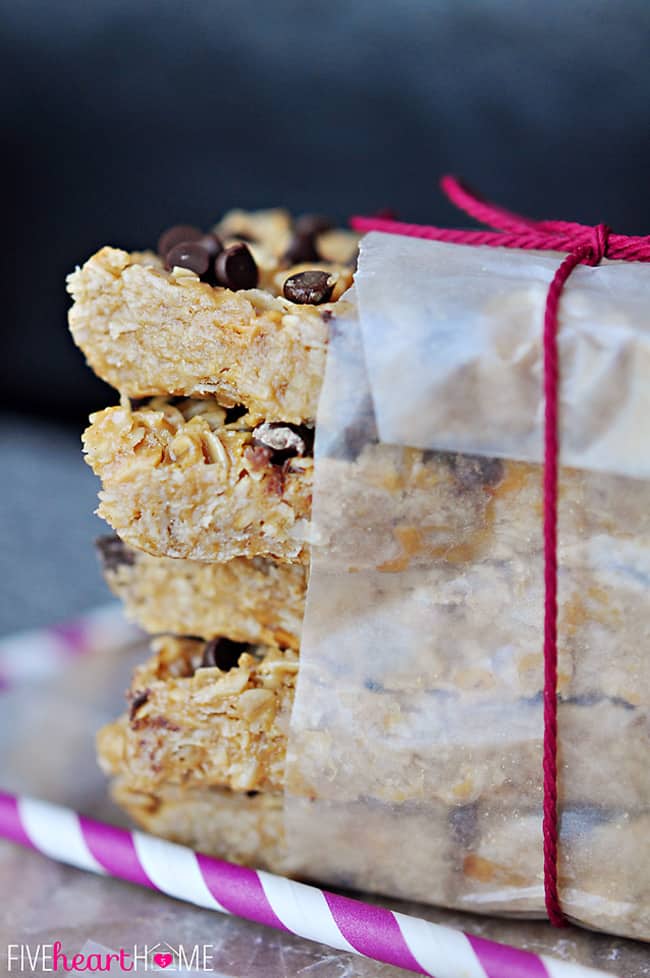 Since coconut oil does become soft and melt in warmer temperatures, I recommend storing these in the refrigerator...unless it's winter and your house happens to be cold, in which case these granola bars will be just fine sitting out on the counter. The good news is that they are totally tasty cold, but if you prefer, you can certainly let your granola bar come to room temperature for a few minutes before enjoying it. Just don't toss one of these into your purse on a hot summer day and expect it to remain solid. You'll end up with a melty, albeit delicious, mess.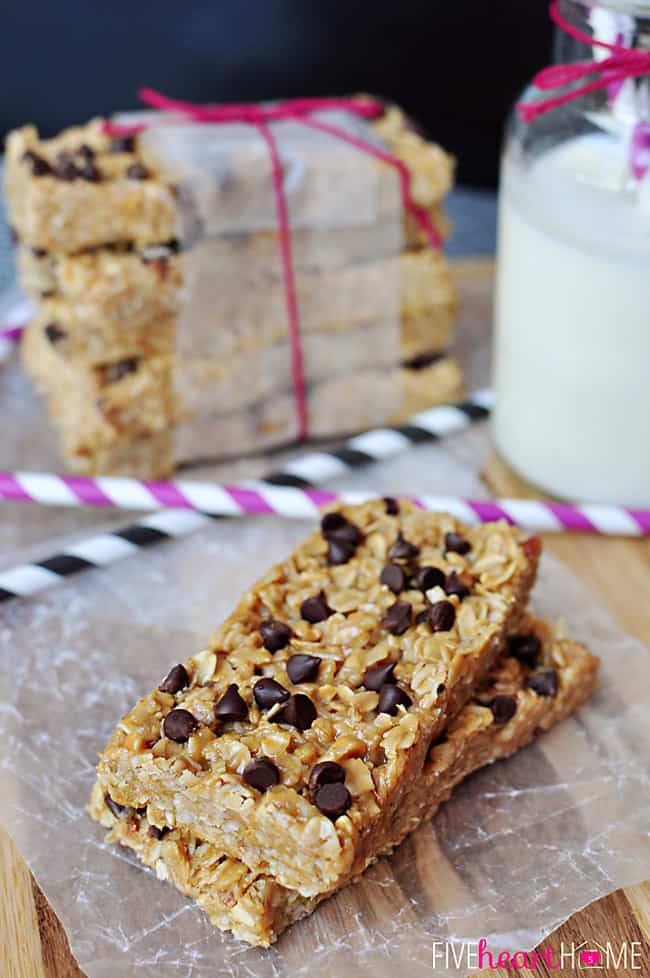 So seriously, friends...if you haven't jumped on the coconut oil bandwagon yet, this recipe is a great place to start! After all, how can you beat a yummy, convenient snack or breakfast-on-the-go that's chock full of wholesome, natural ingredients, takes mere minutes to whip up, and only dirties one pot and a measuring cup? I call that a win, win, win, win, WIN!
P.S. I'd love to hear what you think of these if you end up trying them! And if you're interested in where to buy high-quality coconut oil for a good price in bulk, let me know in the comments and I'll share my favorites with you. 🙂
P.P.S. If you're on Instagram, and if you are as obsessed with it as I am, I'd love to have you join me for behind-the-scenes sneak peeks of Five Heart Home food and fun...like this little turkey photobombing my granola bars in an attempt to steal some chocolate chips. 😉
More Wholesome Snack Bars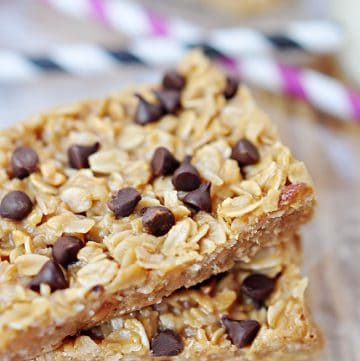 Chewy No-Bake Granola Bars with Coconut Oil
These chewy, no-bake granola bars -- featuring wholesome oats, your favorite type of nut butter, superfood coconut oil, and honey as a natural sweetener -- can be whipped up (and will be gobbled up) in a matter of minutes!
Print
Pin
Rate
Ingredients
1

cup

peanut butter

,

almond butter, sunflower seed butter, or your favorite nut butter

½

cup

honey

½

cup

coconut oil

,

NOT liquid coconut oil

2 ½

cups

rolled oats

1

cup

shredded coconut

¼

cup

mini chocolate chips

,

optional
Instructions
In a medium pot set over medium-low heat, melt together nut butter, honey, and coconut oil, stirring until smooth. Remove from stove and stir in oats and coconut. Pour mixture into a 9- by 13-inch baking dish. Spread into an even layer, sprinkle with mini chocolate chips (if using), and firmly press down with the back of a spatula or clean hands. Refrigerate for 2 hours or until firm. Slice into squares or bars (I like to cut 3 rows of 4 bars each) and remove from pan. Store granola bars in the refrigerator, either in an airtight container with wax paper separating the layers, or individually wrapped in plastic wrap.
Notes
You may substitute chopped nuts, seeds, and/or dried fruit for the coconut, or add them additionally. For a chocolate flavored granola bar, you may stir chocolate chips into the oat mixture, where they will partially or completely melt.
Calories:
368
kcal
|
Carbohydrates:
33
g
|
Protein:
8
g
|
Fat:
25
g
|
Saturated Fat:
13
g
|
Cholesterol:
1
mg
|
Sodium:
122
mg
|
Potassium:
233
mg
|
Fiber:
3
g
|
Sugar:
19
g
|
Vitamin A:
10
IU
|
Vitamin C:
0.1
mg
|
Calcium:
24
mg
|
Iron:
1.4
mg