You're just five ingredients away from homemade Peanut Butter Granola, a quick and easy recipe that makes a wholesome, yummy breakfast, snack, or even dessert...all dressed up with a handful of chocolate chips!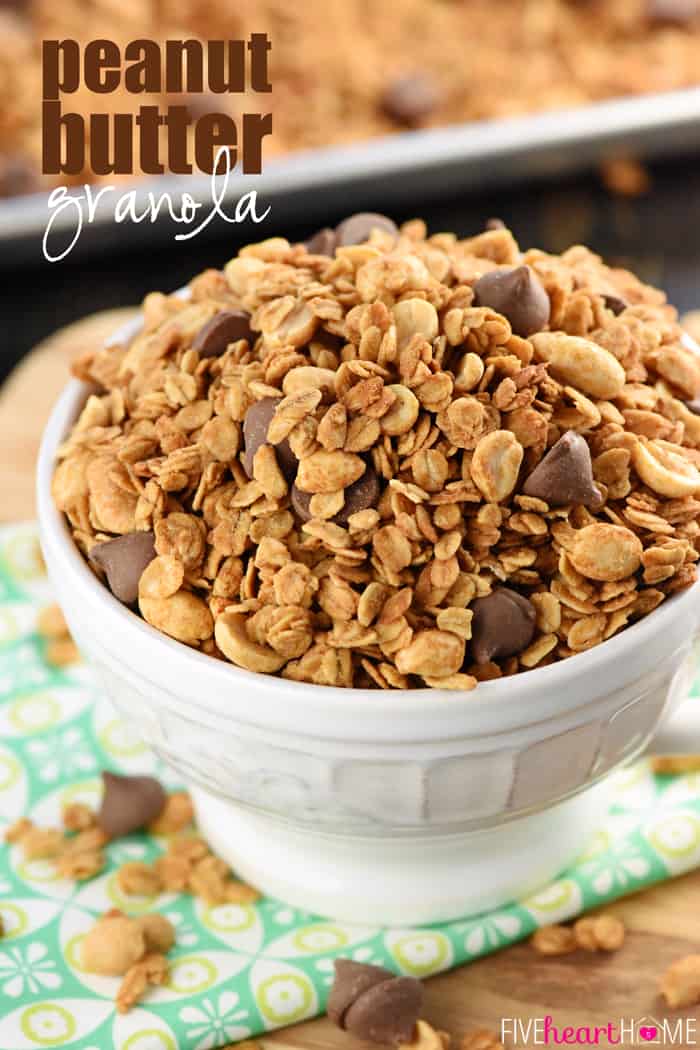 My kids were so excited when I made this Peanut Butter Granola last week, y'all. Homemade granola is something that I almost always keep in the pantry. But for the past few months -- while my life and my sanity have been immersed in a little cookbook project I may have mentioned a time or twelve -- I've had to rely on ready-made items from the grocery store come breakfast time. And instead of their beloved tub of granola on the pantry shelf, there's been a box of cereal in its place.
Now there is absolutely nothing wrong with cereal. And my kids actually like it a lot! But I apparently didn't realize how much they'd been missing granola, because when they smelled this batch baking they were all "Is that for US?!?!"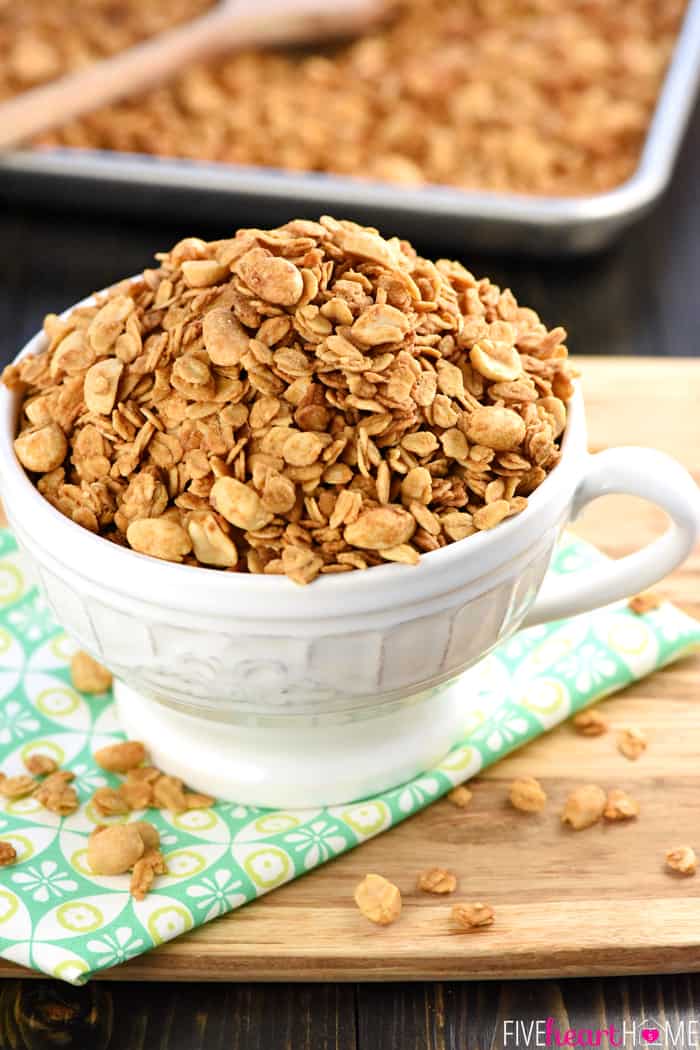 Peanut Butter Granola Inspo
As many batches of granola as I've made over the years, would you believe that I've never tried a peanut butter version before?! But lo and behold, it was super easy to convert my classic, tried-and-true Nut & Honey Granola to include peanut butter. I simply replaced a portion of the coconut oil in that recipe with peanut butter. I omitted the coconut altogether. I used peanuts in lieu of my usual almonds and cashews.
And upon further consideration, I did this...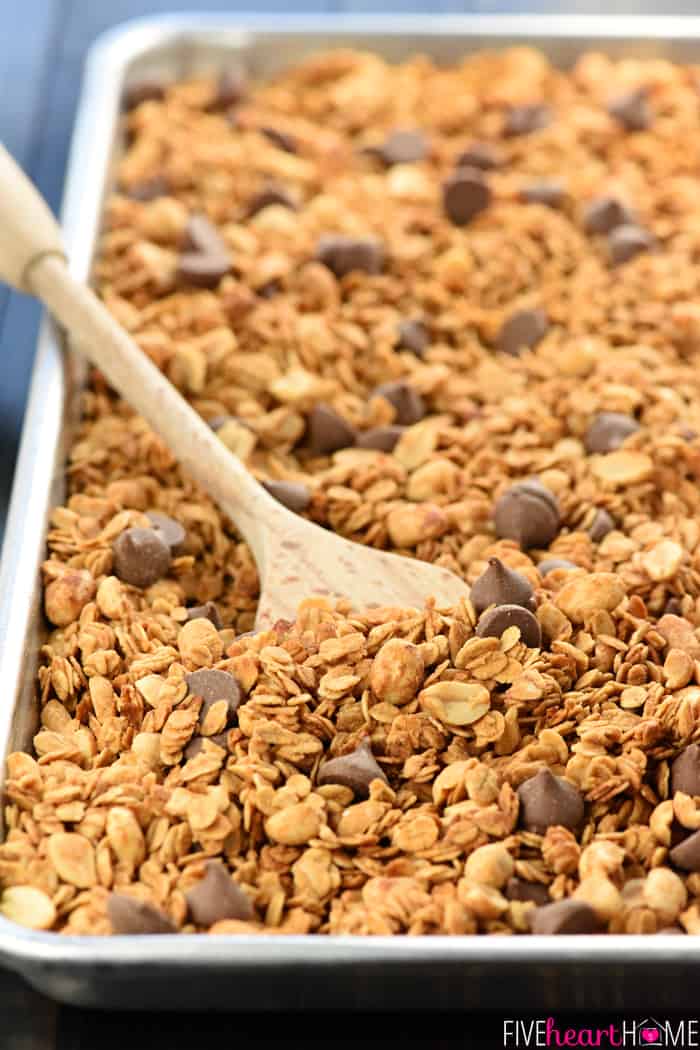 Peanut Butter + Chocolate
Because what's peanut butter without chocolate, am I right?
Seriously though, while the addition of chocolate chips is quite yummy, it's also completely optional. This Peanut Butter Granola is perfectly tasty in its simple, unadulterated glory. But while we're discussing chocolate chips, I feel obliged to mention that the milk chocolate chips seen here are not actually my preference in this recipe. I think they're a little too sweet and almost overpower the peanut butter flavor of the granola. After these photos were taken, I made another batch of granola using semi-sweet chocolate chips and I liked it decidedly better (but I hope you'll forgive me...I wasn't about to take the pictures all over again!). So definitely go with your preference, but let the record show that semi-sweet chips are my recommendation in this recipe. 😉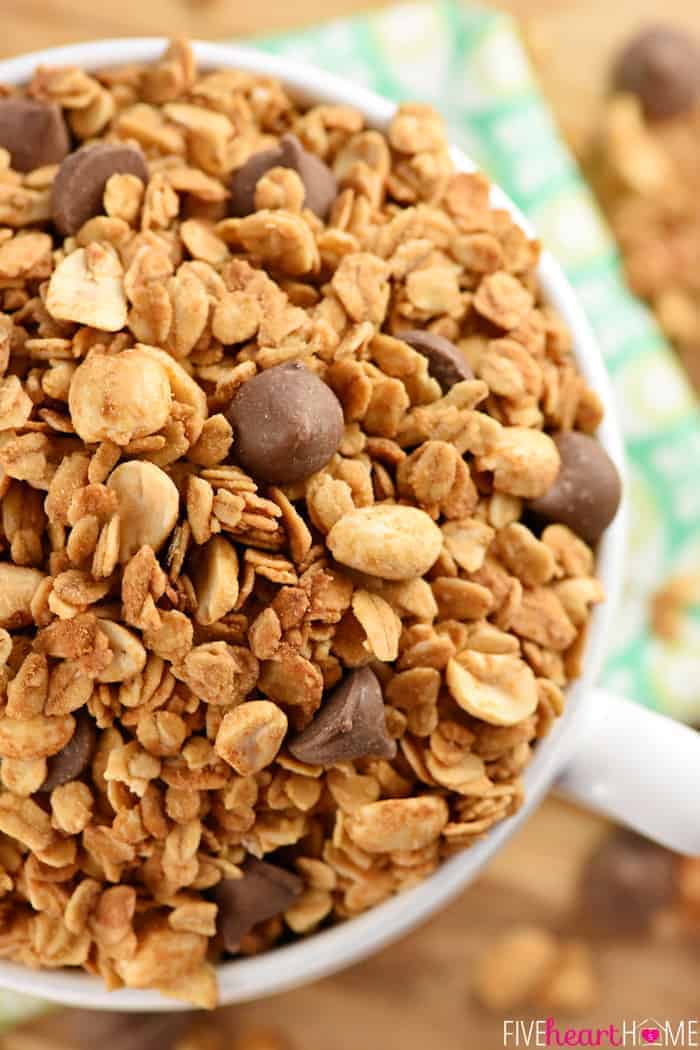 Substitutions
Along the same lines, the amount of honey you use in this recipe can also be tweaked. If the peanut butter you buy is fairly sweet and/or you decide to add the chocolate chips, you may want to go with the lesser amount of honey listed in the ingredients. On the other hand, if your peanut butter is unsweetened/lower-sugar and/or you opt not to include the chocolate chips, you may want to squeeze in a bit more honey.
Also! I almost always make my granola with coconut oil but this photographed batch was actually made with melted butter...because I discovered too late that I was out of coconut oil. I made my subsequent (non-photographed) batch with coconut oil. 🙂 Both worked fine and both were delicious. So again, it's a matter of personal preference which one you use!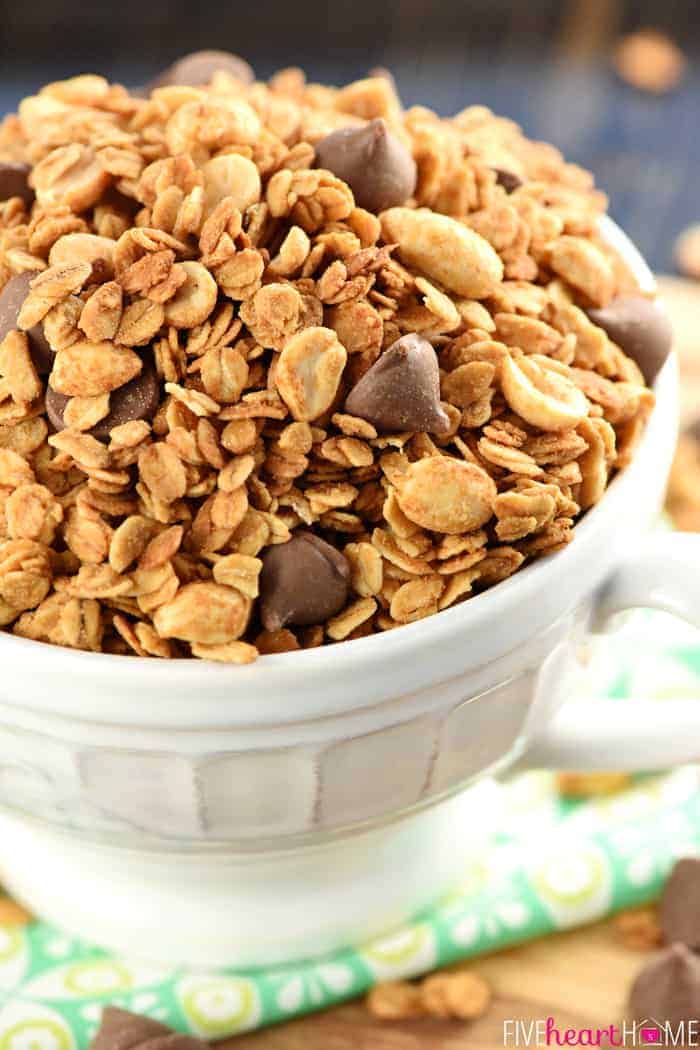 How to Make Peanut Butter Granola
Despite all of my long-winded explainin', this Peanut Butter Granola recipe is deceptively simple to make.
I already mentioned the only-five-ingredients factor.
Beyond that, the recipe involves just a few simple steps!
Melt together coconut oil/butter, peanut butter, and honey.
Stir the resulting mixture into a bowl of rolled oats and roasted peanuts.
Next, spread it all out on a rimmed baking sheet.
Bake for 25 to 30 minutes, stirring a couple of times midway through.
Allow to cool before stirring in the optional chocolate chips.
AND. THAT'S. IT. So easy and pretty economical...it makes paying big bucks at the grocery store for all-natural granola feel like a travesty.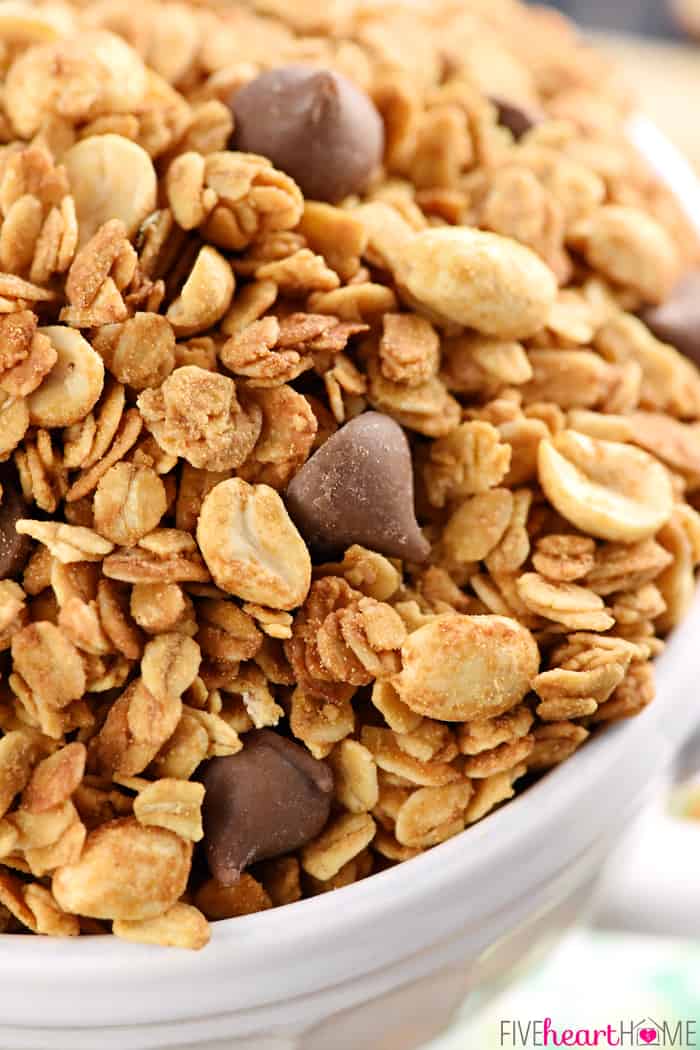 Customizing the Recipe
As with any granola recipe, feel free to jazz this one up and make it your own. Change up the nuts, add the coconut back in, mix in dried fruit after baking...it's up to you! Any way you slice it -- er, bake it -- this makes a tasty, wholesome breakfast, snack, or even dessert (because hellooo...CHOCOLATE CHIPS).
And if you do decide to give it a try, I hope the Peanut Butter Granola benefactors at your house are just as excited as they were at my house, even if you're the only said benefactor...in which case, lucky you for not having to share! 😉
More Yummy Breakfast Ideas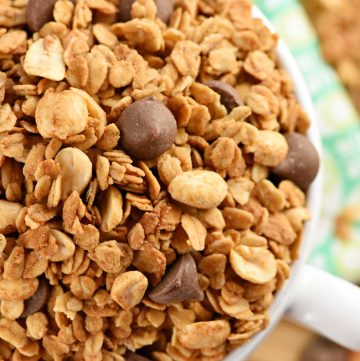 Easy 5-Ingredient Peanut Butter Granola
You're just five ingredients away from homemade Peanut Butter Granola, a quick and easy recipe that makes a wholesome, yummy breakfast, snack, or even as dessert...all dressed up with a handful of chocolate chips!
Print
Pin
Rate
Servings:
16
(½-cup) servings (the entire recipe yield is about 8 cups)
Ingredients
½ to ⅔

cup

honey

½

cup

peanut butter

,

crunchy OR creamy

¼

cup

coconut oil OR butter

4

cups

old-fashioned rolled oats

1

cup

salted roasted peanuts

1

cup

semi-sweet chocolate chips

,

optional
Instructions
Position rack in center of oven and preheat oven to 350°F.

In a small saucepan set over medium heat, melt together honey, peanut butter, and coconut oil/butter, stirring until smooth and blended. Combine oats and peanuts in a large bowl. Drizzle peanut butter mixture over the top and stir well until all oats are evenly coated.

Transfer granola onto a 13"x18"x1" sheet pan and spread into an even layer. Bake, stirring and flipping with a wooden spoon every 10 minutes, until the mixture turns a nice, even, golden brown, about 25 to 30 minutes total.

Remove granola from the oven and stir a few times as it cools. If using chocolate chips, stir them into the granola once it's completely cool. Store in an airtight container.
Notes
If your peanut butter is fairly sweet and/or you use chocolate chips, you may want to consider using the lesser amount of honey. If your peanut butter is unsweetened or low-sugar and/or you leave out the chocolate chips, you might want to use the greater amount of honey.
The granola will probably need to bake for a total of about 30 minutes, but ovens vary so watch the granola carefully, particularly the first time you make it. If you cut the recipe in half, it will require less time, and if you double it and cook two sheet pans at once (switching racks and rotating pans each time you stir), it will take longer.
Calories:
304
kcal
|
Carbohydrates:
32
g
|
Protein:
8
g
|
Fat:
18
g
|
Saturated Fat:
7
g
|
Cholesterol:
1
mg
|
Sodium:
79
mg
|
Potassium:
266
mg
|
Fiber:
4
g
|
Sugar:
14
g
|
Vitamin A:
6
IU
|
Vitamin C:
1
mg
|
Calcium:
31
mg
|
Iron:
2
mg
Originally published on January 14, 2016, and updated on August 1, 2020, and June 20, 2023.