Tender, moist, and bursting with berries, Whole Wheat Greek Yogurt Blueberry Scones are a wholesome spin on a classic breakfast treat...but nobody would ever guess by their delicious, decadent flavor!

How's the week been treating you all? It's been a busy one around these parts...one day filled with doctor's appointments and another with volunteering at school. And on Tuesday -- although I thought it would only take an hour or so -- I spent basically AN ENTIRE DAY attempting to take a self-portrait for the About the Author page in my cookbook. I didn't think it would be a big deal to snap it myself, but holy cow, y'all. Let's just say that the hooplah involved placing my tripod on top of the coffee table and utilizing a floor lamp with a post-it stuck to it note as my stand-in (so that the camera would have something to focus on) while I pressed the self-timer button. Then I had to race to my designated "spot," quickly toss the lamp out of the way, pick up a knife, and pretend to casually chop peppers while smiling at the camera at just the right angle before the timer went off.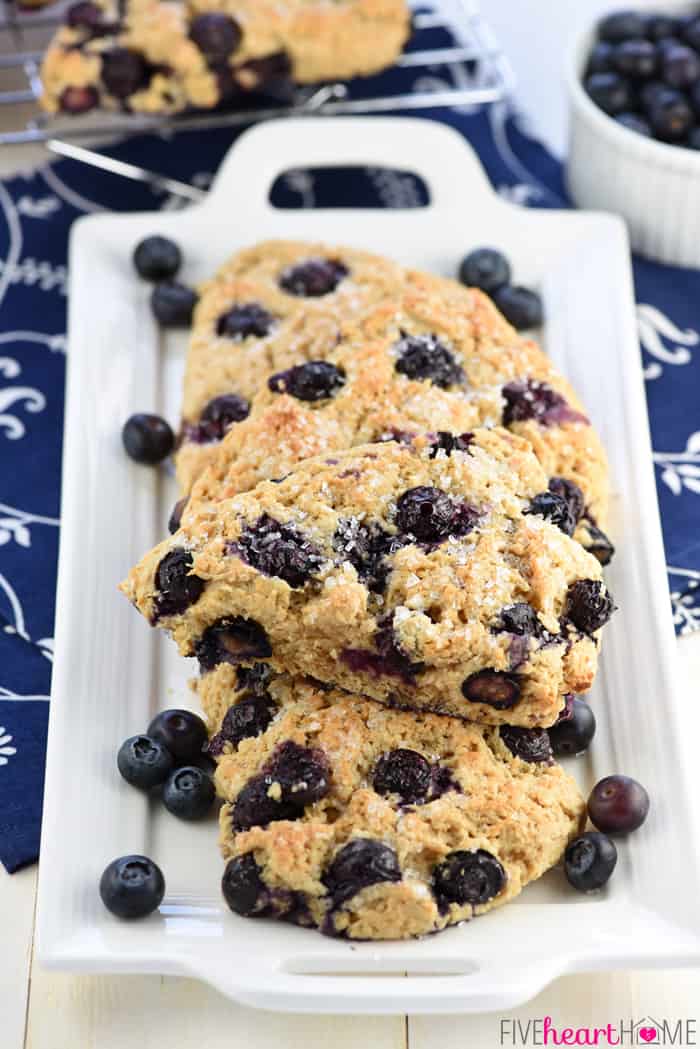 Repeat this about 173 times and you'll get a sense of why it took many, many hours before I got what I deemed to be an acceptable shot (I hope?)...and why I could have used a neat shot of vodka by the time it was all over. The whole thing was actually quite ridiculous, and thank goodness nobody was home to witness the chaos (or ask me to wipe their bottom or fix them a snack while I was clearly already overcommitted). But let's just keep this our little secret, m'kay? In fact, may I buy your silence with a recipe for wholesome and delicious Whole Wheat Greek Yogurt Blueberry Scones? 😉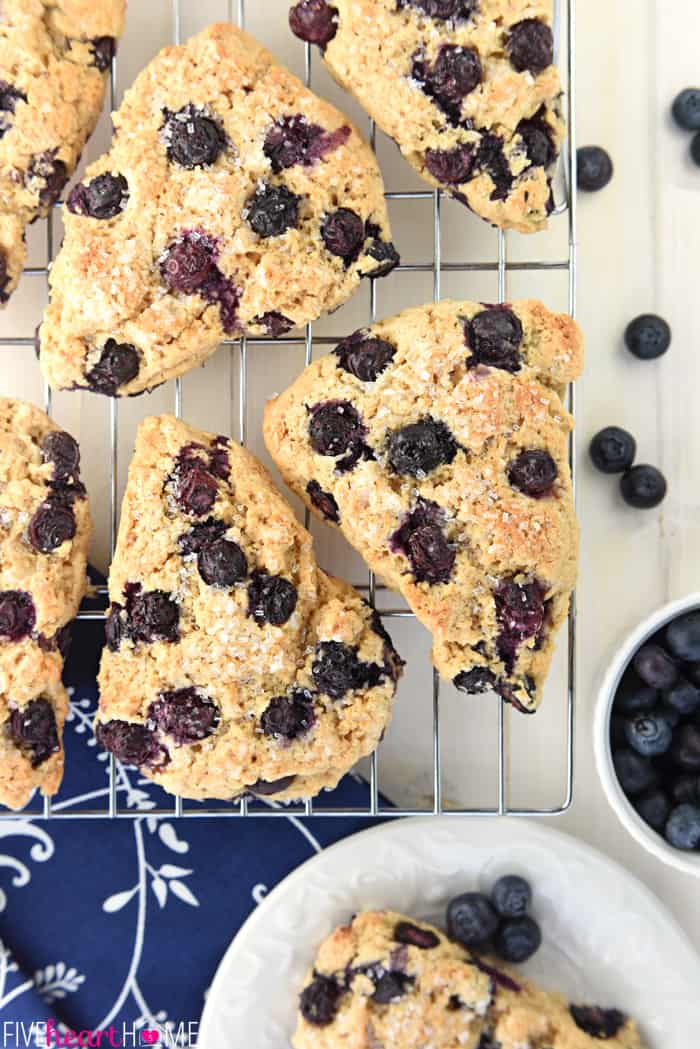 It's rare that I accompany my occasional coffee shop beverage with a baked treat, but when I do, you can bet it's either a chocolate croissant or a blueberry scone. While I haven't exactly mustered up the courage to attempt whipping up croissants at home, homemade scones are actually quite manageable. They're easy to make, in fact! And with a few simple ingredient swaps, you don't even need to feel guilty about enjoying them.
Much like pie crust, one of the keys to light, flaky scones is to not overwork the dough. The chilled butter within should still be cold when you pop the scones into the oven. That way, the chilled bits of butter will melt while baking and create pockets of steam, resulting in tender, airy scones. I have found that the easiest way to quickly work the dough (and not melt the butter with my hot little always freezing hands) is to use my food processor. As an added bonus, doing so also makes this recipe super quick and simple to throw together. If you don't have a food processor, it's fine to incorporate everything by hand, of course. Just do your best to keep that butter cold!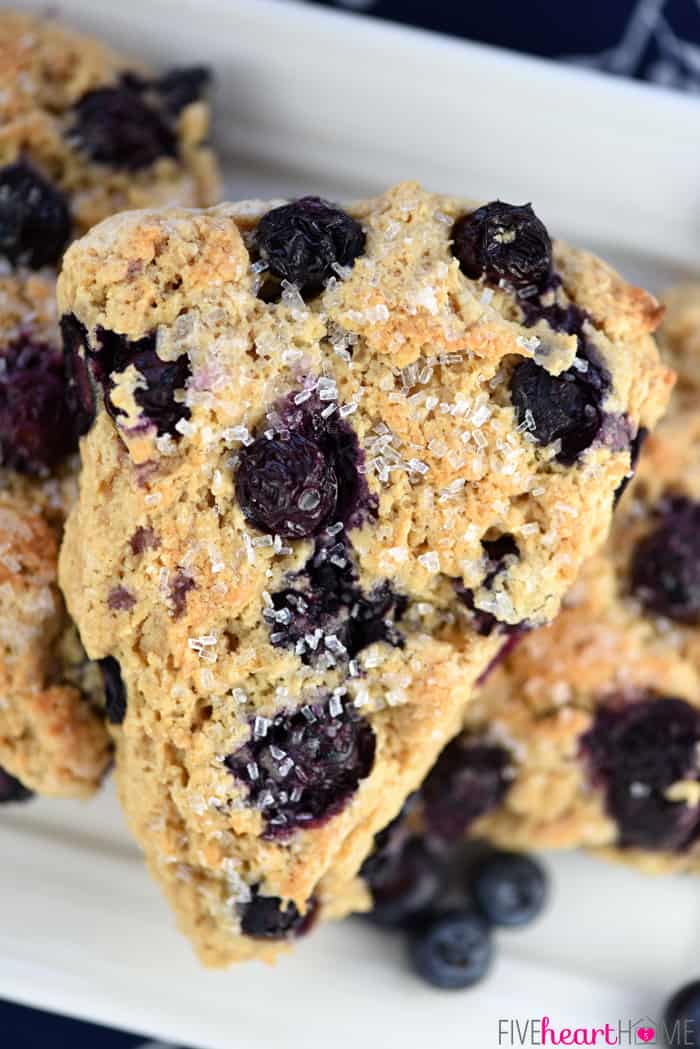 Since scones are best eaten fresh from the oven -- meaning I wouldn't be able to hoard them all for myself over a period of days...meaning I'd be sharing them with my offspring -- I decided to make these Blueberry Scones a bit healthier by substituting whole wheat pastry flour for all-purpose and Greek yogurt for the standard heavy cream. The butter's still there, of course, because I don't think it's possible to make scones without butter. But that's okay, because I've never been afraid of butter anyway. 😉
And while we're deviating from traditional recipes, I'm also going to admit right here that I like to add an egg to my scone recipes. I think the verdict is mixed as to whether or not eggs truly belong in scones. But I lean towards throwing one into my dough because I think including an egg results in a moister scone. While I'm all about light, flaky scones, I really don't care for those that suck the moisture right out of my mouth.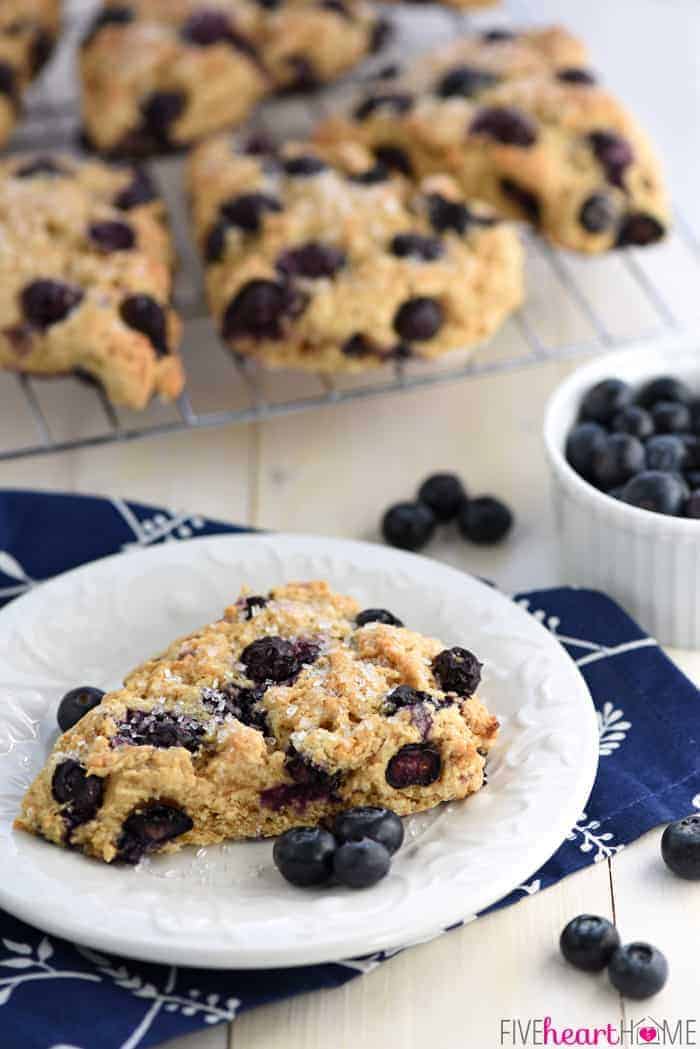 So to recap, these scones are tender and moist. They're bursting with blueberries. They're made from 100% whole wheat flour, but because we're using whole wheat pastry flour here, the scones don't end up tasting overly wheat-y. Greek yogurt is a wholesome, protein-packed substitute for heavy cream in these babies. And you won't miss the flavor benefits of butter, because it's still there! Heh.
You know what else is there? A finishing sprinkle of large-crystal sugar -- either turbinado or sparkling. I had the latter in my pantry, and isn't it purty? It also creates fabulous crunchy tops and adds an extra touch of sweetness, since scones aren't overly sweet to begin with.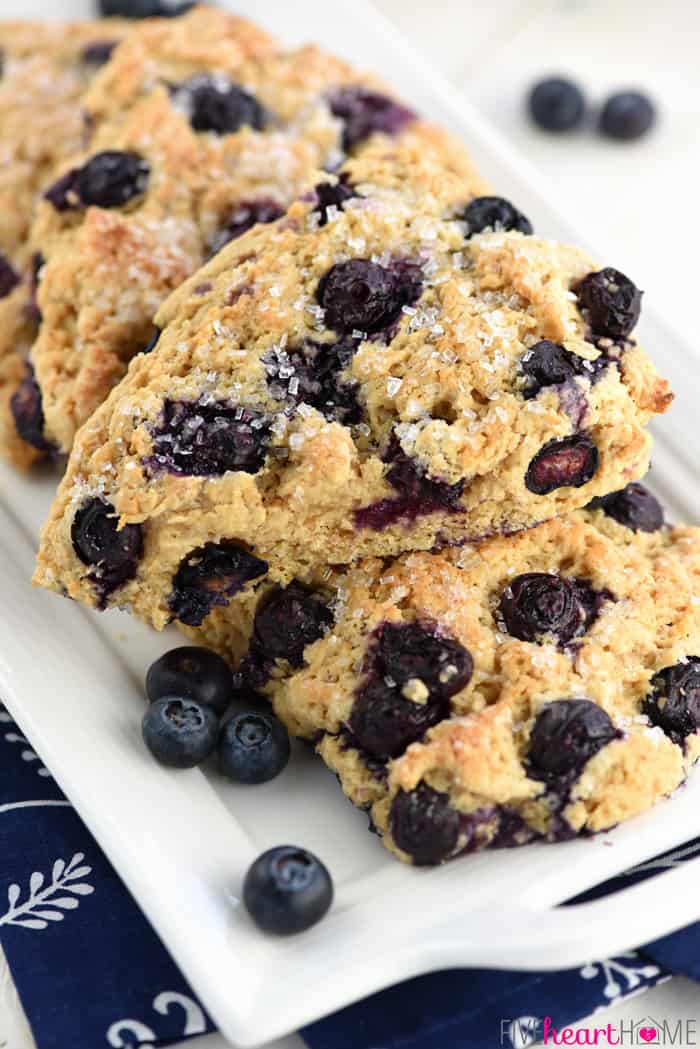 So it's decided: (A.) I'm crazy for taking my own-self portrait, and (B.) your weekend would be so much brighter if you started it with a batch of fresh-from-the-oven blueberry scones! And with all of that whole wheat and Greek yogurt and fresh fruit, you can not only feel proud of your homemade scone-producing domestic skills, but you can also feel justified having seconds. 😉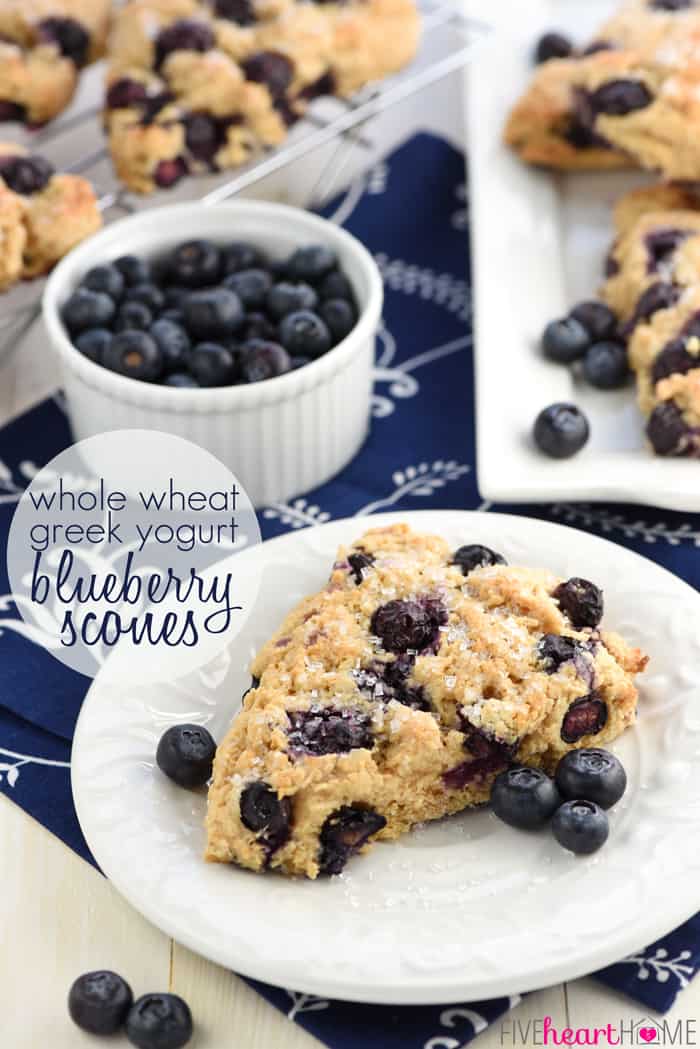 Whole Wheat Greek Yogurt Blueberry Scone Recipe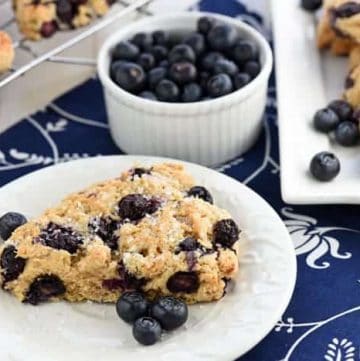 Whole Wheat Greek Yogurt Blueberry Scones
Tender, moist, and bursting with berries, Whole Wheat Greek Yogurt Blueberry Scones are a wholesome spin on a classic breakfast treat...but nobody would ever guess by their delicious, decadent flavor!
Print
Pin
Rate
Ingredients
2

cups

whole wheat pastry flour

1/4

cup

light brown sugar

,

any lumps broken apart

1

tablespoon

baking powder

1/2

teaspoon

salt

5

tablespoons

butter

,

cubed and chilled

2/3

cup

plain Greek yogurt

1

egg

,

lightly beaten

3/4

teaspoon

pure vanilla extract

1

cup

blueberries

,

washed and dried

1

tablespoon

melted butter

2

tablespoons

coarse sugar

,

turbinado or sparkling sugar
Instructions
Arrange oven rack in the center position and preheat oven to 375°F. Line a large baking sheet with parchment paper and set aside.

Measure the flour, brown sugar, baking powder, and salt into the bowl of a large food processor; process with five (1-second) pulses until blended. Add the cold butter to the food processor; process with ten (1-second) pulses until the butter is reduced to pea-sized pieces. Add yogurt, egg, and vanilla, and pulse until a ball of dough just begins to form, which should take about about five (1-second) pulses.

Transfer the dough to a floured surface. Sprinkle the dough with blueberries and gently press and fold them into the dough, turning the dough over and repeating on the other side, if necessary. Taking care not to overwork the dough, quickly form it into a 1-inch thick circle. Use a scraper, sharp knife, or large pizza cutter to cut it into 8 triangular wedges. Transfer the wedges to the prepared baking sheet, spacing them at least 1 inch apart.

Brush the scones with melted butter and sprinkle with coarse sugar. Bake for 18 to 20 minutes or until a toothpick inserted in center comes out clean and the tops are light golden brown. After a couple of minutes, transfer to a rack. Allow to cool for at least 10 minutes before serving, or cool completely before storing in an airtight container.
Notes
I tested this recipe with regular Greek yogurt. Fat-free or low-fat Greek yogurt should work as well.
Scones are best enjoyed on the same day that they're made. However, if you'd like to enjoy them on day 2, they're best reheated for 5 to 10 minutes in a 350°F oven...or 30 seconds in the microwave if you're less worried about texture than time. 😉
Calories:
246
kcal
|
Carbohydrates:
35
g
|
Protein:
7
g
|
Fat:
10
g
|
Saturated Fat:
6
g
|
Cholesterol:
44
mg
|
Sodium:
238
mg
|
Potassium:
315
mg
|
Fiber:
4
g
|
Sugar:
12
g
|
Vitamin A:
300
IU
|
Vitamin C:
1.8
mg
|
Calcium:
104
mg
|
Iron:
1.4
mg
Adapted from King Arthur Flour.
More Recipes with Whole Wheat Pastry Flour